If you're in search of the best things to do in Washington, boy, do we have you covered!
After countless visits and road trips through Washington, we think we have the ultimate rundown of the best adventures in the state.
Right in the heart of the Pacific Northwest, Washington State truly has it all. Nature's beauty reigns supreme here! Tackle epic hikes, paddle pristine lakes, witness awe-inspiring waterfalls, meander moss-lined forests, and more.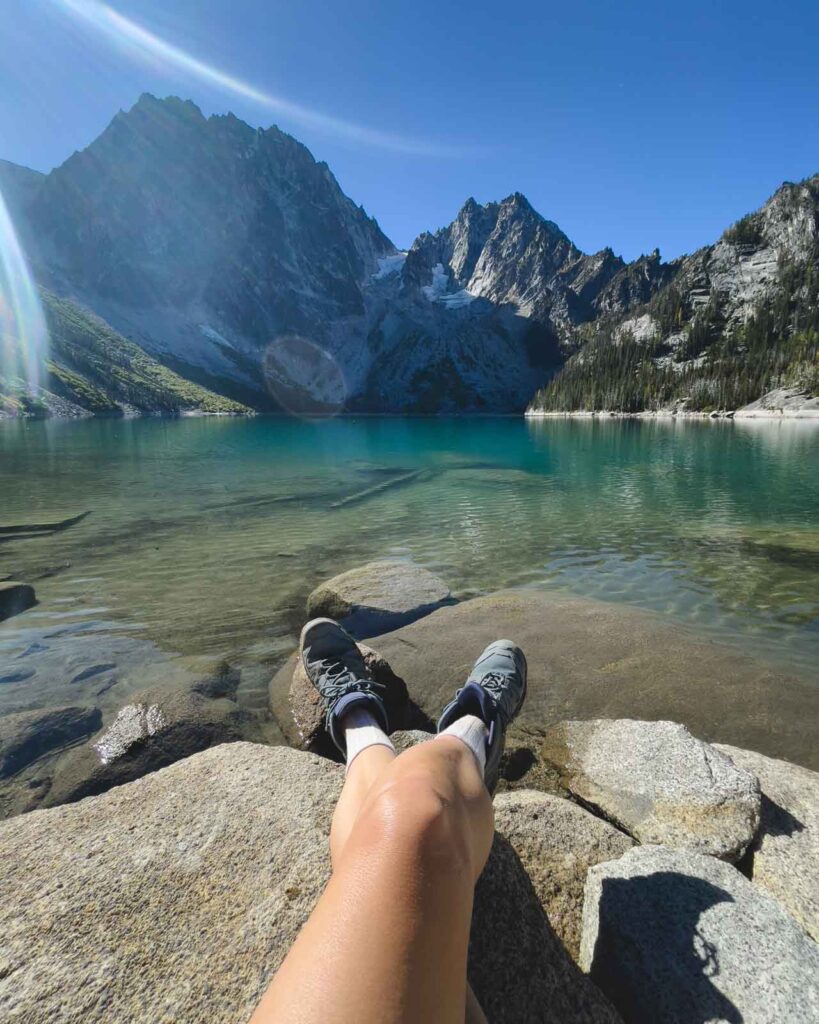 Yet, Washington is more than just its breathtaking scenery; it's a place where vibrant cities like Seattle pulse with creativity, historic towns reveal their unique stories, and a rich taste of cultures come together.
We'll walk you through everything you should do in Washington. Warning: You might be here a while!
BEST Things to Do in Washington
We tried to make this list as comprehensive as possible, and while this article is a doozy, we couldn't get everything in here. Luckily for you, we are freaks about writing up the best guides in Washington, so if you're curious about a spot, click our in-depth guides for more.
1. Explore Spokane's Gems
This city, often overlooked but brimming with charm, offers experiences that calls out to travelers from near and far. In Spokane, you'll find history, natural beauty, and a community spirit.
With the Spokane River winding through the city, you can enjoy everything from thrilling white-water rafting to serene riverside walks.
And when winter arrives, nearby mountains offer world-class skiing and snowboarding. Spokane is a place where urban sophistication meets natural beauty. It's always nice to get both in a destination, and Spokane does exactly that.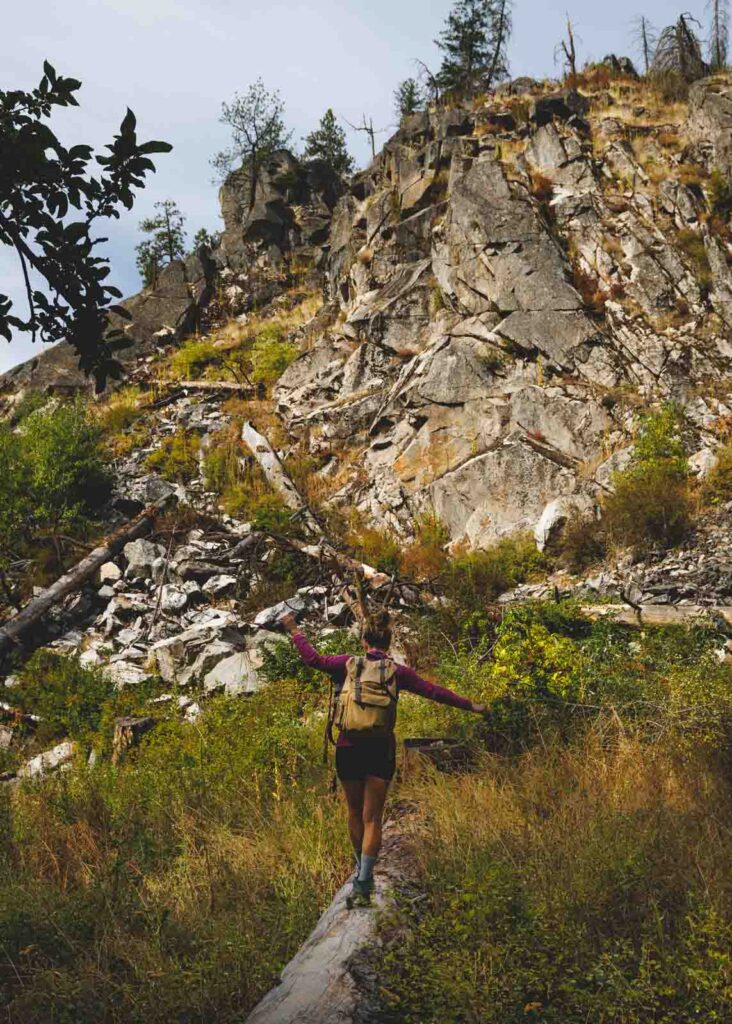 Here's a quick rundown of some of our favorite things to do in Spokane:
Riverfront Park: A sprawling urban park with picturesque views, walking trails, and the iconic Spokane Falls.
Downtown Spokane: Stroll through vibrant streets, check out local shops, and savor some delicious bites at cozy cafes and restaurants.
Riverside State Park: Get your nature fix with hiking, biking, and paddling along the Spokane River.
Brewery Hop: Spokane's craft beer scene is booming – don't miss the chance to sample some local brews. (We LOVE Iron Goat Brewery!)
Spokane Falls SkyRide: Enjoy breathtaking views of the falls while riding the gondola.
This is far from everything, you could certainly spend some extra time in Spokane during your visit!
2. Chase Waterfalls at Palouse Falls
You might be wondering, what the heck is Palouse Falls? Well, it's the state's official waterfall. So why haven't you heard much about it? Maybe it's because it's in the middle of nowhere, Eastern Washington!
No need for hype here; these falls are simply awesome. You've got this 200-foot waterfall crashing down in the middle of some pretty wild terrain, and it's a sight to see.
The falls are formed on the Palouse River, which winds its way through a deep, rocky canyon. The falls are a product of the Ice Age floods that shaped much of the Pacific Northwest, and it's considered one of the last active waterfalls of the Ice Age floods path. So, in a way, it's like a living piece of history right before your eyes.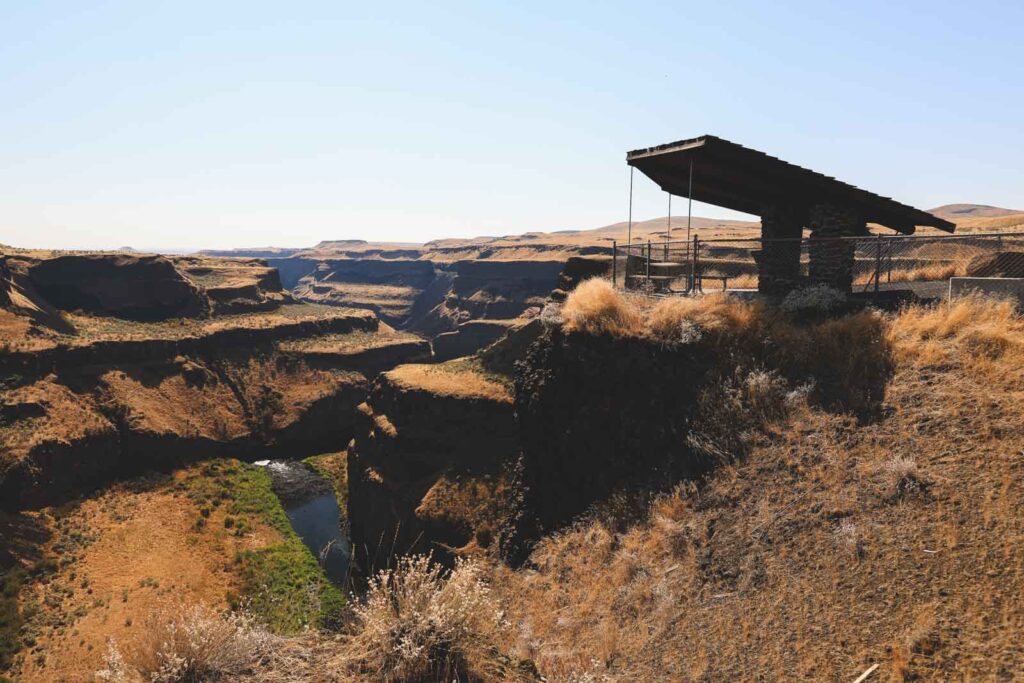 The cool thing is you don't have to be a hardcore hiker to enjoy it. You can drive right up, walk a few steps, and you're right there! If you want, there's a short but steep trail that can take you higher for another angle. Read our full guide to Palouse Falls.
3. Experience Bavarian Charm in Leavenworth
It's time to transport ourselves straight to Bavaria without the need for a plane ticket! How? By stepping into Leavenworth, Washington, a place that's practically a slice of Europe right here in the U.S.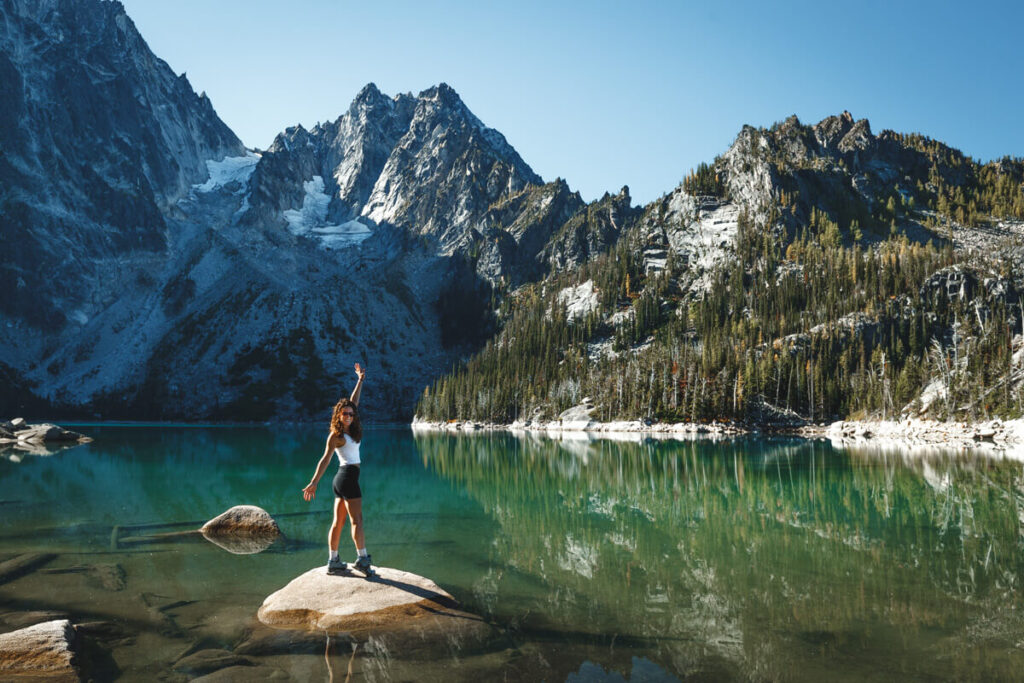 Forget about your regular small towns; Leavenworth has gone all-in on the Bavarian theme, and it's charming as heck. It's got timber-framed buildings, cobblestone streets, and an Alpine backdrop that'll have you doing double-takes.
It's like a fairy tale village, but it's very much real. But it's not just the looks—Leavenworth knows how to throw a party too. They've got festivals year-round, and it's hard to beat their Oktoberfest celebration. So, get ready to feast on bratwurst, enjoy some oompah music, and raise a stein in style.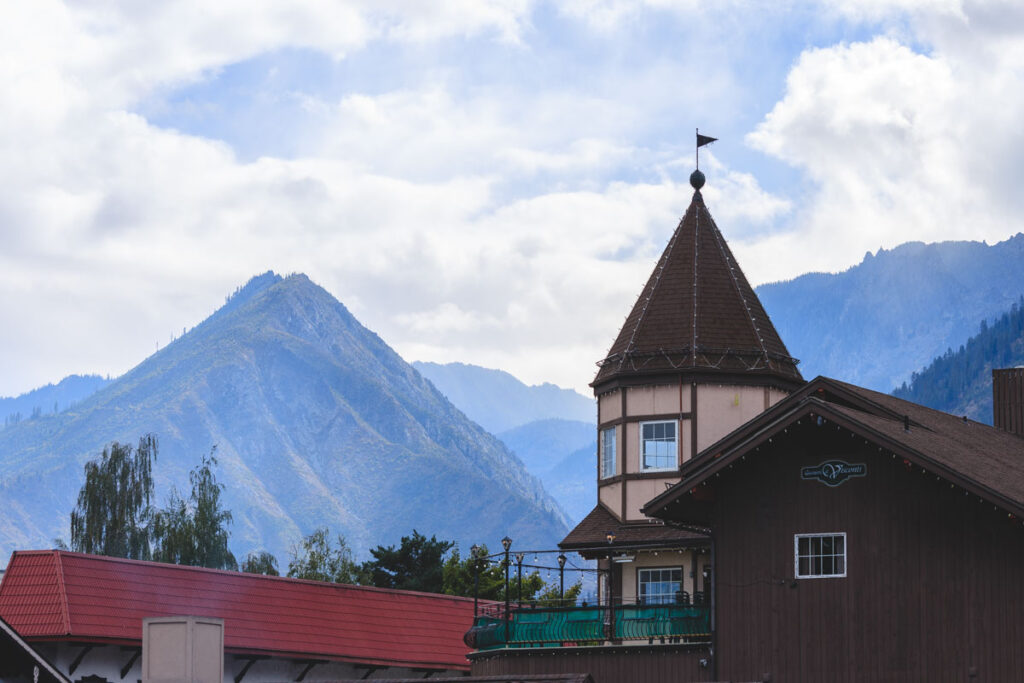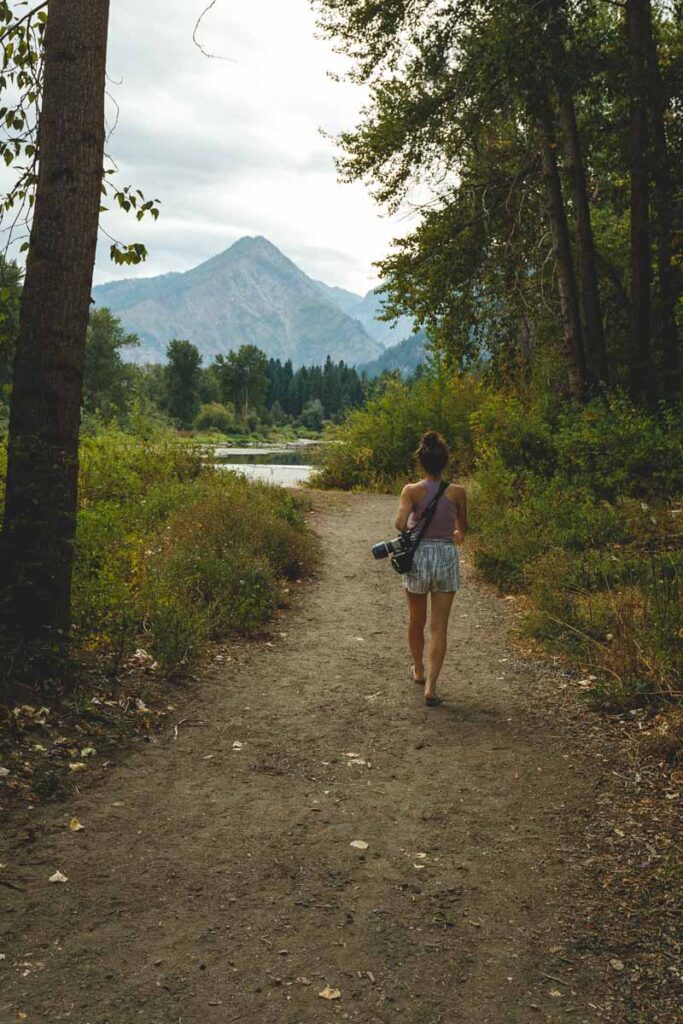 But that's not all – Leavenworth is cradled in the Cascades, making it a hub for outdoor adventures too. From hiking and biking to river rafting and skiing in the winter, there's a ton of action to be had.
Read our guides:
4. Adventure in The San Juan Islands
If you're all about island-hopping, wildlife-watching, and embracing the great outdoors, then the San Juan Islands should be at the top of your list of things to do in Washington. This cluster of islands off the coast of North Washington is like nature's playground.
Why? Well, first, the San Juan Islands are a wildlife wonderland—this is what it's most known for. You've got orcas, eagles, seals, and all kinds of wilderness creatures putting on a show just for you. Whale-watching tours are a must, and catching a glimpse of these majestic creatures in their natural habitat is just incredible.
Beyond that, there are tons of hiking trails wind through forests, kayaking opportunities are endless, and the serene waters are perfect for paddleboarding. You can even camp under the stars on some of the islands – talk about a night to remember! Want more? I thought so…
Hiking Trails: For a classic island hike, head to Moran State Park on Orcas Island. Here, you can climb to the top of Mount Constitution, which is the highest point in the San Juans. The reward? Breathtaking panoramic views of the surrounding islands.
Kayaking and Paddleboarding: One particularly picturesque spot is Sucia Island Marine State Park. Paddle around its sheltered bays, rocky shorelines, and hidden coves, and keep an eye out for seals and eagles. Another great option is to explore the serene waters around Shaw Island, which is less crowded.
Camping Under the Stars: If you're looking to camp under the starry island skies, consider booking a campsite on Spencer Spit State Park on Lopez Island or on Orcas Island, you can camp at Moran State Park—both are an ideal spot for stargazing.
5. Bliss Out Camping at La Push Beaches
La Push beaches in Washington offer a fantastic coastal experience that combines natural beauty and cultural significance. There are actually three beaches here to check out.
The first is right in town and easy enough to get to. You can see it from the parking lot, and it's nice and long, so you're sure to find a spot to hang out on. For the adventure seekers, there's Second Beach (I know, real imaginative names, right?).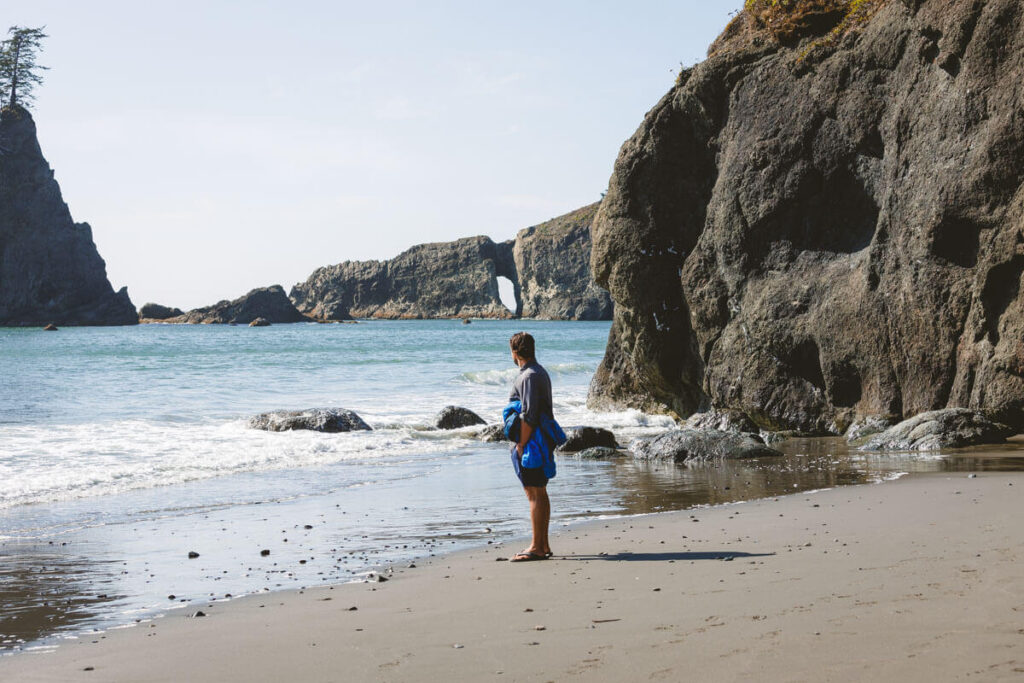 Getting there involves a forest hike, but it's well worth it. You'll be greeted by a spacious sandy beach framed by more captivating sea stacks. It's an ideal setting for a cozy campfire gathering with friends or a serene evening watching the sunset over the Pacific. You can camp here if you get a permit!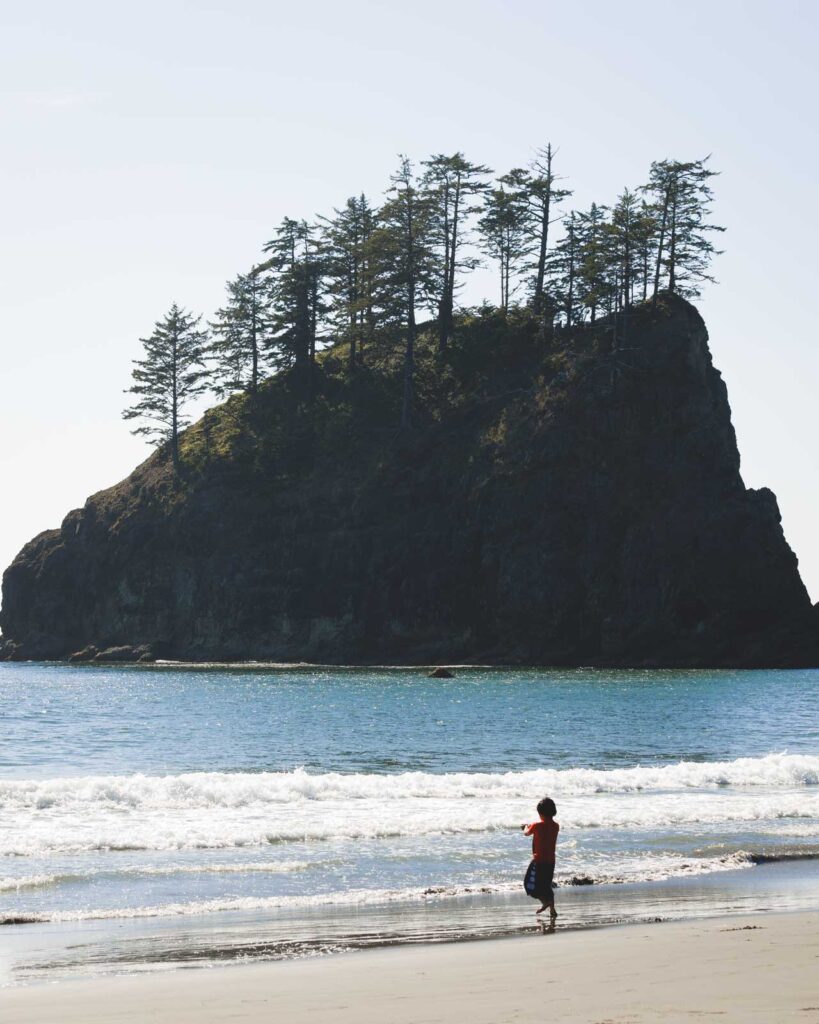 There's also Third Beach which requires an even longer hike, but there is an even more stunning coastline here to camp on, so your efforts will be rewarding. Get more info on our guide to La Push Beaches.
6. Savor Coastal Smoked Fish (The Yummiest Thing to Do in Washington!)
Washington is known for its delectable smoked fish, and it's a real treat! One of the most popular types of smoked fish in the region is salmon—you'll see it across the coast.
The Pacific Northwest's cold, clean waters are home to some of the finest salmon, and when it's expertly smoked, the result is nothing short of amazing. The rich, smoky flavor of Washington smoked salmon is a true delicacy.
Apart from salmon, other fish like trout, sturgeon, and albacore tuna are also smoked in the state. Each brings its unique taste to the table. Smoked fish is not only a local favorite but also a sought-after souvenir for visitors. We get at least a week's worth of it every time we're on the Washington or Oregon coast!
7. Unwind at the Tranquil Lake Crescent (Or Not!)
Lake Crescent is one of the most breathtaking spots in Olympic National Park, and it's a must-visit destination for outdoor adventurers. This glacially carved jewel is renowned for its mesmerizing crystal-clear waters and fun activities.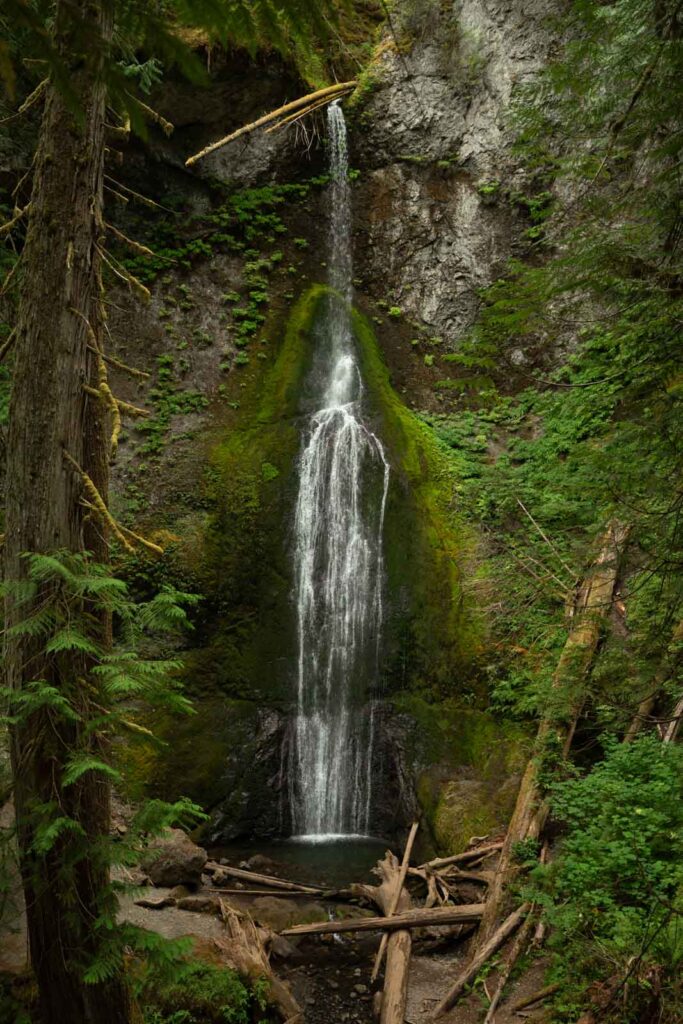 We love Lake Crescent, and you can relax lakeside taking a chilly dip and a quiet paddle, or you can tackle some strenuous hikes… or maybe both?! Here are some of our favorite things to do in Washington's Lake Crescent…
Marymere Falls Hike: This family-friendly hike leads you through a mossy forest to a magnificent waterfall, adding a touch of rainforest magic to your visit.
Spruce Railroad Trail: For a longer adventure, embark on the Spruce Railroad Trail, which follows the path of an old railroad bed along the lake's northern shore to Devil's Punchbowl!
Swimming: If you're feeling adventurous, take a dip in the lake's refreshing waters. Just be prepared for the chilly temperatures, especially outside of summer.
Mount Storm King Hike: If you're up for a challenge, tackle the Mount Storm King Hike. It's a steep ascent, but the panoramic views of Lake Crescent from the summit are absolutely worth the effort—This is one of our fav hikes!
There are tons of things to do in the area, lodging, and camping, and enough to keep you busy for days. Read our guide about Lake Crescent.
8. Tackle an Epic Hike (OUR FAV Thing to Do in Washington)
Washington's hiking scene is like a treasure trove of natural wonders waiting to be explored. There is no need for fancy gear or a Ph.D. in trail navigation—just bring your adventurous spirit and a sense of wonder. There's a trail here for you!
Towering peaks, pristine alpine lakes, lush rainforests, and breathtaking waterfalls—yeah, Washington's got 'em all!
Washington's trails make you feel alive—You'll tackle trails that'll challenge you, reward you with jaw-dropping views, and leave you craving more. Hiking is one of the best things to do in Washington, you have to choose a handful during your time here.
Some trails to start your list:
Mount Si – A challenging hike with stunning views of the Snoqualmie Valley.
Skyline Trail – Offers incredible views of Mount Rainier and surrounding landscapes.
Enchantments – Known for its alpine lakes and rugged beauty, this is a premier backpacking destination.
Olympic National Park's Hoh River Trail – Takes you through the lush Hoh Rainforest.
Lake Colchuck – Outside of Leavenworth, this is THE hike to do to reach a stunning lake surrounded by peaks.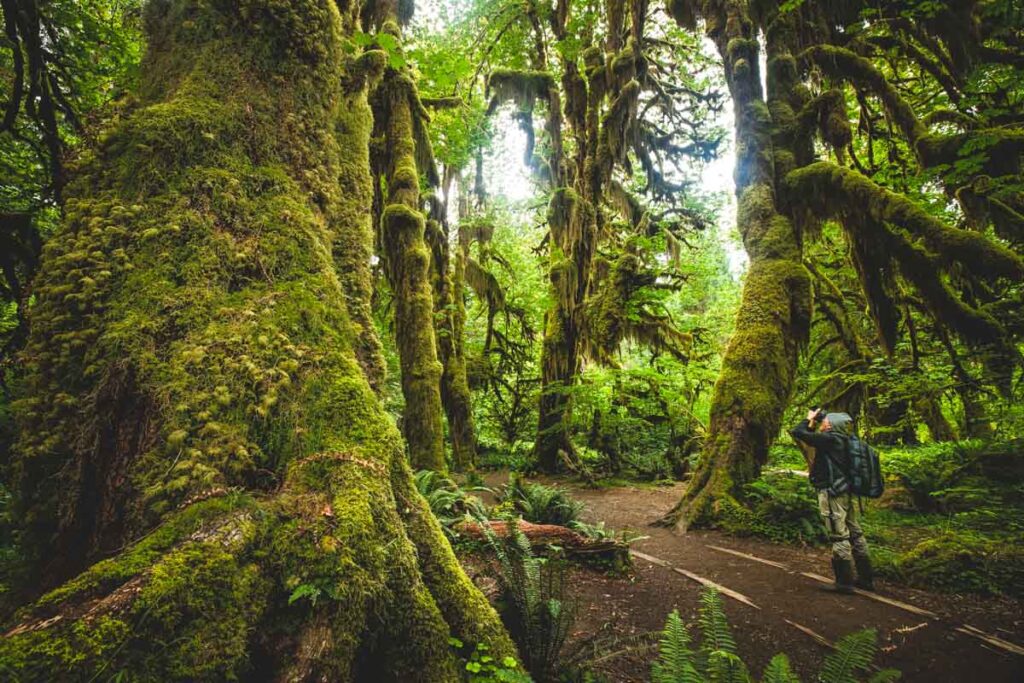 Rattlesnake Ledge – A short but steep hike with panoramic views of Rattlesnake Lake.
Dog Mountain – Offers wildflower meadows and stunning scenery over the Columbia River Gorge.
Mount Pilchuck – Known for its fire lookout and panoramic views of the Cascades.
Wallace Falls State Park – Features a series of beautiful waterfalls.
Icicle Ridge Trail – Offers stunning views of the Leavenworth area.
Lake Ingalls – Known for its vibrant fall foliage and mountain views.
Lake Valhalla – Stunning lake and rocky peak views, particularly in fall.
Mount Ellinor – Known for its mountain goats and panoramic vistas of the Olympic Peninsula.
Cowiche Canyon – Wander a lesser-known area for crazy cool desert trails.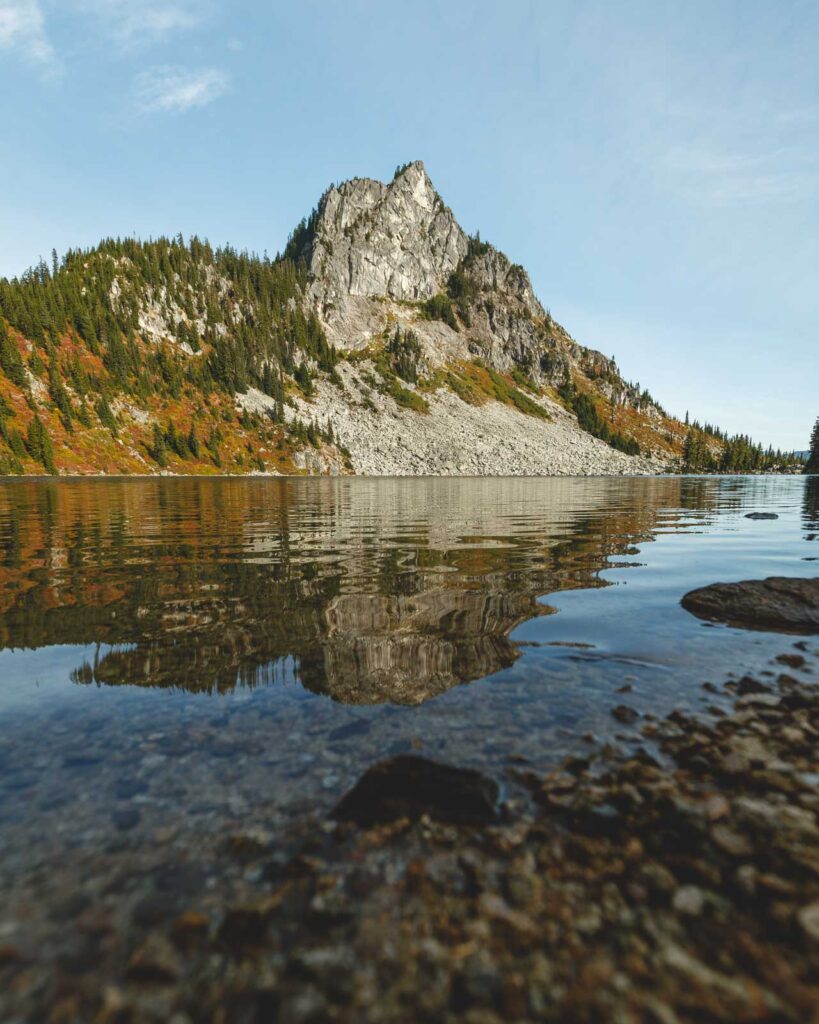 We have a huge list of all the best hikes in Washington. Don't worry, we keep it updated with our favs! We can't write these guides quickly enough. I'll link plenty more of our favorite trails to do in Washington in this article, so get ready to click!
9. Winthrop's Wild West Charm
Howdy, partner! Haven't heard of Winthrop? We hadn't either! But then we accidentally drove through, and holy gosh, it's cute! It's like taking a step back in time to the Wild West, but with a modern twist.
This charming town in Washington has got that rustic, old-school vibe down pat. We're talking wooden boardwalks, old saloons, and even the occasional cowboy hat—it's like you're in a classic Western flick.
But Winthrop isn't just about playing cowboy dress-up. It's also the gateway to some seriously epic outdoor adventures.
In the summer, you can saddle up and hit the trails on horseback, or if you're feeling more adventurous, go mountain biking on the miles of scenic paths. The Sun Mountain area is a scenic spot for anyone no matter your experience.
And in the winter, this place transforms into a snowy wonderland. Cross-country skiing, snowshoeing, and ice skating are all fair game. Plus, there's an annual event called the "Winthrop 49'er Days" where they throw a good ol' fashioned rodeo and a western-themed parade. Yeehaw!
When you're not busy channeling your inner cowboy or cowgirl, take a stroll down the wooden boardwalks, pop into the quirky shops, and grab a bite at one of the local eateries. We had a burger and brew at the Old Schoolhouse Brewery and loved it!
Winthrop's got all the charm of the Wild West, minus the tumbleweeds. So, if you're up for a dose of nostalgia and a heap of outdoor fun, Winthrop's the place to be, partner. Giddy up and enjoy the ride!
10. Relax By Lake Chelan
Lake Chelan, in the heart of north-central Washington, is a treasure in the Pacific Northwest. This pristine lake is renowned for its crystal-clear waters that shimmer.
For outdoor enthusiasts, you'll find a wealth of recreational opportunities, from water sports like boating, kayaking, and paddleboarding to hiking and camping amidst the surrounding wilderness.
Stroll along the south shore for scenic lakeside views, do the Rainbow Loop Trail in Stehekin Valley for diverse landscapes, and the challenging Chelan Butte for the epic views of the town and lake.
Take your kayak out at Twenty-Five Mile Creek State Park and set up camp to stay longer.
At the northern tip of the lake lies the charming and remote village of Stehekin, accessible by boat, seaplane, or hiking, offering an escape from the modern world. The region also boasts wineries that produce exceptional wines in a picturesque setting.
Lake Chelan is a four-season destination, so if you're here in winter, don't think you'll have nothing to do. Cross-country skiing and snowshoeing, along with some winter festivals, are some of the coolest things to do in Washington! Read our guide to Lake Chelan.
11. Marvel at the Beauty of the Columbia River Gorge
The Columbia River Gorge, straddling both the Washington and Oregon sides, is a natural wonderland that's bound to leave you in awe. This stunning gorge boasts dramatic landscapes featuring towering cliffs, lush greenery, and, of course, the mighty Columbia River carving its way through the terrain.
While the Oregon side might have slightly more to offer, the Washington side provides its fair share of breathtaking sights and outdoor adventures. Luckily, you can cross between the states easily to see it all!
Here are some of the best things to do in the Columbia River Gorge:
Hikes:
Dog Mountain: A challenging hike that rewards you with breathtaking wildflower displays during the spring and panoramic views of the gorge year-round.
Beacon Rock: A relatively easy trail leading to a unique basalt monolith with stunning river views.
Cape Horn Trail: This loop trail offers picturesque vistas of the gorge, waterfalls, and wildflowers.
Waterfalls:
Multnomah Falls: While technically on the Oregon side, it's a must-see waterfall in the Columbia River Gorge with its iconic 620-foot cascading waterfall.
Bridal Veil Falls: Another impressive waterfall on the Oregon side, known for its graceful, veil-like flow.
Latourell Falls: Accessible from both sides of the gorge, this waterfall is renowned for its distinctive columnar basalt formations.
Other Cool Stuff:
Historic Columbia River Highway: This scenic drive on the Oregon side takes you past numerous waterfalls, viewpoints, and historic sites.
Windsurfing and Kiteboarding: The Columbia River Gorge is a hotspot for windsurfing and kiteboarding enthusiasts. Hood River, on the Oregon side, is particularly famous for these activities.
Wine Tasting: Explore the wine scene in the Columbia Gorge region, with numerous wineries offering tastings and vineyard views.
Camping: Luckily, you don't have to go far for the night. We love Ainsworth State Park on the Oregon side and Beacon Rock on the Washington side for camping in the Columbia River Gorge.
12. Visit One or More of Washington's Festivals
Washington is a state that knows how to celebrate, and its festivals are a testament to its vibrant culture and diverse interests. Whether you're into music, food, arts, or just want to soak up the local atmosphere, Washington's festivals offer a fantastic way to experience the state's unique spirit!
Here's a list of some of the coolest and well-known yearly festivals in Washington:
This is just a small snapshot of the festivals in Washington. See which might fall in line with your dates.
13. Discover Seattle Your Way
Oh, the vibrant city of Seattle—where there's an adventure waiting for every type of traveler. Seattle is a place where you can truly discover it your way, with an array of experiences that cater to both your average visitor and those seeking off-the-beaten-path adventures.
For those looking for the top things to do in Seattle, you won't be disappointed. You can start off at the iconic Pike Place Market, where you can savor local flavors, witness fishmongers tossing fish, and explore unique shops.
Don't forget to snap a pic with the famous gum wall or head up to the Space Needle (It's OK to be a typical tourist)! Next, Seattle's food scene is a treasure trove of culinary delights, so be sure to try some fresh seafood or even funky donuts.
If it's a rainy day, why not pop into the Museum of Pop Culture (MoPOP) for a dose of music and pop culture history? Stroll through the tranquil Japanese Garden or get lost in the exhibits of the Seattle Art Museum. And yes, there's even an underground city to uncover, a piece of history buried beneath the bustling streets!
Beyond the city limits, you'll find tons of weekend trips from Seattle if you can't venture too far for too long. Embark on a ferry ride to the serene San Juan Islands for a perfect weekend escape, or head outdoors and go hiking in the nearby North Cascades National Park, which offers stunning vistas.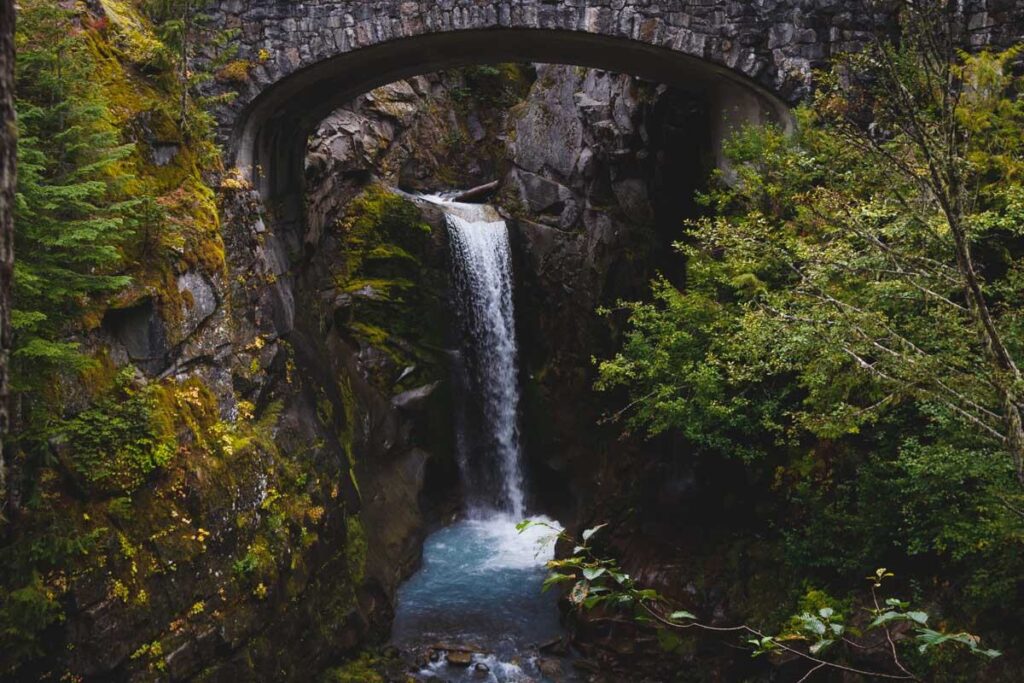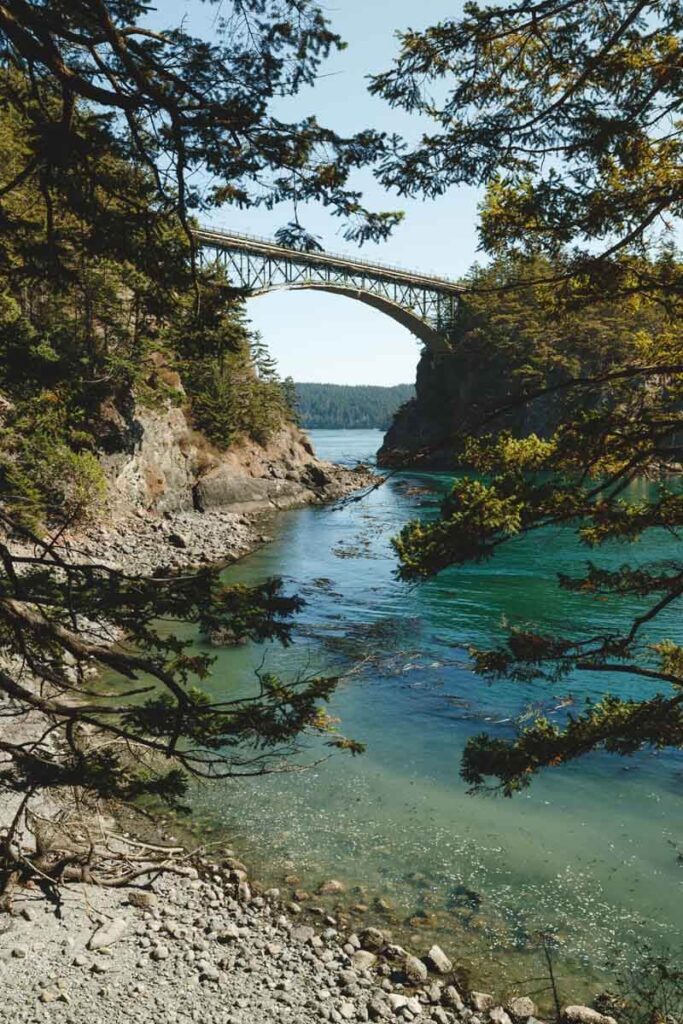 If you plan on basing in the city, you'll find plenty of fun day trips from Seattle. Head to the cascading Snoqualmie Falls, one of the best waterfalls near Seattle, or spend the day out on Whidbey Island exploring Deception Pass State Park.
It's impossible to run out of things to do in Seattle—Read our guide for more!
14. Explore Everything in Olympic National Park (Top Thing to Do in Washington)
Tucked away in the northwest corner of Washington state, Olympic National Park is a natural wonderland that boasts diverse ecosystems, from rugged coastlines to towering mountains and moss rainforests. This protected haven offers some of the most insane and stunning outdoor adventures and vistas you could only dream of seeing.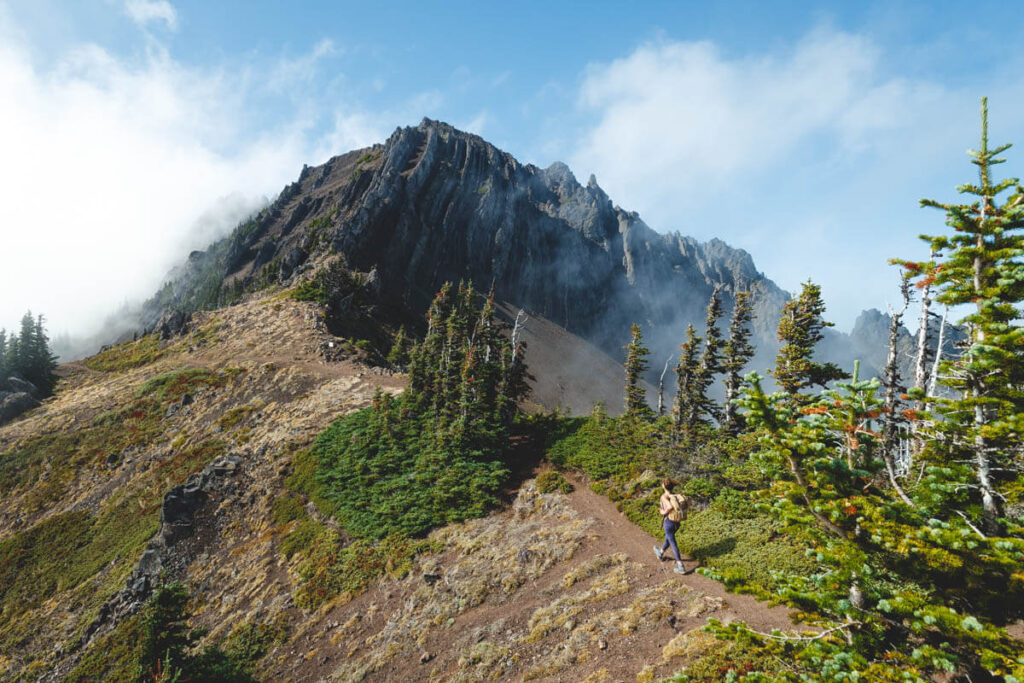 We LOVE this park, and it's a visitor favorite, unsurprisingly. I'll list some of the best things to do in Olympic National Park below, but definitely read our guide for even more.
Hoh Rainforest: Step into a prehistoric world within the Hoh Rainforest, where lush mosses drape from towering trees, and the Hoh River winds its way through this enchanting ecosystem. Explore the Hall of Mosses Trail for an up-close experience of this vibrant rainforest.
Mount Storm King: For the more adventurous, tackle the challenging Mount Storm King hike. The reward? Sweeping views of Lake Crescent from the summit, surrounded by the stunning Olympic landscape.
Hurricane Ridge: Drive up to Hurricane Ridge for panoramic vistas of the Olympic Mountains. It's also a fantastic spot for skiing and wildlife viewing, plus it has some of the best hikes in Olympic National Park.
Rialto Beach: Experience the rugged beauty of the Pacific coastline on the Rialto Beach to Hole-in-the-Wall hike. Stroll along the driftwood-strewn shoreline, explore sea caves, and watch the waves crash against the sea stacks.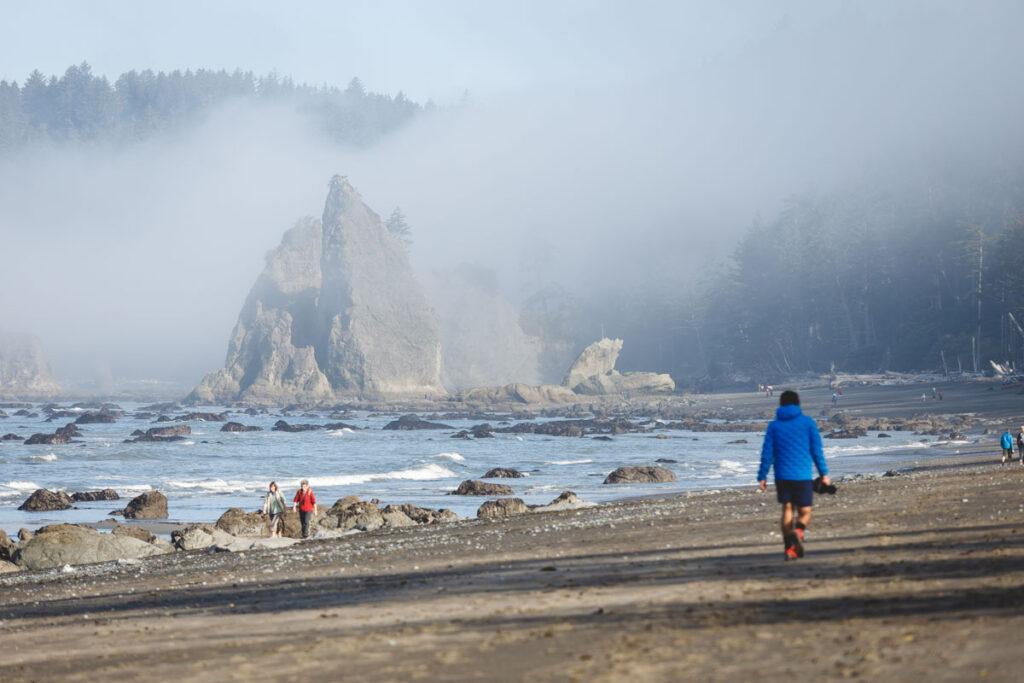 Beaches: Olympic National Park is home to a variety of pristine beaches, each with its unique charm. From the wild and windswept Second Beach to the tranquil Ruby Beach, there's a beach for every mood.
Lake Quinault: Discover the serenity of Lake Quinault, surrounded by lush rainforests and offering a peaceful setting for boating, fishing, and hiking along the Quinault Rainforest Loop Trail.
Read our guides:
15. Rip Through The WABDR
Looking for something a bit more adventurous? Try 4×4 or motorcycling the Washington Backcountry Discovery Route and see a part of Washington State few get to explore.
This is essentially a 575-mile offroading adventure (but can be done on pavement only if you bypass the dirt sections), offering scenic views as it winds through some of the most remote areas in Central Washington.
Garrett completed this journey a year ago on his KLR 650, and it was an absolute thrill. The route follows the Cascade Range, allowing you to behold the distant splendor of Mount Adams, Rainier, and the enchanting Enchantments.
Additionally, you'll have the opportunity to visit some of the charming towns in Central Washington, such as Ellensburg, Lake Chelan, and Leavenworth.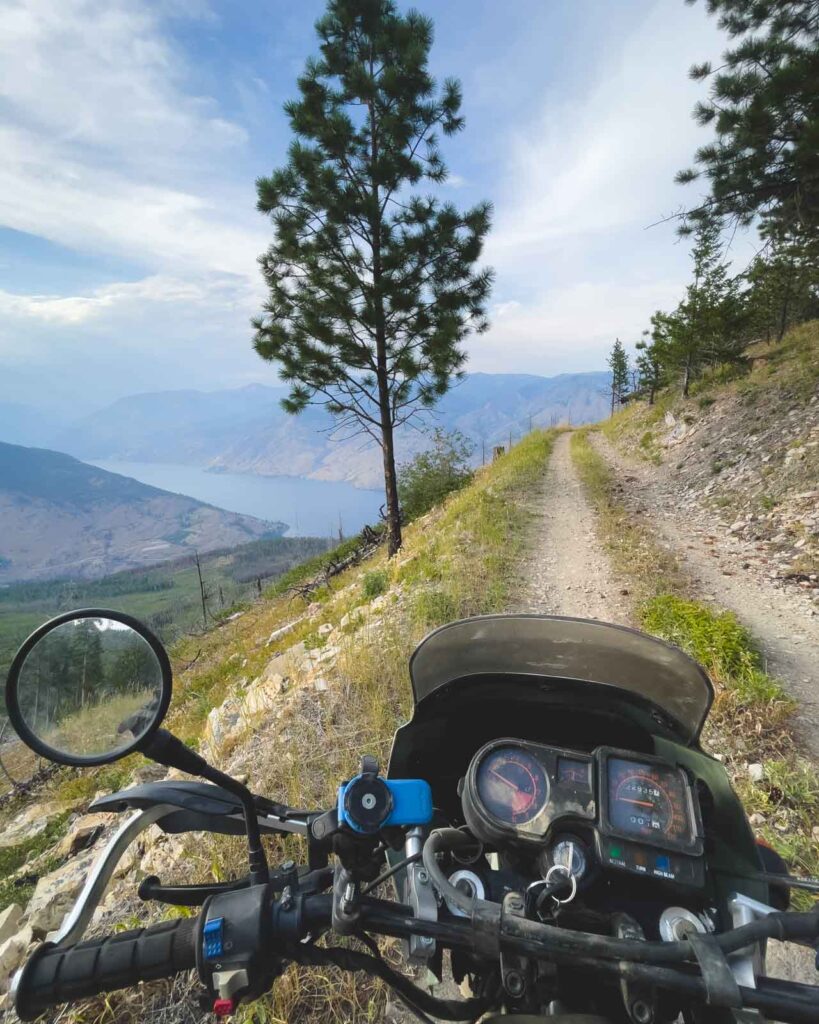 The WABDR isn't for the faint-hearted. Riders will tackle rocky trails, gravel roads, and tricky river crossings. You'll need to be good at finding your way, have the right gear, and be ready for an adventure if you want to do this.
It's a trip that gives you a mix of excitement and calmness, perfect for nature lovers who like the beauty of the Pacific Northwest and off-roading.
16. Washington is a Waterfall Wonderland – Explore Our Favorites
Washington is a true waterfall wonderland—Not joking!
Here you'll find cascading waters tucked away in pristine forests and rugged landscapes. The state's diverse geography, from the lush rainforests of the Olympic Peninsula to the dramatic gorges of the Columbia River, creates the perfect canvas for these natural spectacles.
Whether you're an avid waterfall chaser or just seeking moments of serenity in nature's beauty, Washington's waterfalls offer something truly special.
Here are some of the best waterfalls in the state:
Palouse Falls: Known for its dramatic 200-foot drop, Palouse Falls is a captivating sight amidst the desert-like landscape of eastern Washington. The falls are easily accessible and offer stunning views from various vantage points.
Franklin Falls: Located in the Snoqualmie Pass area, Franklin Falls is a family-friendly hike leading to a picturesque waterfall. The trail is easily accessible year-round and offers an enchanting winter wonderland when frozen.
Sol Duc Falls: Tucked away in the heart of Olympic National Park, Sol Duc Falls is a tranquil oasis surrounded by old-growth forest. A short hike leads you to this multi-tiered waterfall, making it an ideal spot for a serene nature escape.
Snoqualmie Falls: Just a short drive from Seattle, Snoqualmie Falls is a powerful waterfall that plunges 268 feet into the Snoqualmie River. Enjoy viewpoints, a park, and a historic lodge that overlooks the falls.
Christine Falls: Discover Christine Falls within Mount Rainier National Park, where the falls gracefully plunge beneath a stone bridge. It's a photogenic gem on the road to Paradise. You'll find Comet Falls not too far away either.
Myrtle Falls: The perfect base for Rainier! Read this for more waterfalls at Mount Rainier.
Wallace Falls: Located in Wallace Falls State Park, this hike takes you through mossy forests and reveals a series of impressive cascades. The Lower, Middle, and Upper Wallace Falls are the reward for your efforts.
Marymere Falls: Accessible from Lake Crescent in Olympic National Park, Marymere Falls is an enchanting destination reached by a peaceful hike through a leafy rainforest.
Wanting more? We know exactly how you feel. Here's our guide to the best waterfalls in Washington.
17. Admire Deception Pass State Park
Deception Pass State Park is situated in the stunning Pacific Northwest region of Washington state, not too far from Seattle. It's a natural treasure that captivates visitors with its breathtaking landscapes and diverse recreational opportunities. In fact, it's the busiest State Park in the state!
At the heart of the park is the iconic Deception Pass Bridge, a marvel of engineering that spans the turbulent waters of the pass and connects Whidbey Island to Fidalgo Island. The bridge offers not only impressive views but also access to a world of outdoor adventures.
One of the park's standout features is Cranberry Lake, an idyllic freshwater lake surrounded by lush forests. It's a haven for swimming, kayaking, and picnicking on sunny days.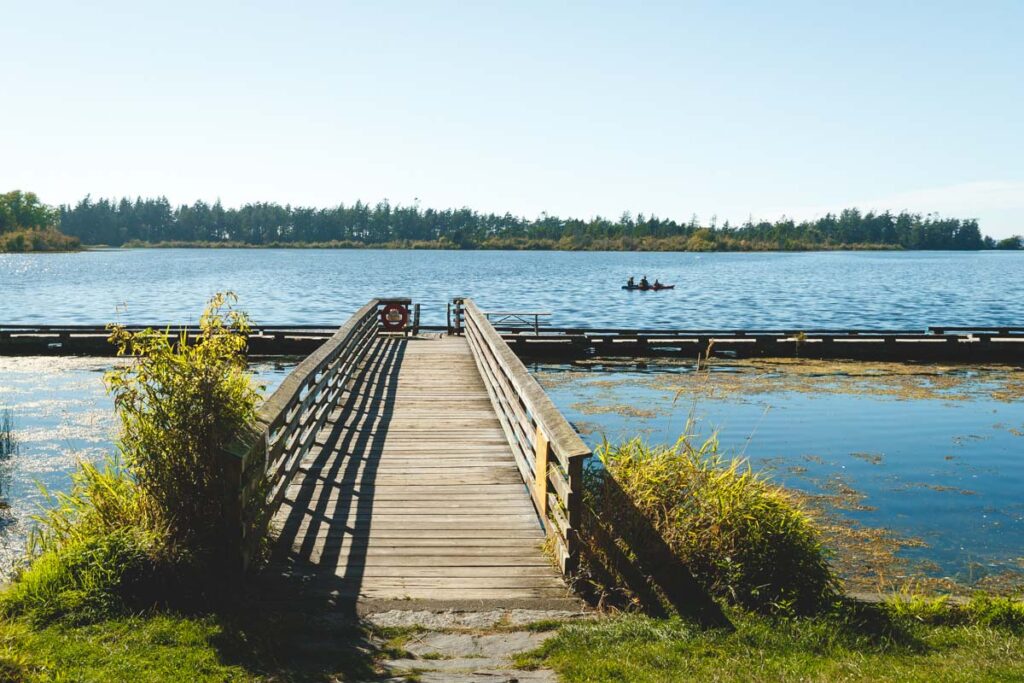 Hikers can explore miles of scenic trails that wind through old-growth forests, along rugged coastlines, and up to panoramic viewpoints. A must-visit is the Lighthouse Point to Rosario Head trail, which provides stunning vistas of the bridge and surrounding islands, and takes you to some great beaches too!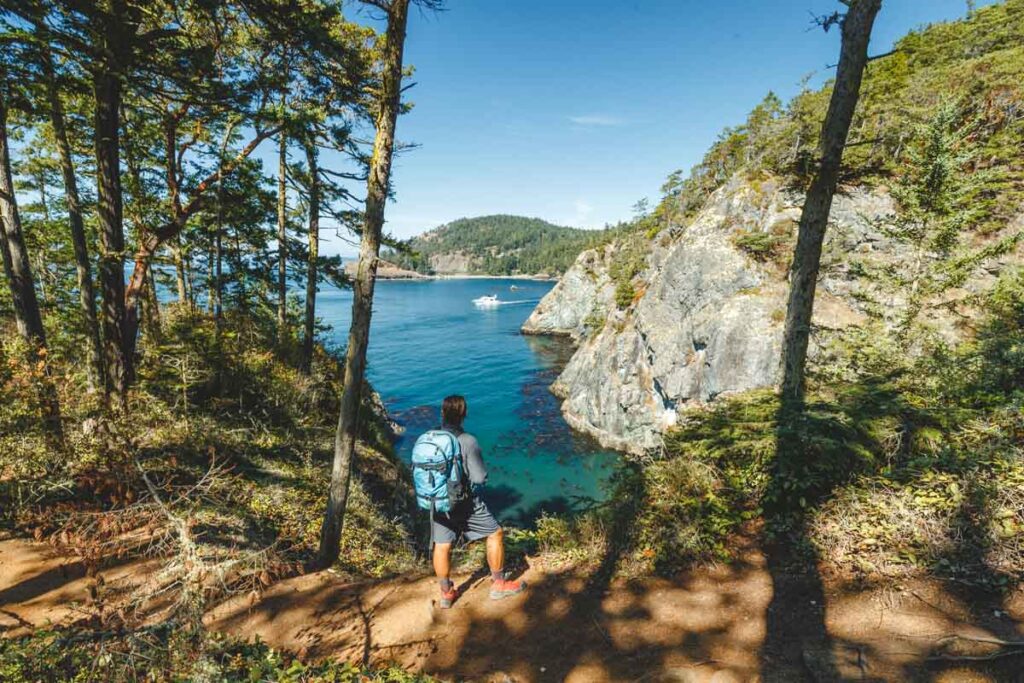 Deception Pass State Park is not only a paradise for the outdoorsy but also a place of historical significance, offering glimpses into the area's Native American heritage and early European exploration. Read our guide to Deception Pass State Park for more.
18. Dive into Seattle's Diverse Museums
Seattle's museum landscape is as varied and dynamic as the city itself. Whether you're a history buff, an art aficionado, a science geek, or just curious about the world, there's a Seattle museum with your name on it!
From world-renowned institutions to offbeat gems, here's a curated selection of the city's top museums:
The Museum of Pop Culture (MoPOP): This Frank Gehry-designed museum celebrates the best of pop culture, from music and movies to science fiction and video games. Explore interactive exhibits, iconic memorabilia, and engaging installations.
The Museum of Flight: For aviation enthusiasts, this museum is a must-visit. Discover the history of flight through a vast collection of aircraft, including historic planes, spacecraft, and flight simulators.
The Seattle Art Museum (SAM): SAM boasts an impressive collection of art from around the world, featuring everything from ancient artifacts to contemporary masterpieces. Don't miss the stunning Asian art collection.
The Burke Museum of Natural History and Culture: Located on the University of Washington campus, the Burke Museum showcases the natural and cultural history of the Pacific Northwest. Explore fossils, artifacts, and ethnographic displays.
The Nordic Museum: A hidden gem celebrating the rich cultural heritage of the Nordic countries. Discover art, history, and traditions in a beautifully designed space.
The Museum of History & Industry (MOHAI): Dive into Seattle's past at MOHAI, which offers a fascinating glimpse into the city's history, including its maritime heritage and tech innovations.
The Frye Art Museum: A lesser-known but delightful museum featuring 19th- and 20th-century European paintings. Admission is free, allowing you to appreciate art without breaking the bank.
The Pacific Science Center: Ideal for families, this interactive science museum offers hands-on exhibits, a tropical butterfly house, and an IMAX theater.
The Living Computers: Museum + Labs: Explore the evolution of computing in this interactive museum, where you can try your hand at vintage computers and modern technology.
19. Conquer the Trails of Mount Rainier National Park
Mount Rainier National Park epitomizes the breathtaking beauty of the Pacific Northwest. I'm pretty sure this mountain peak might be the unofficial PNW icon!
This legendary volcanic peak, towering at 14,410 feet, dominates the region's landscape and beckons adventurers with its pristine wilderness, magnificent glaciers, and diverse ecosystems. Here are some must-do activities when visiting the park:
Scenic Drives: Take a drive along the park's winding roads to behold magnificent views of Mount Rainier. Don't miss the drive to Sunrise, the highest point accessible by vehicle.
Wildlife Viewing: Keep an eye out for the park's diverse wildlife, including black bears, marmots, and deer. Birdwatchers will appreciate the varied species that call the park home.
Paradise: Visit the Paradise area for its wildflower meadows, particularly breathtaking during the summer months. The Paradise Visitor Center offers informative exhibits and ranger-led programs.
Waterfalls: Marvel at the park's cascading waterfalls, such as Christine Falls and Narada Falls, accessible via short hikes or viewpoints.
Winter Activities: In the winter, the park transforms into a snowy wonderland. Enjoy snowshoeing, cross-country skiing, and even sledding at designated areas.
Climbing: For experienced mountaineers, Mount Rainier offers challenging climbs with breathtaking rewards. Make sure to obtain the necessary permits and consider guided expeditions.
Sunrise and Sunset: Witness the park's namesake, Mount Rainier, bathed in the warm hues of sunrise or sunset. The alpenglow on the mountain is a sight to behold.
Oh wait, don't forget the hiking here! Here are just a few of our favs:
Wonderland Trail: A challenging 93-mile loop that circumnavigates the entire mountain, providing a true backcountry experience.
Comet Falls: A moderate hike leading to the spectacular Comet Falls, one of the tallest waterfalls in Mount Rainier.
Skyline Trail: A classic trail offering panoramic views of Mount Rainier, alpine meadows, and the Nisqually Glacier. It starts at Paradise.
Mount Fremont Lookout: A challenging hike that leads to Fremont Peak, providing breathtaking views of Mount Rainier from a fire lookout point!
Grove of the Patriarchs: An easy hike through an ancient forest of towering trees, including Douglas firs and western red cedars. The highlight is a suspension bridge.
Burroughs Mountain Trail: Offers stunning views of Mount Rainier, Emmons Glacier, and the White River Valley.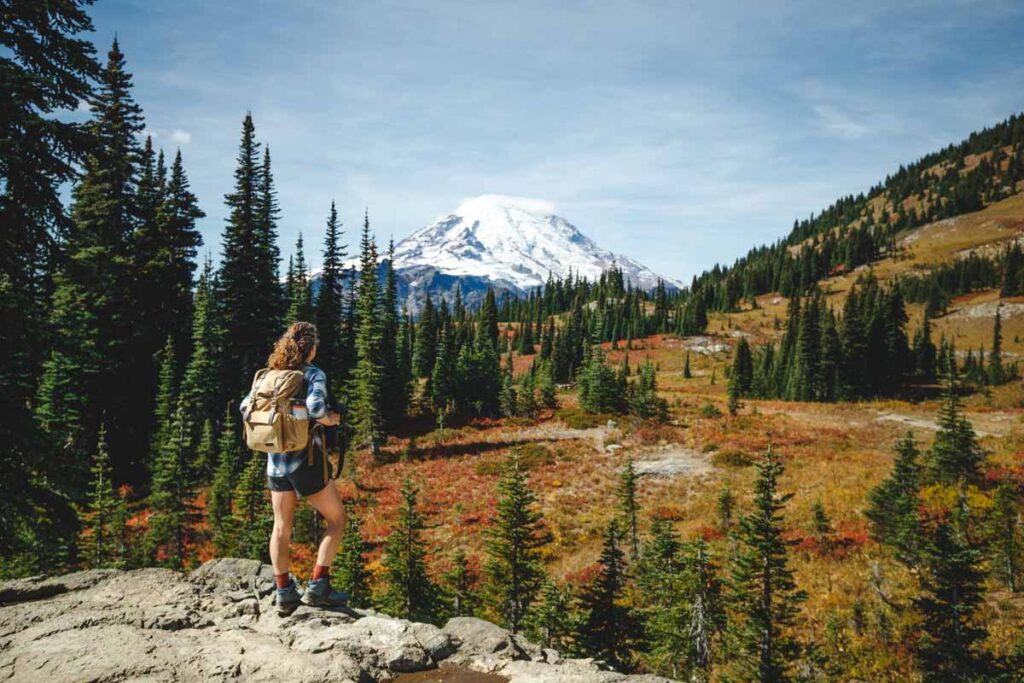 Naches Peak Loop Trail: A family-friendly loop trail with wildflower meadows and views of Mount Rainier, Naches Peak, and the surrounding valleys.
Tolmie Peak Trail: A hike to Tolmie Peak Fire Lookout, offering sweeping vistas of Eunice Lake, Tolmie Peak, and Mount Rainier.
Read more about our favorite hikes in Mount Rainier.
20. Explore and Stay at The State Parks
Washington state has a plethora of state parks that showcase the Pacific Northwest's stunning landscapes. You'll find rugged coastlines, pristine forests and serene lakes at these parks. But the best part is you can camp at most of them too!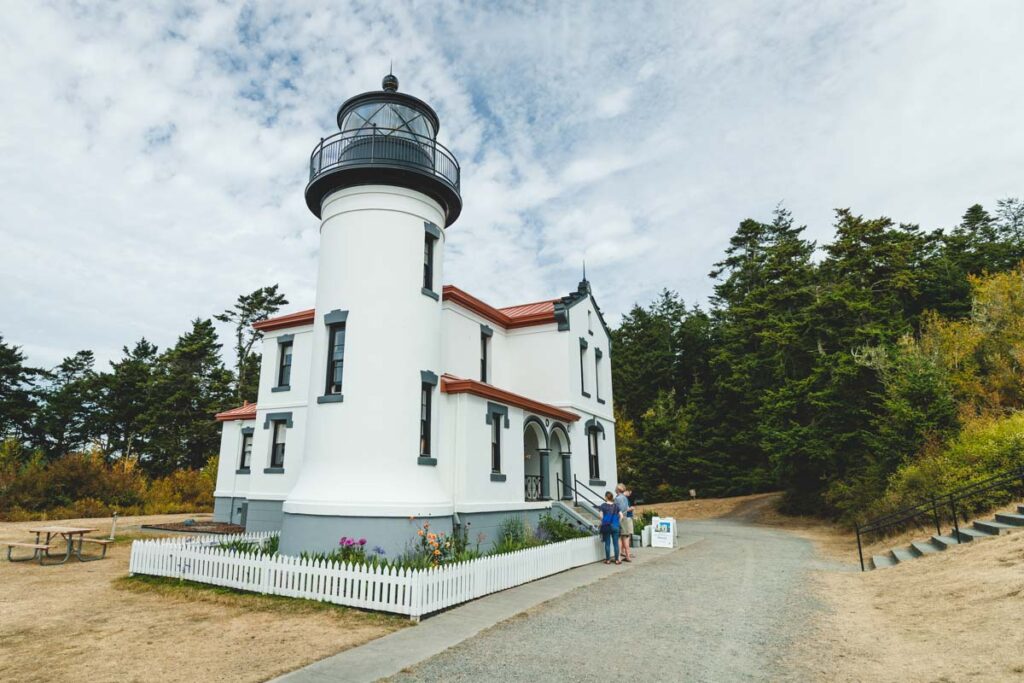 We've mentioned a ton of these in this article already but here are a few more of our favorite state parks in Washington plus their guide:
Fort Casey State Park: Located on Whidbey Island, Fort Casey State Park features historic military structures and stunning views of Admiralty Inlet.
Fort Ebey State Park: Also situated on Whidbey Island, Fort Ebey State Park boasts miles of hiking and biking trails, as well as picturesque coastal bluffs.
Lake Sammamish State Park: Along the shores of Lake Sammamish, this park near Seattle is a popular destination for picnics, beach bumming, and kayaking.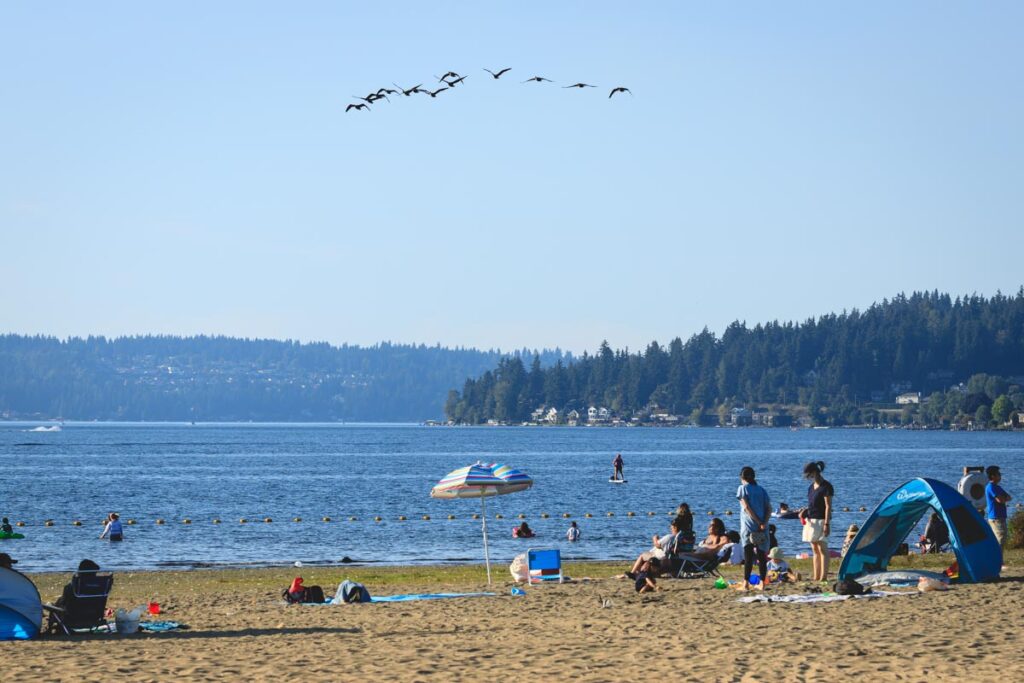 Bogachiel State Park: Located on the Olympic Peninsula, Bogachiel State Park is known for its lush rainforest setting and the Bogachiel River. There's not much here but it's location is PERFECT for exploring Olympic National Park.
Cape Disappointment State Park: Situated at the confluence of the Columbia River and the Pacific Ocean, Cape Disappointment State Park offers historical sites, hiking trails, and breathtaking coastal vistas.
Westhaven and Westport Light State Parks: These neighboring parks in Westport are perfect for beachcombing, picnicking, and enjoying ocean views.
Battle Ground Lake State Park: A hidden gem in southwestern Washington, Battle Ground Lake State Park features a volcanic crater lake and lush forested surroundings with nearby waterfalls.
Lake Wenatchee State Park: Settled in the Cascade Mountains, Lake Wenatchee State Park offers a pristine mountain lake, hiking trails, and opportunities for getting out on the water!
Read our guide to the best state parks in Washington.
21. Sail the Scenic Waters
Set sail on an unforgettable adventure with a sunset cruise in Seattle!
Step aboard the sailboat and let the winds carry you through Seattle Harbor as the sun paints the sky with picturesque colors. Sailing tours usually last about two-hours and are perfect for those seeking a romantic evening or a unique way to appreciate the city's beauty.
You'll be greeted by Seattle's iconic skyline, with landmarks like the Space Needle and Smith Tower standing tall against the twilight sky. On clear days, you'll get lucky with an appearance from Mount Rainier gracing the horizon with its snowy peak!
You can sit back with your wine or soda while you nibble on snacks or you can be a bit more hands-on and help raise the sails or even take a turn steering the ship!
Unwind, connect with nature, and witness the beauty of the Pacific Northwest as day transitions into night while sailing in Seattle.
22. Discover the Best Markets Across The State
Who doesn't love a good market?! Washington has plenty for you, no matter if you're looking for a trinket to bring home, some fresh produce, or want to catch some live music while munching on some local bites. Here are just a few markets to get those wheels turning…
Pike Place Market (Seattle): Seattle's iconic market is a must-visit, featuring fresh seafood, colorful flower stalls, handmade crafts, and an array of international eateries.
Fremont Sunday Market (Seattle): Known for its quirky and eclectic atmosphere, this market offers vintage treasures, antiques, arts, crafts, and delicious street food.
Ballard Farmers Market (Seattle): A favorite among locals, this market showcases a bounty of fresh, local produce, artisanal foods, and unique handmade items.
Olympia Farmers Market (Olympia): Discover the flavors of the Olympia region with a variety of locally grown produce, seafood, and handmade arts and crafts.
Puyallup Farmers Market (Puyallup): This bustling market offers a wide selection of farm-fresh produce, artisanal goods, and a vibrant community atmosphere.
Bellingham Farmers Market (Bellingham): Explore a diverse range of vendors, from farmers with organic produce to local artists and makers, all against the backdrop of Bellingham Bay.
Vancouver Farmers Market (Vancouver): Located in Esther Short Park, this market features a mix of fresh produce, artisan crafts, and delectable food stalls.
Spokane Farmers Market (Spokane): A lively market with an array of locally grown fruits and vegetables, handmade products, and live music performances.
Port Townsend Farmers Market (Port Townsend): Nestled in a picturesque coastal town, this market offers an abundance of locally sourced foods, crafts, and live entertainment.
Bainbridge Island Farmers Market (Bainbridge Island): Enjoy the island's charm while perusing a variety of local goods, including farm-fresh produce, artisanal bread, and unique crafts.
23. Indulge in Washington's Finest Wineries
Washington State has firmly established itself as a player in the American wine landscape, boasting a range of grape varietals and producing world-class wines (woo!). With its unique geography, diverse microclimates, and passionate winemakers, Washington has become a wine lover's paradise.
The Columbia Valley, encompassing subregions like Walla Walla, Yakima Valley, and Red Mountain, is the epicenter of Washington's wine production.
These areas benefit from abundant sunshine during the growing season and have the ideal conditions for cultivating a wide variety of grapes, including Cabernet Sauvignon, Merlot, Syrah, and Chardonnay. Walla Walla, in particular, has gained fame for its exceptional red wines and charming tasting rooms.
What's Washington's wine country look like? Picturesque vineyards set against a backdrop of rolling hills and rugged mountains! You don't have to wander too far from Seattle either—The Woodinville Wine Country, offers a convenient way to sample wines from across the state, with numerous tasting rooms within walking distance of one another.
Check here for the best winery tour that also includes a waterfall!
24. Cozy Up at Seattle's Charming Cafes
Seattle is renowned for its coffee culture, but it's not just about the brew. It's about the vibe and what tasty treats or cool atmosphere they offer too! Here are some must-visit cafes and the reasons why you should stop by but like… this is FAR from an exhaustive list.
Milstead & Co. (Fremont): Known for their dedication to showcasing exceptional coffee beans from around the world, Milstead & Co. offers a changing menu of coffee delights. You'll taste their commitment to quality in every cup.
Tougo Coffee Co. (Central District): Tougo Coffee Co. is a neighborhood gem with a welcoming and cozy vibe. Enjoy their craft slow-brew coffee!
Cafe Allegro (University District): Seattle's oldest espresso bar, Cafe Allegro, is an institution. It's a great place to experience a piece of Seattle's coffee history and sip your brew.
General Porpoise Doughnuts (Capitol Hill): Craving artisanal doughnuts filled with delectable fillings like vanilla custard or lemon curd? Look no further than General Porpoise Doughnuts for a sweet indulgence and hard-to-find beans for your coffee!
La Parisienne French Bakery (Belltown): Transport yourself to France with a visit to La Parisienne French Bakery. Their croissants and pastries are authentically delicious.
Storyville Coffee (Pike Place Market): Situated in the iconic Pike Place Market, Storyville Coffee offers some superb coffee while you escape the bustling market below.
25. Adventure Awaits in North Cascades National Park
North Cascades National Park is a rugged and pristine wilderness at the tippy top of Washington state, nearly at the Canada border! This area is known for its dramatic mountain landscapes, pristine lakes, and opportunities for outdoor adventure—mainly hiking.
This park is for some reason, often forgotten about! But with over 300 glaciers, countless waterfalls, and a rich diversity of flora and fauna—you won't want to skip this national park.
Here are some of the best things to do and hikes in North Cascades National Park:
Diablo Lake Overlook: Drive or hike to the overlook for breathtaking views of the stunning turquoise waters of Diablo Lake, surrounded by jagged peaks.
Ross Lake: Enjoy kayaking or canoeing on Ross Lake, a serene reservoir nestled amidst the mountains.
Thunder Knob Trail: A family-friendly hike that leads to a stunning viewpoint overlooking Diablo Lake.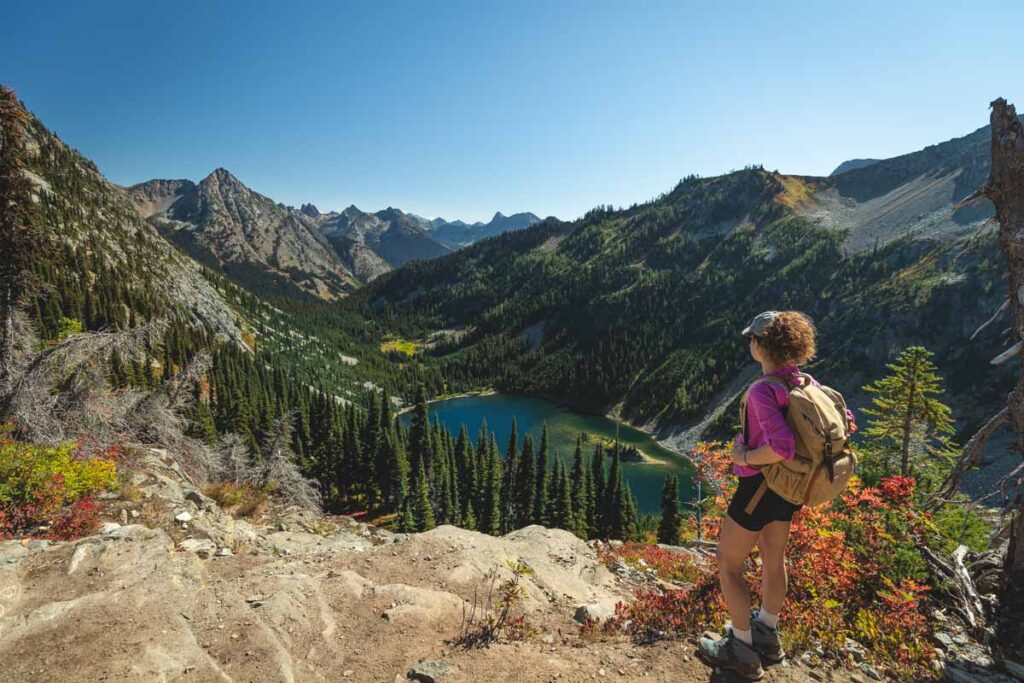 Maple Pass Loop: This popular loop trail offers hikers stunning views of Lake Ann, wildflower meadows, and 360-degree panoramas of the North Cascades.
Rainy Lake Trail: Explore the Rainy Lake area with this picturesque hike, which takes you to the serene Rainy Lake surrounded by mountain peaks.
Chain Lakes Loop: A challenging but rewarding hike, the Chain Lakes Loop offers the opportunity to explore multiple alpine lakes and enjoy breathtaking vistas of the North Cascades.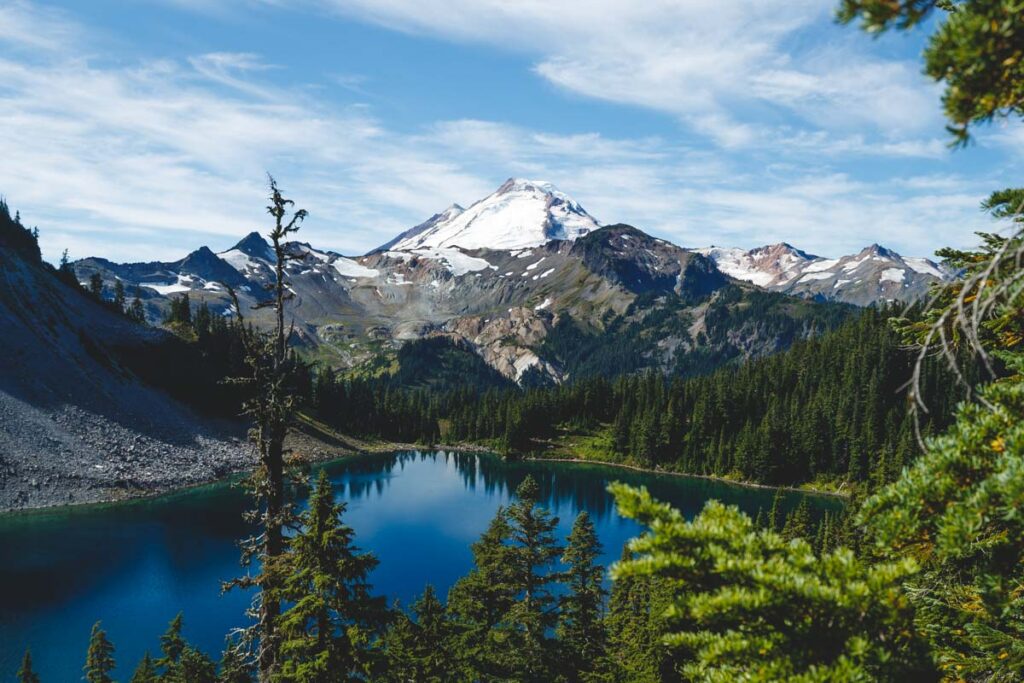 North Cascades Highway Scenic Byway: Drive this scenic highway to witness the park's incredible beauty from the comfort of your car, with numerous pullouts for photo opportunities.
Camping and Stargazing: Spend the night under the stars at one of the park's campgrounds and revel in the remarkable clarity of the night sky.
Read our guide to the best hikes in North Cascade National Park.
26. Witness the Power of Mount St. Helens
Mount St. Helens is one of the most iconic and historically significant volcanoes in the country. Known by the indigenous Cowlitz people as "Louwala-Clough," which translates to "smoking or fire mountain."
Mount St. Helens gained worldwide attention due to its cataclysmic eruption in 1980. This event dramatically altered the landscape and forever changed our understanding of volcanic processes.
Despite the devastation, life has returned to the blast zone, and the surrounding landscape has undergone remarkable restoration. Today, the mountain stands as a symbol of the Earth's geological forces and a testament to the resilience of nature.
When visiting Mount St. Helens, you'll want to head to The Johnston Ridge Observatory, which provides insight into the mountain's history and ongoing activity. For another angle, try Loowit Viewpoint for more spectacular vistas.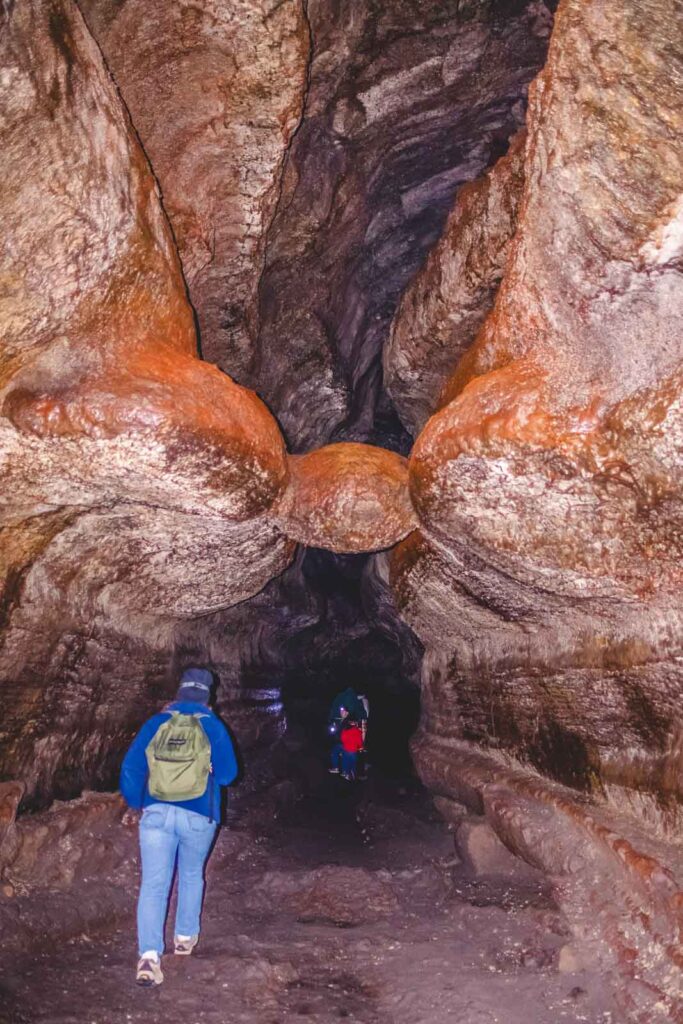 Hiking trails, including the Harry's Ridge Trail, offer panoramic views of the volcano and the surrounding wilderness. For something a bit different, descend into the subterranean world of Ape Cave, one of the longest lava tubes in North America!
27. Explore the Enigmatic Lake Lenore
Lake Lenore is a hidden gem in the heart of the state—Really though, an actual hidden gem since so few people make it out this way!
This serene lake is renowned for its crystal-clear waters, making it a popular destination for paddlers, kayakers, and those looking to catch Lahontan Cutthroat Trout—it's the only fish living in this alkaline lake!
One of the best things to do here is hiking the Lenore Lake Caves. This short but intriguing trail takes you to a series of caves carved into the basalt cliffs that frame the lake.
These caves were created thousands of years ago by volcanic activity and the erosive forces of Lake Missoula's ancient floods. As you trek into the cool, dark recesses of these caves, you'll be transported to a world of geological wonders. Check out all the unique rock formations, including impressive lava shelves and intricate patterns etched into the walls!
Read our guide on visiting Lenore Lake.
28. Get a Taste of Wenatchee's Offerings
Known as the "Apple Capital of the World," Wenatchee boasts a rich agricultural heritage, but there's much more to discover in this charming community.
One of the top draws of Wenatchee is its proximity to the stunning Cascade Mountains and the Columbia River, offering a plethora of outdoor activities. From hiking and biking along scenic trails to fishing, kayaking, and paddleboarding on the river, outdoor enthusiasts will find endless opportunities to connect with nature.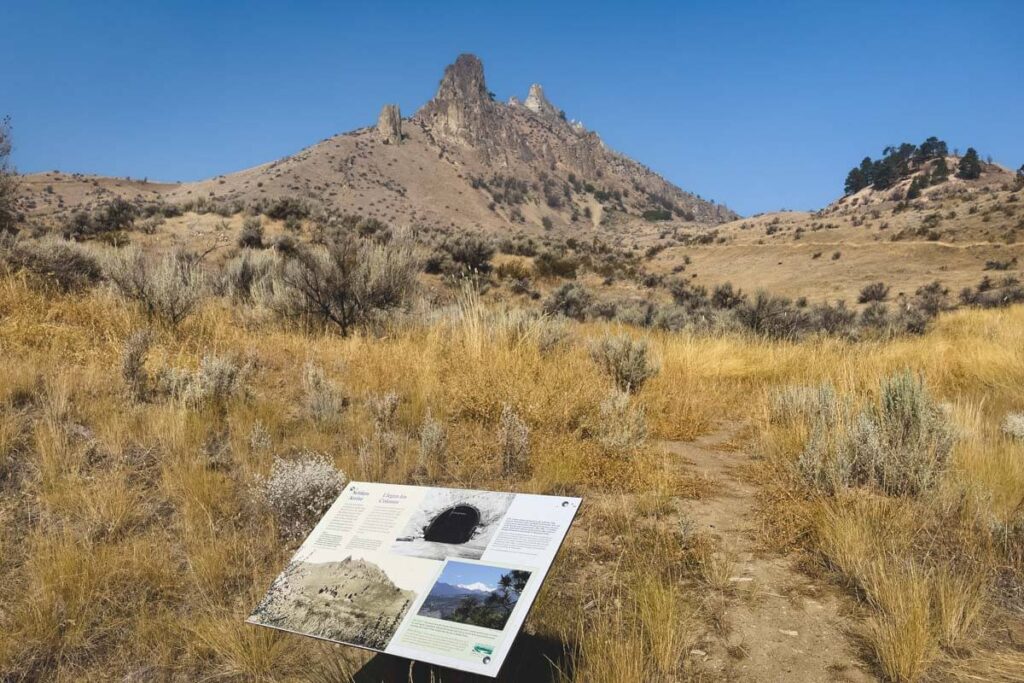 Saddle Rock is a local favorite, hike up here for some of the best views in the area. If you want to get out on the water, you can put in at Porters Pond.
The city's historic downtown area is a delightful place to explore, featuring boutique shops, cozy cafes, and local eateries offering a taste of the region's delicious produce. Check out Pybus Public Market for tons of delicious foodie options or head to Wenatchee Valley Brewing Co. for a cold beer after a hot hike!
Read our guide on things to do in Wenatchee.
29. Relax and Recharge on the Washington Coast
The Washington Coast is where rugged natural beauty meets the endless expanse of the Pacific Ocean. Stretching along the western edge of the state, this coastline is a paradise for beach lovers, surfer, and adventurers alike.
Cape Disappointment is a captivating starting point for coastal exploration. Despite its name, this headland offers breathtaking views and historical significance—Zero disappointment to be had here!
Visit the Cape Disappointment Lighthouse, which has been guiding ships along the coast for over a century. Explore the network of trails that wind through old-growth forests, revealing stunning vistas of the turbulent confluence of the Columbia River and the Pacific Ocean, along with some history with old forts popping out of the hillsides to explore.
Long Beach, aptly named, boasts 28 miles of uninterrupted sandy shoreline, making it one of the longest beaches in the world. It's a haven for beachcombing, kite flying, and building sandcastles. Don't forget to visit the iconic "World's Largest Frying Pan" (although, somehow, a bigger one has now popped up!?)
Westport is a coastal town with a lively fishing community and a welcoming atmosphere. Enjoy the fresh catch of the day at local seafood restaurants and head out on fishing charters for a chance to reel in your own prize. The town's marina is a hub of activity, and the Westport Maritime Museum offers a fascinating look into the maritime heritage of the area.
Ocean Shores, on the other hand, is a bustling coastal community with a beachfront boardwalk, offering everything from horseback riding along the shoreline to charming shops and golf courses.
Heading north, you'll discover the pristine beauty of Kalaloch Beaches—Kalaloch is renowned for its dramatic sea stacks, tide pools, and enchanting sunsets. It's also a gateway to Olympic National Park's lush rainforests. Some of Washington's best beaches are here!
30. Ride the Waves
Speaking of the Washington coast…Surfing here is for those wanting a more off-the-beaten-path experience. While not as widely recognized as some world-famous surf destinations or even some of the surf spots in Oregon, the Washington Coast offers up some fun rips!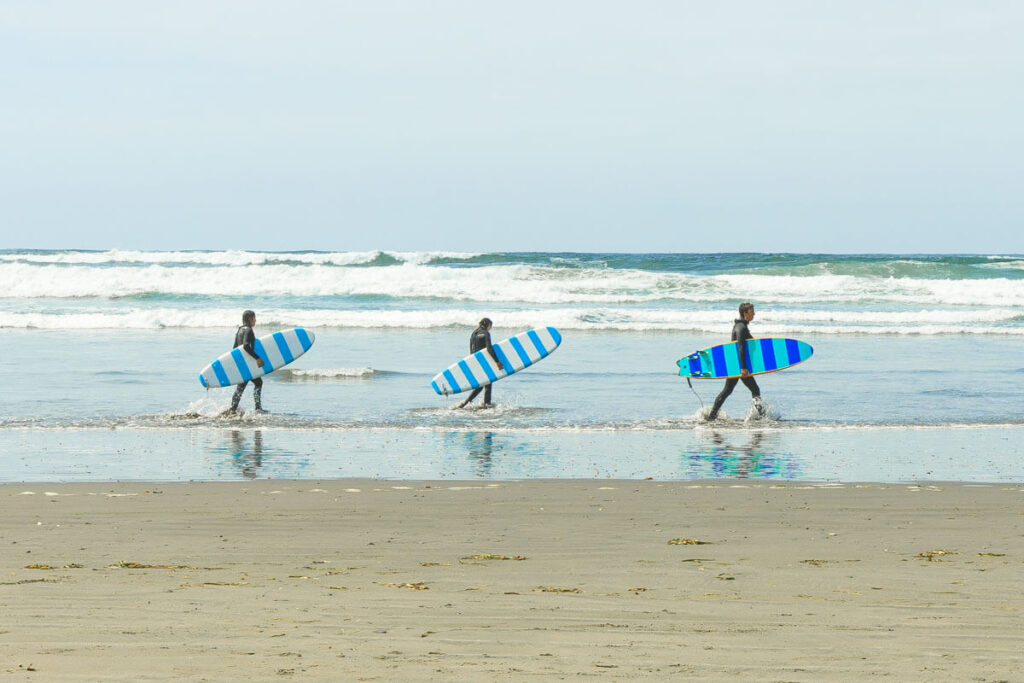 The cool, pristine waters of the Pacific Ocean provide the ideal conditions for surfing, especially during the fall and winter months when larger swells roll in. Surfing spots like Westport and La Push have gained popularity among surfers for their consistent waves and welcoming surf communities.
Westport is often considered the epicenter of Washington surfing, offering both beginners and experienced surfers a chance to catch some of the best waves in the region. The town has numerous surf shops and rentals—Check out The LOGE for rentals and camping.
On the northern coast, La Push is a gem known for its stunning sea stacks and challenging waves. First Beach and Rialto Beach are the primary surf spots here, offering a more remote and rugged surfing experience.
While surfing on the Washington Coast may not have the warm waters of more tropical destinations, it compensates with its unspoiled beauty and, let's face it, an uncrowded lineup, which is always a win!
31. Sip Excellence at Local Breweries
Washington is home to a thriving craft beer scene, where innovation and tradition converge to produce an impressive array of craft brews. From Seattle to Spokane and everywhere in between, breweries of all sizes offer a diverse selection of beer styles, ensuring there's something for every palate.
Here are a few of the best breweries to tack on your list of things to do in Washington:
Iron Goat Brewing (Spokane): A brewery known for its craftsmanship and diverse beer lineup.
Bale Breaker Brewing Company (Yakima): Located in the heart of hop country, this family-owned brewery produces exceptional, hop-forward beers with a farm-fresh twist.
Blackbeard's Brewing Company (Westport): Coastal vibes with a brew is always a good idea. We love their pizza here too!
Stoup Brewing (Seattle): In the vibrant neighborhood of Ballard, Stoup Brewing serves up carefully crafted beers in its beer garden.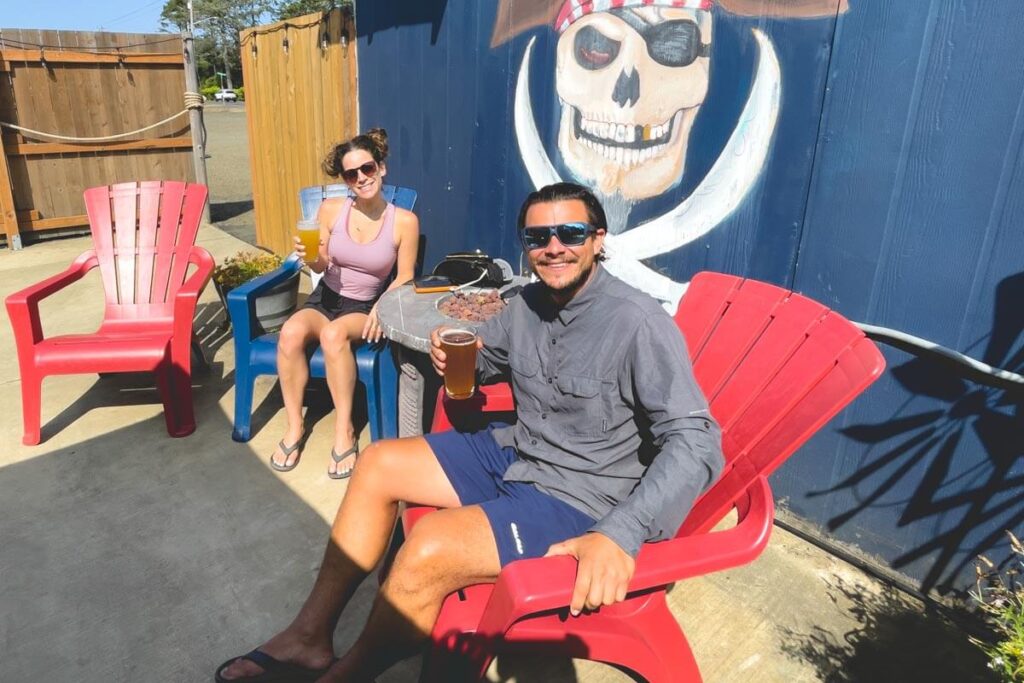 Icicle Brewing Company (Leavenworth): Grab a taste of the Cascade Mountains in every sip, with a focus on high-quality, locally sourced ingredients and a beautiful courtyard perfect for sipping.
Iron Horse Brewery (Ellensburg): Known for its approachable and flavorful beers, making it a beloved stop for beer lovers if you're running through this area.
Wenatchee Valley Brewing (Wenatchee): This brewery captures the spirit of the region with great brews, live music, and festivals.
32. Journey to Steamboat Rock & Sun Lakes-Dry Falls State Park (Off-Beat Thing to Do in Washington)
This is really a two-for-one deal. This area of Washington isn't visited very often, and it's a wonder why. Sure it's out in the middle of nowhere but these two stunning state parks are here, so maybe I can convince you to detour!?
If you are in the area, you'll have to see both, they are down the road from each other.
Steamboat Rock State Park is a true natural gem. At its core stands the formidable Steamboat Rock, a massive basalt butte rising dramatically above the shimmering waters of Banks Lake. Hiking to the summit of Steamboat Rock rewards adventurers with awe-inspiring panoramic views of the surrounding landscape!
At Sun Lakes-Dry Falls State Park, you'll find a captivating blend of natural wonder and historical significance. Dry Falls is a colossal remnant of the Ice Age floods, once the largest waterfall in the world! Today, this massive, curving basalt cliff serves as a striking backdrop to the park's rugged beauty.
Standing at the viewpoint, you'll feel humbled by the sheer scale of this geological wonder, which, at the height of its glory, was twice the size of Niagara Falls.
Both offer tons of fun activities like swimming, boating, hiking, fishing and if you don't want to leave, there's camping available too.
We love this little forgotten-about area of Washington, don't miss it!
33. Winter Wonderland Things to Do in Washington
As winter blankets Washington in a pristine layer of snow, the Evergreen State transforms into a wonderland of seasonal delights.
From snow-covered mountains to cozy coastal towns—what's your vibe for visiting Washington in Winter? Whatever it may, we're sure you'll find it! Here's a quick rundown…
Head to the Mountains: Washington's mountainous regions come alive in winter. Ski and snowboard enthusiasts flock to destinations like Crystal Mountain, The Summit at Snoqualmie, and Mount Baker Ski Area, where powder-covered slopes offer endless powdery fun.
Try out snowshoeing or cross-country skiing escapades in national parks like Mount Rainier or North Cascades, where peaceful trails wind through peaceful winter landscapes.
Cozy Coastal Getaways: Washington's coastal towns take on a unique charm during the winter months. Places like Port Townsend, with its Victorian-era architecture and waterfront views, provide an ideal backdrop for a romantic escape. Explore cozy cafes, art galleries, and historic inns while savoring fresh seafood at local restaurants.
The Olympic Peninsula offers storm-watching opportunities along the rugged coastline, with crashing waves and tempestuous skies providing dramatic scenery.
Winter Festivals: Welcome the holiday spirit by attending festive events across the state. The Leavenworth Christmas Lighting Festival is a beloved tradition, transforming this Bavarian-inspired town into a twinkling wonderland.
Seattle's iconic Pike Place Market transforms as it's adorned with colorful lights, where local artisans offer unique holiday gifts. Savor seasonal treats, like freshly roasted chestnuts and gourmet hot chocolate, while enjoying live music performances!
There's too much to say! Luckily you can read our guide to winter in Washington for more.
Phew! That was a lot. We hope our list of things to do in Washington helps plan your visit!
I've been perpetually traveling and living around the world for years but it's hard to beat Washington and the PNW. After years of road-tripping the area, I guess you can say I know it pretty well! When I'm not writing guides for you, you can catch me somewhere petting a dog, attempting to surf, hiking a volcano, or stuffing my face with bread and cheese.