Situated on the western side of the lovely Whidbey Island, Fort Ebey State Park offers the perfect combination of sun, sand, and stunning scenery. The park also boasts a fascinating history dating back to the second world war.
So, whether you're looking to hike some trails, sink your toes into soft sand, or learn a little more about the area's history, Fort Ebey State Park will not disappoint.
Visitors will need a Discover Pass to enter Fort Ebey State Park. You can buy your pass in advance or use the on-site automatic pay stations.
Visiting Fort Ebey State Park
---
During the height of World War II, numerous military forts were constructed along the Puget Sound area to protect against the looming threat of invasion. Fort Ebey was one of the last forts built and was in operation from 1942 to 1947.
During its short reign, the fort boasted state-of-the-art technology, including radar-guided guns, camouflage, and a battery.
After the defense was deemed a surplus in 1947, the state of Washington bought the area in 1965. The park we know and love today was opened to the public in 1981. Many of the original structures of the fort remain, including the batter and a bunker.
Bring a headlamp or flashlight to explore as many areas as possible during your trip to Fort Ebey State Park.
Hiking and Biking at Fort Ebey State Park
There are about 25 miles of trails at Fort Ebey State Park, and hiking or biking the routes are some of the best ways to see the park in its entirety. We've highlighted a few of the best trails below to aid your trip planning process.
Fort Ebey State Park Loop
Distance: 7.1 miles
Type of Trail: Loop
Difficulty: Moderate
Elevation Gain: 784 ft
This is one of the longest trails in the park, allowing you to see most of the area's varied landscape. The trail leads through dense forests, along beautiful coastal bluffs, and past some of the old military equipment. You can even see the towering Olympic Mountains across the water on a clear day.
Fort Ebey Loop
Distance: 1.9 miles
Type fo Trail: Loop
Difficulty: Easy
Elevation Gain: 324 ft
Fort Ebey Loop fits the bill for a shorter, easier version of the previous trail. You'll get the same stunning coastal views, access to the military installments, and some of the forested inland terrain without all the miles.
Lake Pondilla Loop
Distance: 1.4 miles
Type of Trail: Loop
Difficulty: Easy
Elevation Gain: 141 ft
The Lake Pondilla Loop offers varied and beautiful terrain in a short circuit, making it the perfect trek for those who are short on time or energy. The trail winds through a wooded area, past Lake Pondilla, and along the rugged coastline.
If you feel like taking a break, this loop provides access to the beach, where you'll find lots of driftwood and more incredible views across the Straight of Juan de Fuca.
Fort Ebey Bluff Trail
Distance: 1.2 miles
Type of Trail: Out & Back
Difficulty: Easy
Elevation Gain: 59 ft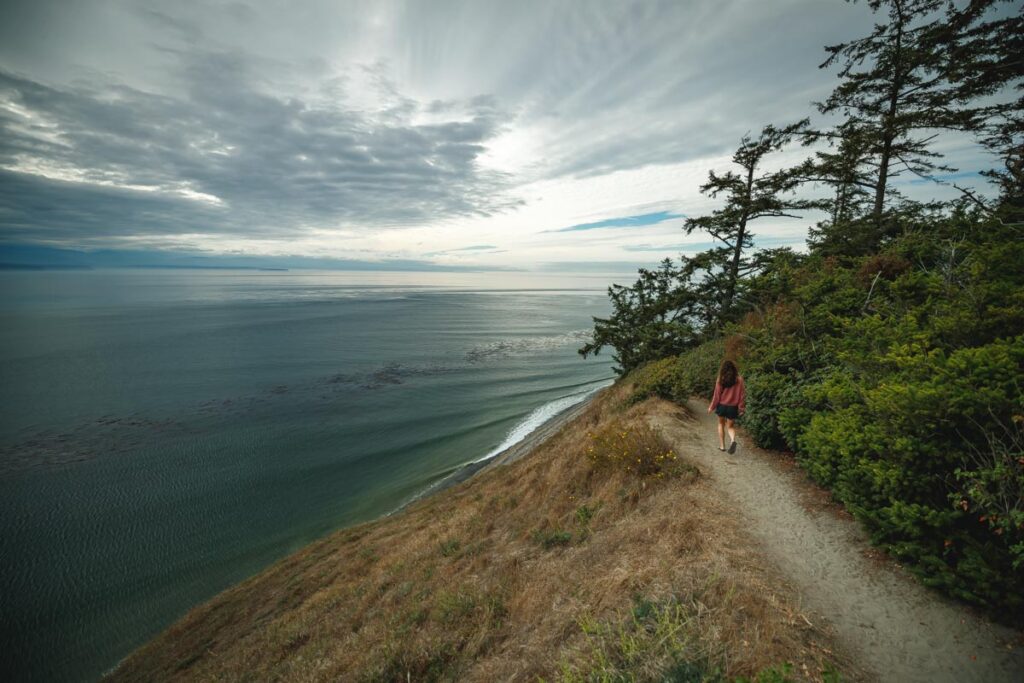 If you have time for just one trail during your time at Fort Ebey State Park, make it the Bluff Trail. This popular route starts at the picnic area, leads south along the coast, and offers forested and ocean views.
If you want to extend your hike or bike ride, you can always add on one of the many connecter trails available, including the lengthy Fort Ebey State Park Loop.
---
RELATED: 25 EPIC Hikes in Washington to Tackle
---
Paragliding
Don't hesitate to try paragliding at Fort Ebey State Park if you feel adventurous. This popular pastime is best performed after a rainstorm when the winds are just right.
Paragliders take off from the Parade Lawn across from the battery. Even if you don't participate, watching others take to the sky is a fascinating experience in its own right.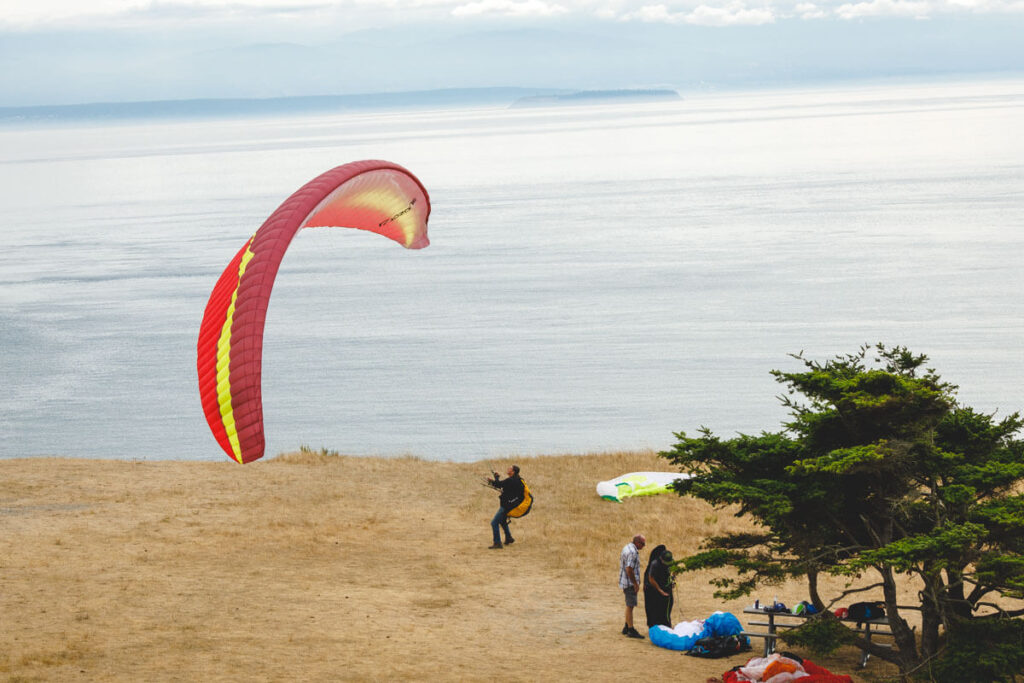 If you feel inclined to go airborne, there are plenty of paragliding clubs in the surrounding area where you can get lessons and rent gear.
---
RELATED: 10 Awesome Things To Do on Whidbey Island & Fidalgo Island
---
Camping
You may find that one day at Fort Ebey State Park isn't enough. Luckily, the park has a campground with sites for tents and RVs up to 40 feet. While most sites are simple with basic amenities like a picnic table and fire ring, 11 of the 50 sites are equipped with hookups.
There are also shower facilities, restrooms, and a sizeable athletic playing field. In addition, the campground is known for its epic views across the Straight of Juan de Fuca. Note that there is no dump station available at the campground.
Overnight park guests should also know that the campground is located beneath a flight route for the Naval Air Station Whidbey Island. Training missions may be conducted at all hours, day and night, and are pretty loud, so check the flight schedule ahead of your visit.
The campground is open seasonally from May through October. Reservations can be made online up to six months in advance.
Things To Do Nearby
Whidbey Island is a remote outdoor oasis with tons of things to see and do. So, while you're in the area, you may want to explore some of the nearby surroundings. One of the closest options is Fort Casey State Park, located about nine miles south of Fort Ebey.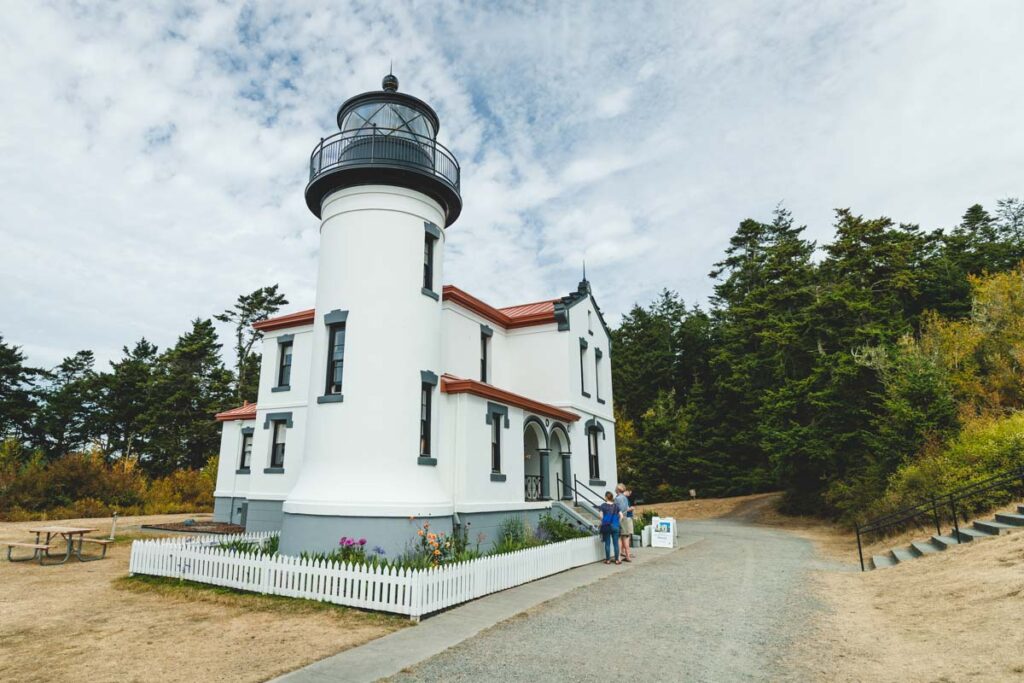 It is possible to hike between the two parks. Continue on any of the trails mentioned above to Ebey's Landing Trail and continue along the coast. Of course, you could always drive over to Fort Casey State Park.
Exploring these two parks in tandem is a no-brainer, thanks to their proximity!
---
READ MORE: Your Guide to Fort Casey State Park
---
We hope this post helped you discover Fort Ebey State Park! Before you do, don't forget to check out other Washington State Parks and more adventures near Seattle.
I'm an Oregon native but neighborly and equally as enchanted by Washington. I tackle expeditions around the world and love a good beer at the end of the day. PNW obsessed, VW nerd, and surf or snow riding fanatic.