The Sol Duc Falls hike is a beautiful short trail if you're in the mood for a micro-adventure.
It sits in Olympic National Park, not far from the Salish Sea and the US/Canadian border. While this is only a short trail, there's a way that you can extend it as well!
In this article, we'll detail the Sol Duc Falls Trail and the longer Lover's Lane Trail, and how to combine the two to do a longer hike.
If you want an adventure in northwest Washington, read on!
Sol Duc Falls Trail
Distance: 1.6 miles
Type of Trail: Out & Back
Difficulty: Easy
The Sol Duc Falls Trail is a popular 1.6 mile out and back hiking route. It's suitable for all levels.
It's straightforward to follow; just keep straight on the nature trail from the parking lot. You'll eventually reach the waterfalls, which consist of a dramatic 15 feet drop with three beautiful shoots.
Then, you just need to retrace your steps to return to the parking lot.
---
RELATED: 21 Epic Waterfalls in Washington
---
Lovers' Lane Trail
Distance: 6.1 miles
Type of Trail: Loop
Difficulty: Moderate
Lovers' Lane Trail is about 6 miles in length and is slightly more challenging than the Sol Duc Falls trail – although it's still reasonably easy.
It's a loop hike, encompassing the Sol Duc Falls trail as well as another 4.5 miles of other greenery within the national park.
If you add the Lovers' Lane Trail to the shorter trail, you'll have a fun and varied Sol Duc Falls hike that will take around two to three hours. Perfect for a half-day adventure!
---
RELATED: 25 EPIC Hikes in Washington to Tackle
---
Where to Park
You can either park at the Sol Duc Hot Springs Resort (which is where most people begin, and where this guide will start from) or the Sol Duc Falls trailhead parking lot.
If you follow the loop trail, you'll end up in the same place either way.
Hiking Instructions
The first segment of the trail connects the Sol Duc Hot Springs resort to the campsite.
This is a wonderful segment of woodland with plenty of small bridges and log pathways. It's reasonably flat, so is pretty easy and accessible.
Then, take the Sol Duc Falls trail to reach the falls. Again, this is pretty easy. It's relatively flat, although it is a very busy area. Keep at it – the trail gets a lot quieter after the falls.
There are multiple viewpoints of the falls, so if it's busy at one spot, you can walk around to try and find somewhere quieter.
Once you reach the falls, you can turn onto Lover's Lane Trail.
This ultimately travels the opposite way you came, making the other side of the loop.
There's a small hidden waterfall as you join the trail – which is much quieter than the Sol Duc Falls! This could be an ideal place to stop for lunch.
The trail's route is quite apparent, eventually snaking around the resort, past the Sol Duc hot springs, and returning to the parking lot.
---
RELATED: 15 Best Hikes in Olympic National Park, Washington
---
Hiking Tips for the Sol Duc Falls Trail
There are a lot of rocks and roots on this trail. Make sure that you wear appropriate shoes – ideally hiking boots – and be very careful. It's easy to trip!
Some of the Lovers' Lane Trail is also a little overgrown in various places. This is because it's such a wonderfully quiet route (so be thankful for that!) but it does mean that a little extra care needs to be taken in parts.
This is quite a flat trail, which makes people think that it is easy. While it's certainly not the most difficult trail we've got on this site, it's still relatively long and can be a bit up and down in parts. So make sure that you're ready to hike this distance!
You'll need to pay a fee to enter the Olympic Park. If you visit often, you can also purchase an annual pass. There's more information here.
---
RELATED: Where to Stay in Olympic National Park, Washington
---
Things To See Near Sol Duc Falls
After your Sol Duc Falls hike, there are a few cool things to see in the area. Check out the following! These are both easy to hit on your way back out the road from the falls.
Ancient Forest
This is a short, half-mile stroll through a fascinating ancient forest. Even if you've completed the long trail and are feeling tired, it's well worth checking this walk out!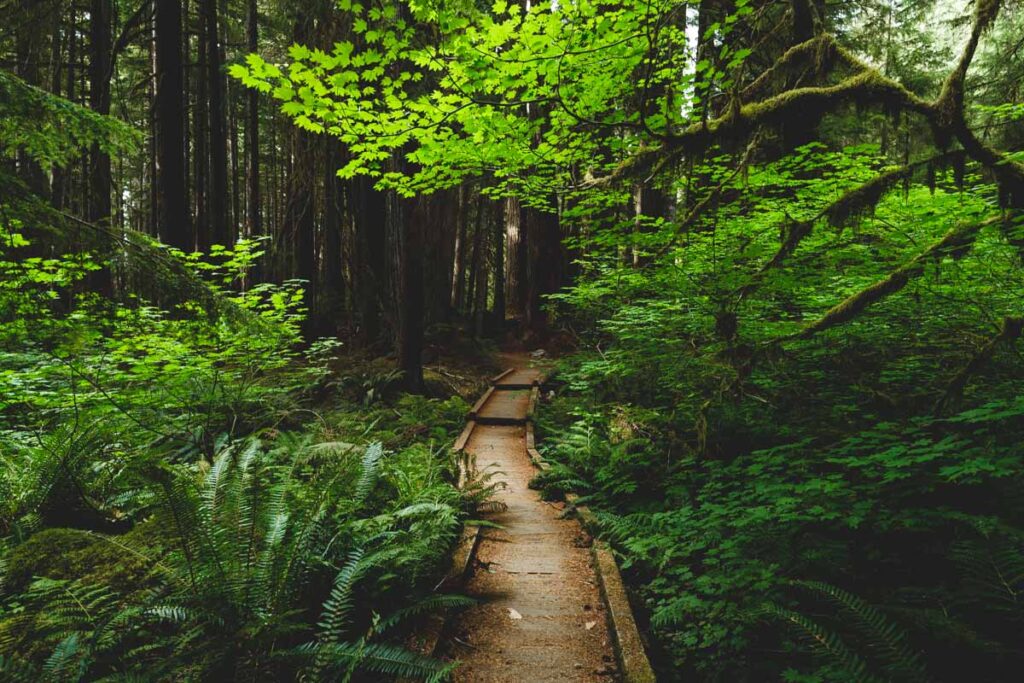 The trees soar up ahead, and the ground is covered in fir. It's like discovering a magical land, especially when there's nobody else around! Be wary, though, as bears have been spotted in this area.
Salmon Cascade
This is a really cool phenomenon where you can see salmon and trout jumping up the river to reach their spawn from a viewing platform.
You can look out for coho salmon in September and October and steelhead trout in late March until May.
The Sol Duc Falls hike is a beautiful adventure in Washington's Olympic National Park.
Encompassing woodland and falls, with some other chances to see Washington's natural beauty while in the area, you shouldn't miss this hike when you're exploring northwest Washington!
We hope this post help you plan your hike to Sol Duc Falls! Don't forget to check out other adventures in Olympic National Park and more waterfalls in Washington.
More Waterfalls Around Washington
I'm an Oregon native but neighborly and equally as enchanted by Washington. I tackle expeditions around the world and love a good beer at the end of the day. PNW obsessed, VW nerd, and surf or snow riding fanatic.