If you can believe it, North Cascades National Park is one of the least visited national parks in the country!
It must be because people haven't seen photos from this place, because if they did, they'd be blown away by the beauty. Dense coniferous forest, jagged mountain peaks, shimmering glacier lakes, and a lifetime's worth of adventures for those keen to explore.
As you can imagine, to see some of the beauty offered here, the best thing to do is go on a hike in North Cascades National Park. They will give you some angles and views only rewarded to those who tackle its peaks.
From the north where Mount Baker looms, down to where waterfalls rush, and further south to the brightly blue Ross Lake, these are some best hikes in the North Cascades!
Hikes in The North Cascades
---
1. Racehorse Falls Trail
Distance: 0.6 miles
Type of Trail: Out & Back
Difficulty: Moderate
The hike to Racehorse Falls might be short, but that doesn't mean it's easy. The hike packs a lot of punch into its 0.6 miles, with multiple waterfalls to witness. In total, the four falls drop about 140 feet, so they are not necessarily huge, but as they say, bigger does not always mean better!
You'll see all different types of falls, from punchbowls to veils and undercut ledges. The third is the most impressive waterfall, with a huge fan of water across the rock, and the best thing is, you can swim in the falls at the base of this one, and then there is another smaller waterfall.
The water has carved a deep, narrow canyon all around it, which is impressive enough to see on its own. You'll start the hike through some dense forest, although the trail is very well marked. Once you get to an opening, follow the path that will take you downhill to get the best viewing of the middle falls and then to the lower falls.
If it is the upper falls that you want to see, head back up to the clearing and then up some of the less defined paths up the hill further, and you should get a good vantage point of these other waterfalls.
2. Nooksack Falls Trail
Distance: 0.1 miles
Type of Trail: Out & Back
Difficulty: Easy
Nooksack Falls offers a fantastic waterfall stop, with 88 feet of cascading water tumbling off the rocks and into the North Fork of the Nooksack River. Park your car in the parking lot and follow the signs to the waterfall. It is a short, simple, marked trail with an interpretive sign to tell you more about the history of the area and the falls.
There are two waterfalls to choose from. The upper viewpoint gives a great vantage point of the top of the falls, while the lower lets you take it all in, from top to bottom, and it's whole 50 feet across. If you want to see it at its very best, visit in spring in summer, as the glacial melt causes a huge rush of water.
This is not exactly a hike, although you do have to walk a little bit to reach the viewpoint. It's more of a gentle stroll across the road, so you could always tack this one onto the start or end of your day when you have been hiking in the North Cascades.
---
RELATED: 21 Epic Waterfalls in Washington
---
3. Upper Lodge to Artists Point
Distance: 3.9 miles
Type of Trail: Out & Back
Difficulty: Moderate
Don't get this Artists Point confused with the lookout with the same name in Yosemite National Park. Both are stunning but are very different. On the trail to Artists Point, there will be a very good chance that you will be wearing snowshoes to help you along. Microspikes could also work on this trail.
Pretty anywhere you are along the way, you'll get impressive views, especially when they are 360. Take in the mighty Shuksan, the Cascades, and of course Mt Baker.
It is a steep workout but definitely worth the effort you put in, especially if you make it to Artists Point.
Not to put you off, but always check the avalanche forecast before going, as that would be far from the ideal way to end a hike.
4. Chain Lakes Loop Trail (Our Top North Cascades Hike!)
Distance: 7.1 miles
Type of Trail: Loop
Difficulty: Moderate
The Chain Lakes Loop Trail takes you through some stunning alpine scenery as you walk through a chain of lakes. Mt Baker and its towering snow-capped cone will dip in and out of view as you head up and down small hills along the route.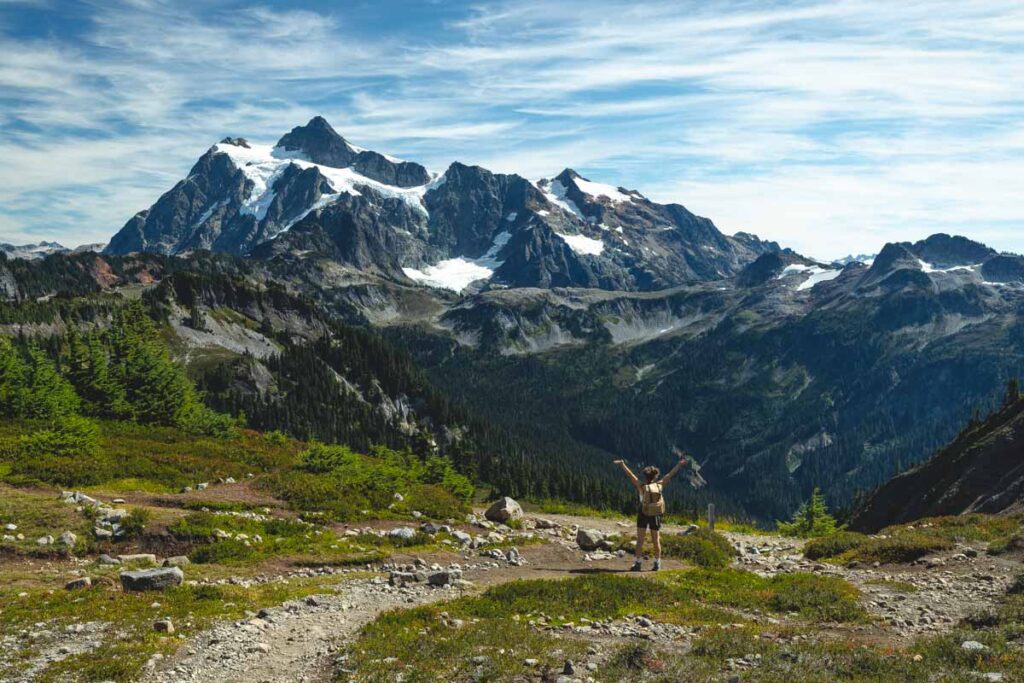 There are several trailheads to choose from with this hike, but many people will start at Artists Point and head downhill to the Heather Meadows parking lot. Almost as soon as you set off, you will be bombarded with stunning mountain views, with Table Mountain, Mt Herman, and Bagley Lakes taking center stage at this point.
Head in the direction of Bagley Lakes and follow the path that hugs the shore before heading uphill again, your destination, this time being Hermans Saddle.
Make sure you stop and look behind you at least once, so you can witness Mt. Shuksan looming over your shoulder. Soon, both Hayes Lake and Iceberg Lake will come into view, followed by Mazama Lakes. With all the lakes in the trail, you won't be bored for a moment, as each of these alpine bodies of water offers something spectacular and different.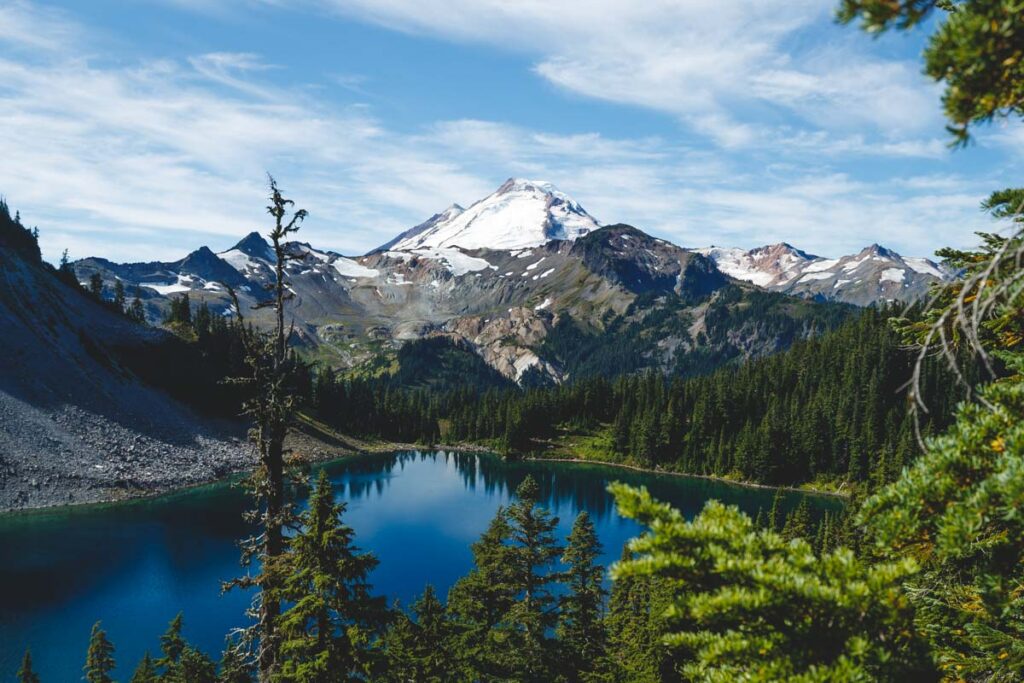 Be prepared to climb again as you head out of the basin and finish the loop heading back to Artists Point. There is a fair amount of elevation gain to tackle, but this gives you the best of all worlds as you can witness views from above and below, which include some of the most impressive mountains in the world.
TIP: You'll be able to loop in more trails with this one since it's so central. The next few hikes are offshoots from this one and are easy to add on!
---
READ MORE: Hiking The Chain Lakes Loop in North Cascades National Park
---
5. Bagley Creek Loop Trail
Distance: 1.4 miles
Type of Trail: Loop
Difficulty: Easy
The Bagley Creek Hike is one of the most scenic, leisurely hikes in the North Cascades. It is filled with natural wonders, from the flower-filled meadows to the sparkling glacial lakes; it is something special. While it's entirely possible to do this hike in a loop; however many people prefer to go out and back, the choice is yours!
Start this hike by heading down to Lower Bagley Lake, and follow the signs that will take you around the lakeshore. Mount Herman towers above you during this part of the hike and is pretty impressive!
Follow the lake all the way around until it turns into a gentle, flowing stream. Cross over the steam via a cute little stone bridge (perfect photo spot) and begin the walk along the shores of Upper Bagley Lake. The views are super impressive at this point, with Table Mountain now dominating the skyline.
Once you get to the upper part of this lake, you may be a little surprised to see snow, even in the middle of summer. This snowfield is around year-round and is the perfect place to let off some steam and even make some snow angels if you're feeling it.
From here, you can either go back the way you came or turn it into a loop by taking the Chain Lakes Trail.
6. Table Mountain Trail
Distance: 2.8 miles
Type of Trail: Out & Back
Difficulty: Moderate
Many trails wind their way up, down, and around the impressive Table Mountain, and we can assure you that they will all provide you with incredible views and hikes you'll remember forever. A good starting point is the Table Mountain Trail, one of the best hikes in the North Cascades.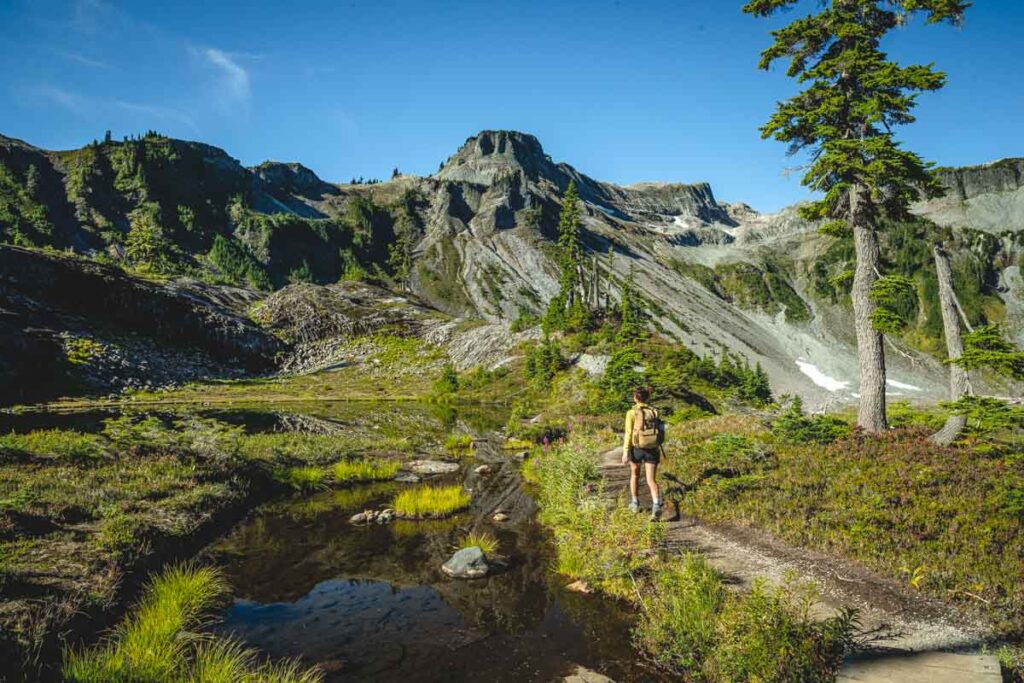 It is short but hard! Before you decide to tackle this tricky little number, stand at the trailhead and look up. You'll see the trail heading up a steep and rocky path; that is where you will be shortly.
The path begins at the parking lot of Artists Point just like Chain Lakes, switchbacking along immediately. Take a look at the twisting rocks as you climb, and take your mind off the burning sensation they may be starting to build in your legs!
When the trail finally levels out a little, take a look around you. The views are breathtaking, dotted with alpine lakes that look tiny from your lofty viewpoint.
---
RELATED: 25 EPIC Hikes in Washington to Tackle
---
7. Ross Dam Traverse Trail
Distance: 11.8 miles
Type of Trail: Out & Back
Difficulty: Moderate
The Ross Dam Trail may be a long trail at over 11 miles, but it is not too difficult. The paths are well maintained, there are a few ups and downs, but overall it is very doable, with beautiful lake views almost the whole way round. There are bridges across the steams and a wonderful waterfall finale to the hike.
Some of the trail will take you through the forest, which is nice to have a little shade on a hot day. To start with, you will head down to Ross Dam itself; this is the biggest elevation change during the hike.
Quick fact: the dam helps to provide the power for much of Seattle and Western Washington.
8. Diablo Lake Trail
Distance: 7.5 miles
Type of Trail: Out & Back
Difficulty: Moderate
Heading along the shores of beautiful, greenish Diablo Lake, with the surrounding you, you will feel as though you are in another world. How can this natural beauty exist on earth?
Even though you will be following the lake's northern shoreline, there is quite a lot of elevation gain. At 1.5 miles in, make a quick stop at an overlook that allows you to take in the beauty of the lake. You'll get some peeps of the lake but do note that this is mostly a forested walk.
When you finally reach them, take the switchbacks down to near Ross Dam, where you cross a suspension bridge and soak up both the natural and man-made beauty around you.
TIP: There is a small pebbled beach just at the trailhead of this North Cascade hike that you can enjoy and dip your toes in.
9. Thunder Knob Trail
Distance: 3.3 miles
Type of Trail: Out & Back
Difficulty: Moderate
The Thunder Knob is all about the views and is one of the best hikes in North Cascades National Park. There are endless stunning vistas as you climb the switchbacking trail up to Diablo Lake.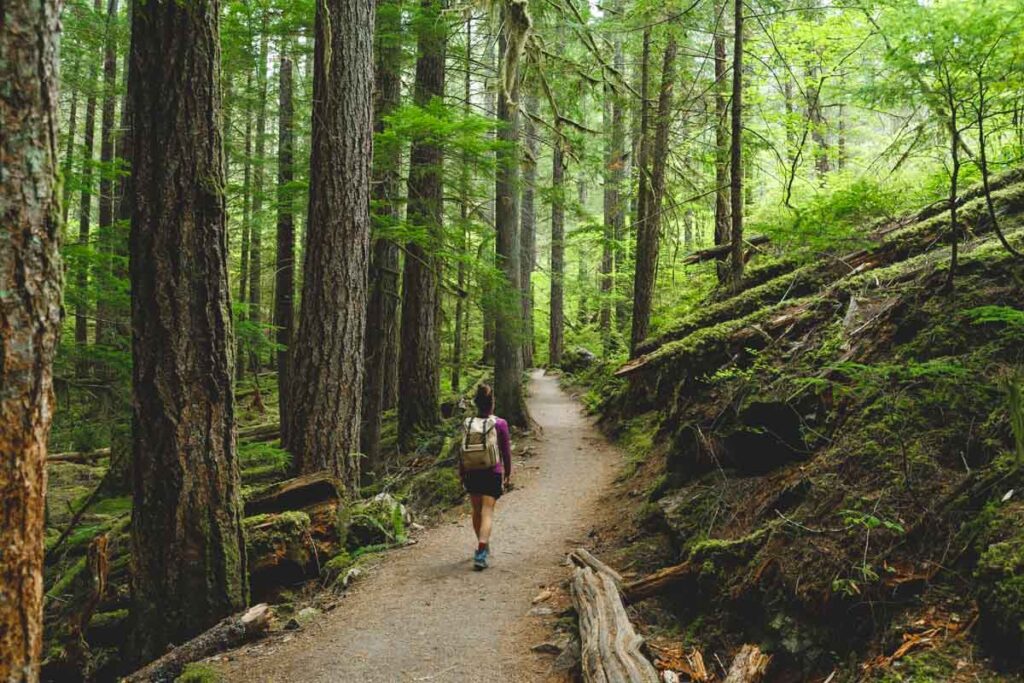 This is a nice and easy trail to follow, as it is very well marked, so there won't be any stops looking at maps and compasses and trying to figure out where you are. Plus, despite the switchbacks, the climb is not too steep at any time so you can take it all in at your own pace.
It doesn't seem right that you get such stunning views so easily. Most views like this require at least a bit of a sweat, long pothole-ridden drives, or at least a blister, but you should be all good with this one! It is even easy to get to, as the trailhead is just off of the highway.
You'll cross Colonial Creek from the trailhead and then enter a rich forest. You'll head through the forest for about a mile before taking a left at a junction. This will take you to the first viewpoint; it is a slight detour and well worth it.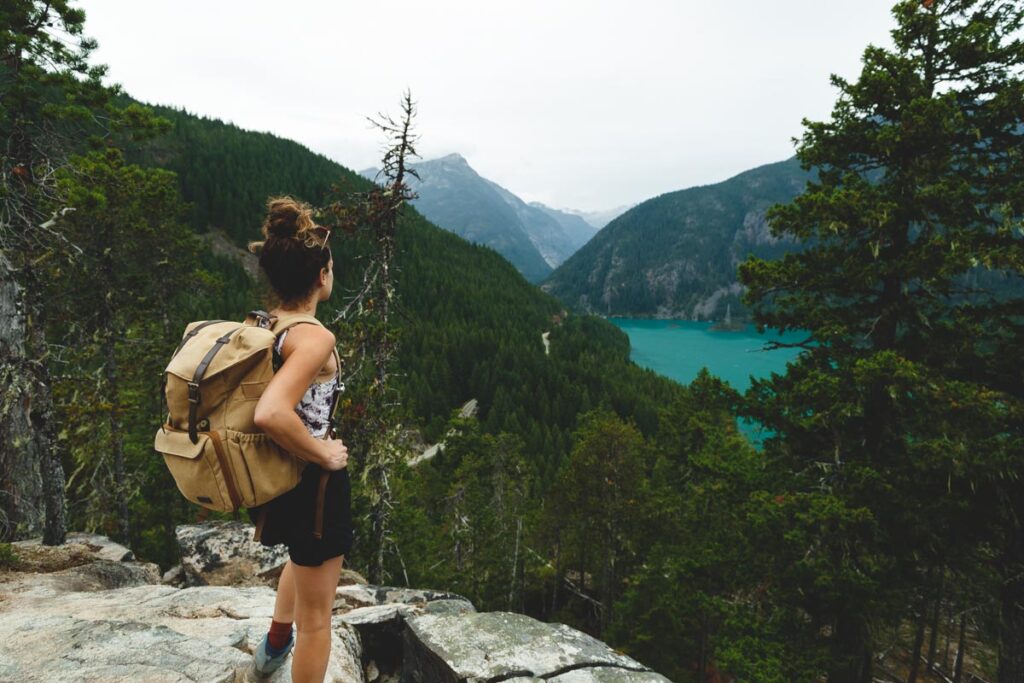 You'll see Diablo Lake stretching out in front of you, with Sourdough Mountain seeming to rise directly from the water. Get back to the main trail and head to the next viewpoint, which is even better than the first, if that is even possible! Once you've taken in the views, it is time to head back down.
TIP: The Colonial Creek Campground that's just at Thunder Knob trailhead is awesome! If you're looking for a spot to stay and want to walk to the trailhead from your campsite, this is the spot.
10. Ladder Creek Falls Trail
Distance: 0.5 miles
Type of Trail: Loop
Difficulty: Easy
Ladder Creek Falls is a hike with a bit of a difference because instead of battling your way through rugged rainforests or hiking up boulder-strewn mountains, you'll be walking through beautifully manicured gardens. This doesn't stop it from being one of the best hikes in the North Cascades.
You'll start the trail by crossing a foot suspension bridge to the Skagit Hydroelectric Project and follow the signs to the falls. The path is paved the whole way, so it's nice and easy, and there are benches to sit and take in your surroundings. As hard as it will get is the steep stairs near the falls, but there are handrails to help you along.
This trail will bring you to the third tier of this lovely waterfall. When the project was constructed, the owner and developer built the trail as he thought it was too lovely not to showcase.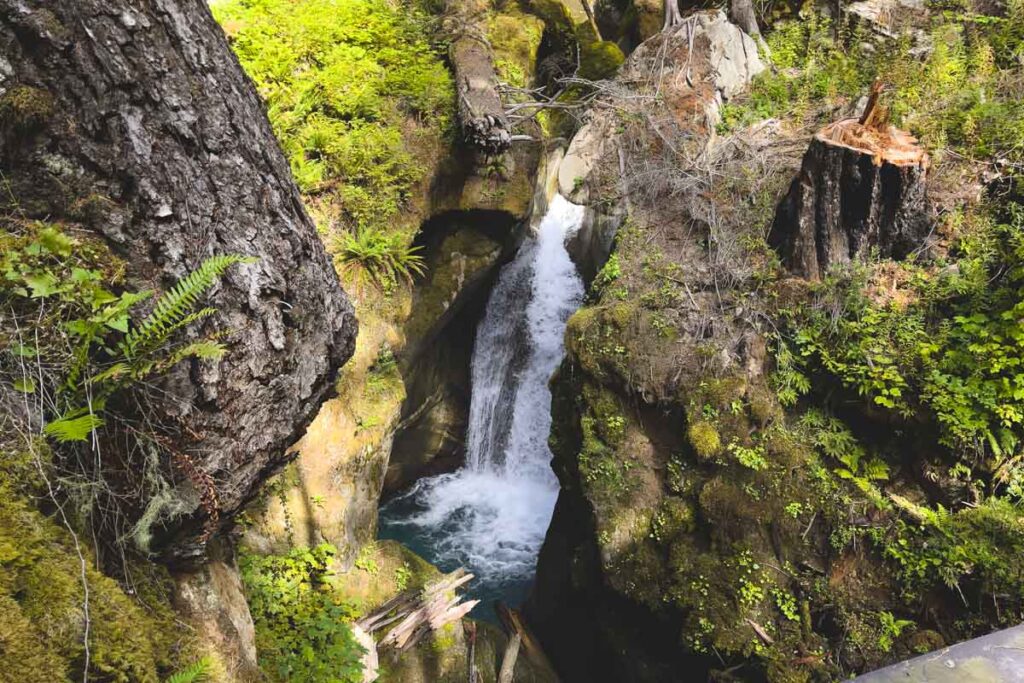 TIP: It's turned into a bit of a tourist attraction, with lights surrounding the water and gardens when night falls. It runs a repeating 15-minute show year-round, so you might want to check it out both during the day and at night.
11. Trail of the Cedars Nature Walk
Distance: 1.7 miles
Type of Trail: Out & Back
Difficulty: Easy
Want a leisurely stroll through towering trees and beautiful landscapes? You've got it with the Cedars Nature Walk.
For the first part of the trail, you can enjoy the sounds of the bubbling river trickling along beside you. Along the way, spend some time reading the interpretive trails that line the trail so that you can become more educated about your surroundings.
The cedar forest that you'll be walking through has sadly had to go through two wildfires in just a century, so as you walk through the trees, you'll be able to see nature in many different stages of its life. The signs tell you more about the fire and the impact that it has had on the area.
Arguably the best part of the hike, however, is the suspension bridge that spans the Skagit River right at the start of the trail.
12. Maple Pass Trail (Favorite Challenging North Cascades Hike)
Distance: 7.4 miles
Type of Trail: Loop
Difficulty: Hard
The Maple Pass Trail is a longer hike, ideal if you're prepared for a bit of adventure hiking in the North Cascades and want to see some of the best sights that the mountains have to offer.
This one is not in the National Park directly, but it might as well be, as it showcases much of the park in its panoramic views along the way. You can take the hike in either direction.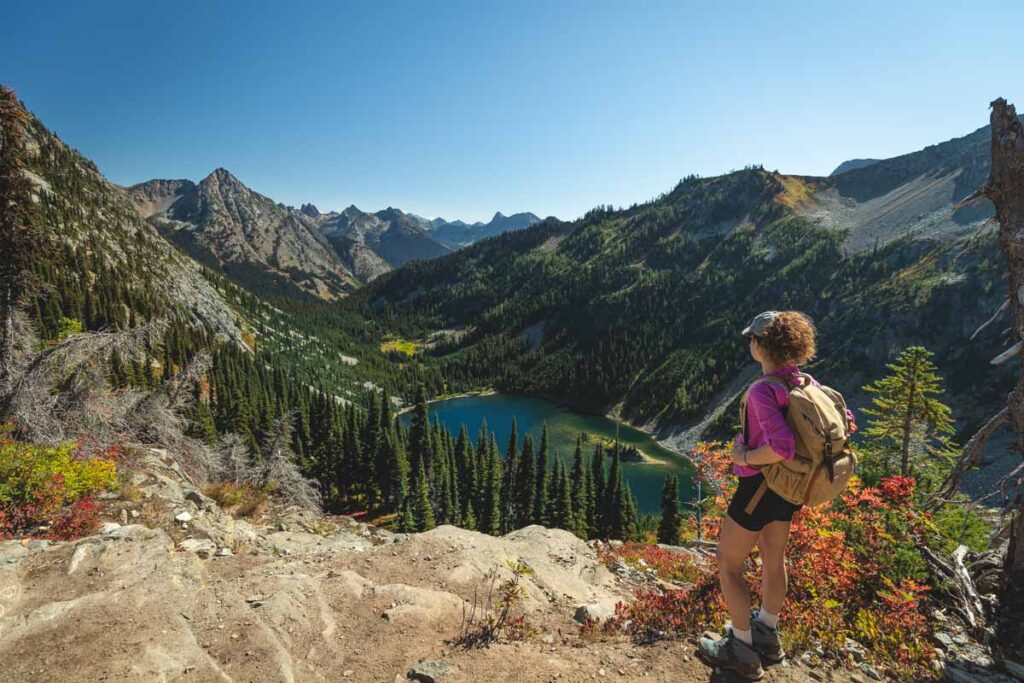 Start your day hike in the Rainy Lake picnic area and climb up through forests. At 1.25 miles, you have the choice to take a quick detour.
Many people choose to add on the short Lake Ann spur trail when tackling this hike. If you've still got the energy, then why not? It is a 1 mile out and back addition and takes you down to the lake. See that ring of mountains surrounding the water? You will be up there shortly!
Get back on the main trail and continue to climb. As soon as you clear the trees, the expansive views open up before you, and you can see the path that continues to hug the ridgeline around the lake.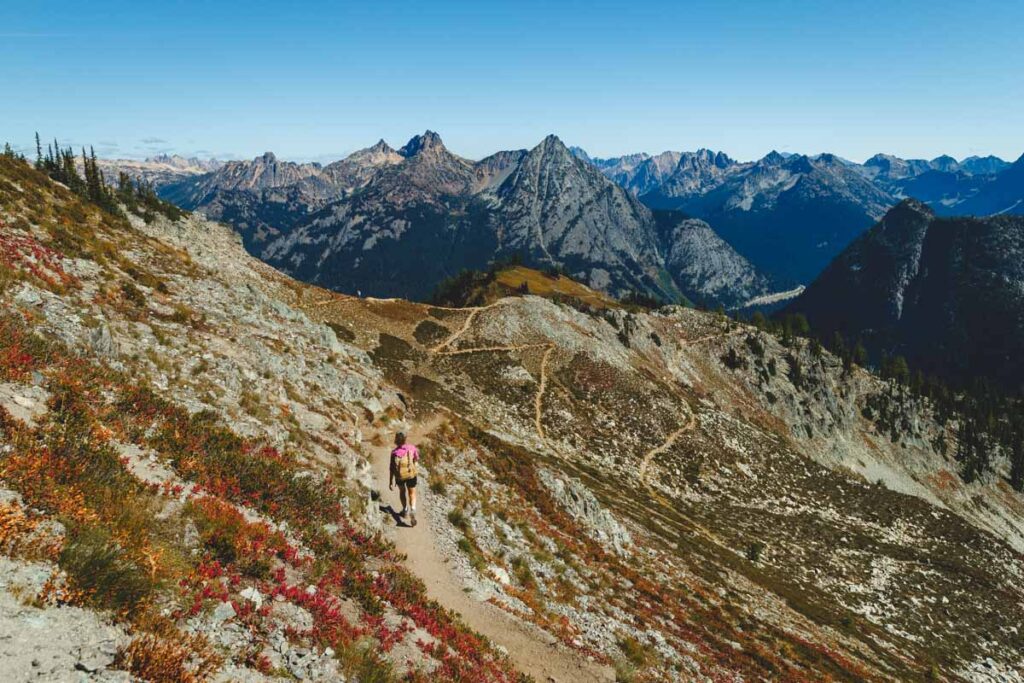 There are views the whole way around, but be prepared to stare in awe of the view once you reach Maple Pass, as the North Cascades stretch out before you. Depending on what time of year you hike, don't be surprised to see patches of snow still dotting the trail, but really, this adds to its appeal.
Once you've taken it all in, it is a steep and short yet beautiful descent through fields of wildflowers back to the parking lot. Yes, it's a long one, but it really allows you to see the beauty of the park from a unique vantage point.
TIP: By going clockwise, you get the climb out the way early, but counterclockwise is a long, gradual climb, but you benefit from some fantastic views of Lake Ann along the way.
---
READ MORE: Hiking Maple Pass Trail + Lake Ann in the North Cascades
---
13. Rainy Lake Trail
Distance: 2 miles
Type of Trail: Out & Back
Difficulty: Easy
Rainy Lake is a gorgeous green lake, framed perfectly by the North Cascades that sits on its shores and, without a doubt, one of the best hikes in the North Cascades. When the water is still, the snowy peaks are reflected perfectly, creating that iconic mountain lake view that has to be seen to be believed.
The best thing is, the lake is so easy to reach. It is almost entirely flat, and although it is not paved, the path is smooth and well-marked the whole way. Chances are you will even see families with strollers making their way to the lake. With plenty of tree cover, it is shaded as well. What more could you want?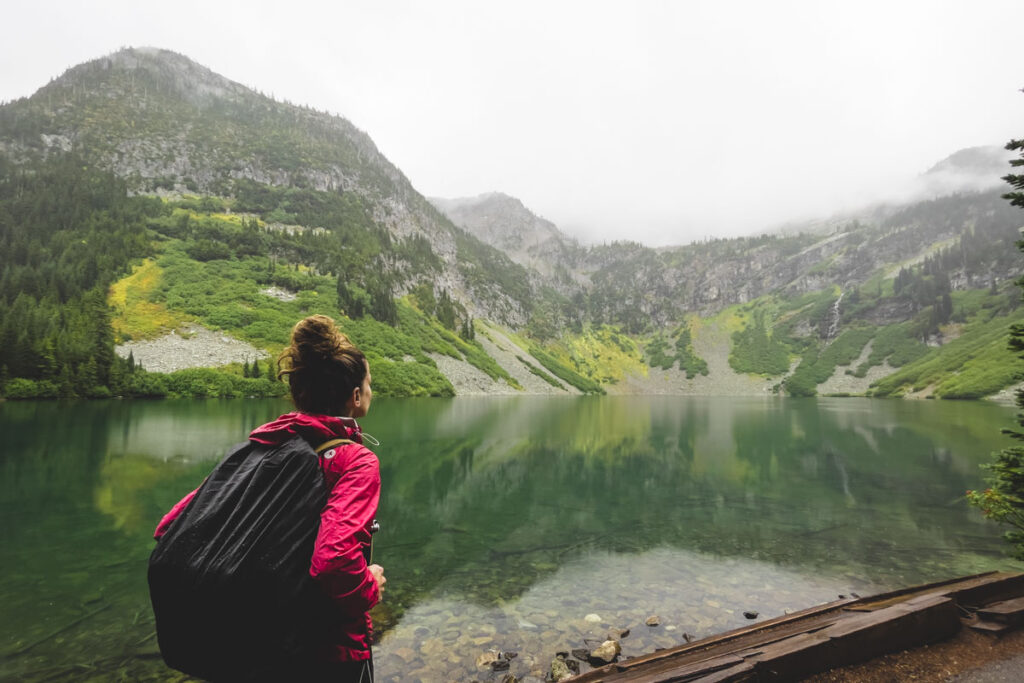 Find the trailhead for this hike at milepost 158 on Highway 20, with parking available. You shouldn't have any trouble finding it as there are plenty of signs pointing you in the right direction.
Once you have followed the path to the lake, spend some time at the viewpoint taking in the scenery, and see if you can spot any tiny fish flitting about in the crystal clear waters.
TIP: Don't let the rain stop you! It's still a gorgeous lake even during a downpour. We actually felt kind of lucky it rained during our visit since it just seem appropriate. You're in Washington after all so we know you brought your rain jacket, right?
14. Blue Lake Trail
Distance: 4.6 miles
Type of Trail: Out & Back
Difficulty: Moderate
Blue Lake sits high, high up in the mountains, beckoning hikers to traverse the uphill climb and admire its beauty.
This classic hike in the North Cascades should be firmly placed on your hiking bucket list, as along the way, you'll be able to take in the vast walls of granite that surround you, in contrast to the open, flower-filled meadows that you will also pass.
Almost as soon as your hit the trail from the parking lot, you'll begin walking on a boardwalk, but this doesn't last long, and soon you'll be pacing along the dusty path of the forest.
When the sky opens up above you again, you are almost halfway to the lake. After diving back into the woods, the views start to show themselves. Cutthroat Mountain and Whistlers Peak tower above you.
It won't be long until you see the shimmering waters of the lake, and when you reach it, you won't want to leave. Sit down, stay awhile, have a picnic, and dip your feet into the icy waters below. Cascade Mountain lakes have something special, and this one is no exception.
15. Washington Pass Overlook Trail (Easiest North Cascades Hike)
Distance: 0.3 miles
Type of Trail: Loop
Difficulty: Easy
This is more of a viewpoint than a trail, but it is too stunning to leave off the list of best hikes in North Cascades National Park. We will call it a trail because you do have to walk a little bit to get to the overlook, but it's entirely paved, making it very accessible.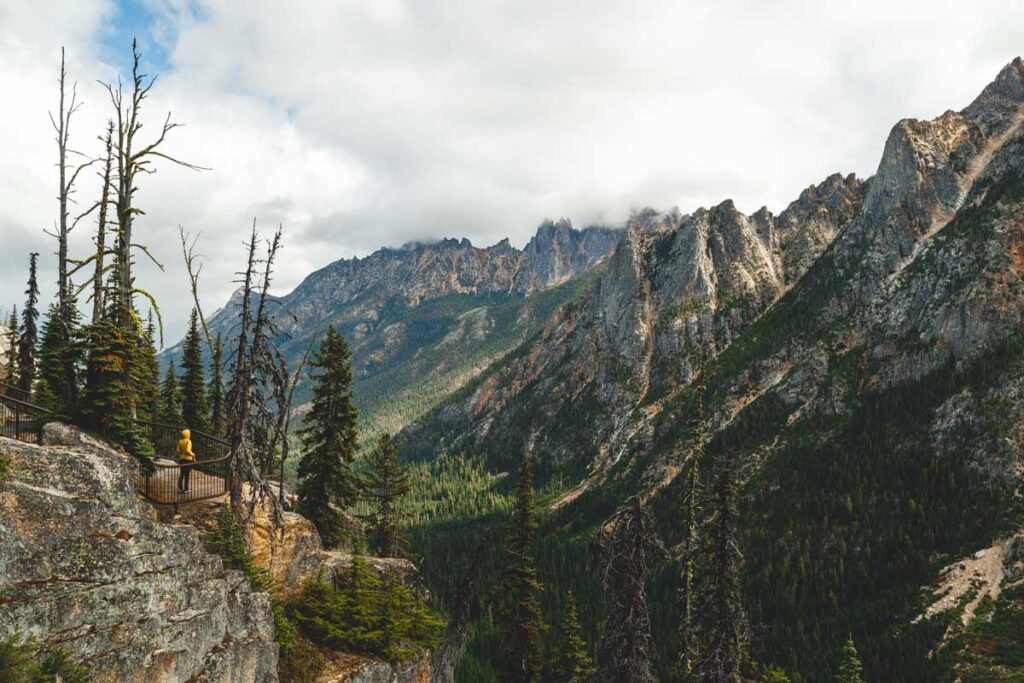 When you reach the ledge, prepare for the view to take your breath away. Take in the incredible vista of Liberty Bell Mountain. At 1707 meters high, you can expect to see for miles, making it the perfect place to stop and stretch your legs for a while.
You'll follow a short path through the first to the overlook, with Highway 20 twisting around below you. You then have the choice to either head back to your car or continue the short loop for a few additional views. We always recommend continuing the walk; it is what you came here for, right?
If this is your first experience with the North Cascade Mountains, prepare to be amazed. You'll be able to witness this mountain range in all its jagged glory, peaks reaching out the sky. We won't blame you if this short little jaunt leaves you wanting more.
TIP: The higher viewpoints have fewer people if you happen to come around a busy time.
We hope this post helped you discover the best hikes in the North Cascades. Don't forget to check out more hikes in Washington!
More Around North Cascades National Park
I've been perpetually traveling and living around the world for years but it's hard to beat Washington and the PNW. After years of road-tripping the area, I guess you can say I know it pretty well! When I'm not writing guides for you, you can catch me somewhere petting a dog, attempting to surf, hiking a volcano, or stuffing my face with bread and cheese.