As the second largest state park in Washington, you would expect Riverside State Park to have a lot to offer, and it certainly doesn't disappoint. There are over 9000 acres to enjoy, with no end to the recreational activities available. Whether you would prefer to take a gentle horseback ride or scale the rocks that dot the landscape, there is something for everyone.
For those that love the water, you are in luck. As the name suggests, Riverside State Park sits along the Spokane and Little Spokane Rivers, meaning boating, swimming and fishing opportunities are abundant.
There are over 30 miles of hiking fun on the Centennial Trail alone, and that's without counting the many other miles of trails, a 600-acre off-road vehicle area, beautiful countryside, places to camp, horse trails, rock climbing adventures, and so much more.
Located 9 miles from downtown Spokane, access is easy, and provides an idyllic escape from busy city life. Although there are many incredible state parks in Washington, Riverside is, without a doubt, one of the best.
---
RELATED: 27 INCREDIBLE Washington State Parks to Explore
---
Riverside State Park—Everything You Need to Know
Remember, this park is spread out across many acres, so you might actually need a few days to truly experience each of the areas! Here are the best areas, things to do, trails, and more around Riverside State Park!
Riverside State Park's Bowl and Pitcher Area
The Bowl and Pitcher area is the most well know section of Riverside State Park. It has a little bit of everything, with many visitors coming and happily spending a day in this section alone.
The highlight here has to be the impressive suspension bridge that stretches across the Spokane River. It is a fantastic photo spot, so ensure you have your camera ready.
There are a few picnic areas in this section, some with shelters in case the weather makes a turn for the worse, and 30 unsheltered with picturesque surroundings. There is even an outdoor kitchen shelter to cook more elaborate meals if you feel like it.
Bowl and Pitcher Hike
Distance: 2 miles
Type of Trail: Loop
Difficulty: Easy
Elevation Gain: 125 feet
You don't have to hike in the Bowl and Pitcher area, but if you do fancy stretching your legs after a particularly heavy picnic, there is a nice little 2-mile loop trail just over the suspension bridge.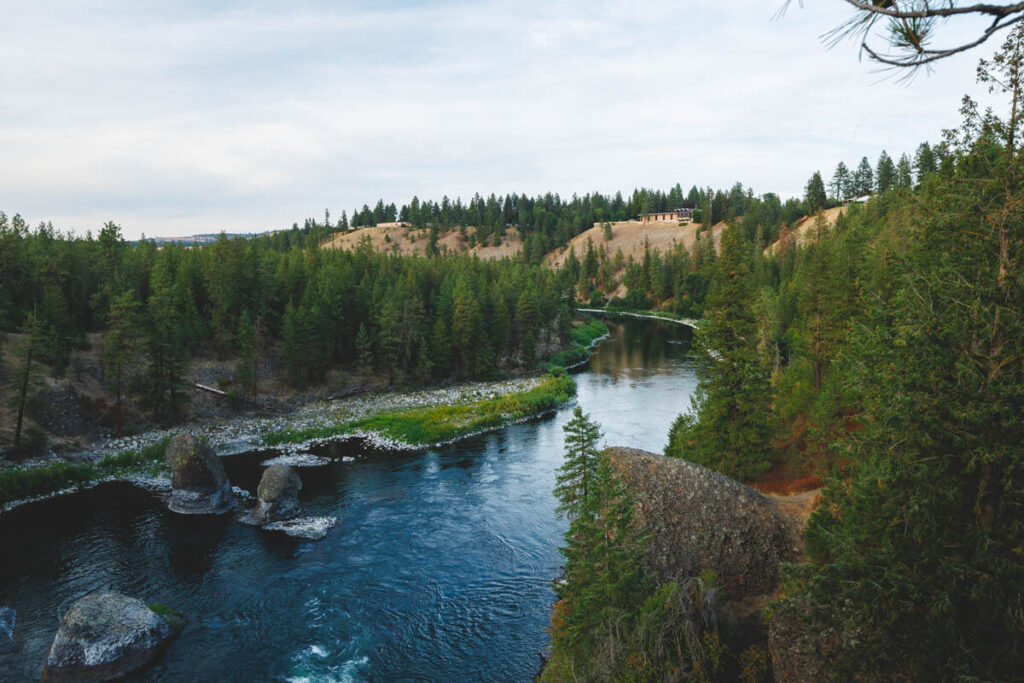 Ensure you turn right onto Trail 25 and make your way along a beautiful section of the river. The trail can get very busy, largely thanks to its accessibility and ease, so don't expect to have the track to yourself.
Best Trails in Riverside State Park
Apart from the beautiful Bowl and Pitch trail mentioned above, here are some of the other best hikes in the park.
Painted Rocks Nature Trail
Distance: 6.8 miles
Type of Trail: Out & Back
Difficulty: Moderate
Elevation Gain: 1279 feet
When you take the Painted Rocks Nature Trail, you will get a lot of wow factor for a relatively easy hike. The trail takes you along the banks of the Little Spokane River. This part of Riverside State Park is so lush and green and is rich in wetland wildlife. Bring your binoculars as many species of bird calls the river their home.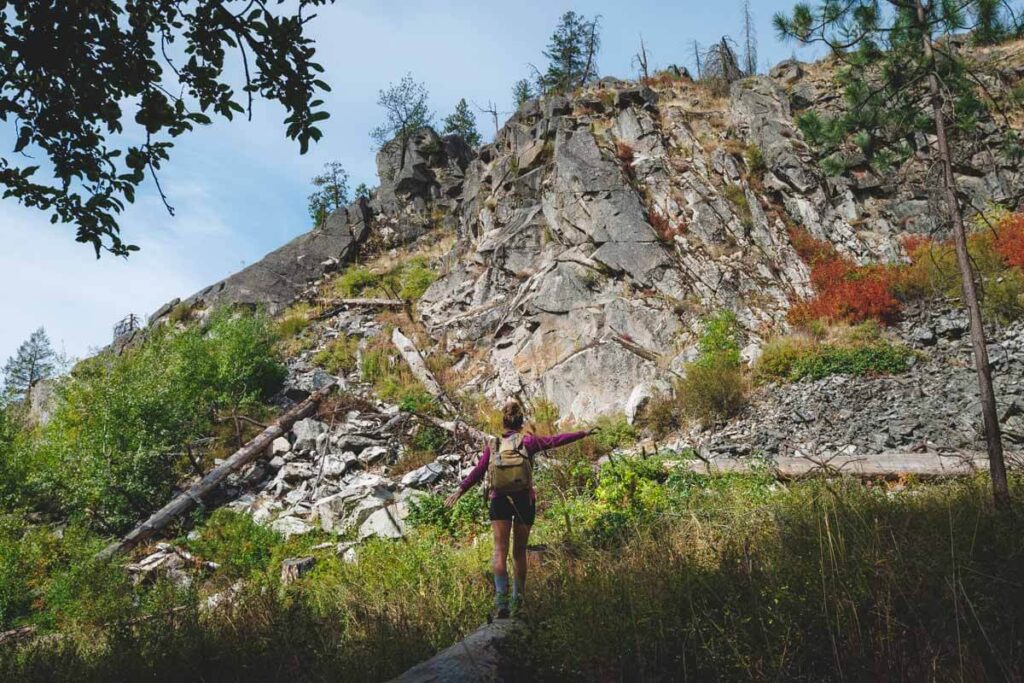 As well as relaxing river views, the short and sweet hike also showcases the towering granite crags that make up much of this distinct landscape.
As a gentle riverside hike, you may be wondering how this trail got its name. It is due to a verticle section of rock that can be found along this stretch of river that maintain remnants of Native American art. It is an incredible piece of history that is just there for all to see, having stood the test of time. The shallow overhang of rock is primarily to thank for the painting's remains, as it has protected the painting from the weather all this time.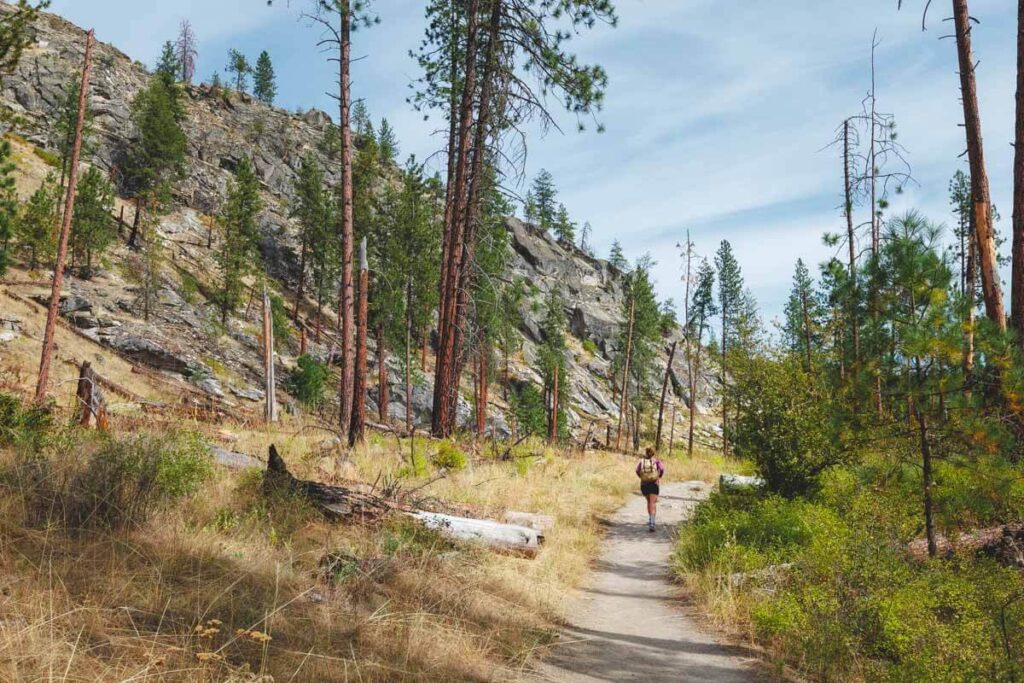 A trip to the banks of the river is worth it to see these paintings alone, the beautiful scenery is just a bonus. Look out for the red markings on the rocks, which can be a bit tough to find.
St George's Trail to Little Spokane River
Distance: 6.8 miles
Type of Trail: Out & Back
Difficulty: Moderate
Elevation Gain: 1279 feet
The trail starts by following a path that runs parallel to the road, but don't let this put you off, the trail only gets better from here. Cross the bridge over the river, and this is where the hike really begins. For a while, you will follow the scenic river before heading away from the river and starting the ascent of the hike.
Before long, you will stop climbing and instead head down into a vast gorge. It is pretty impressive. Throughout the hike, there is plenty of elevation gain, which helps to give it its moderate status. Watch for the cool rock formations and views of Mt Spokane as you hike.
As well as the natural beauty, one of the best things about this trail is you are likely to have it pretty much yourself. If you are here on the weekend and want to avoid the Bowl and Pitcher area crowds, this could be the hike for you.
Deep Creek Loop
Distance: 5.4 miles
Type of Trail: Loop
Difficulty: Moderate
Elevation Gain: 830 feet
The Deep Creek Loop offers something completely different from other hikes in Riverside State Park. Rather than riverside strolls, the hike will take you down a stunning forested canyon with plenty of overlooks to take in the views.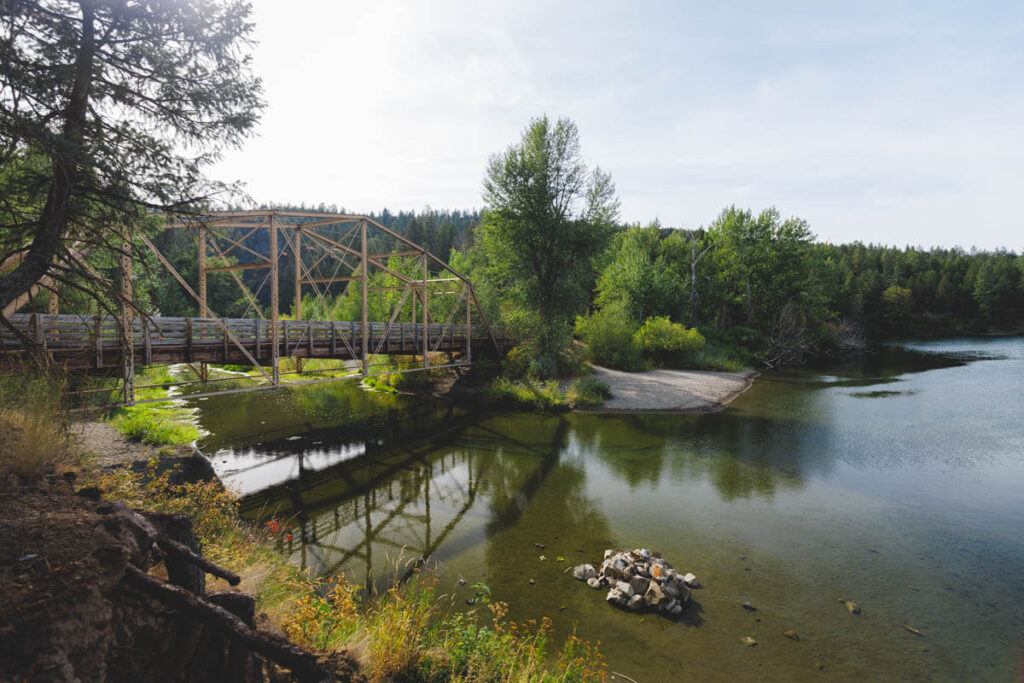 Start the hike in the parking lot of Deep Creek Canyon. The parking lot is enormous, so you shouldn't worry about getting a space. After only about half a mile from here, you will reach the Deep Canyon Overlook.
Nine Mile Dam Overlook
Distance: 4.5 miles
Type of Trail: Out & Back
Difficulty: Easy
Elevation Gain: 134 feet
For those looking for a leisurely, flat stroll, why not walk to the Nine Mile Dam Overlook? The trail is paved, making it nice and accessible. Most of the trail takes you through the woods, filled with wildlife, and provides plenty of much-needed shade on a hot day.
Once you reach the end of the hike, Long Lake stretches out before you, offering you a stunning vista to admire for a while before you turn around and head back the way you came.
Spokane River Centennial Trail—Hike or Bike!
Distance: 32.5 miles
Type of Trail: Point to Point
Difficulty: Easy
Elevation Gain: 938 feet
True, the 32.5 miles that make up the Centennial Trail may seem alarmingly high, but don't worry, you don't have to do the hike all at once. There are a few options for tackling this beautiful trail. You can either opt to walk parts of it and take in the sights a few miles at a time, but most people actually prefer to bike it.
This vast and iconic trail starts at the Idaho border and takes you all the way to Nine Mile Falls. The paved path makes it great for a comfortable bike road, following the natural curves and movement of the Spokane River. The whole path is also relatively flat, which is a godsend for those opposed to hills but still enjoy walking long distances.
The journey has a little bit of everything, including rich-smelling forests of beautiful Ponderosa pines, deep basalt canyons, and cool stops where you can stop to grab a bite to eat. There are also more than 40 historically significant sites along the route, such as the Great Northern Railroad Depot Clock Tower and some incredible fossil beds.
The section in the state park is also horse friendly, offering just one more way to enjoy this trail.
Boating and Paddling Around Riverside State Park
Lake Spokane is a haven for watersport lovers. You can put in a kayak or paddleboard in a few different areas at Riverside State Park. The Little Spokane River provides the ideal environment for a gentle paddle and also gets popular with anglers and swimmers in the summer months.
You can use either the Nine Mile Dam or the Indian Painted Rocks kayak put in for an easy way to access the river. There are five non-motorized put in locations within the park and board and kayak rentals at Nine Mile Store.
On the weekend, the Spokane Parks & Rec offers a shuttle service that takes you from the start and end of the Little Spokane River, so you don't have to worry about how you will get back to your car.
It's all very nice having a gentle paddle down the river, but if you are looking for something a bit more high energy, try the more turbulent Spokane River for some whitewater kayaking fun. You can get rentals for this activity from Fun Unlimited, and hit the waters with an instructor who will teach you how to handle the rocking waters properly.
In addition, Lake Spokane is an alternative boating spot. With a few boat in camping spots around the lake, you'll be able to enjoy a unique camping experience!
The Cove at Riverside State Park
The Cove area of Riverside State Park is one of the less traveled areas. To reach it, you must trundle down around 4 miles of unpaved road, followed by a further short dirt road to get to the parking area. Once out of your car, you must walk a little further to reach the cove. We say cove, but there are a few different coves; finding and exploring each one is half the fun.
You can walk between the rocks to discover the coves, all the time surrounded by incredible rock formations and greenery. If you find one you like the look of, stop and claim it as your own for a little while. It is a great place to go for a dip, and it's like you have your own secret hideaway.
Whatever you do, make sure you don't jump into the water from the rocks or cliffs here, as it can be very dangerous, and the area has claimed a few lives.
OHV Area in Riverside State Park
For those that get a thrill from a bit of off-roading, there is a generous 600 areas of specially created terrain for you to enjoy in Riverside State Park. What's great about the area is that there is a designated area for beginners and those more used to thrill-seeking.
The area doesn't go to waste in the winter, either. The winter wonderland scenery transforms the area into a snowmobiling paradise. Speaking of which…
Winter at Riverside State Park
The park doesn't shut up shop in the winter, far from it. Instead, this recreational paradise turns into a winter wonderland, with all sorts of winter activities to enjoy.
Cross-country skiing, snowshoeing, and snowmobiling are all well-organized and a lot of fun. For that cross-country ski, there are 5 miles of cross-country ski trails to enjoy, which begins at the Seven Mile Trailhead. If roaring around on a snowmobile is more your thing, you have the off-roading area designated for snowmobiles in the winter, giving you plenty of space to have some fun.
A perfect snowshoeing route can be found in the Bowl and Pitcher area. At 6 miles long, it is long enough to take you around the best that this area offers to enjoy the beauty of the snow-covered trees and icy shores of the river, but not too long that it will take the whole day. Winter in Washington is one of the most magical times of the year, and Riverside State Park provides some fantastic opportunities to enjoy it.
---
RELATED: Winter in Washington: 20 Adventurous and Outdoorsy Activities
---
Camping Around Riverside State Park
Bowl and Pitcher Campground
As one of the most popular sections of Riverside State Park, it makes sense for the Bowl and Pitcher area to have a campground. There are 32 sites overall, 16 of which are tent camping and 16 with partial hookups. These have electricity and water. There are two picnic shelters and around 30 picnic tables, so there is plenty of room for everyone to enjoy a meal, with a handy kitchen shelter to help you cook those meals.
Lake Spokane Campground
If you enjoy being pulled to sleep by the gentle sound of lapping water, choose Lake Spokane Campground to spend the night. There are 12 primitive sites here that can be used for both tents and RVs. A fair few picnic tables are dotted around the site, making for a more casual, laid-back campground environment.
If you have your own boat and are up for some adventure, there are four boats in camping areas.
We hope this helped you plan your trip to Riverside State Park!
I'm an Oregon native but neighborly and equally as enchanted by Washington. I tackle expeditions around the world and love a good beer at the end of the day. PNW obsessed, VW nerd, and surf or snow riding fanatic.