Do you fancy exploring the rugged and wild Washington coast? Then head to Deception Pass State Park, the most visited park in Washington!
Here you can enjoy gorgeous beaches, sunsets that paint the sky all hues of orange, yellow, and pink, and above all else, plenty of opportunities for adventure. Young or old, everyone will love Deception Pass State Park.
Deception Pass State Park
---
Spanning 3,854 acres, Deception Pass State Park boasts an impressive 14.5 miles of coastline plus freshwater shoreline. It spreads over Fidalgo Island and Whidbey Island, with the iconic Deception Pass bridge connecting the two.
The area was used for the military during World War One, and you can still see remnants from the war around the park today. Eventually, the Civilian Conservation Corps cleared the park and made it somewhere tourists wanted to visit.
The first tourists visited due to its proximity to Seattle. Since then, its immense nature ensures that it remains Washington's best-loved park to this day.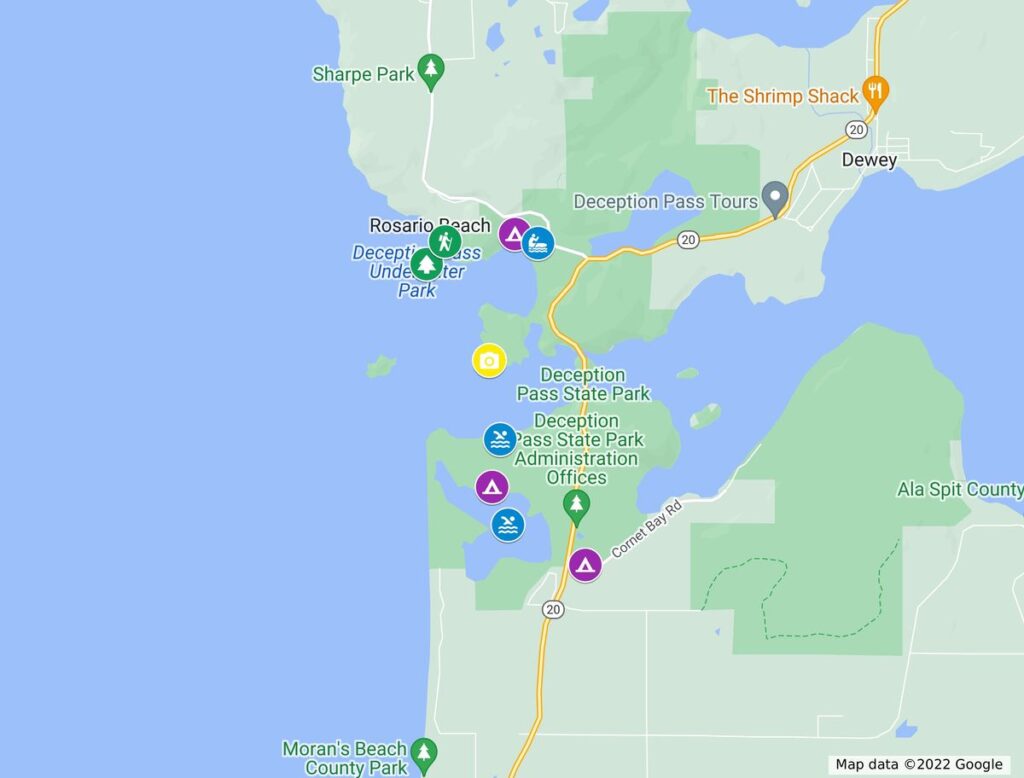 Things To Do in Deception Pass
Deception Pass has hikes, lakes, beaches, camping, and more… We would recommend at least one full day here, but if you want to see it all and take it easy, you'll want to pack a tent to stay the weekend!
1. Lighthouse Point and Lottie Point via Rosario Head Trail—Best Deception Pass Hike
Distance: 4.7 miles
Type of Trail: Loop
Difficulty: Moderate
Elevation Gain: 636 ft
As you'd expect from one of Washington's best parks, the area is full of incredible hikes with gorgeous views. The best hike to take in the natural scenery is the Lighthouse Point and Lottie Point via Rosario Head Trail Walk.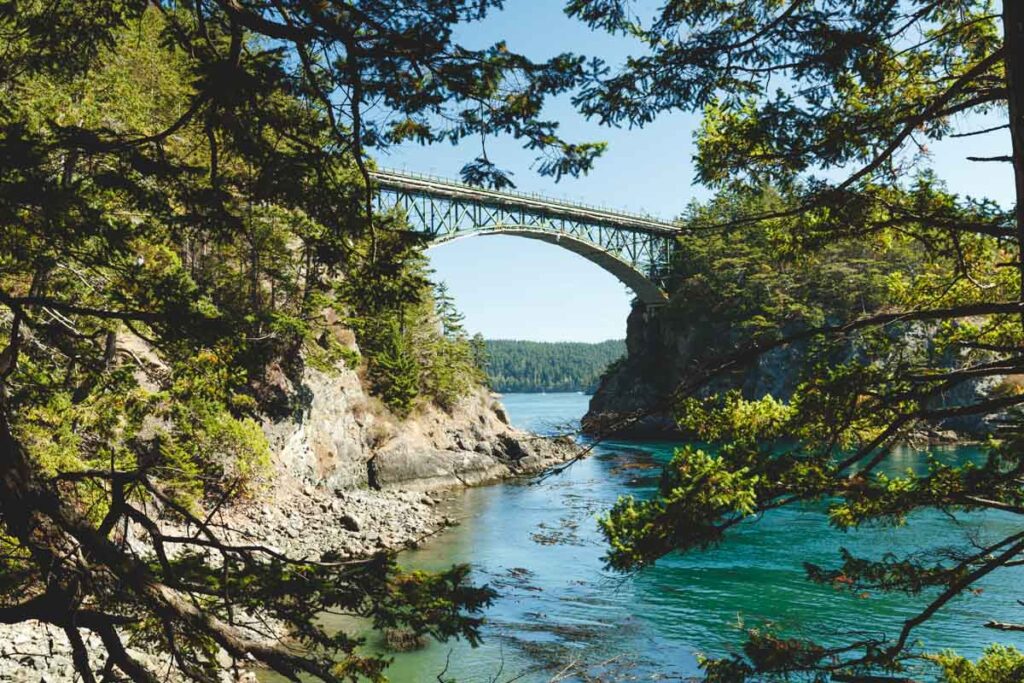 This 4.7-mile loop trail is perhaps the best walk you can take in the state park to really see it all. Encompassing coastal views along some of the park's best beaches, this easy route is excellent for trail running or dog walking, and is family-friendly.
It should only take around two hours to complete, and it's a great starter to exploring the park! You'll wander past the best beaches, get a glimpse of the bridge, and get awesome coastal views.
2. Pacific Northwest Trail
The Pacific Northwest Trail goes through Deception Pass State Park. It's a 1,200-mile-long trail that spans through Washington, Idaho, and Wyoming, terminating near the Continental Divide.
You can enjoy part of the initial hike as you explore the park!
---
RELATED: 10 Awesome Things To Do on Whidbey Island & Fidalgo Island
---
3. Other Deception Pass Hikes
There are plenty of other shorter hikes in Deception Pass if the one above is a bit long for you. Many of these are just shorter versions of the longer loop mentioned above! Each of these places has a bit more than just a trail to offer which we will talk about below.
Goose Rock Trail: This is a 2.1-mile loop and is a moderate circuit, taking in some of the best coastal views of the island. While shorter, this was is a bit steep in some spots, so you'll be working for that view!
Rosario Head Trail: This 1.5-mile trail is an out and back route that spans along the coastline, rounding Rosario Head before heading back. You'll find some info plaques, a statue, little beaches for chilling, and plenty of photo ops for rocky outcrops.
North Beach Trail: This route is 1.8 miles long and spans along the coastline by North Beach. Although you can just plop down your beach towel and not hike anymore, that's totally acceptable too!
Lighthouse Point Loop – This is an easy 2-mile loop that you can do cutting off some of the extra from the main loop we talked about above. This was is great as you'll get some good views of the famous bridge from across the way.
---
RELATED: 25 EPIC Hikes in Washington to Tackle
---
4. Bowman Bay
Dotted with kayakers, Bowman Bay has a beautiful narrow beach and leads to a few gravel walking trails. You can also walk along the beach, accessible when the tide is low or high.
However, beware of the smell – the seaweed can produce quite the odor! It's also a great place to park if you want to explore more of the park. You can start many of the hikes mentioned above from this spot.
5. Lighthouse Point
Lighthouse Point is the perfect place to see the bridge that connects the two islands. You can also check out some nearby beaches and admire the dramatic rock formations.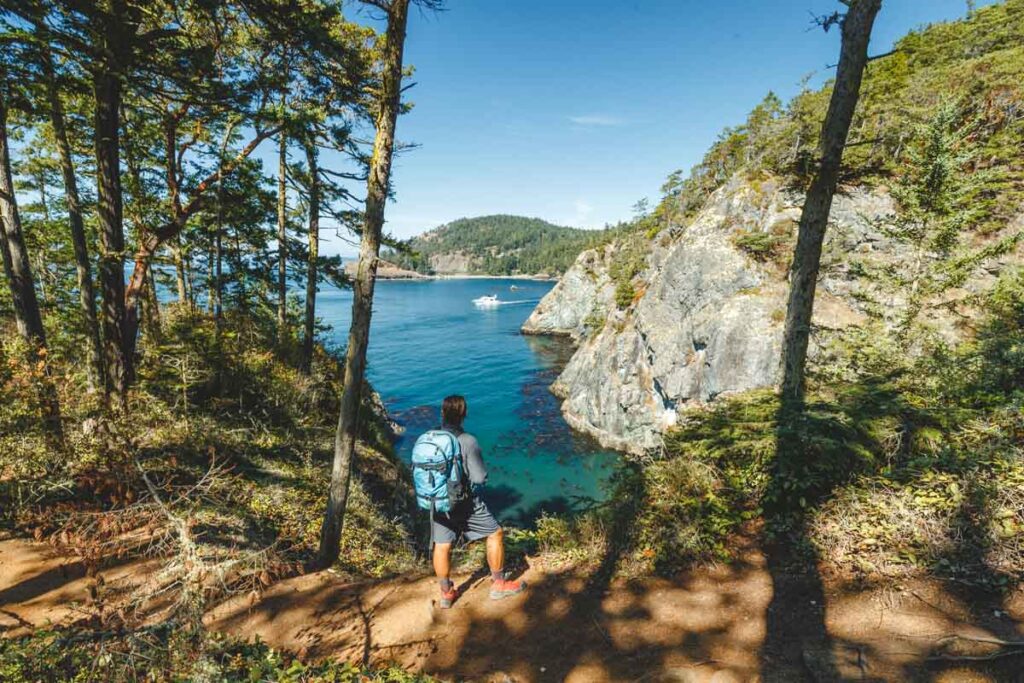 It's also a great spot to see wildlife, including herons and otters.
However, despite the name, there isn't a lighthouse here! You can simply walk for a few minutes to the beach here or take the small loop walk from which you can take a detour and see the bridge.
You can also continue on the trail nearby called Lottie Point. It's a gorgeous addition but there are some trees in the way of the bridge view! You can scramble down to the beach to get a better peek though.
6. Rosario Head
From Bowman Bay, you can walk to Rosario Head Point. Take the trail, which spans up to and around Bowman Bay.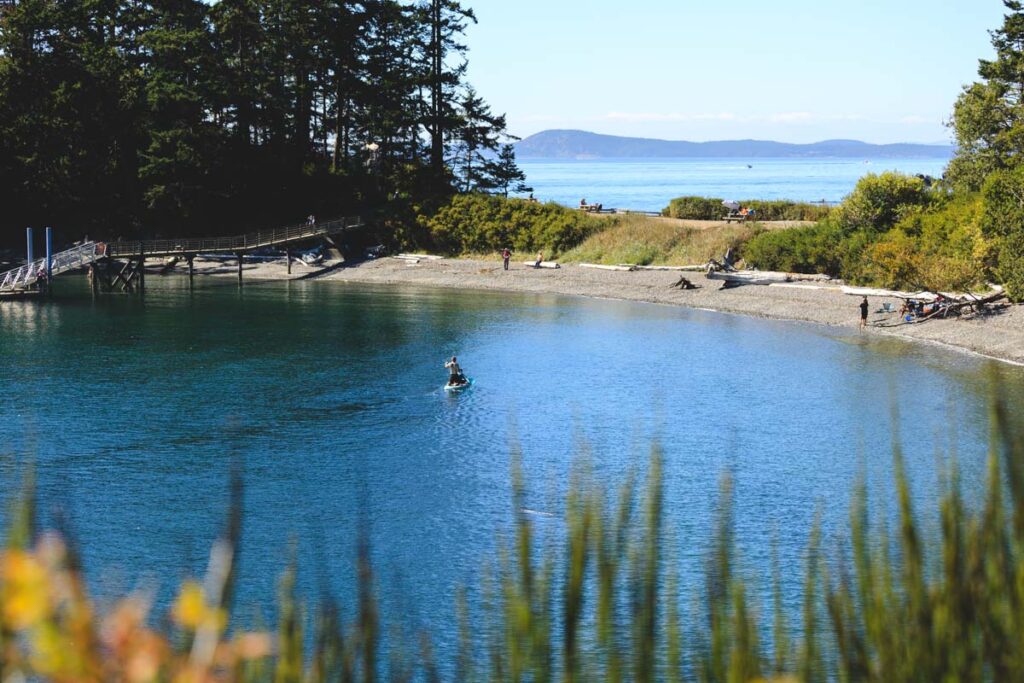 There are also chances to kayak here and a few smaller beaches where you can bask in the afternoon sun! Walk down to the rocks on the left side of Rosario Beach and you'll find some fun tide pools to explore if you time it right with the tides.
If you explore the head, bear in mind that there's no shade so take the walk then save your dip in the sea for after!
---
RELATED: 10 Awesome Washington Coast Towns You've Got to Visit!
---
7. North Beach and Macs Cove
With epic views of the beautiful Deception Pass Bridge, North Beach is a small patch of sand where you can enjoy summer sunshine or hike around and photograph in the cooler months!.
There's also a larger beach next to it, which is also a wonderful place to stretch out and relax. You'll have some shade from the trees, chilly water to take a dip in, views of the bridge, and people boating and kayaking around you.
8. Cranberry Lake
While Deception Pass is most famous for its beaches, Cranberry Lake is a jewel in its crown. If you're a fan of wild swimming, you'll love taking a dip here, especially as it's so much warmer than the coastal waters!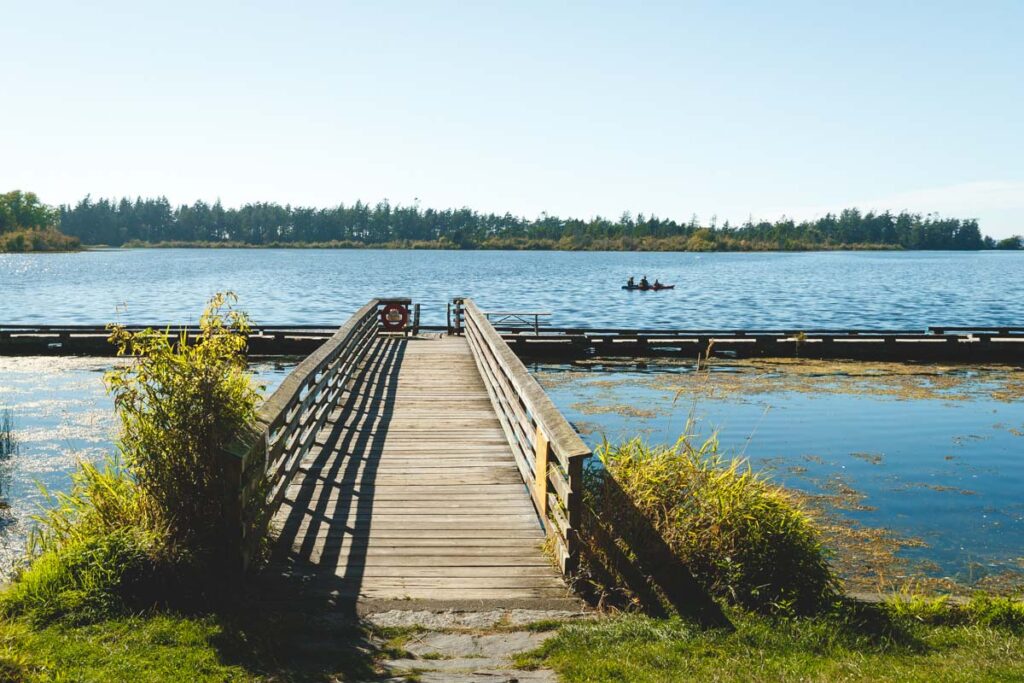 At the lake's western shore, there's a swimming area with restrooms. It's home to plenty of fish and otters, but it's a fun place to enjoy nature!
On the east side of the lake, you can also try out some fishing and boating or enjoy kayaking.
This isn't a super touristy spot, so you should be able to have a relatively peaceful paddle even in the height of summer.
9. Camping in Deception Pass State Park
Deception Pass State Park is open all year round for camping.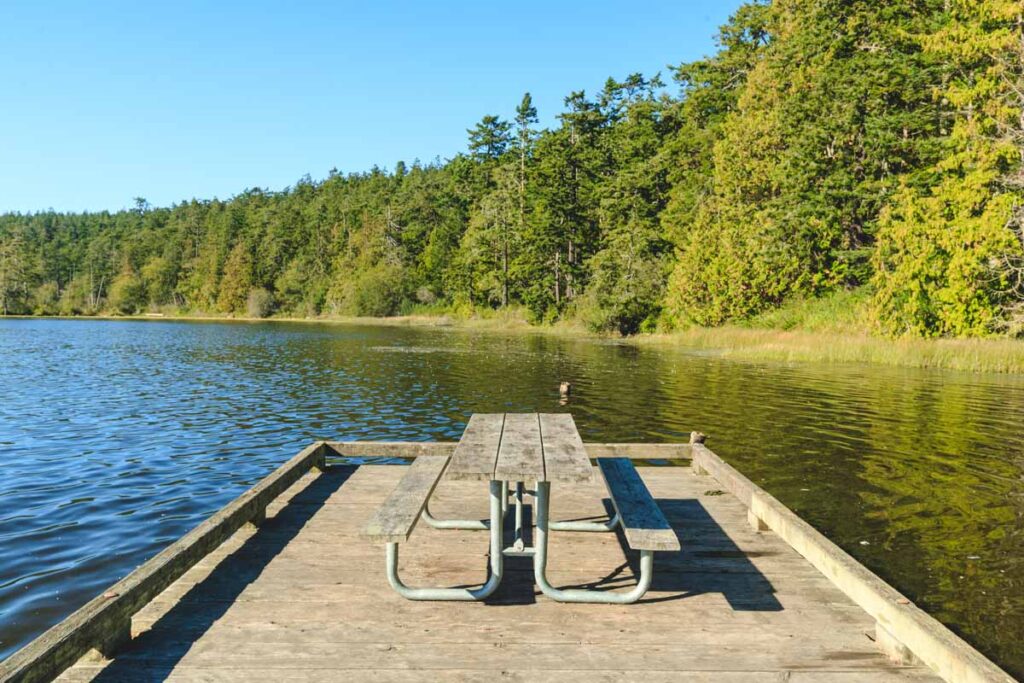 At Cranberry Lake there are 147 tent pitches and 83 utility sites with WCs around the area. At Bowman Bay, there are only 18 tent sites and two utility sites available. In winter, only the Quarry Pond Campground is open with 7 tent sites and 49 utility sites.
Where to Stay Near Deception Pass State Park
With epic beaches, plenty of hikes, and a myriad of opportunities for watersports, Deception Pass State Park is one of the best places you can visit in Washington for nature.
And at only a stone's throw from Seattle, it's not surprising that it's the most popular park in the state!
We hope this post helped you plan your trip to Deception Pass State Park! Before you go don't forget to check out other adventures near Seattle and more great places on the Washington Coast.
I've been perpetually traveling and living around the world for years but it's hard to beat Washington and the PNW. After years of road-tripping the area, I guess you can say I know it pretty well! When I'm not writing guides for you, you can catch me somewhere petting a dog, attempting to surf, hiking a volcano, or stuffing my face with bread and cheese.