Are you on a trip in Seattle but craving some adventure? We've got you covered with these seven incredible waterfalls near Seattle! All within a relatively short drive from the city; these waterfalls are epic day trips for when you need a dose of nature.
From the Snoqualmie region to Mount Ranier National Park, this beautiful state is home to an abundance of rivers – and where there are rivers, you'll find waterfalls!
Best Waterfalls Near Seattle
---
1. Snoqualmie Falls
Distance: 1.4 miles
Type of Trail: Out & Back
Difficulty: Easy
Snoqualmie Falls are renowned for being one of the most beautiful and popular tourist destinations in Washington state. Not only are they ideal for hiking and photography – these falls are so stunning, you can even have your wedding here!
If you fancy a hike, there's a 1.4-mile out and back trail. It goes from the viewpoint of the falls to the Snoqualmie River, where you can take in the epic nature of the area! You can also walk down to the base of the falls – be careful here, as it can be steep and slippery.
Facilities include toilets and parking at the main viewpoint, and another parking area with bathrooms which is further along the hike, by the river.
To reach Snoqualmie Falls from Seattle, drive along I-90E to exit 25. Once you get there, drive along Snoqualmie Parkway until you reach the falls, which will be signposted. It's around a 30-minute drive (about 28 miles), which makes Snoqualmie Falls one of the easiest-to-reach waterfalls around Seattle!
---
READ MORE: Snoqualmie Falls Hike: What You Need to Know!
---
2. Twin Falls
Distance: 2.5 miles
Type of Trail: Out & Back
Difficulty: Moderate
There are plenty of waterfalls along the Snoqualmie River, but Twin Falls is one of the tallest. You'll feel amazed at this natural phenomenon, where the water crashes down from 45 feet.
But that's not all Twin Falls has to offer – after the main set of waterfalls, there's a 30-foot and 20-foot drop too, making this one of the most exciting waterfalls near Seattle!
There is a moderate 2.5-mile out and back trail to enjoy while you're here. The path leads from the Twin Falls trailhead to the Upper Falls viewpoint. On the way, there are swimming holes that are perfect in the summer, and beautiful trees, including the Old Growth Douglas Fir tree.
To reach Twin Falls, take the I-90E road from Seattle, leaving at exit 34. Then, drive along Grouse Ridge Access Road until you reach Twin Falls. It's around a 45-minute drive (36 miles) from Seattle. Twin Falls isn't too far from Snoqualmie Falls, so you could easily visit both in a day.
---
READ MORE: Hiking Twin Falls Trail: What You Need to Know!
---
3. Franklin Falls (My Favorite Waterfall Near Seattle)
Distance: 2 miles
Type of Trail: Out & Back
Difficulty: Easy
Franklin Falls is a famous waterfall hike in the Seattle area. It's only a 2-mile round trip, so it's ideal for people who don't want to go too far but still want a slice of nature!
The hike starts at Denny Creek Campground, which is coincidentally a lovely place to stay if you want to spend an evening out of the city. The path is easy to follow and well-maintained, ending at Franklin Falls.
The falls have a total drop of a whopping 135 feet, although you'll only see the last 70 feet from the trail. They are majestic and dramatic, holding a lot of water. If you stand close, you'll even feel the spray!
The trail gets very busy in the summer, so it's recommended to arrive early in the day. This should ensure that you can get some quiet time while hiking and that you can get a parking space! To park, you need to either pay a fee or have a Northwest Forest Pass (Discover Passes are not accepted).
Another thing to note is that the road leading to the falls can close during the winter months. If visiting in this season, you might need to park your vehicle on Denny Creek Road and walk two miles to reach the trailhead.
Franklin Falls is around an hour's drive from Seattle. Take the I-90E from the city and leave at exit 47. Then take the NF-5800 for around 2.8 miles, before turning onto the FS 5830. The trailhead will be on your right.
---
READ MORE: Franklin Falls Hike: What You Need to Know!
---
4. Wallace Falls (9 Waterfalls in Seattle Wrapped Into One Spot!)
Distance: 5 miles
Type of Trail: Out & Back
Difficulty: Moderate
The charming Wallace Falls is located inside the Wallace Falls State Park, which is famous for its nine waterfalls. That's right – if you're a waterfall fan and are on vacation in Seattle, this is somewhere you can't miss!
Wallace Falls is one of the most popular attractions in Washington. However, if you arrive early or hike in off-peak times, the trail and park are big enough that you should find some solitude!
The Wallace Falls hike is a 5-mile out-and-back trail. Towards the end of the hike, you'll gain quite a lot of elevation – but if you don't fancy climbing, you can just hike whatever distance you want before turning back.
The views from the lower stops are lovely, and you can also take in the natural rainforest-like flora of the state park on the way.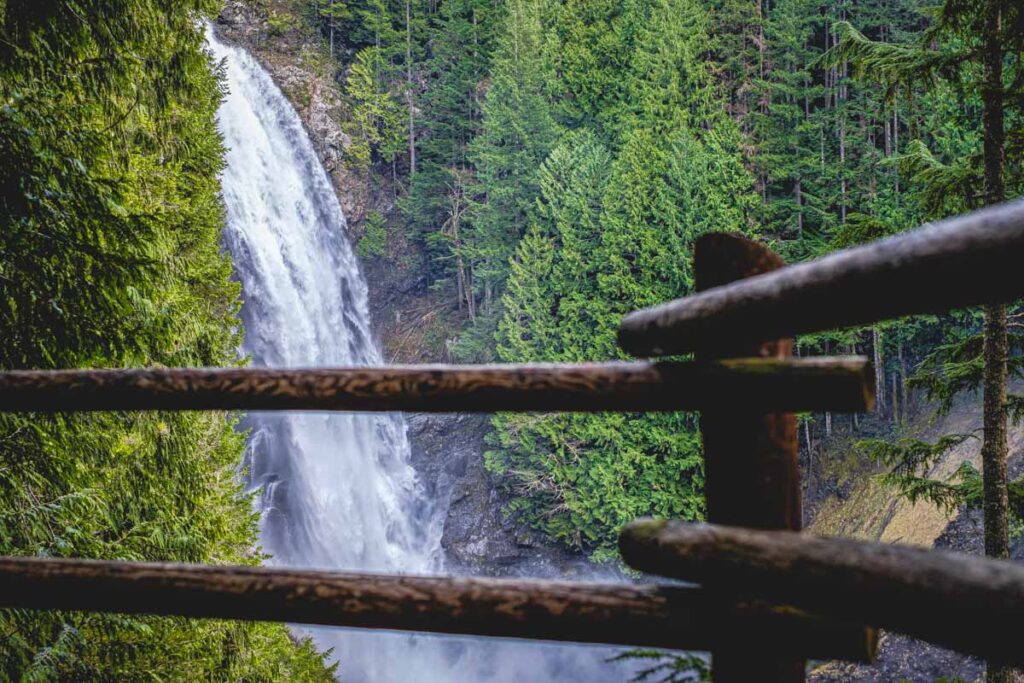 If you go the whole way, you'll be graced with epic views across the falls, as well as fewer tourists. So if you are visiting at peak times, it might be worth going that extra mile!
To enter this state park, you'll need a Discover Pass.
To get to Wallace Falls from Seattle, take I-5N from 4th avenue, join the WA-520 E, and then I-405N to leave the city. Next, join the WA-522 E and then take the US-2 E exit, which you can drive down to reach the falls.
---
RELATED: 25 EPIC Hikes in Washington to Tackle
---
5. Whatcom Falls
Distance: 4 miles
Type of Trail: Loop
Difficulty: Easy
A stone's throw from the Canadian border, Whatcom Falls Park is in the city of Bellingham and has a few hiking trails. As well as the gorgeous falls, you'll be able to take in forest vistas and a tranquil creek running through.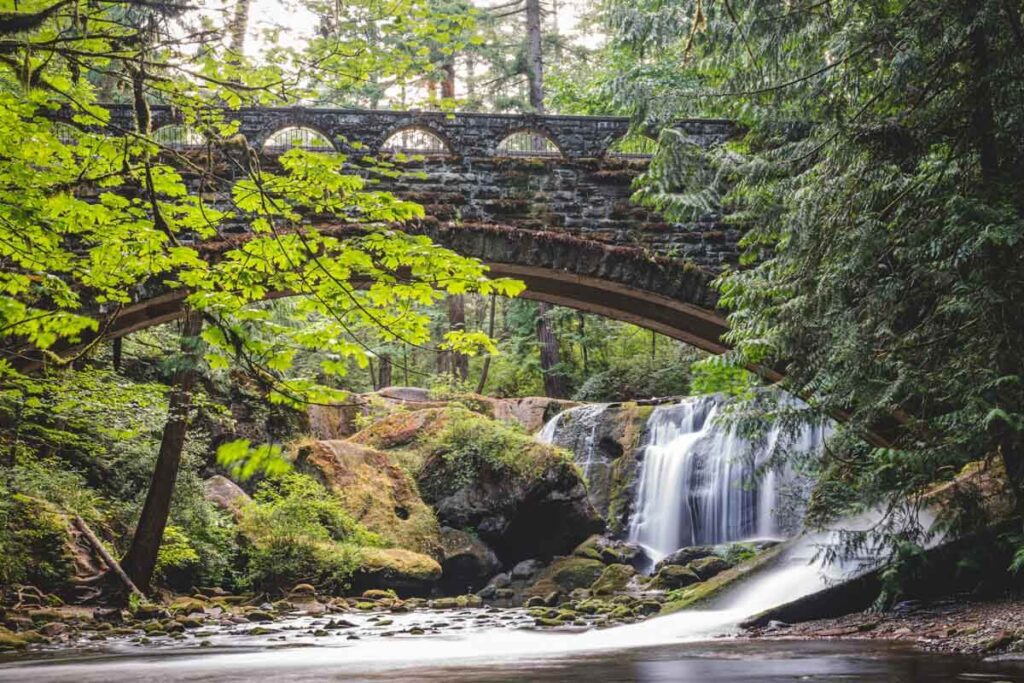 One of the trails that you can take is the Whatcom Creek Trail Loop. This is just under 4 miles and is very well maintained, making it accessible for most hikers. It begins in the main Whatcom Falls parking lot, which also has toilets and picnic facilities, and takes in some of the incredible views of the waterfalls.
They're definitely some of the best waterfalls near Seattle!
To get to Whatcom Falls Park, take the I-5N highway from Seattle, driving around 80 miles before turning off at exit 246. Then, travel along South Squamish Way for around 5 miles. Turn onto Yew Street Road and then take Silver Beech Road, which leads you to Whatcom Falls Park.
The journey is around an hour and a half from Seattle (roughly 86 miles) making it a great day trip from Seattle.
---
RELATED: 45 Outdoorsy Things to Do in Seattle, Washington!
---
6. Myrtle Falls (A Mount Rainier Waterfall Near Seattle)
Distance: 0.9 miles
Type of Trail: Out & Back
Difficulty: Easy
Myrtle Falls are a bit of a drive from Seattle, but they are well worth the trip! Located near Paradise and Mount Rainier (the highest mountain in Washington), these waterfalls are awash with lush green beauty.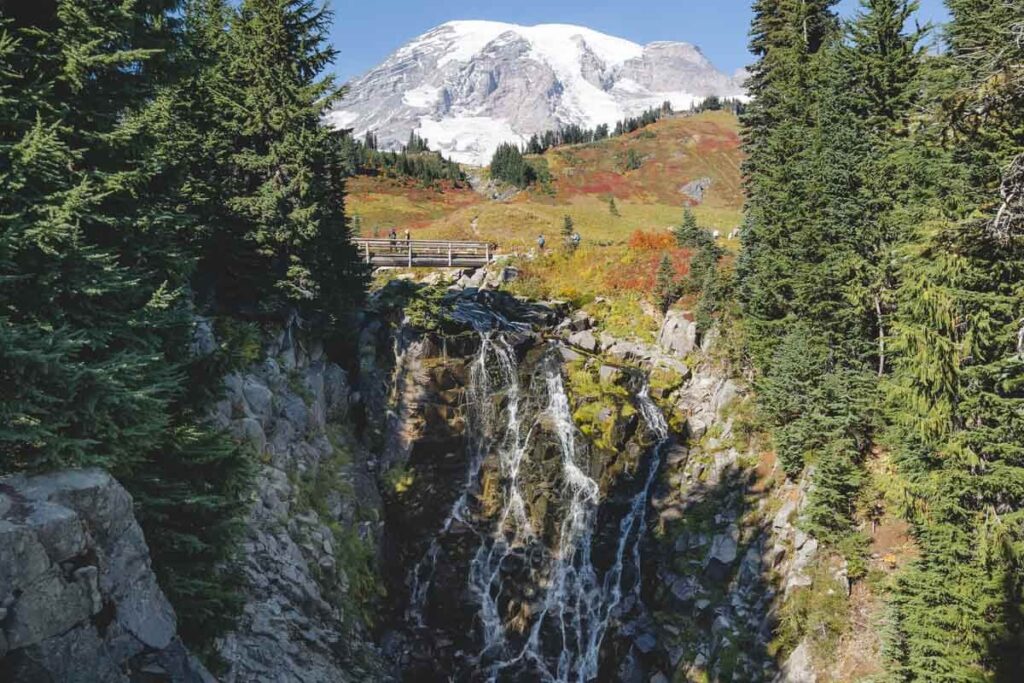 You can do a short out and back hike that starts at the parking lot near Paradise Inn and leads to the Myrtle Falls lookout. This incorporates some of the Skyline Trail, from which you can see lovely views of Mount Ranier and surrounding scenery. They call it Paradise for a reason!
Toilets, food, and accommodation are all available by Paradise Inn.
To get to Myrtle Falls, take the I-5 S, which connects to the WA-7 S. From here, you can take the WA-706 to Paradise Road East. Myrtle Falls is along this road. It's about a 2 hour 20-minute drive (108 miles) from Seattle.
---
RELATED: 21 Epic Waterfalls in Washington
---
7. Comet and Christine Falls
Distance: 3.2 miles
Type of Trail: Out & Back
Difficulty: Moderate
Comet and Christine Falls are situated near Myrtle Falls, so you can easily combine both on a day trip.
Located in Mount Rainier National Park, these waterfalls are situated a short distance from each other, so you can easily hike between the two.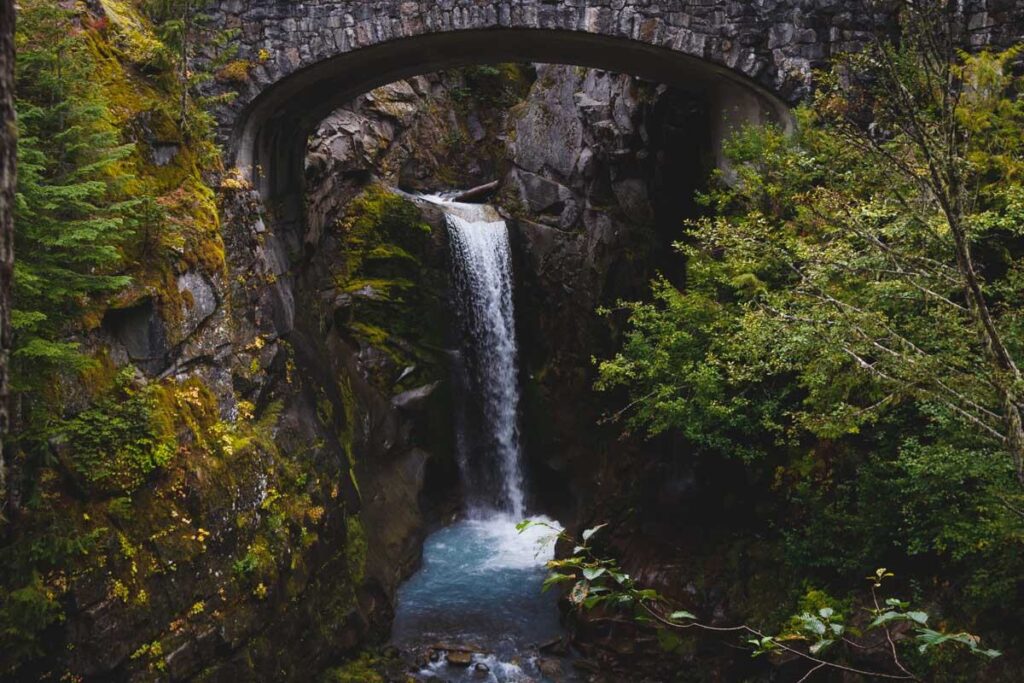 From Christine Falls, you can walk around two miles to reach Comet Falls. It's a reasonably easy walk, with some rocky parts. Christine Falls is a pretty photo spot with a bridge spanning across and is right off the road. Comet Falls is a breathtaking 301-foot drop of ferocious whitewater, as well as numerous smaller plunges that require a hike to get to.
You can park at the Comet Falls trailhead – although, as this is one of the most popular trails in the national park, it does fill up quite quickly. It's recommended to use the Nisqually Entrance to access this trailhead.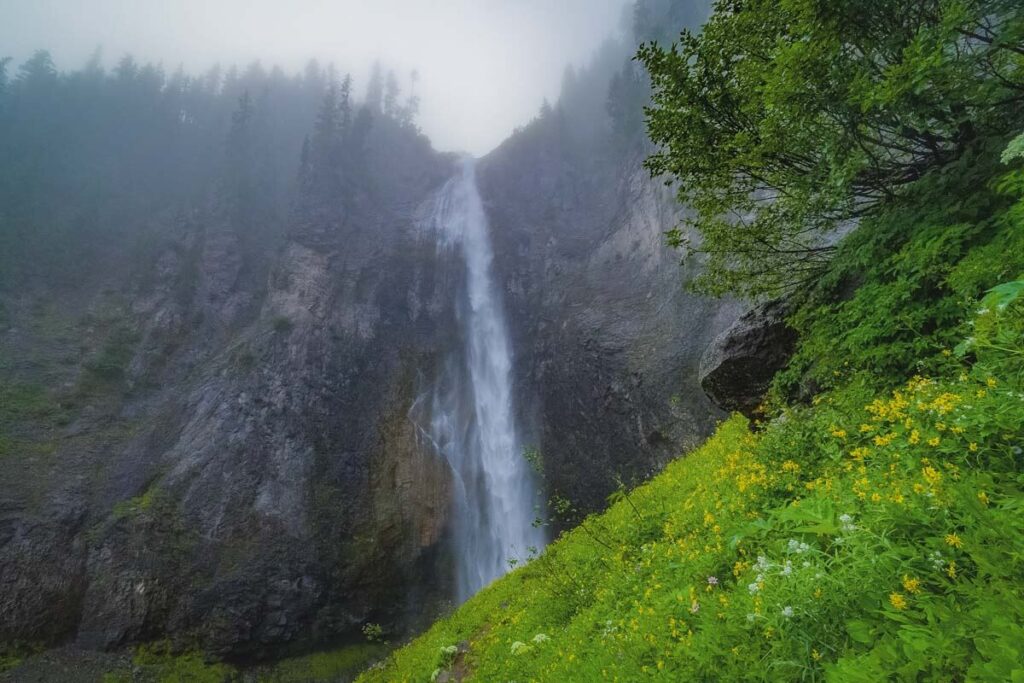 To reach the Comet Falls trailhead, take the I-5 S and then the WA-7 S. Then, travel on the WA-706 to reach Paradise Road East. The Comet Falls trailhead is along that road and will be signposted.
As both waterfalls are located in Mount Rainier National Park, you could visit Myrtle Falls on the same day trip. There's definitely enough here to keep you busy for a day! If you want to stay longer, there are plenty of campsites around Mount Rainier too.
You will need to pay an entrance fee for Mount Rainier National Park or have an America the Beautiful permit.
---
RELATED: 15 Epic Hikes in Mount Rainier National Park, Washington
---
Whether you are living in Seattle and looking for day trips or are on vacation in Washington, this list of waterfalls near Seattle should help to fuel your wanderlust. If you want a waterfall in easy reach of the city, head to Snoqualmie or Twin Falls. Or, if you are happy to drive a bit further, Myrtle and Comet and Cristine Falls are well worth the extra miles!
We hope this post helped you plan your visit to some of the best waterfalls near Seattle! Before you go, don't forget to check out other adventures around the city.
I've been perpetually traveling and living around the world for years but it's hard to beat Washington and the PNW. After years of road-tripping the area, I guess you can say I know it pretty well! When I'm not writing guides for you, you can catch me somewhere petting a dog, attempting to surf, hiking a volcano, or stuffing my face with bread and cheese.