The Snoqualmie Falls hike is one of the most iconic trails near Seattle. The short distance makes it an easy trek for the whole family, and the incredible views of the falls make this trail a must-see when you're in the Snoqualmie area.
Not only is the Snoqualmie Falls hike short, easy, and beautiful, but it's also completely free to access. So keep reading to find out everything you need to know about hiking Snoqualmie Falls Trail.
Snoqualmie Falls
---
Distance: 1.4 miles
Type of Trail: Out & Back
Difficulty: Easy
Hiking to Snoqualmie Falls
The Snoqualmie Falls trailhead is located off of Snoqualmie Parkway along Railroad Ave. There is plenty of free parking across the street. But on busy weekends, you may want to aim to get here earlier.
You'll reach the upper observation deck first, situated less than a mile from the parking lot. You can find some of the best views of Snoqualmie Falls here, so don't be surprised if it is crowded.
While you'll get great views from the observation deck, the true beginning of the trail starts beyond the upper observation deck at a downhill descent with a fairly steep grade. This part of the trail, for some, is tricky, but so long as you don't have any injuries and are in good shape, there's no need to worry. Even young kiddos seem to manage!
The path is surrounded by stunning old and new growth forests and interpretive signs to help you learn about this area's native flora and fauna. The trail is wide and comprised mainly of long switchbacks. In addition to verdant plant life, the Snoqualmie Falls hike also offers views of the hydroelectric powerplant.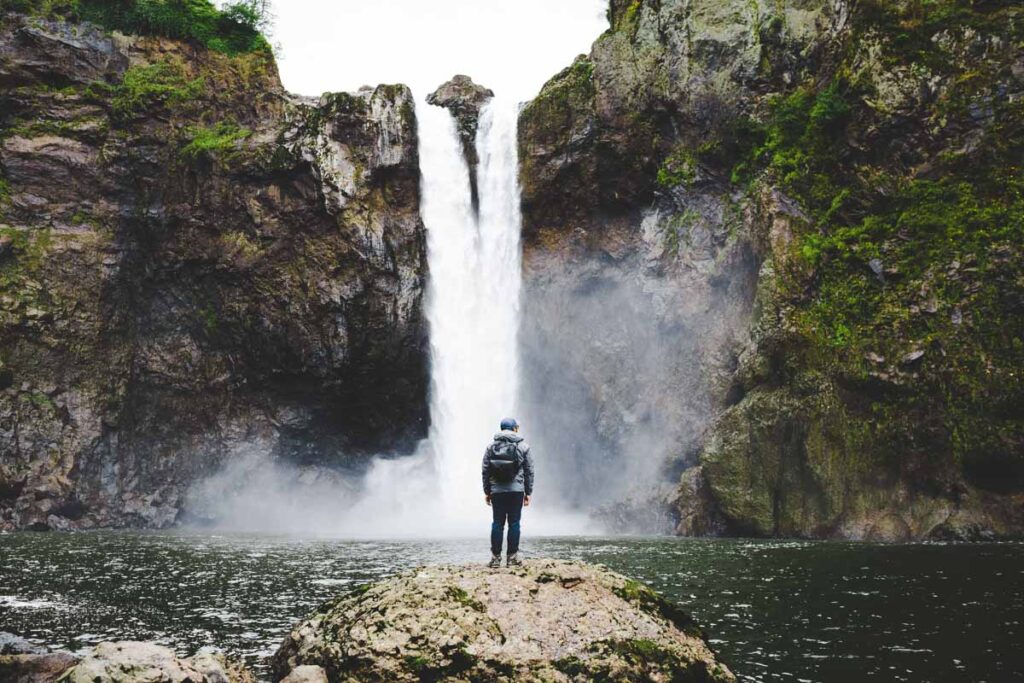 The trail ends at the lower observation deck. The deck offers excellent views of the Snoqualmie River and the 270-foot falls. There are picnic tables and restrooms in this area, so feel free to spend a few hours enjoying the view.
You can venture off-trail beyond the lower observation deck to get an even better look at the impressive falls. Unfortunately, this route isn't marked, and only confident hikers should attempt to conquer the steep and slippery rocks.
---
RELATED: 7 Awesome Waterfalls Near Seattle, Washington
---
When to Hike Snoqualmie Falls
The Snoqualmie Falls hike is best completed between May and October. If you're hoping for a more peaceful experience, consider hiking during the week as the trail is often crowded on weekends.
Some prefer to hike Snoqualmie Falls Trail after it has just rained because the width of the falls can grow from 50 feet across to 150 feet! If it gets cold enough, the falls will even freeze.
When the falls are stunning, the trail is often at its most dangerous due to slippery rocks and icy sections. Be sure to check for closures and trail conditions before heading out.
---
RELATED: 21 Epic Waterfalls in Washington
---
More Waterfall Hikes Near Snoqualmie Falls
If you're longing for more adventure after the Snoqualmie Falls hike, check out these nearby trails and make a whole day of waterfall chasing. It would be totally possible to explore all three of these great waterfalls near Seattle in one day.
Franklin Falls
Easy, 2-mile, out and back hike
Franklin Falls is situated in the stunning Mount Baker Snoqualmie National Forest. Like the Snoqualmie Falls Hike, this trail is short and sweet, with epic views of the thundering Franklin Falls. From Snoqualmie Falls, head southeast via I-90 for about 30 miles to reach Franklin Falls.
Note that a Northwest Forest Pass is required for this hike.
---
READ MORE: Franklin Falls Hike: What You Need to Know!
---
Twin Falls
Moderate, 2.5-mile, out and back hike
Twin Falls is one of the best waterfalls near Seattle. It's more difficult than the Franklin Falls and Snoqualmie Falls hikes, making it a stellar option for those searching for a challenge. To reach the trailhead, head east along I-90 for about 25 miles.
Note that a Discover Pass is required for this hike.
We hope this post help you plan your Snoqualmie Falls hike! Don't forget to check out more Washington hikes and more adventures around Seattle.
More Waterfalls Around Washington
I've been perpetually traveling and living around the world for years but it's hard to beat Washington and the PNW. After years of road-tripping the area, I guess you can say I know it pretty well! When I'm not writing guides for you, you can catch me somewhere petting a dog, attempting to surf, hiking a volcano, or stuffing my face with bread and cheese.