Lake Lenore is a long, narrow lake spanning around 1,670 acres, formed by the powerful Missoula Floods. It sits in the middle of a series of lakes, including Blue Lake and Alkali Lake to the North and Soap Lake to the South, which are all impressive in their own right.
Although a popular fishing spot, the lake is known for its very alkaline waters, which means that only Lahontan Cutthroat Trout can survive in it. This kind of trout can get pretty big, making it a popular spot to fish for this species.
Although fishing is one of the biggest draws to the lake, it is also a popular boating and paddling spot. Another surprising feature is the caves that dot the surrounding basalt cliffs, which can easily be reached via a short hike.
This unique lake has definitely earned its spot as one of the most scenic lakes in Washington, with plenty to do and see, and with an incredible history behind it.
Here are some of the best things to do in and around Lake Lenore!
---
READ MORE: 17 of The Most Scenic Lakes in Washington
---
Lake Lenore—Everything You Need to Know!
One of the first things you might be wondering about Lake Lenore is where can you put your paddleboard, kayak, or boat, so here are all of the easily accessible put-in's along the lake.
Gage Station Public Access
This access point sits at the north end of the lake. There is a small turnaround spot and a leisurely boat put in, so you can head off and explore the lake. You can pull right off the road with a small parking area, restrooms, and a smaller road leading down to the water.
Lenore Lake Public Access
This boat put-in sits towards the middle of the lake and provides easy access to the waters. This is a popular spot for fishing and paddling, so you may share the spot with a few others.
Alkali Lake Public Access
Alkali Lake Public Access, as the name suggests, offers access to the neighboring Alkali Lake. The beautiful area can be used for boating, paddling, and fishing. Incredible rock formations surround you, and the fact that you can free camp here means you will wake up to stunning surroundings. There are even restroom facilities.
The two lakes are connected via a tiny river, and nothing more but a tiny sliver of land separates them above ground.
TIP: Most boat put-ins around the lake allow you to car camp for free.
Lake Lenore Caves Trail
Distance: 1.2 miles
Type of Trail: Out & Back
Difficulty: Easy
Elevation Gain: 173.9 feet
The Lake Lenore Caves Trail takes in two of the world's best natural elements in one epic hike, a lake, and multiple caves. Be aware that this trail is rocky and can be a bit uncomfortable with some steep drop-offs, so you have to be careful, but it is a lot fun! You will head upwards from the get-go via stairs carved directly into the rock.
After a bit of a climb and following the ridge line, you will reach the first cave, a huge gaping hole in the rock. From your vantage point in the mouth of the cave and peering into the darkness, don't forget to turn around and take in the views across the canyon.
Continue following the trail; before long, you will reach the second cave, followed quickly by the third. These huge caves were created during the Great Missoula flood, where the torrent of water was strong enough to pull chunks out of the basalt! Now, it is time to turn around and head back the way you came.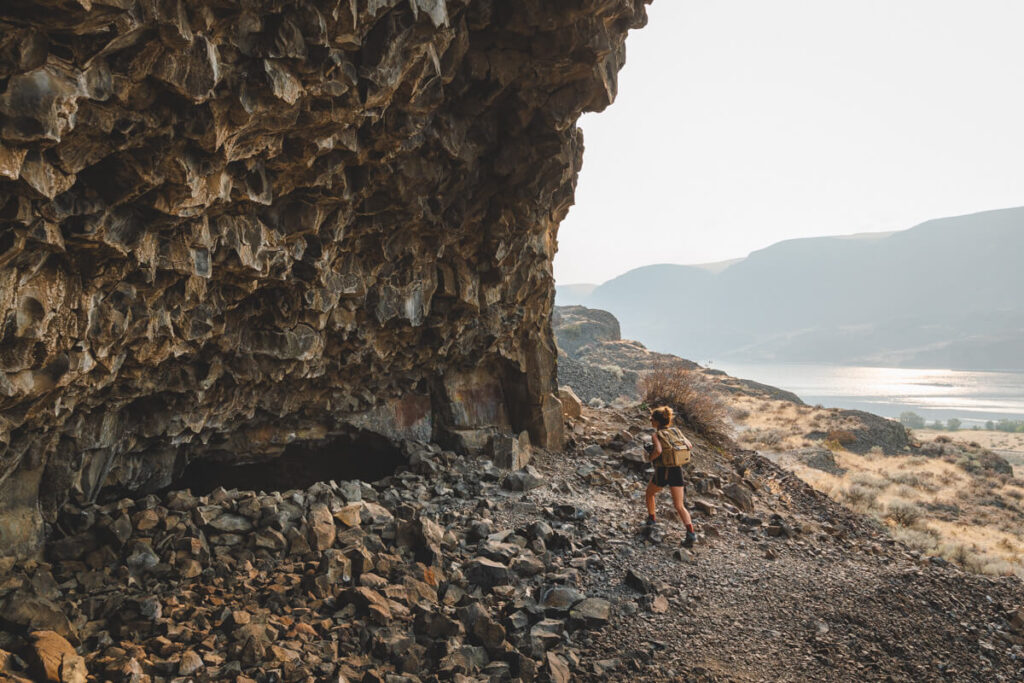 It is incredible to think that early Native people lived in these caves and used them as shelter. In fact, the area is still used by Native Americans today.
Despite the relatively short length of the trail, it is easy to spend a few hours here, poking in and out of the Lake Lenore caves and admiring the views of the canyon and lake.
What's Near Lake Lenore?
More lakes, of course! If you're all the way out here, make sure to stop by these other beautiful spots in Eastern Washington.
Soap Lake
Soap Lake is just to the south of Lake Lenore and is just as picturesque. There are a few points where you can access the lake, to the south and east, with picnic tables and a few places to sit and take in the views.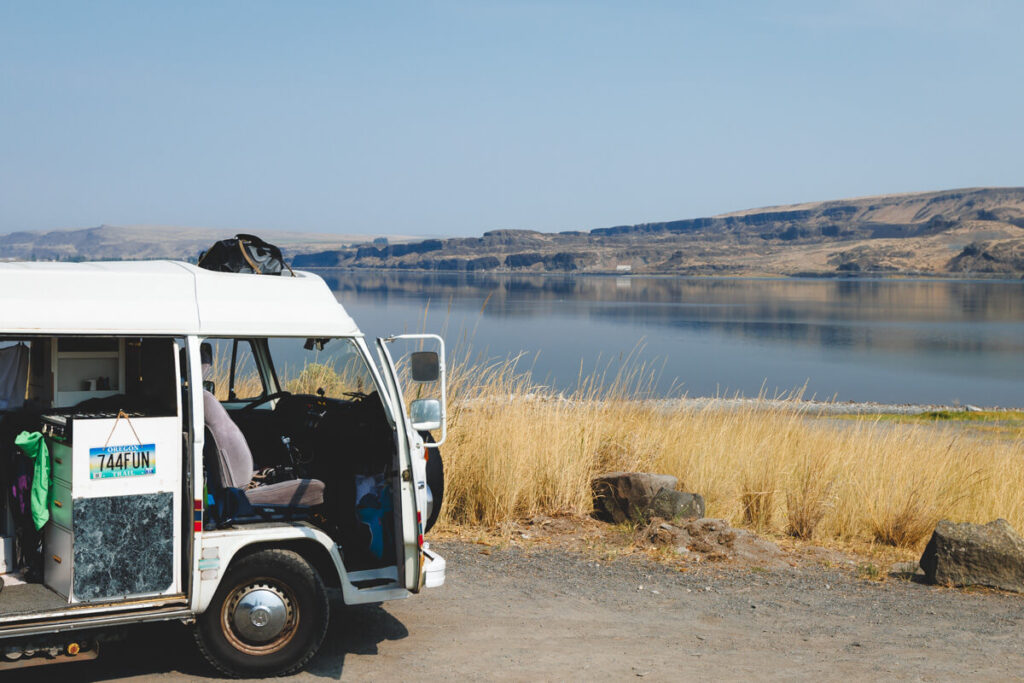 The lake shares its name with the town on the south shore. There is not too much to do here, but it's a good town to base yourself in if you don't fancy the camping life for a night or two. There are also some great places to grab a bite to eat and drink.
This lake is rich with salts and minerals, so much so you can actually kind of feel the soapiness in the water! It's said to have healing properties, so feel free to take a dip.
Sun Lakes Dry Falls State Park
If you are hunting for a geological wonder of North America, you must head to Dry Falls. The area was created by Ice Age Floods more than 13000 years ago. The waterfall that once reigned here was over four times as big as Niagara Falls; you almost can't picture something so big. Today, you will find a towering 400-foot cliff that stretches for 3.5 miles, overlooking the rocky, gorge-filled landscape.
The state park sits at the base of Dry Falls, with plenty of shoreline to enjoy water-based activities. Both Park Lake and Deep Lake offer some incredible fishing, paddling, and kayaking opportunities, while hiking trails are abundant, taking you up to the cliffs for views that will take your breath away!
We hope this helped you plan some cool adventures to Lake Lenore!
I'm an Oregon native but neighborly and equally as enchanted by Washington. I tackle expeditions around the world and love a good beer at the end of the day. PNW obsessed, VW nerd, and surf or snow riding fanatic.