There are quite a few Mount Rainier waterfalls to check off your list during your visit, and some are easier to visit than others!
Whether you're up to tackle a gorgeous hike in Mount Rainier, or only have time for a few quick pulls off on the side of the road, here are the best waterfalls in Mount Rainier National Park to visit!
Mount Rainier Waterfalls
---
1. Ipsut Falls
Distance: 10.8 miles
Type of Trail: Out & Back
Difficulty: Easy
Be prepared to hike to get to Ipsut Falls, as the main road that leads to it is now closed. You can park at this closure and make your way along the road yourself, but be prepared for a long one, as it will be about 6 miles of straight road until you reach the waterfall's viewpoint.
Sure, you will be walking through some lovely forest, but this one doesn't stand out compared to some of the more scenic hikes in the park. Overall, you will be hiking around 10.8 miles without getting a lot of bang for your buck.
A few little bridges will cross over the creek before you eventually get to the view viewpoint. This is a great leg stretcher and stroll but there are some better waterfalls to visit!
2. Spray Falls
Distance: 6.9 miles
Type of Trail: Out & Back
Difficulty: Moderate
Elevation Gain: 1,300 ft
Experience a stunning hike before you even reach the waterfall during the walk to Spray Falls. If you only see a few waterfalls on your trip, you should consider this one.
Start your hike at Mowich Lake, a destination in itself, and hike your way through the undergrowth, which has some incredible viewpoints.
Once you reach the waterfall, be prepared for your breath to be taken away as the water plunges down a 350-foot drop into the stream below.
You can visit nearly any time of year, and the waterfall is likely to be one of the best you have seen, but if you visit during the snowmelt, then the waterfall is in its full glory. Be aware the gate to the road is closed in the winter.
---
RELATED: 21 Epic Waterfalls in Washington
---
3. Stafford Falls
Distance: 7.3 miles
Type of Trail: Out & Back
Difficulty: Moderate
Elevation Gain: 1,062 ft
Stafford Falls offers the opportunity for a great little Mount Rainier waterfall hike, plus you will get to see a bonus couple of waterfalls along the way. Located on the far east side of the park, this hike allows you to see some new views and three different watercourses, each of which has its waterfall.
Start the hike on the Owyhigh Lakes Trail, heading down through the thick forest. It won't be long before you are granted your first peek of a waterfall, the 62-foot Deer Creek Falls.
Carry on for a while longer, crossing a few streams, keeping your eyes out for the unmarked side trail which will take you to Stafford Falls. This unique waterfall is 8 feet wide and plunges 25 feet into a perfect punchbowl, surrounded by forest.
Get back on the main trail, and after a mile or so, you'll get to the viewpoint of the bigger Ohanapecosh Falls of 50 feet. Once you have taken it all in, turn around and head back the way you came, stopping for a second look if you feel the need!
4. Bloucher Falls
Distance: 3 miles
Type of Trail: Out & Back
Difficulty: Moderate
With a total height of 124 feet and three drops, it is surprising that Bloucher Falls is one of the lesser-known Mount Rainier waterfalls in the park. The main reason for this is most people head to the area to see the admittedly bigger and better Comet Falls.
Bloucher Falls is still awe-inspiring, and although not as scenic now as it used to be due to the floods, it should still definitely be on your list of must-see waterfalls in the park.
You will be able to find it about 1.5 miles along the Van Trump Park Trail. To save confusion, this waterfall is also commonly referred to as Van Trump Falls and can easily be combined with a trip to Comet Falls.
5. Christine Falls (The Easiest to Get to Mount Rainier Waterfall)
There may not be any scenic hike to get to Christine Falls, but if you are short on time, this is the waterfall for you. The waterfall is located halfway along the road to Paradise and is easily reached via the pull-outs just past the Comet Falls parking area.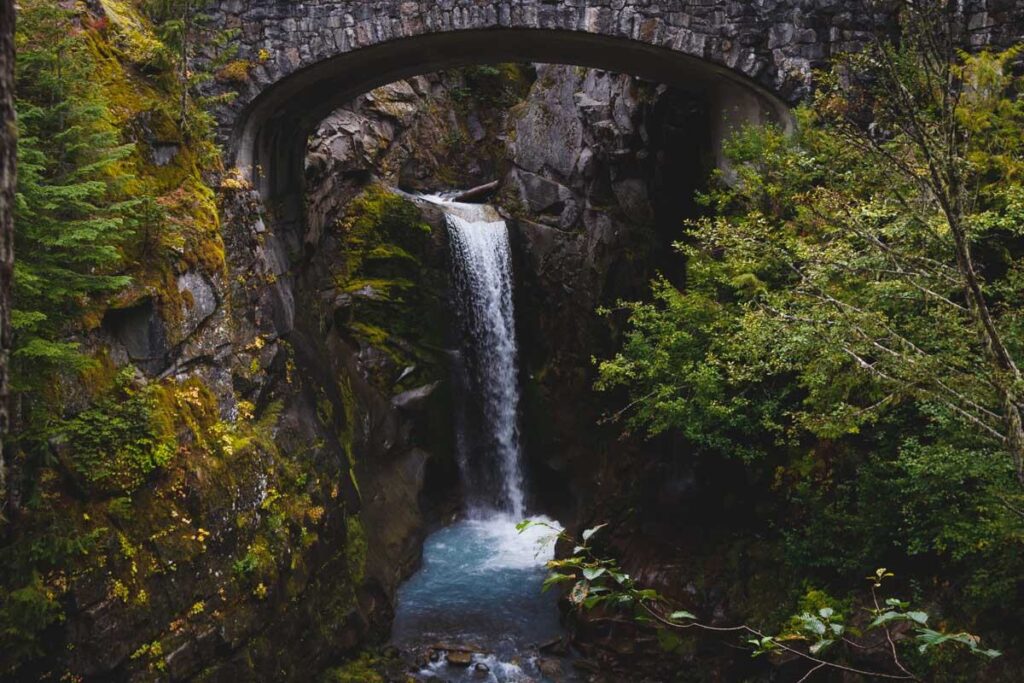 Although you can view the waterfall from the stone bridge above, the best way to see the beautiful Christine Falls is to follow the path below the bridge. You'll find the waterfall perfectly framed by the stone bridge when you get to the overlook.
The Van Trump Creek created the 60-foot falls, and the historic bridge was created using stonework to tie into the stunning surroundings.
---
RELATED: 7 Awesome Waterfalls Near Seattle, Washington
---
6. Comet Falls
Distance: 3.2 miles
Type of Trail: Out & Back
Difficulty: Moderate
Elevation Gain: 1,279 ft
Comet Falls and Christine Falls come hand in hand, mainly because they are so close together and can easily be viewed in one trip. It is an excellent trail to the waterfall, as there are multiple falls along the way, finishing with the grand finale of Comet Falls.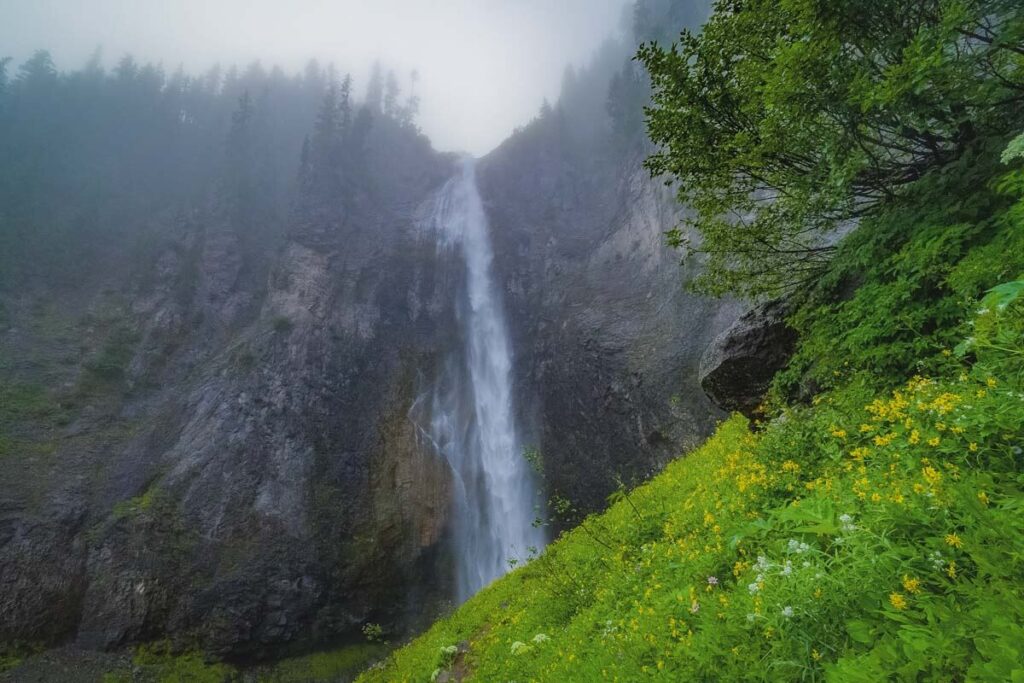 At just 3.2 miles out and back, don't let the relatively short distance lull you into a false sense of ease, as this hike is pretty steep, although there are some stairs to help make the climb that little bit easier. It is not uncommon to see people scrambling up the rocks using their hands to pull themselves up.
The views of Mt Rainier as you climb also make things a bit easier. There are a few other challenges along the way, such as a narrow log bridge and some ladder-like steps. Once you finally see the 320-foot drop of Comet Falls, the grind is all completely worth it, so stop and take it all in before heading back.
7. Myrtle Falls (Probably the Best Mount Rainier Waterfall Because of The View!)
Distance: 6.2 miles
Type of Trail: Loop
Difficulty: Hard
Elevation Gain: 1,788 ft
Myrtle Falls has to come out on top of all the Mount Rainier waterfalls. Not just because it is a stunning waterfall, but the backdrop of Mt Rainier standing proud directly behind the waterfall is something special.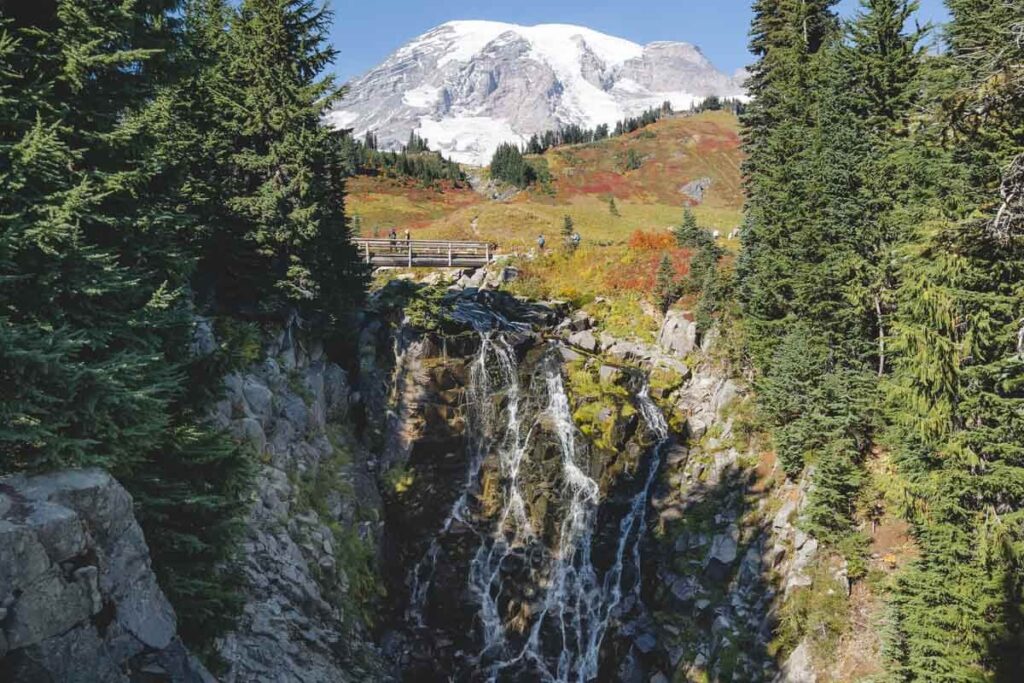 Most people visit this natural wonder when hiking the equally impressive Skyline Loop Trail, taking you to some stunning viewpoints.
However, if it is just that classic waterfall shot you are after, then there is a smaller portion of the hike you can take. Head off from Paradise Inn and take the 0.4 miles along an easy paved trail to the footbridge crossing over Edith Creek to see the impressive Myrtle Falls crashing its vast 72 feet.
---
RELATED: How to Hike the Skyline Loop Trail in Mount Rainier!
---
8. Narada Falls
Distance: 2.4 miles
Type of Trail: Out & Back
Difficulty: Moderate
Elevation Gain: 852 ft
Narada Falls is a huge tumbling tower of water and can easily be reached via a shorter or longer hike. Unusually for a Mount Rainier waterfall hike, as you begin, you will be walking downhill from the start rather than uphill, and the handy railing will only take you down so far.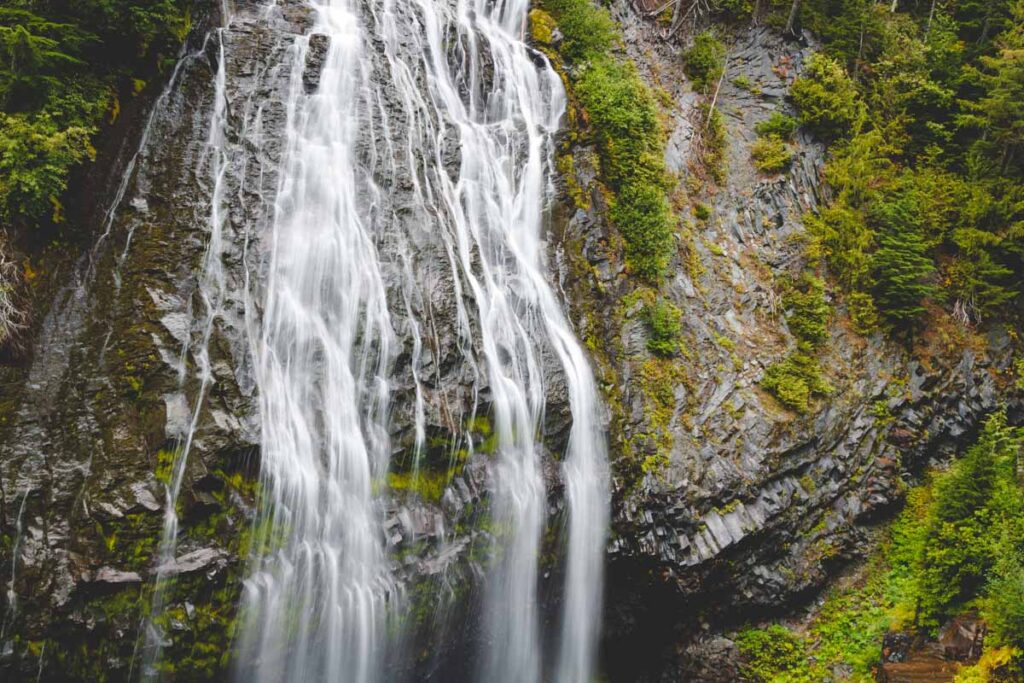 Once you reach the viewpoint, you will get a great angle of the 168-foot drop, and at this point, if you have had your fill of hiking, you can head back to your car. If you need more adventure, carry on until you join the Wonderland Trail.
There is also the option of using the even closer parking lot, where all you need to do is park up and look over the stone wall, where you can take in the view of the waterfall from above.
9. Ruby Falls
Ruby Falls is a neat little two-tiered drop of the Paradise River, followed by a more prominent main drop. There is nowhere to park near the waterfall, so if you want to see this little natural beauty, you will have to be prepared to roll those hiking trousers up and get onto the trail.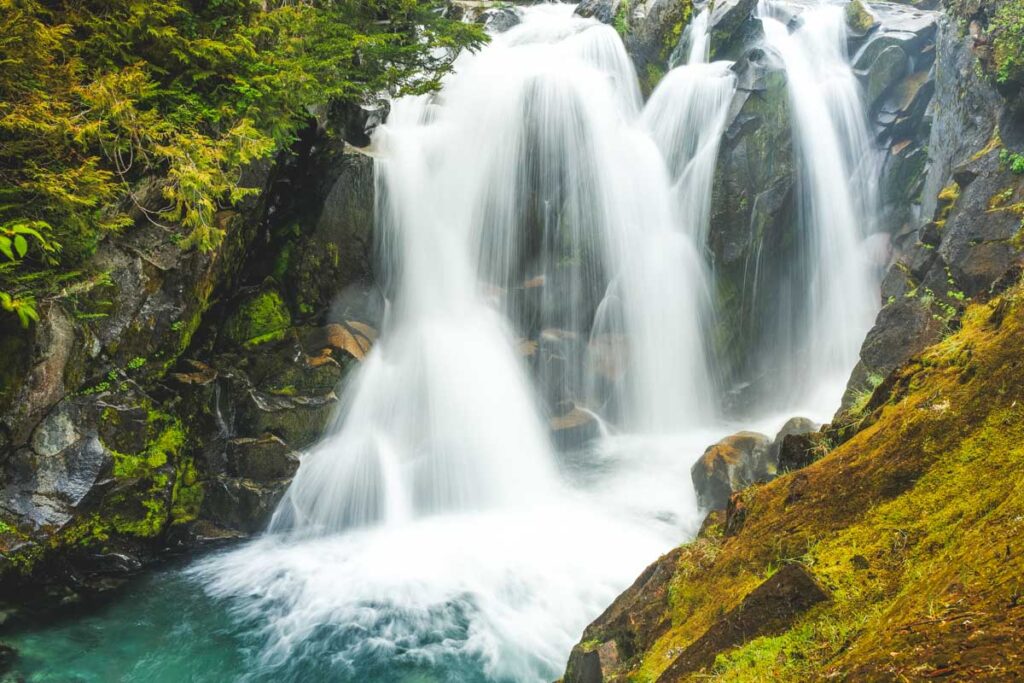 This is not the biggest waterfall the park has to offer; we recommend combining it with the hike to Narada Falls, as Ruby Falls is pretty much on the way. The whole walk is only 2.4 miles, so you should have the time to stop off and admire both.
While you can technically see this waterfall from the road there's nowhere to stop or park nearby.
10. Sunbeam Falls
Sunbeam Falls is a bit of a hidden gem, but it is worth taking the time to hunt this lesser-known waterfall out. The best thing is that you won't have to hike for miles to find it. It is hidden in plain sight down Steven Canyons Road. You know you have hit the right spot once you see the Sunbeam Creek sign next to the road.
Pull over at the side of the road, and you should be able to see the waterfall plunging over a rocky outcrop. The best time to see the falls is usually June, during the snowmelt, and as the months go by, the water reduces a little into a gentle, scenic trickle.
It is the final waterfall along the creek, but Lake Louise does ensure that there is always some water flowing. You should expect to see something scenic no matter the time of year.
11. Martha Falls
Distance: 1.8 miles
Type of Trail: Out & Back
Difficulty: Easy
Elevation Gain: 730 ft
Easy to reach and extremely impressive, it is hardly surprising that Martha Falls is one of the park's most popular Mount Rainier waterfalls. It's made even better thanks to the fact that the whole thing sounds like a pretty magical experience, seeing as the plunging Unicorn Creek can be viewed via the Wonderland Trail.
The most impressive part of this waterfall is the fanning 85-foot cascade, but not many people know the true size of this waterfall. It falls around 670 feet in 12 different tiers, but it is too difficult to see all the tiers at once.
The waterfall is just the highlight of this beautiful hike. You will be walking through thick forests around a twisting gorge, with the water trickling and flowing around you.
---
RELATED: 15 Epic Hikes in Mount Rainier National Park, Washington
---
12. Fairy Falls
With a pretty name like Fairy Falls, this Mount Rainier waterfall has many to live up to. Covering 600 feet overall, the waterfall tumbles down three tiers deep into Stevens Canyon. The weird thing is that no one has any clue how Fairy Falls got its name, but that adds to the magic.
Sometimes, this waterfall makes the list of tallest waterfalls in Washington, so why isn't it one of the most popular in the park? Although still lovely, the waterfall is nowhere near as impressive as it used to be, as much of its water source from glaciers has been cut off.
If you still want to see it, the best vantage point tends to be at a pullout known as 'The Bench,' off of SR 706, or if you look hard, a small section can also be seen from the Skyline Trail.
Make sure you go in early summer to avoid the disappointment of seeing the waterfall as just a trickle in late summer. You'll need to use your laserbeam eyeballs or grab your binoculars for this one since you can only see it from afar.
13. Silver Falls
Distance: 4 miles
Type of Trail: Loop
Difficulty: Moderate
Elevation Gain: 705 ft
The hike to Silver Falls is rated as moderate, but we know you have it in you to make it to this beautiful, cascading body of water. You will gain a little elevation along the way, but when you finally reach the waterfall, you will be rewarded with plenty of angles to take in this 40-foot drop.
There are plenty of other small Mount Rainier waterfalls surrounding the main one, and the sheer force of the water pounding over the rocks helps to make it particularly impressive. Keep your eyes peeled for the bridge over the river, which gives you the perfect vantage point of the river tumbling into the gorge.
Parking to start this hike should not be too difficult as you can either choose to park at Ohanapecosh Visitor Center or the Grove of the Patriarch Trail.
We hope this post inspired you to visit the best Mount Rainier Waterfalls! Before you go, don't forget to check out other adventures in Mount Rainier and more waterfalls in Washington.
More Around Rainier National Park
I've been perpetually traveling and living around the world for years but it's hard to beat Washington and the PNW. After years of road-tripping the area, I guess you can say I know it pretty well! When I'm not writing guides for you, you can catch me somewhere petting a dog, attempting to surf, hiking a volcano, or stuffing my face with bread and cheese.