Known for its panoramic views and diverse terrain, Maple Pass Trail is one of the most epic hikes in Washington. The combination of alpine lakes, old-growth forests, and soaring mountain peaks make the Maple Pass Loop a no-brainer for hikers searching for some seriously stunning vistas.
Situated in the North Cascades, the trail is diverse and demanding. Completing the Maple Pass Loop will definitely earn you some bragging rights, but it is approachable for hikers of all skill levels.
Hiking the Maple Pass Loop + Lake Ann
---
Distance: 7.4 miles (8.4 miles if you do the Lake Ann detour)
Type of Trail: Loop
Difficulty: Hard
Pass: Northwest Forest Pass
Should You Hike Maple Pass Clockwise or Counterclockwise?
Maple Pass Trail is a loop, which means you can hike it either clockwise or counterclockwise. While both directions will get you to the top with incredible viewpoints along the way, most choose to hike Maple Pass Trail counterclockwise. This is because the inclines are more gradual, and the views of Black Peak are better as you approach the pass.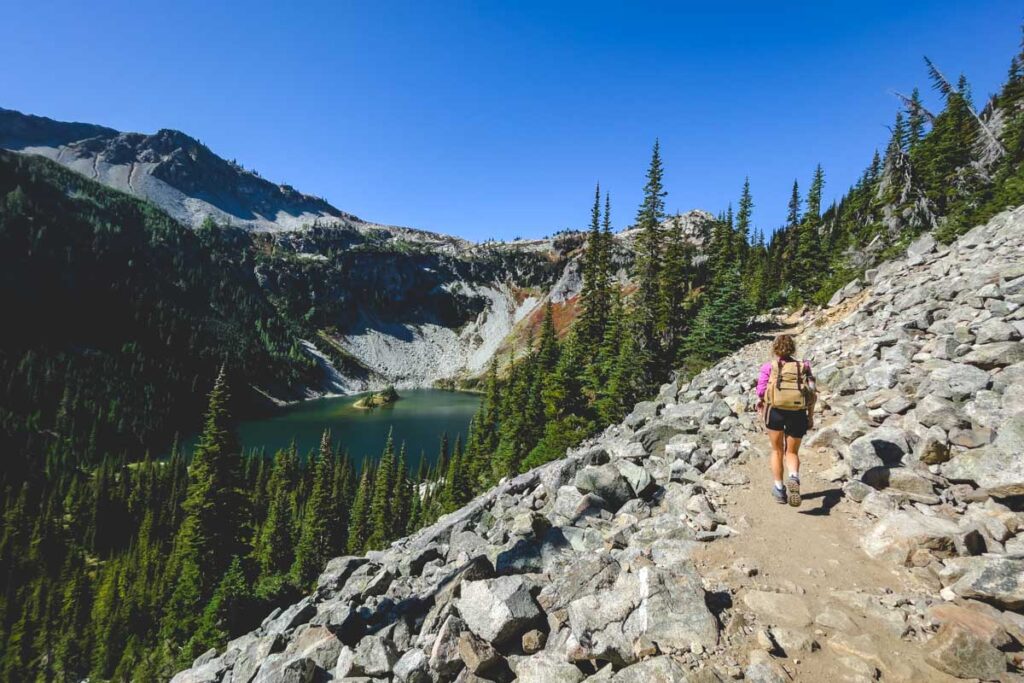 There is no wrong way to do this hike; it all depends if you'd rather have a steep decline at the end (counterclockwise) or a steep incline at the beginning (clockwise). No matter which direction you hike, the trail is forested to start. However, about 60-70% of the path is completely exposed throughout the rest of the hike.
*Note that the rest of this guide details information about hiking counterclockwise as this is the direction we chose!
Hiking Maple Pass Loop Trail
The Maple Pass Trail starts from the west side Rainy Lake picnicking area off Highway 20. There are vault toilets and parking spaces near the trailhead; just be sure you have a valid Northwest Forest Pass before you begin your hike.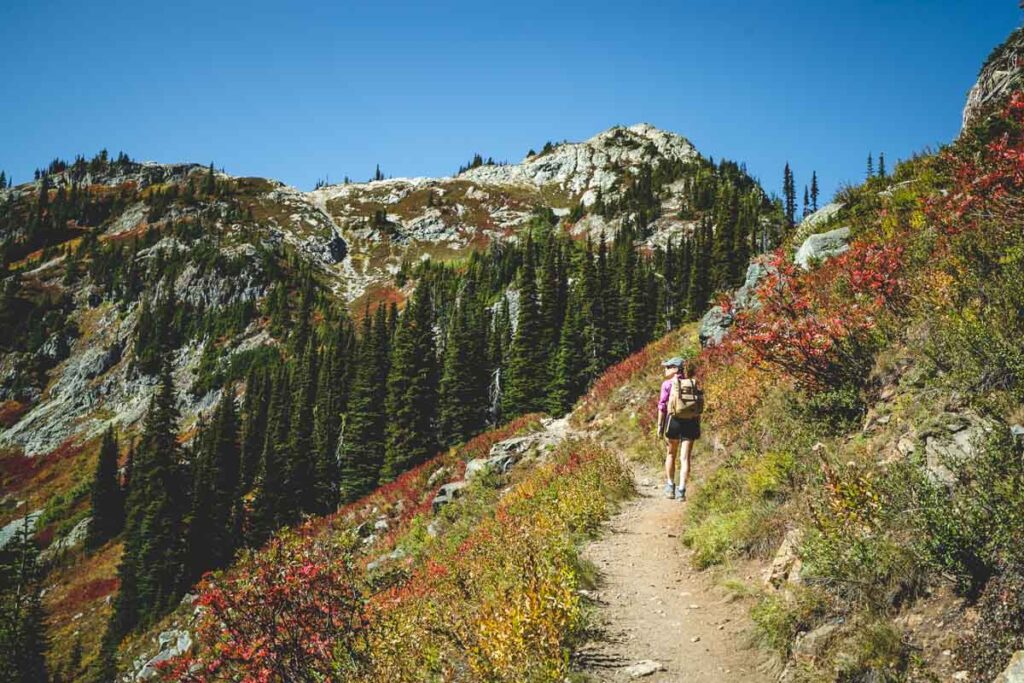 The trail starts nice and easy, with gradual inclines and a few unintimidating switchbacks. This part of the hike winds through a densely forested alpine meadow, which provides serene views and plenty of shade on sunny days.
Lake Ann Trail Add-On
After about 1.25 miles, you'll come across a detour for Lake Ann. This short 1-mile add-on is not part of the main Maple Pass Loop, but it is worth exploring if you have time. You'll be treated to views of the ring of mountains rising above the lake, which act as an indicator of how far you've hiked and how far you have left to go!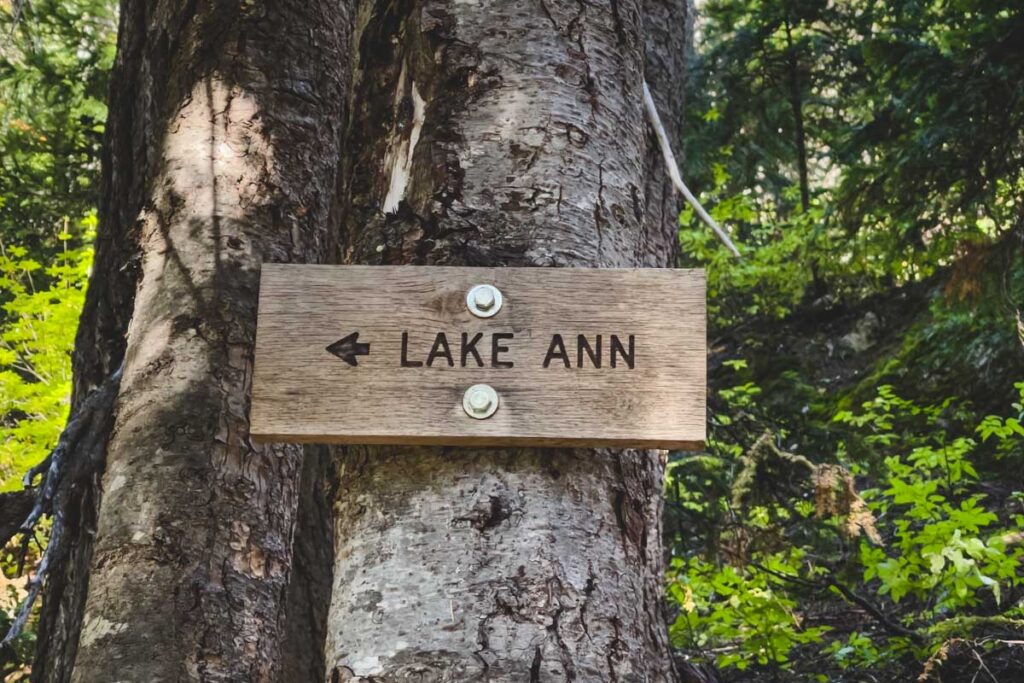 Yes, the exact mountains surrounding you at this lake will be the mountain loop you'll be completing. It will seem intimidating from down here, but once you start getting views from up top, you'll be motivated to continue further.
Lake Ann Trail will lead you right to the base of the lovely lake before circling back out to reconnect with the Maple Pass Trail. This add-on is a relatively straightforward extra mile roundtrip and you'll get it over with at the start.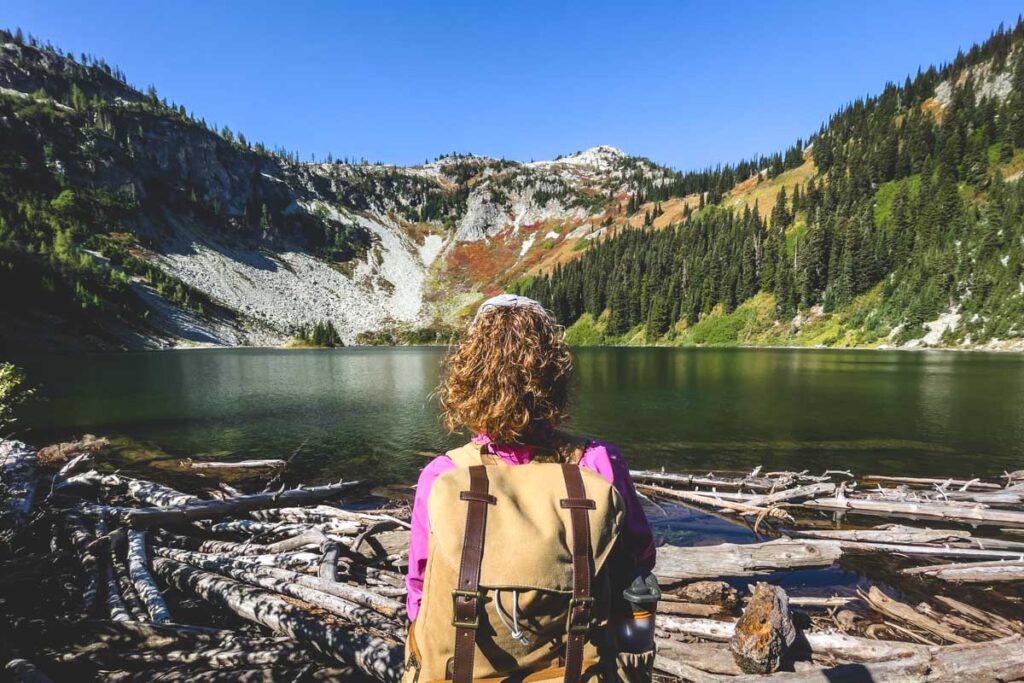 You'll definitely want to hit this detour up at the start because if you "wait to see how you feel at the end," you'll probably not want to do it, plus you'll have to repeat that initial mile or so!
Reaching Heather Pass
Once you're back on the main Maple Pass Trail, you'll start your ascent through Heather Pass. Through a series of switchbacks, you'll continue to gain in elevation. Once the trees begin to thin out, spectacular views of Lake Ann from above will come into view, and the scenery continues to awe from here on out.
Keep your eyes peeled for vibrant wildflowers coloring the side of the trail, along with panoramic views of Lewis Lake, lush meadows, and an abundance of jagged mountain peaks.
This is a perfect spot to take a few bites of your snacks and take a breather. There's a decent amount of space to relax and some rocks to sit on.
Reaching Maple Pass
From Heather Pass, the views only get better. The trail also becomes steeper, though the incline is fairly gradual. Once you reach Maple Pass, the scenery is at its absolute best.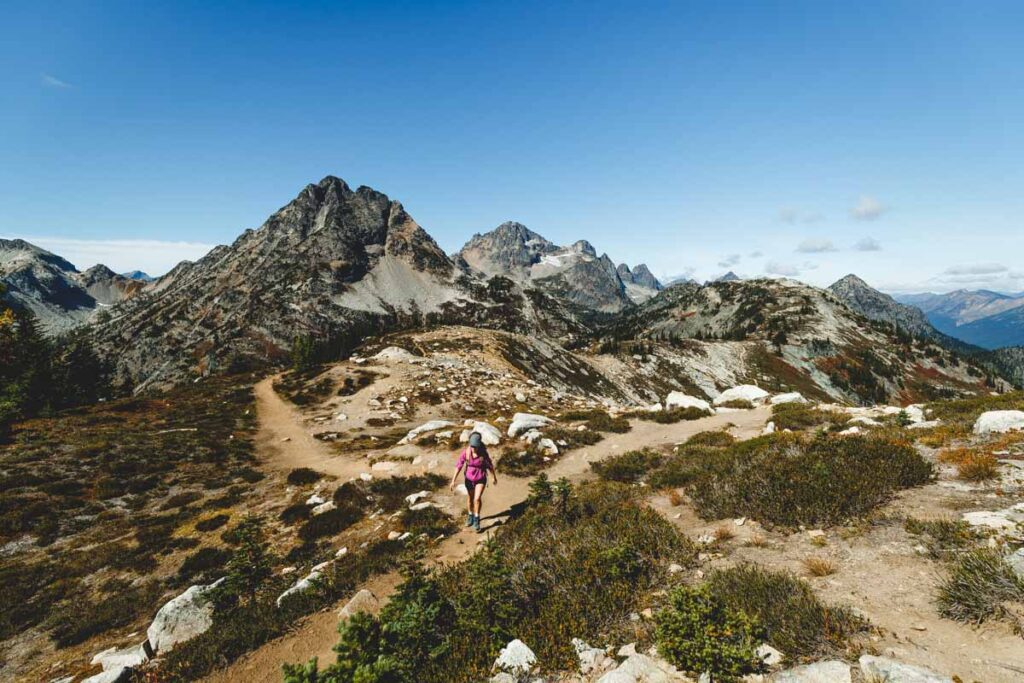 More views of Lake Ann from above, snowcapped mountains in the distance, Liberty Bell, Mt. Benzarino, Black Peak, Frisco Mountain, and more are all before you. You'll feel on top of the world!
Take some time to soak up the magnificent mountain views before starting your descent back down the mountain. The last 3 miles are incredibly steep and may be a bit hard on the knees for some. So take this part of the trail nice and easy and soak up the views of Rainy Lake off to your right.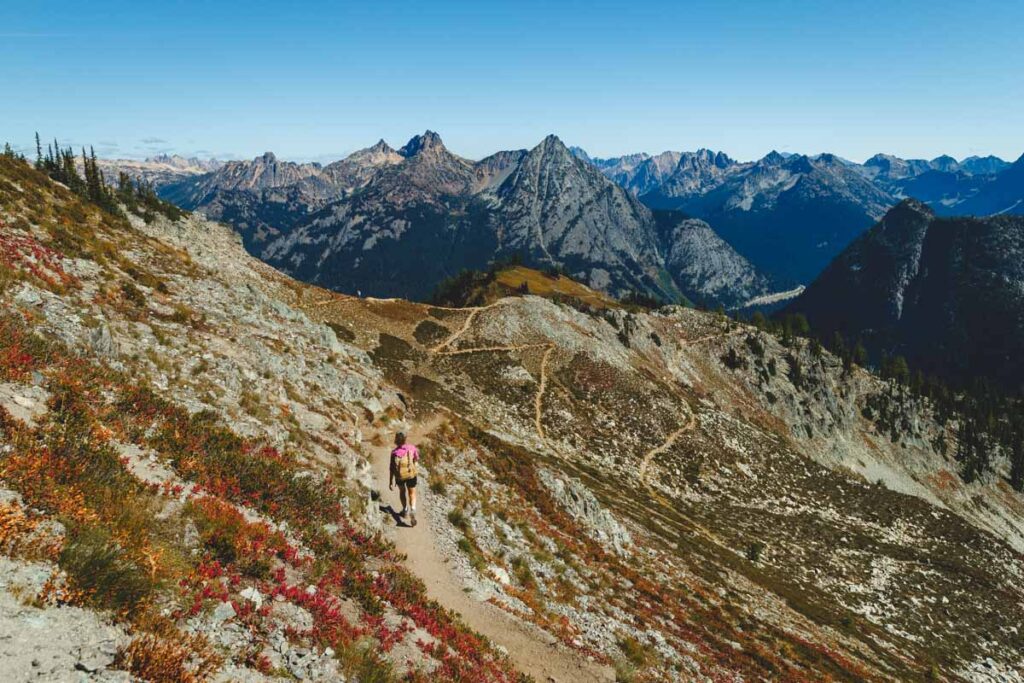 As you make your way down, you'll finally get some cover from the forest that you started with on this hike. Take care, particularly if it's rained recently. The roots and rock can be slippery, and hike down is steep steep!
---
RELATED: 15 Stunning Hikes in North Cascades National Park, Washington
---
Add-On: Rainy Lake Trail
If your legs can take it after this loop, or if you're looking for a bit of a warm-up before the Maple Pass Trail, the Rainy Lake Trail is definitely worth hiking! It's an easy out and back 2 miles that brings you to the base of the aptly-named Rainy Lake. As luck would have it, it was raining when we did this hike the day before Maple Pass!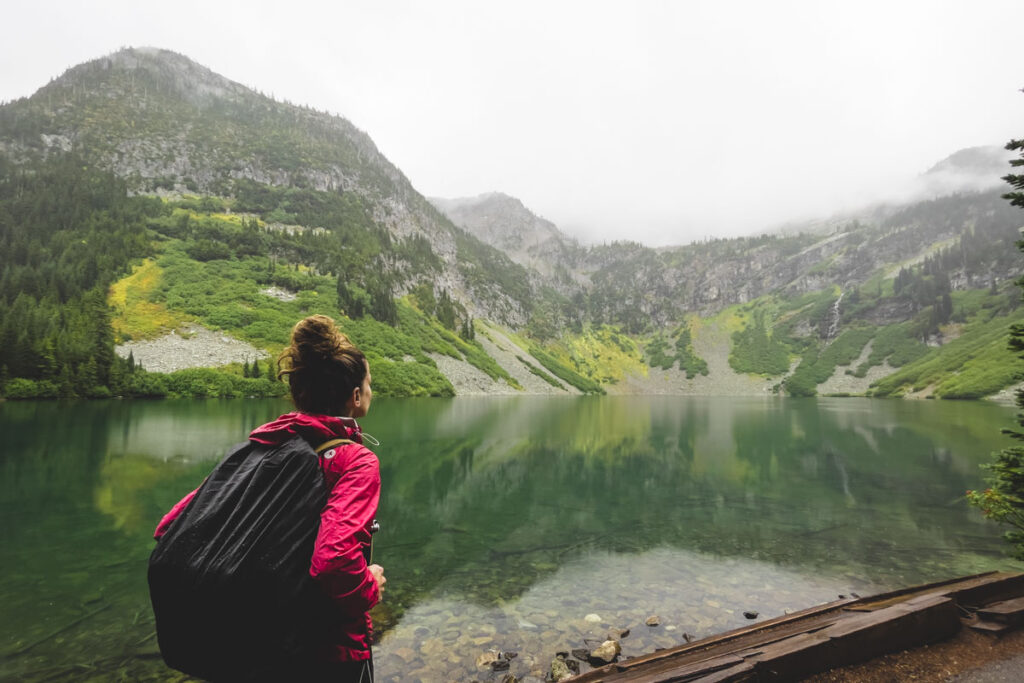 Don't let the rain deter you, though, the views are still great, and since you're exploring the PNW, you have a rain jacket on you (right?!). The trailhead and parking area are the same for both of these hikes, so if you're staying in the area or only have one day, try squeezing this easy but rewarding hike in.
---
RELATED: 25 EPIC Hikes in Washington to Tackle
---
Tips for Hiking Maple Pass Loop
Due to the high altitude, snow is often present along the Maple Pass Trail well into the summer months. That means that the trail is usually only accessible from May through November – weather and snowfall depending.
While the summer is an excellent time for wildflower viewing, most of the trail is not shaded. This can make sunny days especially difficult for hiking, so come prepared with sunscreen, hats, and other sun protection if you plan to hike the pass during the summer.
September may be the best month for hiking the Maple Pass Trail. The fall foliage is usually starting to bloom, and while the sun may choose to shine, it's not as sweaty of a climb as it is during the summer.
Hiking boots are a must for the Maple Pass Loop. Sandy sections, rocky outcrops, and protruding roots could cause some seriously dangerous slippage along the route. So lace your boots up tight and tread carefully!
While it's entirely possible to complete this route without poles, if you want to protect your knees on the steep declines, hiking poles are recommended.
Mosquito repellent, particularly in the summer months is a good call. This is especially critical if you decide to hike around Lake Ann – humans aren't the only ones who love this beautiful lake!
Stay on the path! There will be a string of barriers indicating where you should NOT step particularly at the top of the pass. Please take care around this sensitive vegetation and help keep this hike beautiful and open.
We hope this post helped you plan your Maple Pass Trail hike! Don't forget to check out other great hikes in Washington.
More Around North Cascades National Park
I've been perpetually traveling and living around the world for years but it's hard to beat Washington and the PNW. After years of road-tripping the area, I guess you can say I know it pretty well! When I'm not writing guides for you, you can catch me somewhere petting a dog, attempting to surf, hiking a volcano, or stuffing my face with bread and cheese.