Sitting more or less in the center of Washington state, around a two-and-a-half-hour drive from Seattle, Wenatchee is a beautiful town known for its wonderful riverside scenes and backdrop of towering mountains.
It's famous for its apple production due to the number of orchards in the area, but that's not all of the best things to do in Wenatchee.
Spend a few days here, and you'll experience enchanting riverside parks, craggy hills, trails spanning glorious viewpoints—ranging from easy to challenging—and plenty of space for biking, horseriding, or swimming!
Here are all the best things to do in Wenatchee that we recommend during your visit.
Best Things To Do in Wenatchee
---
1. Horan Natural Area
Wenatchee is the kind of place that has wonderful nature not just on its doorstep but in the middle of the city itself. Horan Natural Area is opposite the Wenatchee Confluence State Park, connected by the historical Loop Trail Bridge, and where the Wenatchee and Columbia Rivers meet.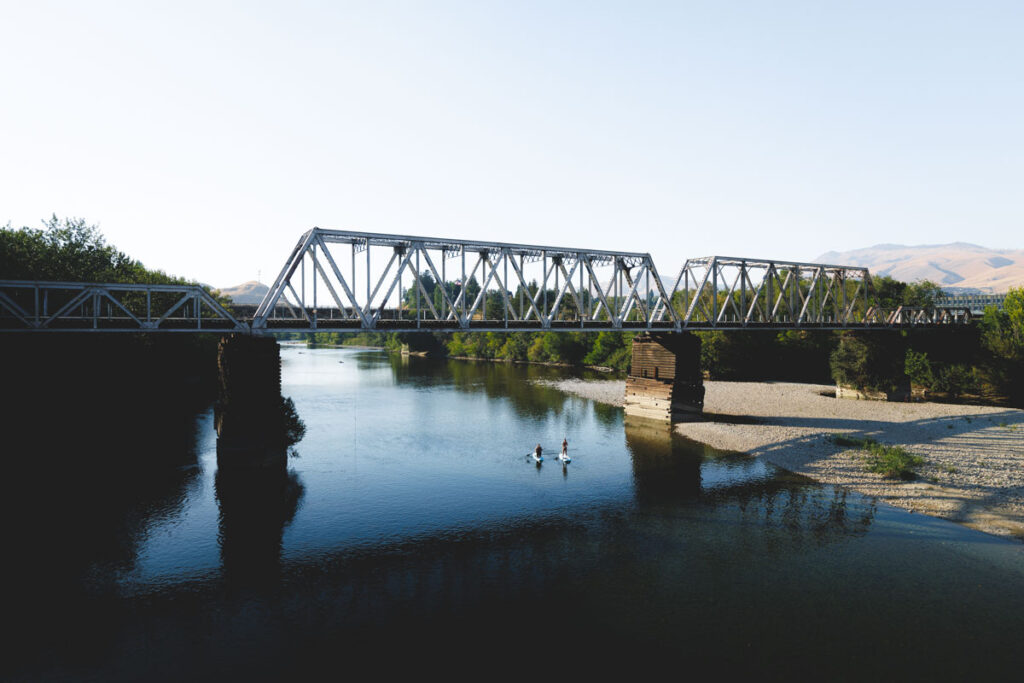 A few hiking trails traverse through the whole area, taking in views of Sage and Mission Ridge Hills and spanning through the home of birdlife and animals. Keep your eyes peeled for eagles, herons, deer, and elk!
2. Wenatchee Confluence State Park
Sitting opposite Horan Natural Area, Wenatchee Confluence State Park gets its name from being at the confluence of the Wenatchee and Columbia Rivers.
Explore the wetlands, go swimming in the designated areas, or even rent out jet skis and other water sports equipment. If you fancy a hike, check out the three-mile Wenatchee Confluence Trail, which spans through the heart of the park.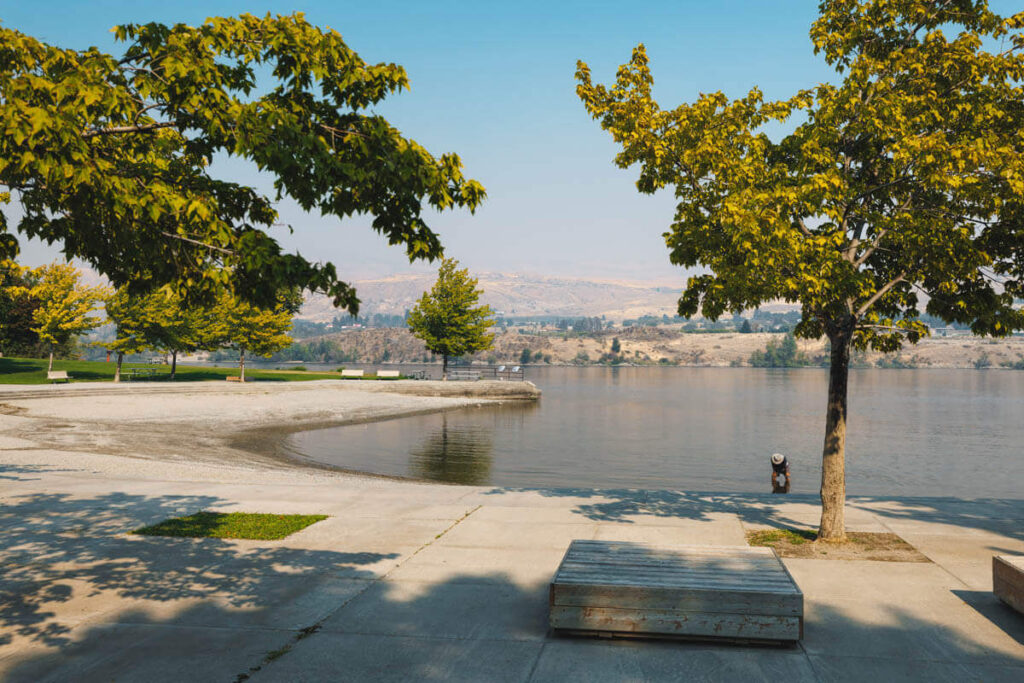 Fancy staying out in nature? There are 60 campsites within the state park, which are reservable in the summer months. This is absolutely our favorite spot to camp in the area—we've camped here multiple times.
This is also a great spot to base if you're exploring Leavenworth, as it's only 30 minutes away, and there isn't the widest selection of camping options much clsoer!
---
RELATED: 27 INCREDIBLE Washington State Parks to Explore
---
3. Apple Capital Loop Trail
Distance: 10 miles
Type of Trail: Loop
Difficulty: Moderate
Elevation Gain: 370.7 feet
Apple Capital Loop Trail is a 10-mile trail that leads through the Horan Natural Area, along with Walla Walla Point Park and Riverfront Park; if you want to tick off a few of the top things to do in Wenatchee, the Apple Capital Loop Trail is a good way to go about it!
It's paved the whole way around and is popular with cyclists and hikers; the Wenatchee side is mainly flat, and the East Wenatchee side has a few more hills. Either way, you hike or bike it, and you're sure to be treated to beautiful views and an engaging way to take in the best of Wenatchee.
One of the best parts of doing this trail is that it goes to tons of our favorite spots on this list, including Horan Natural Area and Wenatchee Confluence State Park. It even goes through Porter's Pond, which is one of our favorite little hidden areas of Wenatchee (more on this in a sec)!
4. Walla Walla Point Park
Walla Walla Point Park also sits on the Apple Capital Loop Trail, a little further down the Columbia River to Wenatchee Confluence State Park. Can you tell almost everything surrounds itself around the river and the Apple Capital Loop trail?!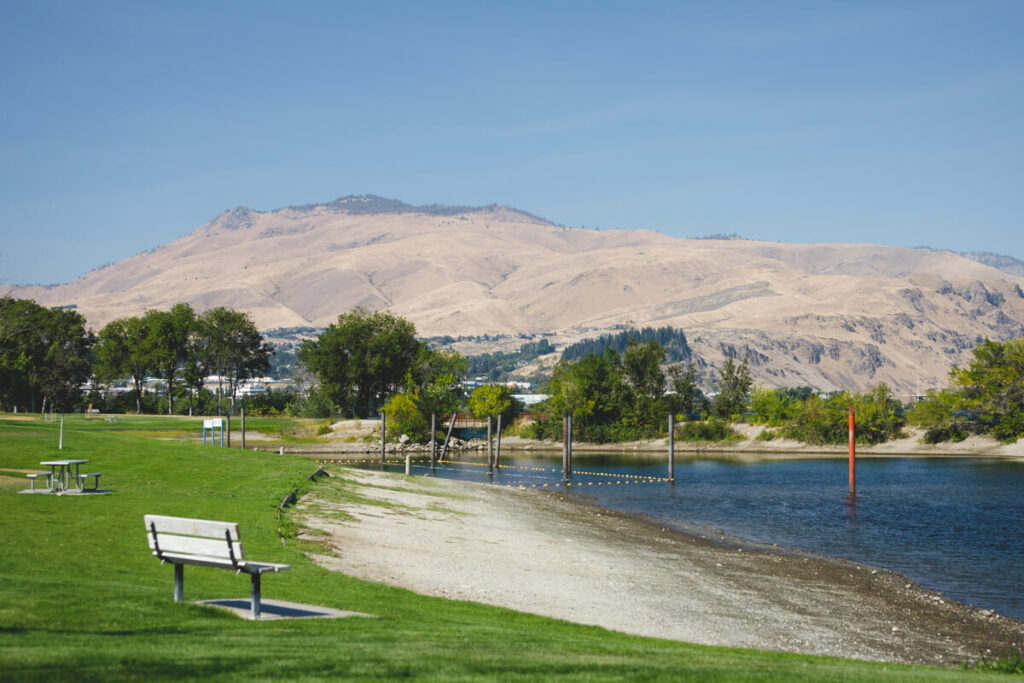 Spanning over 70 acres, this park offers picnic areas with riverfront views, swimming, 1.2 miles of hiking and cycling trails, and tennis and volleyball courts.
It's a day-use area, but there's something for everyone here. There's even a little "beach" here. I mean, don't get your hopes up or anything, but it's better than nothing when you're at least five hours away from the coast!
5. Porters Pond
Birdwatchers, get your binoculars ready! Porters Pond is known for having some of the most diverse birdlife in the area.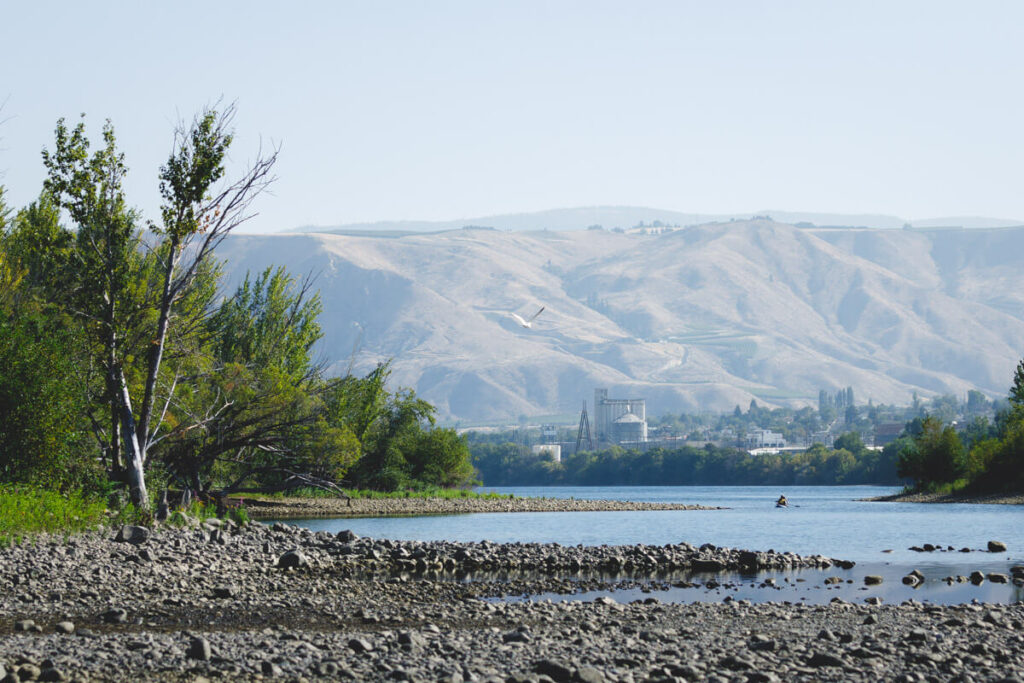 Whimbrel, dunlin, and pectoral sandpiper have all been spotted here. It's a quiet place for strolling around (a bit of a hidden gem in Wenatchee!) and is loved by locals and tourists alike. If your feet are worn out, grab your kayak or paddleboard and take a serene dabble out through the marsh.
We loved strolling the shores here and scrambling over the river rocks. It was super peaceful, and we think one of the better areas to put your paddleboard or kayak in, as we saw the most birdlife in this area—which makes for an extra exciting paddle!
6. Sage Hills Trail
Distance: 12.2 miles
Type of Trail: Loop
Difficulty: Moderate
Elevation Gain: 2,090 feet
Sage Hills Trail is a 12.5-mile loop perfect for hiking and biking. Meandering through hills above the city, this walk offers charming views and plenty of wildlife—look out for snakes in the summer months!
It's a summer-only trail, as this area is closed during the winter months to give nature the time to revitalize and wow even more tourists in the spring and summer. It's worth noting that you should cover up and slap on sunscreen because there's little to no shade on these trails.
7. Jacobson Preserve Trail
Distance: 1.6 miles
Type of Trail: Out & Back
Difficulty: Easy
Elevation Gain: 407 feet
Jacobson Preserve Trail is a short but sweet 1.6-mile hiking route that'll get your calves burning in minimal time!
With 407 feet of elevation gain, this trail has many switchbacks as it ascends quickly to the summit.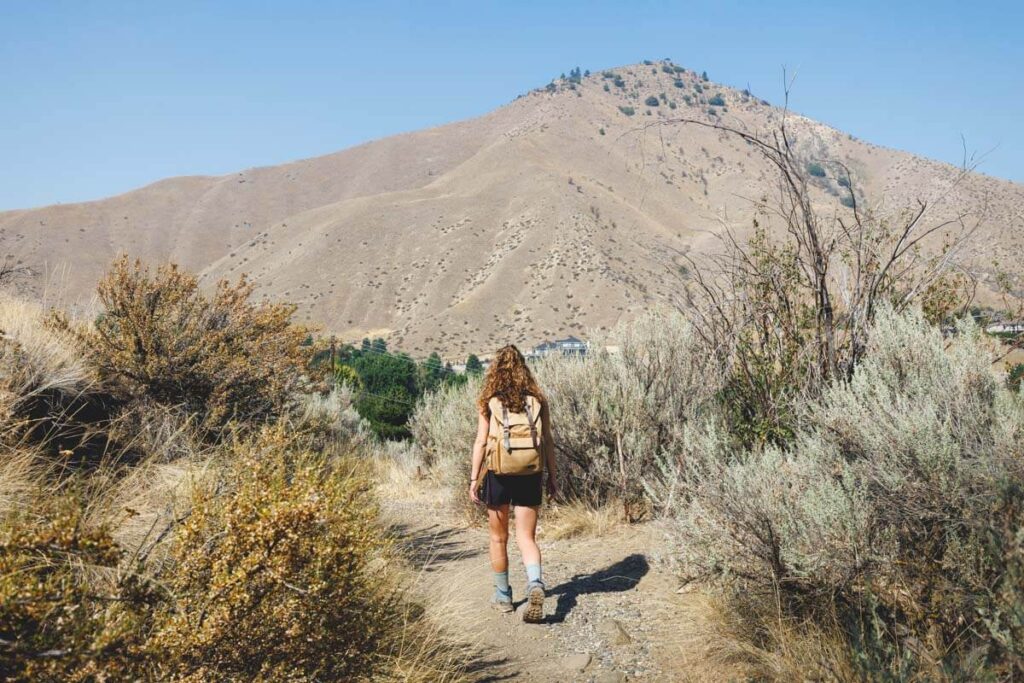 Take in the panoramic views from the top, or if 1.6 miles isn't enough for you, connect with the Jacobson Saddlerock Trail to extend your trek.
While this one is a short trail, you'll still want to bring some water and a hat because, like most hikes in the area, there isn't much shade here either.
8. Lower Castle Rock Natural Area (Our Fav Hike in Wenatchee!)
Distance: 1.8 miles
Type of Trail: Moderate
Difficulty: Loop
Elevation Gain: 630 feet
Lower Castle Rock Natural Area is used mainly for the Castle Rock Trail, a loop ascending to the top of Castle Rock and back to the trailhead, with an alternative route on the way back, enabling you to see more of the area.
It's a steep ascent, although most hikers agree that the views are worth it (we do!) You could also do part of the trail and turn back rather than summiting up Castle Rock. At the end of the day, some of the best views are OF the rock, not necessarily from the top of it!
Don't get discouraged walking up either because Castle Rock is hidden most of the time. You'll have to round the corner to get the best views after about a mile. There are picnic facilities and an informational kiosk at the trailhead as well.
9. Saddle Rock Trail
Distance: 2.5 miles
Type of Trail: Loop
Difficulty: Moderate
Elevation Gain: 912 feet
Saddle Rock Trail is a 2.5-mile loop that hikers and horseback riders love. It's a rocky trail that is very steep on the uphill, although it's a loop trail, the downhill section is much more gradual.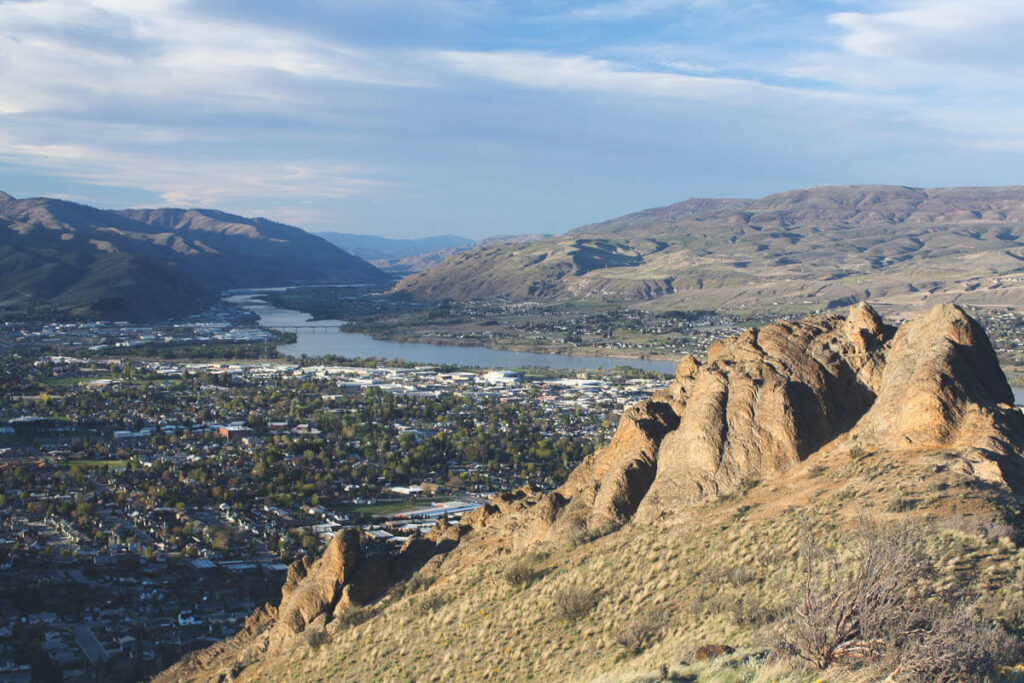 The markings on this trail aren't the best, as it's pretty busy, but it's usually clear where to go. It rewards hikers with views of all of Wenatchee and is certainly no secret. You might want to head up either earlier or later in the day as well since it's pretty exposed.
---
RELATED: 19 Amazing Weekend Trips From Seattle (1-5 Hours Away!)
---
10. Dry Gulch
Dry Gulch is the expanse of land just south of Saddle Rock. Part of a mining preserve until 1994 (which was the second-largest gold mining operation in the entire country!), it's nowadays a relatively barren open space with hills in the background.
It's popular with joggers and horseback riders, with no motorized vehicles or mountain bikes permitted.
To take in the scenery, check out Dry Gulch Short Route, a three-mile out-and-back trail that leads from Saddle Rock Gateway to Dry Gulch Preserve. Or take the Ranch Trail Loop, that a bit more of a challenge at 5.5 miles but rewards you with views and solitude. Check the Dry Gultch trail system here.
The easier routes are a bit busier here, particularly in the peak summer months, but if you visit at quieter times (mainly early morning), you should be able to have a glorious peaceful hike in the wilderness!
Plus, it's only a stone's throw from Wenatchee, so if you're staying in the city center, it's the perfect spot for a morning stroll.
11. Lincoln Rock State Park
Less than 15 minutes north of the city, you could immerse yourself in the sandy cliffsides and the flowing sounds of the Columbia River. Riverside Recreation operates rentals of watercraft from here, and there's even a roped-off swimming area for you and or your pooch.
There's a boat dock, biking trails, and scenic views straight down the Columbia River. The best part though is you can spend more than a day here with its well-located campground.
If Wenatchee Confluence is full, THIS is the place to camp. We also loved camping here as the views down the river are beautiful, and the campsites are peaceful and feel removed from it all (yet you still have cell service!)
Where To Stay In Wenatchee
Aside from the camping spots mentioned above, here are some other great options to stay in the area.
Avid Hotel Wenatchee, an IHG Hotel
This budget-friendly hotel is located near downtown Wenatchee and offers modern and stylish accommodations. The hotel features a fitness center, free WiFi, and a complimentary breakfast.
The guest rooms include flat-screen TVs, mini-refrigerators, and coffee makers.
Check Price:
Hilton Garden Inn Wenatchee
This hotel is situated in a prime location in downtown Wenatchee and offers comfortable and contemporary accommodations.
The Hilton Garden Inn Wenatchee features a fitness center, indoor pool, and on-site restaurant. Guest rooms include flat-screen TVs, mini-refrigerators, and coffee makers.
Residence Inn by Marriott Wenatchee
This hotel is located near the Columbia River and offers spacious and comfortable suites. The Residence Inn by Marriott Wenatchee features a fitness center, outdoor pool, and complimentary breakfast.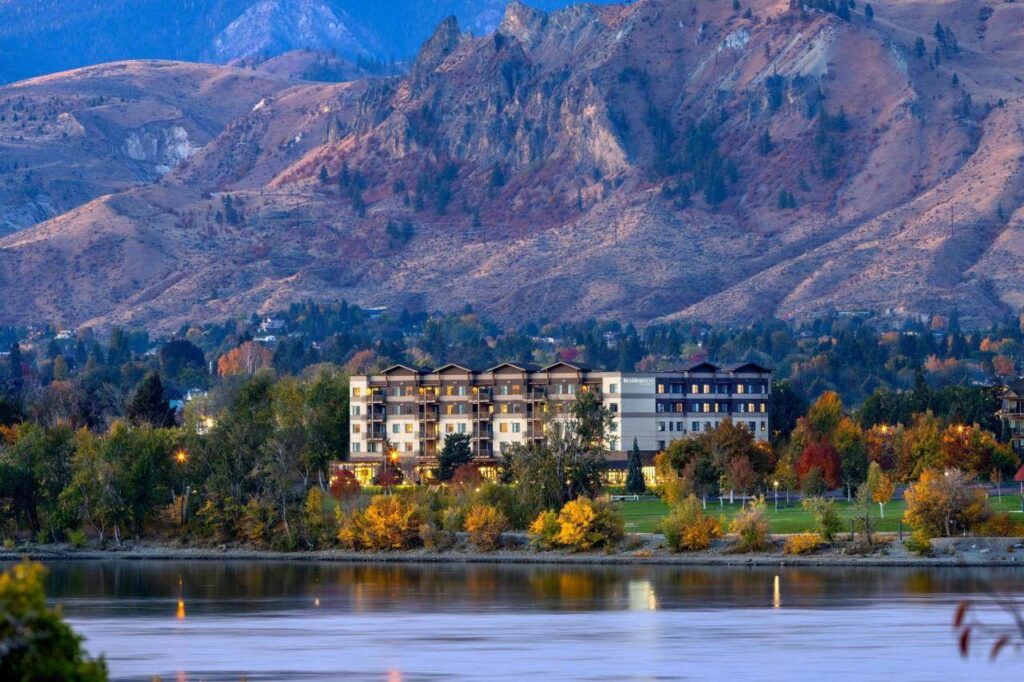 The suites include separate living areas, fully equipped kitchens, and flat-screen TVs.
Check Price:
Saddle Rock East
Escape the hustle and bustle of city life and indulge in mountain living at this charming Wenatchee vacation rental.
The cozy 3-bedroom, 2-bathroom house boasts modern interiors, a fully-equipped kitchen, and a beautiful backyard with stunning mountain views.
Outdoor enthusiasts rejoice as you're only a few minutes from the Saddle Rock Trailhead!
East Wenatchee Serenity Hills
This three-bedroom, two-bathroom ranch house in East Wenatchee's Canyon Hills neighborhood is perfect for large family gatherings or company retreats for up to 10 guests. Its location is just minutes from downtown Wenatchee, skiing, golf courses, wineries, casinos, beach parks, and the beautiful Ohme Gardens.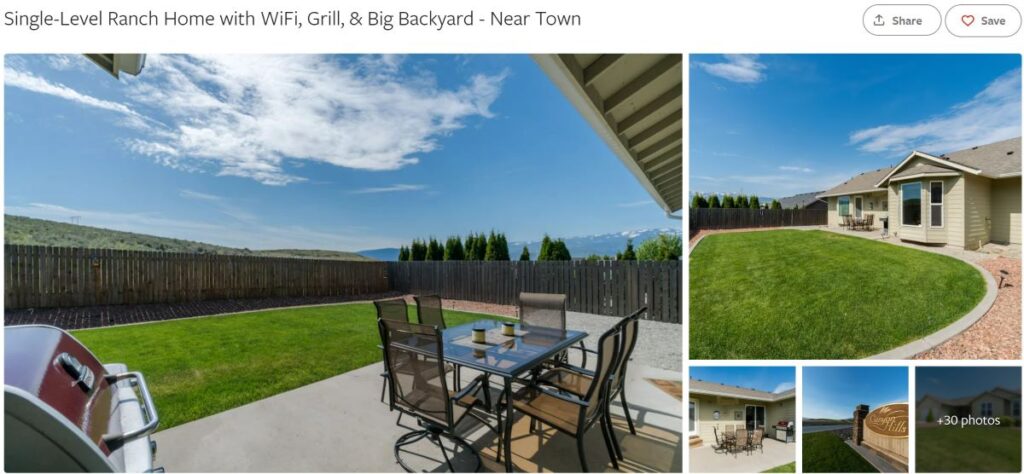 The home features spacious rooms with modern furnishings, a gas fireplace, a well-equipped kitchen, a backyard with a gas grill and table seating for six, and three bedrooms that can accommodate up to 10 guests. Additional amenities include a washer/dryer, WiFi throughout, and a two-car garage.
Check Price:
MORE ACCOMMODATION OPTIONS IN WENATCHEE:
Whether you fancy the arid terrain of Dry Gulch or the lush Wenatchee Confluence State Park, Wenatchee's array of attractions means you'll never be bored here!
There are so many superb things to do in Wenatchee and lots of beautiful parks and trails where you can make the most of this wonderful part of Washington. We hope this helped you plan your trip!
I've been perpetually traveling and living around the world for years but it's hard to beat Washington and the PNW. After years of road-tripping the area, I guess you can say I know it pretty well! When I'm not writing guides for you, you can catch me somewhere petting a dog, attempting to surf, hiking a volcano, or stuffing my face with bread and cheese.