If you're after a Washington hike with some epic views, grab your hiking poles and head to the Mount Fremont Lookout Trail!
It's a bit rocky underfoot and requires some climbing, but the Mount Fremont lookout views and the vista of the surrounding peaks in the area make the hike worthwhile.
Hiking the Mount Fremont Lookout Trail
---
Distance: 5.7 miles
Type of Trail: Out & Back
Difficulty: Moderate
The Mount Fremont Lookout hike begins at Sunrise Visitor Center, which is on the northern side of Mount Rainier National Park and is pretty easy to access from Seattle (but it is a two-hour drive). There's usually plenty of parking available here but gets busy mid-day.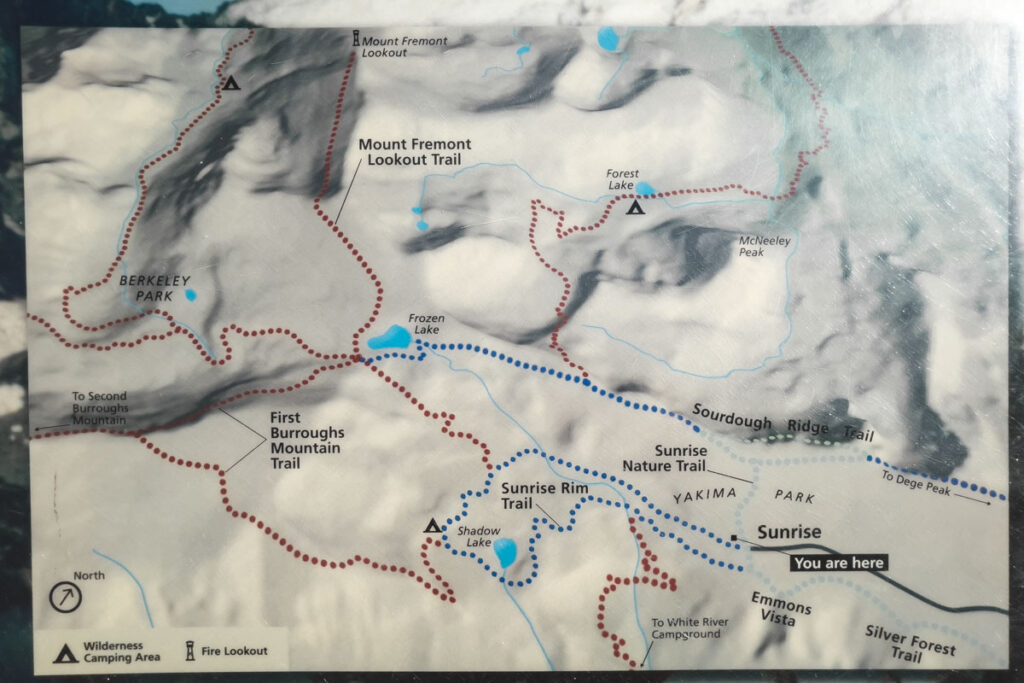 The trailhead leaves the Sunrise Visitor Center parking lot at 6,400 feet elevation. There's a short but reasonably steep initial incline to begin.
The trail is mainly composed of dirt and rocks, but eventually, you'll join Sourdough Ridge. This ridgeway was named after the type of bread that local miners favored (yum!).
Walk in a westerly direction until you reach the trail intersection, where five trails meet. Here, there's a nice view of Frozen Lake – although it was disappointingly not frozen when we were here.
Then, you can keep hiking to reach the fire lookout. Be careful at this point as you're walking along a ridge with loose rocks underfoot!
The ground can be extremely crumbly, with slated rock crackling beneath your every step and some sliding off a steep cliff edge to your left. It's also narrow, and you'll be sharing this trail with hikers heading back in the opposite direction.
---
RELATED: 15 Epic Hikes in Mount Rainier National Park, Washington
---
Mount Fremont Fire Lookout
The fire lookout was built in the 1930s, and from here, you can see a view of Mount Fremont.
From the fire lookout, you can also take in Grand Park's meadows and see Mount Rainier, the valley, the Cascades, the Olympic Mountains, and the other mountain peaks of the area.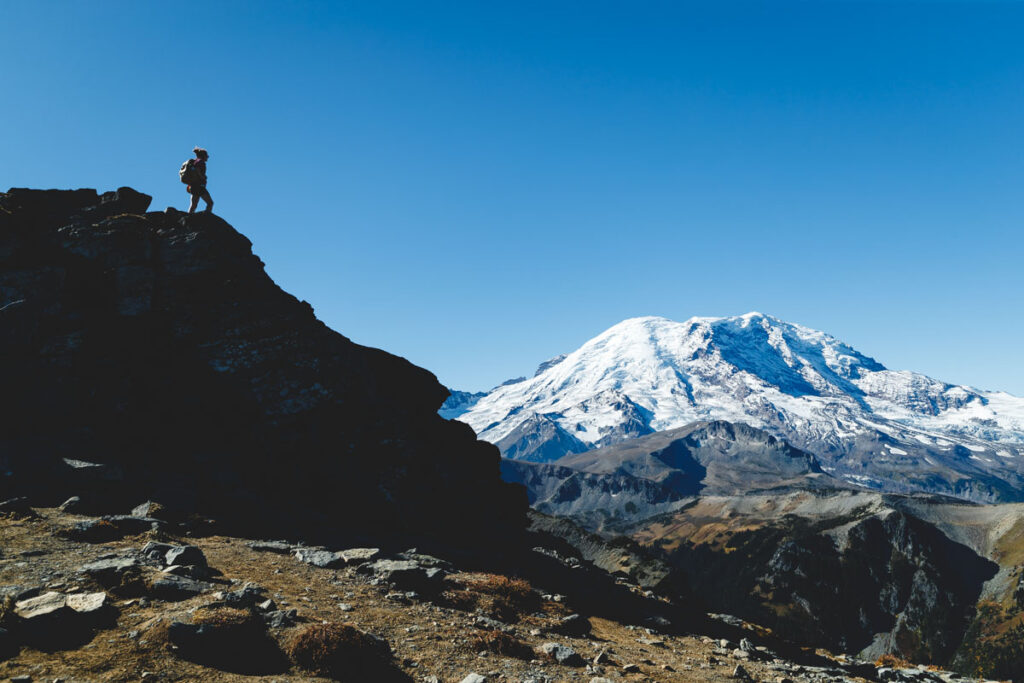 This is an incredible vista, with the majestic mountains soaring up in the background. There are some rocks to scramble up and down to sit across from the majestic Mount Rainier or to scramble down to get a closer look at the fire lookout. Do note you can't enter or climb the lookout, but it still makes for a fun reward at the end of the hike.
This is also a great spot to relax for a bit, take in the sun, and maybe even make some friends with the adorable chipmunks that are super cheeky and not at all afraid of you! They are hoping you'll drop a cracker for them, but it's probably best not to actively feed wildlife, so admire the cuteness without feeding them, please.
Finishing the Mount Fremont Trail
To return, either turn around and walk back the same way or walk back to the Frozen Lake lookout and then take the Burroughs Mountain Trail for a bit of an add on.
This trail is primarily taken for people visiting the Burrough Mountains further along, but it's a nice nature walk and is an excellent way to take in a different type of scenery. It finishes at Sunrise Visitor Center. We actually added on the entire Burrough's Mountain trail after hiking Mount Freemont, so if you're up for the challenge, it's totally possible and worth it.
Remember, you'll be on the outside of the trail on the way back, which means you're hiking on the narrow trail with the cliffside to your right. Take care with the loose shards of rock beneath your feet as they move under you with every step. Luckily it turns back into a regular dirt trail near Frozen Lake.
---
RELATED: Hiking Burroughs Mountain Trail—A Must Do in Mount Rainier
---
When To Do the Mount Fremont Lookout Hike
This hike is perfect for the spring, summer, and fall months. In late spring and summer, there are beautiful wildflowers in the meadows. Before you set out, it's essential to be fully aware of the current weather conditions.
Its position in the mountains means that it's covered in snow in the winter months. Sunrise Road, the road leading towards the trailhead, is closed during this season, and hiking is unsafe.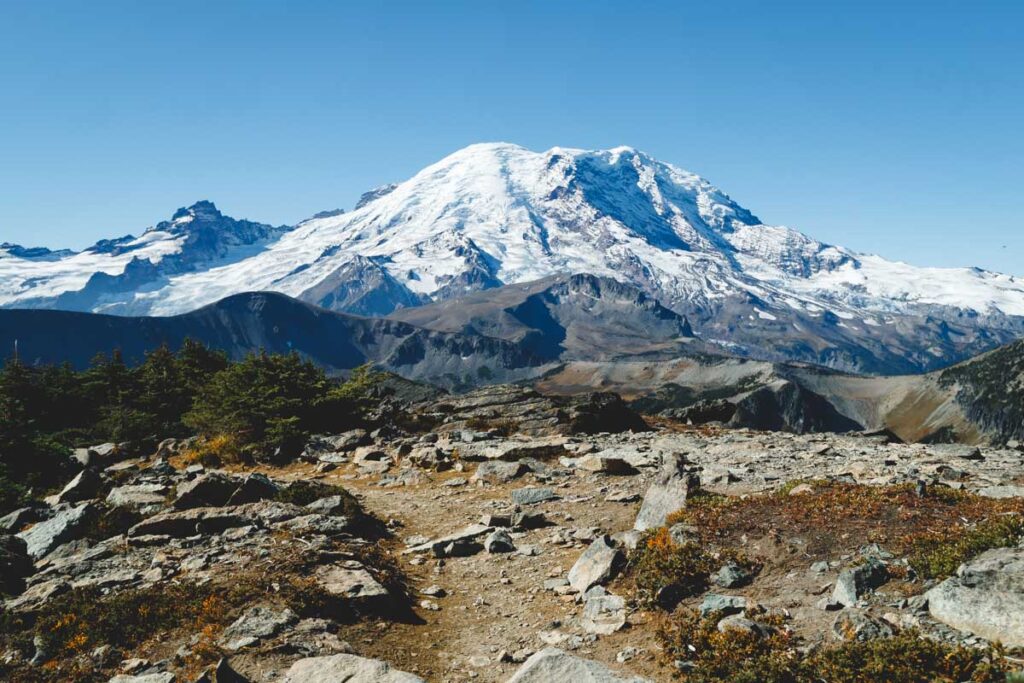 This area can also be foggy due to its altitude. If you want to take in the epic vistas of Mount Fremont and Mount Rainier, try to visit on a clear day.
As the visitor center name suggests, this is quite a popular sunrise hike. To do this, you'll need to leave the parking lot in the dark and hike with a good-quality torch until you reach the fire lookout.
This has its dangers – the trail is loose underfoot, and you will be walking along the ridge – so make sure that your group is aware of this before setting out.
For some people, it's well worth the night hike – seeing the sun gradually rise over a backdrop of shadowy peaks, turning the sky all sorts of colors as the day begins, is an experience that you're not likely to forget in a hurry!
---
RELATED: 25 EPIC Hikes in Washington to Tackle
---
Mount Fremont Hiking Tips
A few specific hiking tips will help you when planning your Mount Fremont Lookout hike.
The hike is located in Mount Rainier National Park. This park has an entrance fee ($30 for a single vehicle or $55 for an annual pass). You can read more about the entrance fee here.
Dogs or other pets are not permitted along the trail. You may, however, see some wild animals like mountain goats, marmots, and deer.
There isn't any camping available around the lookout – most hikers just do this as a day trip. However, if you want to go camping elsewhere in Rainier National Park, you'll need a permit to stay at one of their specific campgrounds.
Fires are prohibited all around the trail.
This hike is entirely exposed with zero relief from the sun. Bring all the sun protection.
Wearing proper footwear is essential with all the jagged rock pieces you'll be traversing over during this hike. We saw a few people in those hiker sandals and we just know they scuffed and cut up their feet a bit!
The Mount Fremont Lookout Trail is a beautiful hike for explorers of all ages. It can be a challenge, but it's not too long, and the views on a clear day are unmatched. So if you're looking for an exhilarating adventure hike, visit the Mount Fremont Lookout and take in these extraordinary views!
We hope this post helped you plan your hike on the Mount Fremont Lookout Trail! Don't forget to check out other things to do in Mount Rainier National Park and more hikes around Washington.
More Around Rainier National Park
I'm an Oregon native but neighborly and equally as enchanted by Washington. I tackle expeditions around the world and love a good beer at the end of the day. PNW obsessed, VW nerd, and surf or snow riding fanatic.