The Pacific Northwest is known for its incredible diversity, and Washington's Olympic National Park is one of the best places to witness its variety firsthand. This UNESCO World Heritage Site is often thought of as three parks in one with its lush rainforests, towering mountain peaks, and long stretches of wild coast.
Some come for the epic hiking trails, while others find solace while chasing waterfalls. But no trip to this massive park would be complete without discovering the picturesque coastal wilderness of the Olympic Peninsula.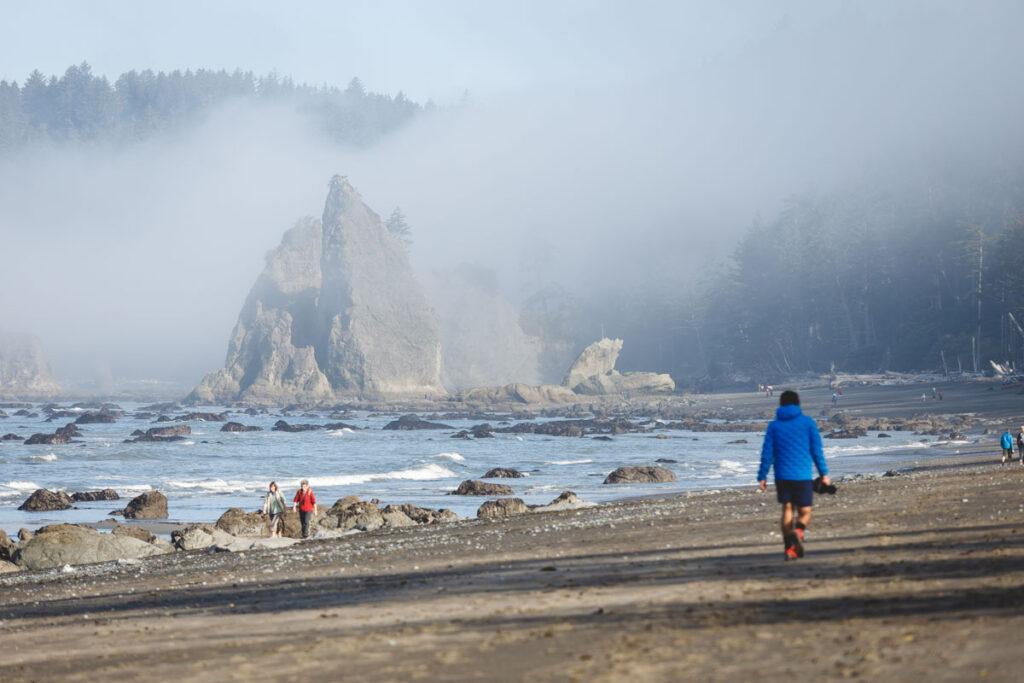 While they may be a far cry from the tropical sands of southerly states, the Olympic National Park beaches boast a beauty all their own.
These long stretches of driftwood-strewn sand are backed by steep cliffs, hidden coves, and towering, windswept pines. Much of the scenery comprises rugged sea stacks piled high, and moody skies only add to the dramatic vistas.
There are over 70 miles of coastline to be discovered, so keep reading to learn more about the incredible Olympic National Park beaches.
*A Park Pass is required to enter most Olympic National Park beaches.
9 Olympic National Park Beaches
---
1. Kalaloch Beach 1
Beach 1 is located in the Kalaloch area of Olympic National Park, just off of the scenic Highway 101. There is a short and easy trail down to the beach. While the path may be manageable, copious amounts of driftwood litter the shoreline, so it will take some maneuvering to get down to the sand.
However, once you reach the beach, it's easygoing. Take your time soaking up the scenery, exploring the large tide pools, and watching for the bald eagles' nest in the trees along the shoreline.
One of the best parts about Beach 1 is that it's significantly less crowded than many other beaches. If you're lucky, you might have these scenic shores all to yourself!
2. Kalaloch Beach 2
Beach 2 is also located in the Kalaloch region, and unlike some of the other Olympic National Park beaches, this one is mainly made up of small pebbles rather than sand. However, the coastal beauty is the same, as are the driftwood-filled shores and the beautiful forested backdrop.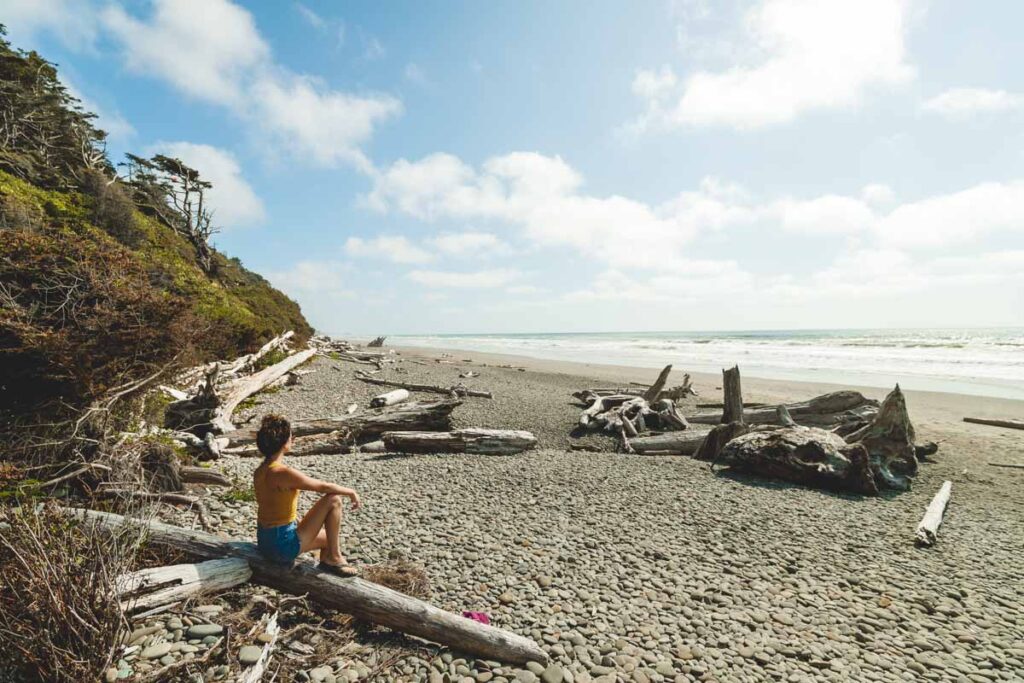 While the beach is not too far off the beaten track and the trail down to the water is short and sweet, few people make the trip to Beach 2. The beach is massive, and you could walk for hours without seeing another human.
3. Kalaloch Beach in Olympic National Park
Kalaloch Beach is one of the best Olympic Park beaches and is between the four other Kalaloch Beaches. Aside from its convenient location off of Highway 101, it also offers extensive sandy shores, tons of trails, a campground, and even a lodge. Unsurprisingly, Kalaloch Beach is extremely popular.
There is a large parking lot nearby, and a short path will lead you straight to the beach. Aside from the beautiful scenery and great tidepooling ops, Kalaloch Beach is known for the famous Tree Root Cave, also known as the Tree of Life. Situated atop an eroding river bed along the cliff, the Tree of Life and its roots appear to be floating mid-air!
4. Kalaloch Beach 3
Continue north on Highway 101, and you'll come across Beach 3. There is a small pullout rather than a parking lot, and spots are sparse. Luckily this beach never sees much of a crowd, so you shouldn't have a problem finding a space to park. There is a short but steep trail leading down to the beach.
The path is usually in good condition, though there may be muddy parts or washed-out spots if it has rained recently. The beach itself features enormous, beautiful cliffs and stellar ocean views. There are also some teeming tidepools, but you will have to walk a ways to reach them.
5. Kalaloch Beach 4
Of the Kalaloch area beaches, Beach 4 is the furthest north along Highway 101. It's also a bit more popular than the first three beaches, but there is a large parking lot with pit toilets near the beach. A rugged trail leads you down to the beach, and those will mobility issues may want to skip Beach 4.
You'll be at the beach after crossing a lovely footbridge with rails made from driftwood. Beach 4 features sandy and rocky sections, with a plethora of driftwood littering the shore. The scenery is pure PNW, with verdant bluffs, cloudy skies, and sea stacks.
While most Olympic National Park beaches offer great tidepooling opportunities, Beach 4 is the cream of the crop. Some of the highlights are colorful algae, massive gooseneck barnacles, hoards of green anemones, and vibrant sea stars. Be sure to come during low tide for the best tidepooling experience.
6. Ruby Beach (Most Popular Olympic National Park Beach)
Ruby Beach is the crown jewel of the Olympic National Park beaches. Named for the red-hued sand crystals that dot the shoreline, this rocky expanse shows off the best of the Pacific Northwest landscape.
Some of the beach's highlights include sea stacks, sun-bleached driftwood, and forested cliffs. There is also an abundance of wildlife, including bald eagles, otters, and of course, all the classic tide pool inhabitants.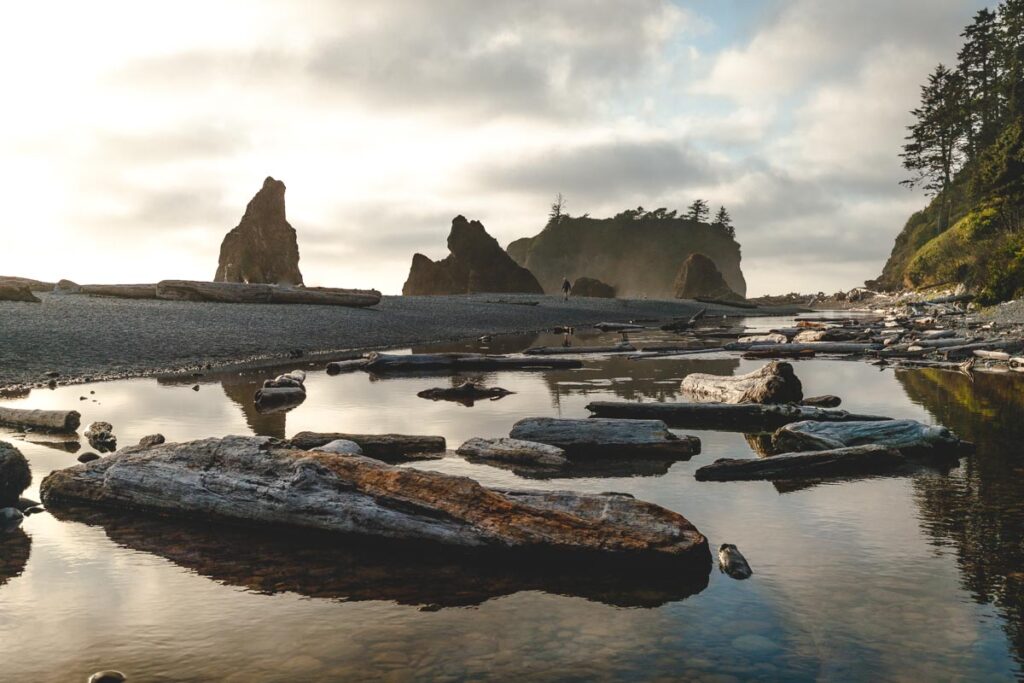 Another reason Ruby Beach is so well-loved is because of its convenience. The beach is located just off of Highway 101, and the absence of a long, grueling trail means that it is one of the few family-friendly beaches in the area.
It's also just a couple of Olympic National Park beaches that you can access during high tide. So don't expect to have this beach all to yourself, especially during high season. There's a reason so many sing the praises of Ruby Beach, and it's well worth stopping for, even if you have to share the shoreline.
---
RELATED: 15 Best Hikes in Olympic National Park, Washington
---
7. La Push Beaches
La Push Beach is one of the biggest Olympic National Park beaches. This stretch of sand is so long that it is separated into three separate sections! Luckily, the names are easy to keep straight: First Beach, Second Beach, and Third Beach. What they lack in creative lingo, they more than make up for in beauty!
First Beach
First Beach is the closest to the town of La Push and is often referred to simply as La Push Beach. Its convenient location makes it easily accessible, though it is somewhat less frequented than other beaches around town.
Unlike some other Olympic National Park beaches, you won't need to hike or follow a long trail down to the water, thanks to the nearby parking lot. First Beach features excellent views of sea stacks, a nice collection of tide pools to explore, and outstanding birding opportunities.
Second Beach
Of all the Olympic Park beaches, Second Beach is one of the most popular. While you will need to hike about 3/4 of a mile to reach the beach, the trail is well-marked and easy to navigate, and the views along the way are fantastic.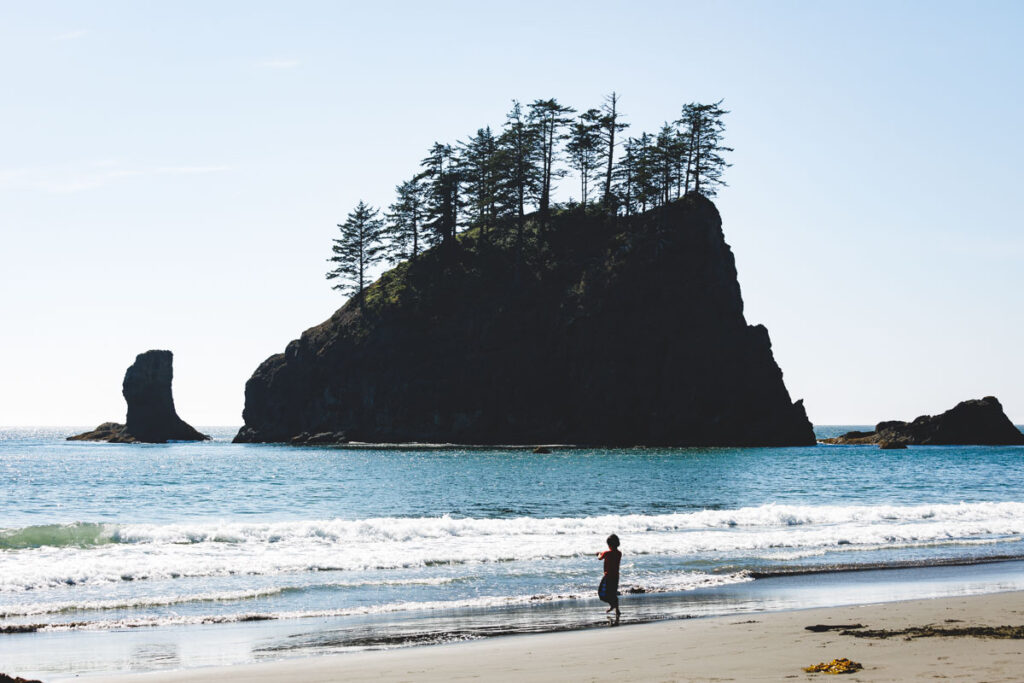 This two-mile stretch of beach is post-card perfect, with massive sea stacks, a rugged coastline, and churning ocean waves. There is a campground in this area (pass required), though it is a popular spot, and sites fill up quickly.
Even if you don't stay overnight, stick around for one of the best sunsets in Washington. If you do stick around for the show, make sure to pack a flashlight to get back safely!
Third Beach
Third Beach is the least popular of all the La Push beaches, making it an excellent choice for those searching for solitude. The long hike (3.6 miles roundtrip) to get to the shore may be what deters so many from visiting Third Beach, but those who make the trek will be rewarded with heavenly views of quintessential PNW terrain.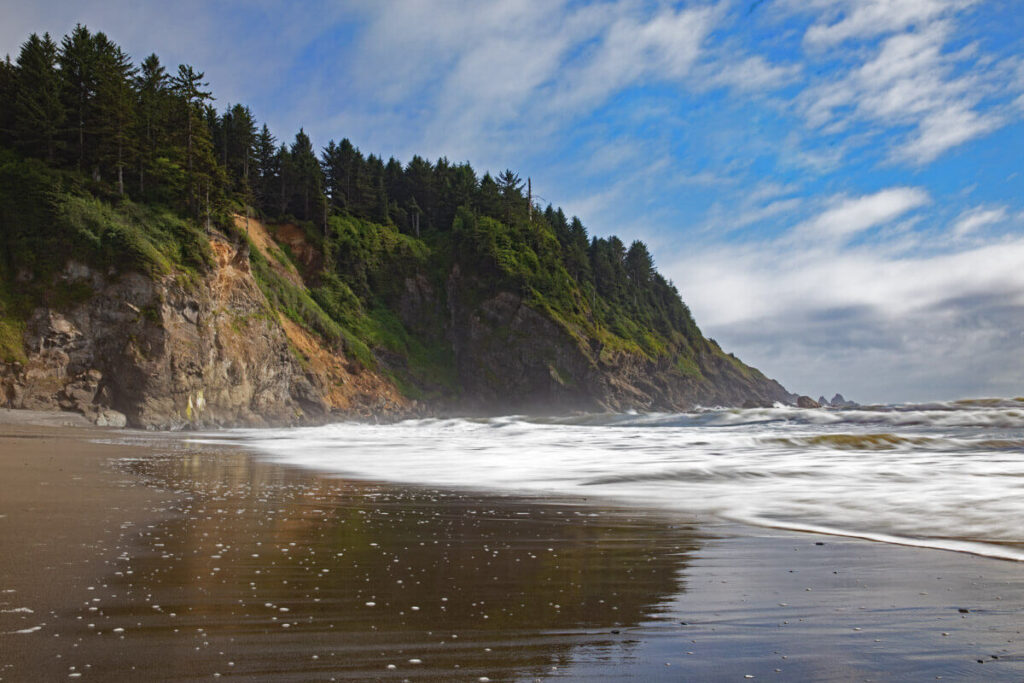 ---
READ MORE: Your Guide to La Push Beaches in Olympic National Park
---
8. Rialto Beach (One of The Most Famous Olympic National Park Beaches)
Home to the famous Hole in the Wall hike, Rialto Beach is an Olympic National Park favorite. It's a classic Washington coast beach with massive driftwood piles, mighty sea stacks, and many colorful tidepools.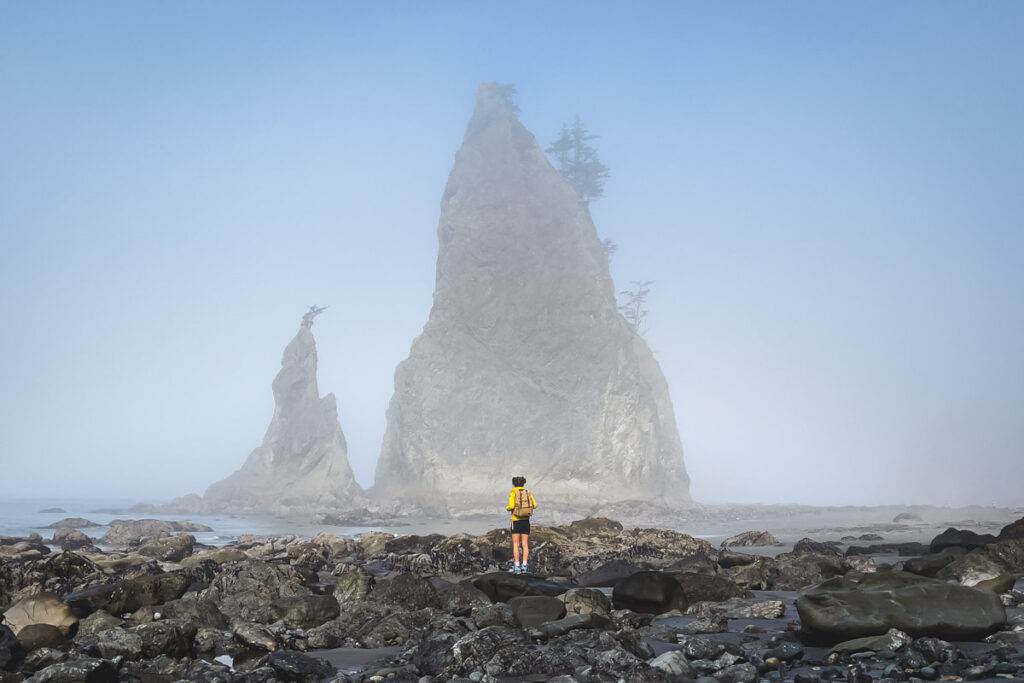 The beach also claims some of the best wildlife watching opportunities. Otters, seals, and even whales have been spotted from shore. You may also spot the odd surfer catching waves near Rialto Beach. Not only is this beach epic, but this is one of the best hikes in Olympic National Park!
Stick around for sunset if you can, and if you do the hike to the Hole in the Wall, do read our guide as it's not your average beach stroll.
---
READ MORE: Hiking Rialto Beach to Hole in the Wall in Olympic National Park
---
9. Shi Shi Beach
Shi Shi Beach is tucked away in the northernmost part of the Olympic National Park. It's pretty far off the beaten path, and the ethereal scenery may leave you feeling like you've left earth entirely. However, this beach is truly one of the most beautiful in the entire state of Washington, and it often takes the cake for the best beach inside Olympic National Park.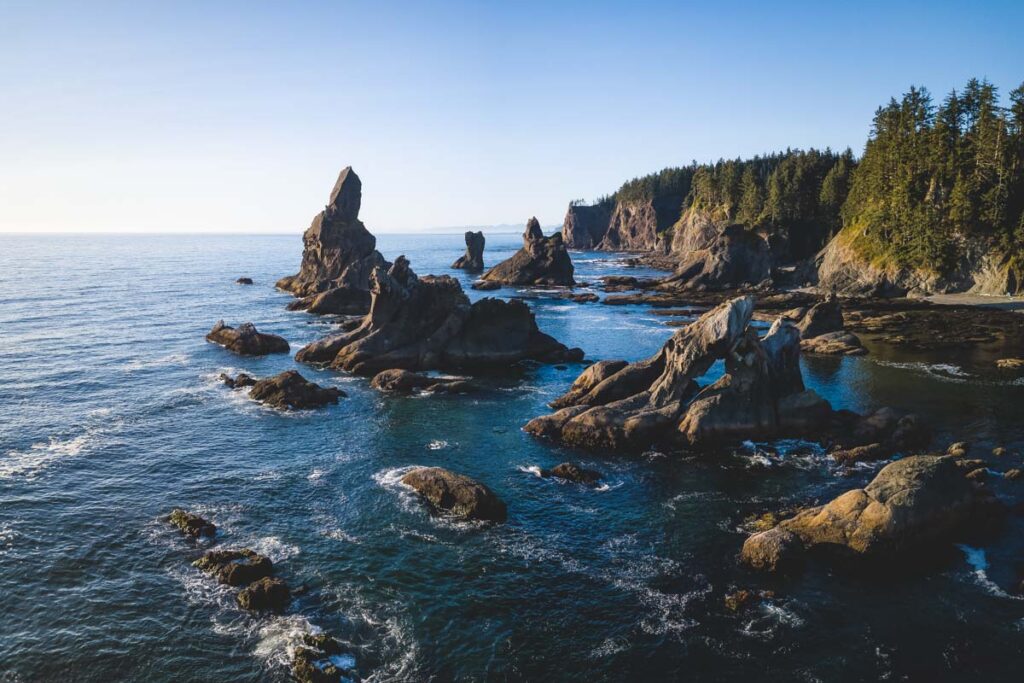 That being said, reaching the shores of Shi Shi beach is no easy feat. The beach sits at the end of an 8-mile trail (roundtrip), and the last leg is incredibly challenging. However, most of the path is flat and easy, with lush rainforest terrain.
Once you reach the beach, take your time soaking in the incredible views of impressive sea stacks and other odd rock formations. If you'd like to enjoy the stunning vistas for more than one day, campsites are available along Shi Shi Beach. However, spots fill up quickly, so reserve your site in advance.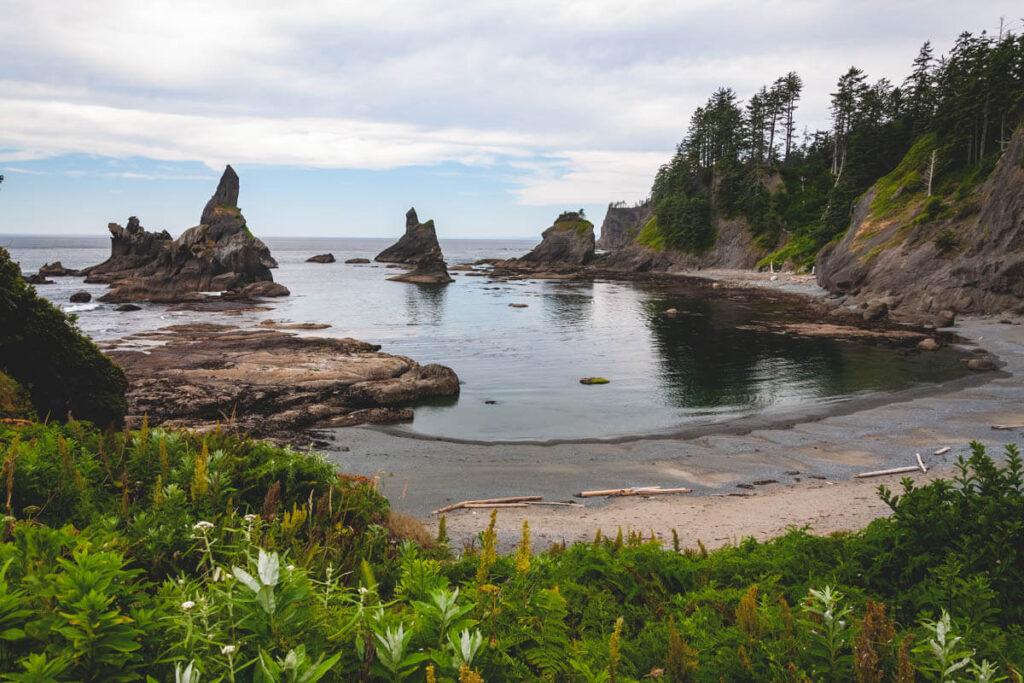 Note that the trail to Shi Shi Beach is part of the Makah tribal lands. Therefore, you will need both a National Forest Pass AND a Makah Recreation Pass (available in Neah Bay) to access the beach.
Are There Any Other Olympic National Park Beaches?
Between Ruby Beach and La Push, you'll see a large patch of nearly untouched terrain. The Pacific Northwest Trail meanders along the coastline for miles and miles through a pristine landscape with gorgeous ocean views.
There are campsites sprinkled along so you can truly enjoy taking on this 15-mile trail and, of course, enjoy the countless Olympic National Park beaches.
Neah Bay and Cape Flattery are two other areas with some beaches to enjoy. Both occupy the tippy top of the incredible Olympic Peninsula and offer dramatic views over the ocean and even onto Canada. Located on an Indian Reservation and managed by the Makah tribe, you'll need a Makah Recreation Pass before heading out here.
If you visit Lake Quinault or Lake Cresent while exploring Olympic National Park, you'll also get to bask on some "beaches." While the water isn't salty here, there are pebbled beaches along the lakes, and you'll have tons of fun renting SUP boards or kayaks, something you can't do when visiting the rough Pacific waters!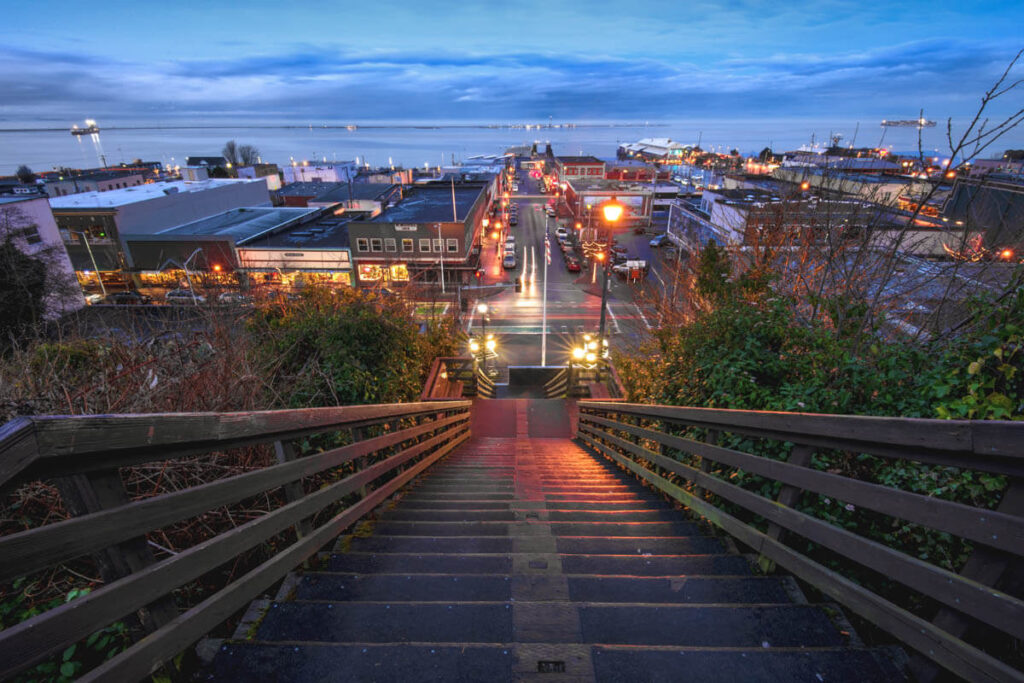 Lastly, the town of Port Angeles is on the water, and while the beaches here may not be anything to write home about, they can be great for a stroll plus, the town itself is a great base to explore the other areas of Olympic National Park.
Where to Stay in Olympic National Park
Here are just a few well-located spots near Olympic National Park Beaches. You can read more about where to stay in Olympic National Park here.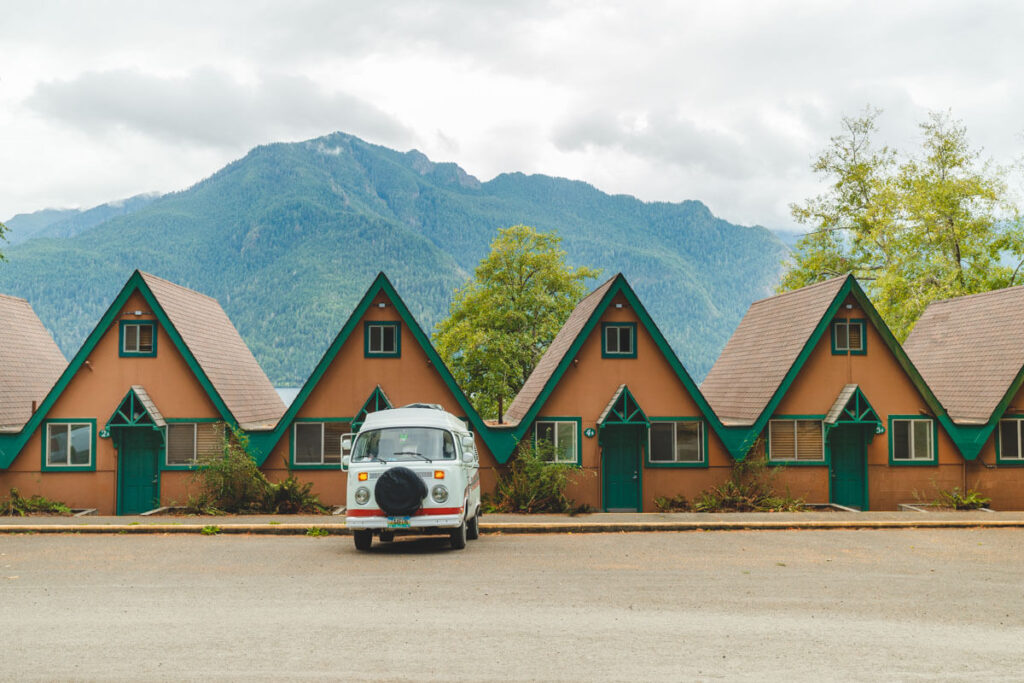 Blue Spruce Meadow – this quiet and comfortable house is near plenty of the Olympic Coast's best attractions – rivers, hiking trails, beaches, and more! It can accommodate up to three people.
Cozy Timber Cabin – This spacious cabin is ideal for couples, with rustic wood interiors, boasting a living room, patio, kitchen, and sleeping area.
3 Rivers Resort – find yourself at this perfectly located family cabin just outside of Forks!
Kalaloch Lodge – you can't find a better spot in a better location. Grab your own cabin right on Kalaloch Beach.
We hope this post helps you plan your trip to the best Olympic National Park beaches! Don't forget to explore other adventures in Olympic National Park and more things to see on the Washington Coast.
More Around Olympic National Park
I've been perpetually traveling and living around the world for years but it's hard to beat Washington and the PNW. After years of road-tripping the area, I guess you can say I know it pretty well! When I'm not writing guides for you, you can catch me somewhere petting a dog, attempting to surf, hiking a volcano, or stuffing my face with bread and cheese.