As you might have guessed by our website's name, we think Washington is one of the most adventurous US states. And you'll find many incredible adventure opportunities in its glorious state parks!
US state parks are wildlife areas protected at the state level rather than the national level. On the other hand, national parks are managed at the national level.
Washington boasts three epic national parks (Mount Rainier, Olympic, and North Cascades)—but when you're exploring the state, don't miss the state parks, which can be just as epic and are often quieter and secluded.
To make it easier for you, we've put together this list of the 27 best state parks in Washington state, with information on which are best for hiking, camping, epic nature, and accessibility!
Best Washington State Parks
---
Washington State Parks Near Seattle
Not in the mood to travel too far from the city but want to be immersed in nature? We got you! All of these Washington state parks are reachable from Seattle.
1. Dash Point State Park
The curiously named Dash Point (nobody's too sure where the name originates, but it dates back to at least the 19th century!) is just south of Seattle on the Puget Sound and boasts more than 3,300 feet of saltwater shoreline.
This is the state park to visit if you want a short break from Seattle and are searching for the ultimate chill-out destination. Many tourists visit just to laze on the beach, but if you are seeking a bit more adventure, there are fishing, swimming, and hiking opportunities too.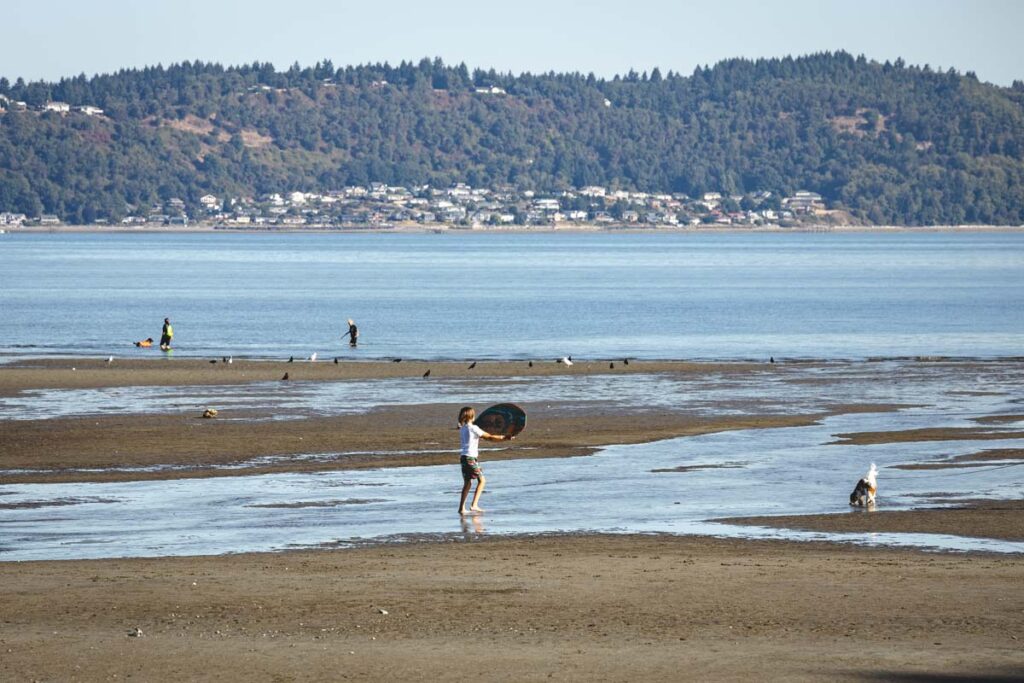 Highlights
Swim out from the shoreline
Fish from the Dash Point Pier
Go skimboarding! This involves riding a short, narrow board along shallow water like a skateboard.
Birdwatch for both raptors and shorebirds
Camping
With around 140 campsites and a few rentable cabins, there's plenty of space to stay at Dash Point. However, due to its proximity to Seattle, this park can be bustling (especially on weekends!), and it's recommended that you book in advance.
---
RELATED: 19 Killer Beaches in Seattle, Washington for Adventure
---
2. Deception Pass State Park
Ladies and gentlemen, we now bring you Washington's most visited state park! Deception Pass boasts lakes, viewpoints, jagged cliffs, a high bridge, and spectacular sunset-watching opportunities. The state park is a strait that separates Whidbey Island and Fidalgo Island.
There's so much on offer in this incredible state park—it's probably the best to visit if you're craving some time in nature! Hike, explore secret spots and go swimming—all of this and more is available at Deception Pass.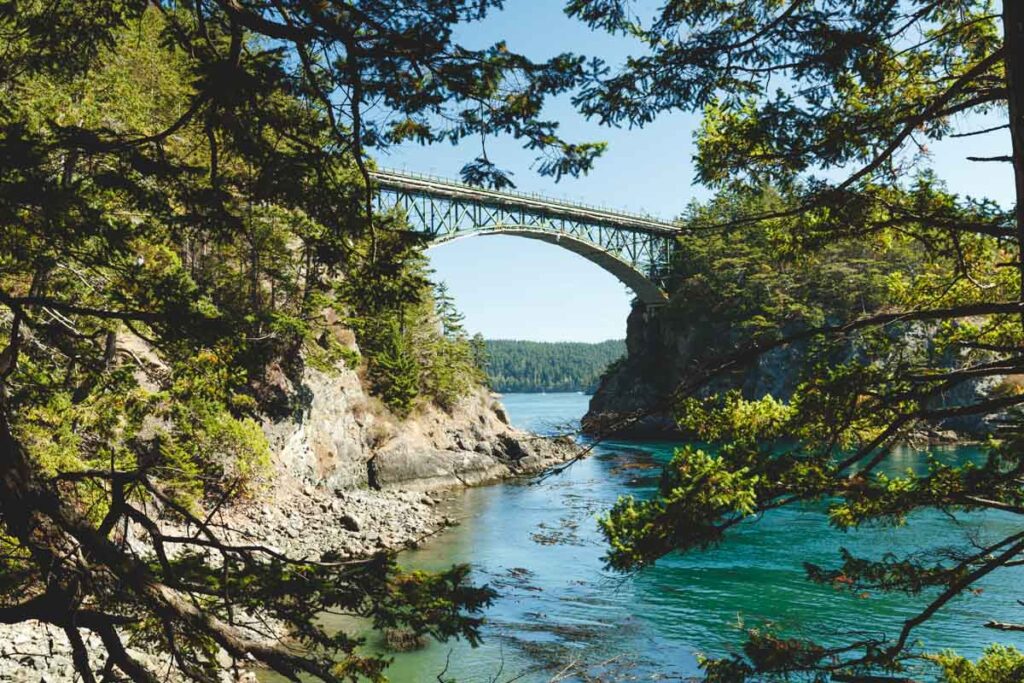 Highlights
Swim or fish in Cranberry Lake
Visit Bowman Bay to learn about the history of the Civilian Conservation Corps (CCC)
Cross the Canoe Pass and Deception Pass bridges, where you can enjoy immense views of the islands
Take in the 38 miles of hiking trails, 3 miles of bike trails, and 6 miles of horse trails.
Camping
One of the best places in the state for camping, Deception Pass boasts over 300 campsites across Cranberry Lake, Bowman Bay, and Quarry Pond. Also, find campsites on Hope Island North Shore Bay.
---
READ MORE: Wandering Deception Pass State Park—The State's Most Famous Park!
---
3. Fort Casey State Park
This is one to visit if you're interested in history! In World War One and Two, Fort Casey was part of a complex of fortifications that defended Puget Sound.
Part of the Pacific Northwest National Scenic Trail, Fort Casey boasts tremendous views over the sound and lots of opportunities to learn about the park's past.
History is everything at Fort Casey State Park. Visit the lighthouse dating to 1903, learn about its significance, and explore the bunkers and batteries dotted around.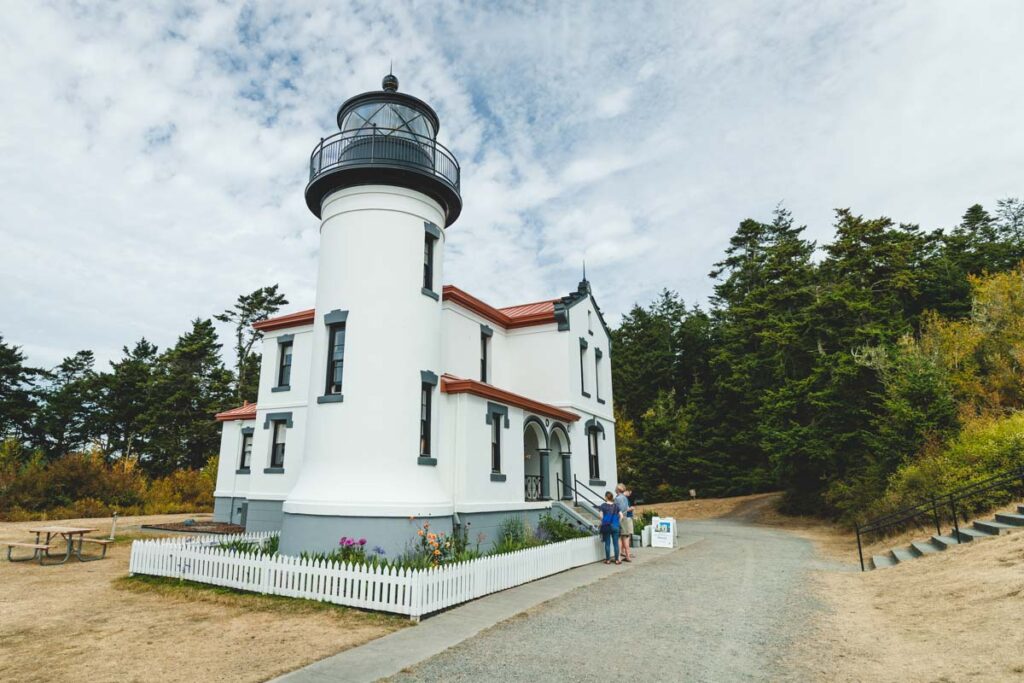 Highlights
Learn about the history of the 1903 lighthouse, which has its interpretive center
Explore the bunkers and batteries and learn about how they defended the coastline
Walk along the two-mile Keystone Spit, which separates Admiralty Inlet and Crocket Lake
Stroll along the 10,810 feet of coastline
Camping
35 campsites, some with electrical hookups, are available at Coupeville (Keystone) Ferry Terminal. There are also three additional primitive campsites for people who cycle or walk to Fort Casey.
---
READ MORE: Your Guide to Fort Casey State Park
---
4. Fort Ebey State Park
Sitting on Whidbey Island, Fort Ebey dates back to World War Two; it was established in 1942, shortly after the USA joined the war. A popular camping site, there are also plenty of trails and nature spots within this state park!
Fort Ebey has something for everyone. While it started as a coastal defense fort and has plenty to explore from this era, it is now a natural wonderland, with gorgeous walking and biking trails.
Highlights
Explore the battery, which has underground rooms and historic guns
Hike on the 25 miles of cycling and walking trails
Enjoy views of Admiralty Inlet and Port Wilson Lighthouse from the bluff – and take in the incredible sunset!
Tackle the waves with a surfboard!
Paraglide off the cliffs (if you have the gear and the knowhow)
Camping
Fort Ebey has over 50 campsites, so there's plenty on offer for anyone who wants to stay the night. Because of its wonderful location and range of attractions, it's popular with multi-day campers!
---
READ MORE: Exploring Fort Ebey State Park on Whidbey Island
---
5. Lake Sammamish State Park
An ideal Seattle day trip, Lake Sammamish encompasses lakefront beaches, wetlands, and deciduous forest. There's no camping here, but it's the perfect place to spend a day!
If you want a day of activities, look no further than this glorious lake. You'll never be bored at Lake Sammamish with watersports rentals, hiking trails, and swimming opportunities.
Fancy just kicking back and relaxing instead? There's a glorious beach to bask on too!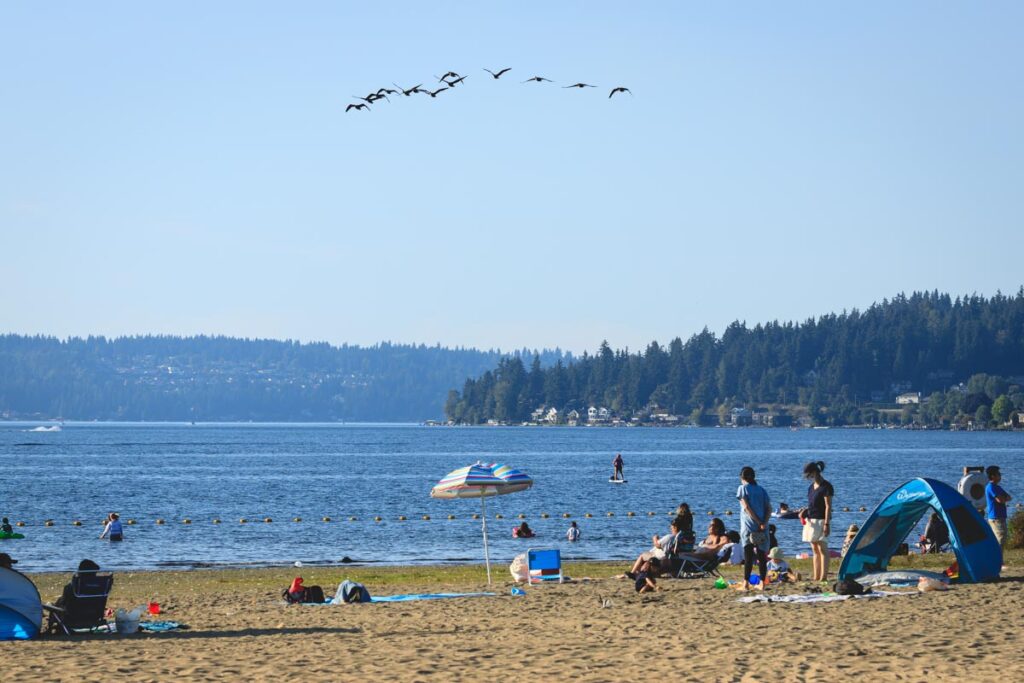 Highlights
Head to Tibbetts Beach and rent a paddle board or kayak
Cycle around the forest trails
Spend time enjoying the trees and looking for local birds – bald eagles and blue herons live here!
Relax on the beach or paddle out and go for a swim
---
READ MORE: Exploring Lake Sammamish Just Outside of Seattle!
---
6. Lime Kiln Point State Park
Possibly most famous for its epic whale-watching opportunities, the rocky bluff of Lime Kiln Point is a glorious day-use park on San Juan Island with incredible views over the Pacific.
Lime Kiln Point is considered one of the best whale-watching locations on the planet, so it's obvious what most people come here for. Visit between May and September for the best chance of spotting marine life.
Highlights
Watch out for orcas, gray whales, and porpoises in the water
Visit the Lime Kiln Interpretive Center to learn more about the creatures
See the historic lighthouse and lime kiln, which dates back to the 19th century
7. Rasar State Park
Located on the Skagit River, Rasar State Park encompasses 180 acres and is a popular place for campers and explorers. Its beautiful scenery reminds you that you're close to Cascades National Park, but Rasar has an atmosphere entirely of its own.
Hiking and fishing are on the cards for Rasar State Park, although many visitors use it as a launching pad to explore more of the nearby Cascades mountains.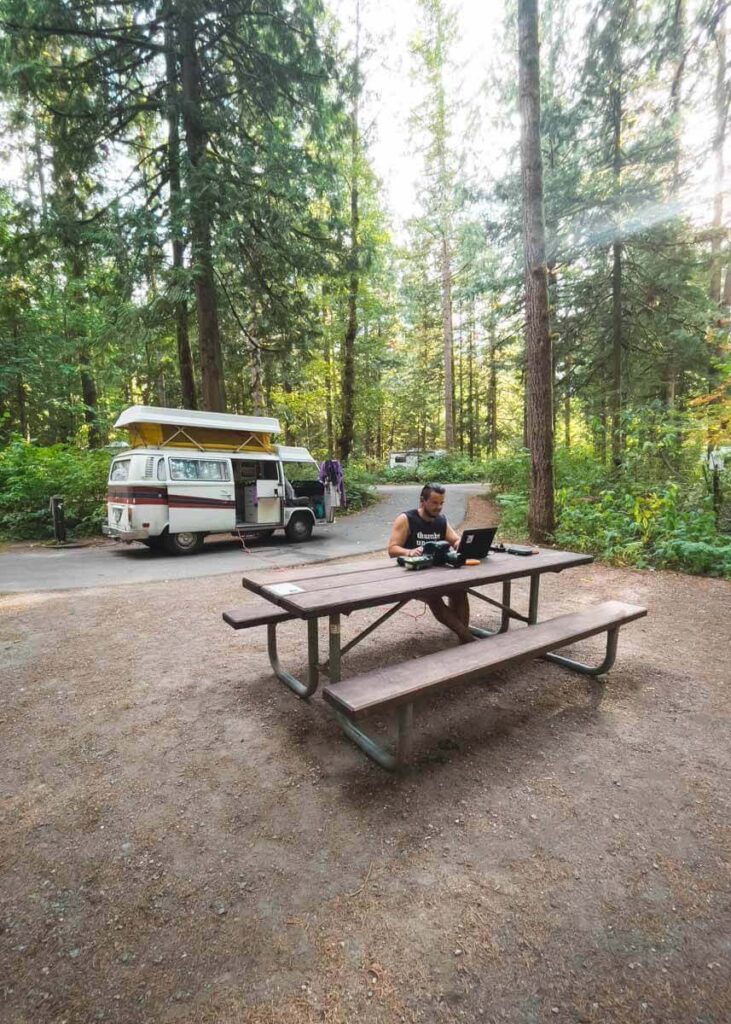 Highlights
Hike along the 3.7 miles of trails through the forest
Watch out for local birds and other wildlife
Picnic by the river
There's also a playground for children
Camping
With around 50 sites of different sizes and specifications, there's something for everybody at Rasar State Park. There are also three forest cabins that are perfect for groups!
8. Wallace Falls State Park
With a quintessentially Washington temperate rainforest, Wallace Falls is the perfect state park to plan a day trip from Seattle if you fancy hiking around some beautiful trails and seeing a diverse array of animal life.
This state park is made to be explored on foot; it's one of the best places to visit if you're after a hiking adventure. Alternatively, there are water sports opportunities on the river.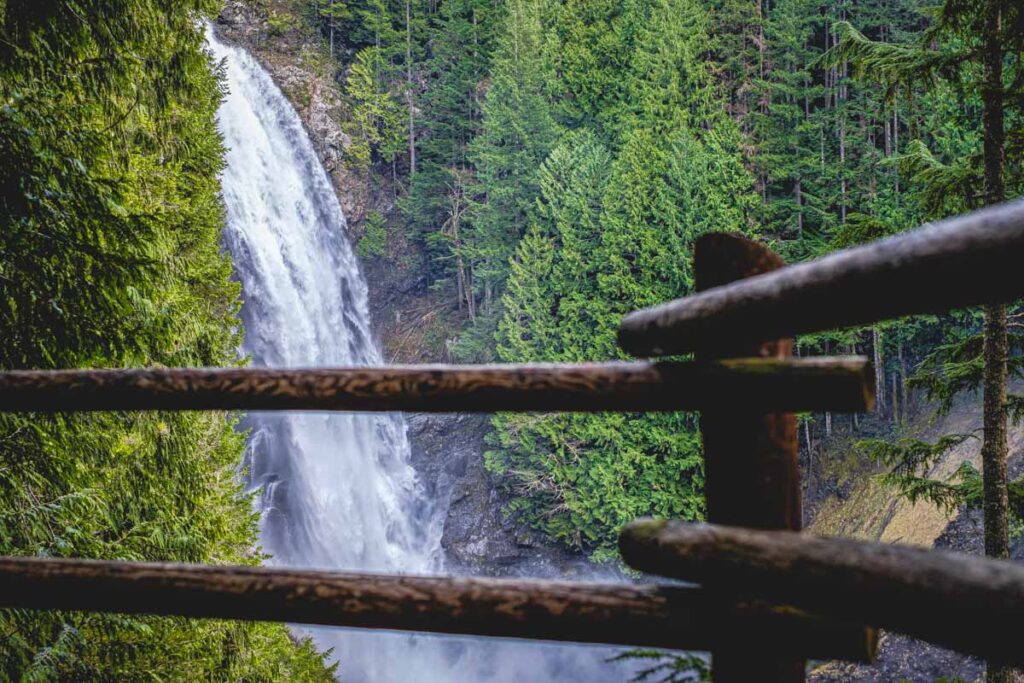 Highlights
Walk through 12 miles of gorgeous temperate rainforest, including the Woody Trail, which visits Wallace Lake and Wallace Falls themselves.
Take a cycling trail through the woodland
Try out white water kayaking
In the winter months, enjoy snowshoeing!
Camping
Wallace Falls has a tiny campsite with just two walk-in tent sites (there are two restrooms nearby as well). If you fancy staying somewhere sturdier, there are five cabins in the state park, all of which have lights, electricity, heating, and beds and are bookable in advance.
---
RELATED: 7 Awesome Waterfalls Near Seattle, Washington
---
Washington Coast State Parks
The coast is littered with state parks—all offering something a bit different. Excellently located parks to explore Olympic, a surfer's parades, epic lighthouses, and stunning wildlife… These are our favorite Washington state parks on the coast.
9. Bogachiel State Park
At just 127 acres, Bogachiel is minuscule. But it offers charming scenery and is in an epic location to explore the best of Olympic National Park, so it's one to add to your "state parks to visit" list!
The Bogachiel River, the park's namesake, runs all the way through and is an ideal place to stroll along or just sit beside and contemplate life. There are limited hiking opportunities, but it's a great place to camp.
Highlights
Camping
While Bogachiel State Park is small, it does offer 35 campsites. It is the ideal place to stay if you want to be close to Olympic National Park's best beaches, including Ruby Beach, Rialto Beach, La Push Beaches, and the stunning Hoh Rainforest Area.
---
READ MORE: Bogachiel State Park—The Best Located Park in Washington?!
---
10. Cape Disappointment State Park
Disappointing? This state park is anything but! Named by John Meares in 1788, who was disappointed because he couldn't locate the mouth of the river, Cape Disappointment is nowadays one of the most popular state parks in Washington thanks to its incredible natural beauty and history.
Stand on a clifftop and gaze over the Pacific Ocean, marvel at the lighthouses, and learn about US military history. Cape Disappointment has many stories to tell, but you can enjoy charming beaches and beautiful wildlife.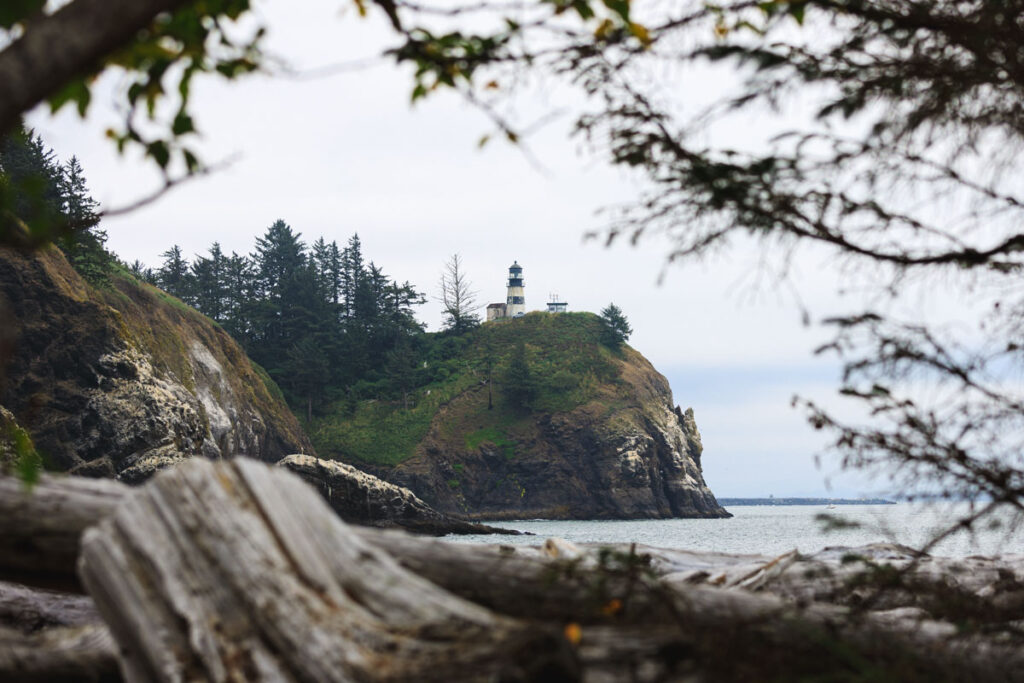 Highlights
Learn about the US military at the Lewis & Clark Interpretive Center
Explore coastal defense batteries and military bunkers
Enjoy Benson Beach, where you can go digging for clams or fish for crab or salmon
Hike along the coastline or around inland lakes
Camping
With nearly 200 campsites, eight restrooms, and 14 showers, Cape Disappointment has one of the most extensive campsites in the area. Plus, it's open all year round!
---
READ MORE: 7 Things To Do in Cape Disappointment State Park
---
11. Fort Columbia State Park
If you like history, you'll love Fort Columbia! This historical day-use state park is one of the best coastal defense parks in the USA, ideal for learning about the nation's naval and maritime history. It dates back to 1896 and was used throughout World War One and Two.
Engage in America's history as you explore artillery batteries and previous officers' homes. There's plenty to learn about in the interpretive center and lots to contemplate as you stare over the shoreline.
Highlights
Explore the historical buildings, including the batteries
Learn about the park's extensive history, including its maritime importance and the historic fur trade, in the interpretive center
Walk along the Columbia River
12. Grayland Beach State Park
Sprawling across 581 acres, Grayland Beach is the perfect place for a beachy vacation. Sitting just west of Seattle, it's popular with city slickers wanting a short break away!
One of the main highlights of this state park is just enjoying the beach on a sunny day! There are also limited hiking trails and fishing opportunities.
Highlights
Traverse the 0.6 miles of hiking trails through the grassy dunes with views back toward the Pacific
Go saltwater fishing, clamming, or crabbing
Watch out for seabirds
Stretch out on the glorious beach!
Camping
This state park has over 100 campsites and shower facilities. Due to its proximity to Seattle, it can be busy at the weekends—so book in advance if you're visiting during high season!
13. Leadbetter Point State Park
Spreading over 1,732 acres, Leadbetter Point is a haven for wildlife spotters—close to the Willapa National Wildlife Refuge. This day-use park is one of Washington's hidden gems, undiscovered by mass tourism, so you may even have the entire place to yourself!
Birdwatching is the main activity at Leadbetter Point, with all sorts of creatures gracing the skies. It also boasts incredible views, perfect for anyone who needs a quick nature dose.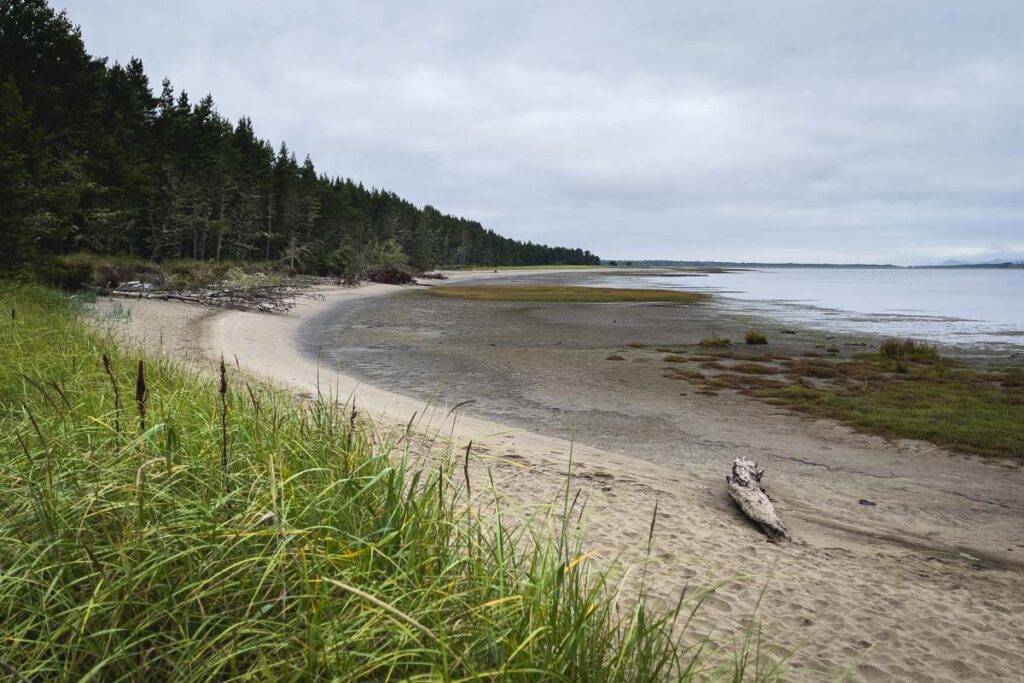 Highlights
Scan the skies for birds like pelicans, falcons, and eagles
Look out for feathered birds on the ground, including the ridiculously fluffy snowy plover chicks!
Take in the trails, which look out over to Willapa Bay
14. Ocean City State Park
Relish in the heart of the Washington coastline at Ocean City State Park. Ocean City is a glorious place to relax and unwind, close to Ocean Shores but far enough away to feel like a world of its own.
Life's a beach at Ocean City State Park—most attractions involve the glorious, uninterrupted sands. Think fishing, clamming, swimming, beach hikes, and relaxing!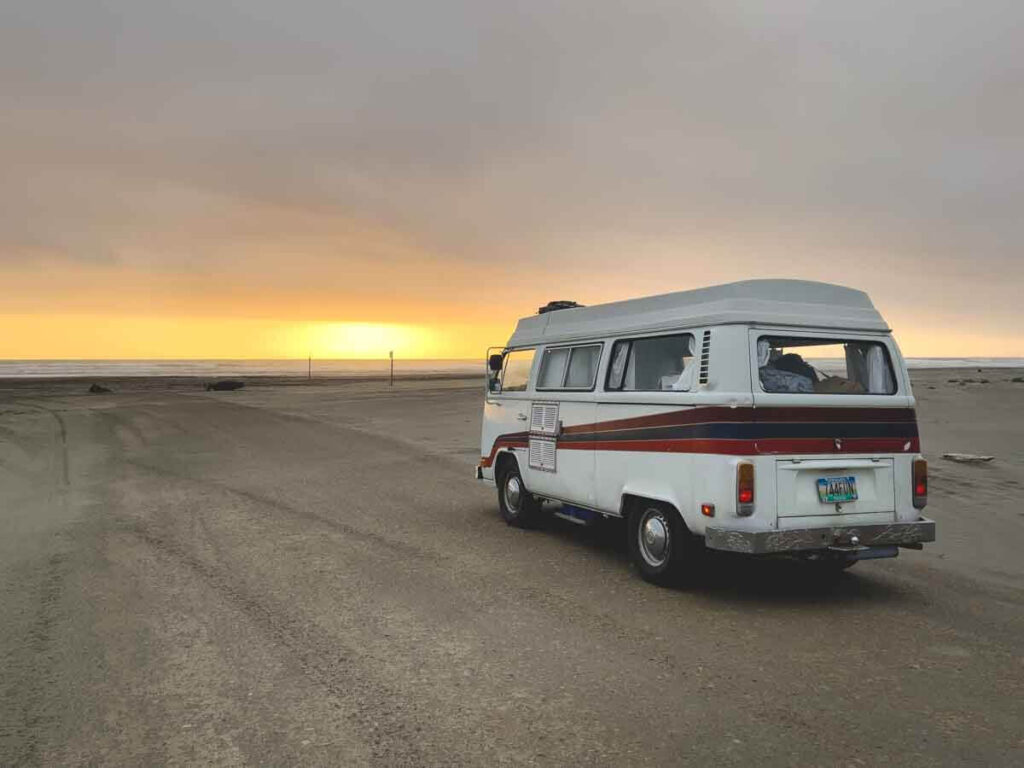 Highlights
Drive onto the beach for a fun-filled beach day with swimming and relaxation opportunities!
Take a long walk along this stretch of coastline
Head into Ocean Shores for an 18-hole golf course
Camping
Enjoy nearly 200 campsites at Ocean City State Park, some of which have full hook-up. It's a popular place due to its location and proximity to Ocean Shores, so book in advance for peak season!
---
RELATED: 7 Things To Do in Ocean Shores, Washington
---
15. Pacific Beach State Park
As the name suggests, Pacific Beach is right by the coast, encompassing a beautiful 2,300 feet of shoreline. It's perfect for a back-to-basics camping vacation!
Highlights
Explore the beach and check out the rockpools, seeing what wildlife lives in this vicinity
Try out saltwater fishing
Take a dip in the brisk Pacific Ocean!
Camping
Sixty campsites are on offer, some with partial hook-up. Many overlook the gorgeous beach, making this a perfect spot for a multi-night vacation to get away from it all!
16. Twin Harbors State Park
Twin Harbors State Park encompasses 225 acres along the Washington coastline just south of Westport. Trails lead the way down to the driftwood-strewn beach, and plenty of spots will make you feel like you're in a world of your own. Back in the campground, you'll witness a real community feel.
Twin Harbors is a place to rest and recharge, with lots of beach walks and wildlife-watching opportunities. Don't expect immense amounts of adventure here, but it's a lovely little vacation spot adored by Washington locals and visitors.
Highlights
Walk down to the beach, breathe in the salty air, and stroll in either direction.
Take the Shifting Sands Trail, a half-mile route through the forest with information about the local area.
Storm watching with dramatic waves in the winter months
Camping
With over 160 campsites and full restroom and shower facilities, there's plenty of space to stay at Twin Harbors. Booking is essential in the summer. In the winter, you might opt for a cabin or yurt—reserved on a first-come, first-served basis.
17. Westhaven and Westport Light State Parks
Westhaven and Westport Light State Parks are next to each other, so it's easy to visit both on the same trip! Westhaven mainly encompasses a sandy beach, whereas the 560-acre Westport Light encompasses a few beaches and its namesake, Westport Lighthouse.
Both are day-use parks, so there's no camping, but it's right by Westport town with hotels and a campground.
If you're into beach-hopping, you'll love these two state parks. Spend your day lazing on the shores or walking along the dunes. It's a glorious addition to any Washington vacation.
Highlights
Go surfing, as Westport Light is one of the best places in the area for it! Bigfoot Surf School offers classes, and it's recommended not to go out alone due to currents and rips.
Walk the 1.3-mile-long path to Westhaven Jetty, enjoying views of the Pacific Ocean and Half Moon Bay.
---
RELATED: 9 Adventurous Things To Do in Westport, Washington
Washington State Parks Near Columbia River Gorge
If you're around Vancouver, Washington, or Portland, Oregon, you'll love these state parks!
18. Battle Ground Lake State Park
Nestled in the foothills of the charming Cascade Mountains, Battle Ground Lake is a small forested camping park. A stone's throw from both Portland and Vancouver (Washington), this 280-acre state park is a glorious dose of nature loved by city slickers during the weekend.
Enjoy the great outdoors at Battle Ground Lake, with hiking trails and calm waters for swimming and paddling. There's plenty of trout in the water for anglers too!
Highlights
Take one of the hiking, biking, or horseriding trails
Swim or paddle in the beautiful and clean lake
Fish for trout
Camping
Camping is available at Battle Ground Lake—it offers 58 sites (six with partial hook-up) and four cabins. If you're set on spending the night, make a reservation before turning up!
19. Beacon Rock State Park
Situated in the Colombia River Gorge Scenic Area, Beacon Rock State Park is a 4,458-acre camping park. Its namesake, Beacon Rock, is an 848-foot-high ancient volcano core. As you'd expect, the views from the top of this natural phenomenon are immense!
Summit to the dizzying heights of Beacon Rock and enjoy vistas over the spectacular Colombia Gorge, or go for an even more adrenalin-fuelled experience and partake in rock climbing. There are also bountiful hikes and epic waterfalls.
Highlights
Go rock climbing on Beacon Rock itself
Take the steep uphill track to a viewpoint at the top of Beacon Rock, where natural history comes to life as the gorge was carved during the last ice age.
Enjoy one of the cycling or horseback riding trails
Discover some of Beacon Rock's beautiful hidden waterfalls!
Camping
There's a more old-fashioned campsite in Beacon Rock State Park, offering 28 standard campsites – there's a toilet but no electricity or potable water. Alternatively, nearby ​​Woodard Creek Campground offers five full hook-up sites.
20. Paradise Point State Park
A 101-acre camping park, Paradise Point is, as the name suggests, a little slice of heaven. Sitting on the Lewis River, this riverfront area is a haven for birds and is one of the most popular swimming spots near Vancouver.
Chill out, enjoy the views of the river and take a dip in the water if you're at Paradise Point during a Washington heatwave.
The beauty of this park is that you really can have the best of both worlds – there are plenty of activities on offer if you fancy, or you can just sit back, relax and enjoy your vacation time!
Highlights
Tackle the two miles of hiking trails
Go boating on the river
Try your hand at fishing
Take a dip in the water from the lakefront beach (safe swimming zones apply)
Camping
There are 70 campsites available, some with partial hook-up. Yurts are available to hire if you want to stay somewhere a little more solid.
Central Washington State Parks
Tucked into The Cascade Mountains, alongside lakes, and down rushing rivers, central Washington's State Parks can't be missed!
21. Lake Chelan State Park
It's a popular favorite for Washington locals vacationing in their state, but don't worry if it's your first time here. Lake Chelan has a very welcoming community!
The state park is centered around Lake Chelan, with a glorious beach lagoon for swimming, watersports, and angling opportunities.
Highlights
Take in hikes in the beautiful North Cascades region
Try various watersports, including sailing, water skiing, and rafting
Chill out at the campsite, chatting to other holidaymakers
Just relax on the beach – there's nowhere better than Lake Chelan!
Camping
The campground offers over 100 campsites, some with partial or full electricity hookups. But, as it's such a popular vacation destination (with some groups returning year after year since the 1960s!), you'll need to book this one in advance!
---
RELATED: 19 Amazing Weekend Trips From Seattle (1-5 Hours Away!)
---
22. Lake Wenatchee State Park
You'll feel like you're in Switzerland as you vacation at Lake Wenatchee – a glorious Washington Alpine lake fringe by dramatic mountains. There's plenty to do at the state park itself, but it's also the gateway to incredible hikes and adventures in the region.
The alpine lake is chilly, but if you're brave enough, you can take to a paddleboard and explore the lake from this level. You can even take a dip if you're feeling adventurous! There's lots to explore on land, too, from hiking trails to cycling routes.
Highlights
Take the nine-mile trail up Dirtyface Peak
Head out to the water on a boat or go windsurfing
Take a dip in the lagoon
In the winter, visit the Lake Wenatchee sno-park!
Hike the nearby Lake Valhalla Trail
Camping
There are nearly 200 campsites at this popular campground, including toilet and shower facilities.
---
RELATED: 17 of The Most Scenic Lakes in Washington
---
23. Peshastin Pinnacles State Park
One of the most unique landscapes in the state, Peshashtin Pinnacles consists of jagged, tooth-like sandstone rocks that pierce the sky. They're an enigmatic place to visit and explore, and there are a few options if you'd like to get up close and personal with the rocks too!
You can take a trail to see the pinnacles, with opportunities for rock climbing too.
Highlights
Hike the 1.5-mile trail that traverses most of the pinnacles
Go rock climbing! You can be part of an organized trip to summit one of the pinnacles
Look out for wildlife in the area
Camping
No camping is available at Peshastin Pinnacles State Park, but nearby Lake Wenatchee State Park, Wenatchee Confluence, and Lincoln Rock State Parks have campsites.
24. Wenatchee Confluence State Park
Fancy an action-packed vacation? Wenatchee Confluence, located on the Columbia and Wenatchee rivers delivers—cycling, hiking, and swimming opportunities.
A huge range of activities is on offer at Wenatchee Confluence State Park. Whether you fancy exploring the area by hiking or mountain biking or staying local and testing out the sports courts, this state park is a dream for anyone who loves doing sports on a trip!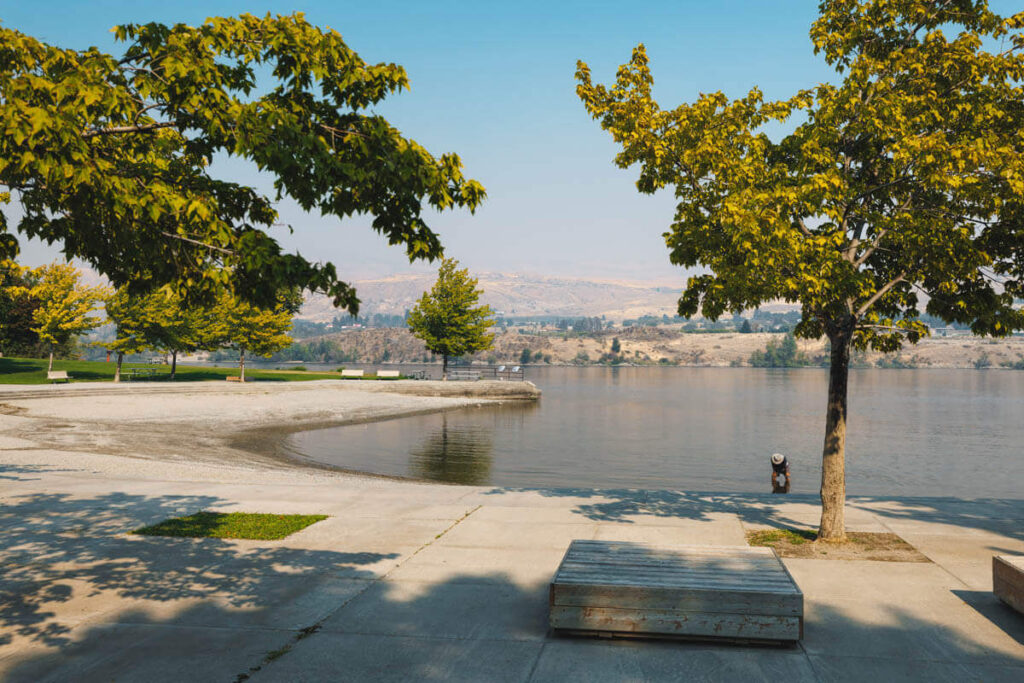 Highlights
Take the Apple Capital Loop Trail, a 10-mile loop that runs around the Columbia River
Enjoy recreation and swimming in the river
Check out the variety of courts and fields for sports, including softball, soccer, volleyball, and basketball
BONUS – Head just 15 minute north and visit the incredible Lincoln Rock State Park to get further away from the city and enjoy the incredible views of the rocky cliffs alongside the river.
Camping
With over 60 campsites and plenty of showers and restrooms, there are many places to stay in Wenatchee State Park. Thanks to its vast array of activities, this is a very popular spot, so book in advance if you're set on staying here!
Eastern Washington State Parks
Head to the lesser visited side of the state to discover these eastern Washington state parks!
25. Palouse Falls State Park
All of these Washington state parks are worth visiting, but dare we say it, Palouse State Park could be one of the most epic… a dramatic gorge carved by the Palouse River; this is somewhere where you can see epic natural history in action!
Walk to the dramatic Palouse Falls, one of the only remaining active waterfalls from the Ice Age flood path. This is a day-use area, and you probably won't spend all day here, but trust us when we say it's well worth visiting!
Highlights
Walk along the 0.1-mile trail to Palouse Falls.
Visit the lower and upper viewpoints, which contain information about the area.
---
READ MORE: Palouse Falls State Park: Your Complete Guide
---
26. Riverside State Park
Located near Spokane, Riverside State Park is one of the best places in the state to visit if you want a wealth of adventurous activities at your fingertips. There are dozens of miles of hiking trails, so it's a great place to spend a few days and explore thoroughly.
Fancy hiking, boating, fishing, kayaking, or water skiing? You can do it all at this impressive state park!
Highlights
Explore the 55 miles of hiking trails
Enjoy watersports, like water skiing and white-water kayaking (with boating and fishing opportunities also available)
Go mountain biking or off-road driving through the forest
In the winter, cross-country skiing, snowshoeing, and snowmobiling opportunities are available
Camping
Riverside State Park has so much to do, so you'll probably need a few days to take it all in! Luckily, there are 32 campsites (16 with partial hookup) available. Book in advance for peak season, as this campground can be busy!
27. Steamboat Rock State Park
Steamboat Rock State Park is one of the more dramatic on this list, dating back to the Ice Age. It boasts a 13,000-year-old canyon and dry scrub home to a surprising amount of wildlife.
There's a lot to see at Steamboat Rock. Marvel at the canyon itself, learning about its fascinating history. Look out for a range of wildlife, and take in the atmosphere of being within a desert-like climate while still firmly in Washington!
Highlights
Hike the 13.1 miles of trails around the canyon and throughout the state park
Enjoy the 320 feet long dock with boating and fishing opportunities
In the winter, try out snowshoeing, Nordic skiing, ice climbing, and ice fishing
Camping
If you're looking for a full hookup site, you're in luck at Steamboat Rock – there are 164 of them (along with 26 standard campsites!). There is also plenty of WC and shower facilities.
This bumper list of state parks in Washington should be an essential resource when planning your trip here! From the popular beaches of Deception Pass to the tiny campground of Bogachiel, each of these Washington state parks offers something different, and it's worth seeing how many you can tick off when you visit this Northwestern state.
More For the Best of Washington
I've been perpetually traveling and living around the world for years but it's hard to beat Washington and the PNW. After years of road-tripping the area, I guess you can say I know it pretty well! When I'm not writing guides for you, you can catch me somewhere petting a dog, attempting to surf, hiking a volcano, or stuffing my face with bread and cheese.