Tucked into the lush wilderness of Olympic National Park, Lake Crescent is known for its crystal clear water, gorgeous backdrops, and great recreational offerings along its shoreline.
This glacial lake was once much larger, split in two after an ancient landslide came crashing down from Mount Storm King. As a result, the park is now home to the lovely Lake Cresent to the west and the smaller (yet just as scenic) Lake Sutherland to the east.
Lake Crescent has long since been the "it" place for summertime amusement. Before the area became a national park, numerous resorts and vacation homes were built up around the lake, and a few remain to this day.
But don't worry. Most of the landscape remains wild, and the historic Lake Crescent Lodge and Log Cabin Resort provide lodging and lakeside fun to visitors.
Aside from the historic lodgings, there are also tons of Lake Crescent hikes, kayak rentals, campgrounds, and beaches. We've outlined everything you need to know about this iconic lake below, so keep reading to learn all about Lake Crescent and the area that surrounds it.
Exploring Lake Crescent
---
Lake Crescent's southern shore is located along Highway 101, about 20 miles west of Port Angeles. If you're coming from the Seattle area, ferrying over to Kingston or Bainbridge Island and getting onto WA-104 and then Highway 101 is your best option.
Because of Lake Crescent's location inside Olympic National Park, visitors will need a pass to access the lake.
When to Visit Lake Crescent
Olympic National Park is open year-round, so you could technically visit Lake Crescent whenever your heart desires. That being said, the water temperature is chilly at best, even during the warmer months.
Summer is by far the best time to visit, and although you may have to share the lake with others, it doesn't take away from the area's serenity.
During winter the lake remains open however some concessions and the lodges will be closed.
Lake Crescent Kayaking
Kayaking around the lake's nooks and crannies is a great way to understand how incredible this area is. The true depth is unknown, but it is thought to be deeper than the Seattle Space Needle! There are numerous spots to put in your kayak around Lake Crescent.
If you didn't haul your own watercraft, there are plenty of rental places for kayaks, canoes, and SUPs around the lake (more on where below!)
Lake Day Use Area near Storm King Station
If you brought your own kayak, head to the lake day-use area near the Storm King Ranger Station, located on the lake's southern shore. While the station is not always staffed, when it is, feel free to stop by and ask for some information about the area.
Fairholme
Even if you're not staying at the campground, Fairholme has a great boat launch and day-use area on the lake's western end. The Fairholme General Store offers kayak, canoe, and paddleboard rentals seasonally.
Note that the general store closes in winter, and it's a tiny shop that can close without warning, so be sure to check before heading there.
Lake Crescent Lodge
The historic Lake Crescent Lodge also offers seasonal rentals of kayaks (both single and tandem), canoes, and paddleboards. If you'd like to get an in-depth overview of this stunning glacial lake, you could also take a guided kayak tour.
Log Cabin Resort
The Log Cabin Resort is located along Lake Crescent's northern shore and is another great spot for paddling. The resort has boat launch facilities, and if you don't have your watercraft, head inside to rent kayaks, paddleboards, and canoes.
---
RELATED: 17 of The Most Scenic Lakes in Washington
---
Beaches + Picnic Areas Around Lake Crescent
While the water may be a bit frigid (even during the warm summer months), there are plenty of places to brave a dip in Lake Crescent. You could also choose to soak up some sun from the shore or enjoy a scenic picnic.
North Shore Picnic Area
The North Shore Picnic Area is open year-round and features accessible vault toilets, fire pits, picnic tables, and stunning views of Lake Crescent. Even a few picnic tables are situated out on the dock, giving you sweeping vistas of the lake and the mountains surrounding it.
East Beach
The aptly-named East Beach is tucked away on the lake's northeastern end, less than one mile from Highway 101. Its convenient location makes it a popular spot, and this place fills up fast during the warm summer months.
While the twig-strewn shores may not scream "beach day material," this is one of the most loved stretches of the lake. It also has a nice shallow entry, which means the water is warmer than in other parts of the lake.
There are plenty of picnic tables along the shore and a large parking lot, fire pits, and accessible vault toilets. While this is a large area, you should plan to arrive early in the day if you hope to snag a spot!
La Poel
La Poel is one of the lesser-known areas around Lake Crescent. It was once the site of a resort, and although the building has long since been torn down, La Poel is still open to the public. However, keep in mind that this area is accessible via a steep dirt road, so trailers and large RVs are not allowed.
Those who make the trek to La Poel will find a shaded area with various picnic tables scattered along the ridge. There is no parking lot but individual parking spaces next to the tables. There are a few additional spots located near the water as well.
Because there are fewer scenic views and parking spots, La Poel sees less traffic than some other areas around the lake. If you manage to secure a spot here, it's a great place to spend a few quiet hours. Note that La Poel is only open during the summer months.
Fairholme
While Fairholme is mainly known for its campground, even those who aren't staying overnight can come to enjoy the day-use area.
This is one of the lake's most popular areas, and it's not hard to see why. Towering maple trees and verdant mountains surround the scenic shores, and the facilities here are top-notch.
There are two boat launches, free life jackets available for use, and a general store offering kayak, canoe, and paddleboard rentals. The shallow water is an excellent place for swimming; beware of the steep drop-off.
---
RELATED: 9 Incredible Olympic National Park Beaches to Explore
---
Top Lake Crescent Hikes
Whether you're looking for an intense cardio session, breathtaking views, or a relaxing stroll, plenty of trails are located around Lake Crescent. Below we've highlighted some of the best trails in the area.
Mount Storm King
Distance: 5.3 miles
Type of Trail: Out & Back
Difficulty: Hard
Elevation Gain: 2,076 ft
When it comes to Lake Crescent hikes, Mount Storm King is, well, king! Reaching the summit is no easy feat, and the trail is one of the most challenging hikes in Olympic National Park.
However, it's also one of the most rewarding. Those who make it to the summit will be treated to sweeping views across Lake Crescent and towering mountains. The bragging rights are also a bonus for completing this burner.
Note that getting to the summit requires a sketchy rope climb and some balancing skills on the narrow rocky summit. Because this trail is so challenging, only seasoned hikers should attempt to summit.
---
READ MORE: Hiking Mount Storm King in Olympic National Park
---
Marymere Falls Trail
Distance: 1.7 miles
Type of Trail: Out & Back
Difficulty: Easy
Elevation Gain: 298 ft
On the opposite end of the spectrum, Marymere Falls Trail is one of the most relaxed Lake Crescent hikes. Winding through old-growth forests with fantastic views of the lake, mountains, and Marymere Falls, this hike offers some of the best bang for your buck in Olympic National Park.
Its convenient location right off of Highway 101 also makes it extremely popular, so be sure to arrive early in the day to avoid the inevitable crowds.
You could marry this hike with the Mount Storm King hike for some extra mileage! They share the same trailhead, so it would be easy to finish the Mount Storm King hike and then continue along the trail to reach Marymere Falls.
Devil's Punchbowl via Spruce Railroad Trail
Distance: 2.4 miles
Type of Trail: Out & Back
Difficulty: Easy
Elevation Gain: 144 ft
More of a recreational walk than a true trek, the Devil's Punchbowl via Spruce Railroad Trail is perfect for hikers of all ages. The trail is paved and accessible, making it a favorite amongst families.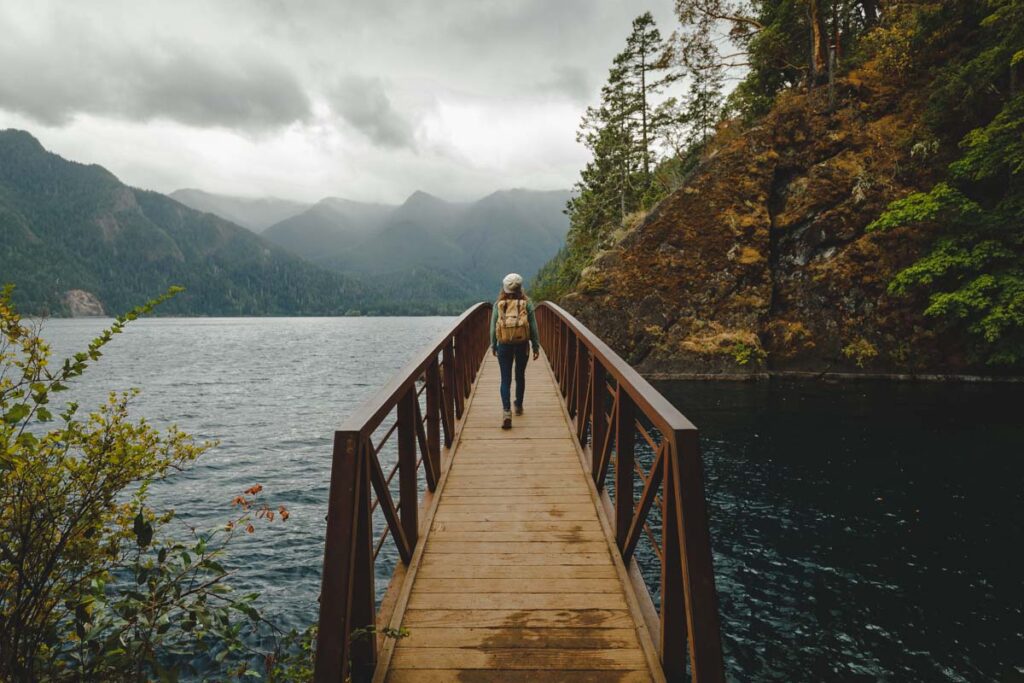 The route follows Lake Crescent's northeastern tip and ends at Devil's Punchbowl – a beautiful swimming hole that can be accessed by jumping off the bridge. Even if you don't brave the chilly lake waters, the views from the bridge are some of the best in the park.
Spruce Railroad Trail: Lake Crescent
Distance: 11.2 miles
Type of Trail: Out & Back
Difficulty: Easy
Elevation Gain: 410 ft
If you loved the trail leading to the Devil's Punchbowl, you could always continue cruising on the Spruce Railroad Trail. From Devil's Punchbowl, the trail meanders southwest along the lake's coast.
While this route is on the longer side, it's an easy hike thanks to the mostly flat, paved trail. Although most of the trail is accessible, there are some rough patches that those with wheels should look out for.
Pyramid Mountain Trail
Distance: 6.6 miles
Type of Trail: Out & Back
Difficulty: Hard
Elevation Gain: 2,486 ft
A fork in the Spruce Railroad Trail leads to the trailhead for the Pyramid Mountain Trail. This detour is no walk in the park, however.
It's one of the most demanding Lake Crescent hikes, and it's even a bit more rugged than Mount Storm King. The summit offers excellent views of the lake below, though they are somewhat more hidden due to the overgrown vegetation.
While this trek is challenging and remote, it's less crowded than some other trails around the lake. This makes it a great option for those hoping for some solitude while visiting Lake Crescent. Just know you'll have to work for that peace and quiet you seek!
Moments in Time Trail
Distance: 0.7 miles
Type of Trail: Loop
Difficulty: Easy
Elevation Gain: 9ft
If you're short on time (or energy), check out the Moments in Time Trail. At less than a mile in length, it's one of the shortest Lake Crescent hikes. It's also one of the easiest, making it extremely popular.
This short and sweet trek is a self-guided nature trail, so you'll get some information about the local flora and fauna and the beautiful views.
---
RELATED: 15 Best Hikes in Olympic National Park, Washington
---
Lake Crescent Camping + Lodging
If you'd like to spend more than just a few hours at Lake Crescent (as you should!), there are various options, including campsites, lodges, and resorts.
Klahowya Campground
Klahowya Campground is one of the lesser-known Lake Crescent camping options. This is likely because it is located about 10 minutes from the lake along the lovely Sol Duc River and Highway 101. Sites are available on a first-come-first-served basis. Klahowya Campground is open seasonally from May through September.
Fairholme Campground
Fairholme Campground is a Lake Crescent favorite. Located on the western end of the lake off of Highway 101, the well-kept sites offer scenic views across the lake.
But, not surprisingly, these first-come-first-served sites fill up extremely quickly. So, you'll need to arrive at the campground plenty early if you hope to snag one of these sought-after spots. Fairholme Campground is open seasonally between May and September.
---
RELATED: Where to Stay in Olympic National Park, Washington
---
Lake Crescent Lodge
Those who prefer the ritz over the rugged will find a great home away from home at the Lake Crescent Lodge. Situated on the southern shores of Lake Crescent, the lodge offers top-notch accommodations with the charm of a bygone era.
You can book a room in the lodge itself or rent one of their on-site cabins. There is also a restaurant, a small gift shop, and boat rentals available at Lake Crescent Lodge.
Log Cabin Resort
The Log Cabin Resort is tucked away on the lake's northern edge. You can rent a small log cabin, a room at the motel, or an A-frame chalet along the waterfront. The resort also boasts boat launch facilities, kayak rentals, and a restaurant on-site.
Emerald Valley Inn
This picturesque inn is located a short drive from Crescent Lake in Port Angeles. It offers a range of accommodation options from two-bedroom suites to tent sites with views of the surrounding forest. Check out the A-frame mini cabins for something in between – all you need is your sleeping bag.
Snug Harbor Studio
On nearby Lake Sutherland, you'll find this comfortable 60s-style studio. This is an ideal place to stay for anyone who wants to make the most of lake activities, as you'll have direct access to the lakefront, the public boat launch, and a dock shared with just one neighbor.
Vintage Port Angeles
If you want to experience more of the surrounding area, this 1940s home in Port Angeles will make a great base. You'll be within walking distance of downtown and a short drive from the shores of Lake Crescent. There's a private garden, views of the mountains, and even a small orchard.
We hope this post helps you plan your trip to Lake Crescent! Don't forget to check out other things to do in Olympic National Park.
More Around Olympic National Park
I've been perpetually traveling and living around the world for years but it's hard to beat Washington and the PNW. After years of road-tripping the area, I guess you can say I know it pretty well! When I'm not writing guides for you, you can catch me somewhere petting a dog, attempting to surf, hiking a volcano, or stuffing my face with bread and cheese.