If you're looking for a moderate hike north of Seattle and a stone's throw from the Canadian border, then pull on your hiking boots and head to the Chain Lakes Loop!
This seven-mile walk encompasses lakes and epic views of some of Washington's best mountains. You'll gain over 1800 feet in this hike, so it's not to be scoffed at, but it's reasonably straightforward to follow, and there's a way to get most of the uphill hiking out of the way at the beginning.
Read on for a full guide on how to complete this hike.
Hiking the Chain Lakes Loop Trail
---
Distance: 7.1 miles
Type of Trail: Loop
Difficulty: Moderate
Elevation Gain: 1,886 ft
Which Trailhead to Choose
There are actually multiple parking lots to choose from when beginning your hike on the Chain Lakes Loop Trail. The most popular is the Heather Meadows Visitor Center, which is where most of the facilities are. Most trail guides will also start their directions from here!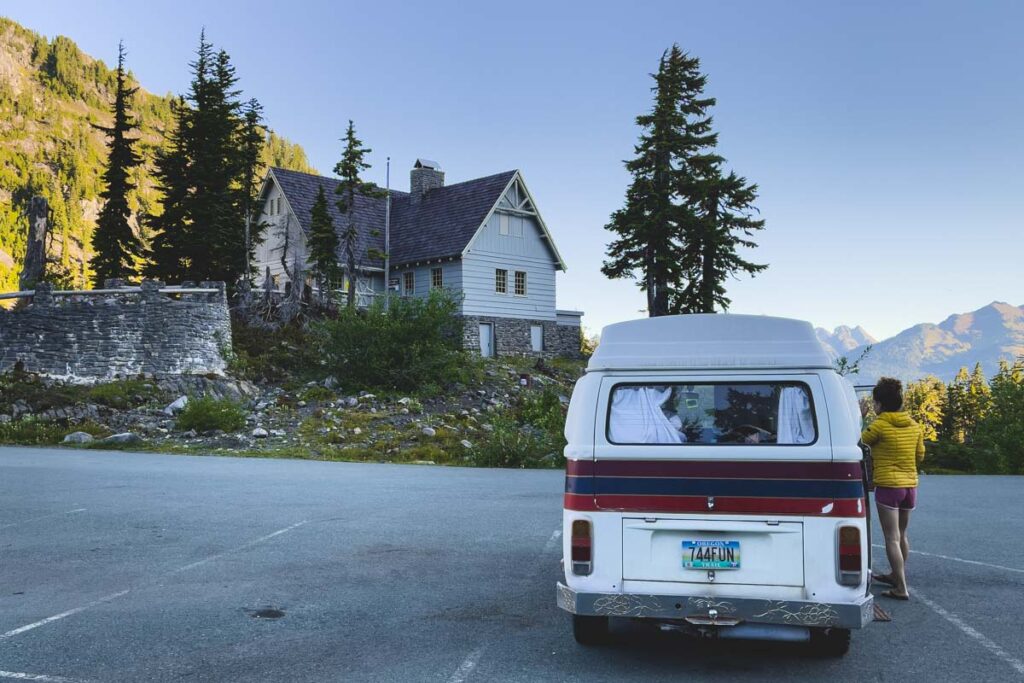 However, it's easy to start hiking at Bagley Lake or at any of the other parking lots. You can also cut across on the Wild Goose Trail, saving yourself a few miles.
It's worth pointing out that if you park at Artist Point, you'll have a climb right at the end – never a hiker's dream!
Chain Lakes Loop Trail Directions
Beginning at the Visitor Center, you can walk in either a clockwise or counterclockwise direction. We'll write this guide counterclockwise, as that's how we did it – but if you do it clockwise, just follow the guide backward. The advantage of going counterclockwise means that you get the incline done at the beginning.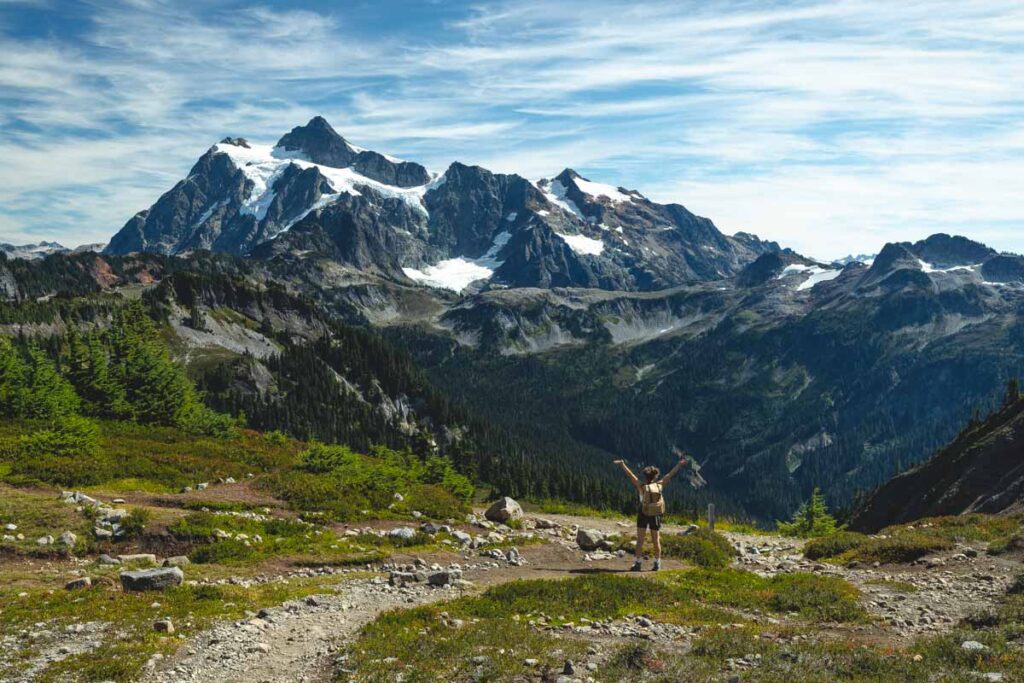 The first landmark you'll come across is the beautiful Bagley Lake, an impossibly blue alpine watering hole that's fringed with shrubbery and fir trees.
From here, walk around two miles, up a steady incline. It's not difficult and the route is obvious, but the terrain is slightly rocky underfoot. Eventually, you'll reach a ridge where you can see a view of Mount Baker.
Once you're over the ridge, you'll start walking downhill. Eventually, you'll pass Iceberg Lake and Hayes Lake on either side. These lakes both have mesmerizing cliffs soaring high above the calm waters.
Walk a bit further and you'll reach Galena Lake, where there's an outside toilet (the prettiest place to pee if you ask us!). Any of these lakes are the ideal place to stop, relax and enjoy lunch!
Your next landmark is Mazama Lake. Once you pass it, you'll need to climb uphill a little bit. It's short, and once you've reached the top, you can enjoy sweeping landscape views of the glorious Mount Baker.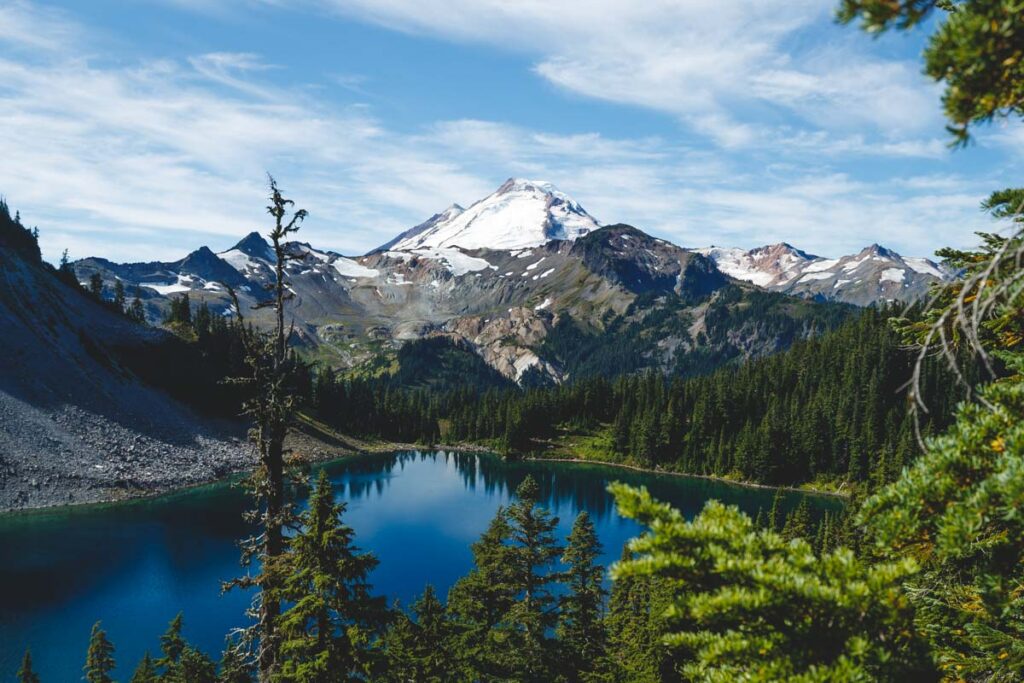 You can either follow the Chain Lakes Loop or take the Wild Goose Trail on the way back. To make it a bit shorter, you can take some stairs going down, from which you can connect to several parking lots.
You might prefer to park at any one of these to make the trail a bit shorter. For example, you could park at Bagley Lakes and cut across when hiking.
---
RELATED: 17 of The Most Scenic Lakes in Washington
---
Bagley Lakes Loop
However, you could consider the Bagley Lakes Loop if you want an extension!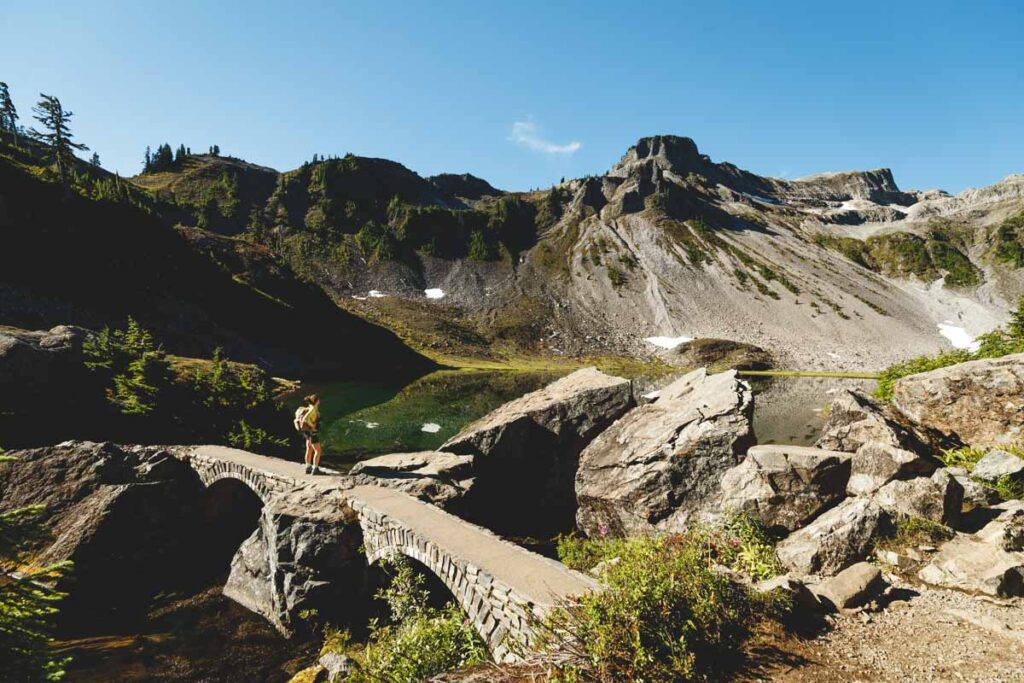 The Bagley Lakes Loop is just over two miles and offshoots from the main Chain Lakes Loop. Beginning from Bagley Lakes, you'll walk up Bagley Creek for around a mile before crossing over and walking down the other side.
It's a scenic and peaceful trail and is perfect if the seven miles of Chain Lakes Loop isn't quite enough for you.
---
RELATED: 15 Stunning Hikes in North Cascades National Park, Washington
---
When to Hike the Chain Lakes Loop
This might not be a trail for the height of the summer, as there is very little shade the entire way round. So if you are hiking in the summertime, use plenty of sunscreen.
In the winter it can be icy around this area, especially on the Bagley Lakes Loop. If you're visiting around this time, make sure you have anti-slip footwear and hiking poles. Spikes or snowshoes may even be necessary, depending on particular conditions.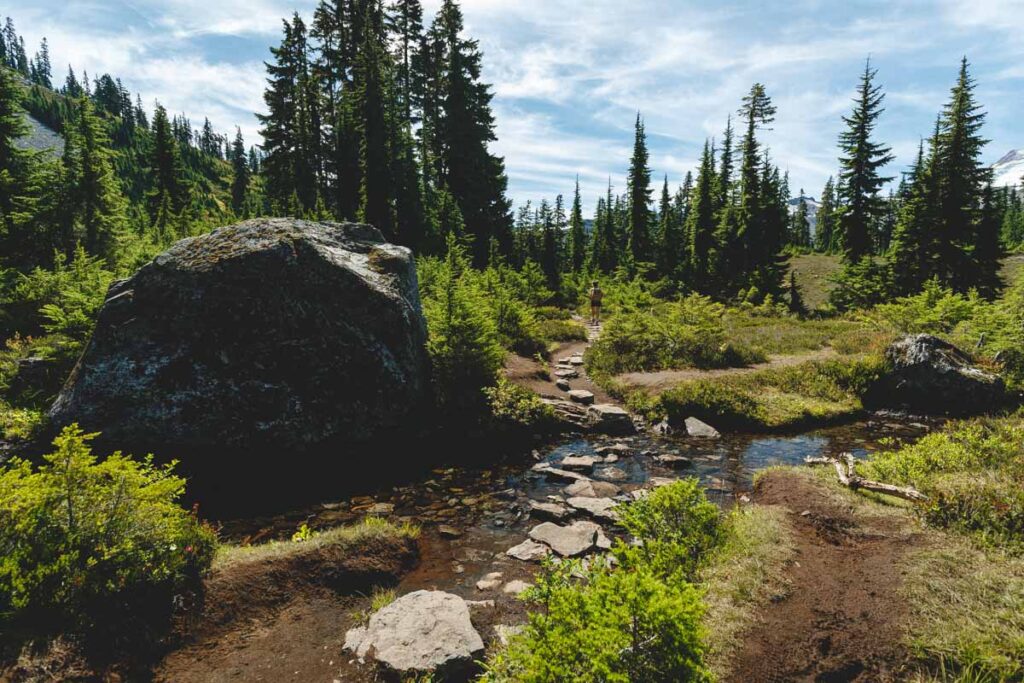 If the weather is especially cold, ask a local about safety before heading out. Sometimes, the road on the way in can be closed due to heavy snow.
The weather can be quite unpredictable in the fall and even springtime too, with showers, blustery weather, and even unexpected snow – this is northern Washington, after all! However, the trail has beautiful fall colors and the cooler temperatures in this season as well as in late spring, mean that these are the favored hiking times.
Make sure that you assess the weather properly before beginning your hike, including the likelihood of it changing.
---
RELATED: 25 EPIC Hikes in Washington to Tackle
---
Is There Swimming on the Chain Lakes Loop Trail?
Yes, you can swim in many of the Chain Lakes Loop Trail's alpine lakes! These lakes are a gorgeous sight, fringed by dramatic mountains and evergreen trees, and in the hot summer months, you can break up your hike with a quick dip.
If you're planning on going swimming, use water shoes. The bed is quite rocky and can be uncomfortable underfoot!
If you're a fan of lakes and mountains, Chain Lakes Loop is made for you. It's beautiful across the seasons, with tranquil winter beauty, fall foliage, and swimming in the spring and summer.
So if you live in or are visiting the North Washington region, make sure that this hiking trail is near the top of your list – and we guarantee you'll be coming back time and time again!
If you're heading down to the lower part of Cascades National Park, just outside the park is another favorite hike of ours, the Maple Loop Pass. If you loved this loop, you'll love that one too!
We hope this post help you plan your hike on the Chain Lakes Loop Trail! Don't forget to check out other great hikes in Washington.
More Around North Cascades National Park
I'm an Oregon native but neighborly and equally as enchanted by Washington. I tackle expeditions around the world and love a good beer at the end of the day. PNW obsessed, VW nerd, and surf or snow riding fanatic.