While Washington isn't the first American state that comes to mind when you think of beaches, the northwestern region is blessed with gorgeous sands and rocky coves.
Whether you're looking for a quick beach break close to Seattle or want to know the best coastal town for a longer vacation, this list of the beaches in Washington should help you discover some hidden gems and popular shores throughout the state.
So grab your sunblock and a towel (and maybe a sweater, too), and head to one of these phenomenal Washington Beach destinations!
Best Beaches in Washington
---
Best Beaches Near Seattle, Washington
If you live in or are visiting a big city, you don't need to go far to find some incredible beaches. There are plenty of beaches in Seattle to enjoy! Here's our pick of the best.
1. Alki Beach (Best City Beach in Washington!)
Alki Beach is potentially the most popular beach in Seattle, sitting around five miles from downtown. On a sunny day, you'll find plenty of locals here getting a breath of fresh air and enjoying a slice of nature not far from the city! In fact, this beach offers some of the best views of Seattle, including the Space Needle.
But it's not just its convenient location that makes the beach so popular. Enjoy vistas of the Olympic Mountains, go for a dip in the gorgeous waters, or walk to Duwamish Head along a paved trail.
When the sun goes down, keep toasty with a bonfire – they are permitted at certain times of the year (outside of fire season!) on Alki Beach.
2. Rosario Beach
Perched on Fidalgo Island and part of the ever-popular Deception Pass State Park, Rosario Beach is split into two, divided by a peninsula.
It's a scenic beach with lots of delightful coastal features, including tide pools and the chance to spot marine life like orcas, gray whales, and porpoises.
As well as its natural beauty, it's a historically significant place. Look out for the story pole carving, which tells the tale of the Samish group, who were the first people around the beach area.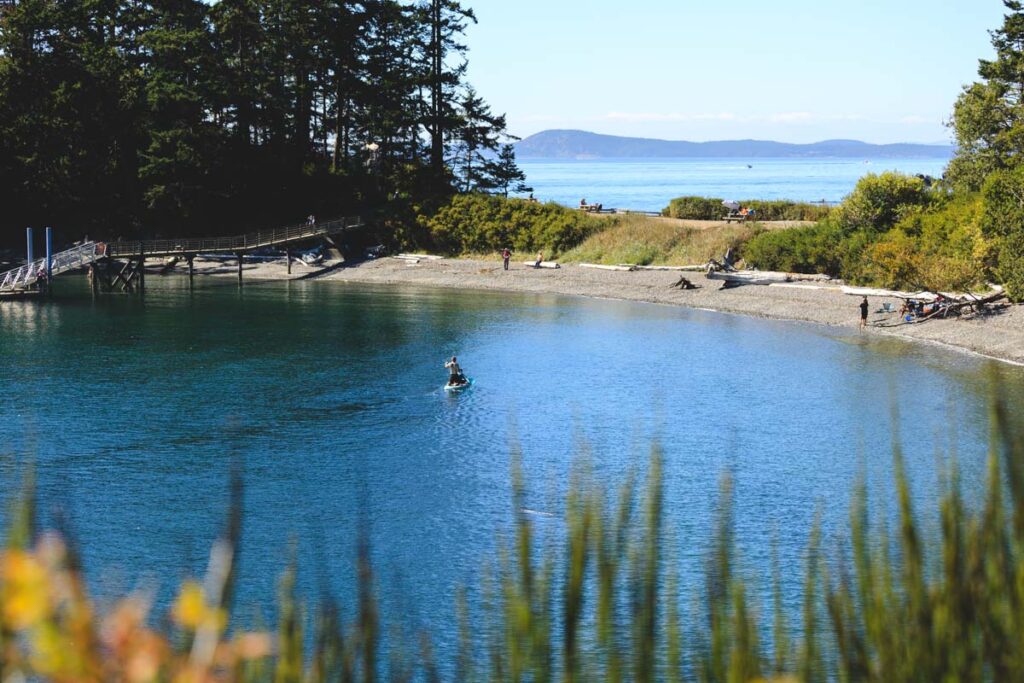 There's also a historic kitchen shelter constructed by the Civilian Conservation Corps, who were active in the area in the first half of the 20th century.
You can walk around Rosario Head, just take the trail from the parking lot. The trail continues to Lighthouse and Lottie Point as well where you can great views of the beautiful Deception Pass Bridge!
---
RELATED: Wandering Deception Pass State Park—The State's Most Famous Park!
---
3. Golden Gardens
Seattle's Golden Gardens Park is a vast beach area in Seattle and is one of the most popular city parks.
Whether you want to try out swimming, hiking, playing volleyball, or if you're going to kick back, relax, and enjoy dining at some of the picnic tables, Golden Gardens is perfect.
If you're here on a clear day, look out for the gorgeous Olympic Mountains in the background.
Or, visit as the sun goes down for an incredible spectacle of yellows, oranges, and reds, and stick around for a campfire after it gets dark – campfires are permitted here unless otherwise posted.
---
RELATED: The 19 Best Parks in Seattle For Adventure
---
4. Sunset Beach and Tibbits Beach (Lake Beaches in Washington!)
You don't need to go to the coast to enjoy some of the best beaches in Washington! Located in Lake Sammamish State Park, Sunset Beach and Tibbits Beach are two beautiful lakefront areas of sand.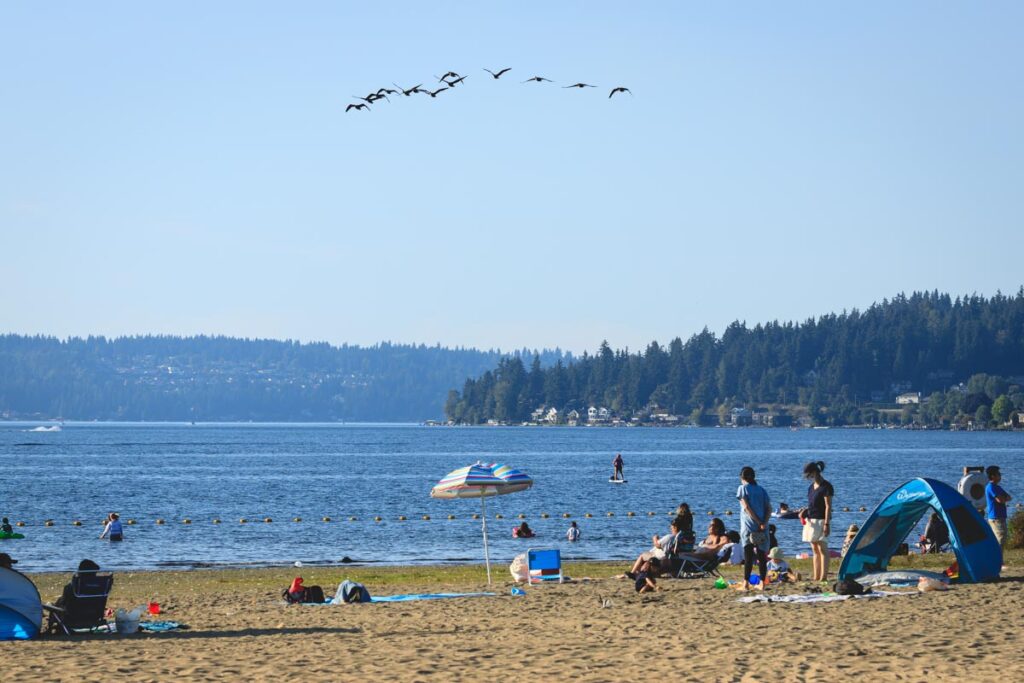 Sunset Beach is a sandy and pebbly beach, so you can enjoy whichever terrain you want here! There's also a playground, picnic tables, and other facilities like toilets and a concession stand.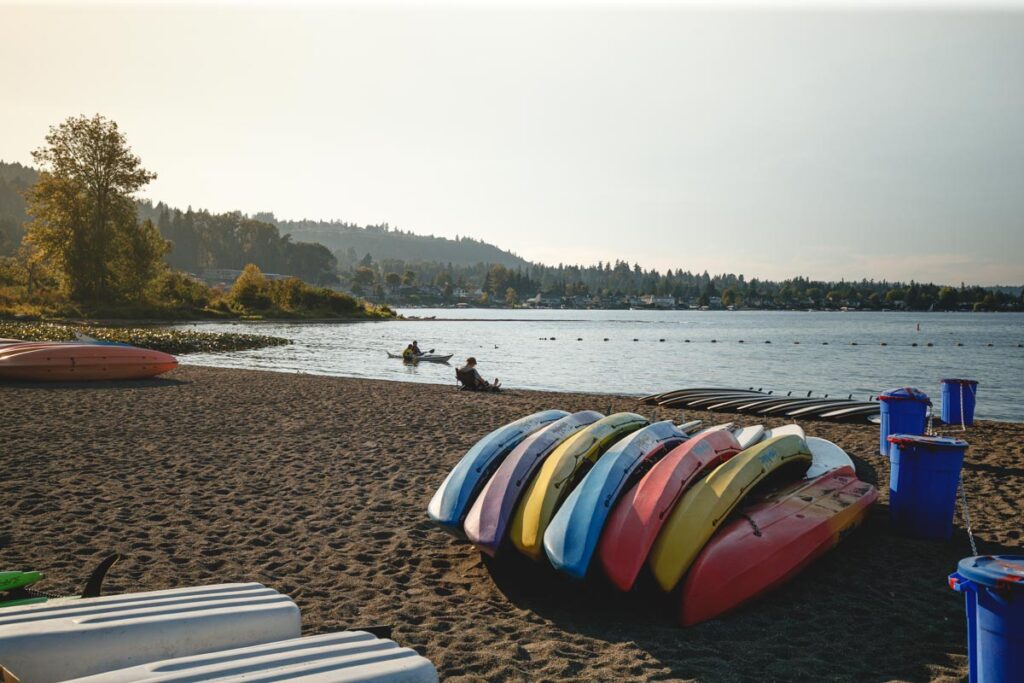 Once you've explored Sunset Beach, it's worth walking or biking over to the smaller Tibbetts Beach. This has many watersports opportunities, so it's great if you want to kayak or go paddle boarding.
---
RELATED: Exploring Lake Sammamish Just Outside of Seattle!
---
Olympic National Park Beaches in Washington
There are also many beaches in Olympic National Park, which are fantastic for enjoying nature! Here are the best beaches within the park:
5. Ruby Beach
The most popular beach in Olympic National Park, Ruby Beach, is named after red-colored crystals in the sand, which give the entire beach a rosy hue. Ruby Beach is a typical Washington beach, with epic views over the ocean toward dramatic sea stacks and plenty of tidepools.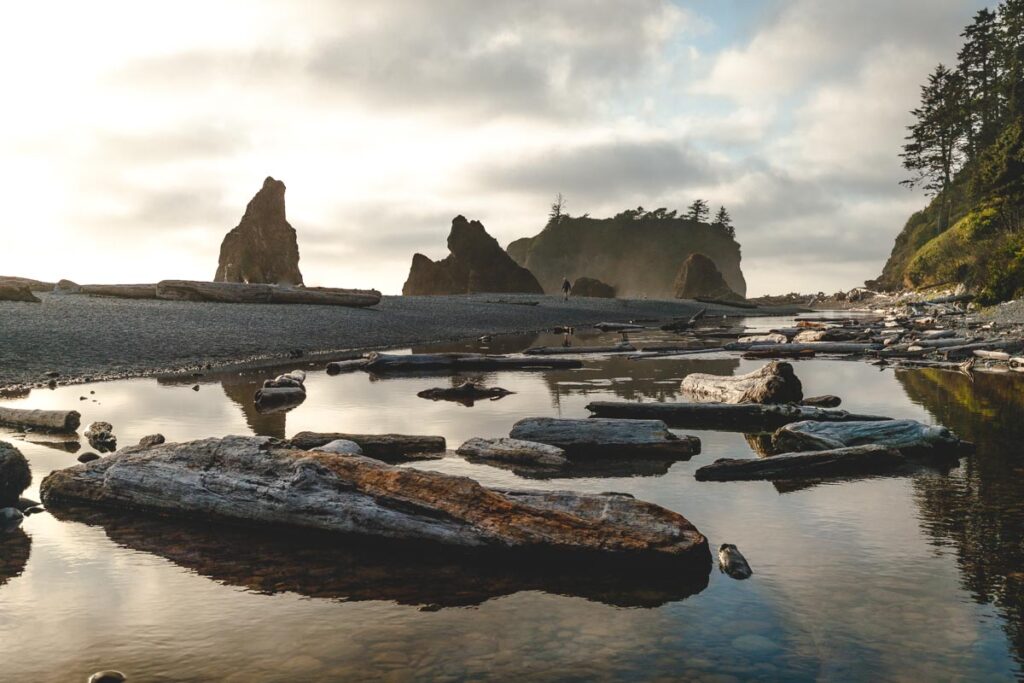 You'll feel worlds away from any civilization as you enjoy the sights of Ruby Beach, but it's easy to reach from Highway 101. It's one of the only beaches that you can get to without hiking any distance.
However, do bear in mind that the beauty of Ruby Beach, the ease of getting there, and the fact that it's one of the only non-tidal beaches in the park mean it can be busy here!
---
RELATED: 9 Incredible Olympic National Park Beaches to Explore
---
6. Rialto Beach (One of the Most Famous Beaches in Washington!)
With dramatic sea stacks ascending high into the sky and tidepools brimming with life and options to see marine life, Rialto Beach is one of the most popular sands in Olympic National Park.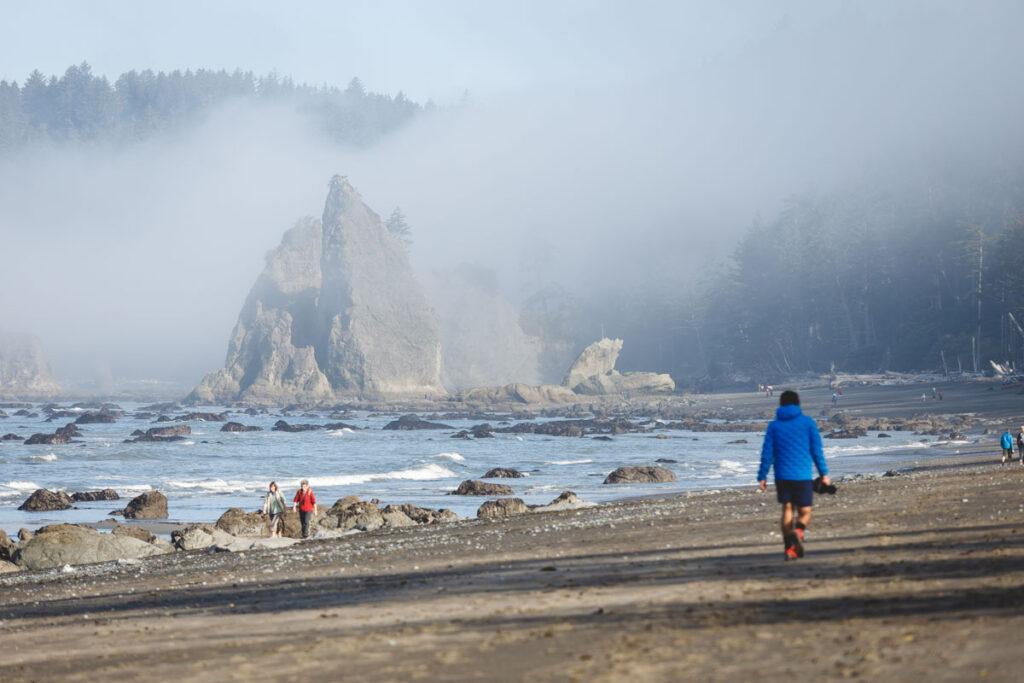 Look out for otters, seals, and more while standing on the shore! While Rialto is not a sunbathing beach, it's great for adventure – some professional surfers even catch the waves here!
Rialto Beach is also home to the beginning of the wonderful Hole in the Wall hike. This moderately challenging 3.3-mile hike traverses the coastline and leads to an arch—hence the name 'hole in the wall'!
---
READ MORE: Hiking Rialto Beach to Hole in the Wall in Olympic National Park
---
7. La Push Beaches
The La Push Beaches take up a long stretch of sand that extends along the National Park. La Push beaches span three segments but the beaches aren't created equal—beach number two is the longest and the best!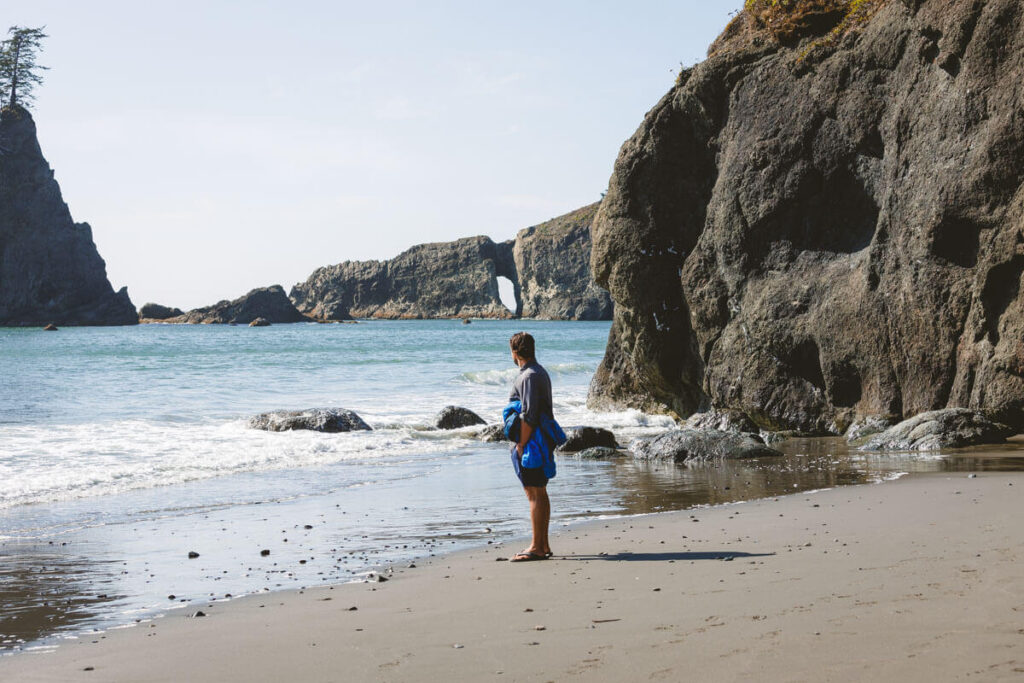 La Push Beach Number Two is a vast two miles in length. It's the perfect spot to stretch your legs, and from the shore, there's a fantastic vantage point of rocky outcrops sitting in the rough ocean. There's also a campsite at this beach, although you'll need a permit.
It's worth staying here to watch the incredible sunset alone!
La Push Beach Number One, also just called La Push Beach, is easy to access due to its proximity to the parking lot. Despite how easy it is to get to, it's not majorly busy. However, if you want solitude, head to La Push Number Three; you'll need to hike nearly two miles to reach it, which means far fewer visitors!
---
READ MORE: Your Guide to La Push Beaches in Olympic National Park
---
8. Kalaloch Beach
The Kalaloch area has numerous beaches, exceptional flora, fauna, and dramatic crashing waves against the shore. You could spend all day traversing these beaches, clambering over driftwood, admiring the sand and pebbles, and taking in nature.
But one Kalaloch Beach, in particular, has the Tree of Life. Like all Kalaloch Beaches, this has beautiful sands and is home to gorgeous sunsets, but it's the tree that draws the visitors. This tree sits as if floating in mid-air, extended over the sand. It's an excellent photography destination!
This beach has been appropriately named (or is known as?) the Kalaloch Tree of Life and is located between Kalaloch Beach #2 and #3.
9. Shi Shi Beach
Shi Shi Beach is a delightful place to enjoy trail hiking and gaze at the colorful flora, and spot multiple types of animals.
Explore the stretch of sand as you hike through the rainforest, and you can even camp out on the beach. The trail also links with many other trails, including the Hole in the Wall hike or the Ozette Loop Trail.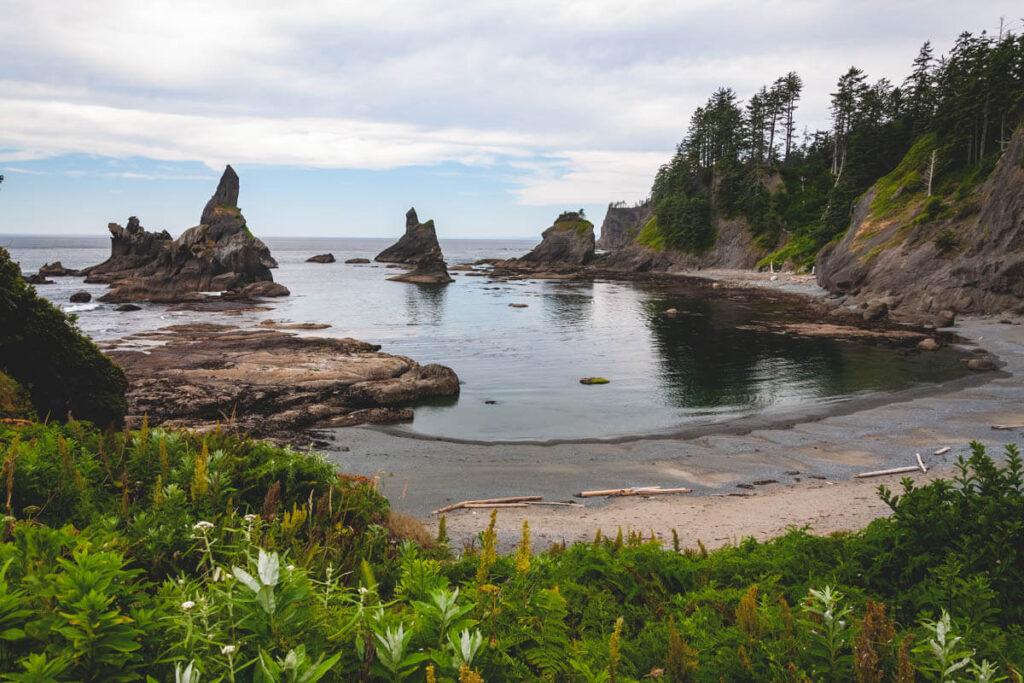 If you don't want to hike, you can enjoy the beautiful sands, perfect for sunbathing (kinda). Just one warning—Shi Shi is a tidal beach, so be aware of tide times before setting out. You must also hike 2 miles just to get to the beach!
10. Lake Crescent (Our Fav Lake Beach in Washington!)
Sitting in Olympic National Park, Lake Crescent is a staggeringly beautiful lake carved by a glacier. At 624 feet in-depth, this is a stunning deep blue, and from the beaches around Lake Crescent, you can admire vistas of mountains and alpine trees.
Fairholme Beach is one of the best, perfect for swimming in the summer months. While it's not a traditional beach, it's a glorious place to take in nature. Take one of the winding trails around the area!
If you're up for it, do the challenging Mount Storm King hike for epic views over the lake, then head to the beach to cool off and relax afterward.
---
READ MORE: Exploring Lake Crescent in Olympic National Park: Kayak, Hike, & Camp!
---
11. Lake Quinault
Lake Quinault is another popular alpine swimming spot within the national park. Situated in the wild Quinault Valley, you can enjoy temperate rainforests with trails weaving around the lake.
There are a few beaches at Lake Quinault, some of which you can also swim during the warmer months (or anytime if you're crazy enough)!
---
READ MORE: Exploring Lake Quinault—Hiking, Biking, Paddling, and Camping!
---
Coastal Beaches in Washington
The coastal beaches in Washington are an absolute treat. Enjoy the crashing waves of the Pacific Ocean, take in the vistas of the beautiful coastline, and look out for flora and fauna.
12. Ocean Shores
Ocean Shores is a popular city and peninsula home to expansive beaches with crashing blue waves against the sand. Hike on the dunes, explore the lakes, and look for migratory birds that grace the skies.
Ocean Shores Beach is incredible for strolling around and taking in the vistas, and it's also a popular location for horseback riding.
---
READ MORE: 7 Things To Do in Ocean Shores, Washington
---
13. Westport (One of the Best Beaches in Washington for Surfing!)
Westport is a lovely little town on the state's coastline. The sea is everything here, from the seafood on the menu of multiple restaurants to the scent of salt in the air. There are a whopping 18 miles of beaches and plenty of opportunities to admire wildlife, whether whales in the ocean or birdlife in the air.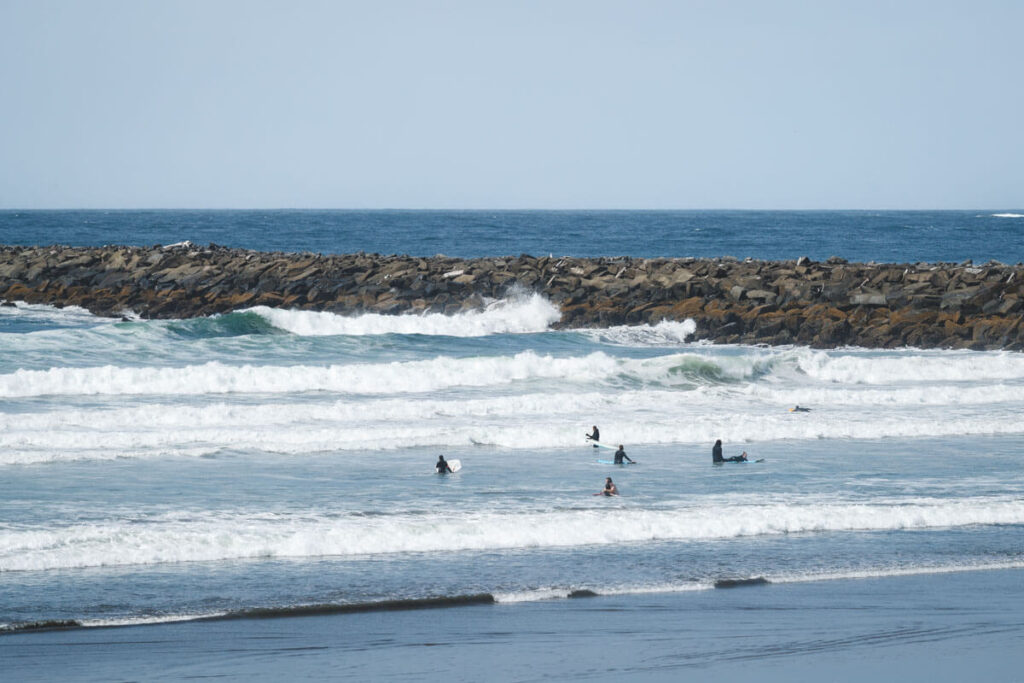 The sprawling Halfmoon Bay Beach is the perfect place to enjoy the sunset. Also, head to the jetty for surfing and fishing opportunities!
---
READ MORE: 9 Adventurous Things To Do in Westport, Washington
---
14. Waikiki
Located at Cape Disappointment, you'd think that Waikiki is named after Hawaii itself due to the fact that it's one of the best surfing beaches in the area.
The actual story behind the name is slightly more gruesome; it's named after the body of a Hawaiian sailor that was washed up on the shore in 1811 after an attempt to cross the Columbia River Bar.
Somber stories aside, Waikiki is a lovely cove. Nestled in between rocks topped with alpine trees, the beach feels like another world. Take a board out and try surfing, enjoy relaxing and picnicking, or look over the water for views at Cape Disappointment Lighthouse.
---
RELATED: 7 Things To Do in Cape Disappointment State Park
---
15. Long Beach
Long Beach is a city and peninsula in Washington state, with beaches extending along the crashing shoreline. It's known as the "world's longest beach" at 28 miles in length, although it isn't the longest beach in the world.
But it is the world's longest peninsula beach, so it's perfect for exploring, whether you're on foot or traveling by horseback. You can also sample lots of local seafood and try out some watersports here.
The city hosts lots of festivals, including the Kite Festival every August or the Sandstations, which is a sand carving festival often in July.
---
READ MORE: 9 Adventurous Things to Do in Long Beach, Washington
---
16. Seabrook
Seabrook is a tranquil coastal town and beach community sitting about a three-hour drive from Seattle. With independent restaurants and fun bars, this is a popular beach town for renting a beach house and enjoying the laidback atmosphere!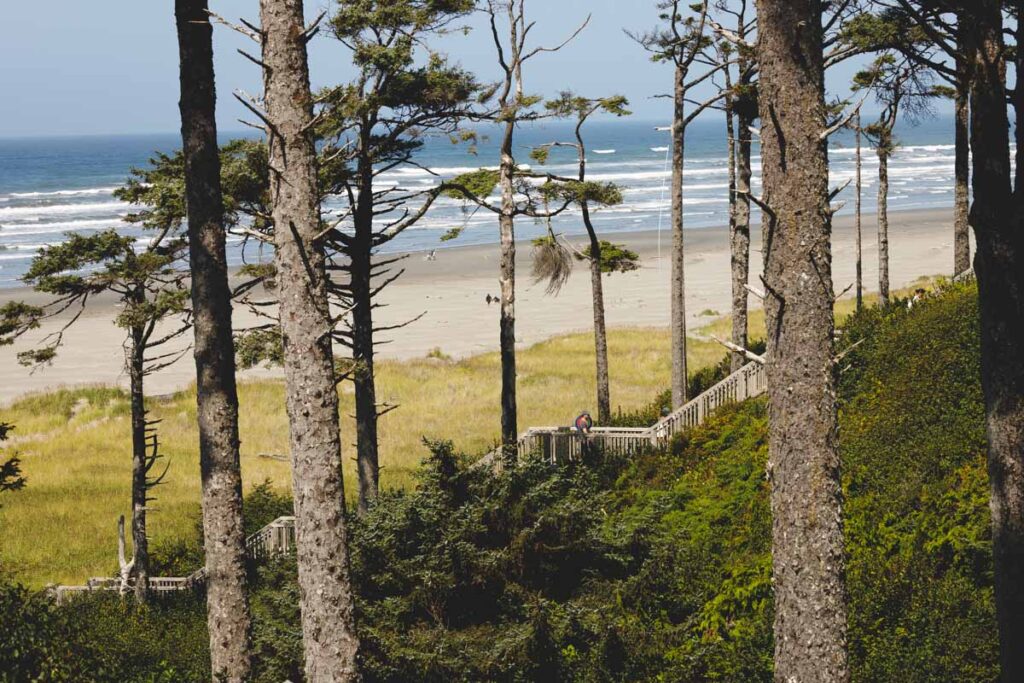 The main beach has incredible wide-spanning views across the sands and the Pacific Ocean. It's pretty sizeable and never that crowded, so you'll love spending time here. It's perfect for flying kites, swimming, and spending time with your friends or family!
17. Grayland Beach State Park
Extending over 518 acres, Grayland Beach is a marine camping park spanning the glorious ocean. Here, numerous short trails wind around the beach and glasslands, where you can take in some of the area's magnificent nature. It's ideal for birdwatching, with swallows, sparrows, and more gracing the skies.
Perfect for a vacation away from the hustle and bustle of city life, you can wake up to the crashing sounds of Pacific Ocean waves and admire the glorious uninterrupted golden sands.
Stay in a yurt along the Washington Coast if you want to try something different. Great for groups or families, these yurts feature bunk beds, futons, and heaters, with bathrooms nearby. Dogs are also permitted.
---
RELATED: 13 Excellent Yurts in Washington State
---
While Washington may not be the first place that comes to mind when you think of a beachy destination, there are so many coastal destinations to enjoy in the state!
Whether you want to find expansive shores with rocky outcrops or some of the Pacific Northwest's surf spots, you can guarantee that there will be a beach for you amongst Washington's 157 miles of glorious coastline!
More Around Washington Coast
I'm an Oregon native but neighborly and equally as enchanted by Washington. I tackle expeditions around the world and love a good beer at the end of the day. PNW obsessed, VW nerd, and surf or snow riding fanatic.