There are plenty of things to do at Lake Chelan for everyone!
Whether you're visiting this beautiful alpine lake to traverse the hiking trails, enjoy good food and even better wine, or just for a bit of relaxation in beautiful surroundings, we bet you'll love all of these incredible activities.
Situated in a remote area of Northern Washington, around a five-hour drive from Seattle and 100 miles from the Canadian border, this lake has long been a place of refuge and relaxation, known by many to be one of the best places in the state to get away from it all and have an actual vacation.
We don't blame you if you just want to relax at Lake Chelan. However, if you're looking for things to do, here's a full list!
Things To Do in Lake Chelan
---
1. Lake Chelan State Park
Possibly the most iconic thing to do in Lake Chelan is to visit the namesake state park. Loved by families, this camping park incorporates a sandy beach and lagoon, with hiking trails behind the lake.
You get just enough elevation to see beyond the trees and to the lake on the Little Bear trail, and as the name suggests, yes, you can see some wildlife here, although bears are (luckily) rare.
There are plenty of watersports opportunities, including water skiing, fishing, kayaking, and windsurfing on the bright blue lake. There is a kayak rental hut here if you don't have your own gear.
Of course, you can visit for the day or stay at the campground and explore more of the North Cascades.
---
RELATED: 15 Stunning Hikes in North Cascades National Park, Washington
---
2. Chelan Butte Trail
Distance: 7.4 miles
Type of Trail: Loop
Difficulty: Hard
Elevation Gain: 2,601.7 feet
If you're after a challenge while staying at Lake Chelan, check out the Chelan Butte Trail.
At around 7.3 miles, it's a formidable out-and-back route with a lot of uphill and downhill. You'll catch incredible views of the lake and natural surroundings as you summit to the top of Chelan Butte—be sure to pack a picnic to enjoy at the top as you look over one of the best views in Washington!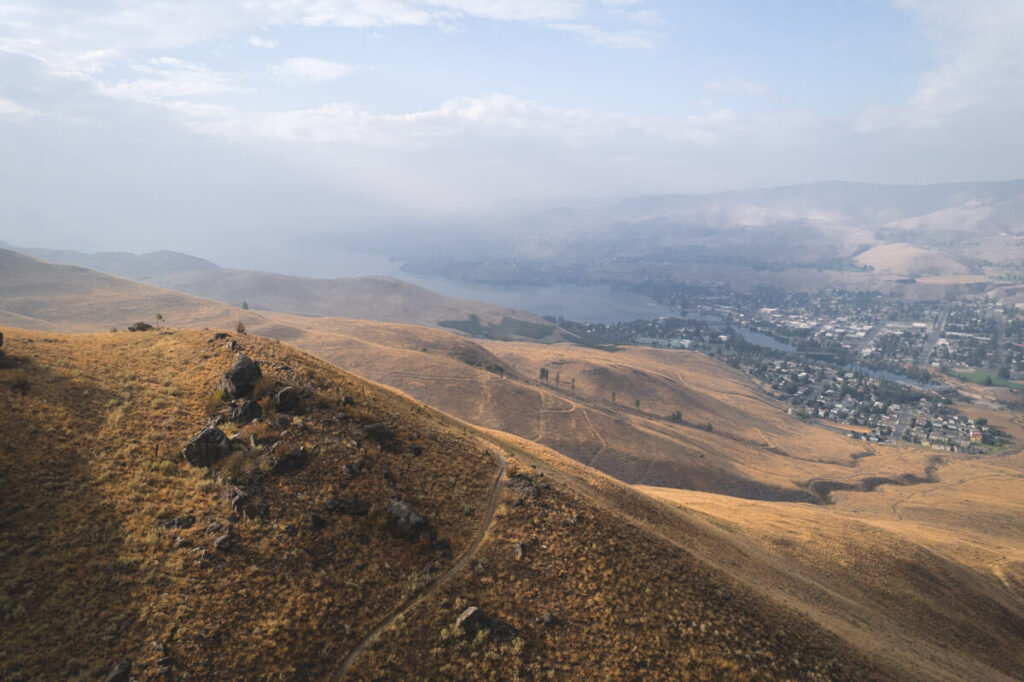 This trail is covered with snow in the winter months (and in late fall and early spring), so snow shoes are essential if you visit around that time.
3. Beebe Springs Natural Area Loop
Distance: 1.9 miles
Type of Trail: Loop
Difficulty: Easy
Elevation Gain: 42.7 feet
If you fancy an easier trail, check out this two-mile loop trail that runs alongside the Columbia River. The perfect trail with kids, you can look out for animals in the Beebe Springs Wildlife Area and check out views of the river as you stroll along.
There are wildflowers in the spring and summer, and don't miss the trout pond, which is home to some frogs.
4. Beebe Bridge Park
This 56-acre camping park is a fantastic place to stay on Lake Chelan, with 46 tent/ RV sites, an RV dump station, and full restroom facilities. The campground spots are available on a first-come-first-served basis.
If you're visiting for the day, there's a day-use area with swimming, tennis courts, picnic shelters, and a fun shoreline trail where you can take in some flora and fauna. Kayaking and boating on the lake is also a possibility, but you'll have to bring your own!
5. Wineries and Breweries in Lake Chelan
Lake Chelan is famous for its trails, but it's hard to find a better end to the day than relaxing with a locally-made drink in hand!
There are several wineries and breweries on the shore of Lake Chelan, including the Lake Chelan Winery, which has a tasting room open daily and offers tours and events throughout the year. In terms of breweries, Stormy Mountain is a public house that brews its own beer.
The ideal spot to chill out in after a day of exploring, here you can enjoy BBQ-style food, house beers, and an excellent atmosphere. There are several wineries and breweries right in town, so you can hop from one to the other!
6. Chelan Riverwalk Park
This 12-acre day-use park is a popular favorite among travelers thanks to its relaxed atmosphere and beautiful lakeside scenery. Take it all in with the one-mile loop trail crossing the Chelan River.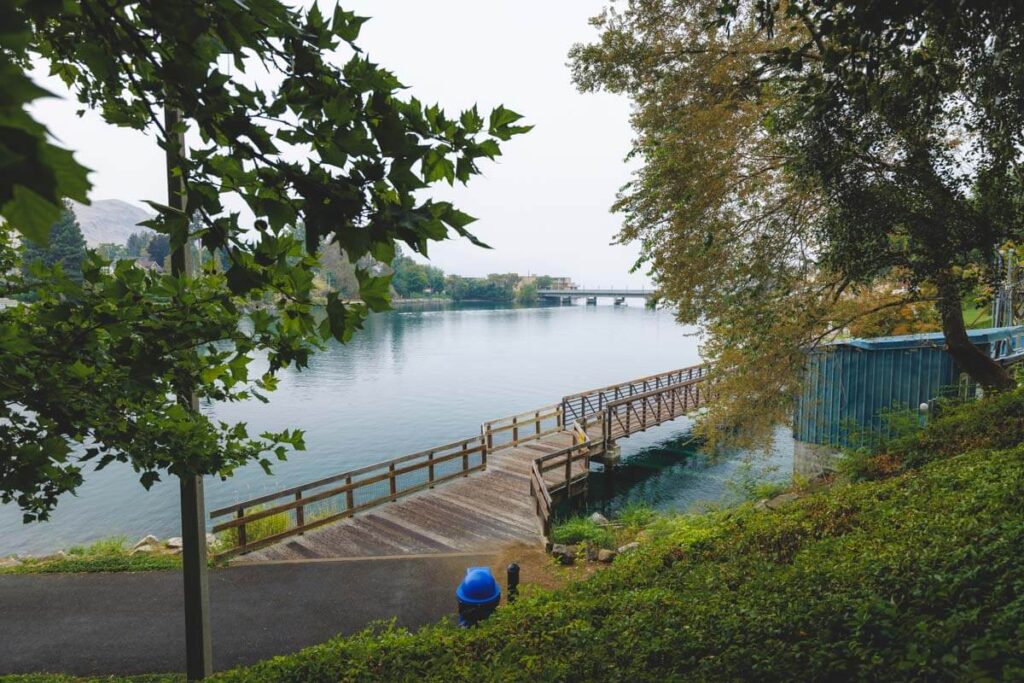 There are also fishing spots and picnic shelters. Visit and relax all day, or pop in after dinner or at an event in town. Here's a list of current events happening here!
7. Other Parks To Visit To Explore Lake Chelan
One of the best things to do in Lake Chelan is just to get out on the water! If you haven't guessed that yet… And there's really no bad place to do this.
You'll find many parks and put-ins around the lake, so if you have your own or are looking to rent, just choose a park and head out on the water! Here are a few of our favorites:
Don Morse Memorial Park – This is pretty much just a quick boat launch, but you'll also find a kayak rental place here as well. While it's nothing notable, we love it for its prime lake access location. You'll be out on the water in no time! (PS – Visiting Washington in winter? This is where some of Lake Chelan's Winterfest is held!)
Old Mill Park – A shaded picnic area with some restrooms and plenty of space to launch your boat or watercraft.
Manson Bay Park – A lovely little park with a swimming area and even a lifeguard on duty during the high season. You'll also find a watercraft rental place here for your convenience.
---
RELATED: Winter in Washington: 20 Adventurous and Outdoorsy Activities
---
8. Chelan Falls
If you've hung around this website at all, then you'd know if there's a waterfall, we want to see it! So naturally, when we stumbled upon Chelan Falls on the map, we went to check it out.
Well, this isn't one of the easy waterfalls to get to, which is why you might not find it on most lists of things to do in Lake Chelan.
But if you're curious like us, don't mind a bit of a bumpy ride, and want to get a beautiful view, take the adventurous ride to this spot on Google, and you'll find a rushing river with some falls and some pretty stunning cliff views too!
While they don't totally look like falls from this high up because they are relatively small, it's still a great view that's a bit of an adventure to get to.
There's a viewing platform in an area further down and much closer, but it wasn't open due to a landslide at the time of our visit.
---
RELATED: 19 Amazing Weekend Trips From Seattle (1-5 Hours Away!)
---
9. Twenty-Five Mile Creek State Park
Twenty-Five Mile Creek State Park is famous for its boat launching, and visiting is a must if you want to try any watersports activities at the lake. However, there's much more to enjoy here – swimming, camping at one of the 25 sites, fishing, or looking out for diverse bird life.
If you're in the mood for a real leg burning, try out hiking or biking the 18-mile Pot Peak Trail for a real challenge.
---
RELATED: 17 of The Most Scenic Lakes in Washington
---
More Things To Do in Lake Chelan That Are Nearby
Don't leave Lake Chelan yet! Even if you've experienced everything around you, you can still explore a bit just on the outskirts of town. Here are our favorite recommendations for just a bit further out…
10. Stehekin
There are no roads leading to Stehekin; the only way to get there is by foot, air, or boat. From Lake Chelan, the best way to get there is by boat; Lady of the Lake offers same-day return trips.
While it's a bit of a mission to get there, Stehekin is a well-worth-it thing to do in Lake Chelan. A remote community in the North Cascades, Stehekin is frozen in time, with unspoiled nature and a much more laidback pace than the "mainland."
Enjoy hiking trails, hire a bike, cycle around the vicinity, marvel at waterfalls, or go kayaking or horse riding. There are tons of adventures waiting for you in Stehekin, and getting there is the first one!
In case you're wondering how you'll get around once you make it there, no worries, there's a red shuttle for tourists that take you to all the places you'd want to go.
11. Daroga State Park
Spanning over 127 acres, Daroga State Park encompasses 1.5 miles of the Columbia River shoreline and is famous for its wonderful views. Whether you want to camp, enjoy watersports, or hike, there's plenty to see and do at Daroga.
Go wildlife spotting—deer, otters, and bobcats are just some of the animals you'll find in the area—or fish for perch, salmon, and trout. If you want to camp, 17 tent spaces and 28 utility spaces are offered on a first-come, first-served basis. There are also two boat ramps.
12. Alta Lake State Park
Situated between Lake Chelan and Winthrop, Alta Lake State Park is where two terrains collide, where pine forest and desert meet.
This state park is most well-known for being severely damaged in the Carlton Complex fire. Even today, you can see charcoal trees and damaged terrain. However, the park has come back to life, with trees and shrubs regrowing, and it is again becoming a popular camping spot.
Take a stroll around the canyon, where you can take in epic views over the lake, or head down to the lake for boating or fishing. Along with the traditional activities, visitors nowadays head to Alta Lake to see first-hand the power of nature and how it can regrow and rebuild after tragedy.
This is one of our favorite things to do near Lake Chelan, as the lake is simply stunning!
Where To Stay in Lake Chelan
Riverwalk Inn & Cafe
Located in downtown Chelan, this hotel offers comfortable and affordable accommodations with modern amenities.
The on-site cafe serves breakfast and lunch, and guests can enjoy easy access to local shops and restaurants.
Check Price:
Deep Water Inn
This boutique hotel is situated on the shores of Lake Chelan and features cozy rooms with rustic decor.
Guests can relax on the private beach, take a dip in the pool, or explore the nearby wineries and outdoor activities.
Lakeside Lodge & Suites
As the name suggests, this hotel offers stunning views of Lake Chelan and is located within walking distance of the beach.
The spacious rooms and suites are equipped with kitchenettes, and guests can enjoy amenities like an indoor pool, hot tub, and fitness center.
Check Price:
Lakeside Condo
This is a deluxe lakefront condo in the Lake Chelan Shores community that can accommodate up to four guests. It has one bedroom with two beds and one full bathroom. The home features community amenities such as a fitness center, shared pools, a hot tub, an outdoor fire pit, tennis courts, and more.
The condo is located near Washington wineries, as well as the town of Chelan.
Villa at Siren Song Vineyard Estate and Winery
This villa is located on a 7-acre vineyard on the south shore of Lake Chelan. The villa features a spacious living area, two bedrooms with queen-size beds, a fully furnished gourmet kitchen, and a dining area for six.
Guests can enjoy breathtaking views of Lake Chelan, surrounding mountains, and the vineyard from large picture windows, a lake view piazza, and a veranda with outdoor dining furniture.
Sandy Shores at Spader Bay
This is a one-bedroom vacation rental unit located at Spader Bay Resort in Lake Chelan. The condo features a spacious master bedroom, a sleeper sofa in the living room for additional sleeping accommodations, and a full bathroom with a tub and shower combo.
The resort offers a sandy beach, an expansive grassy lawn with shuffleboard, pickle ball, horseshoes, a lakeside pool, and a dock.
Check Price:
MORE ACCOMMODATION OPTIONS IN LAKE CHELAN:
Whether you fancy boating, local drinks, camping, or just spending endless days strolling by the river, there's something for everyone in beautiful Lake Chelan. Don't miss this area when you're exploring Washington!
I'm an Oregon native but neighborly and equally as enchanted by Washington. I tackle expeditions around the world and love a good beer at the end of the day. PNW obsessed, VW nerd, and surf or snow riding fanatic.