From the rough and rugged coast in the north down to the smooth surfable shores in the south—You'll find some epic places to go camping on the Washington Coast!
We've gathered some of the best spots to lay your head down at night, so you can fall asleep to the crashing ocean or be at the base of the best things to do along the Washington Coast.
We have perfectly located tent sites, secluded coves for your campervan, and some beautiful and rustic homes for family and friends to gather at. Here are some of the best places for camping on the Washington Coast!
Camping on the Washington Coast
---
All of the accommodation options in this post are ordered from north to south in their respective categories. We've also included a lot of information as to what adventures are nearby to help you decide if it's the right spot for your trip.
1. Mora Campground on The Washington Coast
With almost 100 sites, there is plenty of room for campers looking to explore the area. Mora Campground offers plenty of amenities, such as restrooms and a dump station, but also has animal-proof food storage, so you can rest assured your breakfast will still be there in the morning.
Why stay here?
You are located just a couple of miles from the famed sea stacks of Rialto Beach. If you time it right, you can catch the sunset of your dreams. Don't miss the Rialto Beach to Hole-in-the-Wall Hike!
Wake up to one of the most beautiful views in the area, as many sites offer vistas out over the Quillayute River.
La Push's First, Second, and Third Beaches are easy day trips from the campground. Whether you want to take a hike, relax on the sand, or admire the beautiful vistas, you can do it all.
---
RELATED: Hiking Rialto Beach to Hole in the Wall in Olympic National Park
---
2. Bogachiel State Park
Although the campsites here may not be located directly on the beach, they will still give you easy access to the best beach area, making them a desirable place to camp. The sites are located along the banks of the Bogachiel River, some standard and a few with power and water.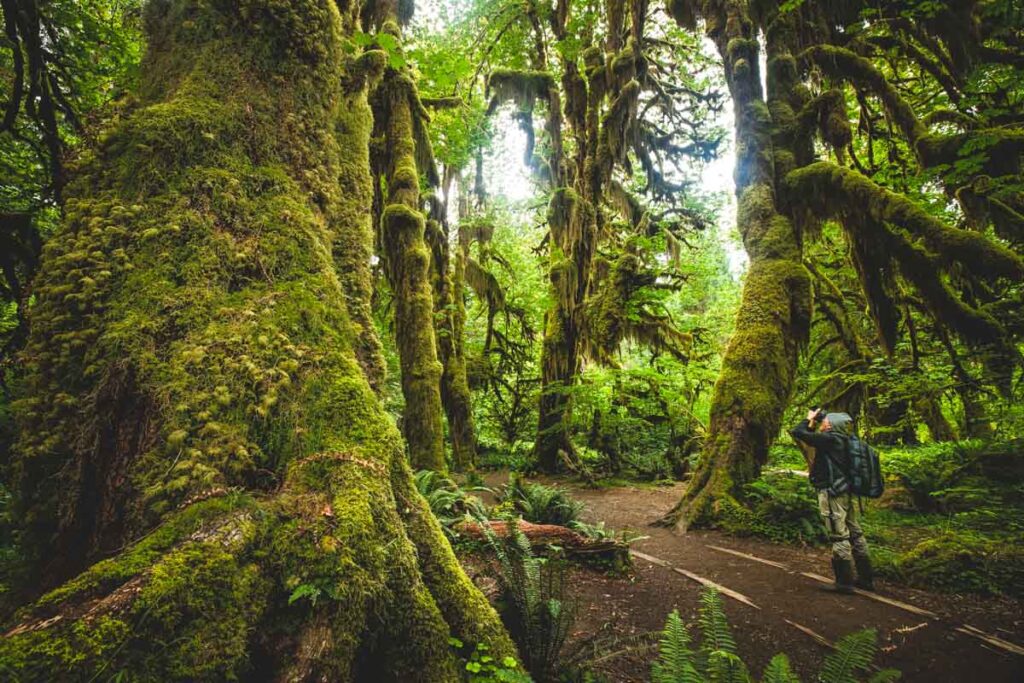 Each location also has the benefit of a table, fire ring, and grate, so you can cook your breakfast directly outside your camp or use the on-site kitchen shelter. There are also flush toilets and hot showers.
Why stay here?
The park lies on the northwestern tip of Washington State and is thick with vegetation thanks to the area's climate. It is the perfect place to stay if you plan to explore the Western Olympic Peninsula.
Two short trails are located directly within the park, so you won't have to travel far to discover the beauty of the area. The Bogachiel River Trail takes you into the National Forest, with the bubbling sound of the river often accompanying you along the way.
Other great trails nearby include the Hoh River Trail and the Rialto Beach Trail, one taking you through forested paths and the other leading you to one of the most beautiful beaches in the area.
The town of Forks is close by, perfect if you want a break from campfire meals or if you need to pick up some food or camping supplies.
---
READ MORE: Bogachiel State Park—The Best Located Park in Washington?!
---
3. Kalaloch Campground on The Washington Coast
Located on the southwest coast of the Olympic Peninsula, you will be close to all the action if you stay at Kalaloch Campground. The campsites here are very close to the beach; some of the sites even overlook the water, which is a magical experience to wake up to in the morning.
In the Quinault language, kalaloch translates as 'as a good place to land,' and you will see why when you step foot into the area. The lush coastal forest provides a wonderful place to camp for the night.
As a relatively large campground, there are many options for campers, including tent sites, RV sites, group camping, cabins and yurts, electric hookups, clean bathrooms, and firewood.
Why stay here?
There are multiple places to access the vast sandy beach directly from the campsite. You are literally steps away from the sand between your toes, and because it is such a large beach, you will have the luxury of not having to share it with the crowds.
The incredible Hoh Rain Forest is easily reachable from the camp. Take one of the many hikes through the thick trees, such as the Hall of Mosses, and experience the misty, moody forest for yourself.
The nearby Kalaloch Lodge offers delicious options for a bite to eat, and don't forget to check out some of their special events held throughout the year.
Right near the campground is the incredible Tree of Life. This natural wonder seems suspended in the air, with its roots dangling to nothing. It is a natural spectacle you have to see for yourself.
---
RELATED: 9 Incredible Olympic National Park Beaches to Explore
---
4. South Beach Campground (Kalaloch Area)
Located directly in the Olympic National Park and offering views over the Pacific Ocean, South Beach Campground takes some smart planning when it comes to places to stay.
There are 50 campsites, provided on a first-come, first-served basis, and can be used by tents, trailers, and RVs. Each site has a table, fire ring, and grill, with flush toilets a short distance away.
Shade and privacy may be a little hard to come by in this campground, but you can overlook that fact when you can wake up to incredible views every morning, right? Let the sounds of the ocean send you into a sleep filled with adventure-packed dreams.
Why stay here?
The beach and the crashing Pacific Ocean are just a short walk from the campground, which means you won't have to worry about packing up the car and struggling to find a place to park when you want to spend the day on the sand.
Be sure to pack those binoculars, as whale and bird watching are popular activities, and you have a good chance of spotting some of the incredible wildlife that calls the area home.
The panoramic ocean views that can be enjoyed directly from the campsite are the views you would travel miles to see; enjoy it!
---
RELATED: Things to Do in Olympic National Park: 35 Must-Do Activities!
---
5. Pacific Beach State Park Campground on The Washington Coast
With RV hookups, tent sites on the waterfront, and cozy yurts, Pacific Beach offers plenty of camping options and fantastic beach views. There is a dump station, fresh water, and restrooms.
The beautiful park is the perfect stop for beach lovers, with long, flat stretches of sand waiting to be walked on. As state parks go, it is pretty small, but that makes it all the more magical.
You should be able to explore the whole park in a day, but the surrounding landscape and view often encourage people to stay longer.
Why stay here?
The sandy beach of Pacific Beach State Park may be small, but it has been deemed one of Washington's best beaches for a reason. Think about your perfect day on a beach, be it picnicking, flying a kite, walking, or building a sandcastle, and Pacific Beach has you covered.
If you are more than 100ft from the vegetation, why not light up a fire on the beach, enjoy a hot coffee or a beer, toast smores and share travel stories as the perfect way to round off your day?
6. Ocean City State Park
Ocean City State Park is almost slap bang in the Washington Coast's center. The perfect place to set up camp for the night either as a final destination or as a stop on a longer adventure.
Boasting both standard and full utility sites, you can choose how you would like to spend the night, and the clean showers and bathroom facilities help to make your stay a little more comfortable.
Getting to the beach from the campsite is easy and involves a picturesque stroll through shore pine and overflowing dunes.
Why stay here?
In season, you could try your luck digging up razor clams from around the shore or take a gentle stroll down the sand if you don't fancy getting your hands dirty.
Get your civilization fix at the nearby town of Ocean Shores, a bubbling hub of shopping and dining, where you can stock up on groceries, have a meal out, or play a round of golf.
Birds are abundant here, so if you are an avid birder, you will be in your element, mainly thanks to the North Bay Natural Area Preserve behind the park. A vast range of migratory birds can be seen in the park's many water sources, so be extra quiet, as you never know what you might spot.
Slightly secluded, this natural state park offers some of the core elements you would want from a Washington Coast campground, including dense pine, raging waters, and rippling sand dunes. Sometimes there is nothing better than just sitting and taking it all in.
---
RELATED: 7 Things To Do in Ocean Shores, Washington
---
More Cool Camping on The Washington Coast
Here are some other fun options that are on Hipcamp. They tend to be a bit more secluded and have some "extras." If you haven't used them before, GET $10 IN CREDIT.
7. Rialto Beach Club
This camp provides space for camping pretty much as close to Rialto Beach as you can get. There are 13 acres of beautiful field and forested sites, private sites, group sites, car camping, and more.
There is even the option to have a tent set up for you before arriving if you prefer the easy camping life (no judgment!). Most sites come with a picnic table, fire pit, and grill toppers and are within easy reach of the clean porta potties.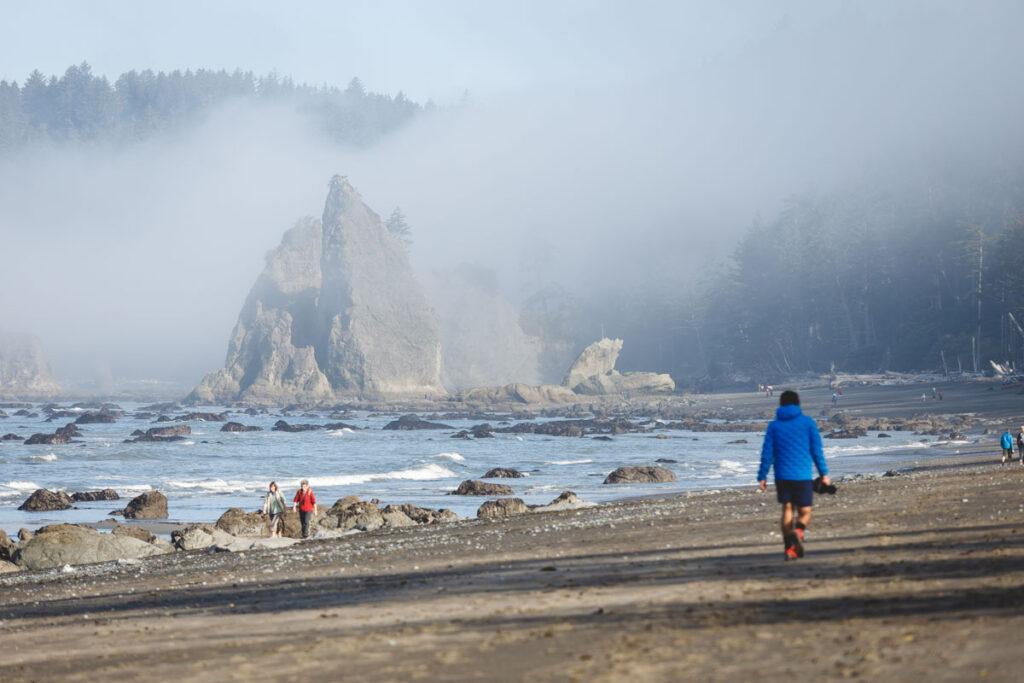 Why stay here?
This fantastic campsite comes with added extras, such as an outdoor shower and a sauna, so you can enjoy a mini spa experience after a day hiking in the Olympic National Park and ease those aching muscles.
You are SO close to the stunning Rialto Beach here. With such a beautiful beach within easy reach, you can spend your whole time enjoying the sand, sea, and sights.
The town of Forks is just a short drive away if you fancy going out for a meal one evening or stocking up on supplies.
Admire the sea stacks off of the shores of First Beach at nearby La Push, or head to the lush Hoh Rain Forest for the day. The option for day trips is endless.
CHECK PRICE | GET $10 CREDIT
---
READ MORE: Your Guide to La Push Beaches in Olympic National Park
---
8. Shangri La Push
With individual tent sites, a group site, 4 RV sites, and a rentable RV, there are plenty of options for all campers at Shangri La Push. Covering 5 acres, there is plenty of room for everyone to enjoy the expansive meadows of this campground, with picnic tables and fire rings at each site.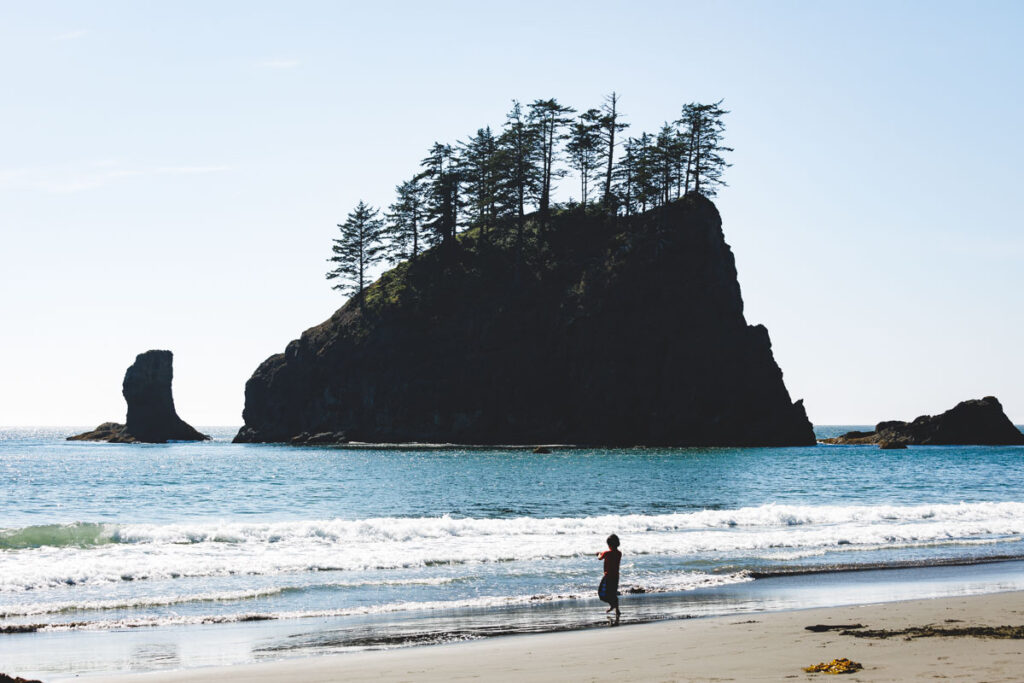 Why stay here?
Located 5 miles away from La Push, some fantastic beaches can be explored here.
Rialto Beach makes for the perfect day trip; alternatively, you could head to the stunning Second Beach, where you can try your hand on a board and take to the waves or cycle along the trails.
---
RELATED: 10 Awesome Washington Coast Towns You've Got to Visit!
---
9. Maple Creek Outfitter Campsites
Located along the bubbling Hoh River, you can easily escape city life at this rural campsite. The sites are nestled within growths of maple and thick ferns, with all campsites just a short walk down to the river.
There are campsites for motorhomes, RVs, travel trailers, and tents, so however you prefer to camp, Maple Creek has you covered. All of the sites are spread out, so you will have plenty of peace to soak out the unique atmosphere of this part of the world.
Why stay here?
The campsite offers forest to river walking tours, so you can learn more about the forest and surrounding area before you even leave the site.
The river on the property is an incredible place to kayak and tube, and sometimes there is no better way to spend the day than floating in pristine waters, forgetting your worries, and taking in the views.
The ocean is just a short 10-15 minute drive away, so it won't be long before you feel the sand between your toes and take in the Pacific's brisk breeze.
It is just a short drive to the entrance of the mystical Hoh Rainforest, where you can hike the trails, admire the mosses, and experience one of the greenest places on the planet.
10. Riverside at Salmon Run
Nestle down at Riverside Salmon Run and fall asleep to the sounds of the wind through the surrounding firs and maples and the bubbling Clearwater River. If you stay quiet, you may be able to say hello to your neighbors, the river otters, elk, and eagles.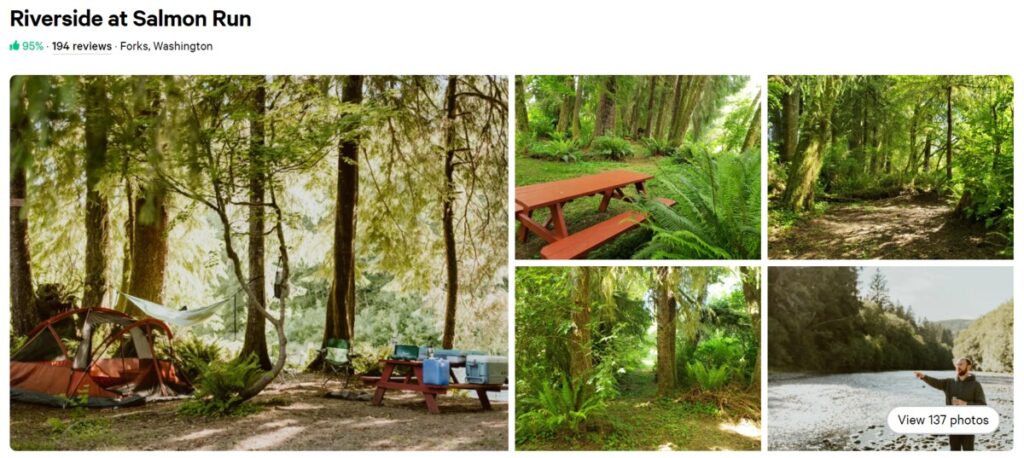 The Clearwater State Forest surrounds the sites, so you couldn't get more at one with nature if you tried. The campsites here are located side by side along the river.
Why stay here?
At the north end of the camp, you will find a pleasant trail that leads down to the river. Follow the rushing water downstream and see several interesting rock formations.
You will find the expansive Lake Quinault just a short drive away, surrounded by trails, such as the Quinault Rain Forest Trail, day-use areas, and even supposedly the world's largest Sitka spruce.
The Hoh Rain Forest is around 30 minutes from the campsites, which will take you to the truly unique landscape of the forest. You won't believe you are just a short drive from the ocean when you delve inside this green canopy.
Several beaches can be found nearby, such as the picturesque Kalaloch Beach, one of the most visited areas of the Olympic National Park. Head to the waters to birdwatch, keeping a keen eye out for bald eagles, or see what you can spot in the many tide pools.
11. Pacific Dunes Resort
Whether you want seclusion or a bit of company, Pacific Dunes Resort offers the best of both worlds, with secluded coastal sites brought together by the communal spaces. These sites are perfectly positioned on the central Washington coast.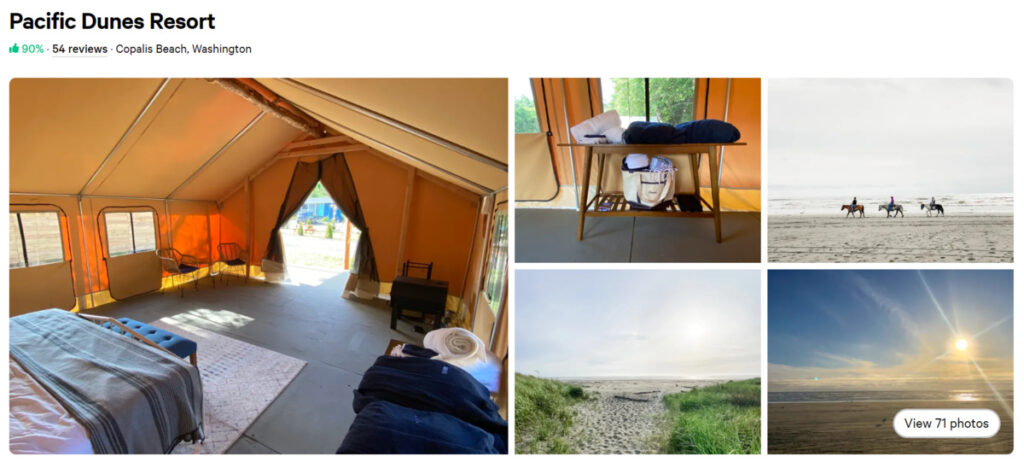 Sites include RV and tent sites, with full hookups and free wifi. Each comes with a picnic table and fire pit. Four family glamping sites are made up of beautiful canvas tents, complete with a king bed with premium linens, tables and chairs, wood burning stove, and a sofa bed.
Other options include couples glamping tents, three beach bungalows with thoughtful, contemporary touches, and tiny beach houses with enough room for the entire family. Some sites even have full kitchens so you can make your own meals.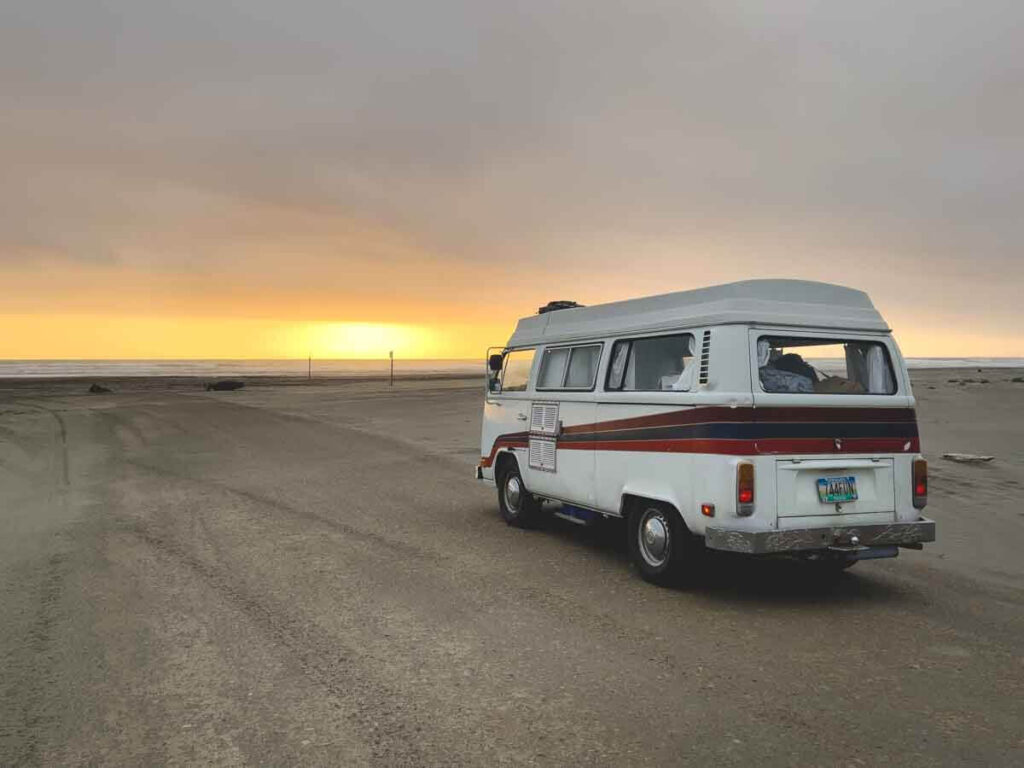 Why stay here?
Every site offers the perfect base for Olympic Peninsula exploration.
There is an adjacent beach with easy access from the sites, so you can enjoy a hassle-free day on the sand with family and friends before returning to your comfortable accommodation. In just 2 minutes, you will be walking on miles of unspoiled and almost empty beaches. Bliss!
A short drive will bring you to Ocean Shores and Ocean City State Park, a haven for birdwatchers.
12. Long Beach Peninsula
This Hipcamp offers a quiet place to pitch up for the night close to the beach and town. So quiet that you can hear the ocean from your camping field. There are no hookups and not many amenities, it is pretty much a glorified field, but if it is the location you are after, then these sites are for you.
Fire rings are at each site for a night around the campfire or to cook up a good camper's breakfast in the morning. The sites are pretty big, with plenty of room to throw a frisbee about, and you will only be sharing the field with three other campers.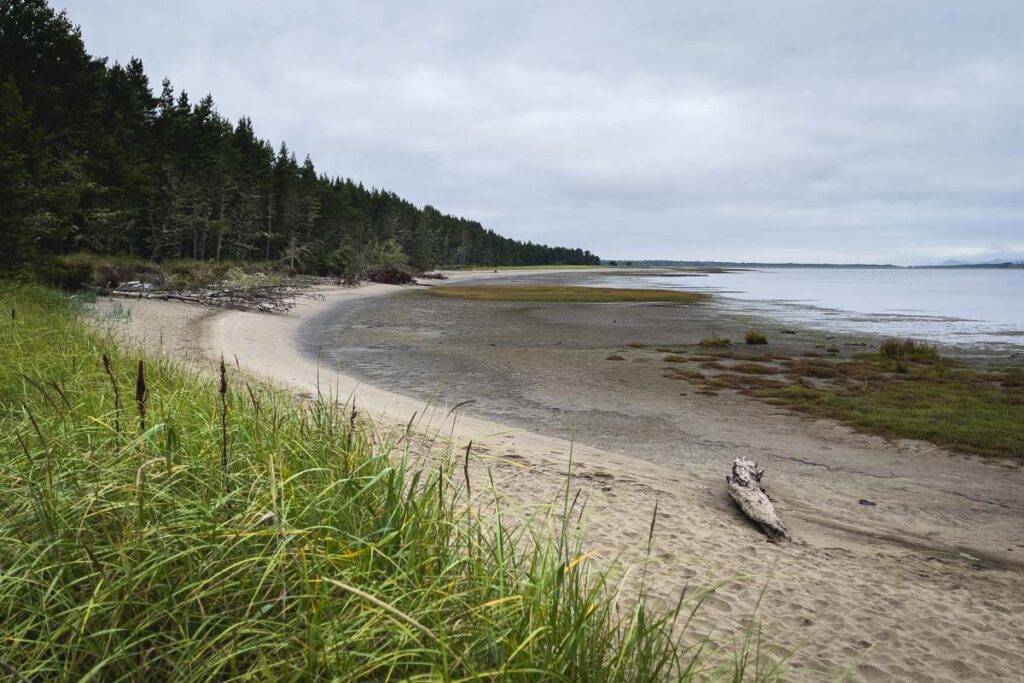 Why stay here?
You are incredibly close to the ocean on the Peninsula, with beaching and hiking opportunities a short walk away.
Leadbetter Point State Park is just a quick drive away, offering a day full of birdwatching, kayaking, paddle boarding, and canoeing in Willapa Bay. As one of the quieter parks, you may have almost the whole day use area to yourself.
Start a hike at Leadbetter Point Trailhead and hike across salt marshes, through forests, ever the dunes, and across broad, flat beaches.
Enjoy Pacific Pines State Park on the western side of Long Beach Peninsula, a small park ideal for watching the sunset on a clear day and having a picnic with the family.
Long Beach Peninsula is famous for its cranberry bogs, harvested in October. Take a self-guided bog tour and learn more about growing this unique berry.
---
RELATED: 9 Adventurous Things to Do in Long Beach, Washington
---
Not Sure About Camping on The Washington Coast?
If you're second-guessing camping on the Washington Coast, or perhaps you have a family or a bunch of friends—you might want to consider one of these cute and rustic homes! All of them are ideally located right in the heart of adventure.
13. Small Home on the Deck
There is something quite special about this tiny home. From the outside, you may wonder how a double bed, a couch, desk, bathroom, and small cooking area could fit in such a small building.
However, the tastefully decorated interior will surprise you, with plenty of room for a comfortable stay on the coast. Located on a farm, you may find a couple of cats, dogs, and even a few cows coming to say hello!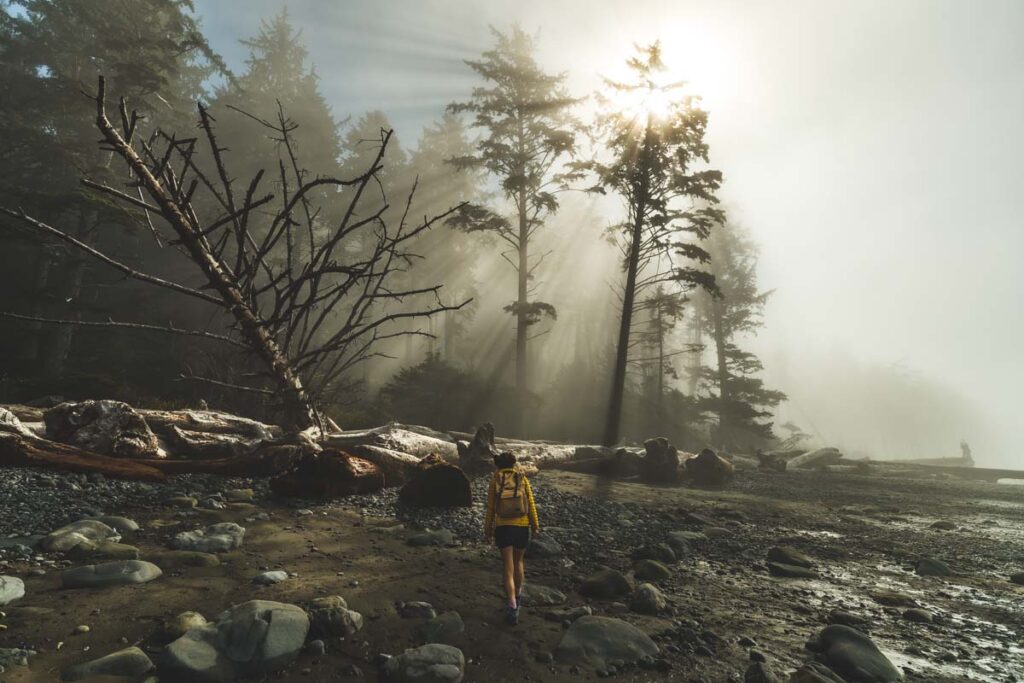 Why stay here?
Rialto Beach is just a few miles away, one of Washington's most incredible, moodiest beaches, with some dramatic rock formations.
The town of Forks is a great place to explore and will provide you with plenty of options for places to eat, shop and stock up on provisions.
Hiking to the nearby beaches is a must when staying at this property. First Beach and Second Beach at La Push are easily reachable, and you can look forward to an evening cozied up by the fire at the end of the day.
The Hoh Rainforest makes for an easy day trip from the cabin; stepping into this wet and wild place is like entering another world.
14. Peaceful Retreat
Get everything you need and more for a restful, rural retreat at this beautiful cabin. Set on 10 acres of ground, with three bedrooms and 2.5 bathrooms, there is plenty of room for the whole family.
There is a fully equipped kitchen, so you can save money for making your own meals, a neat little office space to work in when you are not adventuring, and a fire pit in the garden where memories can be made with friends and family.
Why stay here?
The house itself is a beautiful property, and if there wasn't so much to explore in the surrounding area, you could easily spend your days enjoying the forested grounds.
La Push's beaches and Rialto Beach are all a short, easy drive away, meaning this wild part of the Pacific Coast is on your doorstep, and calling out to be hiked.
Reach the Strawberry Bay Falls trailhead easily, and witness one of the only waterfalls in Washington that drops directly down into the ocean. The hike itself is pretty nice too.
---
RELATED: 15 Best Hikes in Olympic National Park, Washington
---
15. Sunset Beach Cottage
This cute ocean cottage can sleep six people just 2 minutes away from the beach and offers beautiful ocean views.
One thing that sets this cottage apart from similar accommodations is that pets are welcome for a small extra fee, so your furry friend can enjoy the vacation with you. Seats are perfectly placed on the deck outside the property that looks out to sea, perfect for family meals or a coffee in the morning.
Why stay here?
Located right by Pacific Beach, hitting the shore is the most popular thing to do when staying at the cottage, and you will struggle to find somewhere much closer. Take a walk, hunt for sand dollars, fly a kite, and have a warm, cozy cottage to head back to for the evening.
The cottage also makes a good base for day trips when exploring the surrounding area, with Ocean City State Park just a short drive away.
16. Bungalow Beach House
What's better than a trip to a beach house with friends and family? This large vacation rental comfortably sleeps ten people in three bedrooms with two bathrooms. The house is completely stocked with everything you need for a comfortable stay, with evenings spent in the fenced yard around the fire pit.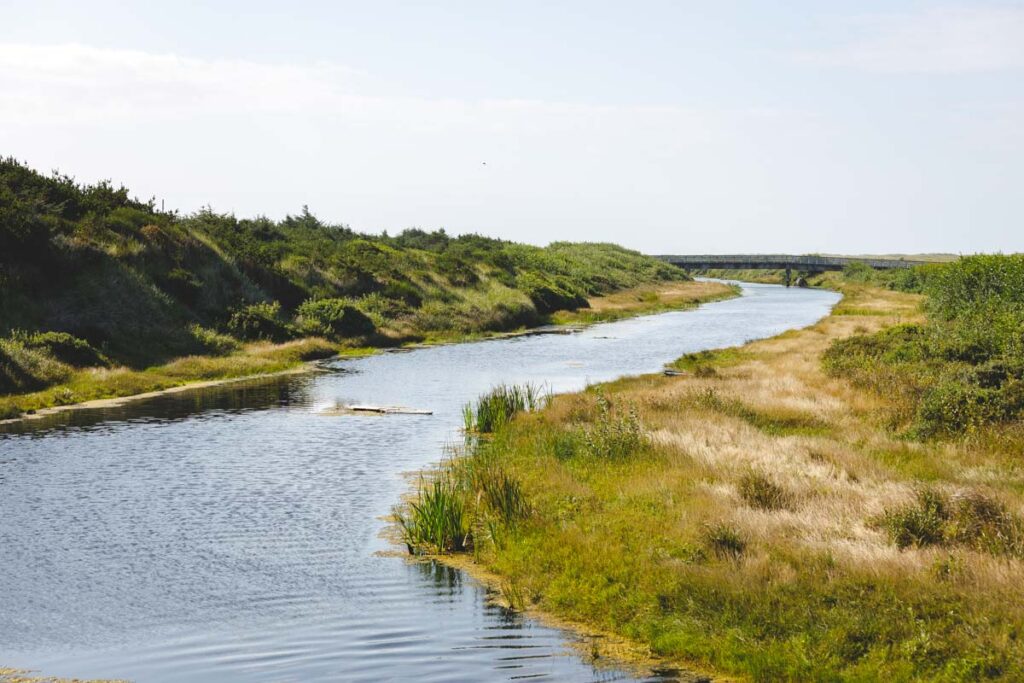 Why stay here?
Just a block away from the beach, you won't have to travel very far to get your fill of sun, sand, and sea, plus a warm shower and comfy beds are waiting for you on your return.
You will find the town of Seabrook around a mile away, easily walkable, or just a short drive away. You will find plenty of shops and restaurants to keep you entertained, plus activities like bowling in the newly remodeled Naval base.
Other nearby attractions include Pacific Beach State Park and Griffith-Priday Ocean State Park, around 5 miles away once you have explored all that Pacific Beach has to offer.
17. Surf Street Retreat
Live beach life to the fullest with a stay at Surf Street Retreat. This open and bright beach house is in a quiet area, so you can fully relax and enjoy your vacation, whether in the comfortable interior or sitting on the back deck with a coffee.
With just a few minutes of walking, you will be standing on the stunning beaches Westport is known for. Soft sofas and a brick fireplace dominate the living room, open plan dining and kitchen area attached, and beachy, cool decor runs throughout.
There is a grill on the backstreet for summer BBQs and office space for when you have to get to work… that's if you can drag yourself away from the beach. Sleeping five people, there is plenty of room for the whole family.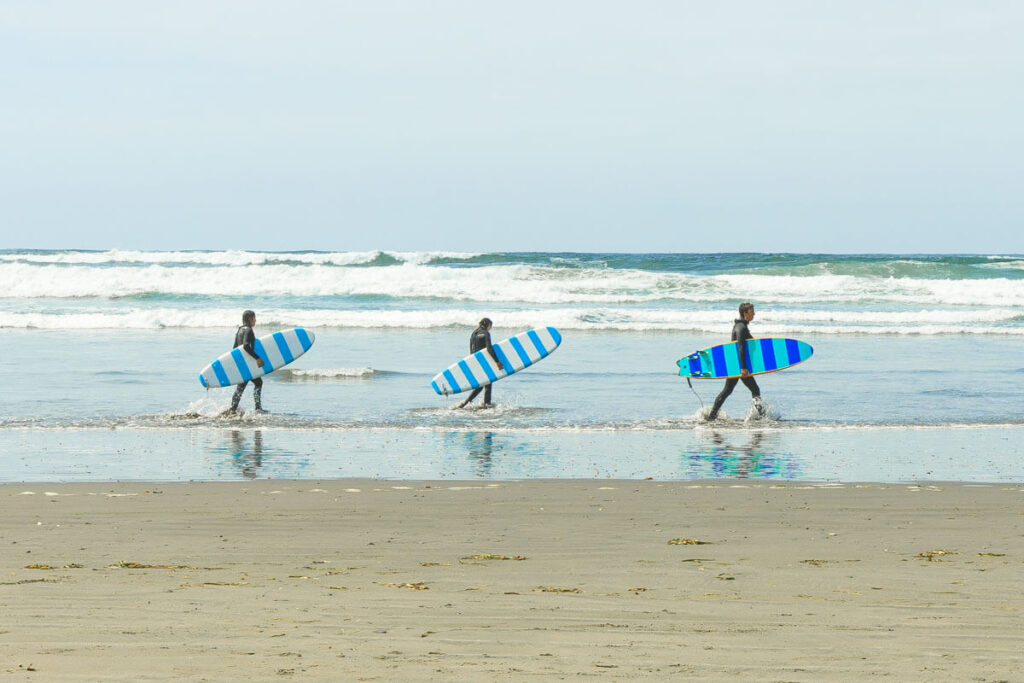 Why stay here?
You won't have to travel far to enjoy Westport's dazzling beaches. Whether you want to walk, hike, surf, relax or fly a kite, these beaches offer it all.
Take a tour of the impressive Grays Harbor Lighthouse, and take in the views of the ocean as you learn about the lighthouse's history and the surrounding area.
Head out on a boat tour and see the beaches and the Washington Coast from a completely different perspective.
Visit one of the local wineries and spend the afternoon sipping on some of the finest wines and enjoying your scenic surroundings.
18. Bay City Bungalow
As soon as you step foot on the extensive deck of this incredible bungalow, you will be blown away. The huge windows overlook the south bay, with large skylights that flood the front living room with light.
Three tastefully decorated bedrooms, two bathrooms, a full kitchen, and a large dining area for those family meals. There is also an extensive deck area if you fancy feeling the breeze on your skin during the summer months.
Why stay here?
The main Westport strip is just 10 minutes away, but the whole Westport area has a lot to offer. There are some incredible state parks, such as Westport Light State Park and Twin Harbors State Park.
The Grays Harbor Lighthouse is a must-visit, even if it is just for the impressive views out over the water. If the views from the shores are not enough to satisfy your seascape cravings, take a boat tour to see the beaches from another angle.
For more thrill, pick up a board and go surfing or kiting.
If you ever get bored of beaches, there are also some local wineries where you can sample some of the region's delicious wines and bring some back to enjoy on the deck.
---
RELATED: 9 Adventurous Things To Do in Westport, Washington
---
19. Serene South Bend
Wow, talk about a luxury beachside escape. This plush family home is the ideal place for a vacation with a little bit of luxury. The whole four-bedroom, three-bathroom rental has been decorated to the highest level, with the floor-to-ceiling windows in the living space the real showstopper.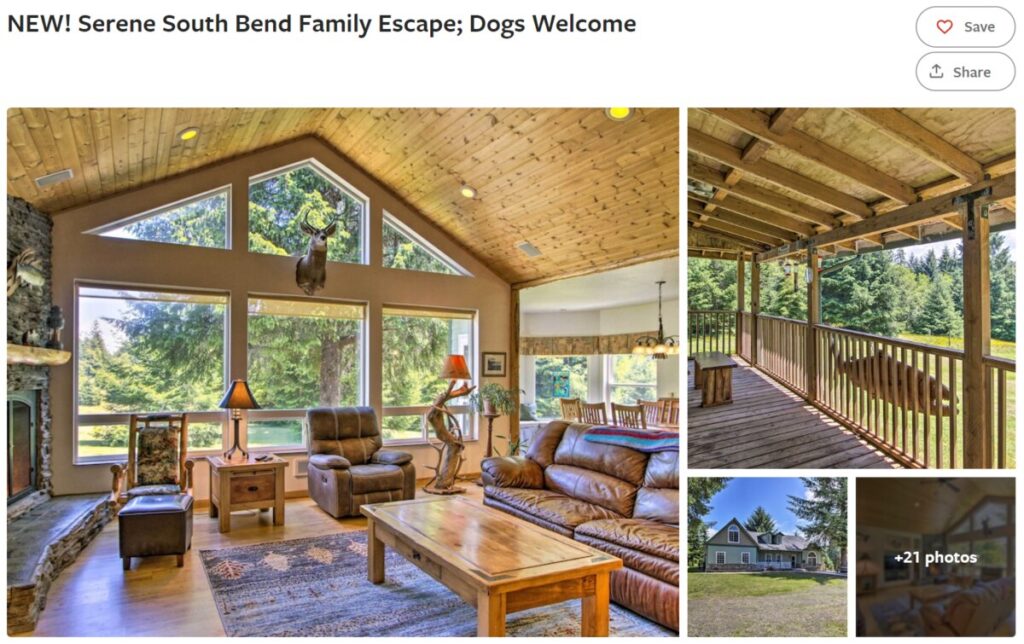 The open-plan kitchen, living, and dining area will keep the whole party connected, and you can even spread out onto the large deck area on warming days. All four bedrooms are spacious and bright, with big, clean bathrooms. Pets are welcome; what more could you want?
Why stay here?
This home may not be as close to the beach as others, but the coast is still within easy reach, and there is plenty of outdoor space around the home; you may not even want to leave the property.
Keep an eye out for wildlife through the huge glass windows of this impressive house. You may have some visitors, such as deer and elk, making themselves at home in your yard.
There are a few beautiful and remote natural areas surrounding the house, such as Bone River and Niawiakum River, ideal if you want to escape the hustle and bustle of city life and maybe even spot some wildlife.
20. Beachfront Cabin with a Private Trail to the Beach
Take the private trail that winds through the fines to a stunning beach when you stay in this beachfront cabin. Sleeping up to four people, it also has a living area and a kitchen, so there is plenty of space for an extended stay.
Next to the cabin, there is a 30amp RV hookup, meaning there is potentially even more room for a bigger family stay. It is pet friendly, so your dog can even join the adventure.
Why stay here?
The cabin is steps away from the beach, so you can wake up for a beachfront stroll and make it back in time for breakfast.
Downtown Long Beach offers plenty of fun for the whole family; you certainly won't get bored with attractions such as picnic areas, festivals, the world kite museum, mini golf, a discovery trail, and the famed whale skeleton.
Just 10 minutes from Downtown Long Beach, the cabin offers the best of both worlds, tranquility and action within easy reach.
Go crabbing or clamming at Loomis Lake State Park, which is just a short drive away.
21. Salt & Seagrass
With three stories, three bedrooms, and 8 acres of glorious oceanfront, this beautiful home is like gold regarding Washington vacation rentals. There is a full kitchen, beautiful furnishings, and the pièce de résistance; it is just a short stroll down to the beach.
Sit and read a book at one of the many large windows, warm up in front of the fire or have a coffee on the deck; there are many ways to enjoy this beachfront property.
Why stay here?
Located on the Long Beach Peninsula, there is SO much beach for you to relax on in the surrounding area. You will be able to enjoy the rugged coastline of one of the most scenic spots in Washington.
Learn all about how cranberries are grown in the Cranberry Museum. The Peninsula is known for its cranberry farms, so depending on the time of year, you might be able to see the tremendous red bogs.
Don't miss the Long Beach Boardwalk, the perfect place for a stroll no matter the time of day. Suspended above the grassy dunes, this walk is magical, especially when kites are flying above you and the weather is warm enough for a picnic.
So, where are you camping along the Washington Coast? Are you opting for a tent or maybe a cabin?
More For the Best of Washington
I'm an Oregon native but neighborly and equally as enchanted by Washington. I tackle expeditions around the world and love a good beer at the end of the day. PNW obsessed, VW nerd, and surf or snow riding fanatic.