There are so many incredible day trips from Seattle! While the city has enough charms to keep you for a few days, most people's trips to Washington City involve at least some exploration of the surrounding areas.
Islands, like Whidbey and Bainbridge, sit just a short boat ride from downtown Seattle, whereas state parks and forests, like Tiger Mountain and Snoqualmie Pass, are almost in city limits.
There are even a few other cities close to Seattle to check out, too. Let's dive into the best day trips from Seattle so you start exploring ASAP!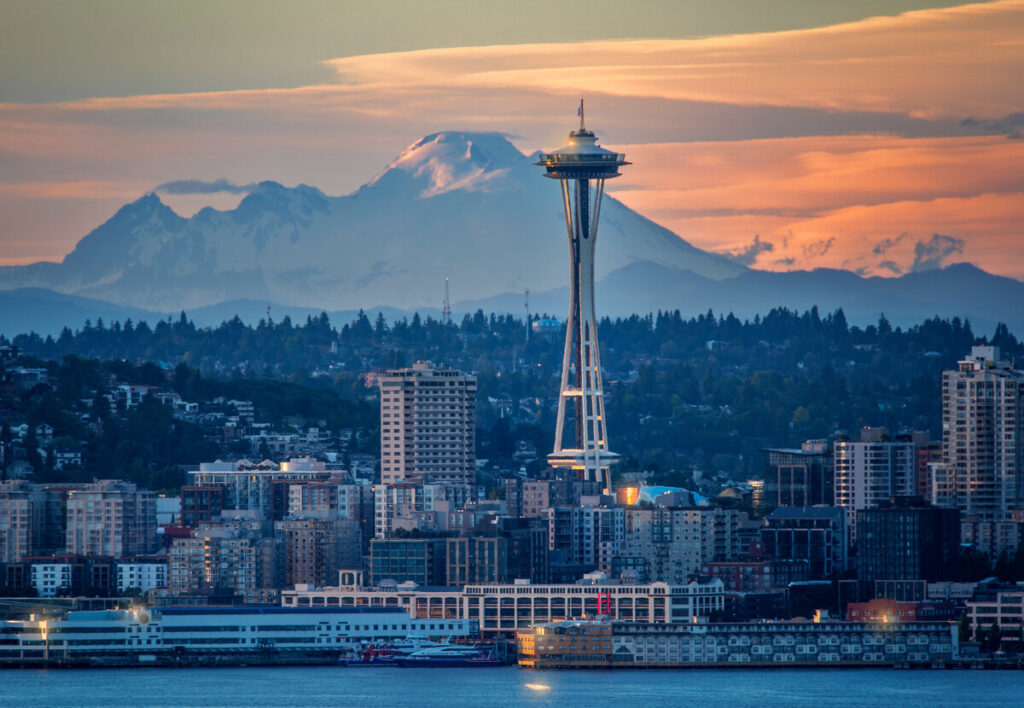 Day Trips From Seattle (Under 1.5 Hours Away!)
---
There are way too many overwhelming lists out there that provide you with day trips from Seattle, but when you go to look how far they are, they are HOURS away! Nobody wants a day trip that's mostly a day of driving.
That's why we gathered the best day trips from Seattle that are TRUE day trips. We think if it's over 2 hours one way, that's just a tad bit much, which is why we kept everything on this list under 1.5 hours away from Seattle.
Everything is ordered from the closest to farthest from the city, and we've also included the travel time. Happy Seattle day tripping!
Where to Base for Your Day Trips From Seattle
Location, Location, Location!
If you're looking into the best day trips from Seattle, then you want to make sure you're based at a good spot for hopping on the highway and avoiding some traffic. You don't want to spend any more time in the car than you need to.
✋ HOLD UP! Don't Forget…
You need some wheels! It's nearly impossible to get around the USA and check out the best adventures without a car! Here are our top recommendations…
🚗 Rent a car
If you don't have your own, renting a car is your best bet!
🚐 Rent a home on wheels
For the more adventurous, rent a van or RV and ditch the hotel.
Conveniently located recommend hotels in Seattle:
Private Aparmrtnet – This sparkling, updated home on a private street offers a cozy living room with a Smart TV, a newly updated galley kitchen with quartz countertops and stainless steel appliances, and a master bedroom with an ensuite bath and 2 closets. The space is pet friendly, has super-fast fiber internet, AC, and ample parking, including a garage.
Your Own Cabin – Escape to this newly upgraded, secluded cabin with a full kitchen, bedroom, and sofa bed for up to 4 people, surrounded by nature's tranquility and only a short distance from Seattle's vibrant heart!
Hotel Hotel Hostel – A budget-friendly hostel in Seattle's artsy Fremont neighborhood, offering clean and comfortable accommodations with a low-key industrial-chic ambiance. Enjoy a full breakfast and various sleeping options, all within easy reach of downtown and other attractions via public transportation, making it an excellent choice for budget travelers seeking a safe, friendly, and enjoyable stay.
Ballard's Sweet Suites – Here you'll find a communal living room and laundry facilities, along with apartments equipped with convenient amenities like free WiFi, Smart TVs, and espresso makers. Families will appreciate the top-notch kitchen facilities, making it a pet-friendly and comfortable choice for budget-conscious travelers seeking a unique and cozy stay.
1. Bainbridge Island
10 miles, 50 minutes boat ride from Seattle
Also connected to Seattle by ferry, Bainbridge Island is famous for its epic natural scenery (the beaches here are among the best in Washington!) and its exciting culture.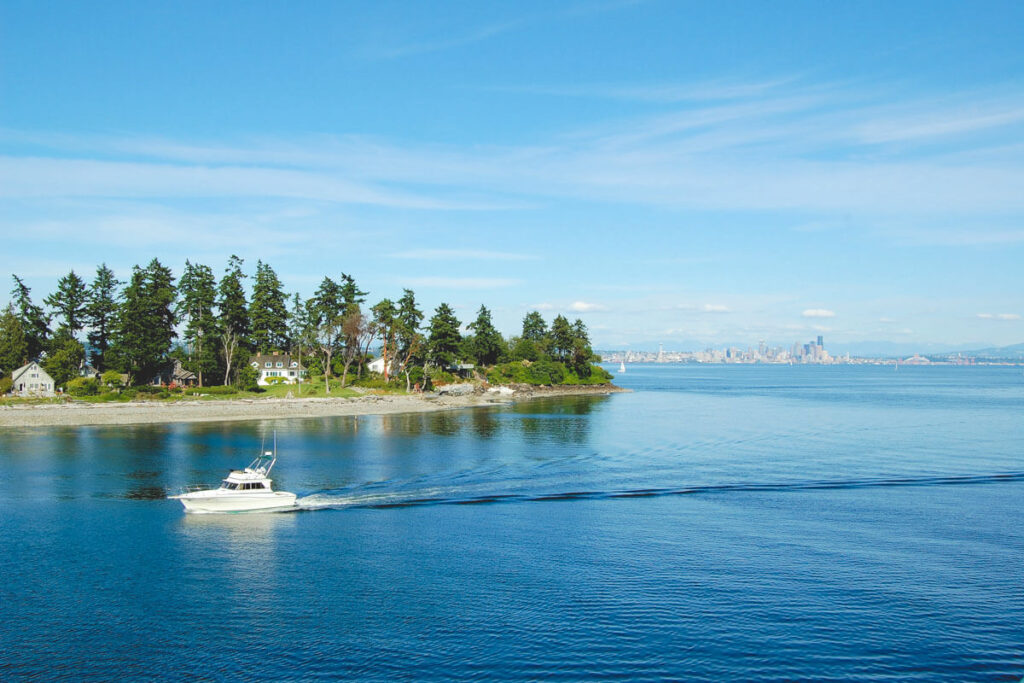 Don't miss the Japanese American Exclusion Memorial, which details the tragic deportations of Japanese Americas in World War II. There are also other galleries, museums, shopping opportunities, and beautiful hikes like the Grand Forest Park Trail.
Or, if you want to spend the day chilling on Bainbridge's beaches, that's an option as well!
2. Lake Sammamish
20 miles, 26-minute drive from Seattle
Immensely popular with locals, Lake Sammamish is a short day trip from Seattle. The lake sits inside a 531-acre state park, although the lake is seven miles long and 1.5 miles wide.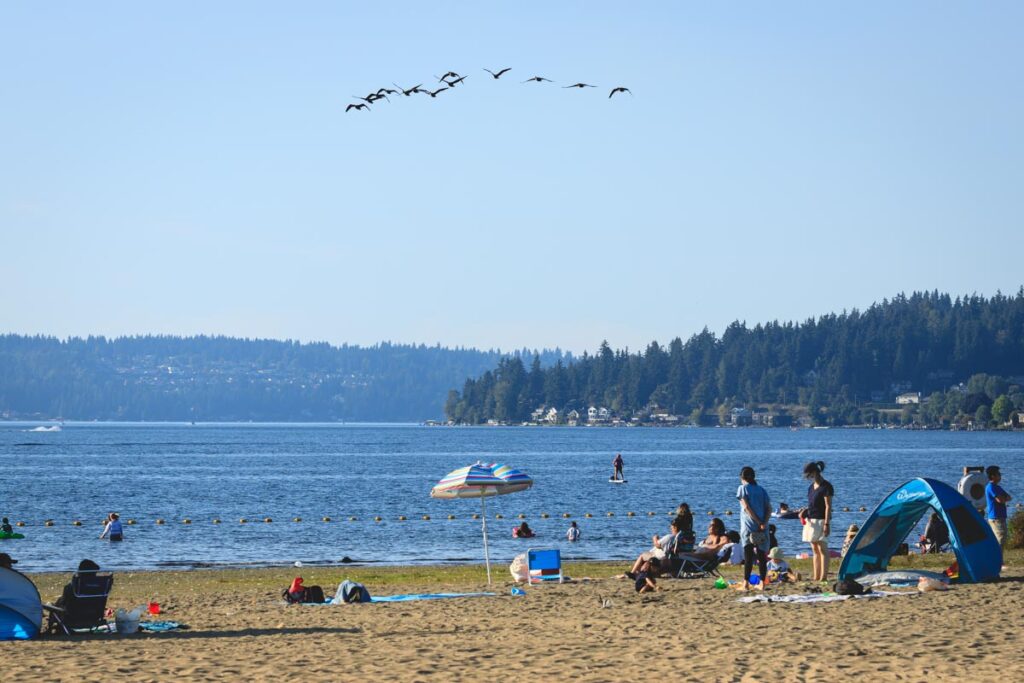 On a sunny day, swimming is welcome at Lake Sammamish. You can even rent out watersports gear from Tibbetts Beach, one of the two sandy beaches in the area!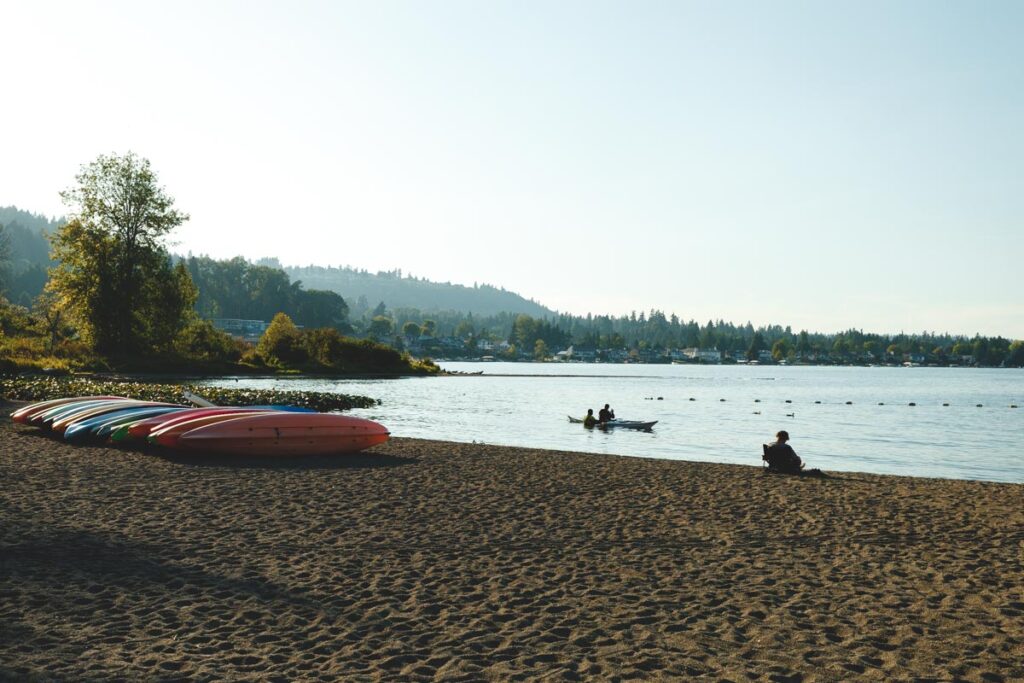 If you want on-land activities, hike or cycle through the nature trails or sit on the beach—along with Tibbetts Beach, Sunset Beach offers spectacular vistas and a laid-back atmosphere that's perfect for a day out of the city.
---
READ MORE: Exploring Lake Sammamish Just Outside of Seattle!
---
3. Tiger Mountain State Forest
29 miles, a 32-minute drive from Seattle
This is pretty much in Seattle, but when you take in the natural scenery, you'll feel a million miles away from Washington's largest city!
As the name suggests, there are mountains (the Issaquah Alps) and forests here (although no tigers). The mountain was supposed to be named Cougar Mountain, but it wasn't due to another peak already having that name! And, of course, you can expect an array of incredible hiking trails.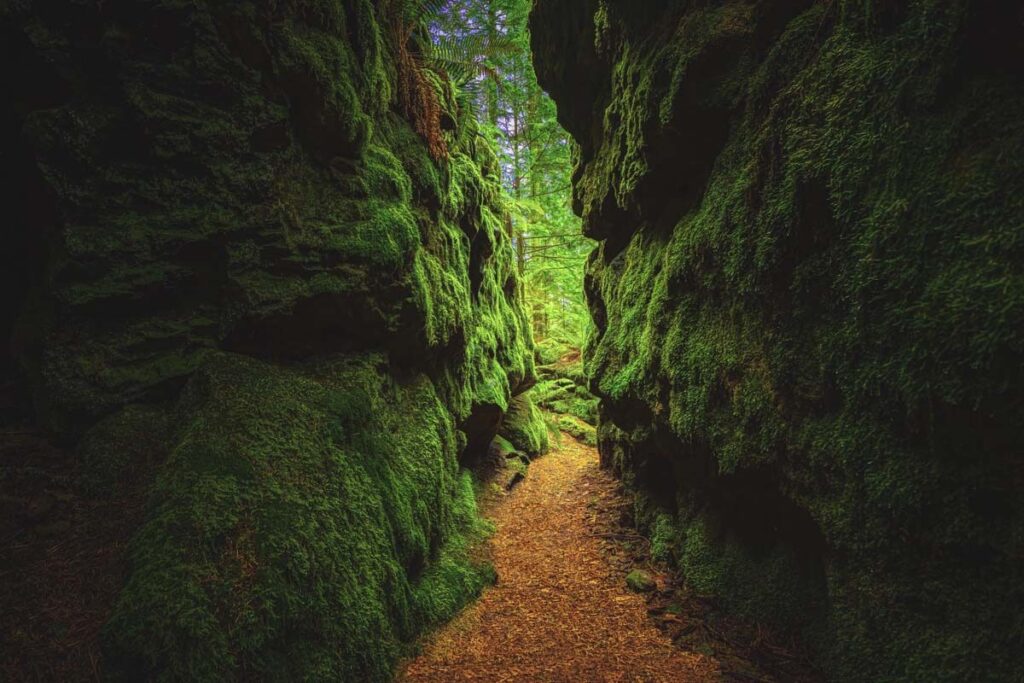 The Tiger Mountain Trail is 14.5 miles long and will take you all day to complete, but it's a must for avid hikers. If you're looking for something shorter, check out the Chirico Trail (4.5 miles), which leads to Poo Poo Point—named after steam whistle sounds that used to be heard in the area.
---
RELATED: 45 Outdoorsy Things to Do in Seattle, Washington!
---
4. Chase Waterfalls (Our Favorite Seattle Day Trip!)
Around 30 miles, 30 minutes – 1-hour drive from Seattle
Don't go chasing waterfalls… or do if you're looking for Seattle day trips!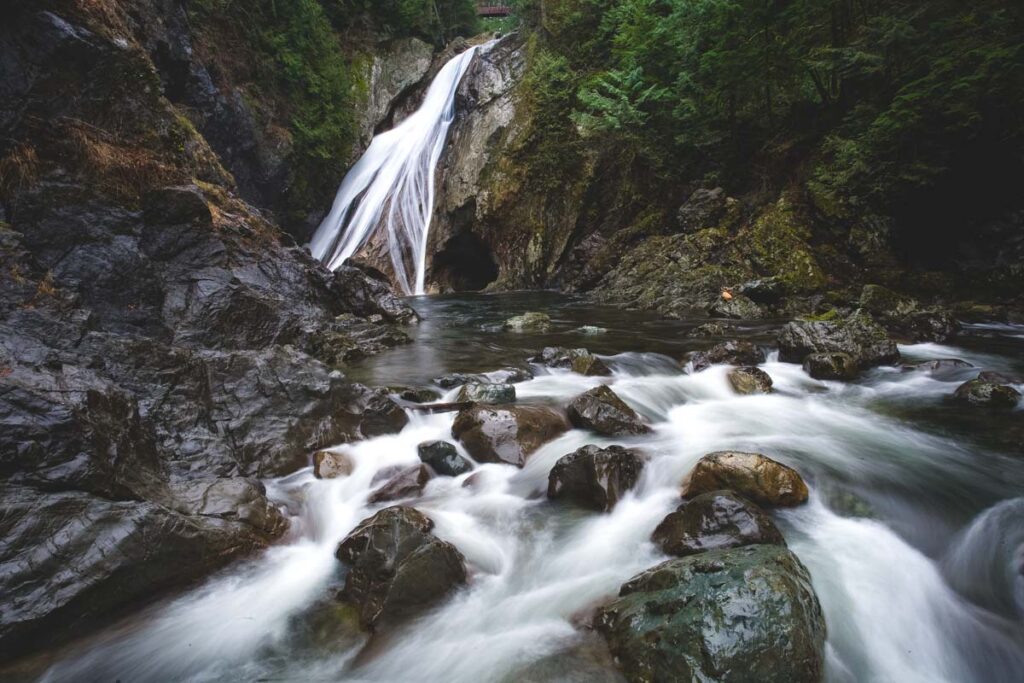 There are plenty of waterfalls near Seattle, including the roaring Snoqualmie Falls, Twin Falls, among the tallest in the area, and Franklin Falls, which has a total drop of 135 feet and is viewable from a hiking trail.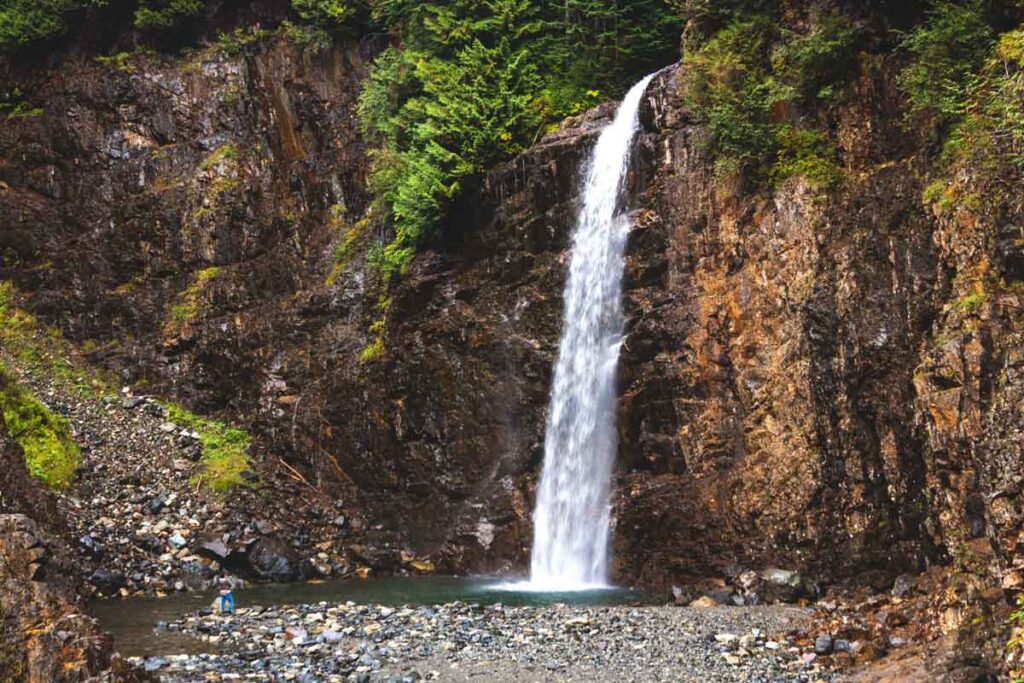 All three of these stunning waterfalls make for a great day out of Seattle, as it's easy enough to do them all in one trip! This one is our personal favorite Seattle day trip.
---
READ MORE: 7 Awesome Waterfalls Near Seattle, Washington!
---
5. Tacoma
34 miles, a 35-minute drive from Seattle
Tacoma is one of the most accessible day trips from Seattle, as it's just south of the city!
Dash Point State Park is a popular park near here, with camping, watersports, and hiking opportunities. If you fancy staying out of the city for the night, you could always camp out.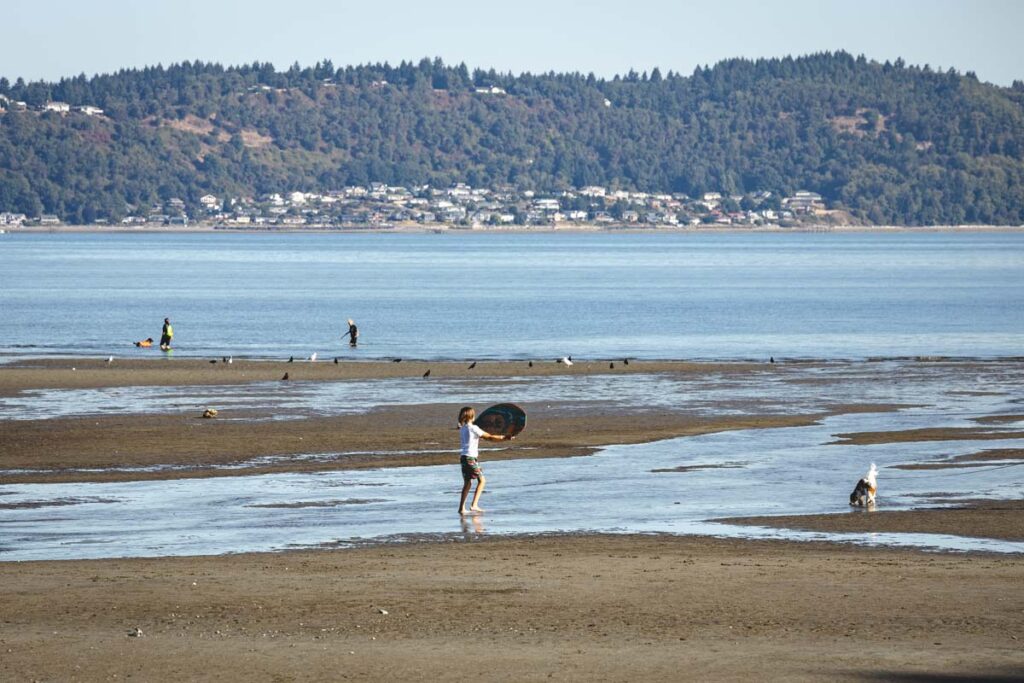 Find independent shops in Tacoma, take in views at the Ruston Waterfront, or explore museums like the Tacoma Art Museum and LeMay Car Museum.
6. Whidbey Island
35 miles, 1 hour's drive from Seattle
One of the best day trips from Seattle is to Whidbey Island.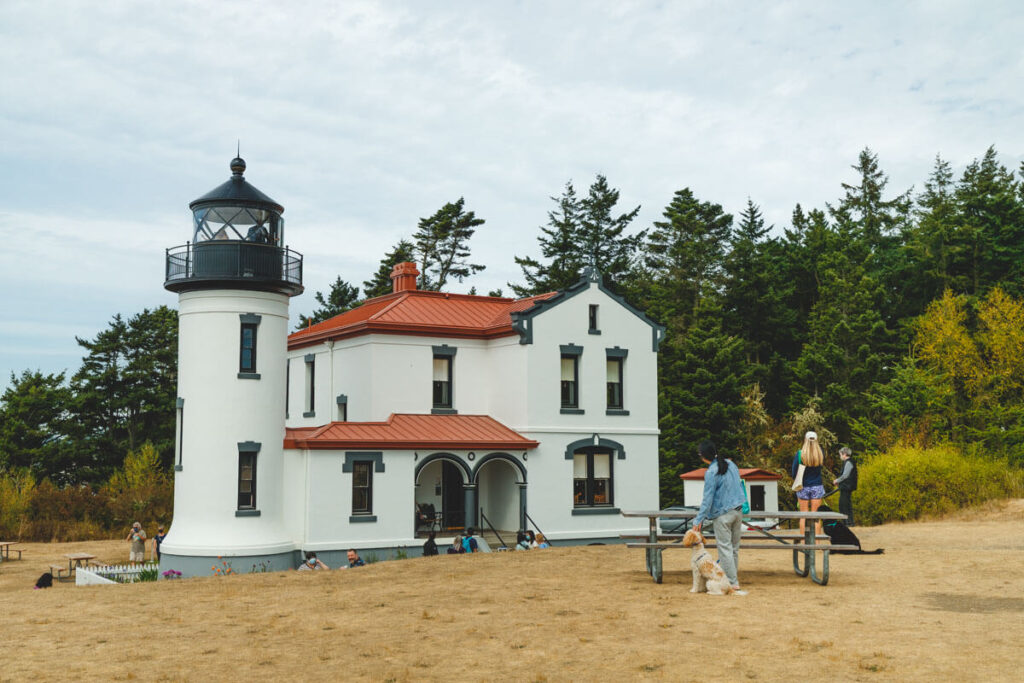 This island is right by the city—in fact, you can take a boat from downtown! Enjoy impressive state parks like Fort Ebey State Park and Fort Casey State Park. Fort Ebey has a history spanning back to WW2, whereas Fort Casey had origins in the 19th century!
Aside from your dose of history, there are plenty of hiking trails and even the opportunity to take to the skies and paraglide.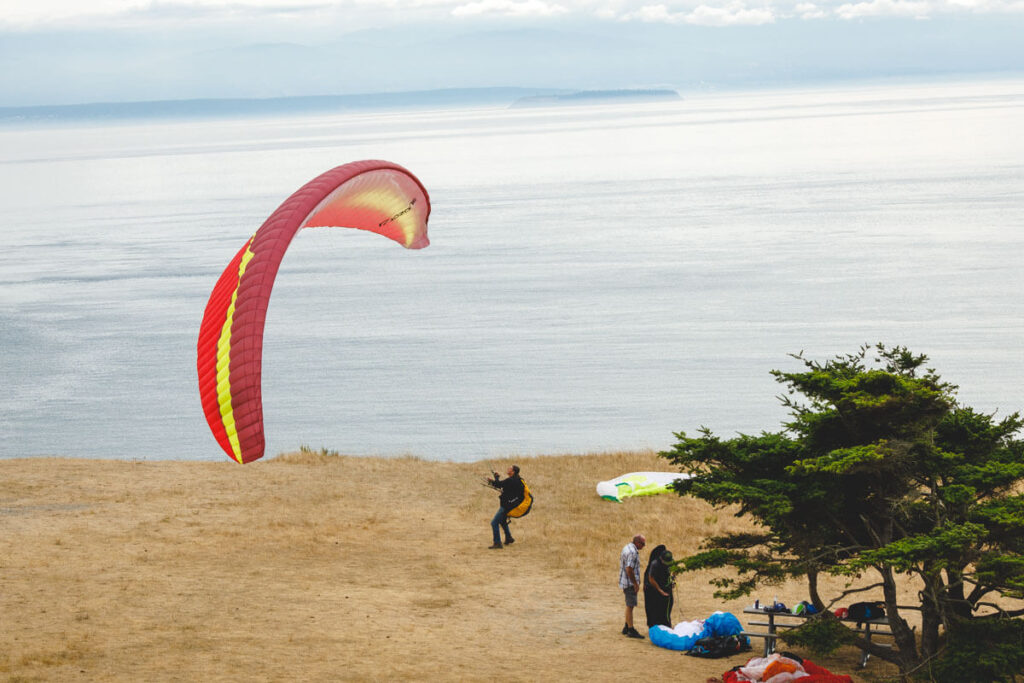 Also, don't miss Deception Pass State Park, where hiking trails center around a narrow strait. Once you've seen Whidbey's highlights, hop back on the ferry to get back to downtown Seattle.
---
READ MORE: 10 Awesome Things To Do on Whidbey Island & Fidalgo Island
---
7. Wallace Falls State Park
47 miles, 1 hour's drive from Seattle
One of the best day trips from Seattle, Wallace Falls State Park stretches over 1,380 acres and is the ideal spot for a dose of nature.
The park boasts 12 miles of walking trails, most of which run right alongside the Wallace River, although some delve into the park's forest. If you're into birdwatching, take the Wallace Lake Loop, or take the five-mile circuit, which offers nine viewpoints of the river.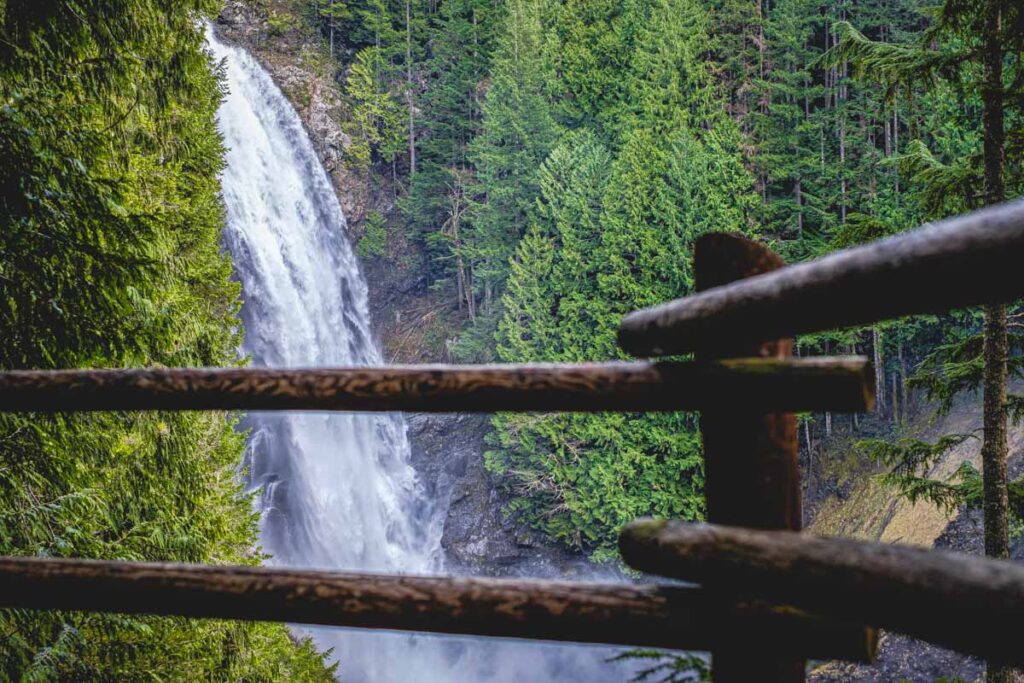 The park takes its name from Wallace Falls, a 265-foot-high waterfall, and there are plenty of places around the plunge pool to sit, relax, and take in nature.
---
RELATED: 21 Epic Waterfalls in Washington
---
8. Snoqualmie Pass (A Popular Seattle Day Trip)
54 miles, 1 hour's drive from Seattle
Snoqualmie Pass is THE destination to visit if you're looking for winter sports near Seattle—it's super close to downtown and is a popular skiing destination in the cooler months.
An absolute must-do is the Snoqualmie Falls and Winery Tour which will take you from Seattle through the Cascade foothills right to the falls and then onward to two boutique local wineries.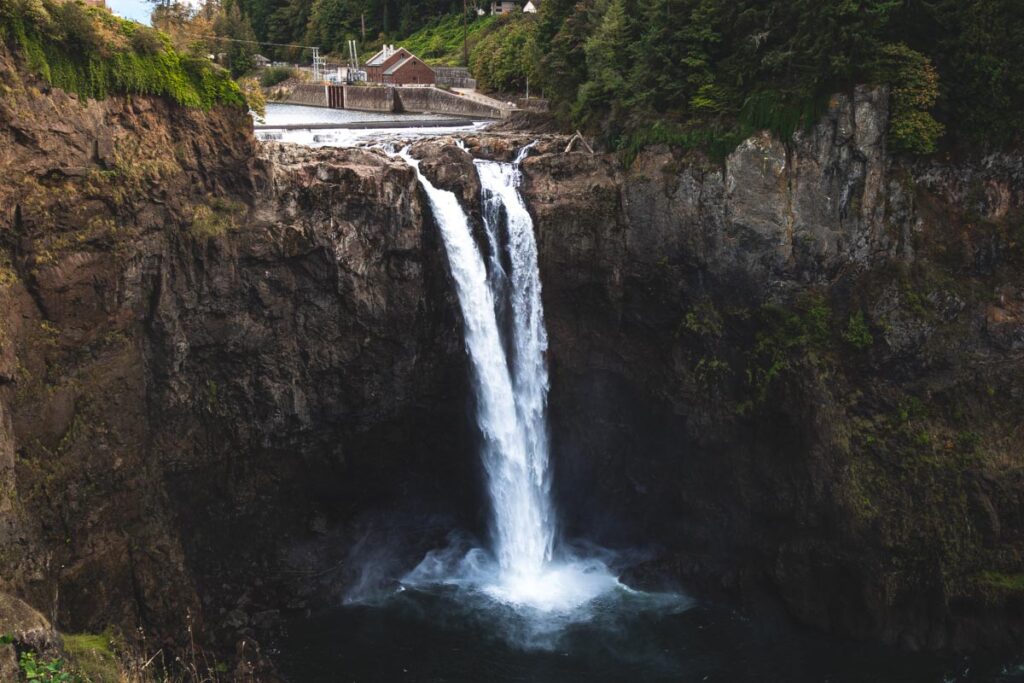 If you're visiting in the summer, there's still plenty to do. Check out the Rattlesnake Ridge Hike, with stunning vistas of Mount Washington, Mount Si, and Rattlesnake Lake.
Or, head to Franklin Falls (mentioned above) or hike to Mason or Annette Lake.
---
READ MORE: Snoqualmie Falls Hike: What You Need to Know!
---
9. Bellingham
89 miles, 1-hour 30-minute drive from Seattle
Another famous city close to Seattle, Bellingham is north of the city limits. You'll find beautiful street art, plenty of independent coffee roasters, craft breweries, and weekly farmer's markets in the town itself.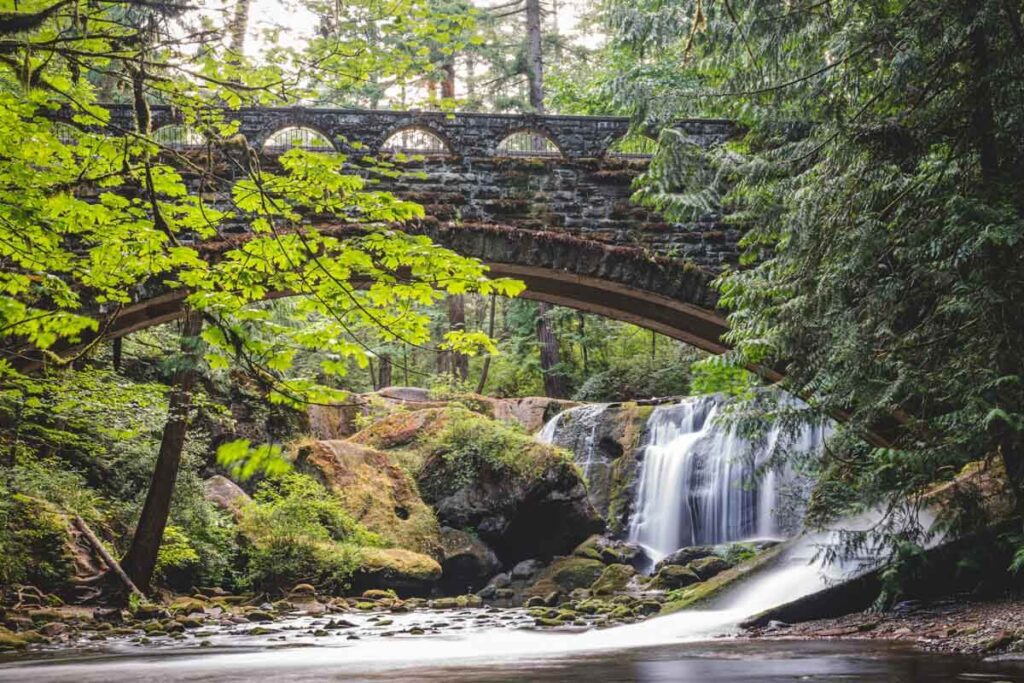 However, it's also worth venturing out of the city to see some of Bellingham's local nature, including Whatcom Falls Park (another excellent place to chase waterfalls!) and Labaree State Park with 8,100 feet of saltwater shoreline, ideal for watersports in the summer.
BONUS: More Awesome Seattle Day Trips OVER 1.5 Hours BUT With a Tour
We have three more day trips from Seattle to offer you, but we have an important message first! ONLY do these day trips with a tour. These spots are much further away from Seattle, and it's a long action-packed day.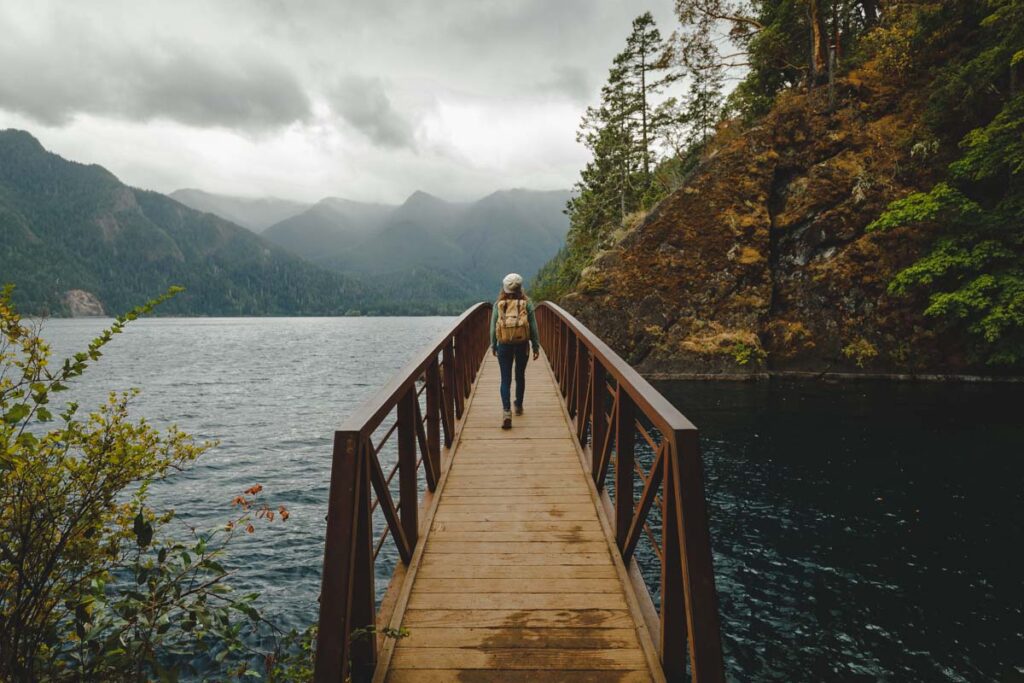 It's way too much of an undertaking to attempt to go to these spots on your own in one day, and we don't recommend it. Of course, you could, but again, it's a very, very long day of driving.
Luckily if you book a tour, they handle everything for you. You can nap on the bus and see further flung spots in Washington if you're tight on time and can't visit for longer.
10. Mount Rainier Day Tour from Seattle
With some of the most incredible natural landscapes in the state of Washington, this Mount Rainier day tour from Seattle will take you through the national park with highlight stops along the way.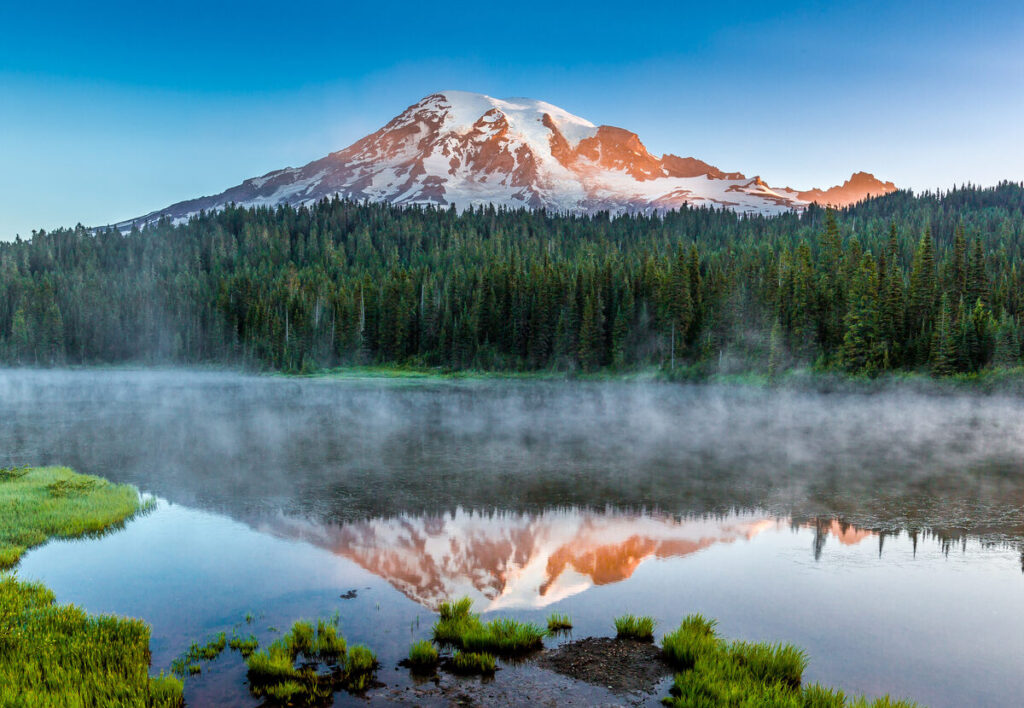 Enjoy the knowledgeable guide on your small group tour as you witness Narada Falls and Christine Falls. Be sure to come prepared in season-appropriate clothing and shoes, as there are some trail walks involved.
This tour demonstrates some of the best nature scenes the Pacific Northwest has to offer, and it's only a day trip away from Seattle!
Check Price:
---
RELATED: 15 Epic Hikes in Mount Rainier National Park, Washington
---
11. Small-Group Olympic National Park Day Trip From Seattle
This small-group Olympic National Park tour takes sightseeing to a new level! As one of the most beautiful national parks in Washington, you'll see vast and varying landscapes from epic mountain ranges, beaches, lush forests, and so much more.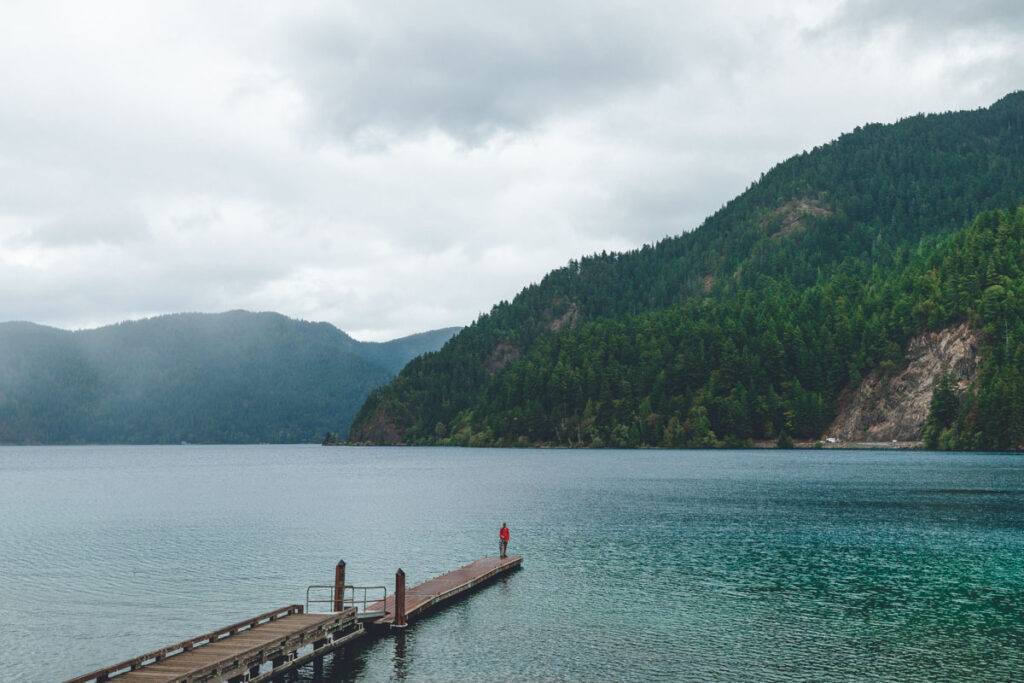 Take in the true Pacific Northwest views at stops such as Lake Crescent and Marymere Falls.
Check Price:
---
RELATED: Exploring Lake Crescent in Olympic National Park: Kayak, Hike, & Camp!
---
12. Leavenworth Day Tour from Seattle
If you're looking for charming Bavarian vibes right here in Washington, Leavenworth takes the German cake. With its European architecture set against the backdrop of mountain ranges, this tour of the town hits every highlight.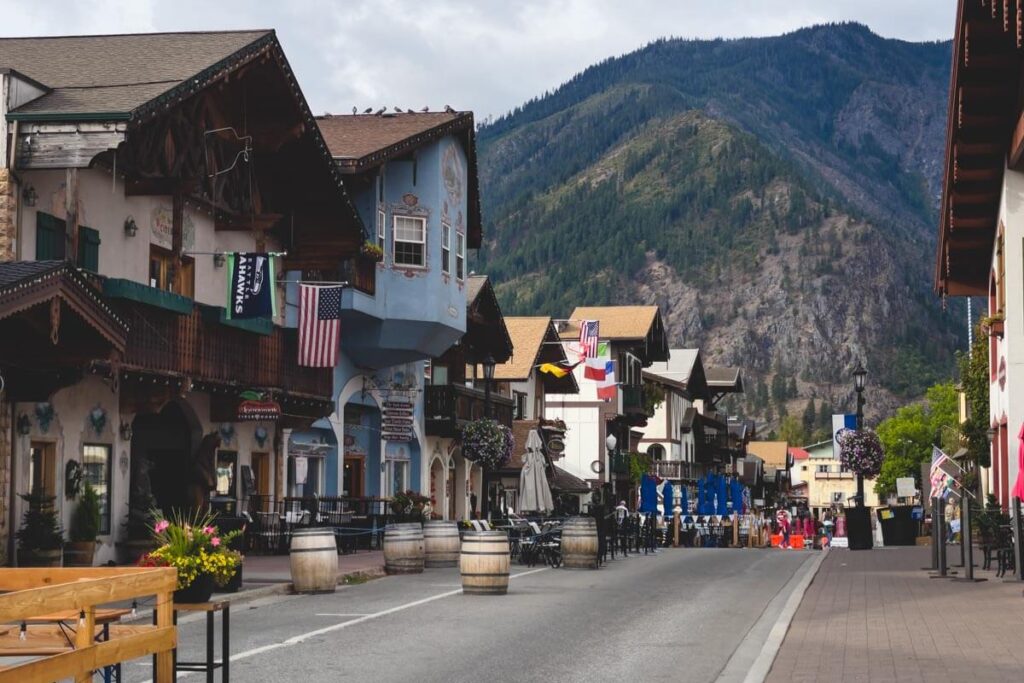 Along with guided portions of the tour to learn about the origins and history of the town, you'll have plenty of free time to shop at the quaint shops, eat traditional German food, or stop at the local pub.
Check Price:
---
RELATED: 11 Adventurous Things To Do in Leavenworth
---
As you can see, Seattle isn't short of fantastic places sitting less than 90 minutes away from downtown. The only tricky part is deciding which to prioritize!
So let's wrap it up! If you're looking for hikes, check out Tiger Mountain or Snoqualmie Pass; for islands, head to Whidbey or Bainbridge; for waterfalls, check out Wallace Falls State Park, or head to Sammamish for swimming near the city. Or, if you want to see other Washington cities, Bellingham and Tacoma are great options.
Of course, if you're hoping to head out far beyond Seattle for a day, you can, but we highly recommend you do it with a tour as it's a bit much to do yourself while also trying to enjoy your day.
Have extra time? Check out our best weekend getaways from Seattle!
We hope this helped you find some of the best day trips from Seattle without spending most of your time in the car!
I'm an Oregon native but neighborly and equally as enchanted by Washington. I tackle expeditions around the world and love a good beer at the end of the day. PNW obsessed, VW nerd, and surf or snow riding fanatic.