Westport is a charming little beach town on the coast of Washington that offers its visitors fun surfing, wildlife excursions, miles of beaches, lighthouses to explore, and more! This cozy seaside town offers up enough to delight anyone for a lovely weekend or, at the least, a day trip.
If you're looking for the best things to do in Westport, Washington, you're in the right place! Here are the top recommendations for your visit.
Things To Do in Westport
---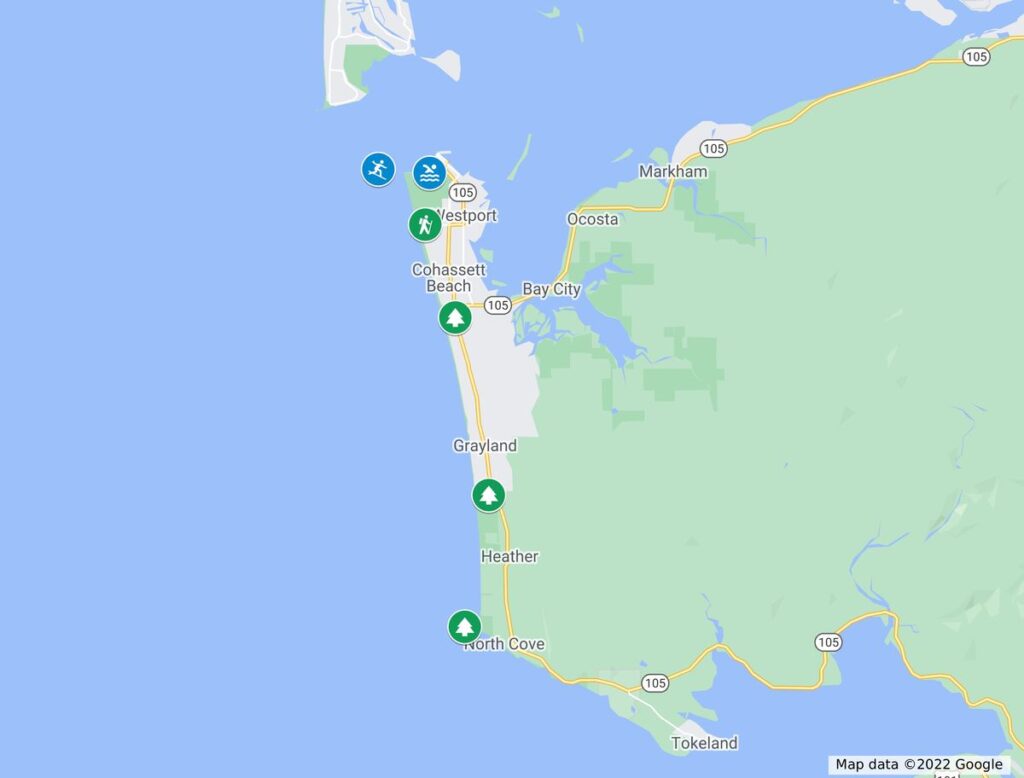 1. Strolling the Town of Westport
If visiting Westport, one of the most obvious things to do is simply… explore Westport! The town is chill and inviting, with plenty of places to grab a bite to eat or sit with a beer.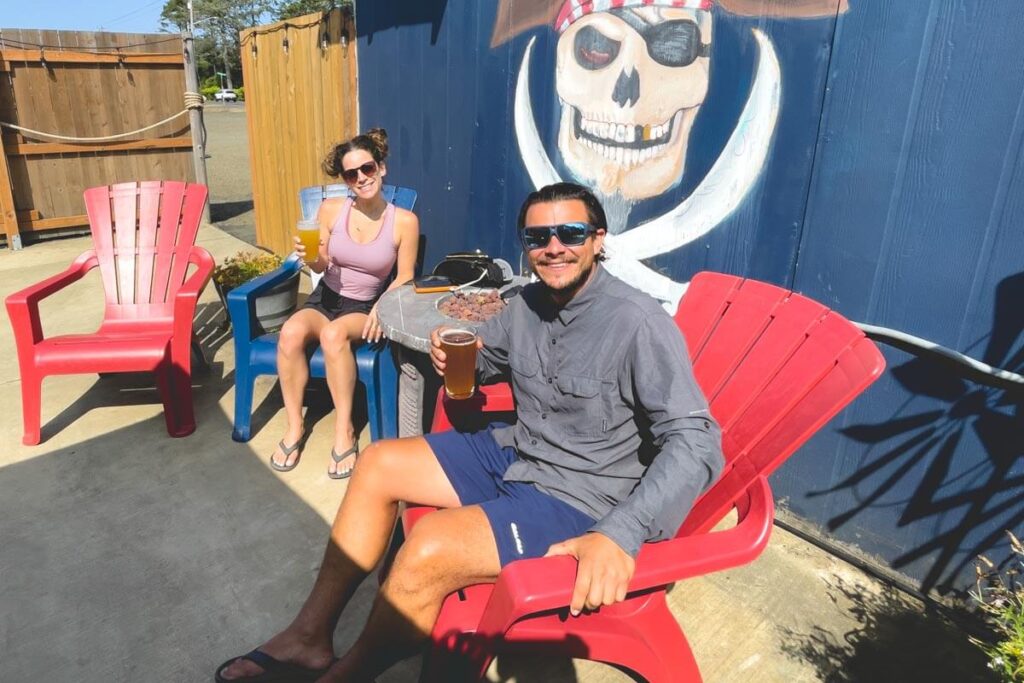 With so much ocean around it, it is hardly surprising that many eateries serve up the freshest local fish, such as Merino's Seafood Market. Blackbeard's Brewing Company is also a great shout if you're looking for something a little laid-back and casual.
There are shops to pick up a souvenir, or if you head down to the marina, you may even spot seals or sea lions right from the shore. Climb up to the harbor lookout tower to get an even better view of the marina and the frolicking seals and sealions.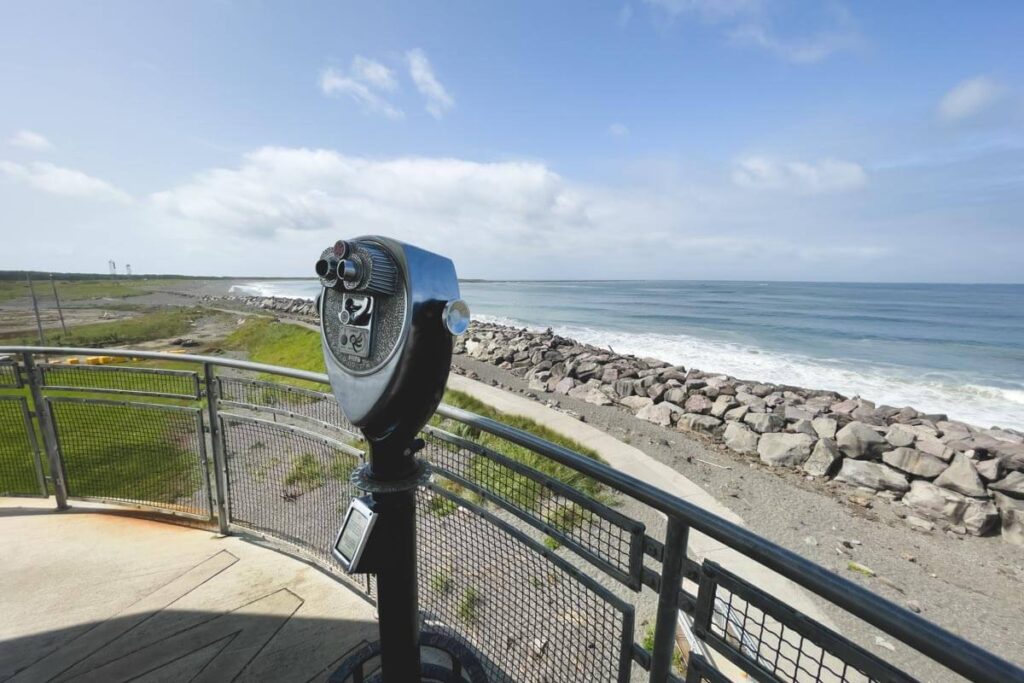 Another great thing to do in Westport is to learn more about the creatures that live here and the area's history at the Maritime Museum, a small but fascinating stop (convenient if it is a rainy day).
2. Whale Watching and Fishing Trips
If you're in the area between December and February and want the experience of a lifetime, go whale watching from Westport. During these months, the whales are migrating, giving you the best chance of spotting some, so add this to your list of things to do in Westport.
There is something so magical about seeing these majestic creatures plunging up through the surf. A few tour companies offer whale watching trips, so get booking if you want to experience one of the best things to do in Westport, Washington.
Chances are you might spot some other marine life, including dolphins and porpoises, along the way for an added sea creature bonus.
Alternatively, keen anglers should instead head out into the waters for a fishing trip. Westport is like a fisherman's dream, with halibut, salmon, and tuna fishing all possible throughout the year.
3. Westport Lighthouse Trail
Distance: 4.5 miles
Type of Trail: Out & Back
Difficulty: Easy
You can never see too many lighthouses, especially if they are as scenic as Westport Lighthouse, which is found at the trail's end. From the trailhead, you'll be following a paved path the majority of the way, making it a pretty easy hike.
While you're not going to walk right on the beach, there are three strategically placed viewpoints throughout the hike, which allow you to view the raging Pacific and shoreline.
The Westport Lighthouse Trail is full of hidden surprises. On your way back, you should be able to catch a glimpse of the impressive Grays Harbour Lighthouse, making this a two-in-one kind of deal. This lighthouse is huge; in fact, it is the tallest lighthouse in the entire state. Another Washington bucket list item to cross off your list!
4. Westhaven Beach and Half Moon Bay
Westport has lucked out when it comes to beaches. There are miles of sandy shores to experience and enjoy, with plenty of beaches to discover. We love Westhaven Beach, a chill area to relax on during the day, and then hit the waves on a surfboard if you're feeling up to it.
Sand dunes separate the beach from the parking lot, helping the beach feel more remote and natural. Although the surf is particularly good here, that's far from the only reason people visit Westhaven or Half Moon Bay.
The shore is also a flurry of activity, with beachgoers flying a kite, having a picnic, going for a walk, or beachcombing. It is a popular beach for a reason, but you won't find it crazy crowded.
5. Surfing in Westport
Wetsuits are all the rage in Westport, as people come from miles around to experience the waves of this surfing hotspot.
The great thing about Westport for surfers is that it is accessible for all surfing levels; whether you're just starting out wobbling on your board or are ready to take on the big breaks, you can almost guarantee that you are going to get some perfect waves.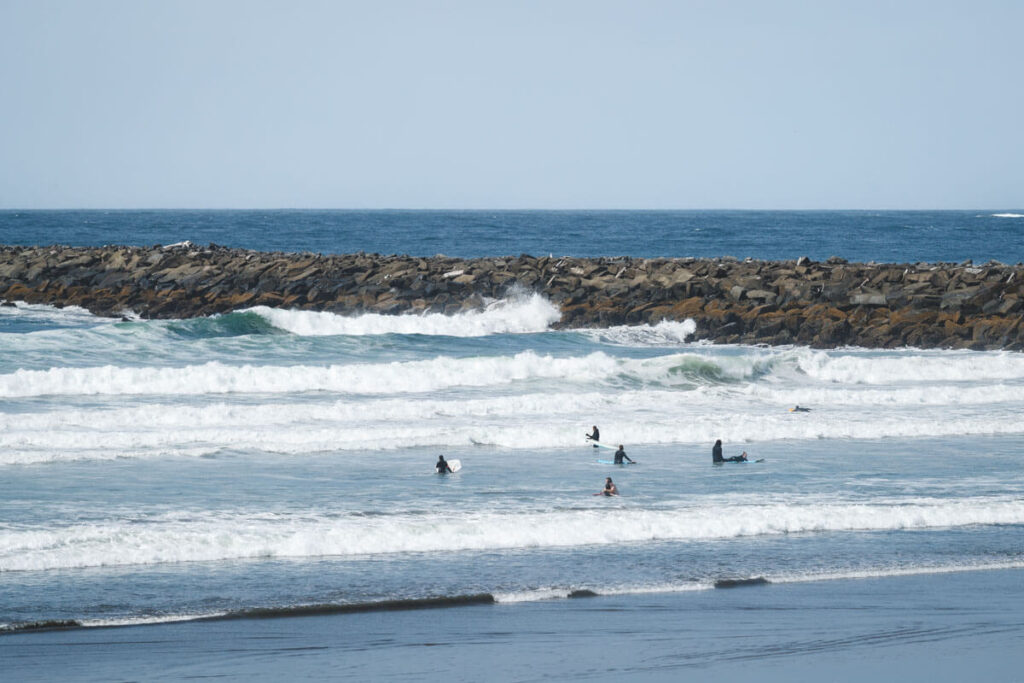 It is no wonder that surfing is considered one of the best things to do in Westport, Washington. There are also plenty of helpful facilities and services in town, such as rental shops (check out The Loge, more on this below). Or even if you feel inspired by all the other surfer dudes and chicks flawlessly hitting the waves, you can take lessons.
Best Surf Spots in Westport:
The Jetty – The Jetty is a destination to head to no matter your surfing ability, as it is well known for being the most reliable place in Washington state when it comes to consistent surfable waves. Because it has an all-sand bottom, it is a popular place for beginner surfers. For the more advanced flocking here throughout the year, try closer to the jetty for a more challenging wave.
The Groins – Head north of Westport to find the Groins. The area got its name from the way that the often large waves crash against the groins near the harbor. One thing is for sure, this is not a place for beginner surfers, the waves can be HUGE, and currents unpredictable and strong.
The Cove – The Cove is located at Halfmoon Bay, and again should be reserved for those that are confident and advanced on a board. This is probably the least used surfing area today as the waves now break against the shore, but it is still a great place to hang out. It is probably not best to surf here though, as it is pretty dangerous. Just watch the waves from the safety of the beach.
As with all surfing hotspots, be sure to stay vigilant and look out for any warning signs. Rip currents are very real and very dangerous, so be cautious.
---
RELATED: 10 Awesome Washington Coast Towns You've Got to Visit!
---
6. Twin Harbors State Park
Westport has five state parks to discover, but one of the most scenic has to be Twin Harbors State Park, which offers stunning sea views and large stretches of fine beaches. The beach is sandy and soft, perfect for a day out.
The area is so beautiful we wouldn't be surprised if you wanted to stay the night or weekend at the camp within the park. That way, you could wake up with all this natural beauty around you. There are a few different camping options depending on budgets and preferences, ranging from simple tent sites to rustic cabins.
---
RELATED: 19 Amazing Weekend Trips From Seattle (1-5 Hours Away!)
---
7. Grayland Beach State Park
Enjoy peaceful walks along the pristine shores, soak up the sun during the summer months, or hit the waves. Grayland Beach State Park is a stunning destination no matter the season. There are a few short trails for gentle hiking, but most people come to enjoy nature with family or furry friends.
It is home to a very popular camping site, with full hookup and more primitive sites for tent and RV camping.
There are also 16 yurts for those that want to stay somewhere a little more unique, complete with bunk beds, a queen-sized futon, heating and electrical outlets, private deck, picnic table, and fire grill, all you need for that perfect Northwest vacation!
8. Seashore Conservation Area State Park
Seashore Conservation area is a beautiful 62-mile stretch of rugged coastline; it is no wonder that it was established as a conservation area so people could enjoy it for years to come. When it comes to things to do in Westport's Seashore Conservation Area State Park, you'll be spoilt for choice.
Get an adrenaline rush fat tire biking across the hard-packed sand, go horseback riding, fly a kite in the strong winds, keep a lookout for whales, picnic on the sand, go clam digging or glass float collecting, or try your hand at wind sailing, surfing or fishing. The options are endless, and there is a lot to enjoy!
9. The Loge
This spot is our top pick for a place to stay and a thing to do in Westport! If you have a tent, campervan, or want a room, The Loge is perfect. A great location, friendly staff, is clean, and is a happening place! They have a great outdoor area for campers and the community, a cute cafe, and this is even the spot to go for surfboard, kayak, and bike rentals.
If you want a place to hang out, to lay your head down at night, AND to be your basecamp for adventuring around Westport, this is the spot.
We hope this post helped you plan your trip to Westport, Washington! Don't forget to check out other adventures along the Washington Coast.
More Around Washington Coast
I've been perpetually traveling and living around the world for years but it's hard to beat Washington and the PNW. After years of road-tripping the area, I guess you can say I know it pretty well! When I'm not writing guides for you, you can catch me somewhere petting a dog, attempting to surf, hiking a volcano, or stuffing my face with bread and cheese.