From hiking to watersports to just walking around the adorable town, Leavenworth has many things to do. This Bavarian-style settlement is located in an envious position in Washington's Cascade Mountains, meaning that there are so many activities to do here!
We've created a list of eleven of the best Leavenworth adventures. Whether you want to enjoy birdwatching, mountain biking, kayaking, or hiking, read on for the best things to do in Leavenworth!
Things To Do in Leavenworth
---
1. Waterfront Park & Blackbird Island
Distance: 2 miles
Type of Trail: Loop
Difficulty: Easy
Waterfront Park and Blackbird Island is an ideal place for hiking, but there's so much more to do here! You can take the trail, which leads you to birdwatching lookouts, rafting opportunities, places to paddle, and tiny beaches.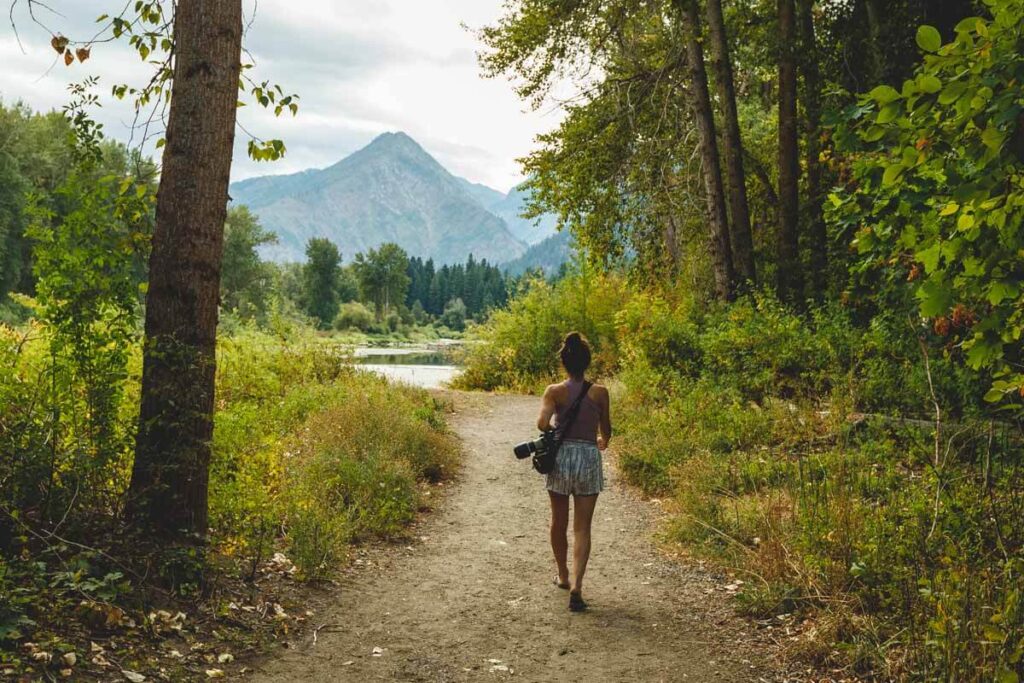 The actual loop hiking trail is just under 2 miles and is relatively easy, perfect for all skill levels and families. Dogs on leashes are also welcome.
This is one of the most accessible places to visit in Leavenworth because it is within walking distance of the town. There is also plenty of parking.
2. Old Pipeline Bed Trail
Distance: 2.4 miles
Type of Trail: Out & Back
Difficulty: Easy
The Old Pipeline Bed Trail is a quick and easy hike that's not too far from Leavenworth. This is the perfect solution if you want to do something one day but don't have much time!
Running along the Wenatchee River, the Old Pipeline Bed Trail is a 2.5-mile hiking route. Perfect for enjoying fall colors, this flat trail is ideal for the whole family. After parking, you'll notice a pebble "beach" at the river's edge to dip a toe in or maybe even take a plunge in if you're brave enough (it's freezing!)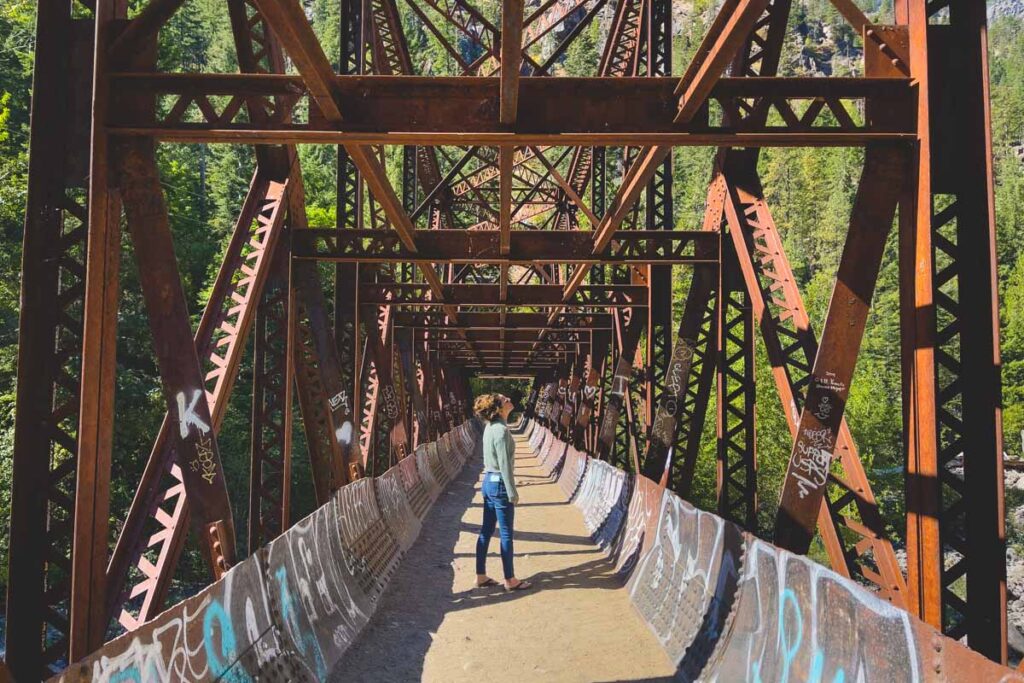 You'll need to cross the Wenatchee River after parking your car, and from here, you can begin your hike. Head over the old half pipe bridge, which really is an old water pipe (hence the name), and walk to the right to stroll along the trail.
The trailhead is just a short drive from Leavenworth – just a journey along Highway 2 before turning off for the parking lot.
---
RELATED: 25 EPIC Hikes in Washington to Tackle
---
3. Lake Colchuck and Lake Stuart Trail
Distance: 11.7 miles
Type of Trail: Out & Back
Difficulty: Hard
This is a fantastic trail that's not for the faint-hearted! If you want a day's adventure from Leavenworth, it's well worth heading to Lake Colchuck and Lake Stewart.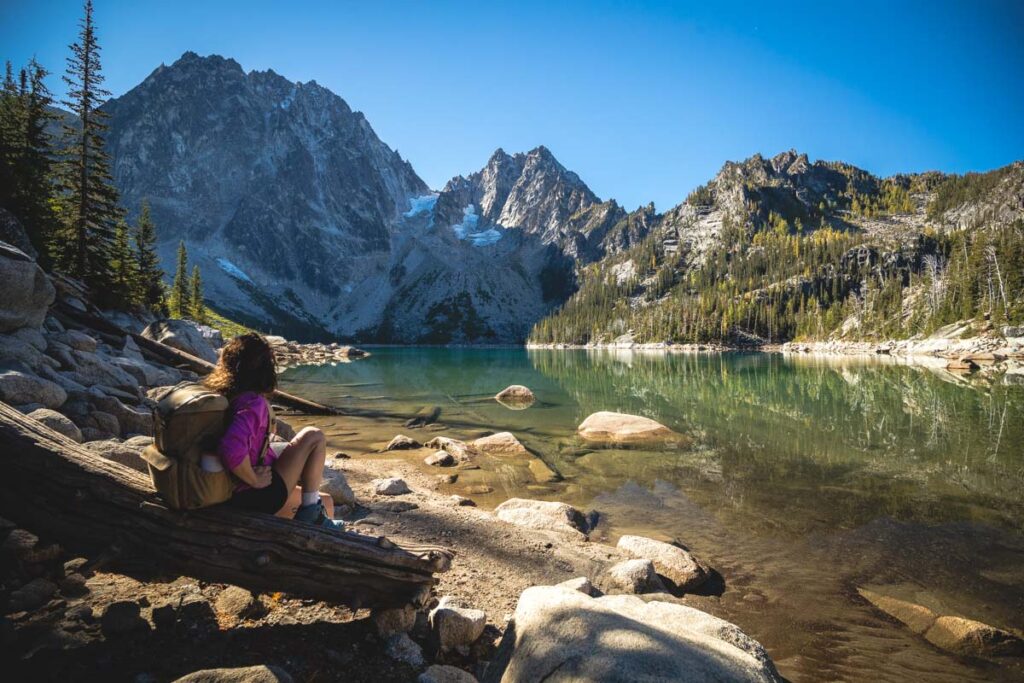 The trail is 11.7 miles long and features two of the best lakes in the area. It's an out and back route, so you can take it as it comes and turn back if necessary. You can also only hike to one of the lakes, which will shorten your overall distance.
But try to hike the whole way if you can – it's worth seeing the two crowning jewels of the hike – Lake Colchuck and Lake Stuart. Lake Colchuck is the busier of the two and you can take a dip in the water to cool down. Lake Stewart isn't visited as much as it's a short detour from the main trail but will be much more tranquil.
And if you want to take it one step further, you can continue on the Enchantments hike…
---
READ MORE: Hiking The Colchuck Lake Trail + Lake Stuart!
---
4. Backpacking The Enchantments (The Most Adventurous Thing to Do in Leavenworth!)
Distance: 20.5 miles
Type of Trail: Point-to-Point
Difficulty: Hard
The Enchantments Trail is an even longer, even more, challenging trail that goes beyond Lake Colchuck! You should only attempt this in one day if you are a very quick hiker and have experience hiking similar trails. You also must start your day pretty early to make it back before sunset.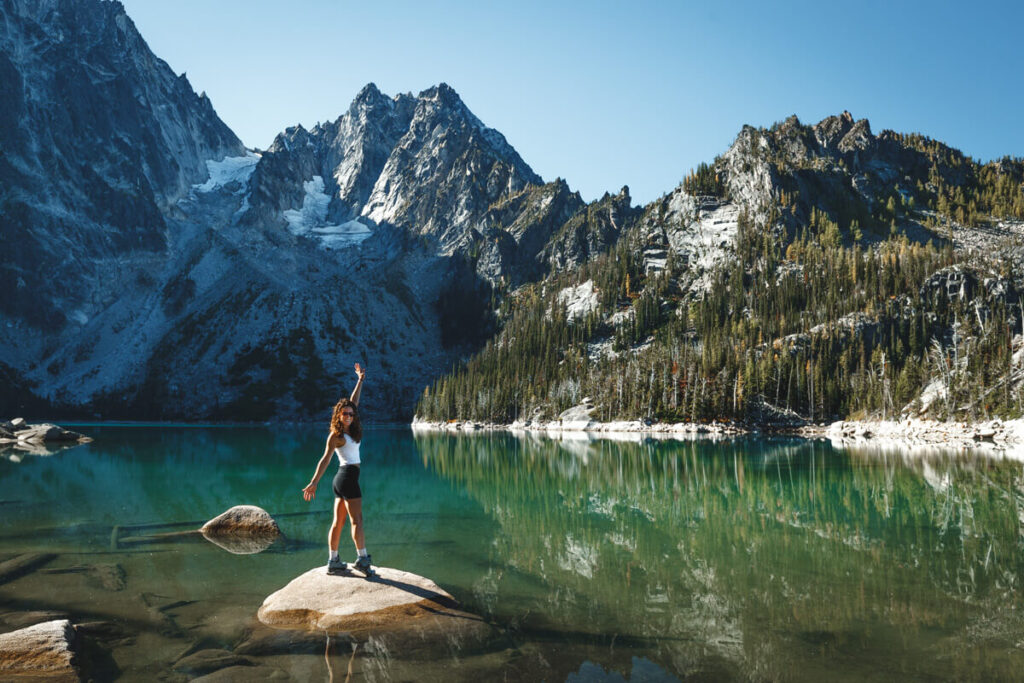 However, you could also hike this route as a multi-day trek. It is a point-to-point hike encompassing Lake Colchuck and Lake Stewart and has epic views over Crystal Lake and Inspiration Lake and side trips to Prusik Pass and Little Annapurna Summit.
It incorporates lakes, mountains, snowy passes, and more!
It's a 20.5-mile trip, but it is difficult terrain, so don't underestimate it and plan to camp for at least one night (unless you are a very experienced hiker). There is a good campsite about halfway at Inspiration Lake.
You will need a backcountry camping permit which you can arrange here to camp anywhere along this hike. It's also a lottery so apply early and be prepared to not get accepted, it's a well-sought-after permit!
To reach the trailhead, drive along Icicle Road out of Leavenworth and turn left onto the National Forest Development Road 7601. The trailhead is along this road. The end of the hike is near Icicle Road – you probably won't want to do it as an out-and-back route, so it's best to arrange a pickup!
→ To get a glimpse of the Enchantments without the challenge, book this Mountain View E-Bike Experience.
---
RELATED: 19 Amazing Weekend Trips From Seattle (1-5 Hours Away!)
---
5. Lake Wenatchee State Park
Lake Wenatchee State Park is one of the best things to do in Leavenworth for people who want all kinds of adventures!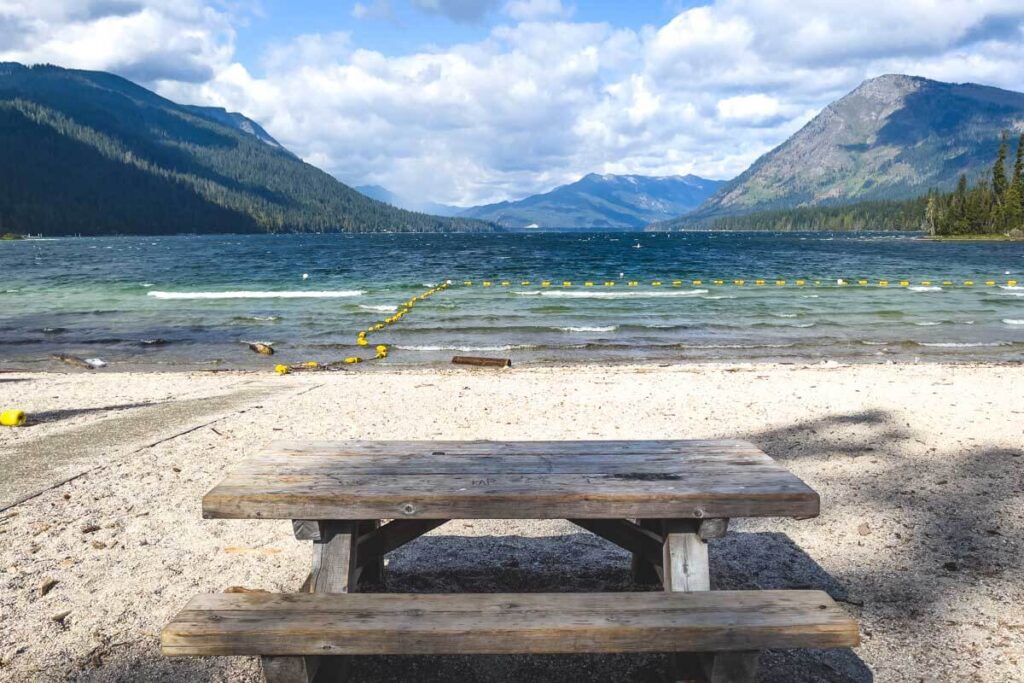 The park encompasses the beautiful Lake Wenatchee and Wenatchee River, fed by dramatic glaciers. Take in surreal alpine scenery from this park, where the mountains soar high and are capped with snow even in the summertime.
There are things to do here year-round. Try paddleboarding or hiking in the summer months, or go sledding or snowshoeing in the winter.
You can even camp year-round too. Enjoy the atmosphere of summer camping, or try pitching your tent in the snow, with heated bathrooms and warming shelters!
6. Peshashtin Pinnacles State Park
Another popular Washington State Park is Peshashtin Pinnacles. Encompassing 34 acres, rugged pinnacles punctuate this state park. There are various activities you can do here, including rock climbing up one of the pinnacles.
Another popular activity in Peshashtin Pinnacles State Park is hiking. A loop walk is just under a mile long and is a fantastic way to explore the surrounding scenery. Although it's only a mile long, there is quite a lot of climbing involved!
However, the views from the pinnacles are worth it – stretching all over this part of Washington state, you'll be able to take in the state park and the Cascade Mountains.
7. Icicle Ridge Trail
Distance: 5.5 miles
Type of Trail: Out & Back
Difficulty: Moderate
Icicle Ridge Trail is a moderately difficult out and back trail that runs from near Icicle Road to a beautiful ridge where you can take epic views of the surrounding area.
It is 5.5 miles in length and consists of several switchbacks. The way there is all uphill, and then you can walk along the ridge for a bit of way and take in the views. On the way back, it's all downhill!
This is one of the best things to do in Leavenworth because of its accessibility. You need to drive down Icicle Road to reach the trailhead; then, you can start hiking uphill! The parking lot can get full so plan accordingly.
---
RELATED: 9 Awesome Hikes Around Leavenworth, Washington
---
8. Freund Canyon Trailhead Bike Trails
This trail is suitable for hiking, but it's also really popular for mountain biking! There's a mix of tracks here – you can start with the standard Freund Canyon loop, which connects with lots of trails around the area, or try the Rosy Boa, which has impressive views of Leavenworth.
It's a very small track, and there are many switchbacks and jumps. So it might be a bit overwhelming if it's your first-time mountain biking – but if you're experienced, it's somewhere not to be missed!
There are a few bike rental shops in Leavenworth if you don't have your own set of wheels with you.
9. Paddle, Float and Raft in Leavenworth!
Getting on the water is one of the best things to do in Leavenworth!
Whether you want to go independently stand up paddleboarding, try out adventure tubing or go whitewater rafting, there is something for every adventure level.
Trips run along the Wenatchee River, just a short drive from Leavenworth. You can check out Osprey Rafting for rentals and tours; their office is near Cashmere.
Whether you want to take a boat out for a few hours or go on an all-day expedition, there are water activities here and they're perfect for the summer months! If you have your own paddleboard or tube, just head out to Waterfront Park (#1 on this list) and plop yourself in at any of the "beach" put-ins.
10. Lake Valhalla and Mount McCausland Trail
Distance: 7.9 miles
Type of Trail: Out & Back
Difficulty: Hard
The Lake Valhalla and Mount McCausland Trail is one of the best in the area. However, it's rated as difficult and is about 7 miles, with a short side trip to see the lake.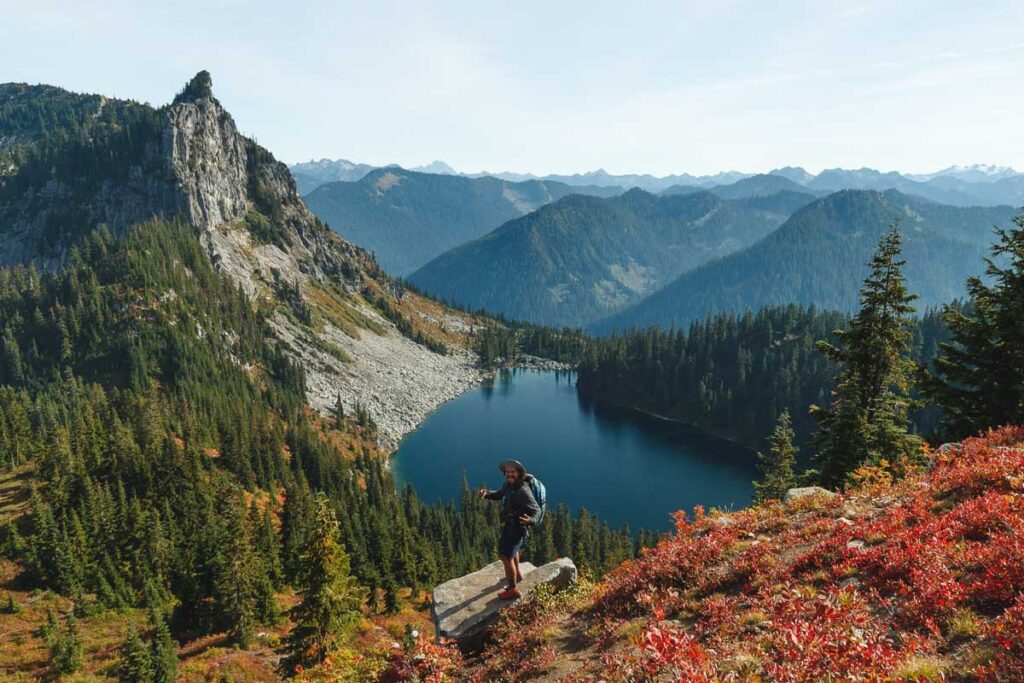 There are many switchbacks at the start, and then it's a short but steep uphill climb until you get to Mt McCausland. It's worth the climb – there are excellent views from the top and lots of beautiful flowers, berry bushes, and trees, depending on which time of year you are there!
We recommend summiting Mt McCausland first and then climbing back down to see the lake. It's an extra mile to see the lake as a side trip – but it's a dreamy place to take a break and eat your lunch! Many people skip the Mt McClausland summit and head straight to the lake but honestly, it's so worth the extra time to head up!
Then, return the way you came to get back to the trailhead.
---
READ MORE: Hiking Lake Valhalla Trail + Mount McCausland Trail
---
11. The Best Thing to Do in Leavenworth—Walk Around!
There are so many adventurous things to do in Leavenworth, but make sure you spend some time just exploring the town—which is SO cute!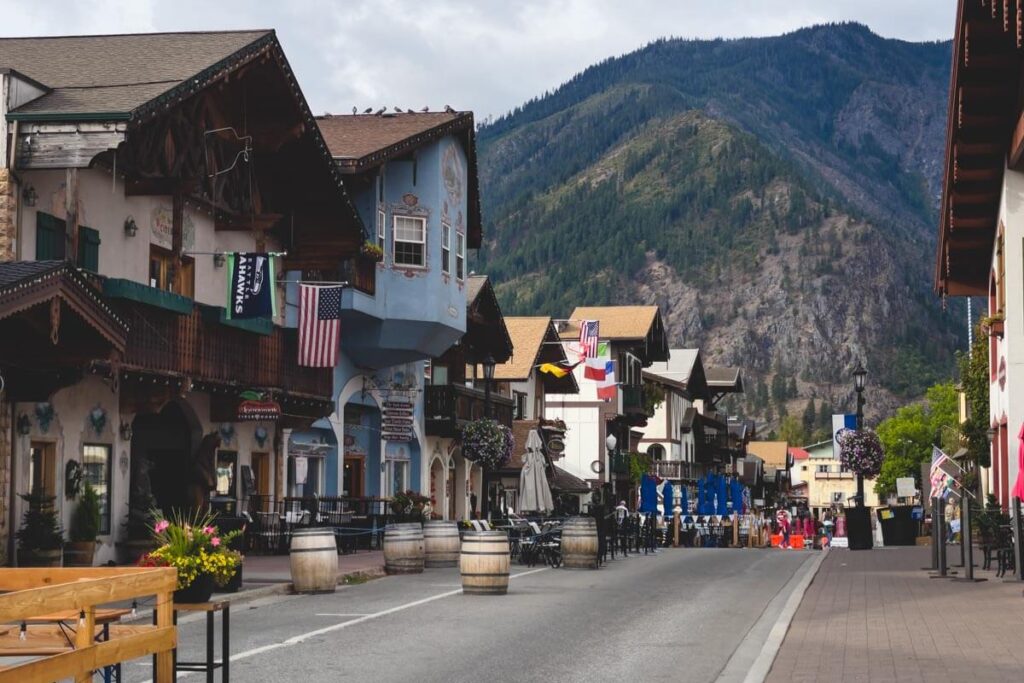 The town started its life as a Native American salmon fishing area. In the late 19th century, settlers traded with the Wenatchi, Chinook, and Yakima tribes, who have lived in this region for millennia.
Leavenworth grew over the centuries, eventually reinventing itself in the 1960s as a tourist town. It used its beautiful mountainous setting as a backdrop for a quintessentially Bavarian-style village. There was no German migration here, but you could almost feel like you're in Europe when walking around!
There are tons of little Bavarian shops, restaurants, and bars all within an easily walkable center. Even the regular supermarket is German-themed on the outside! We headed to Rhein Haus to get a nice view over the town and, of course, to get a stein and pretzel the size of our face!
Where to Stay in Leavenworth
Camping – There are a whole host of pubic campsites along Icicle Road and throughout Okanogan-Wenatchee National Forest. The closest to Leavenworth is Eightmile, but you'll find the most sites at Johnny Creek, and parking for extra-long RVs at Blackpine Horse Camp.
LOGE Leavenworth Downtown – This central hotel combines minimalist décor with a focus on adventure and sustainability. Guest can make use of free bike hire, outdoor patios with a fire pit, and Sunday yoga sessions.
Off-Grid Cabin – This cozy stay is for anyone that truly wants to disconnect, with no electricity or indoor plumbing. You can truly focus on enjoying the natural surroundings from the deck or playing board games by the wood fire.
Whistle Post Inn – Just a short drive from town you'll find this converted barn that's great for groups. It's a combination of bunk-style bedding and oversize tents for an outdoor/indoor glamping experience.
Alpine Escape – You can stroll to the river from this modern two-bedroom condo. It's fully equipped with a fireplace and a large kitchen and is just 15 minutes walk from downtown.
There are many fun things to do in Leavenworth; you could spend all year here and not get bored. Whether you're into hiking, watersports, or mountain biking, this adventure hotspot will meet all your needs and is a wonderful place to base if you want to get outdoors.
We hope this post help you plan your trip to Leavenworth, Washington!
I'm an Oregon native but neighborly and equally as enchanted by Washington. I tackle expeditions around the world and love a good beer at the end of the day. PNW obsessed, VW nerd, and surf or snow riding fanatic.