Stuck in the far left corner of the USA, Washington State boasts a treasure trove of charming cabins that offer a perfect escape from the hustle and bustle of everyday life.
From the rugged landscapes of the Cascade Mountains to the placid shores of the Pacific Ocean, there's an array of cabin getaways that cater to every adventurer's dream. We've done the hard work for you— we gathered the best cabins Washington has to offer, each with its own unique character and captivating surroundings!
Below you'll find all of the cabins in Washington ordered by their location in the state. You'll find a cabin here that's near where you want to adventure! Speaking of which, we've included the best adventures near every cabin as well. You're welcome!
Best Cabins in Washington
---
In a hurry? No prob! Here's a quick rundown of some of the best cabins in Washington.
Cabins Near Olympic National Park
Things to Do Near These Cabins in Washington:
Lake Crescent: Enjoy the crystal-clear waters of Lake Crescent, perfect for kayaking, swimming, or simply soaking in the serene surroundings. For the best views, tackle Mount Storm King!
La Push Beaches: Explore the dramatic coastal beauty of La Push with its stunning sea stacks, tide pools, and mesmerizing sunsets. There are three beaches to choose from here and you can even camp along the shore!
Hoh Rainforest: Immerse yourself in the enchanting Hoh Rainforest, where moss-covered trees and lush greenery create a magical atmosphere for hiking.
Sol Duc Falls: Hike to the enchanting Sol Duc Falls, a picturesque waterfall surrounded by lush forest and accessible via well-maintained trails. You can take the long way to reach other waterfalls too!
Kalaloch Beaches: Discover the wild and rugged beauty of Kalaloch Beaches, known for their dramatic cliffs, tide pools, and opportunities for beachcombing. Don't miss out on the Tree of Life.
Rialto Beach: Take a stroll along Rialto Beach and admire the unique rock formations, tidal pools, and scenic views of the Pacific Ocean. One of the best hikes in Olympic National Park is the stroll along the beach to the Hole in the Wall!
Hurricane Hill: Hike up Hurricane Hill for panoramic views of the Olympic Mountains, Strait of Juan de Fuca, and Vancouver Island – a must for hikers and photographers.
Port Angeles: Explore the charming town of Port Angeles, a gateway to the park, offering amenities, dining, and a pleasant waterfront area.
1. Dreamlike Lakefront Cabin on Lake Sutherland
Blessed to be on the sunny side of the lake, this charming studio cabin offers an idyllic lakefront retreat. With its prime location, you'll be treated to stunning lake views, lakefront amenities, and all the comforts of home.
The cabin features a well-equipped kitchen with a stove, oven, microwave, large refrigerator, Keurig coffee maker, toaster, and all the essential cookware. Additionally, an outdoor BBQ on the deck allows for alfresco dining by the water. Worries about water quality are put to rest with an ultraviolet water purification system.
You'll find the cabin climate-ready, complete with air conditioning, heating, and an instant hot water heater. The full bathroom includes a shower, sink, and toilet for your convenience.
For a restful night's sleep, the cabin offers versatile sleeping options, including two full-size memory foam beds in a bunk setup, a twin-size memory foam trundle bed, and a queen-size memory foam pull-out sofa.
Outdoor enthusiasts will delight in the two SUP paddle boards and a two-person kayak available for adult guests as an extra perk!
Sleeps: 6
Pet friendly: No
Price: Avg $100/night
2. Fishermen's Hollow on the Bogachiel River
Welcome to Fishermen's Hollow, a cherished retreat for the past nine years, and now it's your turn to experience it.
Snuggled right by the riverfront, this property has been designed with your privacy in mind. It's a rental for a single party, consisting of two cabins connected by covered decks and a breezeway.
The main cabin is a hub of comfort, boasting a full kitchen, a convenient 3/4 bath, a spacious great room with inviting leather furniture, and a generously sized table perfect for shared meals.
Whether it's the crisp winter air or the balmy summer breeze, you can enjoy the serene river views from the covered decks or gather around a campfire under the stars. For a soothing night's sleep, rest easy at your very own cabin in Washington!
Sleeps: 6
Pet friendly: No
Price: Avg $223/night
Cabins Near Seattle
Things to Do Near These Cabins in Washington:
Kayak Lake Union: Explore the city from a different perspective by kayaking on Lake Union, where you can paddle past houseboats, enjoy beautiful skyline views, and get up close to seaplanes taking off and landing.
Foodie Scene: Seattle is a food lover's paradise. Dive into the local food scene by visiting cafes, breweries, and restaurants, particularly in neighborhoods like Capitol Hill, Ballard, and Fremont. Don't miss Pike Place Market for fresh seafood and other culinary delights!
Lake Sammamish: Head east of Seattle to Lake Sammamish, a serene lake offering opportunities for swimming, picnicking, boating, and enjoying the outdoors. It's a peaceful escape not far from the city.
Tons of Parks: Seattle is home to numerous parks, each with its own unique charm. Some must-visit options include Discovery Park, Green Lake Park, and Gas Works Park, which offer a mix of nature, recreation, and scenic views.
Go to the Beach: While in Seattle, don't forget to spend some time at the city's beaches along Puget Sound, such as Alki Beach in West Seattle. You can walk along the waterfront, relax in the sun, or enjoy beachside dining.
Be a Tourist: Embrace your inner tourist by taking guided tours of Seattle's iconic attractions, such as the Space Needle, Seattle Aquarium, or an underground tour in Pioneer Square.
3. Forested Cabin in Washington Near Seattle
Your cabin retreat awaits! You're only 30 feet behind the main house but you have your own private entrance to your cabin.
Inside, you'll find everything you need for a comfortable stay. Begin your day with the soothing sounds of birds chirping, surrounded by the tranquility of the forest. And don't forget to savor a freshly made cup of espresso to kickstart your mornings.
Located in a safe, quiet, and lush neighborhood, you'll have the peace and serenity you crave, yet you're not far from the vibrant heart of Seattle!
The cabin is equipped with all the essentials, including high-speed internet (160 Mbps), linens and towels, heating options, air conditioning, and a full kitchen!
Sleeps: 4
Pet friendly: No
Price: Avg $148/night
4. Riverfront Retreat on the Cedar River
This delightful retreat sits right on the famous Cedar River, boasting a charming cedar log cabin exterior and a modern, fully updated interior designed for your comfort.
With three bedrooms, two baths, and a spacious 1,900 sq. ft. layout, this spot is a haven of tranquility. Its extra-large windows and vaulted ceilings provide an uninterrupted view of the breathtaking river. Step onto the back deck, relax in the lounge chairs and lose yourself in a good book while listening to the flow of the river. On cooler evenings, cozy up around the firepit by the river and toast marshmallows for a delightful treat.
Equipped with all your favorite streaming platforms, high-speed internet, and even a Ping Pong table, dartboard, and a comfy couch for game spectators in the garage!
Sleeps: 10
Pet friendly: No
Price: Avg $215/night
Cabins North of Seattle
Things to Do Near These Cabins in Washington:
Whidbey Island: Explore the scenic Whidbey Island, known for its charming coastal towns, lush landscapes, and stunning beaches. Visit places like Coupeville and Langley, where you can enjoy art galleries, local cuisine, and picturesque waterfronts.
Deception Pass State Park: This park offers a rugged coastline, historic bridges, and various hiking trails that provide excellent opportunities for wildlife watching and enjoying the breathtaking coastal scenery. Don't miss the chance to walk across the iconic Deception Pass Bridge for panoramic views of the swirling waters below.
North Cascades National Park: Venture into the wild and rugged terrain of North Cascades National Park. This park boasts towering peaks, glaciers, alpine lakes, and extensive hiking trails for both day hikers and backpackers. We LOVE the Chain Lakes Loop trail.
5. Cozy Oceanfront Cabin in Washington's Whidbey Island
This home is a rustic Whidbey Island retreat that promises breathtaking views and a laid-back atmosphere, perfect for families and small groups of friends seeking a tranquil escape!
Nestled alongside the picturesque Penn Cove, your new home away from home is just a short drive north of Coupeville, where you can explore shopping and dining options. However, if you fancy a taste of the local shellfish and mussels, you're in luck—Penn Cove Farms is conveniently located down the road.
Whether you choose to dine indoors or savor a barbecue feast on the grill, the day can be beautifully capped off on the spacious deck, mere steps away from the rocky shores and gentle waves of the sea. Take a moment to inhale the refreshing ocean breeze before heading inside.
Inside, the cozy ambiance welcomes you to unwind. Snuggle up on the couch with your sweetheart and enjoy the complimentary amenities, including free WiFi, cable TV, and a selection of DVDs on a flatscreen TV.
Sleeps: 4
Pet friendly: No
Price: Avg $105/night
6. North Fork Cabin Near Mount Baker
Escape to the tranquility of Camp North Fork, held in the heart of Mt. Baker National Forest, where modern comfort meets rustic charm. Just 30 minutes from the Mt. Baker Ski Area, this cabin offers an ideal base for year-round adventures in the Pacific Northwest's Mount Baker area within the Mt. Baker-Snoqualmie National Forest.
Nature enthusiasts will find endless possibilities here, from hiking and mountain biking to kayaking and skiing/snowboarding. For those seeking a more leisurely pace, forest strolls and lounging in the serene surroundings are equally appealing.
On the first floor, you'll discover a spacious living room, a dining area, a well-appointed kitchen, and a TV room equipped with games and an extra fridge. A full bathroom with a tub adds to the convenience.
The second floor offers a master bedroom with a king-size bed and a balcony for enjoying the scenic views. Additionally, there's a second bedroom with a full-size bed and a third bedroom with two twin beds. A half bath adds to the comfort.
Sleeps: 6
Pet friendly: Yes (1 dog)
Price: Avg $160/night
Cabins Near Mount Rainier National Park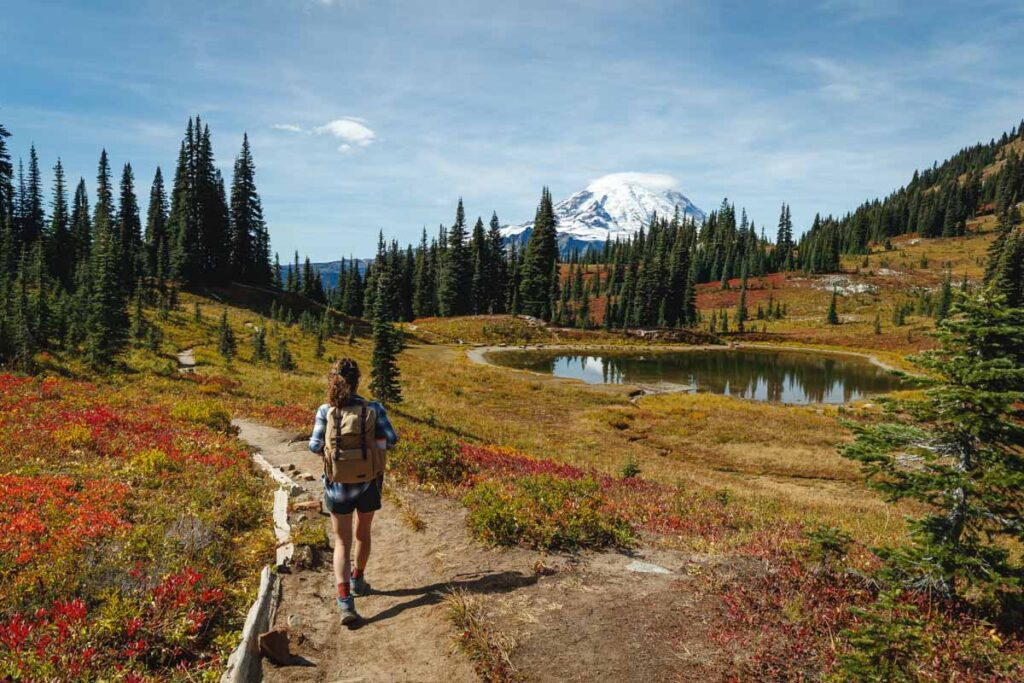 Things to Do Near These Cabins in Washington:
Skyline Trail: Embark on the iconic Skyline Trail for awe-inspiring views of Mount Rainier- up close and personal! There are alpine meadows filled with wildflowers and a chance to spot wildlife like marmots and mountain goats.
Naches Peak Trail: Hike the Naches Peak Loop Trail for stunning vistas of Mount Rainier, beautiful subalpine meadows, and a tranquil mountain lake. We think this is the most underrated hike in Mount Rainier.
Tipsoo Lake: Visit Tipsoo Lake, especially during wildflower season, to capture the reflection of Mount Rainier in its crystal-clear waters and take in the vibrant alpine flora.
Chase Waterfalls: Explore Mount Rainier's cascading waterfalls, including Narada Falls and Myrtle Falls, where you can marvel at the rushing waters and capture stunning photographs.
Burroughs Trail: Challenge yourself with the Burroughs Mountain Trail, which offers sweeping views of the Emmons Glacier, Mount Rainier's largest glacier, and the surrounding landscapes.
Mount Fremont Trail: Hike the Mount Fremont Trail to enjoy panoramic vistas, alpine meadows, and opportunities for wildlife viewing, all while basking in the grandeur of Mount Rainier from a fire lookout!
7. Creek-Front Cabin in Washington
Welcome to your perfect mountain getaway, just five minutes from the entrance to Mt. Rainier National Park and the charming town of Ashford, WA!
As you step inside, you're greeted by a spacious living room with a vaulted ceiling and stunning chalet-style windows that offer panoramic views of Big Creek and Osborn Mountain.
Outside, the large creekfront deck beckons you to enjoy a cup of coffee or tea while watching the rushing waters. The view is especially enchanting in winter, with snowfall adding to the magic. On clear nights, stargaze through the trees as you savor a s'more or a glass of wine around the outdoor fire pit.
The full-sized kitchen comes equipped with everything you need, including a stove, microwave, refrigerator, coffee maker, and dishwasher. Head upstairs to the loft, where you'll find a comfortable queen-size bed with a pillow-top mattress, ensuring a restful night's sleep surrounded by the beauty of the woods!
Sleeps: 2
Pet friendly: No
Price: Avg $177/night
8. River-Front Mountain View Cabin
Welcome to a charming and cozy tiny house nestled on the river's edge, offering breathtaking views, a relaxing hot tub, and a fire pit for memorable evenings.
In the cabin, you'll be able to relax in a loft-style king bed at the top and down below, a full-size bed, a fully equipped bathroom, and a quaint kitchen that has all the essentials you'll need. The living room provides seating for four and is equipped with a flat-screen TV, a Blu-ray player, and wireless internet for entertainment and connectivity.
The tiny house is thoughtfully stocked with amenities, ensuring you have everything you need for a delightful stay. This charming riverside tiny house offers a perfect escape for those seeking serenity, beautiful views, and a touch of adventure in a cozy space.
Sleeps: 4
Pet friendly: No
Price: Avg $180/night
9. The A-Frame Cabin
Discover this hidden gem—a modern A-frame nestled in a wooded wonderland! This cabin in Washington is your perfect escape, located just minutes from Mount Rainier and a mere one-minute walk from the serene Nisqually River.
After a day of hiking in the national park, unwind in the cozy ambiance of the cabin. Relax next to the wood stove, watch a movie, and enjoy the forest around you. This cabin has also become a sought-after spot for photo shoots, so don't be shy, bring the camera!
Essentials are provided for your comfort, including wireless internet with speeds of 25+ Mbps, towels, linens, a hairdryer, shampoo, and basic toiletries. Stay warm with a wall heater and a very inviting wood stove, and if you need wood, it's readily available in town at the general store.
The kitchen is well-stocked, and outdoors, there's a fantastic fire pit setup, perfect for roasting s'mores and hanging out!
Sleeps: 2
Pet friendly: No
Price: Avg $189/night
10. Mount Rainier Cabin With a Hot Tub
Experience the allure of a unique Mt. Rainier cabin just 5 minutes from the main entrance to Mt. Rainier National Park. This cozy retreat features soaring 11-foot ceilings, a toasty wood-burning stove, a fully equipped kitchen, one bedroom with a queen-size bed, a well-appointed bathroom, and yes, of course, your own hot tub!
For those looking to elevate their adventure, take advantage of the two pairs of snowshoes and poles provided for you! You'll have a winter wonderland outside your doorstep.
This cabin is tailor-made for couples seeking a romantic Mt. Rainier getaway. After an exhilarating hike or snowshoeing in the national park, return to your cozy haven. Warm up by the crackling fire with a cup of cocoa, and unwind with a movie. If you're in the mood for a romantic dinner, the cabin's kitchen has everything you need.
Sleeps: 2
Pet friendly: No
Price: Avg $249/night
Cabins Near Leavenworth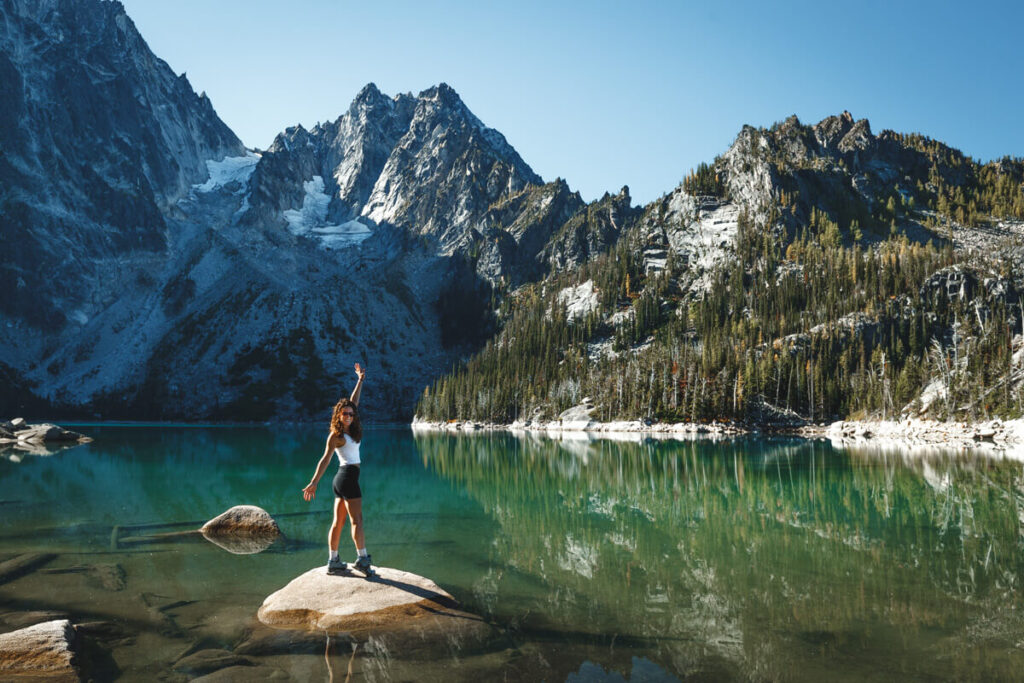 Things to Do Near These Cabins in Washington:
Waterfront Park: Stroll through Waterfront Park, a picturesque riverside park in the heart of Leavenworth, where you can relax by the Wenatchee River, have a picnic, or simply enjoy the scenic views.
Lake Colchuck: If you're up for a challenging hike, explore the beautiful Lake Colchuck, a stunning alpine lake surrounded by rugged peaks. The hike is known for its crystal-clear waters and the enchanting sights of the Enchantment Lakes region.
Lake Wenatchee State Park: Head to Lake Wenatchee State Park for a variety of outdoor activities, including swimming, boating, fishing, and picnicking along the shores of Lake Wenatchee. The park also offers hiking and cross-country skiing in the winter.
Raft the River: Experience the thrill of white-water rafting on the Wenatchee River, where local outfitters offer guided trips suitable for both beginners and experienced rafters. It's a great way to enjoy the river's beauty and excitement.
Lake Valhalla Trail: Hike the Lake Valhalla Trail for a scenic adventure through lush forests and alpine meadows, culminating in the breathtaking views of Lake Valhalla, surrounded by jagged peaks.
11. Vista View Chalet With Hot Tub
Welcome to Vista View Chalet, a three-bedroom alpine villa nestled in the stunning North Central Cascade Mountains overlooking Lake Wenatchee. This is the perfect base for exploring the wonders of the region, from the snowy slopes of Stevens Pass to the Bavarian-themed town of Leavenworth.
At Vista View, you'll have easy access to a diverse range of recreational activities, but back home at your own chalet, you can enjoy moments of serenity in the hammock while taking in partial lake views or taking a refreshing dip. For ultimate relaxation, soak in the luxurious hot tub while gazing at the majestic mountain skyline.
Inside the 950-square-foot chalet, you'll discover a cozy retreat with all the comforts you need. The freestanding wood stove adds a touch of warmth and charm to the space, complemented by granite counters, cathedral ceilings, and cherry wood finished floors.
Sleeps: 4
Pet friendly: Yes
Price: Avg $183/night
12. Downtown Leavenworth Cabin
Discover the best of Leavenworth, Washington! Stay at this inviting 2-bedroom, 2.5-bath cabin in Washington that's just 2 miles from downtown Leavenworth! This cabin has its own private hot tub, spacious interior featuring free WiFi, and a deck perfect for sipping morning coffee.
Inside this cute cabin, you'll find all the comforts, including a Smart TV, board games, books, ceiling fans, a dining table, and a workspace (which hopefully doesn't get used!). The well-appointed kitchen is equipped with a coffee maker and grinder, cooking utensils, dishware, flatware, a dishwasher, a microwave, and a toaster.
Step outside to the deck, where the hot tub awaits, offering a soothing soak after your day's activities. You can also enjoy some outdoor fun with a game of cornhole.nFor those who appreciate nature, there's a hiking trail on-site, ensuring easy access to outdoor adventures.
Sleeps: 4
Pet friendly: No
Price: Avg $146/night
13. Cabin in Leavenworth With Views
Discover the perfect retreat for large groups and families in this spacious cabin with two bedrooms that can comfortably accommodate up to 10 people! With three floors of living space and fantastic outdoor areas, this cabin is fully equipped with everything you need, from a BBQ grill to toiletries.
Inside, you'll find the cozy ambiance of two fireplaces, ensuring warmth and comfort during your stay. Step outside to enjoy the outdoor fireplace as well, perfect for gathering around on cool evenings.
This cabin is not just a home; it's a gateway to adventure. It's conveniently close to Eagle Creek Winery, making wine tasting and relaxation a breeze. If you're feeling more adventurous, horseback riding is just up the road, allowing you to explore the scenic surroundings in style.
But the real highlight of this cabin is the breathtaking mountain view it offers!
Sleeps: 10
Pet friendly: Yes
Price: Avg $209/night
Cabins Near Spokane
Things to Do Near These Cabins in Washington:
Riverside State Park: Explore Riverside State Park, a vast natural playground with miles of hiking, biking, and equestrian trails along the Spokane River. Discover the Bowl and Pitcher area, known for its unique suspension bridge and dramatic basalt rock formations.
Riverfront Park: Visit Riverfront Park in downtown Spokane, home to the iconic Spokane Falls and Pavilion, where you can enjoy a leisurely stroll, take a ride on the historic Looff Carrousel, or simply relax by the river.
Liberty Lake: Spend a day at Liberty Lake, a serene oasis perfect for swimming, boating, and picnicking. The lake is surrounded by a regional park with hiking trails and abundant wildlife.
Mount Spokane State Park: Head to Mount Spokane State Park for outdoor adventures year-round. In the winter, you can go skiing and snowshoeing, while the summer offers hiking, mountain biking, and panoramic views from the summit.
Brewery and Cafe Hopping: Spokane has a thriving craft beer scene, so be sure to explore local breweries for a taste of the region's craft beers. Additionally, the city boasts a variety of cafes and coffee shops, making it a great destination for coffee aficionados!
14. Waterfront Hideaway Cabin at Sacheen Lake
Escape to a tranquil retreat in the midst of picturesque woods with stunning views of Sacheen Lake. This beautifully decorated cabin embraces a Native-American motif, creating a warm and inviting atmosphere.
The A-frame living room boasts a wall of windows that frame the serene lake view. Enjoy this captivating vista from various vantage points—the living room deck, the lower-level patio, or even from the private dock right on the water.
When the sun is shining, soak up its warmth while sunbathing, swimming, or fishing right from the dock. Bring your ski boat or jet skis (there's a public boat launch nearby), or make use of the three one-person kayaks included with your rental.
The cabin offers a master bedroom/loft with a full-size/queen-size bed, a main-floor bedroom with two twin beds, and a 2-person/double bed/hide-a-bed in the living room. Create a cozy ambiance by lighting a fire in the vintage Imperial Carousel fireplace while preparing a delicious meal in the small-but-fully-outfitted kitchen.
Your rental includes access to the three kayaks and other water toys, ensuring endless lakeside fun!
Sleeps: 6
Pet friendly: No
Price: Avg $127/night
15. The Lakefront Cabin
Step into a world of sheer bliss at your cozy 2-bedroom, 1-bath cabin on Washington's Diamond Lake. This lakefront cabin is a haven for those seeking relaxation and outdoor adventures. With a 100-foot private beach, a boat slip, and an array of amenities, your getaway promises endless fun.
The cabin's warm and welcoming ambiance is perfect for families and outdoor enthusiasts. The first bedroom features a queen bed, while the second bedroom offers a twin/full bunk bed. Additionally, there's a queen sleeper sofa in the living room.
The outdoor space is a dream for those who dine al fresco, and you'll also get a canoe, kayak, paddleboard, pedal boat, life vests, towels, chairs, and even an umbrella. Whether you're fishing, kayaking, swimming, or simply basking in the sun, you'll love this cabin in Washington!
Sleeps: 4
Pet friendly: No
Price: Avg $99/night
Cabins at The Columbia River Gorge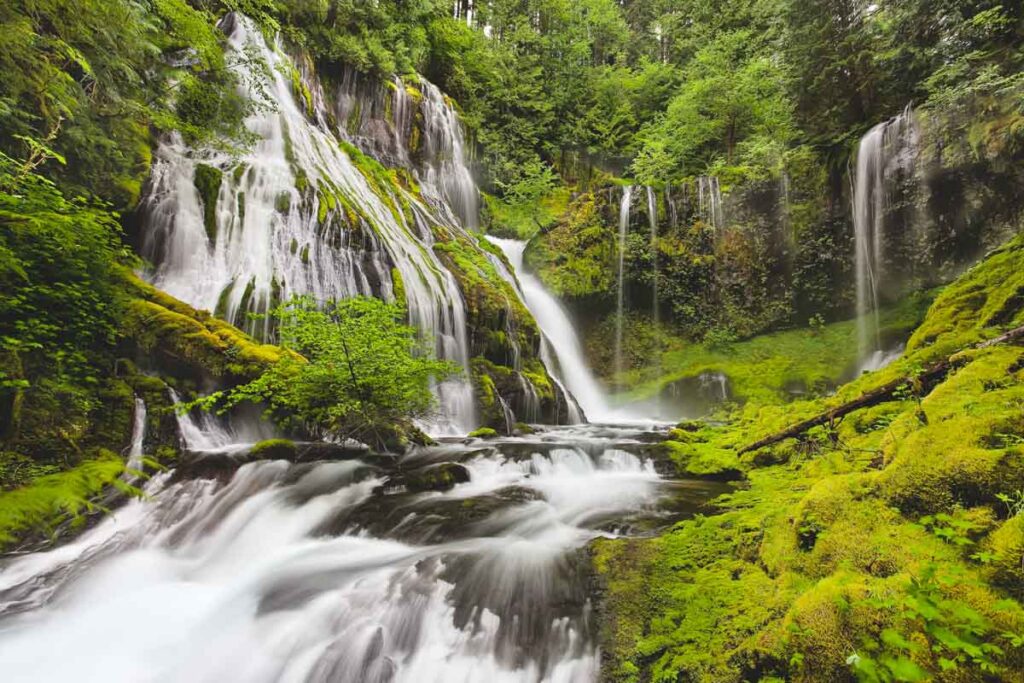 Things to Do Near These Cabins in Washington:
Dog Mountain Hike: Embark on the challenging Dog Mountain Hike for panoramic views of the gorge, the Columbia River, and a stunning display of wildflowers during the spring.
Hamilton Mountain Trail: Hike the Hamilton Mountain Trail for a rewarding experience that includes lush forests, scenic overlooks, and breathtaking vistas of the Columbia River Gorge.
Waterfalls in Oregon: Explore the numerous waterfalls on the Oregon side of the gorge, with Multnomah Falls being the most famous. Other worth-it waterfalls include Latourell Falls and Wahkeena Falls, which offer stunning photo opportunities and a damn good calve workout!
16. Rivers Perch Waterfront Cabin
Discover the tranquil beauty of Rivers Perch, a secluded custom cabin nestled on a wooded acre with private access to the pristine Washougal River. Inside, a well-equipped kitchenette awaits, and a cozy living area, where an efficient woodstove provides warmth.
Step outside onto the deck, overlooking the ancient fir forest, or retreat to the upper-level balcony off the primary bedroom, complete with a hammock perfect for afternoon naps. To elevate your relaxation, indulge in a soothing soak in the private hot tub.
This sanctuary is located just 40 miles northeast of Portland, 12 miles from downtown Washougal, and just a few minutes from The Gorge, offering access to an untouched wilderness teeming with native northwestern flora and centuries-old trees. Numerous bird species, ducks, geese, and other wildlife call this area home.
Sleeps: 6
Pet friendly: No
Price: Avg $173/night
17. Shellrock Cabin With Columbia River View
Shellrock Cabin is one of the most charming vacation rentals with captivating views of the Columbia River and the surrounding Cascade mountains. Whether you're planning a visit to Skamania Lodge, the Bridge of the Gods, Mt. Hood, Dog Mountain, Multnomah Falls, White Salmon, Hood River, or Portland, you'll find them all conveniently close.
You'll get everything you need in this cute one-bedroom cabin. Relax on your kind-sized bed, and use your fully equipt kitchen, take a load off in the living area, or just spend all your time on the deck looking at your view!
Here you have a snug and inviting escape where you can relax and unwind in this picturesque setting. Within just a few miles, you'll discover golf courses, brewpubs, restaurants, farmer's markets, shops, waterfalls, wineries, and a multitude of outdoor adventures such as kiteboarding, windsurfing, stand-up paddleboarding, sailing, kayaking, hiking, and fishing.
Sleeps: 2
Pet friendly: No
Price: Avg $120/night
Cabins on The Washington Coast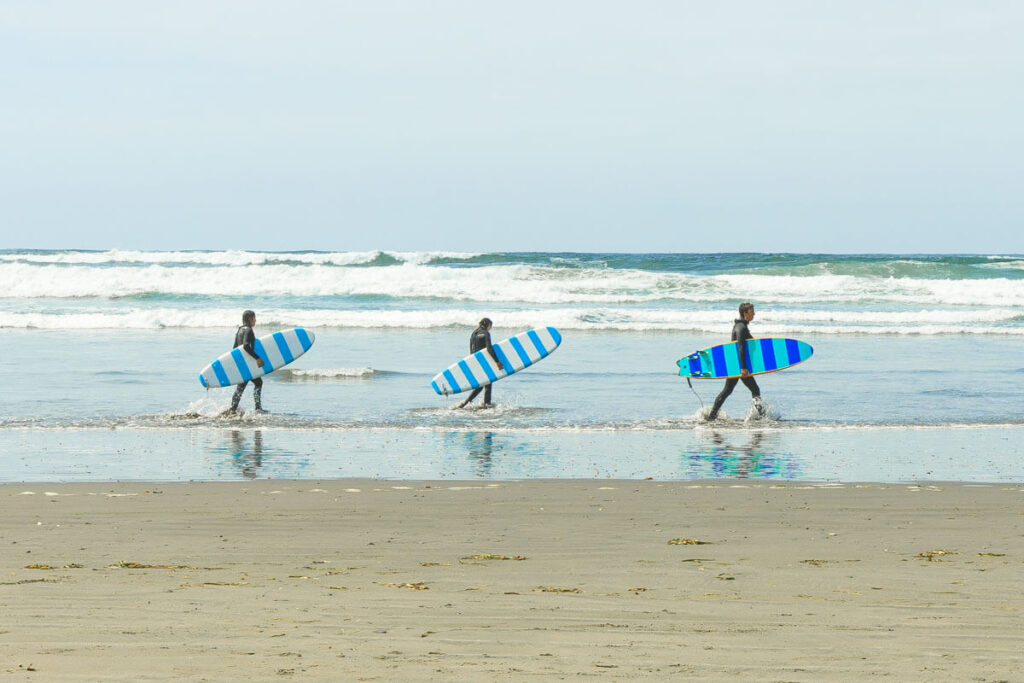 Things to Do Near These Cabins in Washington:
Westport: Explore the coastal town of Westport, which offers a welcoming atmosphere, fresh seafood dining, and opportunities for fishing and crabbing in the bay. Don't forget to visit the Westport Maritime Museum for a dose of maritime history.
Long Beach: Enjoy the expansive Long Beach Peninsula with its wide, sandy beaches, perfect for leisurely strolls, beachcombing, and building sandcastles. It's also known for the world's longest-drivable beach but it's still up for debate!
Surfing: If you're into surfing, catch some waves along the Washington Coast. Several beaches, including Westport, are popular for surfing, and you can find surf shops and schools in the area if you're a beginner.
Cape Disappointment: Visit Cape Disappointment State Park, where you can explore rugged cliffs, hike through dense forests, and discover two historic lighthouses. The park offers stunning viewpoints of the Pacific Ocean and the Columbia River.
18. Coastal Cottage
Welcome to this charming beach cottage just minutes away from some of Washingtons' best coastal activities! Located just a 2-minute drive from Twin Harbors State Park, it's the perfect spot for your group to indulge in some razor-clamming, taste some mouthwatering fish and chips, head to downtown Westport, or explore local wineries.
Inside the cozy cottage, you'll discover a bright living area with comfortable couches and a Smart TV. The main floor has a bathroom with a shower, a dining area with a bar-height table seating four and a well-equipped kitchen. The laundry area includes a washer and dryer, as well as beach chairs and toys for your convenience.
Head upstairs into the A-frame structure that has an additional two bedrooms and a powder room. The outside has plenty of space, along with an outdoor seating space around a firepit.
Sleeps: 4
Pet friendly: No
Price: Avg $145/night
19. The Red Pearl, A Cozy Cabin in Washington
The Red Pearl is a coastal retreat, perfect for a beachside getaway. With its whimsical cedar cottage design and proximity to the sandy beach, it offers an ideal escape for those seeking relaxation and outdoor adventures.
The bedroom is immensely comfortable, a there is a large outdoor patio with a fire pit and a barbecue grill, making it an excellent choice for entertaining and enjoying the coastal atmosphere.
You'll be near Loomis Lake, downtown Long Beach where you can get some great seafood, and of course, not far from the famous Cape Disappointment State Park to the south.
Sleeps:
Pet friendly:
Price:
We hope this guide helped you find the perfect cabin in Washington for your getaway!
I've been perpetually traveling and living around the world for years but it's hard to beat Washington and the PNW. After years of road-tripping the area, I guess you can say I know it pretty well! When I'm not writing guides for you, you can catch me somewhere petting a dog, attempting to surf, hiking a volcano, or stuffing my face with bread and cheese.