While the "Evergreen State's" endless forest territory may overshadow some of the state's other noteworthy attractions, Washington's coastal towns boast a beauty all their own.
With long stretches of sandy beach, epic views of the Olympic Peninsula, and vast expanses of diverse flora and fauna, the state's 3,000-mile coastline is not to be missed.
Some of the best views in the Pacific Northwest are tucked away in Washington's beach towns, but you're in for much more than just an average day at the beach.
So whether you're hoping to work on your tan, surf the shoreline, dig for clams, or hike in solitude, do not miss these ten awesome Washington coast towns.
Washington Coast Towns
---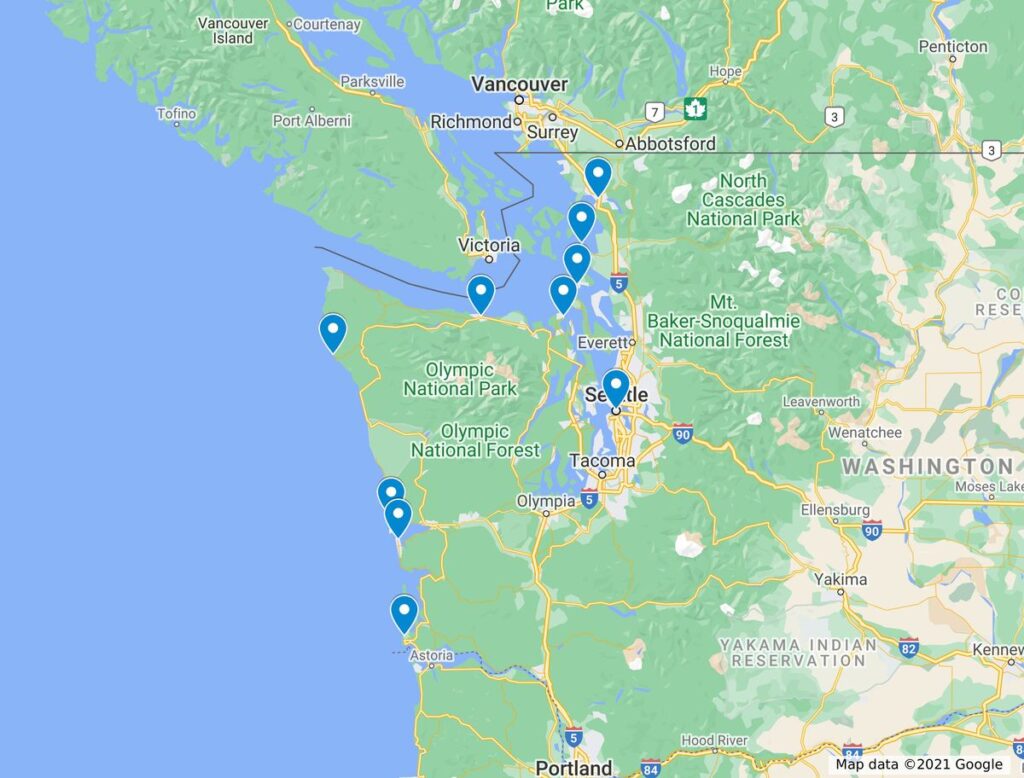 1. Long Beach
Beach bums will find the lovely city of Long Beach to be one of the best beach towns in Washington. Home to the world's longest peninsular beach, you'll have no problem finding a sandy spot to lay out your towel and soak up some sun (if the weather cooperates, that is).
Those on the hunt for more adventurous things to do in Long Beach can go for a horseback ride along the shoreline, take a stroll along the scenic boardwalk, or stretch their legs on one of the hiking trails in the nearby state parks.
Kite flying is also a popular pastime at this Washington beach town, thanks to the ever-present wind off of the coast.
This is also the closest Washington coastal town to Oregon. You can simply take the gorgeous Astoria-Megler Bridge and next thing you know, you're exploring one of the coolest Oregon towns, Astoria! In under an hour from Long Beach, you could be exploring towns like Cannon Beach or strolling the historical Fort Stevens State Park.
Where to Stay in Long Beach:
---
READ MORE: 9 Adventurous Things to Do in Long Beach, Washington
---
2. Westport—Surf This Washington Coast Town!
The city of Westport is all about waves. This Washington coast town is a mecca for surfers, and even if you've never surfed a swell before, you can take a lesson from one of the local pros in town.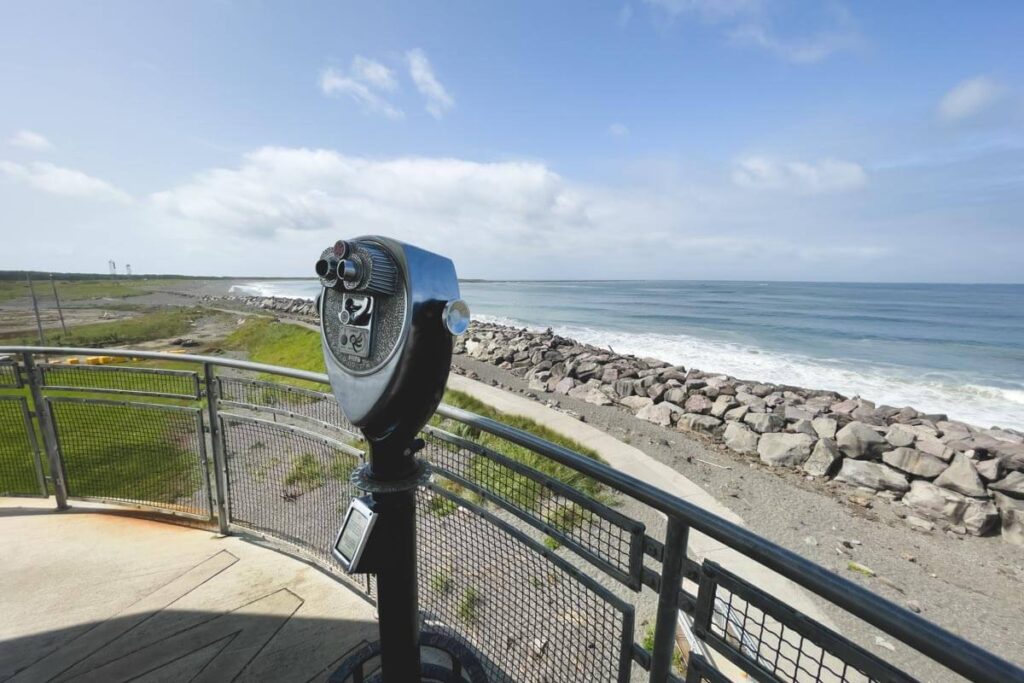 Of course, you could always just watch the waves crash into the shore from the comfort of your beach towel if you're looking for something a little more relaxing.
After you've had enough of the beach, you can head up to the historic Gray's Harbor Lighthouse (it's the tallest one in the state!), charter a fishing trip, or go mushroom hunting at Twin Harbors State Park. One of the best things about this Washington beach town is that it is incredibly underrated, so it rarely becomes overcrowded with out-of-towners.
After a full day exploring, hop over to Blackbeard's Brewing Company for a local craft brew and some pizza!
Where to Stay in Westport:
---
READ MORE: 9 Adventurous Things To Do in Westport, Washington
---
3. Ocean Shores
The tiny town of Ocean Shores is one of the most relaxed towns on Washington's coast.
Uninterrupted stretches of sandy beach beg to be laid upon. Scenic inland hiking trails wind past serene lakes and streams. The towering pines and sandy dunes of Ocean City State Park are an oasis for migratory birds, while the rare snowy plovers prefer to nest at the Oyhut Wildlife Recreation Area.
There are also plenty of activities to get the adrenaline pumping while in Ocean Shores. You can rent bikes and zip through the quiet city streets, practice your balance on a stand-up paddleboard, or even charter a deep-sea fishing excursion.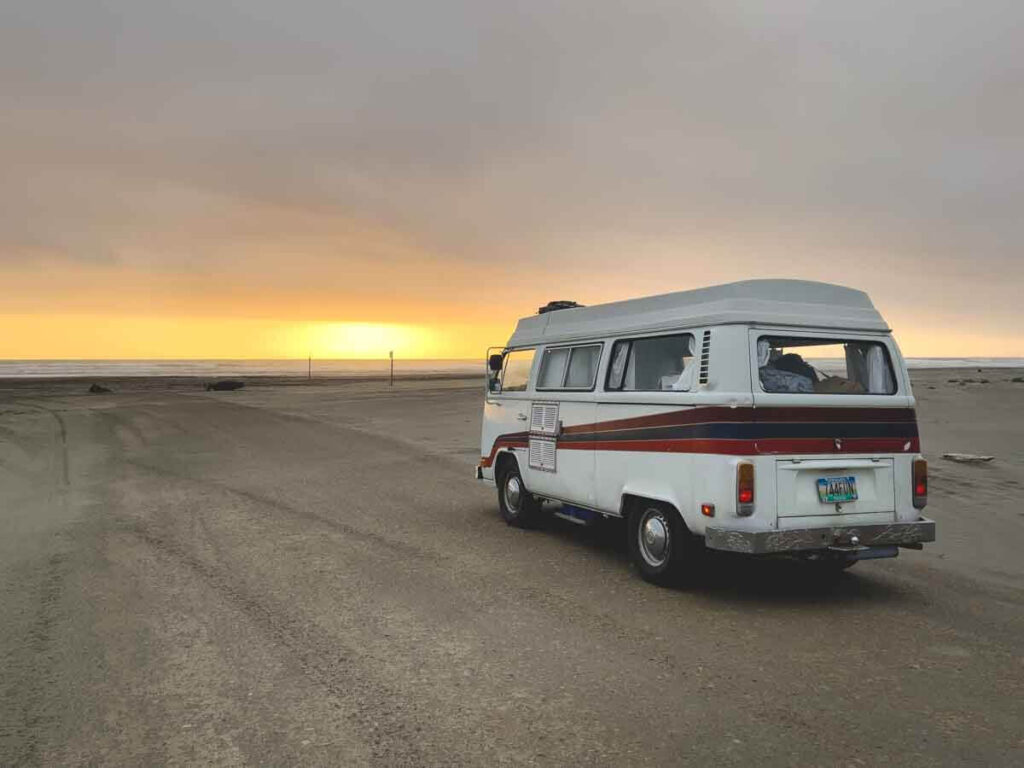 If your tummy is rumbling, head to the Green Lantern for a brekkie to fuel you for the rest of the day. No seriously, it's so filling we didn't need lunch!
Where to Stay in Ocean Shores:
---
READ MORE: 7 Things To Do in Ocean Shores, Washington
---
4. Port Angeles—A Washington Coast Town to Base at for Olympic National Park!
Of all the coastal towns in Washington, Port Angeles is perhaps the most diverse. This charming ocean oasis has a little something for everyone.
The Olympic National Forest sits in Port Angeles' backyard and offers up nearly one million acres of unspoiled nature for visitors to hike, bike, and fish.
Back in town, you can watch for whales at Crescent Bay, hike the Hole-in-the-Wall trail at Rialto Beach (1.5 hours away but worth it), cycle along the Olympic Discovery Trail, or launch your kayak at Sail & Paddle Park.
Port Angeles is a great place to make your home base as you explore the rest of Washington, especially with so many things to do in Olympic National Park. Sol Duc Hotsprings are just an hour's drive away, and the fragrant lavender fields of Sequim sit less than 20 miles to the east.
That being said, even if you never venture outside of city limits, you'll have plenty to keep you busy in this charming Washington coast town.
Food tip: To find some really good smoked salmon, check out Sunrise Meats. This isn't your typical store, but instead a butchery that happens to have a few fridges filled with fresh meats and fish! We stocked up on smoked salmon, we can't get enough of it!
PS – Again, this is a butchery, so yes, there will be people in full view chopping up meats, so just be aware!
Where to Stay in Port Angeles:
---
READ MORE: 13 Things To Do in Port Angeles for Adventurous Souls
---
5. Anacortes
Located in the foothills of Mt. Erie on Fidalgo Island, Anacortes is one of the best coastal towns in Washington. While it is technically an island, you can reach Anacortes by car thanks to the scenic (if not a bit precarious) Deception Pass Bridge when coming in from the south.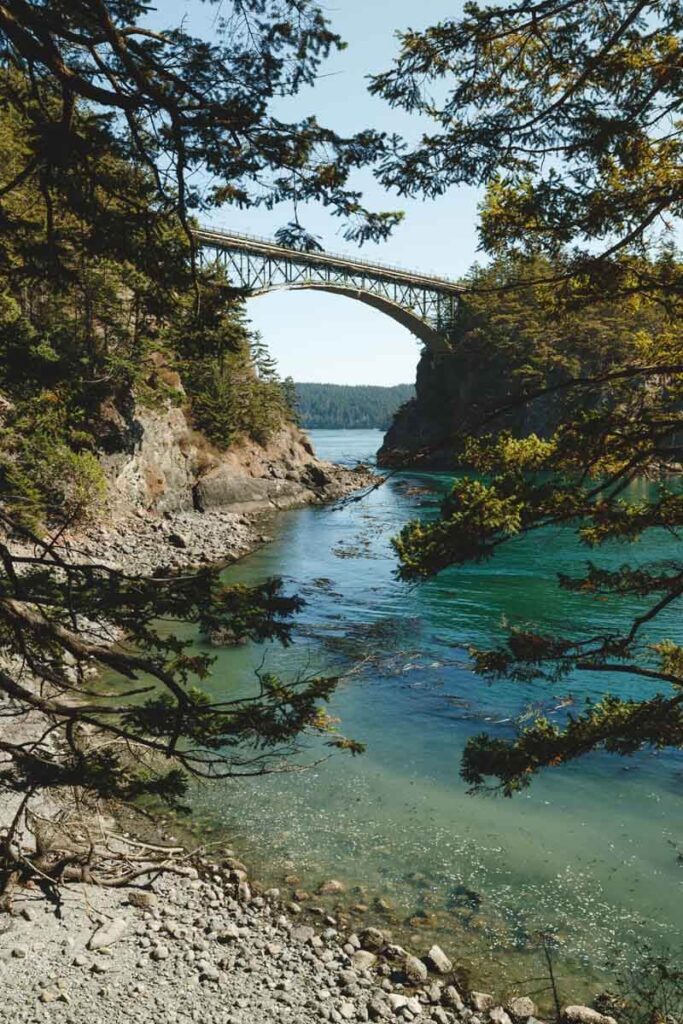 You can spend your time in Anacortes hiking through scenic mountain terrain, paddling around Deception Pass, driving up to the Mt. Erie viewpoint, or whale watching from the beach. If one day in this Washington coast town simply wasn't enough, feel free to set up camp at one of the sites in the scenic Washington Park.
Life moves a little slower when you're on island time. So feel free to soak in the scenery of this vibrant Washington coast town at your own pace.
Where to Stay in Anacortes:
6. Bellingham
One of Washington's northernmost coastal towns is the city of Bellingham. Situated less than 30 miles from the Canadian border, Bellingham is a lively college town with a wealth of outdoor offerings.
The town's port plays host to ferries that charter passengers to and from Alaska, while Bellingham's historic district may leave you feeling like you've traveled back in time.
Mount Baker looms large in the distance. The eastern edge of this snow-capped volcano boasts a variety of ski runs in the winter, while during summer, this prominent peak is home to some of Washington's most epic hiking trails.
The town itself has plenty to offer in the way of outdoor adventures as well. There are tons of parks located in and around the city, along with plenty of gorgeous waterfront scenery. Picnic along the shores of the lovely Lake Samish, hike the quiet trails at Larrabee State Park, or chase waterfalls at Whatcom Falls Park.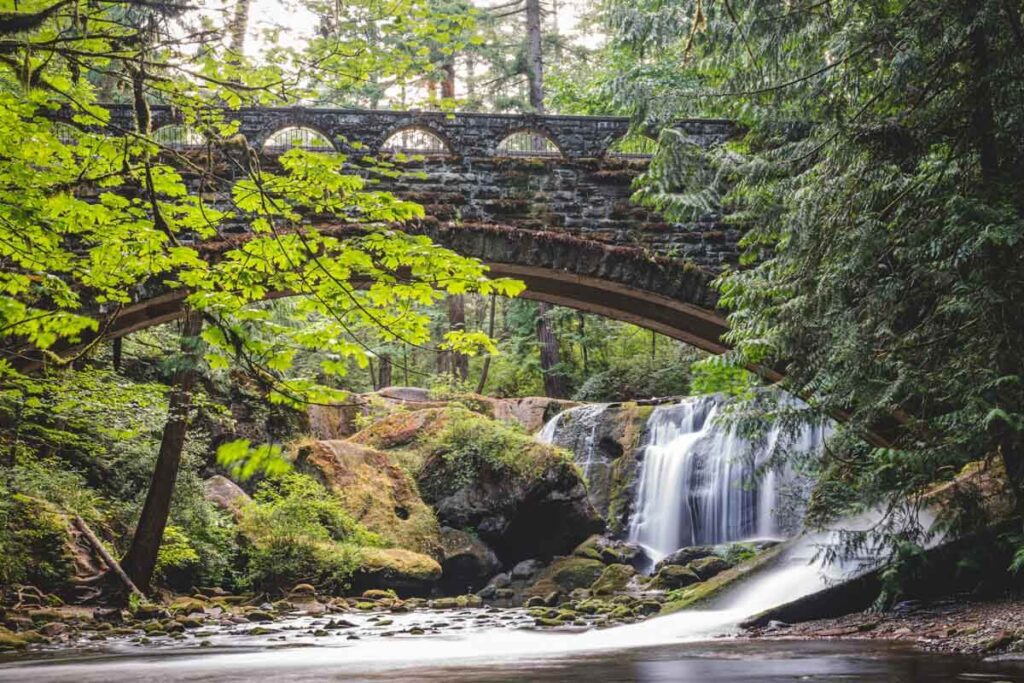 You could also spend your time in Bellingham exploring the various bay beaches near downtown or catch a waterfront sunset as you search the horizon for eagles and whales.
Where to Stay in Bellingham:
---
RELATED: 25 EPIC Hikes in Washington to Tackle
---
7. Port Townsend
Port Townsend is a haven for outdoor adventures. This Washington coast town fuses history with the great outdoors and provides a plethora of outdoor activities for locals and visitors.
Fort Worden State Park is perhaps the best way to get a taste of Port Townsend. This historic park was once a coastal defense fortification, and you can still see the remnants of its military days. Check out the Victorian-era officers' homes, search for hidden gun emplacements, or take in views of the postcard-perfect Point Wilson Lighthouse.
There are also two miles of scenic shoreline within the park, along with hiking and biking trails, picnic tables, and even a campground.
Port Townsend is also known for its epic whale watching opportunities, so if you have time, try to book a boat tour. More marine wildlife watching opportunities can be found by kayaking around the Admiralty Inlet. Keep your eyes peeled for orcas, sea otters, seals, and sea lions as you paddle.
Where to Stay in Port Townsend:
8. Oak Harbor
Amongst the most charming of Washington's coastal towns is Oak Harbor. Situated about two hours from Seattle along the scenic shores of Whidbey Island, Oak Harbor is the perfect place for a weekend getaway or an extended stay.
Outdoor offerings surround this quiet town in every direction. There are no less than four state parks within a ten-mile radius of Oak Harbor, though Deception Pass State Park is perhaps the most enticing.
This 3,854-acre park is the most visited in the entire state, and it's not hard to see why. There are miles of forested and coastal hiking trails, over 77,000 feet of scenic shoreline, three lakes, and tons of wildlife.
Because of its outstanding beauty, Deception Pass gets tons of visitors throughout the year. For a quieter experience, head to Joseph Whidbey State Park instead. What it lacks in size it makes up for in sheer beauty. There is also a spacious beach, a diverse trail system, and picnic facilities located inside the park.
Where to Stay in Oak Harbor:
---
RELATED: Wandering Deception Pass State Park—The State's Most Famous Park!
---
9. La Push—A Tiny but Mighty Washington Coast Town!
As wild as it is beautiful, La Push is one of the best beach towns in Washington. Surrounded by Olympic National Park, this quaint coastal village offers endless hiking trails, serene beaches, and incredible viewpoints.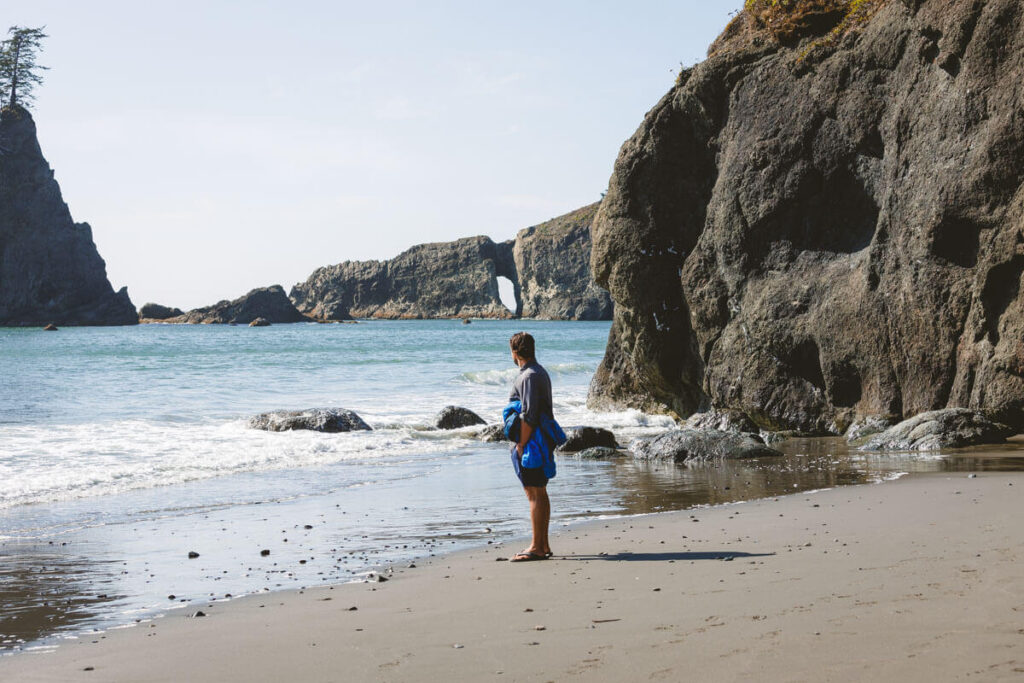 The town's beaches are known for serving up some of the best views in town. These white sandy stretches are perfect for walking barefoot and are littered with driftwood and otherworldly geological formations.
While there are multiple options to choose from if you have time to visit just one beach while in town, make it La Push Beach. With that said, just know that this town is TINY! It's barely anything more than a few streets so keep your options open when choosing a camping spot or hotel.
The nearby town of Forks is only 20 minutes away and has more choices although it's inland.
Where to Stay Near La Push:
---
READ MORE: Your Guide to La Push Beaches in Olympic National Park
---
10. Seattle—Can't-Miss This Washington Coast Town!
Seattle is perhaps the most obvious Washington coast town, thanks to its iconic position along the Puget Sound. The water meets the city head-on and is accessible from numerous neighborhoods and parks around town. Although this city has endless entertainment opportunities, it also boasts a plethora of relaxing outdoor activities.
Go for a hike amongst old-growth forests, relax on one of the city beaches, or catch a sunset over the water from Discovery Park. Treating Seattle like the outdoor playground that it is is one of the quickest ways to immerse yourself in nature without ever leaving city limits.
Where to Stay in Seattle:
We hope this post helped you learn more about the best Washington coast towns!
More Around Washington Coast
I've been perpetually traveling and living around the world for years but it's hard to beat Washington and the PNW. After years of road-tripping the area, I guess you can say I know it pretty well! When I'm not writing guides for you, you can catch me somewhere petting a dog, attempting to surf, hiking a volcano, or stuffing my face with bread and cheese.