A tiny 127-acre camping park, Bogachiel State Park is a remote locale nestled in the Olympic Peninsula. While small, its gorgeous scenery and advantageous location make it one of the best places to stay in the national park.
Enjoy the tranquil atmosphere morning and night, and spend your days exploring some of Olympic National Park's best attractions.
Bogachiel State Park
---
This is one of the tiniest state parks in the entire country, with just a few things to do. But that doesn't take away from how gorgeous it is – a place of charming nature, Bogachiel State Park is nothing short of splendid.
Hiking Along the Bogachiel River
The park is a Pacific Northwest rainforest in its own right, and a small trail spans right through it. There's also a longer Bogachiel River Trail, but only a short portion goes through the park itself.
Of course, you can enjoy the Bogachiel River as well! Dip your feet in and feel the rush of the water, or enjoy a picnic along the river bank.
---
RELATED: 15 Best Hikes in Olympic National Park, Washington
---
Camping
Due to Bogachiel State Park's relative isolation from most of society, it's the ideal place to escape the city and camp for a night or two. The park is a campsite with 35 sites, six of which have power and water, and one is ADA accessible.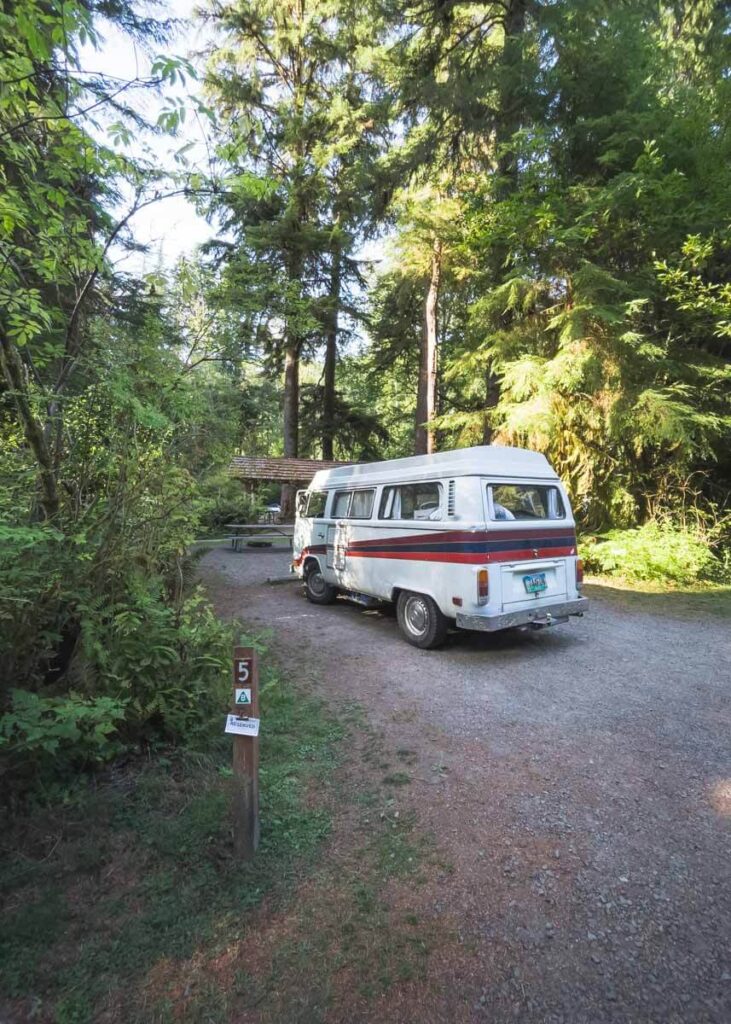 There are also ADA-accessible showers and restrooms on-site. Whether you have a tent or RV, you're welcome on the campsite! As it's a remote area, you should book your camp spot in advance.
---
RELATED: 21 Amazing Places to Go Camping on The Washington Coast
---
So Why Even Visit Bogachiel State Park?
The main reason that most visitors stay at Bogachiel State Park is because of its incredible location within Olympic State Park!
From here, you're in a prime position to enjoy many of Olympic's best attractions – much closer than you would be if you stayed in other areas that skirt the edge of the park. Just look at the best things to do from Bogachiel to see what we mean!
Best Things to Do From Bogachiel State Park
Everything below is only about 30-45 minutes max away from Bogachiel State Park, which is why we LOVE this park. We know it doesn't have much, but if you're using it as a base—It's awesome!
1. La Push Beaches and Trails
La Push Beaches are some of Olympic National Park's most famous, representing all that is wonderful about Washington's coastline, with crashing waters and craggy cliffs looking out into the sea.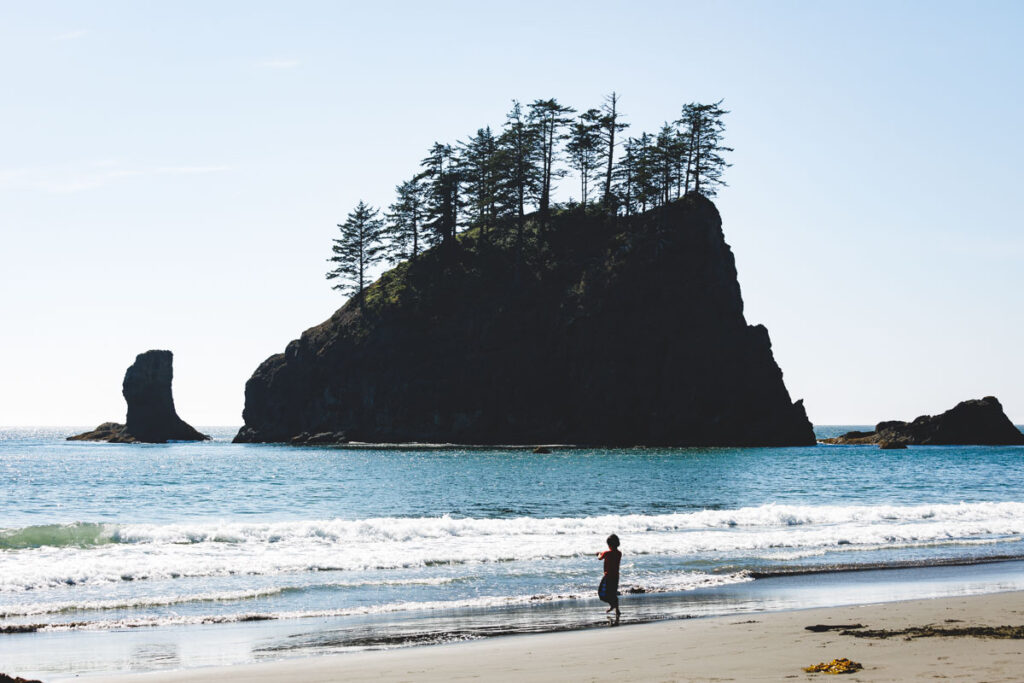 With connections to Twilight and beautiful hiking trails, no Olympic itinerary is complete without visiting this area.
There are three in total. The first is easily reached from the town and has beachside parking. The other two require a bit of a hike and offer overnight camping too.
---
READ MORE: Your Guide to La Push Beaches in Olympic National Park
---
2. Rialto Beach & Hole in the Wall Hike
Another must-visit in Olympic National Park is Rialto Beach, famous for its sea stacks looming high in the sky and panoramic views over the Pacific Ocean.
You can walk the Hole in the Wall trail, a flat hike (that's best at low tide!), and end at a natural archway resembling… You got it—a hole in the wall!
The hike includes some scrambling and a river crossing, so while it seems fairly straightforward, it's still moderately challenging!
---
READ MORE: Hiking Rialto Beach to Hole in the Wall in Olympic National Park
---
3. Ruby Beach
This incredible beach is named after its reddish-tinted sand. It's a dreamy place to photograph, particularly when sunset bathes the entire surroundings in a gorgeous warm glow.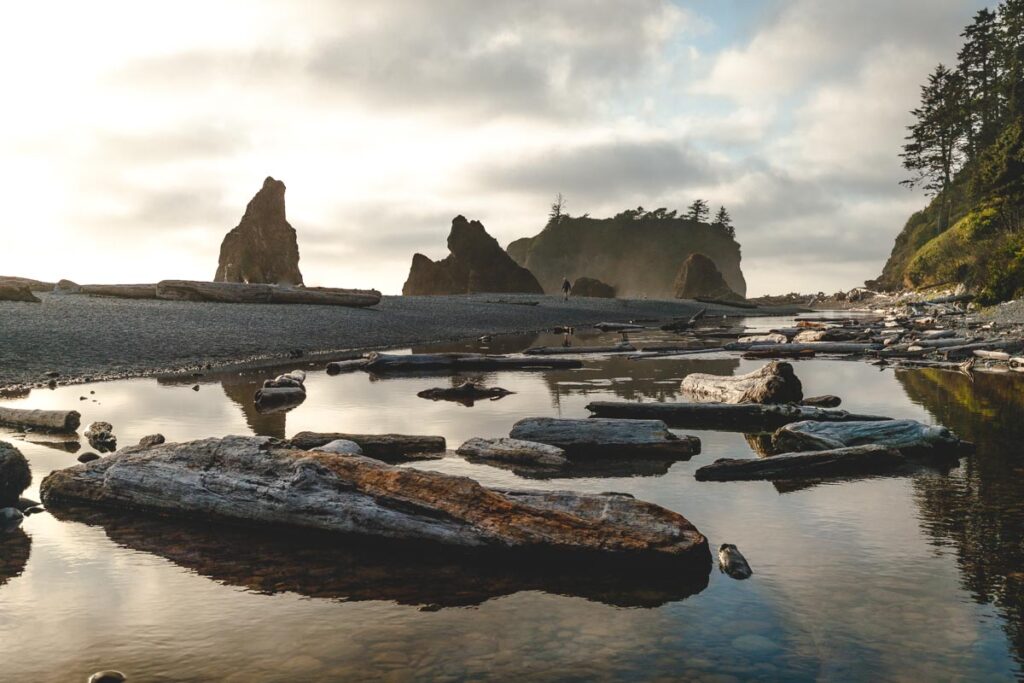 Plus, it has all of the classic features visitors and locals love about Olympic Park beaches, including sea stacks and plenty of wildlife (look out for seals and bald eagles!).
---
RELATED: 9 Incredible Olympic National Park Beaches to Explore
---
4. Kalaloch Beaches
Often visited along with Ruby Beach, Kalaloch Beach is a beautiful stretch of sand for striding along and enjoying nature. Don't forget your binoculars here – it's a famous place for birdwatching!
There are actually a few beaches here, all unimaginatively called Beach 1, 2, 3, and 4, plus Kalaloch Beach, where the Tree of Life is. Really, it's all one massively long beach that's sorta broken up into these areas.
Each requires a bit of a walk to get to, some more than others, and each has its own access point along the main road.
5. Hoh Rainforest area
One of the country's largest temperate rainforests, the Hoh Rainforest is an ideal place for a stroll, even if it's drizzling—rain makes the area even more atmospheric! It's also one of the rainiest places in the entire country, with a whopping 14 feet of rainfall each year!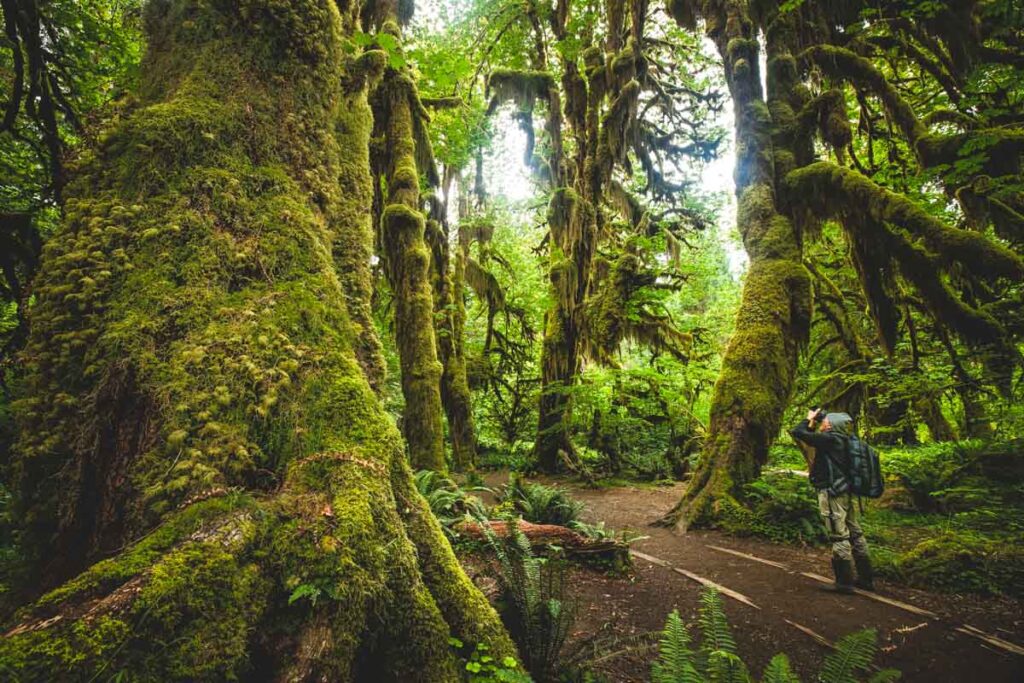 But this only results in the plants and trees looking incredibly vibrant and full of life, making strolling around the Hoh Rainforest one of the best things for any park visitor.
While there aren't many attractions in Bogachiel State Park, it's undeniably a wonderful place to rest and recharge, and its prime position in Olympic National Park means that it's the perfect place to stay while seeing this area of Washington.
I'm an Oregon native but neighborly and equally as enchanted by Washington. I tackle expeditions around the world and love a good beer at the end of the day. PNW obsessed, VW nerd, and surf or snow riding fanatic.