Visiting Washington soon? This list features some of the best things to do in Olympic National Park—A must-visit spot!
From swimming in beautiful alpine lakes to admiring the rugged Washington beaches, you'll love these Olympic National Park attractions.
Sitting in the northwest of the state of Washington, just over the way from Canada, Olympic National Park is a nature lover's paradise. Think of beautiful blue alpine lakes, rugged beaches with dramatic waves, and charming temperate rainforests for hiking.
There's so much to love in Olympic National Park. Read on as we go through the best…
Things To Do in Olympic National Park
---
We've separated all of the things to do in Olympic National Park here for you by area. This park is massive and pretty much takes up the entire northwest chunk of Washington state! It will be a bit easier to digest all of this info by looking at it in smaller pieces.
We've laid everything out here from Quinault Lake in the southwest part of the park, going clockwise around and ending at the southeast part of the park around Lake Cushman.
Make sure to click the links for more information on your favorite areas—We have more articles going into great detail on certain areas so you can find your favorite things to do in Olympic National Park!
Quinault Lake
The gorgeous Lake Quinault was carved by a glacier and is surrounded by temperate rainforest.
While it's one of the most beautiful places to visit in Olympic National Park, with breathtaking views of the azure lake surrounded by jagged mountains at every step, it's not as famous as other spots within the park. This makes it worth visiting if you like to get off the beaten track!
Things To Do in Olympic National Park: Quinault Lake
Go wild swimming in the chilly lake.
Take out a boat onto the lake and go fishing.
Hike around the lake on the Quinault Loop Trail.
Check out Merriman and Bunch waterfalls as you drive around Quinault Lake.
See the world's largest Sitka spruce tree on the east side of the lake.
---
READ MORE: Exploring Lake Quinault—Hiking, Biking, Paddling, and Camping!
---
Kalaloch & Ruby Beaches
Sitting on the coast of Olympic National Park, Kalaloch and Ruby Beach are immensely popular spots within the park. And it's easy to see why – with windswept terrain and jagged cliffs, these beaches are what most people come to the Washington coastline for!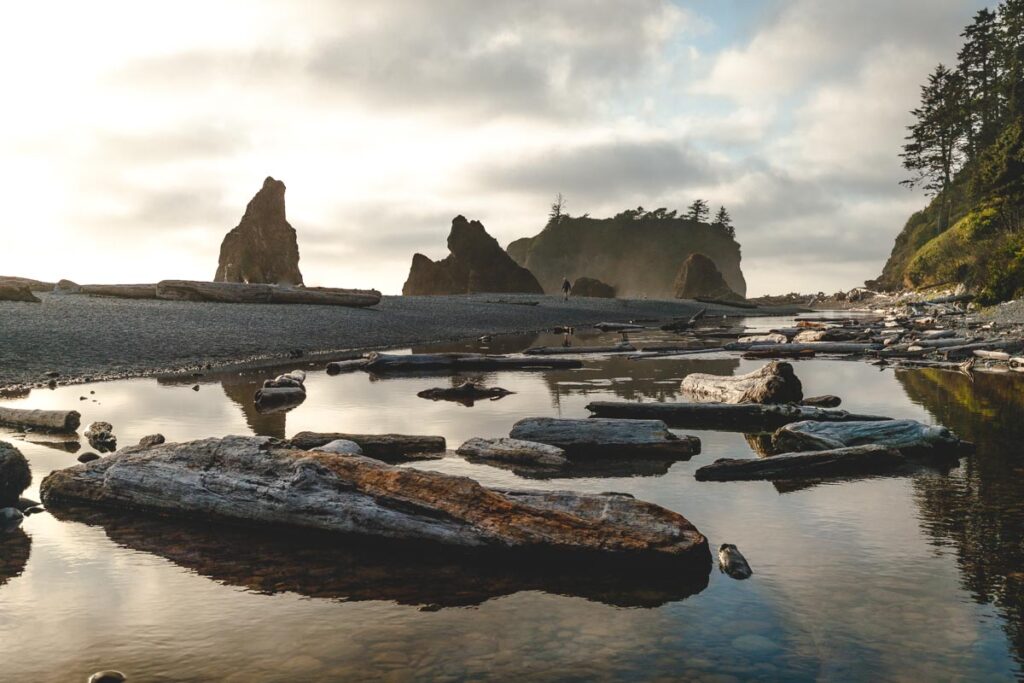 Things To Do in Olympic National Park: Kalaloch & Ruby Beach
Explore Kalaloch beaches 1-4, which usually have varying levels of crowdedness. Kalaloch Beach 1 and 2 are the least crowded, with 3 and 4 being quite popular.
See the Tree of Life, aka Tree Root Cave on the main Kalaloch Beach.
Go tide pooling at Kalaloch beach 4.
Stop at Ruby Beach to take plenty of photos—it's immense and accessible in both high and low tide!
---
RELATED: 9 Incredible Olympic National Park Beaches to Explore
---
Hoh Rainforest
Enigmatic and enthralling, the Hoh Rainforest is one of the most magical places in Olympic National Park. This rainforest has its name because of the immense amount of precipitation—it is among the wettest places on earth!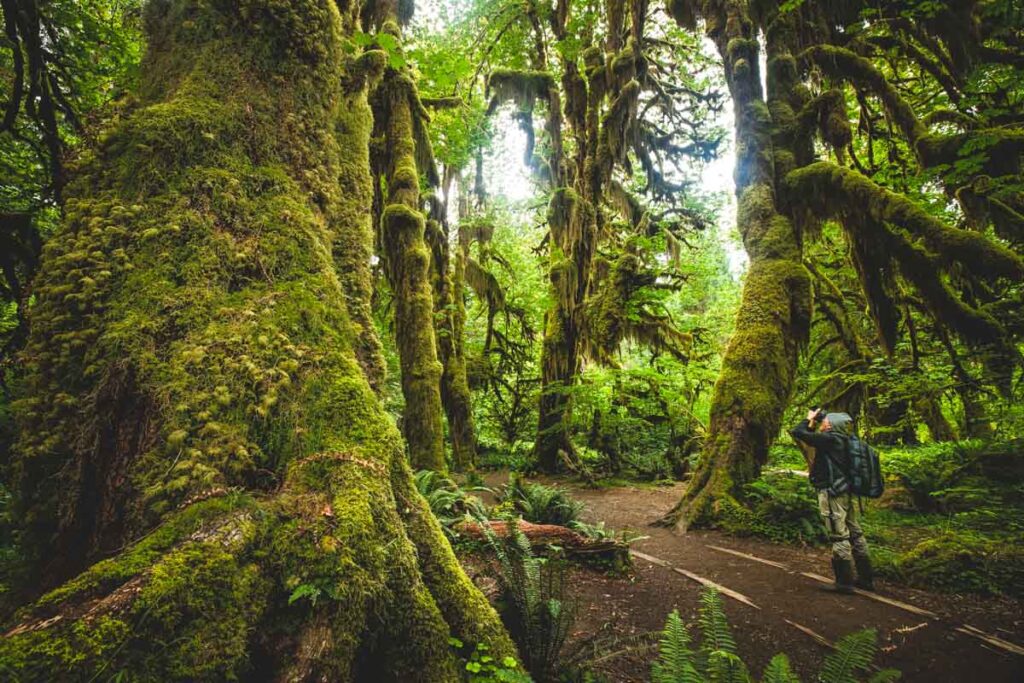 Things To Do in Olympic National Park: Hoh Rainforest
The Hoh River Trail is a must. It's the main trail in the rainforest, and it goes on for over 30 miles, but it's stunning from the start, so feel free to complete as much as you'd like and turn back.
The 1-mile Hall of Mosses Trail traverses through stunning old-growth forests.
The 1.2-mile Spruce Nature Trail, loops through both old and new-growth forests.
Camp by the Hoh River (make a reservation, they fill up quickly!).
Look for wildlife like river otters, Roosevelt elk, black bears, and bobcats.
---
RELATED: 15 Best Hikes in Olympic National Park, Washington
---
La Push Beaches and Rialto Beach
Are you a fan of Twilight? The La Push area is famous for being the setting of this teen drama, which means they get their fair share of tourists. However, visit at the right time of day or a quieter time of year, and enjoy these epic beaches all to yourself.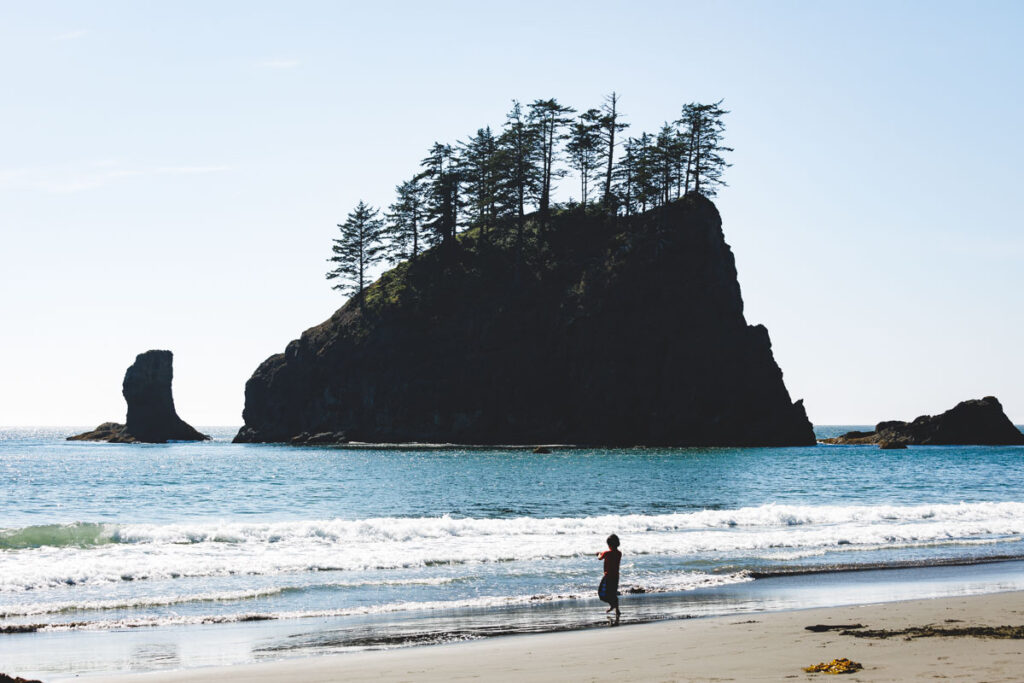 Think enigmatic tidepools, enthralling temperate rainforests, and incredible ocean views. There's even backcountry camping, so you can stay the night—this sunset isn't one you'll want to miss.
Things To Do in Olympic National Park: La Push and Rialto Beaches
Look out for birds on the sea stacks of La Push 1.
Admire the waves crashing onto the beach at the popular La Push Beach 2.
Take the 3.6-mile hike to La Push Beach (and maybe get a permit to camp overnight!).
Explore Forks, where you can see some more Twilight attractions (and fill up on gas!).
Learn about the Quileute Tribe in La Push Town.
Do the Hole in the Wall Hike from the nearby Rialto Beach. This is a four-mile walk where you can take in beautiful coastal nature and see adorable animals while tide-pooling.
---
RELATED: Your Guide to La Push Beaches in Olympic National Park
---
Lake Crescent & Sol Duc Falls
This postcard-perfect glacial lake was once linked with Lake Sutherland, which sits to the east, but a landslide from Mount Storm King caused the lakes to be forever split into two.
Lake Crescent is a popular vacation spot, with some cabins right around the lake, but it still boasts plenty of hiking trails and wildlife to enjoy. Nearby, you'll find the beautiful Sol Duc Falls, crashing waterfalls in a temperate rainforest.
Things To Do in Olympic National Park: Lake Crescent and Sol Duc Falls
Take a kayak onto the clear waters of Lake Cresent.
Head to Storm King Station and utilize the day-use area or tackle the Mount Storm King hike for epic overtop views.
Spend time at La Poel, a lesser-touristy spot on the lake.
Take the 1.6-mile Sol Duc Falls Trail for a quick peek or…
For more of a challenge, try to 6.1-mile Lovers' Lane Trail, which includes Sol Duc Falls plus some hidden falls too!
---
READ MORE: Your Guide to Hiking The Sol Duc Falls Trail
---
Hurricane Ridge
If you like hiking, then you can't miss Hurricane Ridge!
Hurricane Ridge is a collection of interconnected mountains with winding hiking trails spanning their perimeter. However, unlike other mountainous areas in Olympic National Park, Hurricane Ridge is easy to access.
While the hikes vary in difficulty, plenty are suitable for beginners, ensuring that anyone who visits can enjoy some of the epic views and immense nature of this part of the national park.
Things To Do in Olympic National Park: Hurricane Ridge
Take the 3.4-mile Hurricane Hill via Hurricane Ridge hike, where you can enjoy incredible views of the Bailey Range. It's a moderate hike that ascends uphill but at a relatively gentle incline.
Conquer Mount Angeles via Switchback Trail, the tallest summit in this part of the National Park. It's only a three-mile hike, and if you don't mind a climb, it's much easier than some of the other uphill trails elsewhere in the park.
Enjoy the view of snow-capped mountains from the visitor center.
Look out for wildlife—black bears, deer, and Olympic marmots all live in the area around the visitor center.
Hike Sunrise Ridge, a 5-mile route that starts from the visitor center and encompasses the Klahane Ridge Trail.
---
READ MORE: Your Guide to Hurricane Ridge Trails & More in Olympic National Park
---
Lake Cushman
Spanning over 4,000 acres, Lake Cushman is fringed by mountains and boasts beautiful clear water. It sits on the southwest edge of the national park, and from here, it's easy to enter and explore the rest of the park's terrain.
Things To Do in Olympic National Park: Lake Cushman
Go for a wild swim—the waters are cold, but it's still fresh and fabulous for a dip!
Go boating or try other activities like water skiing or fishing.
There are also scuba diving opportunities!
Play golf or disc golf!
Explore the various walking trails around the area. You can head up to Mount Ellinor or Mount Rose or explore Copper Creek Canyon!
---
RELATED: 17 of The Most Scenic Lakes in Washington
---
Best Time To Go to Olympic National Park
The most popular time to visit Olympic National Park is in July and August. This is when the temperatures are at their warmest, there won't be any snow, and all trails will be open. Plus, it's the best time of year for wild swimming and lake activities like swimming and watersports.
However, this is also when the park is at its busiest, especially when schools are on vacation.
Olympic Park's rainforests are beautiful in fall, with hues of orange, red, and yellow. There are plenty of low-altitude hikes that you can do during this season, although snow starts falling in the mountains in September, and some alpine lakes become inaccessible.
Visit in winter for storm watching from the beach, cross-country skiing, and snowshoeing. More trails are closed in this season, however, so be prepared not to be able to do all of the Olympic National Park activities!
In spring, the snow gradually starts thawing, and trails gradually become more accessible. May and June are great times to visit to see as many spots as possible but to avoid massive crowds. The days are also the longest during this season too.
---
RELATED: Winter in Washington: 20 Adventurous and Outdoorsy Activities
---
Things To Know Before Visiting Olympic National Park
Here are some top tips to remember before visiting the park!
Pack for changeable weather
This park has some of the most changeable weather in the country, so pack layers, a rain jacket, and waterproof shoes. If you're visiting during winter, be very mindful of where you are and the possibility of lots of snow.
There is an entrance fee
There's an entrance fee of $30 per vehicle, which you can pay at the entrance gate to the park. Annual passes are available. If you're going to the other national parks in Washington or beyond, then it's definitely worth it to grab an America the Beautiful Pass.
Get gas before
Get gas before you go into the park, as drive times between the different attractions can be long, up to three hours apart. You will find gas stations around Lake Cushman, Port Angeles, Forks, and Quinault Lake so fill up accordingly depending on your route.
Wildlife
There's lots of wildlife in the park—most won't cause a hazard but know what to do if you encounter any black bears or mountain lions. Keep your eyes peeled for adorable chipmunks, grazing Columbian blacktail deer, and even mountain goats!
Timing
In case you haven't gathered by now, Olympic National Park is MASSIVE. You might not be able to see everything—and that's OK!
Focus on the areas you're more interested in instead of driving around aimlessly, trying to get to every location. You'll spend too much on your car driving around instead of enjoying the beauty!
Olympic National Park Itinerary
Going off the last tip, if you'd like, here are our personal opinions on the best things to do in Olympic National Park if you don't have a lot of time. We recommend spending your time along the coast at Kalaloch, La Push, and Rialto and then around Lake Cresent.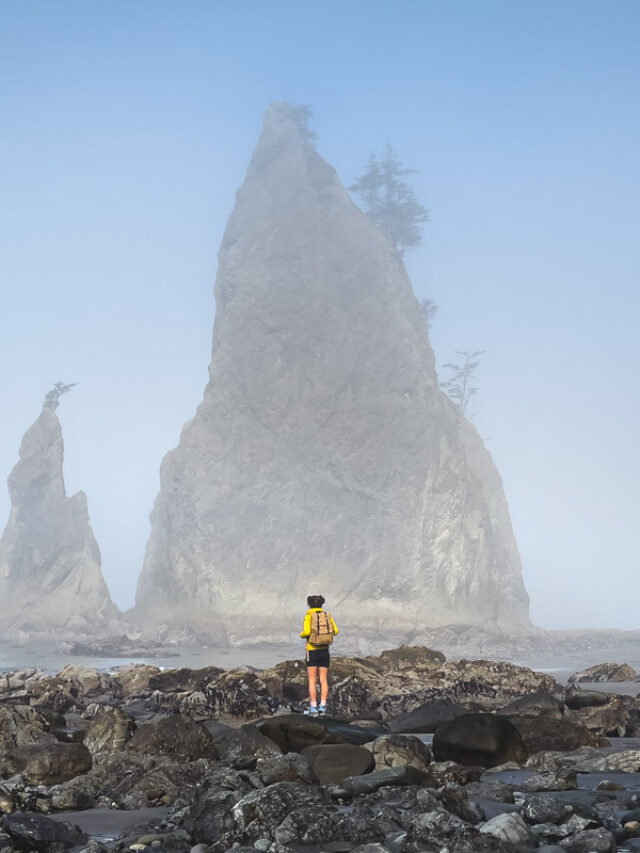 You'll get a great mix of the park's highlights here and if you have time to add on one more place, then perhaps consider Hurricane Ridge. Touching on all of these spots would take a long weekend (around 3-4 days).
Adding on Hoh would eat up a whole day and often has traffic in peak season. If you want to add on Sol Duc, you could finish this area in about half a day.
If you have a week, you can do pretty much everything we mentioned here! Just start at Lake Quinault and work your way clockwise. Or start at Lake Cushman and work your way counter-clockwise. If you take off the longer hikes, you'll be able to fit in more!
---
RELATED: 19 Amazing Weekend Trips From Seattle (1-5 Hours Away!)
---
How to Get Around
If you have you're own car—You're set! If not, you may want to consider renting one, as it's essentially impossible to get around without one.
If you're in Seattle and are realizing you want to visit but don't want to rent a car. Your next best option would be to do a tour from Seattle to Olympic National Park. A day tour can give you a taste and bring you to some of the best highlights.
If you're looking to rent a car you should try Holiday Autos. For a bit more of an adventure, you should rent a campervan or RV on Outdoorsy! You'll save money on hotels, and you'll be able to park down the street from all of the epic things to do in Olympic National Park!
Cell service
Cell service can be very spotty, so don't rely on it. You can download maps on Maps.Me or offline Google maps before you enter.
Where To Stay in Olympic National Park
Camping
Graves Creek Campground – Nestled in the Quinault Rainforest, this campground has 30 pitches, although these can fill up in peak season!
Kalaloch Campground – With 175 campsites, this is one of the best places on the Olympic Coast.
Hoh Campground – Open year-round, Hoh Campground has 72 campsites and, in terms of facilities, you'll find flush toilets and potable water.
Sol Duc Hot Springs RV Park & Campground – This stunning campground has plenty of campsites, restrooms, a pool (extra charge), and access to the Sol Duc Hot Springs
Heart O' the Hills Campground – One of the larger campgrounds in Olympic National Park, Heart O' the Hills, has 105 campsites, some of which are suitable for RVs.
Staircase Campground – This campground has 47 sites and is located in some of the most beautiful Pacific North West Forest lands.
Backcountry Camping – If you plan to go further off the beaten path, you can camp in the Olympic wilderness, but you'll still need a permit. You can arrange one here.
Cabins and Lodges
Secluded Lake Front Cabin – This four-bed Lake Quinault cabin has gorgeous views over the beautiful lakefront, with a hot and grounds spanning over acres, with lots of wildlife on your doorstep.
Blue Spruce Meadow – this quiet and comfortable house is near plenty of the Olympic Coast's best attractions – rivers, hiking trails, beaches, and more!
Cozy Timber Cabin – This spacious cabin is ideal for couples, with rustic wood interiors, boasting a living room, patio, kitchen, and sleeping area.
Emerald Valley Inn – This home away from home offers comfy rooms, gorgeous suites and beautiful views of the surrounding scenery.
Sleeping Raven Woodland Retreat – This cozy cabin is nestled amongst the trees near Hurrican Ridge, giving the impression of an actual treehouse.
The Doggy House – Bring your furry friend and enjoy barbecues on the deck, nights around the fire pit, and access to Lake Cushman Private Park.
---
READ MORE: Where to Stay in Olympic National Park, Washington
---
So, are you ready for your trip to Olympic National Park? Whether you want to laze on the shores of Lake Crescent in the summer or admire the beautiful colors of Hoh Rainforest in the fall, there's plenty to admire here year-round—and it's somewhere you'll still be thinking about long after you've left!
More Around Olympic National Park
I've been perpetually traveling and living around the world for years but it's hard to beat Washington and the PNW. After years of road-tripping the area, I guess you can say I know it pretty well! When I'm not writing guides for you, you can catch me somewhere petting a dog, attempting to surf, hiking a volcano, or stuffing my face with bread and cheese.