Cape Disappointment State Park is far from disappointing (but we think you secretly knew that)! There are plenty of things to do in this Washington state park, and despite the name, we believe you're going to be seriously impressed.
The state park is named so because John Mears, an English captain, tried to find the entrance to a river here in 1788. He called it Cape Disappointment because he had thought the mouth of a river was only a bay. It was nothing to do with the landscapes!
To demonstrate, we've put together this list of seven things to do in Cape Disappointment State Park.
Cape Disappointment State Park
---
1. Cape Disappointment Trail
Distance: 1.9 miles
Type of Trail: Out & Back
Difficulty: Easy
If you only do one thing in Cape Disappointment, make it this two-mile out and back trail, which starts by Waikiki Cove, traverses through woodland, and previously led to Dead Man's Cove. This trail takes in some of the best parts of Cape Disappointment State Park with some impressive coastal views, and it's ideal for all skill levels.
If two miles is too long for you, there's a speedy 0.5 mile out and back trail that can show you some of the best scenery in the area. The trailhead of this hike is the parking lot near the Lewis and Clark Interpretive Center.
This is THE trail to do to get some lovely views of the Cape Disappointment Lighthouse. Unfortunately, the trail to the lighthouse and even to get a great view over Dead Man's Cove is currently closed. There isn't any info on when this section will be open again. With that said, this trail is still worth doing.
2. North Head Trail
Distance: 6.3 miles
Type of Trail: Out & Back
Difficulty: Moderate
Another fantastic hike within the national park is North Head Trail. This out and back trail is a little longer at six miles but a moderate difficulty.
Famous for its beautiful wildflowers in the spring and summer, this trail begins in Beards Hollow Overlook and leads to McKenzie Head Lagoon. This lagoon is a great picnic stop to enjoy before hiking back up to the trailhead.
Do note that this trail traverses a good chunk of the park but most people are using the "shorter versions" of the trail. So with that said you may find some of this trail a bit overgrown in some areas. Use an offline trail tracker like AllTrails to keep you on track.
For the shorter version of this trail, use the North Head Lighthouse Loop Trail. It's 0.6 miles in length, and it travels from the parking lot, around the lighthouse keeper's residence, and travels up to the North Head Lighthouse itself. This lighthouse guards this area of the Pacific Ocean, and you can catch some incredible sea views from it!
For the shorter McKenzie Head section of this trail…
3. McKenzie Head
Distance: 0.5 miles
Type of Trail: Out & Back
Difficulty: Moderate
This short but sweet trail is about 0.5 miles in length and takes you up to the top of McKenzie Head. While there are plenty of more significant peaks in Washington, this summit will enable you to catch gorgeous views of Cape Disappointment State Park!
You'll also find historic markers explaining the Lewis and Clark expedition, and old military bunkers and artillery mounts to explore.
Although it's short, it is pretty steep and is rated as moderate. However, it shouldn't take you too long, and it's one that you can check off while exploring the rest of the park. We liked this one because it was the least busy area we had explored in the park, so do this one if you want a quiet trek!
---
RELATED: 25 EPIC Hikes in Washington to Tackle
---
4. Cape Disappointment Discovery Trail
Distance: 14.5 miles
Type of Trail: Out & Back
Difficulty: Moderate
The Cape Disappointment State Park Discovery Trail is a popular hiking and biking trail for anyone who needs a dose of adventure.
Leaving from the northern part of the park, it traverses along the coast, with the Pacific Ocean to your west. Passing through Seaview, you'll eventually reach the gorgeous sands of Long Beach.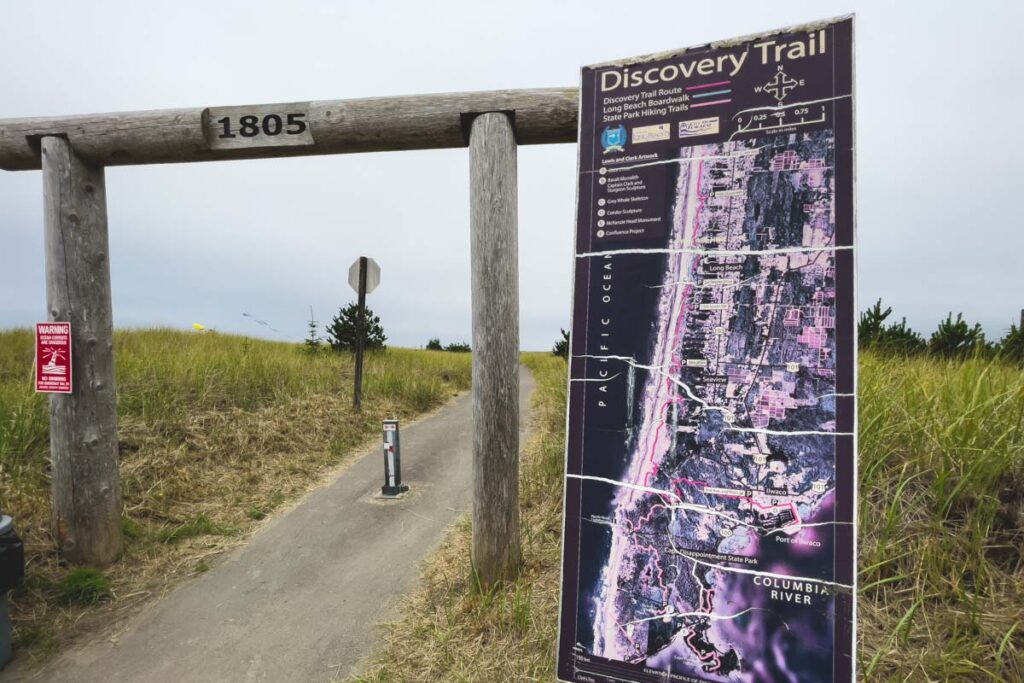 Eventually, you'll reach the entrance of Cape Disappointment State Park!
The Discovery Trail technically ends in the middle of Cape Disappointment State Park, but obviously, you can still continue exploring by foot! Do pay attention to some of the signage if you're biking, as bikes aren't permitted in certain areas and trails.
This is an out and back route, so you can cycle or walk for as far as you would like and then turn around and return. It's the perfect addition to a short hike or other adventure further south in the park! Here's a map showing the route for the Discovery Trail.
Keep in mind there are multiple trailheads, and you could park at any of them and begin this trail. You don't have to start at the first trailhead and complete the entire 14.5 miles if you don't want to.
5. Waikiki Beach at Cape Disappointment State Park
After all that hiking, it's time to enjoy Washington's gorgeous beaches!
Waikiki Beach, eerily named after a Hawaiian soldier's body that was washed up here, is thought to be where Captain Clark reached the Pacific Ocean on his journey through the Pacific Northwest.
Nowadays, it's a scenic little beach tucked between two cliffs that's perfect for relaxing. It is popular with surfers because it has a small break, but it's also a pleasant cove for picnics and sunbathing.
This is also another spot for epic views of Cape Disappointment Lighthouse in the distance. If you happen to be here during a bit of a storm, you'll get views of epic waves crashing on the rocks and the lighthouse!
6. Benson Beach
Spanning two miles from the North Head Lighthouse to North Jetty, this beach is the perfect place to enjoy some time in nature. There isn't a road by the beach – it's two miles of uninterrupted golden shores – so you'll feel yourself relax and unwind as soon as you step onto the sands!
At the cliffs by the lighthouse, there are a few trails to explore where you can admire the rocks and sea stacks. The jetty in the south is worth admiring too – but don't go out too far, as it can be dangerous.
Alternatively, if you fancy stretching out and enjoying the beautiful scenery or perhaps playing some beach games, there's plenty of space! This beach stretches out for two miles and is shared with an ideally located campground too. Speaking of which…
7. Camping at Cape Disappointment State Park
If you want to extend your time in Cape Disappointment State Park, why not stay the night?
The Cape Disappointment campsite sits just behind Benson Beach and is the perfect place to stay if you want to enjoy the Pacific Ocean and the rest of the park's attractions. We felt lucky to be able to camp here as we fell asleep to the waves crashing on Benson Beach!
Within the state park, there are 137 campsites, 50 with full hookups and 18 with partial hookups. There are also eight restrooms and 14 showers, so it's perfect for those who want to camp with some facilities.
To ensure that your time in the state park is entirely disappointment-free, you can book your spot in advance. You can pitch up early and enjoy your day knowing that you've got somewhere to stay! You can find information about booking here.
There are other places to stay within the park: 14 yurts, three cabins, two vacation houses, and more campsites located along O'Neil Lake. The campsites have basic facilities, but they also offer other fantastic options for people who want to experience the great outdoors with a more solid roof over their heads!
You must book these accommodations in advance.
Where to Stay Near Cape Disappointment State Park
Not into camping? No worries! There are plenty of other places near Cape Disappointment State Park…
PS—Did you know hopping over to Oregon is super easy from here? Astoria is an amazing spot to head to next!
We're sure you can see that Cape Disappointment is very impressive! With a range of hikes and sensational spots, plus options to cycle and do watersports, it's the perfect place to visit for a day trip or weekend adventure on the Washington coast.
We hope this post helped you plan your trip to Cape Disappointment State Park!
I'm an Oregon native but neighborly and equally as enchanted by Washington. I tackle expeditions around the world and love a good beer at the end of the day. PNW obsessed, VW nerd, and surf or snow riding fanatic.