If you're looking for the best yurts in Washington, this blog post is here to help! Yurts are large tents used by nomadic tribes in Mongolia and Central Asia for centuries.
Because these countries have harsh climates, yurts proved to be robust structures for any season – meaning that they're great for vacations at any time of year!
Nowadays, you'll find yurts, complete with comfortable beds, heating, and kitchen facilities, throughout the USA. Some even have hot tubs and private bathrooms with rain showers.
If you're visiting Washington, we've put together this list so you know exactly where to look for your next glamping stay!
Yurts in Washington
---
What part of the state are you looking at visiting? We've separated everything here according to area to help you find the perfect yurt in Washington!
Yurts in Washington in State Parks
While many of Washington's state parks offer rustic camping opportunities, some provide camping with these spacious yurts. Here's a list of all the Washington state parks with yurts – they're bookable on the Washington state park website.
Cape Disappointment
Seaquest
Twin Harbors
Grayland Beach
Paradise Point
Knaskat-Palmer
Pacific Beach
Yurts Near Seattle, Washington
You can be near the city without knowing it while staying in a yurt in Washington's biggest city!
1. Vashon Island Yurt in Washington
Stay in the yurt of dreams at this waterfront Vashon Island location. This rustic accommodation has sweeping views of Puget Sound, which is home to lots of marine life and is the ideal place to relax and unwind.
It's a one-room yurt that sleeps four people (ideal for families and groups!). One thing to note here is that there's no running water – the yurt is completely dry – which means no showers or anywhere to wash plates after eating.
2. Cascade Rose Alpaca Farm Stay Pure Gold
This Cascade Rose Alpaca Farm Stay is just an hour from Seattle – so it's ideal for a break from the big city. With space for up to six guests, this yurt has everything you need for a comfortable stay.
You can also choose a Pure Gold experience – either a 45-minute tour around the Alpaca Farm (where you can feed the animals!) or a homemade breakfast spread at the tent.
3. PNW Lakeside Yurt
This yurt has just been newly renovated and boasts a queen memory foam bed and a futon. Use kitchen facilities, and the property even has WiFi, so you can stay connected while you stay here!
There's a composting toilet on site. As the yurt is lakeside, there are swimming opportunities aplenty and even the opportunity to borrow kayaks.
4. Port Townsend Yurt
This unique yurt sleeps two people and basks in beautiful surroundings. As well as luxury touches like comfortable beds and a bathroom with a six-foot bathtub, this accommodation boasts gorgeous gardens, complete with colorful flowers and sculptures.
To start your stay in style, you'll be welcomed with a basket containing champagne and picnic supplies!
Yurts in Washington's North Cascades
We LOVE the North Cascades, and staying in a yurt in Washington's most underrated area is a dream! Here's a great spot…
5. Mount Vernon Camping Resort
This 16-foot yurt is located on Mount Vernon Camping Resort in Bow and boasts a bunk bed and a futon bed, sleeping up to five people.
With traditional decor, this yurt is reminiscent of Central Asia, where the structures are initially from. There's a sitting area in the yurt and restroom facilities on site.
---
RELATED: 15 Stunning Hikes in North Cascades National Park, Washington
---
Yurts on The Washington Coast
If you're looking for a coastal getaway, there's no better place to stay than a yurt on Washington's rugged and raw coast!
6. Long Beach Camping Resort Yurt 9
Long Beach Camping Resort is a popular campsite in Oceanview, and Yurt 9 is rentable for glamping vacations. This yurt is ideal for families to sleep five people with a bunk bed and futon bed.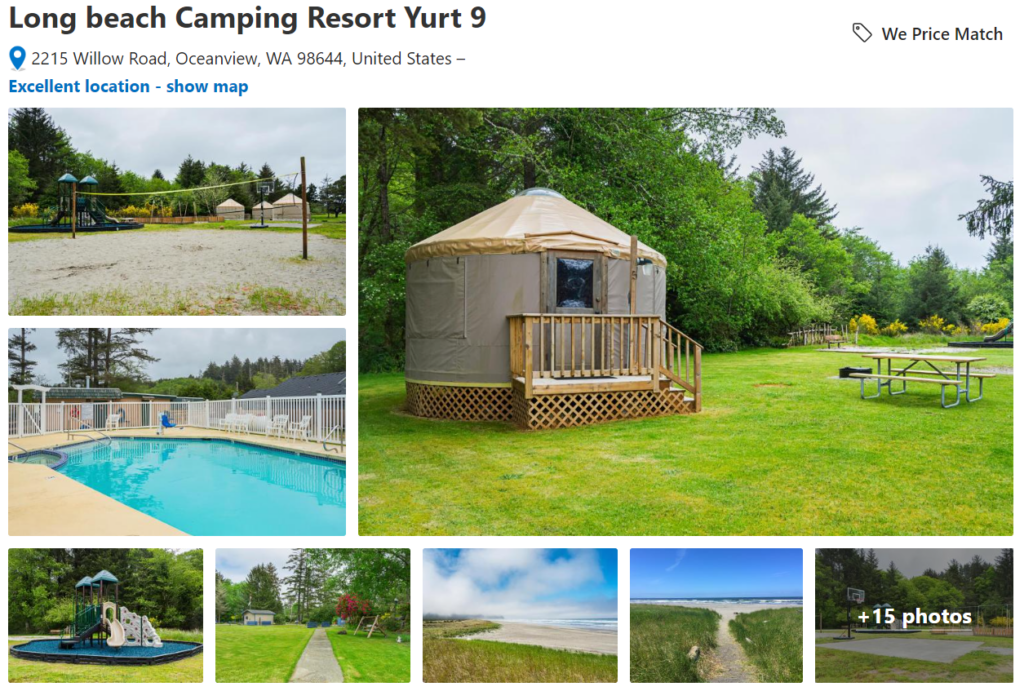 A swimming pool, sports courts, and beach access are on site. The yurt doesn't have a private restroom, but it is available on-site.
---
RELATED: 21 Amazing Places to Go Camping on The Washington Coast
---
Central Washington Yurts
Central Washington is the perfect place to curl up in a yurt, here are a few epic spots to choose from…
7. Stormking Cabins
These charming timber cabins offer the best of yurt-style accommodation with all the comforts of a hotel. Each yurt is individually designed while maintaining the traditional round shape with a central skylight. There are five cabins on the property, but each one offers complete privacy.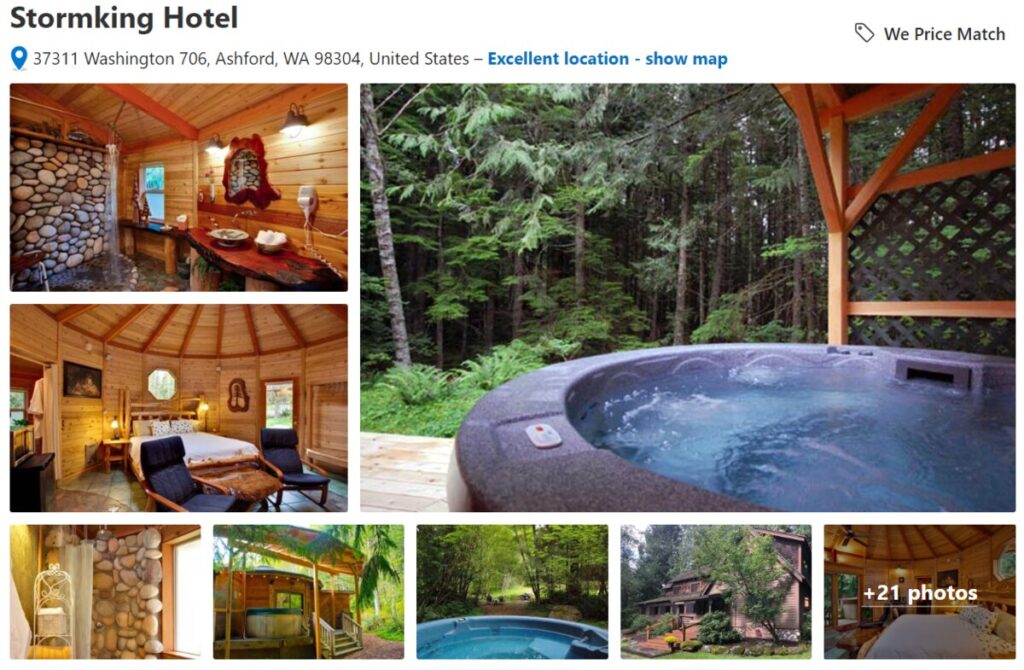 The facilities make this an ideal cozy romantic escape. Each yurt offers a private deck with a hot tub, king or queen beds, a gas log fire, and a two-person shower.
Yurts Along Washington's Columbia River Gorge
The Gorge is always a great choice when choosing where to stay in Washington because you also have the added benefit of having Oregon at your doorstep as well!
8. Rivendell Vacation Rental
This yurt, based in Lothlorien Woods, is an 18-sided structure that sleeps up to four people in two double beds. Think of staying in this yurt as glamping – enjoy a teakwood oak hot tub on the veranda and a bathroom with a roll-in patio.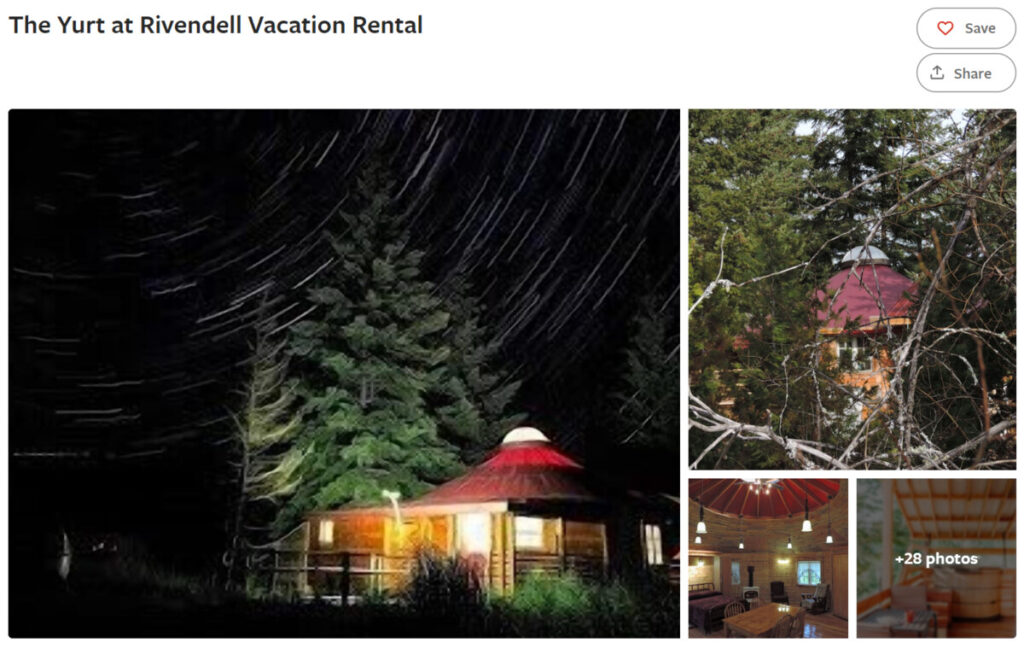 Take in the beautiful surroundings and watch for deer, elk, cougar, and plenty of other animals as you recharge! The cabin rental is close to the Columbia River Gorge, and it's suitable all year round, so whatever season, you can take a break from everyday life in this serenity.
9. The Forest Cupcake
Located in Lyle, Washington, The Forest Cupcake is nestled into the Columbia River Gorge Scenic Area. As soon as you step into the yurt, you'll be wowed by the charming decor and authentic furnishings.
There's a sofa bed and an entire sitting area, and the restroom is located a short distance from the yurt. Ideal for couples, this yurt is located in splendid surroundings, where you can hike in the meadows, look out for wildlife or even go hiking on the White Salmon River.
10. Waterfall Sanctuary Yurt in Washington
Nestled in 17 acres of beautiful countryside, Waterfall Sanctuary is a small farm with a yurt. While staying here, you can see the goats, ducks, and chickens kept on the farm and even look out for wild deer and elk.
The tent has space for four people to sleep, and a mesh top means you can stargaze at night! Communal cooking facilities are available on site.
11. Lis-Bon Acres Glamping
This glamping site boasts a safari tent that's perfect for couples. Fall asleep to the sounds of nature outside, and enjoy rural life as you sit on the veranda.
A fire pit and wood stove are available so you can cook outdoors, and a toilet and sun shower is open too. The glamping site is on a farm, and your reservation includes a free farm tour.
Yurts in East Washington
Yurts in Washington's undiscovered eastern side are a perfect choice for discovering the alien landscapes out here.
12. Spokane Camping
Spanning over 10 acres, this camping retreat is a beautiful forest house with authentic decor and comfortable beds; this is a great place to spend a vacation.
On-site, there are plenty of activity opportunities like hiking and biking trails. You can also explore the river and even take a dip in the summer months!
13. Green Mantis Farm Yurt in Washington
Green Mantis Farm is a family-run establishment with yurt accommodation located on a scenic meadow with far-reaching views of the area. The property features all the comfort you'll need for a luxury stay, including a comfy bed, a kitchen area, and heating.
The family grows vegetables and produces their own eggs, which you can enjoy while you're here, and there are also biking, hiking, and fishing opportunities.
These Washington yurts are ideal for a rustic, outdoorsy vacation! While they don't have all the same facilities as a five-star hotel, many are incredibly comfortable and ideally a mix of time outdoors and comfort.
More For the Best of Washington
I've been perpetually traveling and living around the world for years but it's hard to beat Washington and the PNW. After years of road-tripping the area, I guess you can say I know it pretty well! When I'm not writing guides for you, you can catch me somewhere petting a dog, attempting to surf, hiking a volcano, or stuffing my face with bread and cheese.