There are so many things to do in Seattle—The biggest city in Washington certainly packs a punch when it comes to fun and insightful tours, interesting cultural curiosities, and jaw-dropping nature just out of downtown.
With so many attractions in Seattle, it's hard to believe there's even more beyond the city limits that can be done in a day. This makes Seattle an ideal base to stay in if you'd like to explore the surrounding areas of the Pacific Northwest too.
There's every outdoor activity in Seattle you can imagine, and it's ideal during every season. If you're looking for the best things to do in Seattle, this list has you covered with plenty of fun activities and tips!
The BEST Things To Do in Seattle
---
Things To Do in Seattle: Beaches!
It wouldn't be a best things to do in Seattle list without mentioning the bucket-list beaches in the area!
The city sits on Puget Sound and is home to Lake Sammamish and Lake Washington, so there are lots of sandy beaches with safe spaces to swim.
Many of these beaches are even lifeguarded in the summer months, and there are plenty of nature trails you can hike, jog or cycle, some of which are open all season.
If you're looking for outdoor things to do in Seattle, don't miss the gorgeous beaches!
1. Alki Beach
Alki Beach is perhaps the most popular in all of Seattle, sitting on Puget Sound with views of the Olympic Mountains stretching back from the shore and the Seattle skyline on the other side.
There's a paved trail to Duwamish Head, or you can rent water sports gear from Alki Kayak Tours.
The beach sits just a 13-minute drive from Seattle's downtown area, or you can take the West Seattle Water Taxi directly from downtown!
2. Lake Sammamish State Park
Lake Sammamish sits amid a state park just east of the city. This park has two beaches, boasting impressive nature trails which you can cycle or hike. Don't forget your binoculars—this state park is great for birdwatching!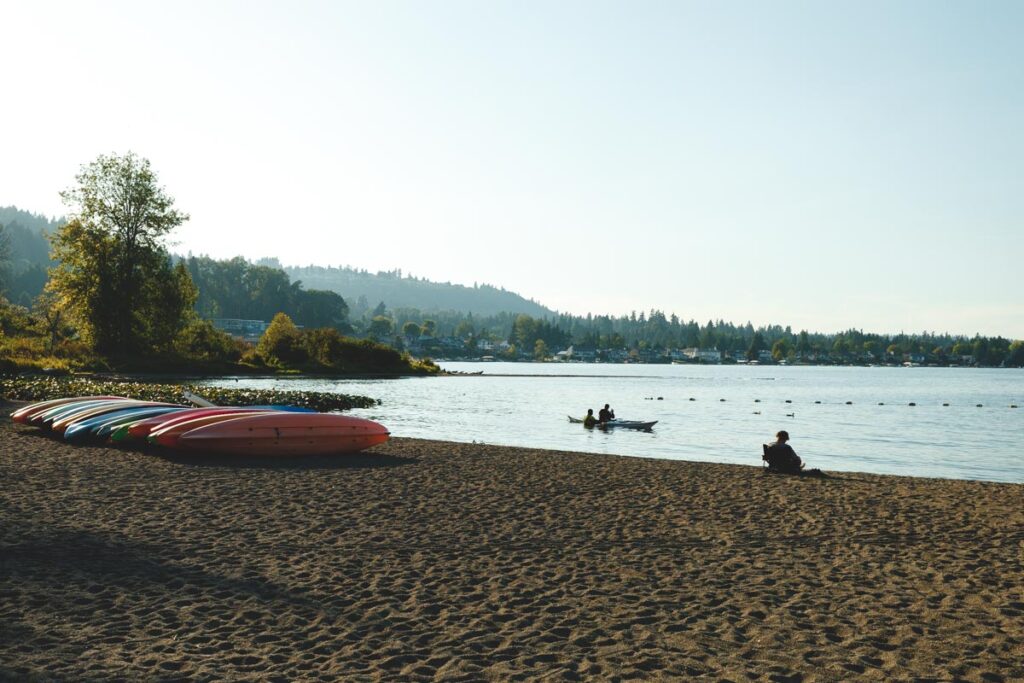 The two beaches are Sunset Beach and Tibbetts Beach; the foremost is pebbly and sandy, with beautiful vistas over the Puget Sound water, a kid's playground, and lots of sandcastle-building space!
Tibbetts Beach is smaller but has a watersports gear rental office, which is ideal if you want to take to the waters!
---
READ MORE: Exploring Lake Sammamish Just Outside of Seattle!
---
3. Golden Gardens Park
One of the closest beaches to Seattle, Golden Gardens Park is an immensely popular destination for residents of the big city.
Laze away sunny days on the shores, go for a dip, build a sandcastle, or just picnic and enjoy the view.
If you're looking for a sunset spot close to downtown, head to Golden Gardens Park in the evening—it's one of the best places to take in mesmerizing views of the sun turning the sky and water all shades of yellow, orange, and pink.
4. Mt. Baker Beach
Right on the shore of Lake Washington, Mount Baker Beach boasts impressive vistas of the bright blue water lapping the sand.
There's a pier sticking out from the beach, which you can jump off of! Plus, there are epic views of Washington's wonderful scenery and the urban landscape from the sands.
5. Madrona Beach
Also sitting on the shores of Lake Washington, close to the Madrona business district, is this black sand beach. You can also see epic views of the mountains and the urban landscape.
From the beach, hiking and jogging trails span and weave in the hinterland area.
It's a popular beach for Seattle locals, but there's plenty of space – so you should always find room to roll out your towel!
You can take a dip from the beach, and there are lifeguards there for the summer months.
---
READ MORE: 19 Killer Beaches in Seattle, Washington for Adventure
---
Things to Do in Seattle: Parks!
While the beaches are certainly among the best outdoorsy things to do in Seattle, there are some incredible parks that are also worth frequenting.
6. Gas Works Park
If you only check out one park in Seattle, make it Gas Works Park! This is a unique park in Seattle's Gas Light Company gasification plant and offers some of the best views of the city's downtown.
You can also explore the factory's remains and learn about the site's history.
7. Seacrest Park
You can enjoy immense sea views from Seacrest Park. It's very close to the city center, with an elevated area at Hamilton Overlook, where you can take in incredible vistas of the city and nature.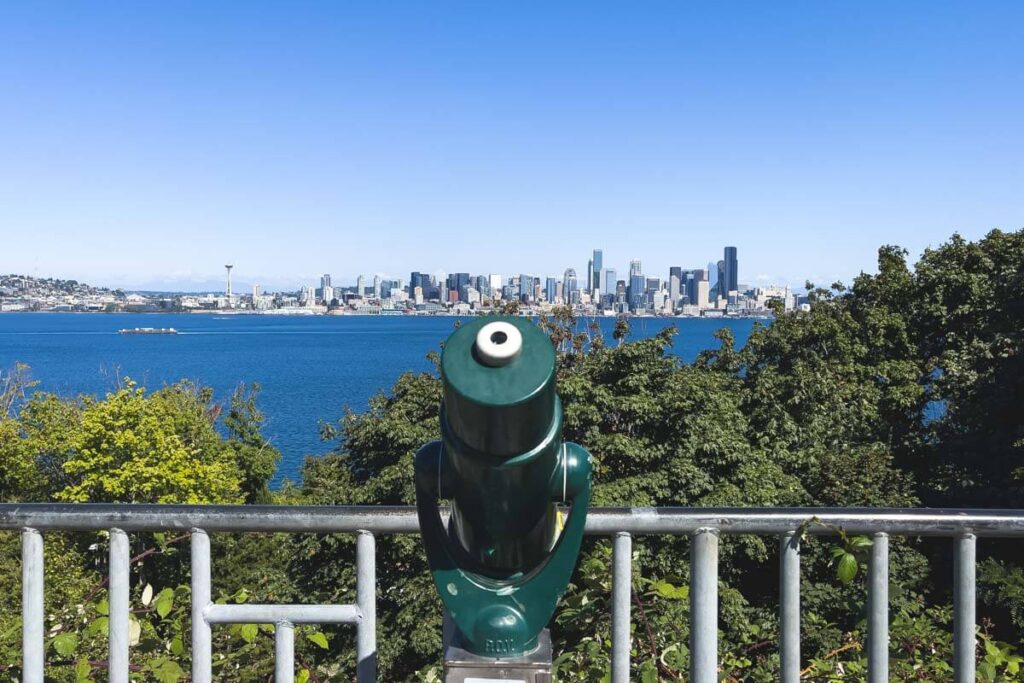 Or, head down to the beach, where you can rent out watersports gear or even go scuba diving!
When it's time to head back downtown, you can catch a water taxi across the sound and be right in the heart of Seattle.
8. Washington Park Arboretum
With Lake Washington gently lapping the shores, this arboretum is an idyllic place to take in nature close to Seattle. Jointly managed by the University of Washington and the City Council, this is one of the best free things to do in Seattle.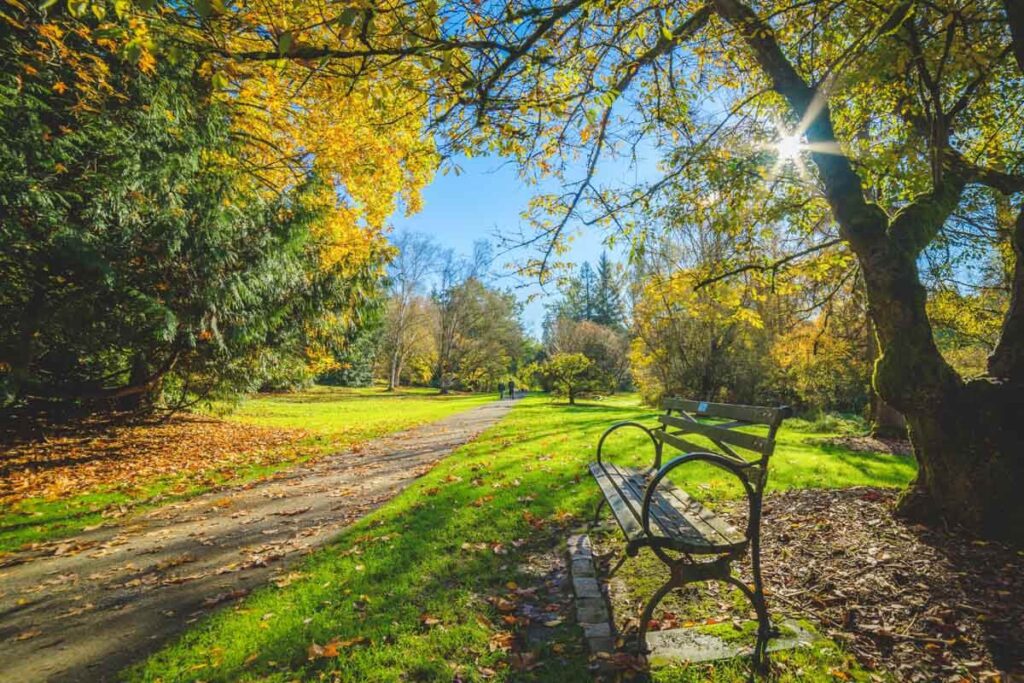 There's a broad range of trees, flowers, and plants, some of which you won't find elsewhere in the region. A scenic setting for catching fall colors and springtime blooms, this arboretum boasts incredible trails with epic views.
The most beautiful part is perhaps the Japanese Garden, although there is a fee to visit this area.
9. Olympic Sculpture Park
Head to the Olympic Sculpture Park, situated between Elliot Bay and the Space Needle, to take in nature and humanmade phenomena like beautiful and fascinating sculptures that you can explore on a self-guided tour.
You can also take a trail to Myrtle Edwards Park.
10. Marymoor Park
This wonderful park is close to Lake Sammamish and is one of the best places to visit in Seattle for adventure seekers.
Not only is there a range of hiking and biking trails here, but some of the viewpoints are immense, and you can even tackle a rock climbing wall!
11. Waterfront Park
This park boasts an impressive pier with incredible vistas of Elliot Bay and the city center.
Waterfront Park has a cultural hub, with occasional events and stalls to purchase local food.
12. Watch the Sunset at Kerry Park
Take in an epic view of the city from Kerry Park, where you can see vistas of the entire cityscape and surrounding mountains, including Mount Ranier.
This is an idyllic sunset spot – don't forget your camera!
---
READ MORE: The 19 Best Parks in Seattle For Adventure
---
Things to Do in Seattle: Tours, Coffee, Beer, Food, and More!
Up for more activities in Seattle? How about visiting the famous markets? The coffee and foodie scene? Perhaps you're into the spooky history, or are you ready to taste some craft beer? Here are the best options for your visit to Seattle.
13. Pike Place Public Market
Dating back to 1907, Pike Place Public Market is a Seattle institution. A free activity in the heart of the city, no visit to Seattle is complete without taking some time to browse Pike Place, shop at independent and local businesses, and try some delicious local food.
You can either visit independently or, if you want to learn some of the market's secrets and see where the locals love to shop and eat, there is a walking tour, run by a local, that includes a tasting session and plenty of secret spots that you might not have found otherwise!
14. Farmers Markets
As Seattle sits in the heart of gorgeous Washington nature, it should come as no surprise that there are a good few farmers' markets to visit in the area!
The most popular include Queen Anne Farmers Market (taking place every Thursday), Capitol Hill Sunday Farmers Market (as the name suggests, taking place on Sundays), and West Seattle Farmers Market (also on Sundays!).
Markets have plenty of food stalls serving up local produce, places to purchase ingredients, and gift stalls (ideal for souvenir shopping!), and some even have live music or entertainment.
They're the perfect low-budget attraction to enjoy on a morning or afternoon in the city!
15. Drink All the Coffee!
Ask locals for an authentic Seattle experience, and they'll likely mention coffee!
In fact, the global franchise Starbucks was established at Pike Place Market in 1971. Of course, if you like Starbucks or are just interested in seeing where such a global phenomenon first began, it's worth popping in while you're exploring Pike Place.
However, plenty of independent roasters serve much better coffee than the 'bucks! You also won't have to wait in the crazy long line to get the same stuff you get at your local Starbucks either… Literally, no joke, it's the same exact Starbucks, so maybe just take a wander by it and then get your caffeine fix elsewhere…
Here are a few of our favorites:
Sound and Fog: Serving fresh coffee from local roasters, this cafe also provides delicious local wines and beers.
Ballard Coffee Works: With a focus on sustainability, Ballard Coffee Works strives only to use the most responsible beans and serve up delicious espressos and flat whites in their downtown cafe.
Elm Coffee: Offering a range of roasts that change with the seasons, Elm Coffee is a hip but welcoming cafe that strives to run an inclusive space where everyone can enjoy a freshly-made brew!
If you want to see even more incredible coffee options and learn about Seattle's obsession with the drink, take this tour. It'll take you around the city, educating you about the roasting process and offering a few delicious samples of both espressos and infused coffee.
16. Free Walking Tours
Of course, Seattle doesn't just offer coffee tours—there are plenty of free walking tours, perfect if you want a dose of history while you're staying here.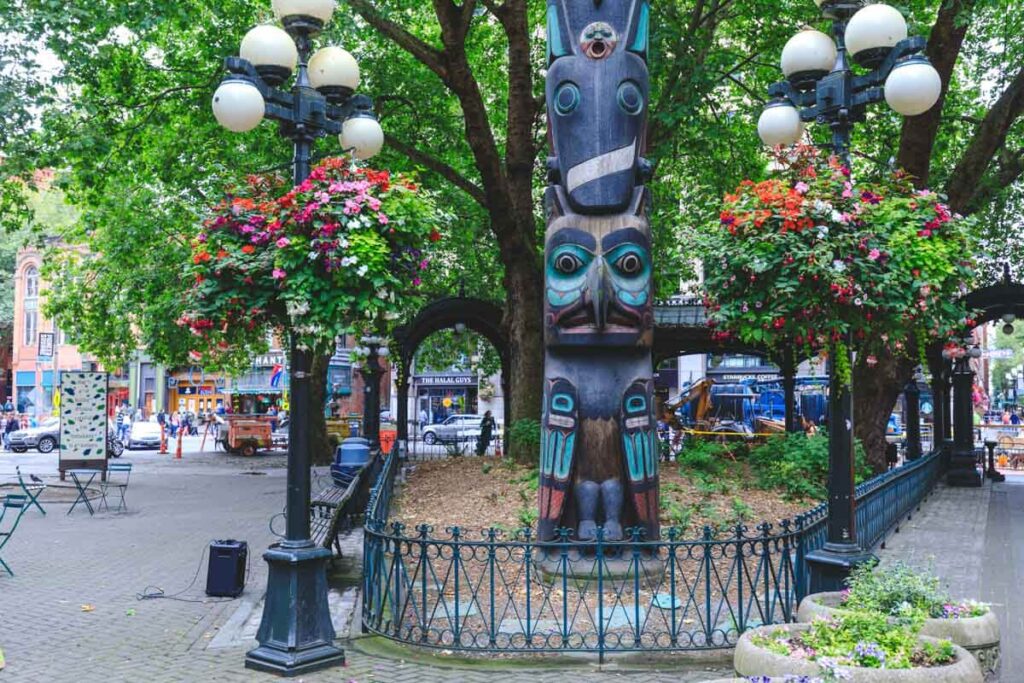 One of the best websites to book these tours is Seattle Free Walking Tours. They offer a two-hour experience traversing downtown, the waterfront, Pioneer Square, and Seattle's totem poles while explaining the city's unique history and diverse cultures.
As the name suggests, this tour is technically free, but there's a caveat, you should tip generously. The guides make their money from tips (and usually pay a percentage back to the company that advertises the tours!). Depending on the group size, most people tip $10 – $20.
17. Space Needle
You can't visit Seattle without marveling at the Space Needle!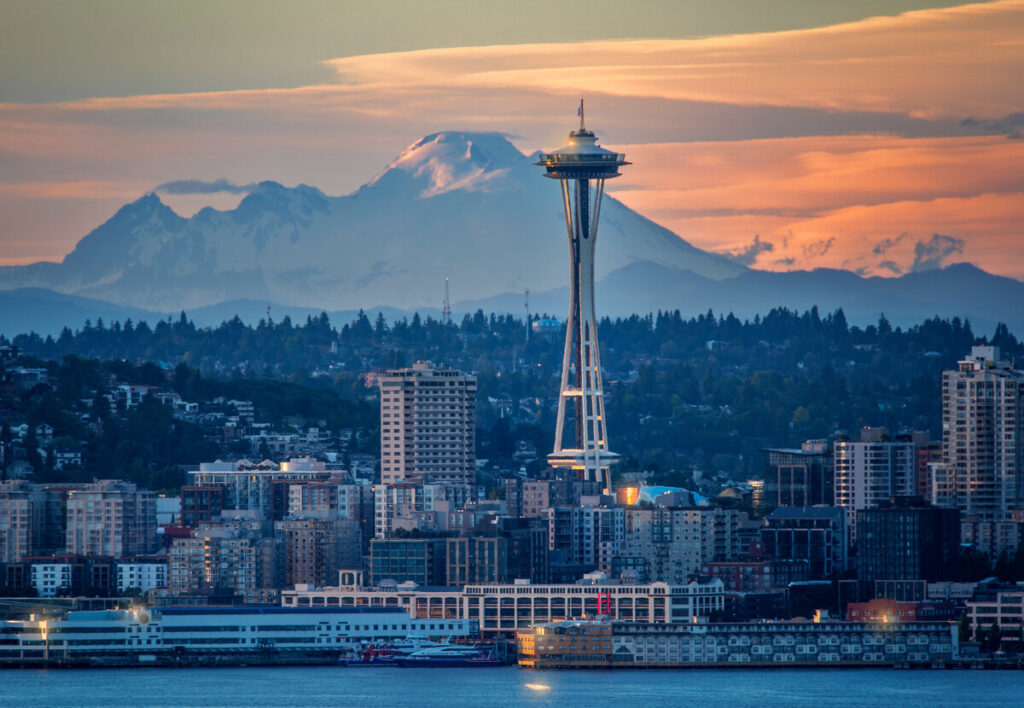 Dating back to the 1962 World's Fair, this spire is 605 feet tall and protrudes straight up into the sky, with a revolving restaurant and observation deck at its top (where you can check out 360-degree views).
On a clear day, you can see the Olympic and Cascade Mountain Ranges and out to the islands of Puget Sound.
18. Watersports on Lake Union
Just north of downtown Seattle sits Lake Union, a haven for watersports.
At Northwest Outdoor Center, you can rent kayaks and stand-up paddleboards and take them out while admiring the views of the city skyline.
It's an effortless way to combine nature with urban scenery!
19. Street Art Spots
While we love Seattle's connection with nature, some of its urban attractions are something to shout about—One of these is its incredible street art!
If you want to see the most incredible murals and thought-provoking pieces, head to SoDo Track, where you'll find a whopping two-mile stretch of art! Then there's the Gum Wall, which you may find equally funny and grotesque…
There are plenty of other murals adorning walls throughout the city, too, which you will inevitably stumble on as you wander around.
20. Brewery Hop
Another fantastic urban attraction in Seattle is its many breweries!
The city is full of them, and they're perfect for having a few while planning a wider trip around Washington or for debriefing when returning to the city after a camping trip… Or… really, just anytime!
Some of our favorites are:
Stoup: Serving porter, IPAs, and light beers, Stoup is a fantastic brewery with an excellent taproom.
Urban Family: Famous for its sour (and sometimes strong-tasting!) beers, Urban Family has a scenic patio where you can enjoy its range of drinks.
Cloudburst Brewing: A classic on the Seattle beer scene, Cloudburst is famous for its pilseners, stouts, and IPAs, and it serves drinks across two locations.
The Good Society Brewery: Located in West Seattle, this brewery provides tasty beer, supports local initiatives, and gives back to the community.
21. Explore Seattle's Underground Tunnels
A must for any off-the-beaten-track travelers who love learning about forgotten histories! This Seattle underground walking tour frequents tunnels, built in the 1890s when the current city streets were built, elevated after a fire ravaged a lot of the city.
The streets were inhabited until 1907 when bubonic plague ravaged Seattle. Nowadays, this tour will take you into the heart of this city underground and show you a unique perspective of modern Seattle.
22. Ghost Tour
Are you aware of things that go bump in the night?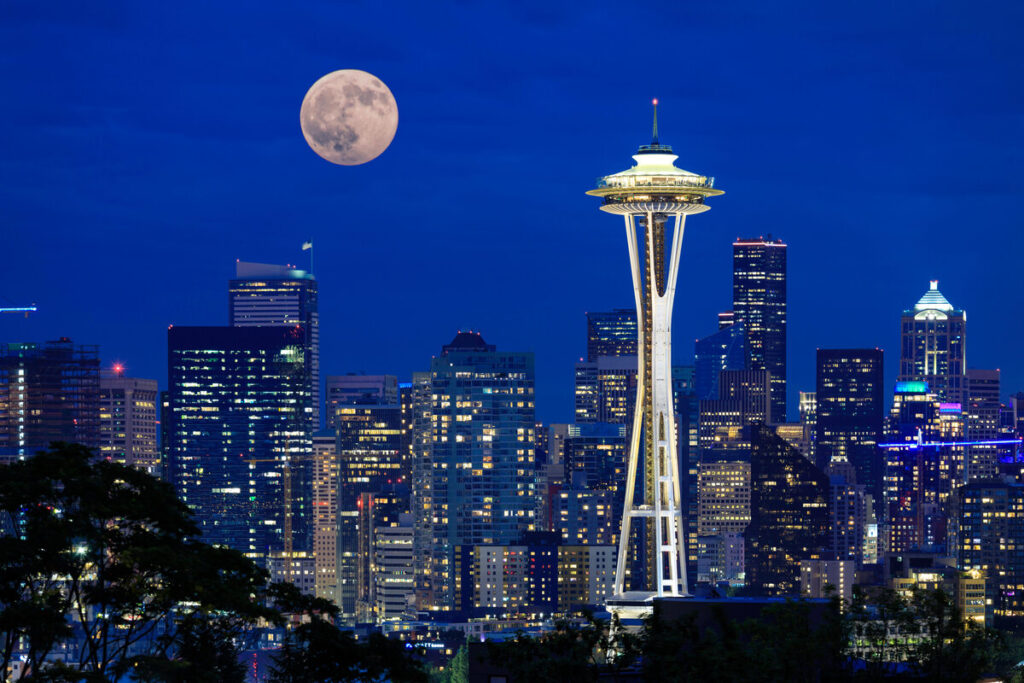 Seattle is one of the most haunted cities in America, with fascinating tales spanning its 200 years. You'll hear some of the best on this tour, which visits famous haunted spots like Pike Place Market and tells you some eerie stories as you go!
In fact, you might want to visit everything on the list, THEN take this tour, so you're not spooked out later!
23. Donuts!
Another fun tour that you must try in Seattle is a donut tour! The city is famous for these deep-fried cakes, and throughout the area, you can find all sorts of varieties, ranging from iced to jam-filled.
However, it's hard to find the best donuts without expert guidance, which is where this donut tour, led by a local, comes in! You'll be licking your finger throughout the whole thing and filling up on Seattle's best, so come hungry!
24. Events!
The city is brimming with life, and some of the best things to do in Seattle are to take in some of its incredible events!
There's something on every week of the year (and pretty much every day). Highlights include the Seattle Art Fair in July every year, Summer Meltdown in August, Winterfest in December, and Best of the Northwest in March.
---
READ MORE: 15 Of The Best Seattle Tours To Get The Most Out of Your Visit!
---
Things to Do in Seattle: Hikes!
Of course, we love hikes (shocker!)—and there are a few to tackle near Seattle. While you'll be heading out of the bustle for the day, none of these are too far outside. For some outdoorsy activities in Seattle, you can't go wrong with these hikes.
25. Cougar Mountain Regional Wildland Park
Just 17 minutes from the city sits Cougar Mountain Regional Wildland Park.
This park has an array of hikes, including the 6.9-mile Margaret's Way Trail that spans to Debbie's View, where you can take an immense panoramic view of the park.
Or, the Coral Creek Falls Loop is a 2.7-mile loop, and you'll find the immense Coral Creek Falls on the way, which is a photographer's dream!
26. Tiger Mountain State Forest
Tiger Mountain State Forest is a 13,745-acre expanse with enigmatic trees and charming hiking trails. One of the most popular is Chirico Trail to Poo Poo Point, which is about 4.5 miles long.
The top has some of the best views in the entire state park!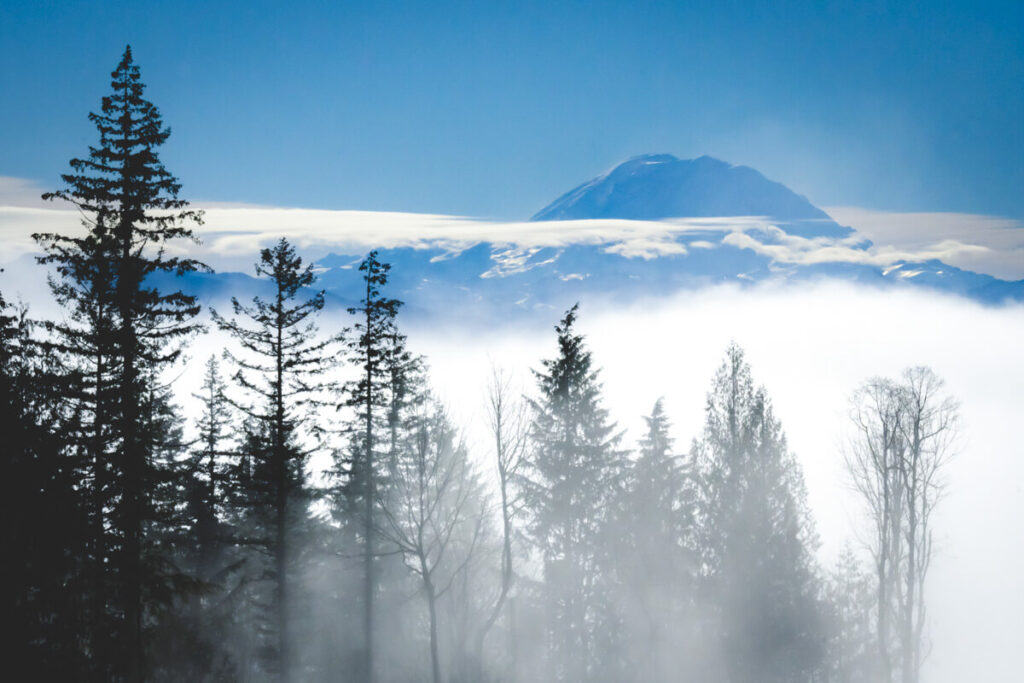 Alternatively, take the Tiger Mountain Trail, which is a 14.5-mile out-and-back trail that takes around seven and a half hours to complete; it'll be an all-day trip from Seattle, but it's well worth it!
27. Rattlesnake Ledge Trail
Rattlesnake Ledge Trail is a five-mile walk that spans the brilliantly blue lake with alpine-like forests on either side.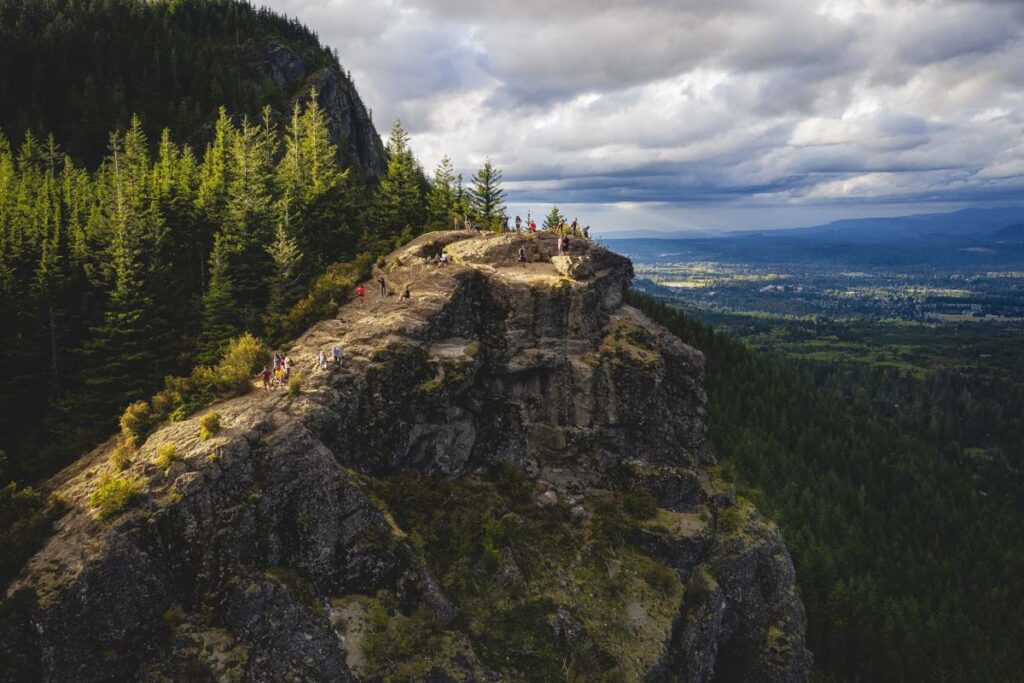 From the lake, walk up to the ledge, where you can admire the gorgeous scenery.
It's around an hour and a half from Seattle, on the other side of Tiger Mountain Forest, and it's well worth visiting!
28. Hike Mount Si
While Mount Si is one of the busiest trails close to Seattle, it's popular for a reason.
You'll summit over 3,100 feet in less than four miles, but it's not impossible—there are plenty of stopping places en route!
This eight-mile hike is often a test for climbers who want to hike Mount Rainier; if they can get to Mount Si in under two hours, they'll feel ready to tackle the bigger Washington peak.
29. Snoqualmie Falls
While climbing mountains is fun, it's not for everyone! Don't worry if you don't fancy climbing to the top of Mount Si – we have a shorter hike for those who want something a little more chill.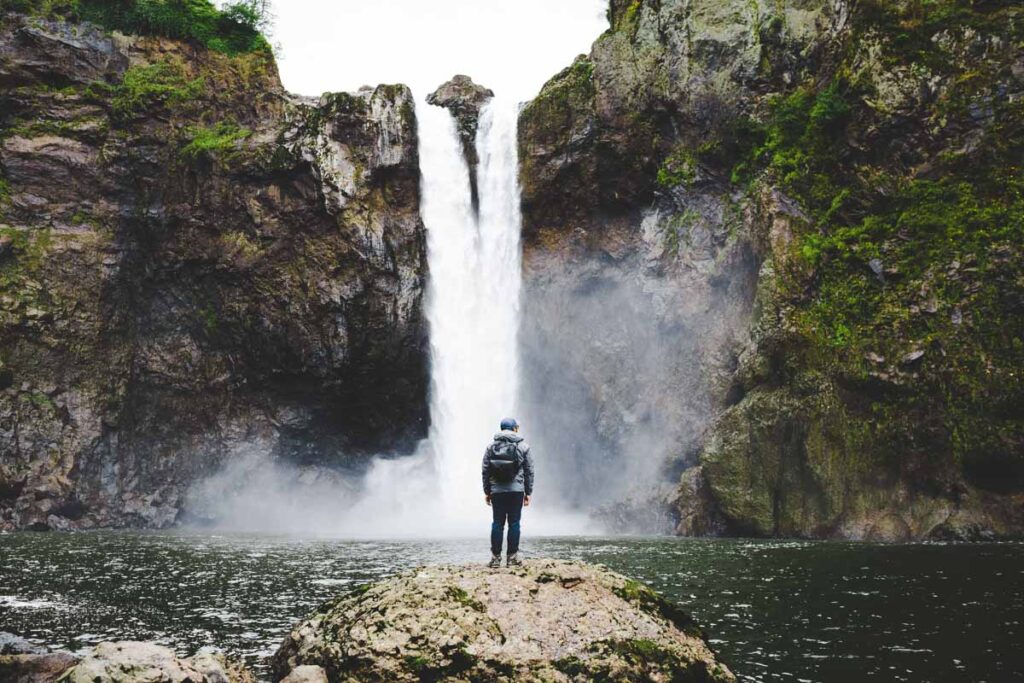 Snoqualmie Falls is a 1.4-mile out-and-back trail with an observation deck, where you can take in some views of the waterfall from above and a chance to climb down to the bed.
30. Twin Falls
The Twin Falls Trail is 2.5 miles and is located in Ollalie State Park.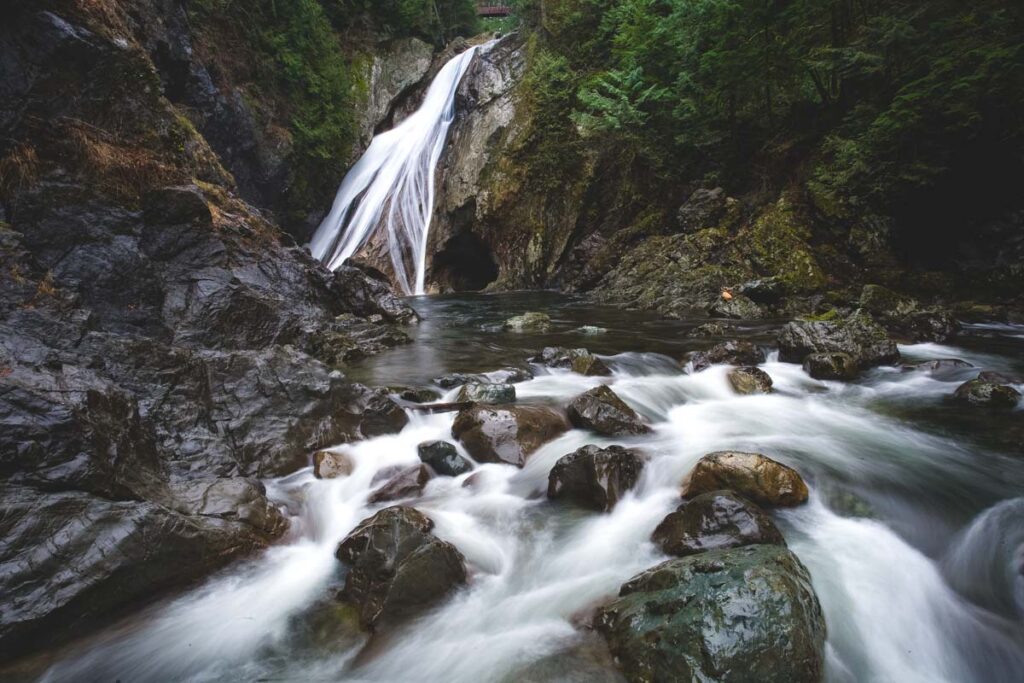 The falls plunge dramatically from the rainforest into a plunge pool. Twin Falls is close to Snoqualmie Falls, so you can easily see both in a day.
31. Franklin Falls
A two-mile trail with the falls sitting right at the end, Franklin Falls sits in the heart of Snoqualmie National Forest.
It's a relatively easy hike, but there are some slippery rocks and a few stairs. Of course, the falls are the epic pinnacle of the hike!
---
RELATED: 7 Awesome Waterfalls Near Seattle, Washington
---
Things to Do in Seattle: Winter Time!
If you're reading this and thinking but what about Seattle in winter? – don't worry! Washington's biggest city is a year-round destination.
While your outdoor activities in Seattle may look slightly different in the cooler months, most of the tours we've listed still run, and the breweries and some markets are still open.
If you're looking for outdoorsy things to do in Seattle in winter—you've got skiing, snowboarding, light trails, and even a local German village to visit!
32. Snowsports
The ski season in Seattle runs from the end of November (just after Thanksgiving) through early April.
The closest is Summit at Snoqualmie, which is 3,022 feet high and takes less than an hour to drive from downtown.
With equipment rentals on-site, you can easily visit Summit at Snoqualmie as part of a day trip from the Washington metropolis.
Other snowsports destinations include Crystal Mountain Resort, known for its views of Mount Rainier (the highest point here is 7,000 feet!) and Grouse Mountain near Vancouver (over the border in Canada).
33. Woodland Park Zoo Lights
Festive light trails are among the most Christmassy activities anyone can do, and you can see Seattle's best at Woodland Park Zoo.
In the festive season, this zoo is illuminated with animal-themed decorations in their WildLanterns event, perfect for kids and big kids.
34. Leavenworth Christmas Market
While Washington isn't quite on the same scale as Europe when it comes to Christmas, it has its very own Bavarian-style village where you can find some festive cheer—and it even has its own German-style Christmas market!
Leavenworth is situated about a two-hour drive from Washington. The German buildings were constructed in the 1960s when the town wanted to reinvent itself as a tourist hub—and it worked, as it's now one of the most popular places to visit near Seattle, especially when the festive market is on!
This might be a bit of a drive just for the day, so you may want to take a tour here or plan on spending a few nights—more on this soon.
Things to Do in Seattle: Epic Day Trips!
Of course, one of the main reasons to visit Seattle is to take incredible day trips from the city center.
It's entirely possible to stay in Seattle's city center and take some of these day trips out from the city—this is ideal if you want a week's long vacation but don't fancy camping or staying in rural areas.
If you don't want to pack up your stuff but want to explore beyond the city, these are the best things to do from Seattle in a day.
35. Whidbey Island for the Day
Whidbey Island is one of the most accessible nature destinations near the city. Sitting just to the north of Seattle, you can take in rugged scenery, beaches, and state parks with hiking trails.
Fort Ebey State Park is home to a historical fort dating back to 1942, or you could visit the even more historic Fort Casey, a defense and training facility from the 19th century!
It's the perfect day trip for those who want a slice of history along with some nature.
---
READ MORE: 10 Awesome Things To Do on Whidbey Island & Fidalgo Island
---
36. Bainbridge Island for the Day
A complete breath of fresh air from Seattle, Bainbridge Island is entirely surrounded by salt water and is famous for its tranquil beaches and gorgeous forests.
It's also a cultural destination, with museums and galleries like the Bainbridge Art Museum and the historical museum.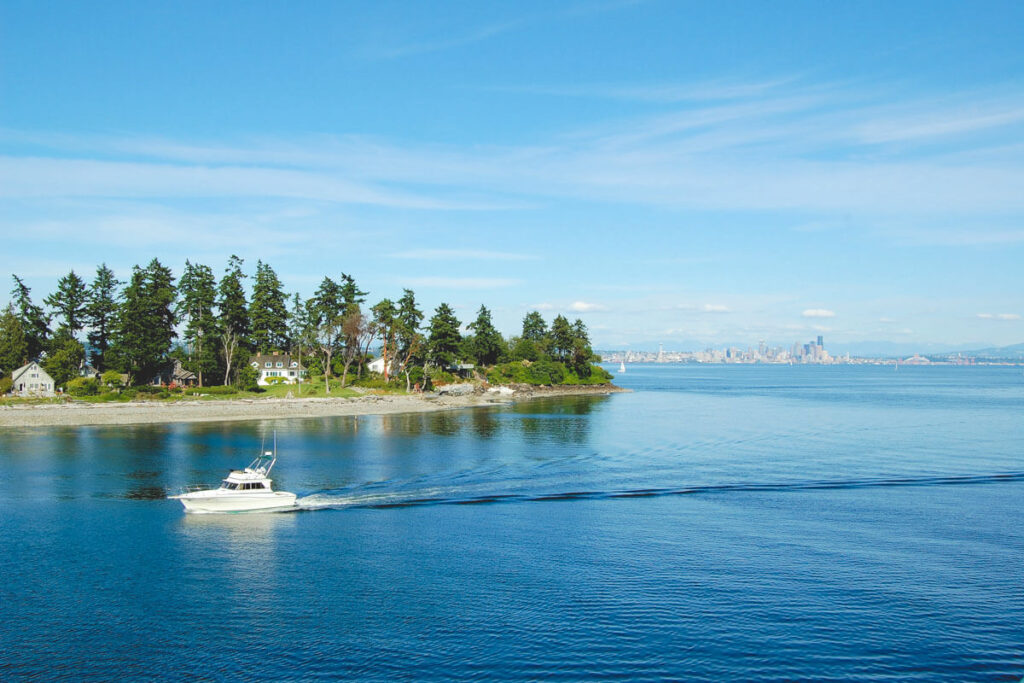 Don't miss the Bainbridge Island Japanese American Exclusion Memorial, which details a tragic (and often forgotten) part of American history, when Japanese Americans were taken from their families in World War Two.
Bainbridge Island is one of the easiest-to-reach day trips from Seattle—you can just take a ferry from downtown and be in the heart of the island in just 35 minutes!
---
RELATED: 9 of the BEST Day Trips From Seattle (Under 1.5 Hours Away!)
---
37. Tacoma Day Trip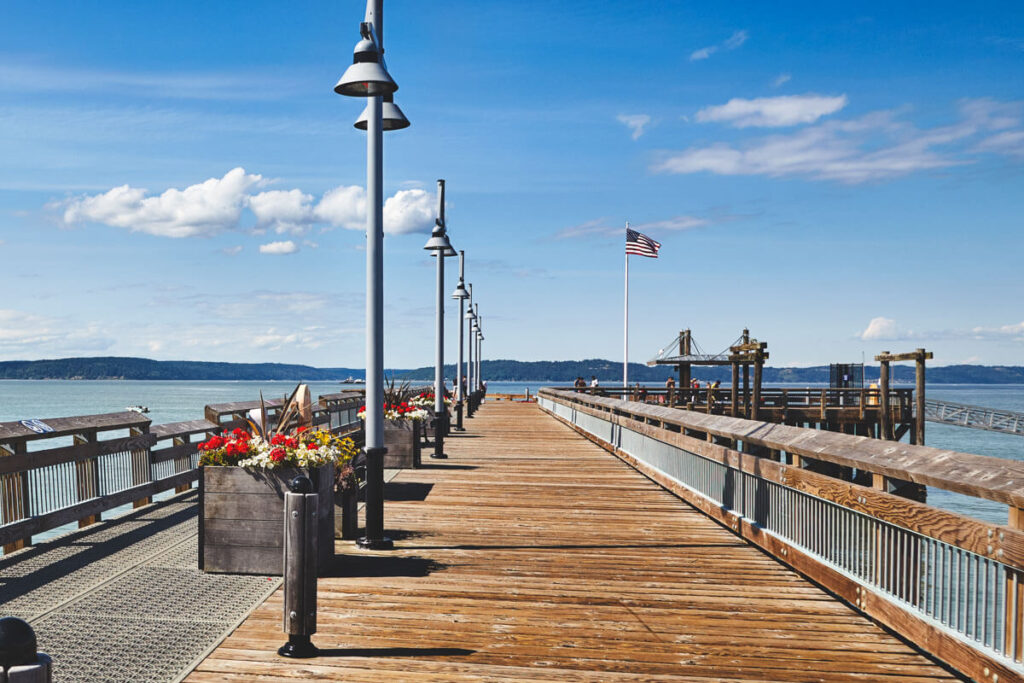 The city of Tacoma sits just south of Seattle. Learn about the water heritage of the Puget Sound at Foss Waterway Seaport, or take in Tacoma's arty side at the Tacoma Art Museum.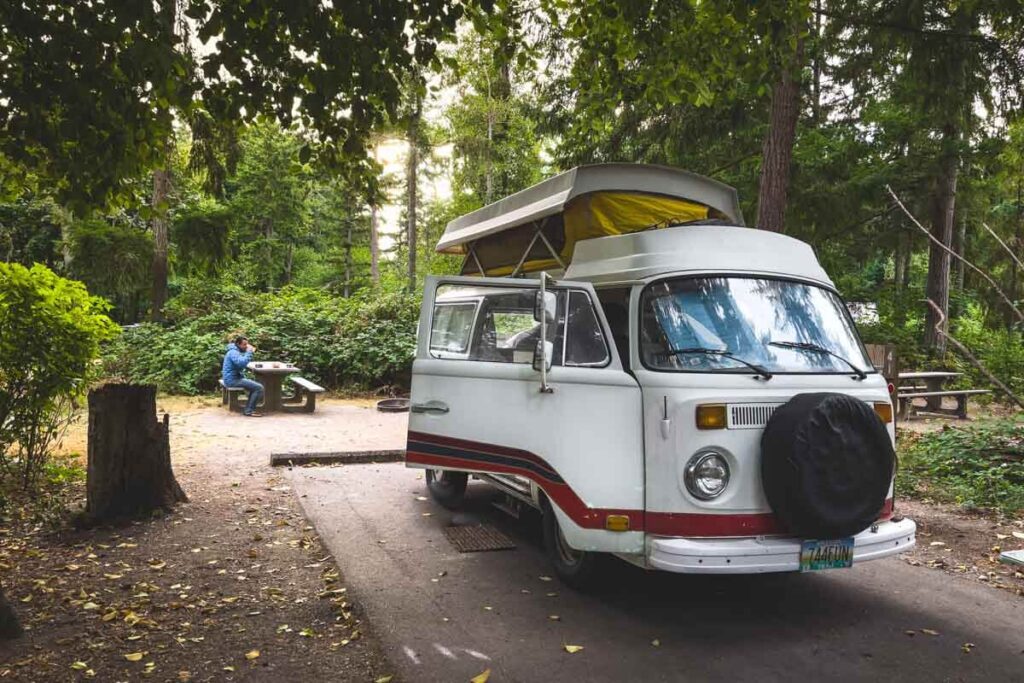 For nature lovers, head to Dash Point State Park, which is a 461-acre camping park and is a perfect place for watersports throughout the summer months.
38. Bellingham Day Trip
Bellingham sits an hour north of Seattle and is home to hiking trails with gorgeous views, farmers' markets selling local produce, and a vibrant street art trail.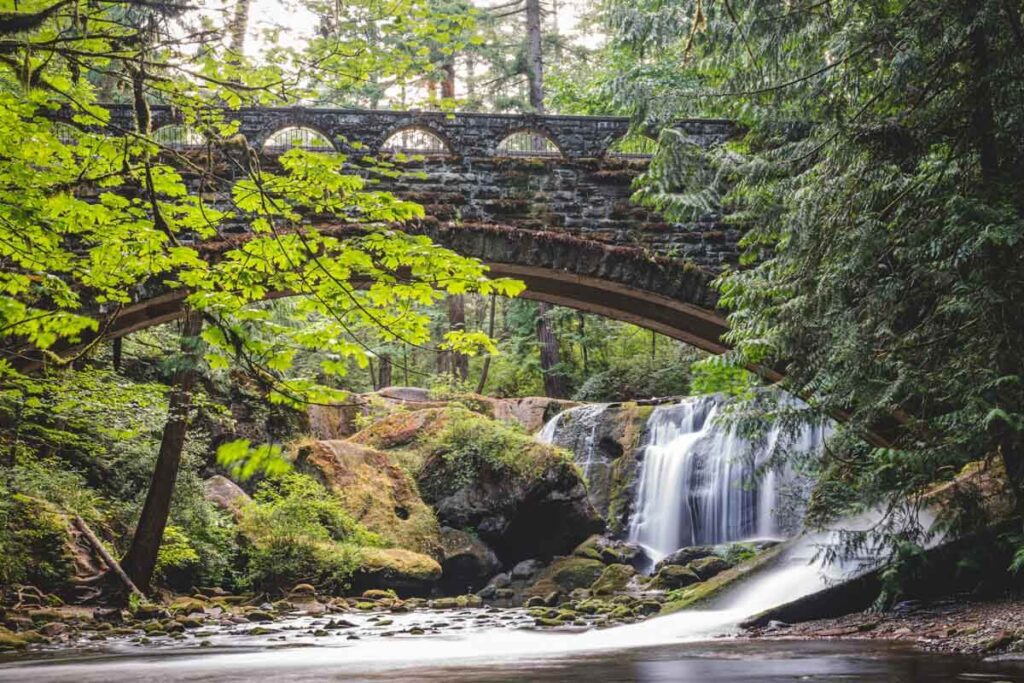 Don't miss Whatcom Falls park, which boasts an impressive waterfall trail, Labaree State Park on Samish Bay, local shopping at Fairhaven Village, and the 20 craft breweries downtown.
39. Wallace Falls State Park for the Day
Sitting less than an hour from downtown Seattle, Wallace Falls State Park spans over 1,380 acres and is brimming with activities for a day trip (or, if you have a tent, a camping trip!).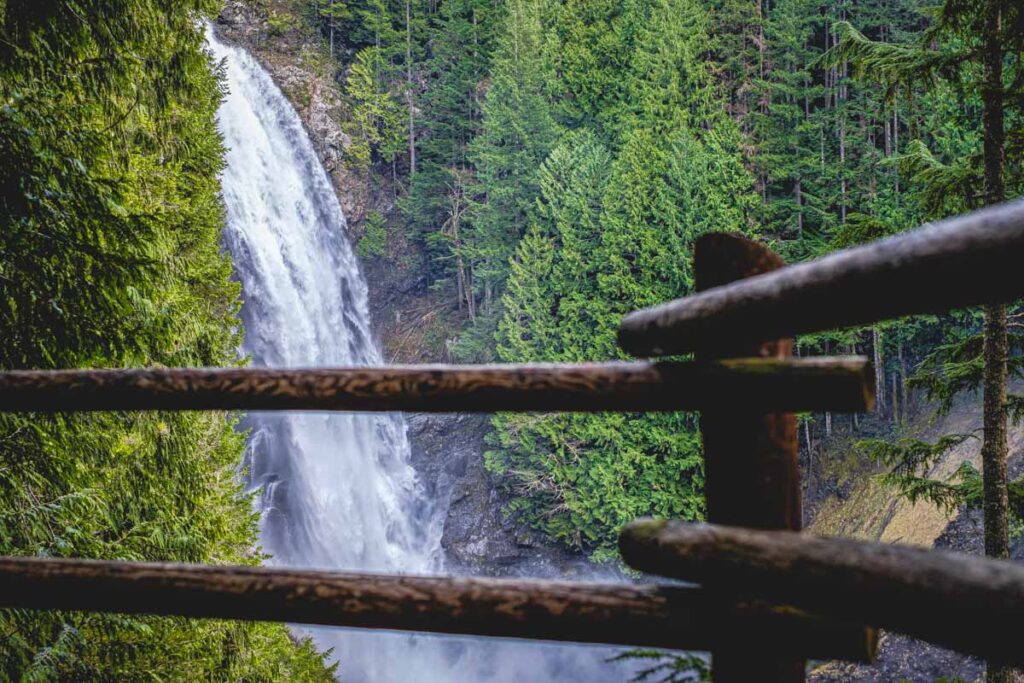 With 12 miles of hiking trails spanning along the glorious Wallace River and the 265-foot waterfall and plenty of places to sit, picnic, and watch the world go by in the coniferous forest, Wallace Falls is a breath of fresh air from start to finish.
40. Snoqualmie Pass—Chase Waterfalls All Day
Also, just an hour from downtown Seattle is Snoqualmie Pass, a popular mountain pass that's perfect throughout all the seasons (and a great day trip).
In the summer, take in the Rattlesnake Ridge Hike, a 5.2 mile out and back route that overlooks the brilliantly blue Rattlesnake Lake and also boasts vistas of Mount Si and Mount Washington. This trail is also accessible in fall when the trees change color.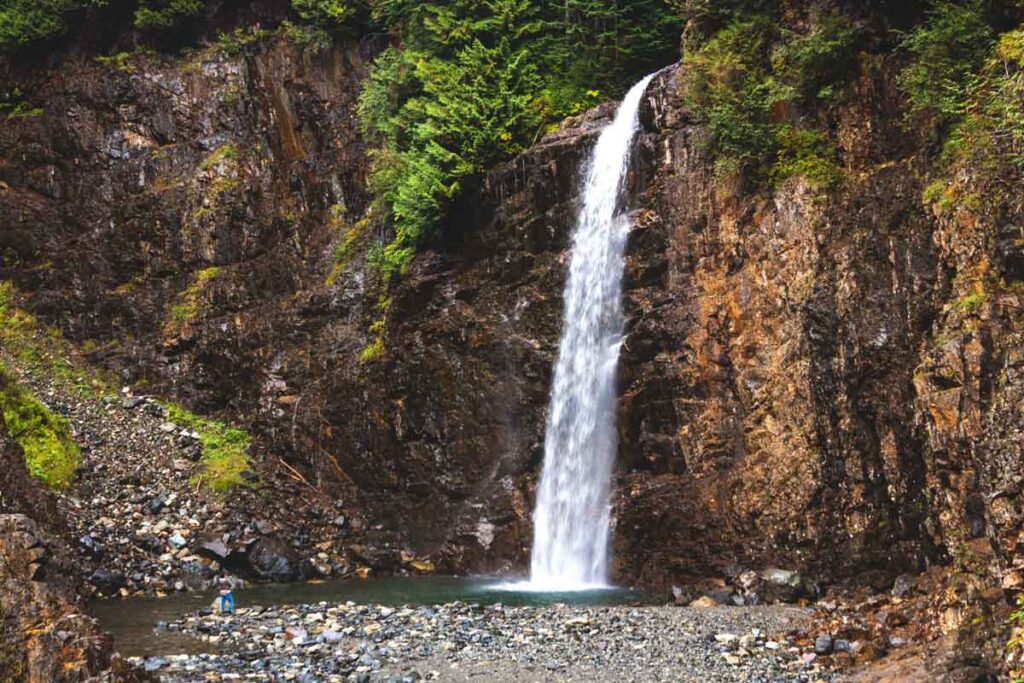 There are a few other hikes at Snoqualmie Pass, including Franklin Falls Trail (about 2 miles) or Mason Lake via Ira Spring Memorial Trail (around 6 miles).
From the moment the first snow falls in November, Snoqualmie Pass turns into a proper winter wonderland, its impressive landscape blanketed in white.
It's an ever-popular destination for snowsports, and skis, snowboards, and snow shoes are all rentable from the various offices.
---
READ MORE: Snoqualmie Falls Hike: What You Need to Know!
---
41. Waterfalls and Wine Day Trip
If you don't have a car or want a local to show you the surrounding area, then why not do this day tour with some of Seattle's best waterfalls and a visit to a local vineyard?
Your guide will take you to the roaring Snoqualmie Falls, to see some of Central Washington's most impressive forests, and to boutique wineries, where you'll have a chance to try local produce and ask the viticulture experts any questions that you have about wine in the northwest!
The tour also includes a delicious lunch, and your guide will detail the history and culture of Seattle and Washington as you explore the surroundings.
42. Tiger Mountain State Forest for a Day
Spanning over a whopping 13,745 acres, Tiger Mountain State Forest is the ultimate place to explore close to Seattle (it's only a half-hour drive!).
Sitting in the heart of the Issaquah Alps, it's believed that Tiger Mountain was supposed to be named "Cougar Mountain," but as there was already one with that name, it was called "Tiger Mountain" instead!
As the name suggests, this area is most famous for its forest scenery, and you can bet countless gorgeous hiking trails are extending through!
Some of the most popular are Poo Poo Point Trail, six miles long, and West Tiger 3, a challenging five-mile hike up the mountain itself, with epic views at the top!
43. Mount Rainier for the Day—By Land or Air
Mount Rainier is the highest peak in Washington, so it goes without saying that any trip to the state should include a voyage here!
There are a few tours that you can do to see this epic scenery. Either go with a guide on land with this tour, which takes you through some of Washington's most interesting towns, to see the epic terrain of Mount Rainier up close.
Or, get a real bucket list check by doing this seaplane tour, taking off from Lake Washington and catching an epic view of the mountain and surrounding landscape from above.
44. Olympic National Park for the Day via a Tour
Olympic National Park is one of Washington's premier destinations – and, to be honest, it's worth way more than a day! But if you're short on time, you can do a group tour from Seattle to Olympic National Park.
This tour encompasses Lake Crescent, Marymere Falls, and Salt Creek and even includes snowshoeing in the winter months!
We wouldn't recommend attempting to visit Olympic for the day without a tour, it's just too far and too much!
---
RELATED: Things to Do in Olympic National Park: 35 Must-Do Activities!
---
45. Leavenworth for the Day
Fancy a taste of Bavaria right here in the Pacific North West? Leavenworth is an adorable German-themed town sitting two hours from Seattle. While it's a wonderful place to visit at Christmas time, we love it all year round.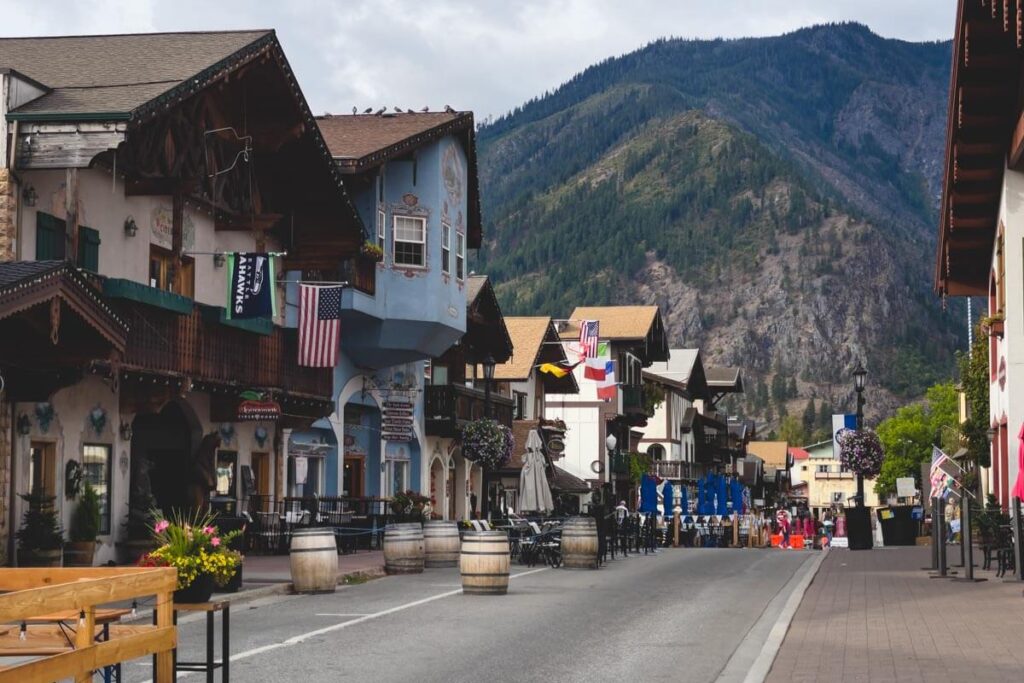 On this Leavenworth tour, you'll learn all about the charming town, go on a woodland walk and explore Deception Falls! Like Olympic National Park, visiting Leavenworth for just a day without a tour it's a bit much, in our opinion.
How To Get Around Seattle
Most people get around Seattle by car, but as it's a huge city, it can be quite congested, particularly during rush hour!
Aside from using your own vehicle, here are some other options:
Public transport
There are a few public transport options in and around downtown Seattle.
Link Light Rail: this service links downtown Seattle with SEA airport, along with some of the city's suburbs like Angle Lake and Northgate. It's a cost-effective way to travel through the city center.
King County Metro Transit: the city's bus service; it covers downtown Seattle and a few other neighborhoods in King County.
Seattle Center Monorail: an immensely popular option, this runs above the city from Seattle Center to Westlake center.
Seattle Streetcars: these trams run around the city's downtown and into some suburbs.
Taxis
Uber and Lyft are operational in Seattle, along with metered taxis.
Around Seattle
If you don't want to take tours, it's pretty much essential to have your own vehicle when exploring the areas around Seattle. If you don't have your own car, there are several rental offices in the city.
You can check here for great car rental deals. Of course, if you're planning on being a bit more adventurous, and exploring beyond Seattle, you might want to check out Outdoorsy for vans and RV to rent.
Where To Go After Seattle
Have you checked off everything on your things to do in the Seattle list? Are you leaving Washington already? We hope not! There are so many more epic things to do in the state, and Seattle is the perfect jumping point to get to the next area for more adventure.
If you're sticking around the state, we have the next best places for you to visit just beyond Seattle. We've touched on some of these things already, but you'll want to stick around beyond a day at some of these spots, so let's get a bit deeper.
We have helpful guides for everything you see here, so click around some more, you'll be able to plan you're entire Washington visit with our guides!
Mount Rainier
The highest peak in Washington state, summiting Mount Rainier, is somewhat of a Pacific Northwest odyssey. However, the varied and dramatic scenery that this mountain offers means that it's well worth visiting, even if you aren't going right to the top.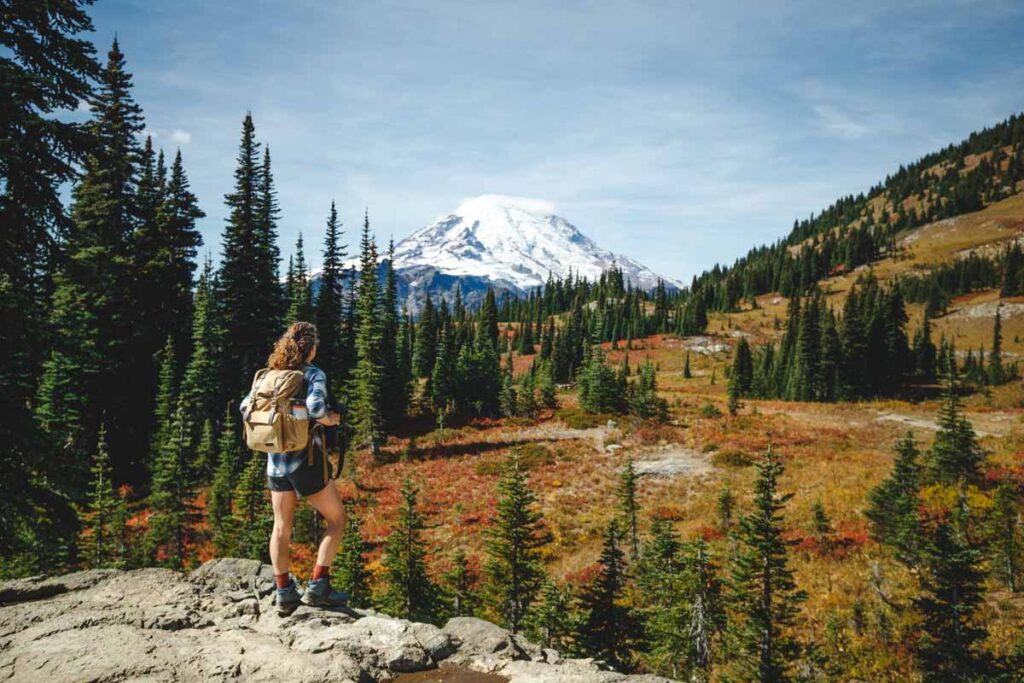 In fact, the mountain sits in the wild and rugged Mount Rainier National Park with waterfalls and a variety of trails for all levels. Here are some of our favorites!
Leavenworth
Leavenworth is famous for its Bavarian buildings and European atmosphere, and you could easily spend a day here soaking the charm in (and trying some of their traditional German snacks!).
However, other things to do in Leavenworth include trails like The Enchantments and cycling routes. In fact, if you spend a few days in the area, you'll find that there are loads of hikes in Leavenworth.
North Cascades
Sitting right next to the Canadian border, North Cascades is a remote but beautiful national park. Although it's the LEAST visited national park in Washington, those who brave the rough roads and the longer journey time will be rewarded.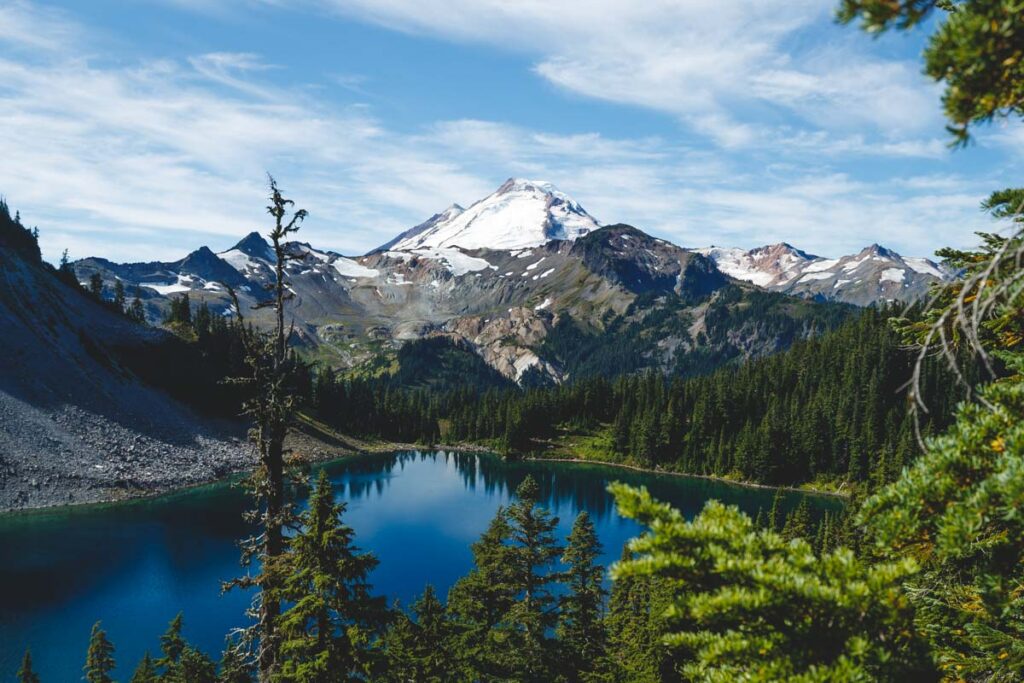 This park is famous for its alpine scenery, evergreen trees, and glaciers—and you'll get to enjoy all of this with far fewer people! Our favorite parts of the North Cascades are:
Chain Lakes Loop – this 7.1-mile loop takes in Mount Baker and lake after glorious lake.
Maple Pass Trail – another hike with breathtaking views, this pass boasts a trail around a bright blue water lake and dramatic firs.
Olympic National Park
Famous for its enigmatic rainforests that peter out to dramatic west coast beaches, it's no surprise that Olympic National Park has always been a popular favorite for locals and tourists alike.
There's something for everyone here, whether you fancy tackling some of the state's most adventurous hikes, and awe-inspiring places to visit, or if you prefer to just chill out with a good book and gorgeous backdrop! Here are our favorite places to visit:
Lake Crescent – this beautiful alpine lake sits fringed by fir trees and mountains and is the perfect spot for kayaking or camping.
Rialto Beach Hole in the Wall Hike – spanning across Washington's moody coastline, this 3.3-mile out-and-back trail is a must-do for any adrenaline chasers who want to see some epic beach scenery – Hole in the Wall is a rugged arch that sits against a backdrop of the dramatic Pacific Ocean.
Mount Storm King – this tough 5.3-mile trail summits the mountain and isn't for the faint-hearted—but, if you're keen to see some gorgeous views, there's nowhere better.
Washington Coast
Once you've seen Seattle, you might want to head out to the Washington Coast! While the beaches here don't have the amount of sunshine of Southern California, they're ideal for dramatic walks, impressive scenery, and a moody yet intriguing atmosphere.
If you're into surfing, the waves are just as good here as further down on the West Coast – just wear a thicker wetsuit, you'll need it!
Last Thoughts on Things To Do in Seattle
Seattle has so much to offer tourists, whether you want a dose of outdoor adventure or prefer to stay downtown and soak in the urban attractions. With tours ranging from supernatural ghost hunting to finding the best donuts, there are countless ways to explore the city.
Just outside city limits sits some of the most impressive nature in Washington state, with mountains, evergreen forests, and beautiful beaches.
Plus, it's not just a summer destination – while the beaches are undoubtedly better in the warmer months, fall is beautiful (and has pleasant mild weather!), and there's a range of winter sports opportunities just a short drive from the city.
Whatever your travel style, and whenever you decide to visit, we guarantee you'll find something to love on this Seattle attractions list. Don't forget o scroll back up and read more of our helpful guides for more info!
I'm an Oregon native but neighborly and equally as enchanted by Washington. I tackle expeditions around the world and love a good beer at the end of the day. PNW obsessed, VW nerd, and surf or snow riding fanatic.