Situated on the scenic shores of Whidbey Island, Fort Casey State Park sits atop an old military fort. The park is known for its historic buildings and beautiful coastal setting. While the park encompasses just 467 acres, there is so much to do here that you may find yourself coming back again.
From the lighthouse and military structures to the scenic trails and beautiful beach area, this Washington park is not to be missed. So, keep reading to discover the ultimate guide to Fort Casey State Park.
All visitors will need a Discover Pass to enter the park.
Fort Casey State Park
---
Fort Casey was one of three forts constructed to protect the Puget Sound in the late 1800s. These three forts, including Fort Warden and Fort Flagler, were known as the "Triangle of Fire."
These forts boasted all the latest technology of the time, though most have since been rendered obsolete. Nevertheless, you can still see some of these weapons close, including the coast artillery post with its four historic guns.
Fort Casey State Park was used as a training facility until the mid-1940s. Today, it offers visitors a look into the military's past. The best way to experience the park is simply by exploring. Take your time as you meander the old defense systems, tour the vintage lighthouse, and soak in the epic views over Admiralty Inlet and the Strait of Juan de Fuca.
Best Things To Do at Fort Casey State Park
Fort Casey State Park Loop
Distance: 2 miles
Type of Trail: Loop
Difficulty: Easy
Elevation Gain: 111 feet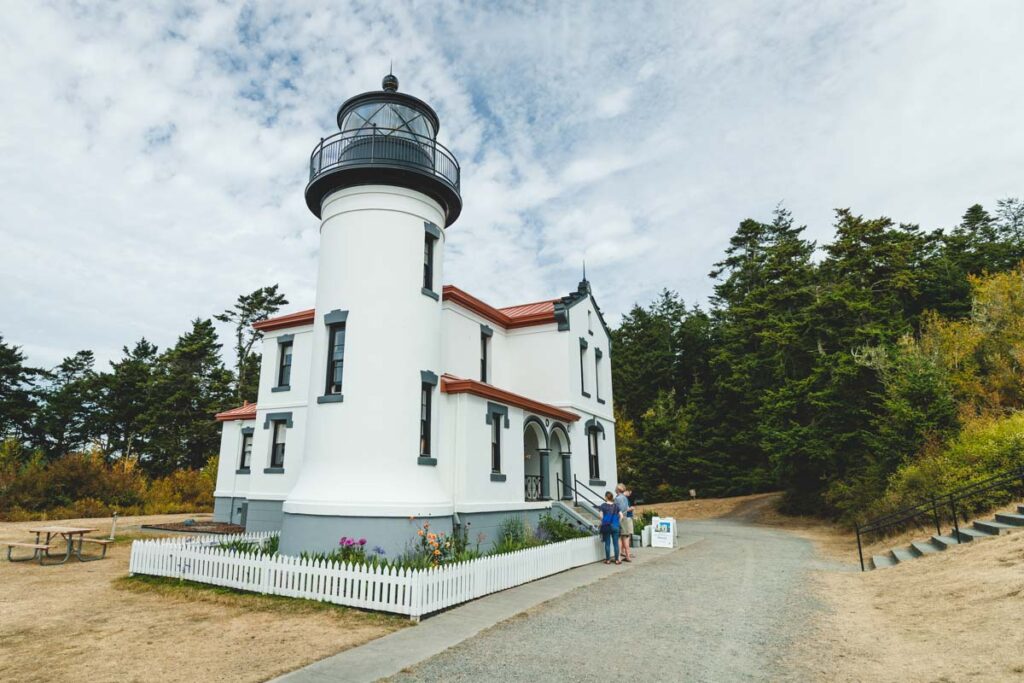 This paved loop is the easiest way to see the entire park, including the fort and other military installments. The trail also winds past large grassy expanses, perfect for picnicking, kite flying, or simply pausing for a photo op. The historic Admiralty Head Lighthouse sits at the far end of this trail and is worth taking a tour if you have the time.
Admiralty Inlet Trail Loop
Distance: 2.3 miles
Type of Trail: Loop
Difficulty: Easy
Elevation Gain: 177 feet
Most nature lovers prefer the Admiralty Inlet Trail to the Fort Casey State Park Loop. This route hugs the rugged shoreline and winds through ancient forests and coastal prairie.
Keep your eyes peeled for various enchanting flora and fauna on this route. Note that this trail is technically located outside of the park. You may want to drive over to the trailhead rather than walk from the park's main parking lot.
---
RELATED: 25 EPIC Hikes in Washington to Tackle
---
Crockett Lake Wetland Preserve
Fort Casey is situated on the shores of Crockett Lake, a protected paradise for a wide range of birds and other animals. The combination of shallow marshes, mudflats, open water, forests, and grasslands attracts over 230 birds throughout the year, including shorebirds, ducks, raptors, and owls.
The birdwatching here is some of the best in the state, and there are plans to construct new viewing platforms soon.
Fort Casey Beach
This pebbly, driftwood-strewn beach may not be the best place for working on your tan. However, it is the perfect spot for whale watching – one of the most popular pastimes at the beach.
Orcas swim this route year-round, but a group of gray whales makes a pit stop here on their annual migration between March and May. The beach is also a great spot to catch one of Fort Casey State Park's famous sunsets.
---
RELATED: 10 Awesome Things To Do on Whidbey Island & Fidalgo Island
---
Camping at Fort Casey State Park
The campsite at Fort Casey State Park is a scenic and comfortable place to spend a night or two. There are 22 standard campsites and 13 partial hookup sites with water and electricity. There is one restroom with a shower at the campsite as well. During the busy summer months, reservations are recommended.
If you're planning on staying the night at Fort Casey State Park, note that the campground is beneath a naval training route. Navy jets from the Naval Air Station Whidby conduct training on certain days and nights, and these practices can be pretty loud for campground guests. So you may want to check out a flight schedule before booking your campsite.
Things To Do Nearby Fort Casey State Park
If you have some spare time in the area or are looking to put extra mileage on the hiking boots, check out Ebey's Landing Trail. If you continue north along the coast, both trails mentioned above will intersect with this route.
This trail offers more scenic views of the coast, mountains, and prairies. If you continue hiking further north, the trail will lead you to Fort Ebey State Park.
If you don't feel like hiking over to the park, you could always drive. The parks are about a 15-minute drive from one another, making them a great combo, even if you only have one day to explore the area.
We hope this post helped you discover Fort Casey State Park! Before you do, don't forget to check out other Washington State Parks and more adventures near Seattle.
I'm an Oregon native but neighborly and equally as enchanted by Washington. I tackle expeditions around the world and love a good beer at the end of the day. PNW obsessed, VW nerd, and surf or snow riding fanatic.