The waterfalls in Washington are truly spectacular and no matter how long your visit is, you'll have to add a few of these on your trip!
Whether you're in a rush and want a quick waterfall hike to stretch your legs or are willing to tackle some milage to reach epic places, we have you covered. Our list of Washington waterfalls is` grouped according to where they are in the state.
We know you'll love these spots as much as we do! Happy Washington waterfall chasing!
Waterfalls in Washington
---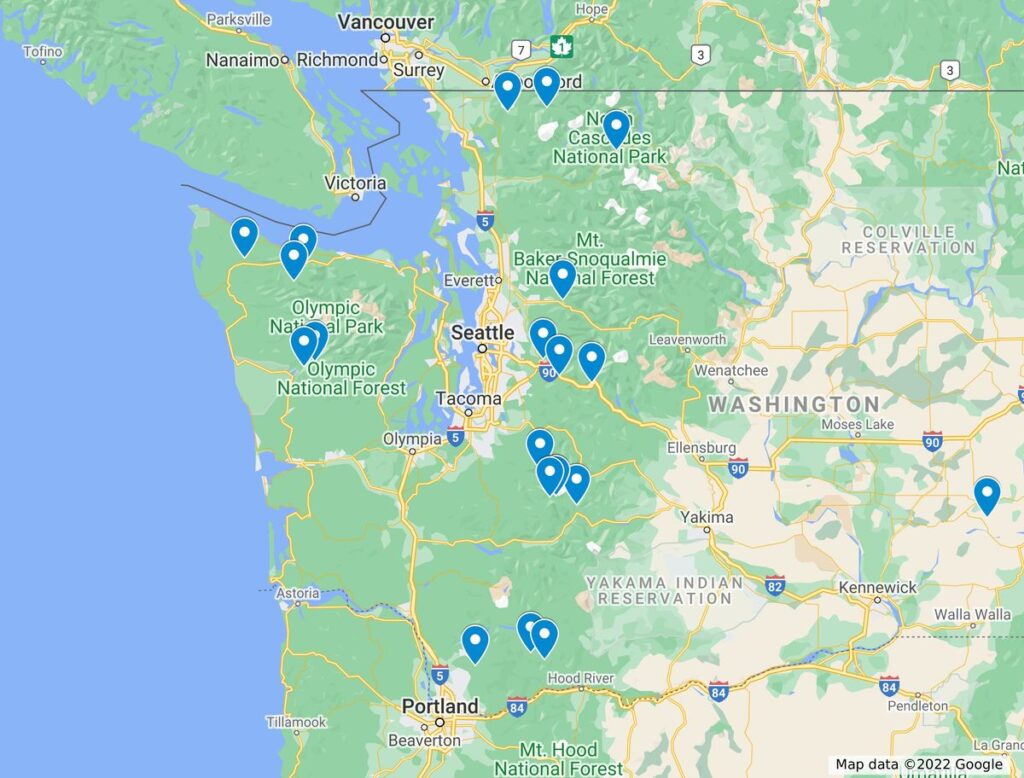 Washington Waterfalls Near The Columbia River Gorge & Vancouver
1. Yacolt Falls & Moulton Falls (+ Lucia and Sunset Falls!)
Distance: 0.9 miles
Type of Trail: Loop
Difficulty: Easy
If you want to see four waterfalls in Washington in one day, this hike is for you. Take out that Washington waterfalls bucket list start ticking off Yacolt, Moulton, Sunset, and Lucia Falls, as they are all straightforward to combine into one action-packed day trip.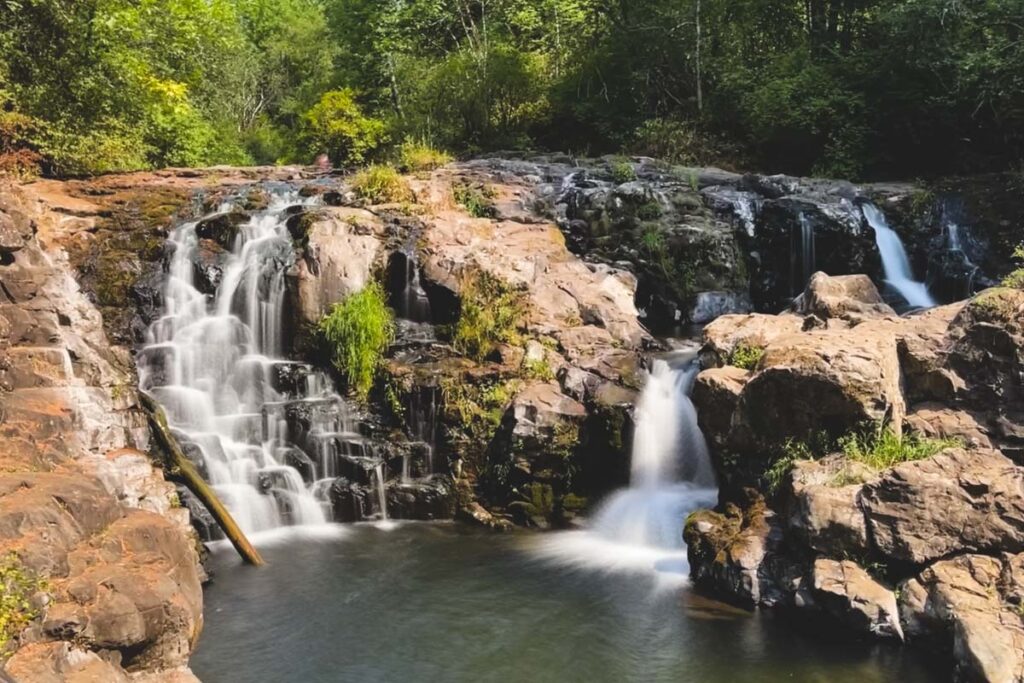 Yacolt Falls is the 'prettiest' out of the four, with small pools above and below that tumble gracefully over the rocks 35 feet into the water below. The pool is often filled with people splashing about in the warmer months.
A swing bridge reaches out across Big Tree Creek in the summer, allowing hikers to cross right over the falls and onwards to make the loop hike.
The hike itself is nice as well, with mossy rocks and the constant sound of the Lewis River, with a mostly flat, wide path to follow. Just be sure to take the right path on the junction as you come down from the trailhead, as this will allow you the quick side trip to see Moulton Falls.
Sunset and Lucia Falls are then on the same road, so it won't take long to see them.
---
READ MORE: Exploring Moulton Falls & Yacolt Falls + Lucia and Sunset Falls!
---
2. Panther Creek Falls
Distance: 0.3 miles
Type of Trail: Out & Back
Difficulty: Easy
With such a short hike, you have no excuse not to see the unique waterfall of Panther Creek Falls. The waterfall is made up of two very distinct tiers, one around 102 feet and the other around 69 feet, making it one of the most impressive waterfalls in the Columbia River Gorge.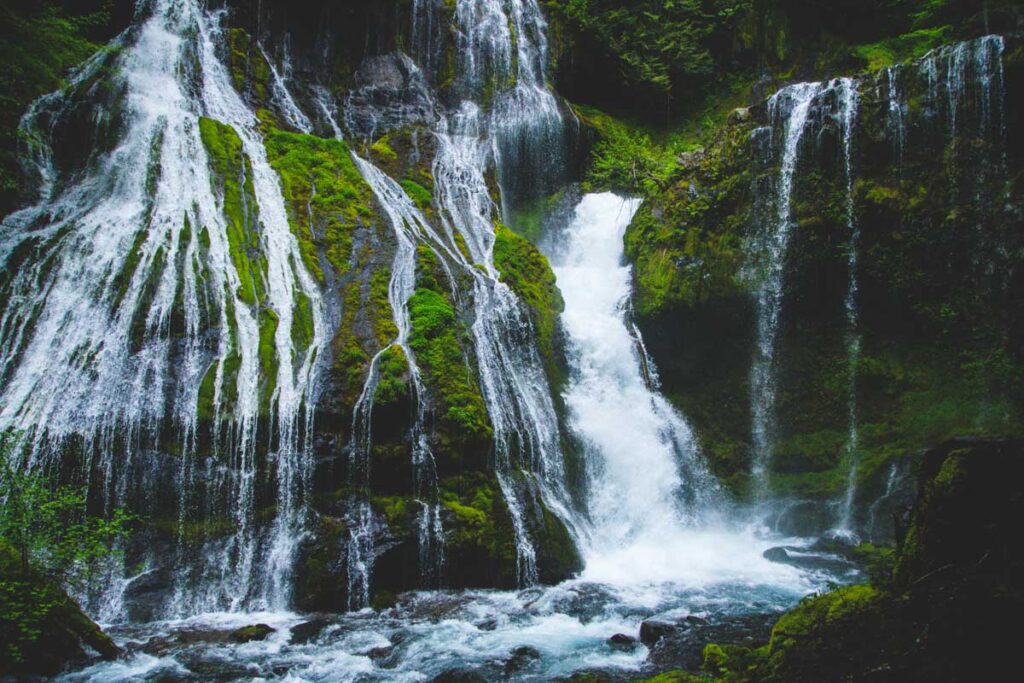 The beauty of the falls makes the short waterfall hike in Washington even more appealing. You can take a gentle stroll from the parking lot that leads you down to the specially made viewing platform, offering spectacular views of the cascading water.
If you have more time, you can also head down to the smaller tiers of the lower falls, but this can be a bit of a slippery scramble, so be careful. From here, you will be able to really see the sheer size and force of the waterfall.
3. Falls Creek Falls
Distance: 5.3 miles
Type of Trail: Loop
Difficulty: Moderate
This is an incredible hike, taking you right along the stream to the breathtaking Falls Creek Falls. As a bit of a hidden gem, you won't be sharing this trail with many other hikers, which can be heavenly after the busier trails of some of the more well-known waterfalls in Washington state.
You'll wind through dramatic terrain, passing dripping, moss-covered rocks and towering trees. In the fall, with the leaves a rich orange and burnt red, the whole place is transformed. It is pretty spectacular!
Before long, you will hear the thundering roar of this huge 335-foot waterfall. If you carry on along the trail uphill, you will come to another overlook where your stunning surroundings frame the falls.
4. Waterfalls on the Oregon side of Columbia River Gorge
If you can bear to pull yourself away from the stunning natural beauty that is Washington state, there are some pretty incredible waterfalls on the Oregon side of the Columbia River Gorge as well.
Let's start with Latourell Falls, which plunges off a cliff down 249 feet into the water below. Chances are you will have Shepperd's Dell Falls all to yourself, as lots of people don't even realize that this cascade lies just a short distance off of the road. Wahkeena Falls is another tall one.
You will only have to hike (or let's call it a walk) 0.2 miles to admire the scale of this 242-foot waterfall from the stone bridge that acts as the perfect vantage point.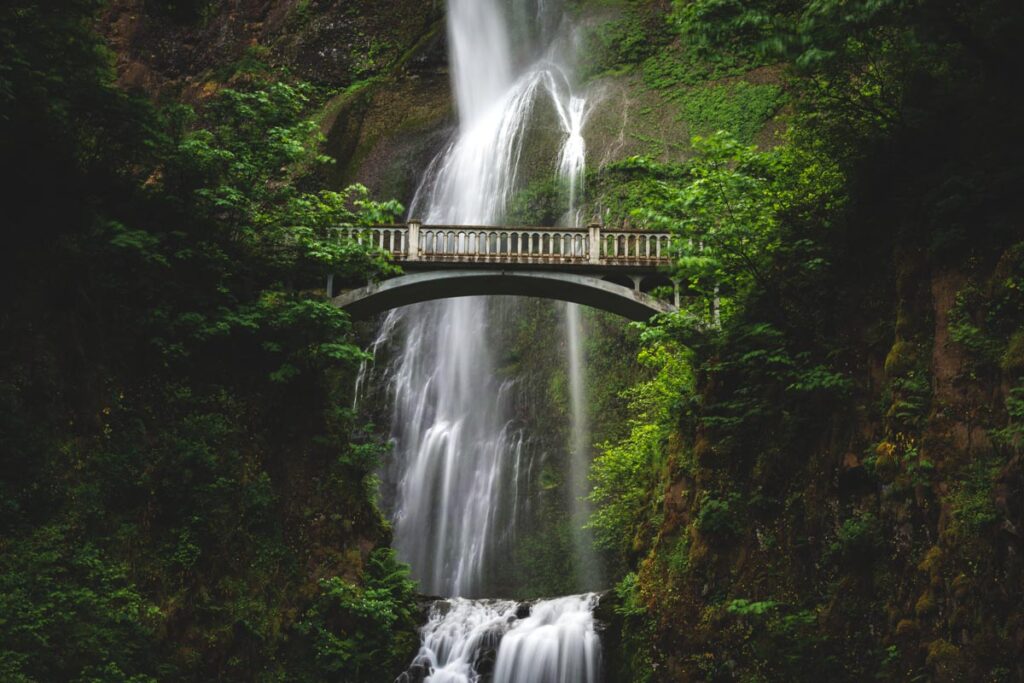 I've saved the best to last. Multnomah Falls is probably the most well-known of all the waterfalls in the Columbia River Gorge, likely because it is HUGE. We are talking 620-foot huge, making it the tallest waterfall in the whole state of Oregon.
There are plenty of other waterfalls in the Columbia River Gorge, all of which are special in their own right, so try and see as many as you can! They are literally just over a bridge from Washington, so it couldn't be easier while you're exploring the Gorge.
Washington Waterfalls in The North Cascades
5. Nooksack Falls
Distance: 0.1 miles
Type of Trail: Out & Back
Difficulty: Easy
You don't really have to even hike to get to Nooksack Falls; with the trail at just 0.1 miles, you'll only have to walk a few paces from your car. You can reach this waterfall in Washington by driving down a half-a-mile single-lane dirt road, and just a warning, it is completely riddled with potholes, so be prepared for a bumpy ride!
You'll soon forget about the whiplash once you see the falls. They rush down 88 feet, split into two segments. Although they are accessible all year round, the falls are at their glorious best in the winter and spring.
6. Racehorse Falls
Distance: 0.6 miles
Type of Trail: Out & Back
Difficulty: Moderate
Racehorse Falls seems to be made up of multiple waterfalls, with rivulets of water finding their way down river through every crack or gap along the narrow, rocky gorge. The waterfall is around 140 feet, with the third waterfall being the biggest drop. The way it hits the rock forms an almost perfect veil of water.
This waterfall hike in Washington is relatively easy, but be careful if you want to get closer to the waterfalls, as it can get slippery, especially in wet weather.
---
RELATED: 15 Stunning Hikes in North Cascades National Park, Washington
---
7. Ladder Creek Falls
Distance: 0.5 miles
Type of Trail: Loop
Difficulty: Easy
I bet you have never seen a waterfall that is lit up at dusk with beautiful shimmering colored lights? And if you have, you will have to tell us where! The illumination show at this waterfall in Washington state takes place from dusk to midnight every day, a tradition that started around 100 years ago!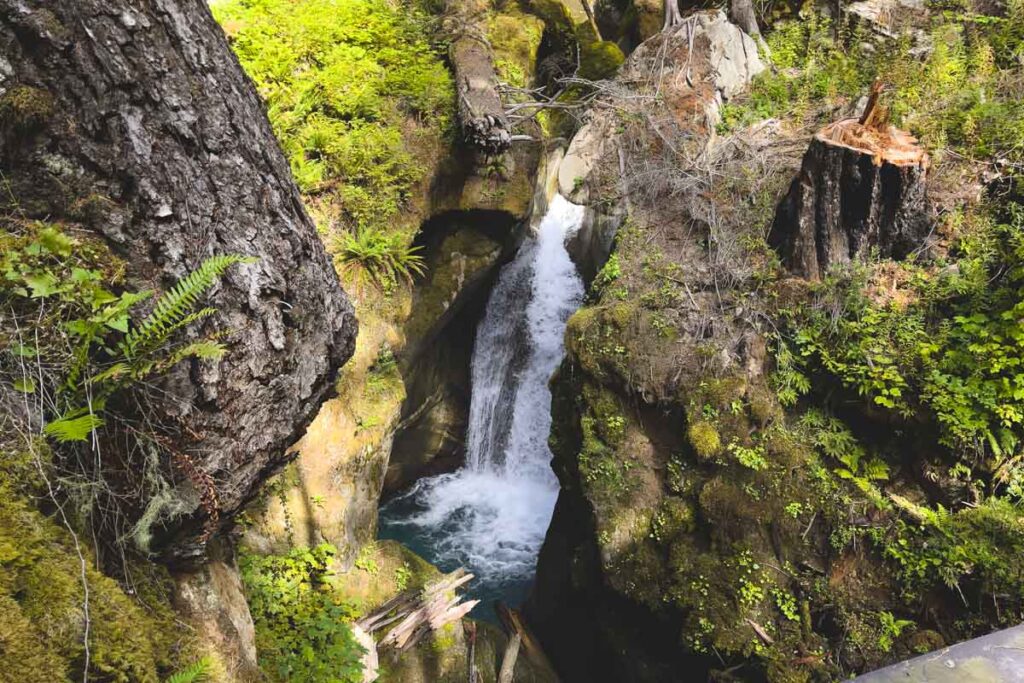 If you can't make it at night, Ladder Creek Falls is still fabulous even during the day. It is just a short walk from the trailhead, up a few stairs, and over a bridge. You don't even have to do the entire loop to see the waterfall if you don't want to.
You're down the road from some of our favorite views and hikes, such as at Ross Lake or the Maple Pass hike, making this is an easy stopover.
Washington Waterfalls in Mount Rainier National Park
8. Christine Falls & Comet Falls
Distance: 3.2 miles
Type of Trail: Out & Back
Difficulty: Moderate
As one of the most popular trails in Mount Rainier National Park and one of the best waterfall hikes in Washington, this hike has a lot to live up to, especially as you might have to fight someone for a parking space!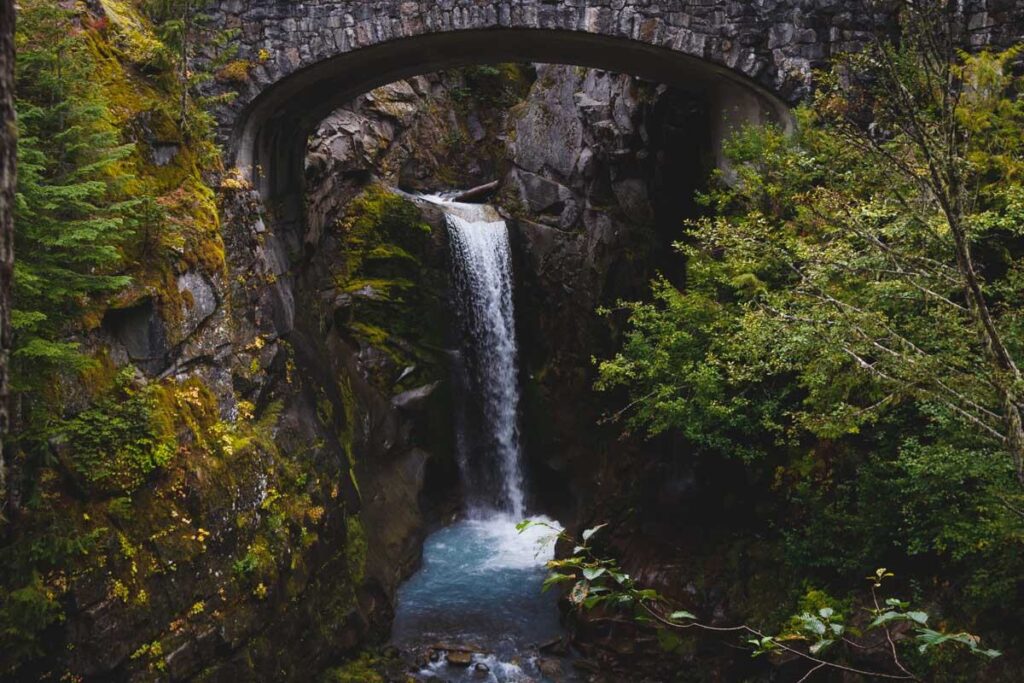 It's all well worth it though, as for almost the whole way, you'll be walking from scenic overlook to scenic overlook, and that is before you even reach the waterfalls.
The trail gets its moderate rating due to the rocky and steep parts, plus depending on the state of the trail when you go, you might have to balance across some logs to get to the other side of the stream.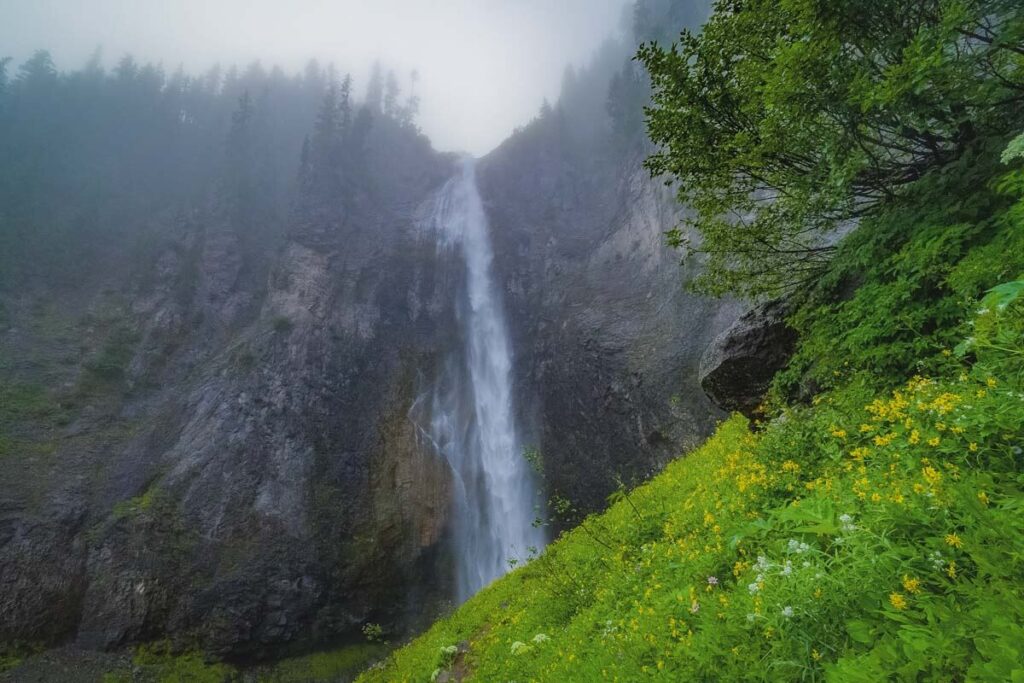 Some would say it is on the difficult side of moderate, but that makes the impressive view of the waterfalls all the more rewarding.
Christine Falls drops in two sections, one 32 feet and the other 37 feet. Christine Falls and the historic bridge are seen from the parking area. Comet Falls is much larger, dropping 301 feet in a single plunge and only seen by hiking.
9. Myrtle Falls
Distance: 0.8 miles
Type of Trail: Out & Back
Difficulty: Easy
The best thing about Myrtle Falls? You can actually see Mount Rainier towering the distance as you gaze at this incredible waterfall. The pictures you can snap here are beyond Instagram-worthy. It really is a two-for-one kinda deal, a waterfall and a mountain?!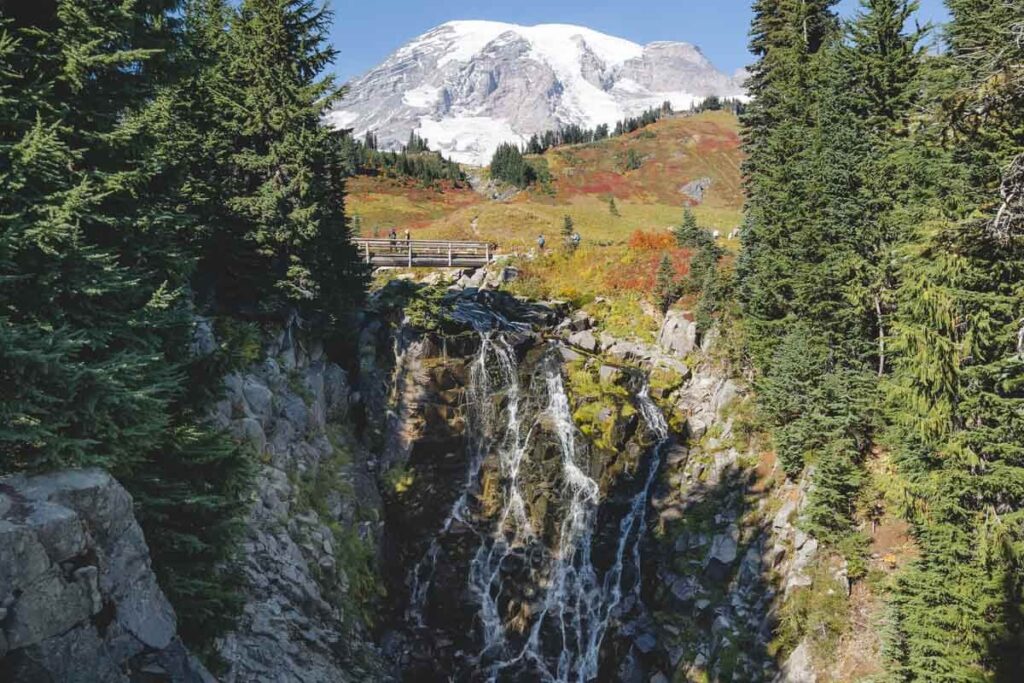 It is not even that hard to reach the viewpoint, as it can be accessed via the Skyline Trail, an absolutely stunning trail in the park.
You just head uphill from Paradise Inn along a paved trail, and it won't be long before you reach the footbridge that gives you the view you have been waiting for, and yes, it is just as good as the pictures. The only unfortunate part is it does get a bit crowded.
---
RELATED: How to Hike the Skyline Loop Trail in Mount Rainier!
---
10. Narada Falls
Distance: 2.4 miles
Type of Trail: Out & Back
Difficulty: Moderate
Narada Falls can be a little tricky to park near, so most people opt to take a hike, literally. Although if you do manage to find a parking spot, go for it, you are one of the chosen ones and are rewarded with just a 5-minute walk to the waterfall.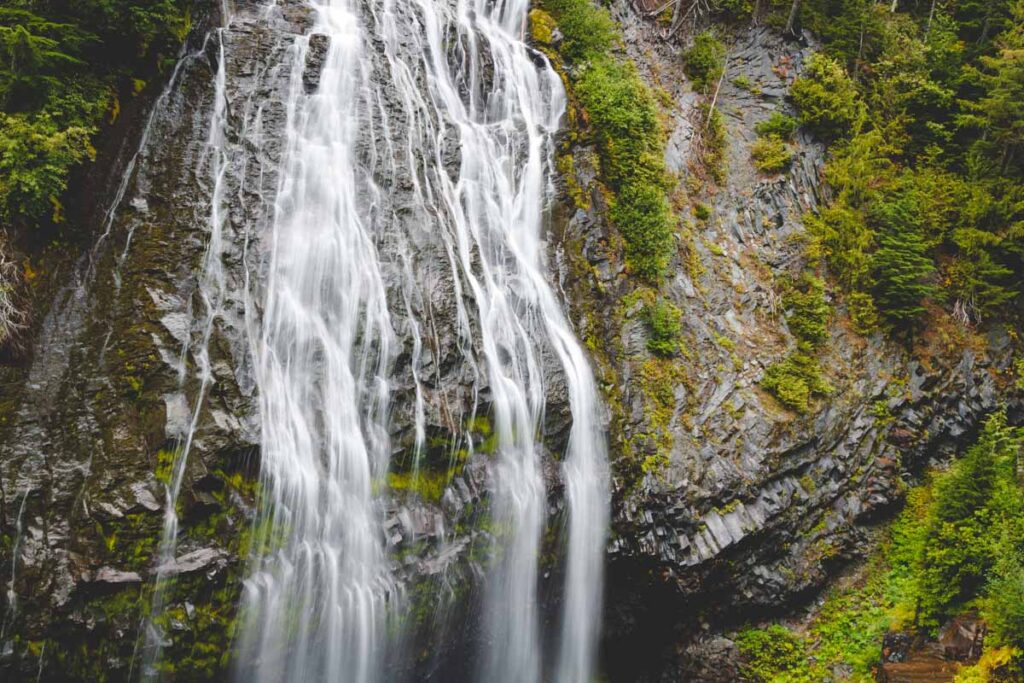 If you decide to do the hike though, you will be able to see Ruby Falls along the way, allowing you to tick even more waterfalls in Washington off your list.
Once you reach Narada Falls, you'll be greeted with a 176-foot tower of water running in multiple channels down the rock face. There is also a trail that will actually take you down below the falls, but if mud, slippery rocks, and often snow logged paths are not for you, maybe give this a miss and look at the falls from the main trail.
---
RELATED: 15 Epic Hikes in Mount Rainier National Park, Washington
---
11. Spray Falls
Distance: 6.9 miles
Type of Trail: Out & Back
Difficulty: Moderate
Spray Falls provides a worthy alternative if you can bear to look away from the magnificent Mt. Rainier during your trip to the park! The hike to Spray Falls is incredible in itself, so much so that the waterfall is just a bonus really, but I'm warning you, it is a bit of a challenge.
The trail begins at the beautiful Mowich Lake, and like most hikes in the park, you will get the odd glimpse of Mt Rainier along the way and Mowich Glacier.
The waterfall is stunning no matter the time of year you visit, but you will see it in all its raging glory after the snowmelt. A massive torrent of water tumbles over a rock face that towers over 350 feet above the river. If you feel up to it, you can continue along the trail to Spray Park.
12. Silver Falls
Distance: 4 miles
Type of Trail: Loop
Difficulty: Moderate
Despite its moderate rating, this waterfall hike in Washington to Silver Falls isn't too challenging, as it has only a small amount of elevation gain. Although there are no views of Mount Rainer here, there are ample outlooks and viewpoints that let you see Silver Falls from all angles, which definitely makes up for it.
The river rolls over a series of large rocky steps before finishing at a 40-foot plunge, so what it lacks in height, it certainly makes up for in force and power. From the drop, the water twists and tumbles its way into a rocky gorge, which you'll get a great vantage point of from a bridge on the trail.
Be careful, it may not look too dangerous, but this area of the park has claimed more than its fair share of lives!
You can either park at the Ohanapecosh Visitor Center or the Grove of the Patriarch Trail and knock off two fantastic experiences.
Waterfalls in Washington Near Seattle
13. Twin Falls
Distance: 2.5 miles
Type of Trail: Out & Back
Difficulty: Moderate
Hear me out here, Twin Falls is made up of three sections, despite the name. The first is made up of a couple of drops, although chances are you won't even see this part as it is mostly hidden from the trail.
There is then a couple of smaller drops of 30 and 20 feet before the waterfall that you will see in all of the pictures of Twin Falls. This is the largest and most impressive drop, totaling 135 feet and spreading out into a big horsetail.
The trail is great as well, as you'll be weaving in and around the giant forest trees, skirting small streams, and taking in the dramatic landscape. Being so close to Seattle, it makes for the perfect day trip, no matter the weather.
---
READ MORE: Hiking Twin Falls Trail: What You Need to Know!
---
14. Snoqualmie Falls
Distance: 1.4 miles
Type of Trail: Out & Back
Difficulty: Easy
Before we start describing this waterfall hike in Washington, let me give you a word of warning. Snoqualmie Falls is very, VERY popular. In fact, it is likely the most visited waterfall in Washington. To be honest, as much as crowds can be annoying, it is not hard to see why so many people make the trip to see the waterfall year after year.
It is 270 feet tall, as well as being pretty wide and impressive. You can get some incredible views of it along the hike, and if you are feeling up to it, you can even continue down to the base of the waterfall and feel the force of such a torrent of water from below.
Stay until the evening and see the waterfall in a different light, literally. At night, there are strategically placed lights that illuminate the waterfalls, making for a beautiful picture.
This waterfall in Washington state has turned into a bit of a tourist attraction really, even having its own gift shop, but don't let this put you off. It is worth seeing when chasing waterfalls in Washington.
---
READ MORE: Snoqualmie Falls Hike: What You Need to Know!
---
15. Franklin Falls
Distance: 2 miles
Type of Trail: Out & Back
Difficulty: Easy
Franklin Falls is a must-do hike when you are in Washington, and if you are staying near Seattle,, you don't have an excuse. With plenty of parking and just 2 miles of walking, it is easily accessible, although there are a fair few stairs to navigate.
The path is very well maintained, so you won't have to scramble with maps or GPS to find your way, and once you reach the waterfall, you can get close enough to feel the spray on your face.
---
RELATED: Franklin Falls Hike: What You Need to Know!
---
16. Wallace Creek Falls
Distance: 5 miles
Type of Trail: Out & Back
Difficulty: Moderate
The hike to Wallace Creek Falls combines everything you could want from a waterfall hike in Washington. Expect dripping greenery (as it is quite likely to be raining, let's be honest) and views that will take your breath away. Then there is the 256-foot waterfall itself. Let's say wow, wow, wow, and leave it at that.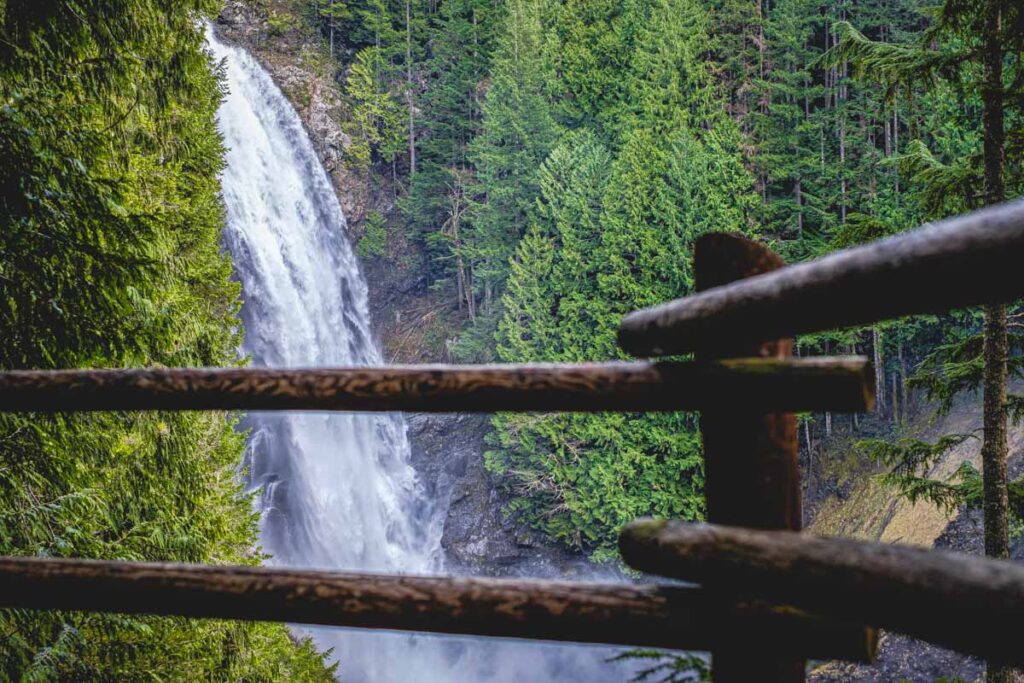 Make a day of it, as there is plenty to see before reaching the waterfall. You will also need quite a bit of time to climb the natural stairs that help you up the 1,400-foot incline in this trail.
No one is judging if you need to stop multiple times to catch your breath, in fact, others might join you! There are also plenty of strategically placed benches and even covered shelters, so you can bring some lunch along with you.
---
RELATED: 7 Awesome Waterfalls Near Seattle, Washington
---
Washington Waterfalls in Olympic National Park
17. Sol Duc Falls (via Lovers Lane Trail)
Distance: 6.1 miles
Type of Trail: Loop
Difficulty: Moderate
Take a look at the unique Sol Doc waterfall from the trail, surrounded the whole time by the rich, wet rainforests of Olympic National Park. The falls are located in the Sol Duc Valley, an incredible location.
For most of the hike, you will be strolling under the towering trees, with the waters tumbling playfully alongside you. You'll hear the waterfall before you see it as it roars into view. The water can often split into four distinct plunges depending on the water flow, and there are a few different viewpoints to set up your tripod and capture the best angle.
There is a campground very close to the waterfall which makes for the perfect place to pitch up a tent for the night. Staying there will also allow you to get up early and reach this waterfall in Washington state before the crowds!
You can easily reach Sol Duc Falls from the parking area in less than a mile if you're in a rush, however, we recommend the Lover's Lane trail. We found this trail was much more enjoyable as it's not crowded plus you get to walk further into a gorgeous forest with other smaller falls and creeks along the way.
---
READ MORE: Your Guide to Hiking The Sol Duc Falls Trail
---
18. Marymere Falls
Distance: 1.7 miles
Type of Trail: Out & Back
Difficulty: Easy
Head out to Marymere Falls if you're looking for a nice and easy hike. You'll find the trailhead near the Mount Storm King Hike.
After going some way on a flat, well-maintained path, you'll cross over a bridge before you reach some stairs that will take you up to the fall's viewpoint. That is the most strenuous part of the trail, but you will only claim about 200 feet.
There are two viewpoints for this waterfall, and although you will have to climb a few more stairs, the second viewpoint is definitely the best. The waterfall is absolutely gorgeous, starting as one fall stream of water before hitting the rocks and fanning out, creating a unique moss-covered splatter.
---
RELATED: 25 EPIC Hikes in Washington to Tackle
---
19. Beaver Falls
Distance: 0.2 miles
Type of Trail: Out & Back
Difficulty: Easy
Beaver Falls is one of those waterfalls that you'll want to go back to again and again. It is not incredibly impressive, but it just has that something special about it that it is hard to put your finger on.
It is not even the fact that the whole hike is just 0.2 miles, so requires little to no effort, more that this cascade really is a hidden gem, and you have a good chance of getting it to yourself.
The water slides down the moss-covered rocks, surrounded by natural beauty, capturing the real essence of Washington and the Olympic National Park.
I say it is a hidden gem, as it can be quite literally very difficult to find if you don't know where to look. There are not any signs showing you where to go, and you might have to try several roadside pullouts until you hear the telltale sign of rushing water, letting you know that you have found the right one.
---
RELATED: Things to Do in Olympic National Park: 35 Must-Do Activities!
---
20. Merriman and Bunch Falls
Both Merriman and Bunch Falls are on the same road, so they can easily be combined into one awesome waterfall journey in Washington. They are located near Quinault Lake, so you could also throw this into your itinerary.
Both are no more than a roadside stop really, as you can almost see them right from the road. They are both relatively small, but the surrounding moss-strewn rocks, dripping ferns, and fallen logs will make you feel as though you have stepped right into a hidden fairy glen.
Bunch Falls is probably the more impressive of the two, with two drops of 40 and 60 feet, although Merriman is not far off at 40 and 60. These are really only worth it while you check out Quinault Lake, we wouldn't go out of the way for these two.
---
RELATED: 15 Best Hikes in Olympic National Park, Washington
---
Waterfall in Eastern Washington
21. Palouse Falls
Distance: 1.4 miles
Type of Trail: Loop
Difficulty: Hard
Did you know that Palouse Falls is the official state waterfall in Washington? That means you simply have to see it!
There are many different ways to see these falls, and although the area is pretty remote, you should definitely make the journey. In fact, it is pretty much in the middle of nowhere, which is why it is so surprising to see such an impressive waterfall here.
The remote landscape around the waterfall adds to its impressiveness as it falls 180 feet and plunges into the deep canyon below. It is also crazy powerful. It is the picture-perfect waterfall, the type you might draw as a kid, however, this one is very real, formed by glacial flooding during the last ice age.
The falls are at their most impressive between April and July. It can get sweltering during the day, as in stark contrast to much of the state, the waterfall sits in dry desert. So if you're looking for a waterfall hike in Washington that offers a little something different, this is the one!
We hope this post has inspired you to visit some of the best waterfalls in Washington! Don't forget to check out more hikes in Washington and more waterfalls around the state.
More Waterfalls Around Washington
I've been perpetually traveling and living around the world for years but it's hard to beat Washington and the PNW. After years of road-tripping the area, I guess you can say I know it pretty well! When I'm not writing guides for you, you can catch me somewhere petting a dog, attempting to surf, hiking a volcano, or stuffing my face with bread and cheese.