Known as the southern gateway of Olympic National Park, Lake Quinault is a lush wilderness spot famous for its surrounding temperate rainforest and, of course, the beautiful, fun-filled lake.
Lake Quinault is fed by glacial runoff from the Olympic Mountains and the Quinault River, so the water is always fresh and clear. Located in the Quinault Valley, carved by a glacier, this site is of enormous importance within Washington.
The Quinault Indian Nation owns it, a group of Native American people, originally called ​​kʷínayɬ, who had lived on these reservation lands since 1856 when they signed the Quinault Treaty.
Nowadays, they manage the Quinault Indian Reservation, a glorious part of the state with beautiful rainforest and a crashing coastline.
The lake spans 12 miles, with a loop road traversing its circumference. When driving around the lake, you'll take in its glorious waters and some astonishing rainforest scenery. You can even use it as a base to access some of Olympic National Park's other highlights.
Exploring Lake Quinault
---
Rent Kayaks or Paddleboards
When you're at Lake Quinault, why not take to the water? It's possible to rent out canoes, kayaks, or paddleboards from the Boat Hut and Lake Quinault Lodge to explore the glacier-carved lake in a relaxed way.
Rental costs $45 for a half-day (four hours), and rental runs throughout the summer months, until September 30.
---
RELATED: 17 of The Most Scenic Lakes in Washington
---
Check Out Two Trails at Lake Quinault
There are two trails that you can enjoy at Lake Quinault. These take in glorious views over the lake and traverse inland into the rainforest, for which this area of Washington is famous.
The Lodge Trail is 0.6 miles long and is a great walk to explore the Olympic Rainforest, with plenty of opportunities to bird-watch and take in this epic nature. It leaves near the lodge.
The Quinault Loop Trail is 3.7 miles and is very popular amongst birdwatchers. Although it's fairly well-known, it's often quieter than Hoh, another popular rainforest in the Olympic Park area.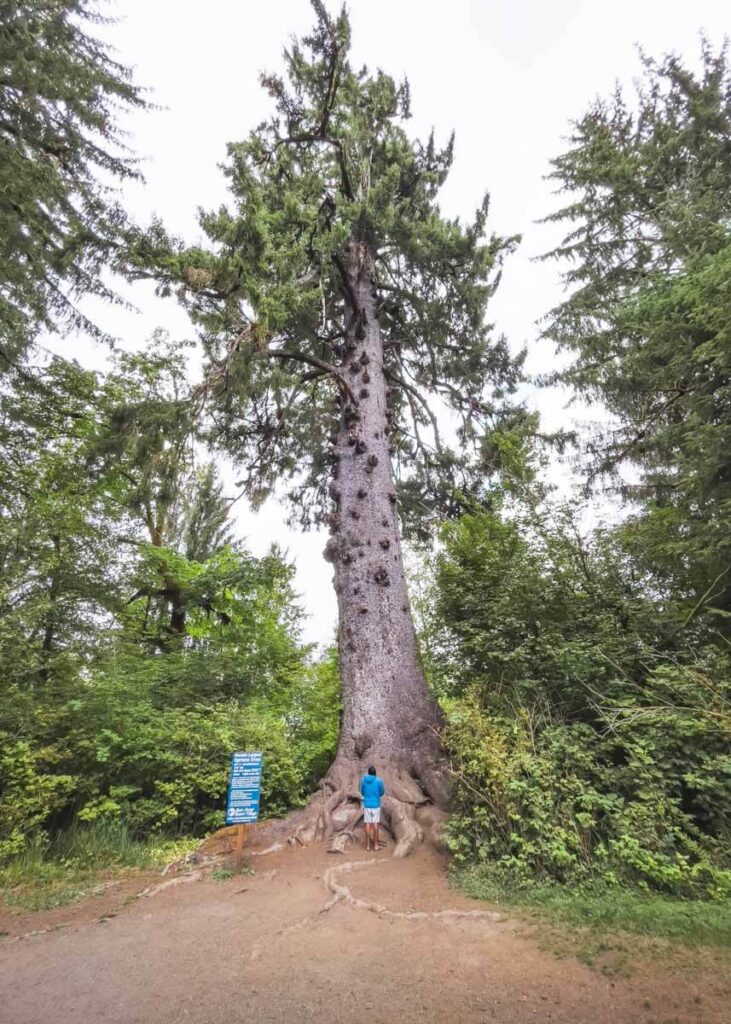 You can see the world's largest Sitka spruce tree on the Lake Quinault trail system, Douglas fir, western hemlocks, and western red cedar.
---
RELATED: 15 Best Hikes in Olympic National Park, Washington
---
Go Cycling on Lake Quinault's Bike Loop
There's also a popular bike loop at Lake Quinault. It's about 30 miles in length and gains 1,600 feet of elevation. It's easy enough for beginners, but its glorious nature makes it incredible for cyclists of all abilities.
You'll pass Merriman Falls, Bunch Falls and take exceptional views of the Colonel Bob Wilderness. Whizzing through the rainforest is a sensory experience that any traveler will love! Much of this track is gravel, so ensure that your tires are suitable for multiple terrains.
See Lake Quinault's Waterfalls
While it may not be worth going totally out of your way for, while you're in the Lake Quinault area, these waterfalls are worth chasing!
Located close to the Colonel Bob Trailhead, Merriman Falls has two drops of 40 and 60 feet. Plunging through the rainforest into their pool, these charming waterfalls are well worth a stop off if you're cycling in the area. You can almost see them on the highway!
Bunch Falls are slightly larger than Merriman Falls and are very close, so if you visit one, it's worth visiting the other! Again, Bunch Falls consists of two separate drops of around 40 and 60 feet. They're very photogenic and are on the bike loop.
---
RELATED: 21 Epic Waterfalls in Washington
---
Camping and Lodging at Lake Quinault
Don't go too far! There are a few campsites, some glamping options and a wonderful lodge right on the shores of Lake Quinault so you can enjoy this area for longer.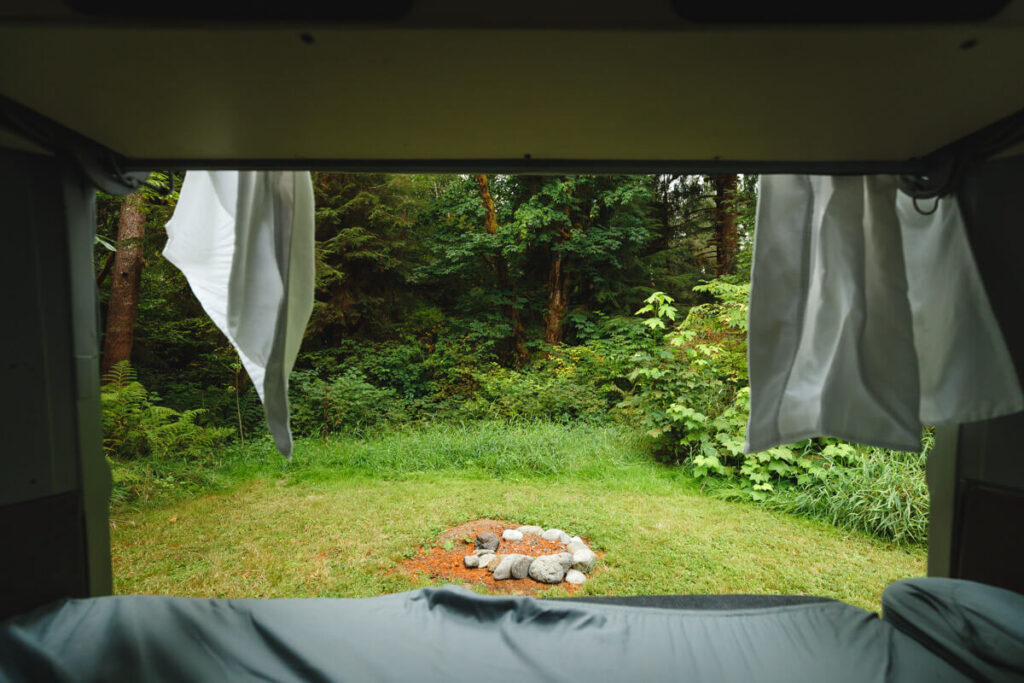 Willaby Campground
With enchanting views over Lake Quinault, this is the ideal place to stay for the most surreal views every morning. Willaby Campground offers 21 campsites, some of which are nestled in woodland, and many have glorious vistas over the lake.
However, none have RV hookups. Potable water and flush toilets are provided, as well as picnic areas.
Falls Creek Campground
Falls Creek is a campground and day-use area on the south shore of Lake Quinault. Its namesake is the nearby Falls Creek, a beautiful stream with crystal-clear waters.
There are 21 campsites for tents, RVs, and trailers and an additional ten walk-in sites for tents only. Potable water and flush toilets are also available at this campground.
Lake Quinault Lodge
Dating back to 1926, Lake Quinault Lodge is a large, rustic lodge that welcomes guests the second they step through the door. The lodge is cozy and one of the best places to stay.
Guest rooms at the lodge include a private bathroom, coffee maker, and facilities like an ironing board and hairdryer. Some even have fireplaces, private balconies, and lake views!
Secluded Lake Front Cabin
This four-bed cabin has two add-on studios, sleeps up to eight people, and has gorgeous views over the beautifully blue lakefront. There's also a hot tub and grounds spanning over acres, with lots of wildlife on your doorstep.
Mountain Rainforest Campsite
If you want to camp but prefer more privacy than the state-run campgrounds, this will give you the best of both worlds.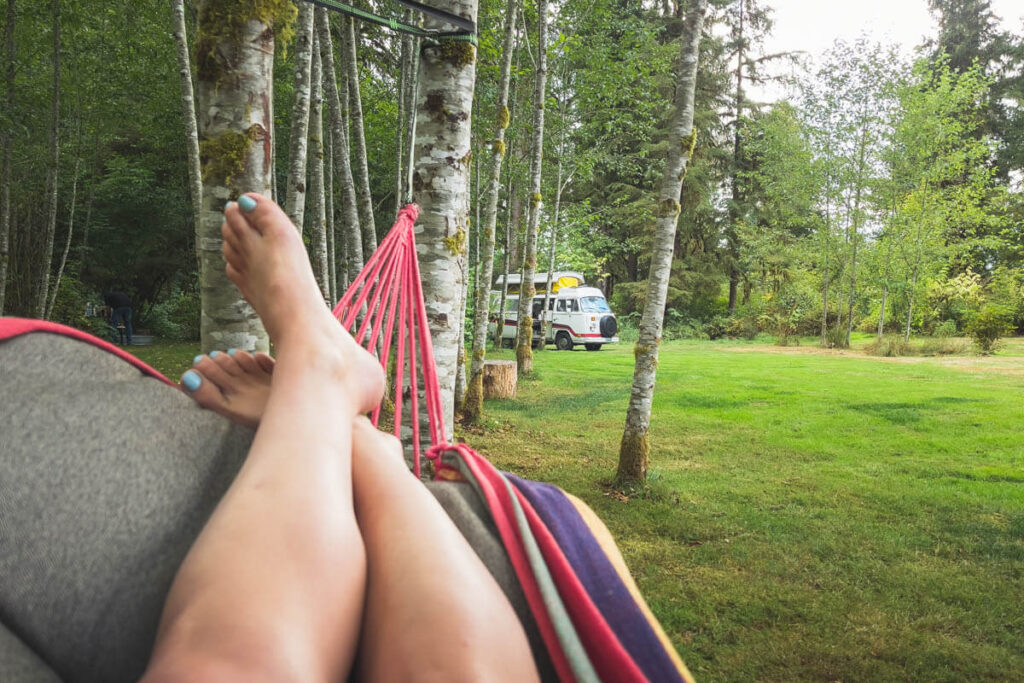 Capa Campground features just six sites (one for RV, five for tents), with plenty of space between them. This RV site has a tent pad, fire pit and picnic table as well as parking for your camper.
Rain Forest Resort Village
Set between the rainforest and the lake, this resort is the perfect base for exploring the area. In fact, the world's largest Sitka spruce is located right on the property!
There's a range of accommodation options on offer, from RV sites, to inn-style rooms and private cabins. On site you'll have the convenience of a restaurant, general store and post office.
---
RELATED: Where to Stay in Olympic National Park, Washington
---
If you like gorgeous, unique scenery and plenty of activity options, head to Lake Quinault! This area of Olympic National Park is perfect for visitors who want to take to the waters one minute and relax the next—it's got everything you need for the perfect getaway!
I'm an Oregon native but neighborly and equally as enchanted by Washington. I tackle expeditions around the world and love a good beer at the end of the day. PNW obsessed, VW nerd, and surf or snow riding fanatic.