Sitting two hours from Seattle, Yakima is a popular weekend trip from Washington's biggest city—but it's a world away in atmosphere. Gone is the concrete jungle of skyscrapers, and in are towering mountains and a rural atmosphere.
With a small-town feel, it's the place that feels immediately comforting as soon as you step in—but if you're after a little more adventure, there are plenty of outdoorsy things to do in Yakima, too!
You can spend your days sipping on local beer and wine, just taking in the vibe, head to one of the many hiking trails, or even try mountain biking and kayaking.
Yakima is your oyster—here are the best things to do while you're here!
BEST Things To Do in Yakima
---
1. Yakima Sportsman State Park
A stone's throw from the city center, Yakima Sportsman State Park is famous for birdwatching—over 140 species call this state park home.
You can also enjoy freshwater fishing and a two-mile hiking trail which is beautiful in spring, summer, and fall and can be covered with snow in the winter!
If you don't want to head back to Yakima after a day in the state park, there are 226 acres of camping available.
2. Cowiche Canyon Trails
Sitting just minutes from Yakima, Cowiche Canyon boasts a whopping 20 miles of hiking, mountain biking, and horseriding trails.
There are few intersecting routes, but our favorites are the Cowiche Canyon Trail, a 5-mile route that takes in the underbelly of the canyon, walking alongside a stream and past wildflowers.
We also love the Cowiche Canyon Uplands, a three-mile figure-eight trail with glorious views over the shrub-steppe scenery.
3. Rock Climbing in Cowiche Canyon
If you want more adrenaline, how about rock climbing in Cowiche Canyon? There are frequent top-rope climbs on the East End Wall of the canyon, which is suitable for both beginner and experienced climbers.
---
READ MORE: Cowiche Canyon Trails: Best Trail System in Yakima!
---
4. Wilridge Vineyard, Winery & Distillery
It's no secret that good food and wine are among the best things to do in Yakima, and you'll need a full weekend to enjoy them all. But where are the best places to go to experience them?
Wilridge Vineyard is up there with the most impressive. Enjoy wine flight tastings or sip on your favorite wine from the glass, and sample some of their delicious homemade food, including cheese plates or hummus and veggies.
It's one of the best ways to bask in Yakima's surrounding nature without doing anything too strenuous.
---
RELATED: 19 Amazing Weekend Trips From Seattle (1-5 Hours Away!)
---
5. Johnson Orchards Market
Dating back to 1904, Johnson Orchards Market is a fresh produce stand in the heart of Yakima. It's where locals go to get their groceries, but its heritage makes it, without a doubt, one of the best things to do in Yakima!
The market stall showcases some of the best produce grown in the countryside around Yakima. They're famous for their mouthwatering pies and other bakeshop goods.
Here, we were introduced to the pluot, a hybrid of a plum and an apricot—if you're visiting when they are ripe n ready, grab a bag, they are delicious! We also had some of their apple cider which was perfect after sweating all day out on the Cowich Canyon Trails.
6. TP Jim Trailhead
Distance: 4.2 miles
Type of Trail: Out & Back
Difficulty: Moderate
Elevation Gain: 1,939 ft.
Sometimes called the Baldy Mountain Trail, the TP Jim Trail is an open and exposed route that leads to the top of Baldy Mountain.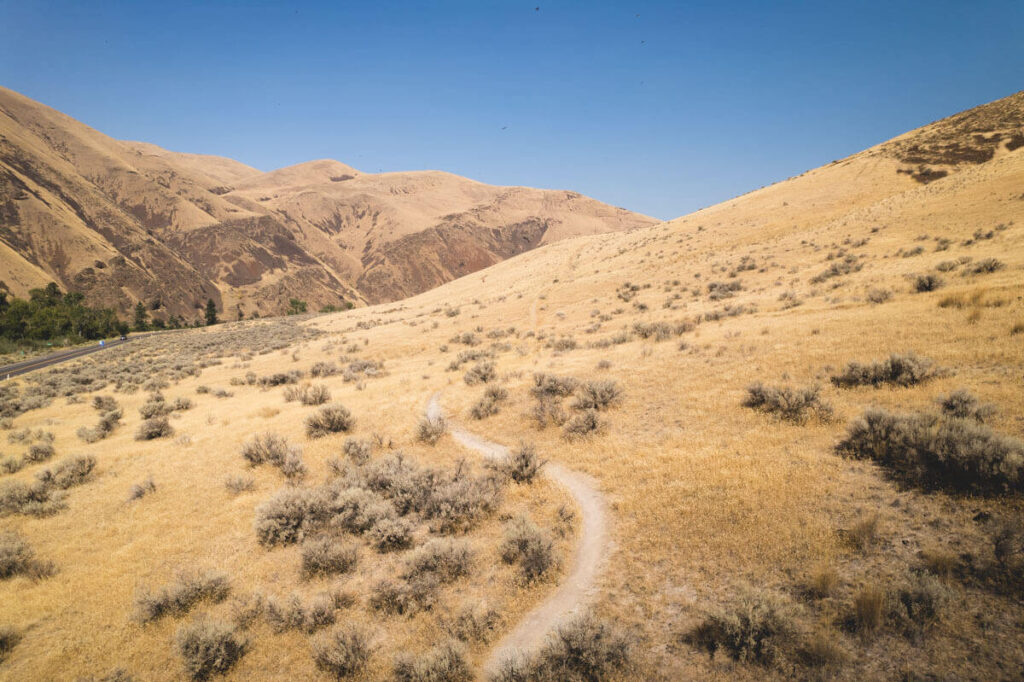 TP Jim was a tour guide who encouraged local youths to get involved in hiking and outdoorsy activities rather than getting mixed up with gangs and street violence. With sweeping views over the otherworldly landscape, it's unsurprising that this route was one of TP Jim's favorites!
It's a five-mile hike and relatively challenging, but if you're looking for a hike that'll get your blood pumping close to Yakima, it's an excellent option.
7. Yakima Greenway
Distance: 19.7 miles
Type of Trail: Point to point
Difficulty: Moderate
Elevation Gain: 531.5 ft.
Yakima Greenway is a much longer hike close to the city. It's around 20 miles total and will take around six hours to complete (with no breaks!). It traverses beautiful scenery, with a river, lovely views, and gorgeous flora.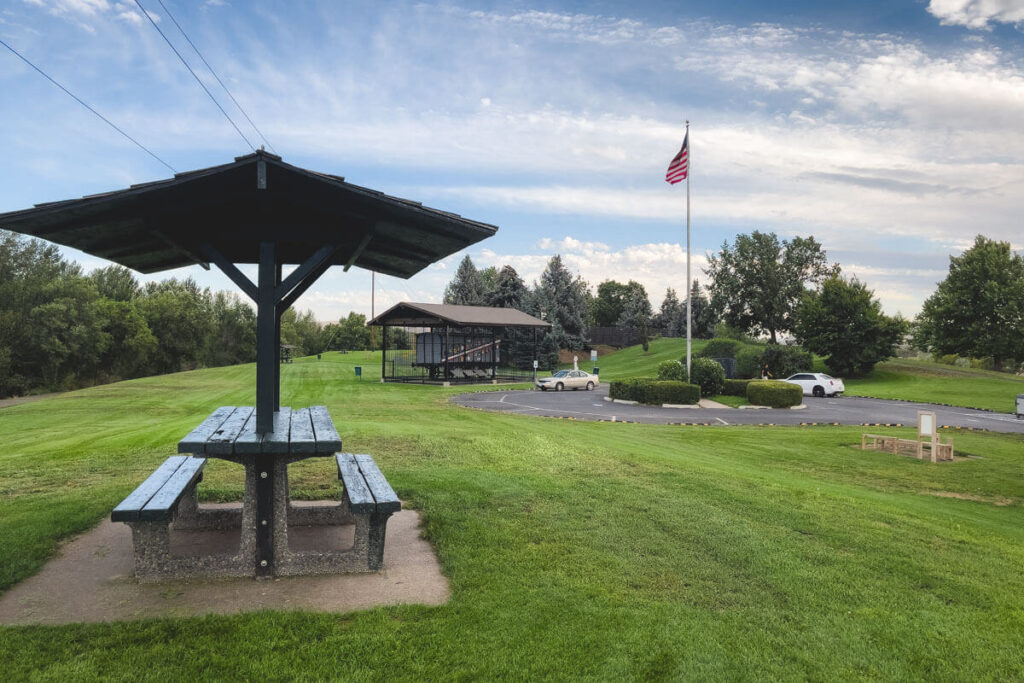 It's a point-to-point trail, so you'll need to arrange transport from the end, or you could start at any point of the trail and walk a little bit before turning back on yourself. It's a really nice paved trail making it easy, but if you wanted to do the whole thing, you might want to do it on a bike instead of on foot.
8. River Rafting and Kayaking on the Yakima River
Life here revolves around its river, so it's no surprise that exploring it is one of the best things to do in Yakima.
Take to a boat and go river rafting or have a fun afternoon kayaking. Visit Red's Fly Shop —"the world's most complete fly fishing outfitter"—to rent out or buy equipment for fishing and other watersports gear. If you want to stay on the Yakima River, Red's even has a hotel on-site!
9. Yakima Rim Trail
Distance: 9.2 miles
Type of Trail: Out & Back
Difficulty: Moderate
Elevation Gain: 2,434 ft.
One of the most iconic trails in the area, the Yakima Rim Trail is a nine-mile out-and-back route that leads along the Yakima River before climbing uphill, with views of Selah Cliffs and Selah Butte.
It's a rocky, challenging route, not least because of the adrenaline-boosting climb uphill! However, it's in good condition, and from the top, you can see views all the way to Mount Rainier on a clear day.
10. Selah Cliffs Trails
Distance: 3 miles
Type of Trail: Out & Back
Difficulty: Easy
Elevation Gain: 111.6 ft.
The dramatic Selah Cliffs tower over the dry bedrock landscape. Sitting next to the Yakima River, there are a few ways that you can take this natural phenomenon in.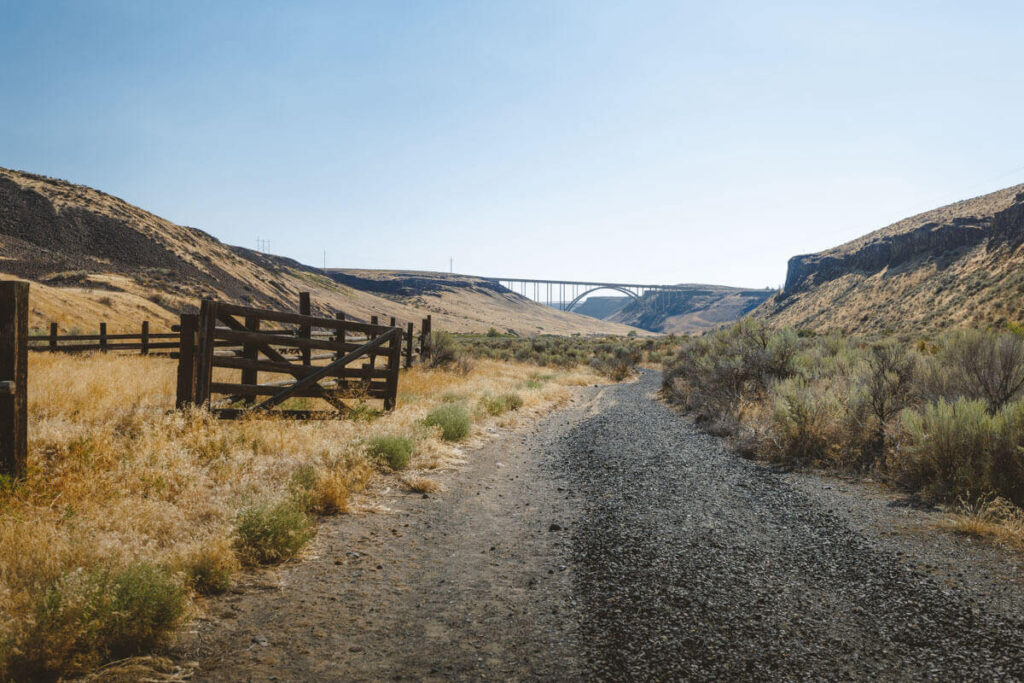 The Selah Cliffs Preserve Trail is a simple three-mile out-and-back route popular with birdwatchers and joggers. Changing with the seasons, you can enjoy a diverse array of flora throughout the year and, of course, the ever-present views of Selah Cliffs split by a dramatic bridge.
The Selah Butte Trail is a 2.6-mile trail; while it's short, it's quite a challenge as you'll ascend 1,643 feet in the process! It's ideal if you don't have that much time but want to get on a heart-racingly challenging hike.
11. Umtanum Creek Recreation Site
We said that Yakima was surrounded by beautiful nature, right? The Umtanum Creek Recreation Site is another reminder of this.
Enjoy the epic canyon, which boasts a creek with a cool suspension bridge, basalt rocks, and resident bighorn sheep! You can take a 6.5-mile hike around the canyon or simply relax in the recreation area.
There's a day-use site, perfect for picnicking or camping for anyone who wants to stay overnight.
12. Bale Breaker Brewing Company
This family-owned brewery is the place to go if you fancy a sundowner after a busy day of adventuring around Yakima! Bale Breaker Brewing Company serves an array of delicious beers dating back to 1932 (just before prohibition ended—we won't tell if you don't!).
The brewhouse spans over 27,000 feet and serves seven canned beers in its taproom, with seasonal specials on offer.
Visit to learn about the history of the place and try some of its delicious drinks, although, if you don't have time to check it out while you're in Yakima, there is a Bale Breaker taproom in Seattle, too.
13. Kiln Brew Pub
Because you can't just visit one taproom while you're in Yakima, right?
Kiln Brew Pub is another family-run taproom serving delicious beer and wine. Enjoy one of a whopping 30 varieties here, which is set up for all seasons—there's a fireplace in the winter months and an al fresco area for the summer.
If you're traveling with children, there's a kid's corner, and if all the beer drinking makes you hungry (it's a tough life!), the pub serves artisan pizza and small bites. After we were done adventuring for the day, this was our spot to head to—we really EARNED our beer!
Where to Stay in Yakima
As you can see, there are countless amazing things to do in Yakima! Whether you want to watch the world go by as you relax and enjoy a range of local food and drink, go hiking in the city's surrounding trails, or chase more adrenaline by rock climbing or rafting, you'll adore this cozy, friendly town.
We hope this helped you choose some fun things to do in Yakima during your visit!
I'm an Oregon native but neighborly and equally as enchanted by Washington. I tackle expeditions around the world and love a good beer at the end of the day. PNW obsessed, VW nerd, and surf or snow riding fanatic.