Washington in winter is an outdoor lover's paradise. There are all the snowy season classics like skiing and snowboarding, winter markets, and ice skating, plus pursuits for the more adventurous, including storm watching, winter hiking, and winter surfing.
Of course, there are plenty of relaxing activities, from bathing in the hot springs to enjoying après ski (minus the skiing). Whatever you do, don't settle for hibernating indoors this winter. Check out all the incredible options for exploring Washington in the off-season below.
Things To Do During Winter in Washington
---
1. Hurricane Ridge in Winter
Olympic National Park is known for its lush rainforest trails, driftwood-strewn coastline, and glistening alpine lakes. But come winter, the park is transformed into an outdoor playground where snowcapped mountains rule the scenery.
There's no better place to enjoy all the action than Hurricane Ridge, an outdoor recreation area for skiing, snowshoeing, tubing, and more.
Although it's not too far off the beaten path, Hurricane Ridge is often in the crosshairs of extreme winter weather, including storms, whiteouts, avalanches, and below-freezing temperatures.
Because there is only one way into this area (via Hurricane Ridge Road), keep an eye on weather conditions and look for road closures before heading out.
Downhill Ski, Snowboard, and Tubing Area
The ski, snowboard, and tubing area at Hurricane Ridge is perfect for the whole family to get out and play in the snow for an afternoon. There are two rope tows and a Poma lift in the downhill ski and snowboarding area, and lessons are available for visitors of all ages.
Don't miss the epic tubing park – perfect for the young (and not so young) visitors who want the thrill without worrying about the skill.
Weather permitting, this fun area is open on weekends from early December through March from 10 AM to 4 PM.
Cross-country Skiing and Snowshoeing
Hurricane Ridge offers a great cross-country skiing and snowshoeing area for those who prefer a little more laid-back experience in the snow.
There are more than a dozen different trails ranging in difficulty, from the level meadows near the Hurricane Ridge Visitor Center for beginners to the backcountry wilderness for those who want to conquer more challenging terrain.
Note that trails are not groomed or marked, but there are two unplowed roads that are pretty easy to navigate.
Snowshoe With a Ranger
If you're new to snowshoeing, Hurricane Ridge offers the opportunity to walk with a ranger. The walks are offered every Saturday (weather depending) from late December through March. You'll get to borrow snowshoes and learn the basics for free as you cover about a mile of terrain.
Remember, if you can walk, you can snowshoe! The trek takes about an hour and a half and starts at 1 PM from the Hurricane Ridge Visitor Center. There's space for up to 20 participants, and spots are first come, first served.
Tips for visiting Hurricane Ridge in the winter:
Be prepared for COLD weather: this includes snow, wind, freezing rain, and frigid temperatures
Dress in layers. Waterproof boots, hats, mittens, and winter jackets are highly recommended. A change of dry clothes is also a good idea after a day in the wet snow.
Sunscreen and glasses come in handy on sunny days – the UV rays are stronger than you think!
Have a stash of emergency supplies in your vehicle. Extra clothes, a first aid kit, food, and water are essential if you get stranded in a winter storm.
Tire chains or approved traction control devices are required by law. Make sure you know how to use them!
Driving in the winter can be dicey, so take it slow. This includes braking, turning, accelerating – the works!
Check the Hurricane Ridge in Winter Twitter account for current road closures and other weather-related info.
If you plan on skiing or snowboarding beyond the immediate Hurricane Ridge Area, you are required to sign in at the registration box inside the Hurrican Ridge Visitor Center. Be prepared for steep terrain and the possibility of avalanches.
---
READ MORE: Your Guide to Hurricane Ridge Trails & More in Olympic National Park
---
2. Columbia River Gorge in Winter
The Columbia River Gorge is chock full of epic trails. For most of the year, these scenic paths are full of eager hikers, but in the winter, the excess of bodies is replaced by layers of snow.
Solitude and snow-covered scenery? There's not much not to love! Bundle up and explore these enchanting winter trails around The Gorge.
Some of the best winter trails are:
You'll likely work up a sweat as you traverse the strenuous Hardy Ridge Loop. This intense trail gains 2,000 feet of elevation as it winds its way through Beacon Rock State Park. Luckily, there are plenty of incredible views of the mid-Gorge to distract you as you ascend. This is one of the less popular trails in the park, and in the winter, you'll probably have the route to yourself!
Sams Walker Loop is a flat, family-friendly trail measuring just over one mile. This riverfront route winds past diverse habitats, including river beds, former agricultural fields, mature oak woodlands, and dense cedar forests. If you need a rest or simply want to take in the views, there are overlooks and picnic benches along the way.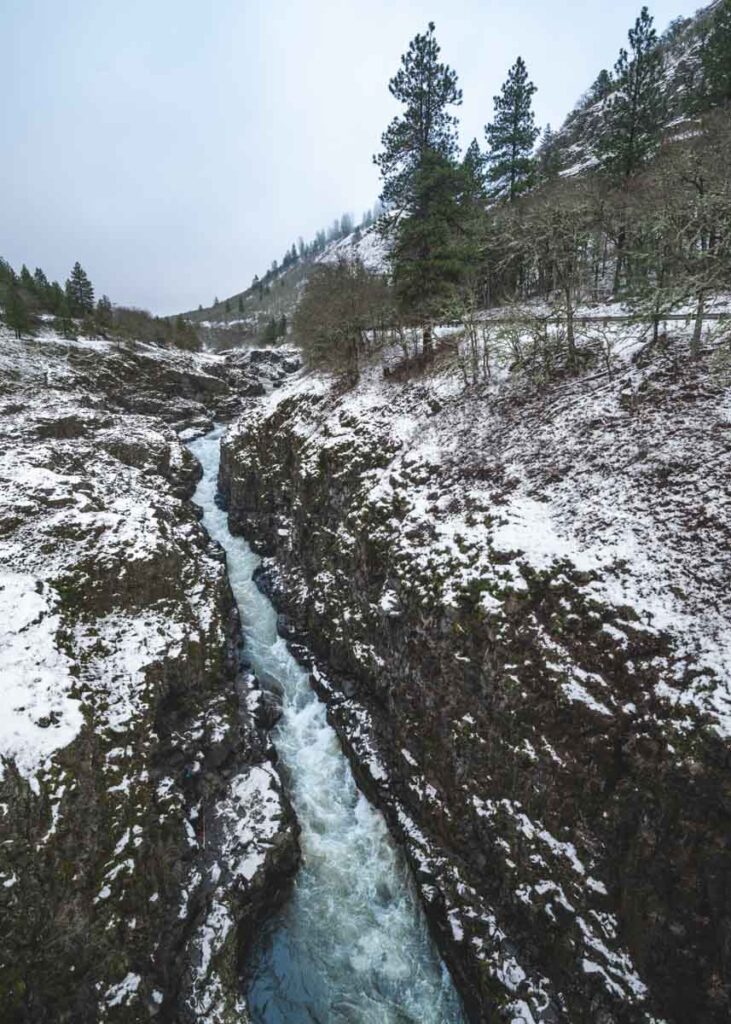 During the winter, bald eagles swarm the area between Klickitat Trail and Swale Canyon. The section measures just over 10 miles round trip but offers a gentle grade to compensate for the long length. The Swale Creek section of the trail meanders through a remote canyon, taking hikers far from the loud highway and busy Klickitat River.
Another great winter trail is the Strawberry Island Loop, accessible from the North Bonneville community. Fantastic views abound as the Columbia River narrows between the Gorge's high walls. As you hike, you'll also see epic views of the Cascade Landslide complex and the cliffs at Table Mountain, Red Bluffs, and Greenleaf Peak.
3. Mount St. Helens, Washington in Winter
Situated just 1.5 hours from Portland, OR, and 2.5 hours from Seattle, Mount St. Helens is a bucket list destination for many. But what most people don't know is that Mount St. Helens is a year-round attraction.
Seeing this historic volcano surrounded by powdery white snow is a highlight, but there's much more to do in this area than just taking in the fantastic views.
The site is separated into two sections – Mount St. Helens and the Marble Mountain Sno-Park on the mountain's south side. Both areas offer fun winter activities in spades.
Mount St. Helens
Hike to Johnston Ridge for incredible views.
Check out the Mount St. Helens Visitor Center at Silver Lake.
Marble Mountain
Summit Mount. St. Helens via the Worm Flows Route.
Snowmobile in the Plains of Abraham.
Snowshoe around June Lake.
Cross-country ski the Sasquatch Loops.
Note: A climbing permit is required when venturing above 4,800 feet on Mount St. Helens. You can self-register for tickets at Marble Mountain's Climbing Register.
---
RELATED: 19 Amazing Weekend Trips From Seattle (1-5 Hours Away!)
---
4. Snowy Fun Outside of Yakima
Looking for some snowy fun in the Yakima area? Check out the White Pass Ski Area. This scenic spot sits 12 miles from Mt. Rainier National off the US Highway 12 National Scenic Byway.
It may be a bit off the beaten path, but with more than 40 runs and 1,400 acres of skiable terrain, White Pass is well worth the journey.
The resort prides itself on being family-friendly, with trails available for total newbies and the most experienced skiers and snowboarders. There's also a tubing hill and over a dozen miles of nordic trails for snowshoeing and cross-country skiing.
Tips for visiting White Pass Ski Area:
Dress in layers. It's cold on the mountain, but you might work up a sweat as you carve your way down the slopes.
Make a full weekend out of it! Lodging is available on-mountain at the White Pass Villiage Inn. There's an RV-friendly parking lot available for overnight camping.
If you want to tube, get here early. Spots for this area are first-come-first-served.
5. Hot Springs During Winter in Washington
It may seem a bit counterintuitive, but one of the best ways to enjoy Washington in winter is by avoiding the cold altogether. The state is home to some seriously luxurious hot springs, just what the doctor ordered to warm up during the winter months.
Washington's hot springs are a great experience all year round, but there's something special about stripping down to your bikini and dipping into a steamy pool when there's snow on the ground. Here are a few of the best hot springs to visit this winter:
Olympic Hot Springs | Port Angeles
Tucked away in Olympic National Park at the end of a 2.5-mile trail, Olympic Hot Springs is the definition of an "off-the-beaten trail" destination.
Seven hot springs sit at the end of the Boulder Creek Trail, and they're usually deserted – especially in the winter! Enjoy the solitude as you soak in the warm waters of these hidden, hot springs.
Sol Duc Hot Springs | Port Angeles
Sol Duc Hot Springs is also inside Olympic National Park, but it couldn't be more different than Olympic Hot Springs. These resort-style mineral springs were the first part of a health resort in 1912 and remain easily accessible to this day.
No need to hike through the snow to earn your relaxation here! Old-growth forests surround the resort, making it the perfect spot to relax for an afternoon.
Goldmyer Hot Springs | North Bend
The Goldmyer Hot Springs sit in the rugged wilderness of the foothills of the Cascade Mountains. Visitors will need to hike the 4.5-mile backcountry trail to access the springs, and reservations are required.
The journey is no easy feat (especially when there's snow and ice on the ground), but those who complete the trek will be rewarded with crystal-clear hot springs. Some sit in the mouth of a cave, while others are open-air pools.
---
RELATED: Things to Do in Olympic National Park: 35 Must-Do Activities!
---
6. Ski and Snowboard at Stevens Pass Ski Resort
The resort is one of the top places to travel throughout the winter. This resort includes coaches who can assist you in getting started on your skiing journey if you are a beginner.
They can provide lessons that will help you and your family fall in love with skiing and return time and time again! You can go night skiing from Wednesday through Sunday if you desire a more difficult skiing experience.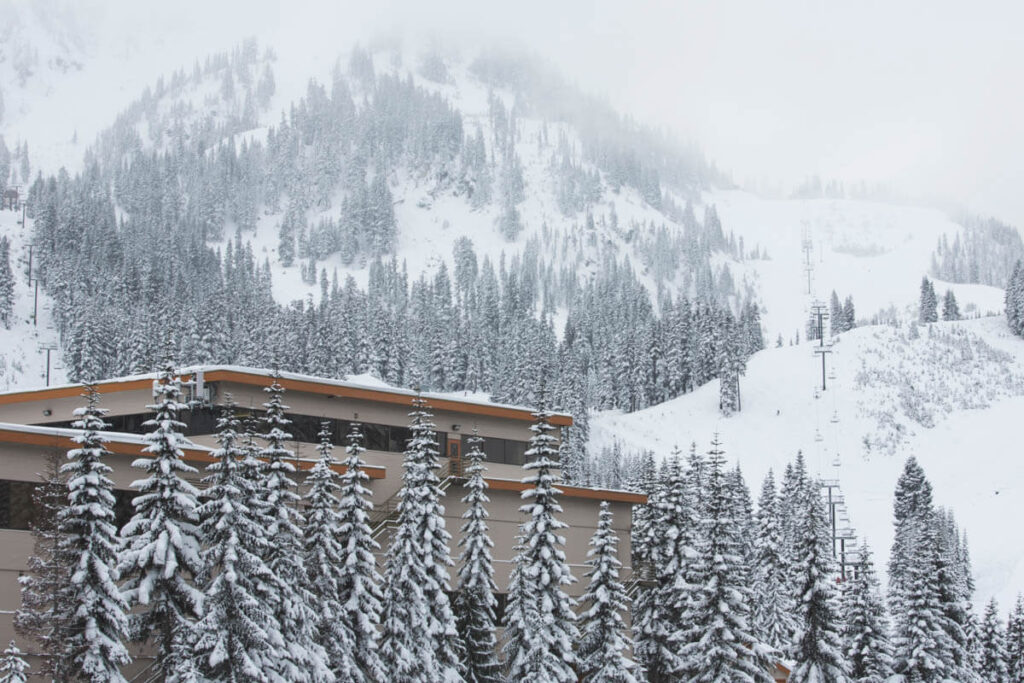 Before you are allowed to go outside and ski beneath the stars, all necessary safety precautions are taken. This is also where the largest terrain park in the Pacific Northwest is located. All the skiing and snowboarding activities you do in Stevens Pass Ski Resort require a matching appetite.
Things to know:
During your stay, this resort has everything you might want, including a coffee shop, a buffet, and full bars.
There is also top-notch skiing gear from leading brands available in their stores if you require any specific kits for day or night skiing! When you purchase something, the equipment is demonstrated to you so you can be sure of its quality and longevity while skiing.
Suggested by Jenny from Wanderly
7. Play at Echo Valley In Lake Chelan
This famous location in Lake Chelan is a winter wonderland with various winter sports you can enjoy in this professionally created environment, ideal for skiers of all skill levels. You can bring your dog if they enjoy the powder as well!
The best place to practice cross-country skiing is at Echo Ridge Nordic Ski Area. You can ski on a range of its trails. This ridge is the whole package because it also enjoys regular sunshine and stunning views!
Things to know:
It includes cozy features like lodges with fireplaces and a restaurant for when you need a break from snowboarding.
The Echo Valley Ski & Tubing Area has uncrowded slopes and is located at 2,500 feet in elevation, where you will enjoy a thrilling snowboarding experience!
The abundance of activities and family-friendly amenities at Echo Valley make it one of the most fabulous winter weekend vacations in Washington State if you're trying to pack a lot into a short amount of time.
Suggested by Jenny from Wanderly
8. Ice Skating Around Seattle
You don't have to go far outside the city to enjoy some winter fun. Ice skating at one of the many outdoor rinks around Seattle is an incredible way to spend a fun-filled day in the winter.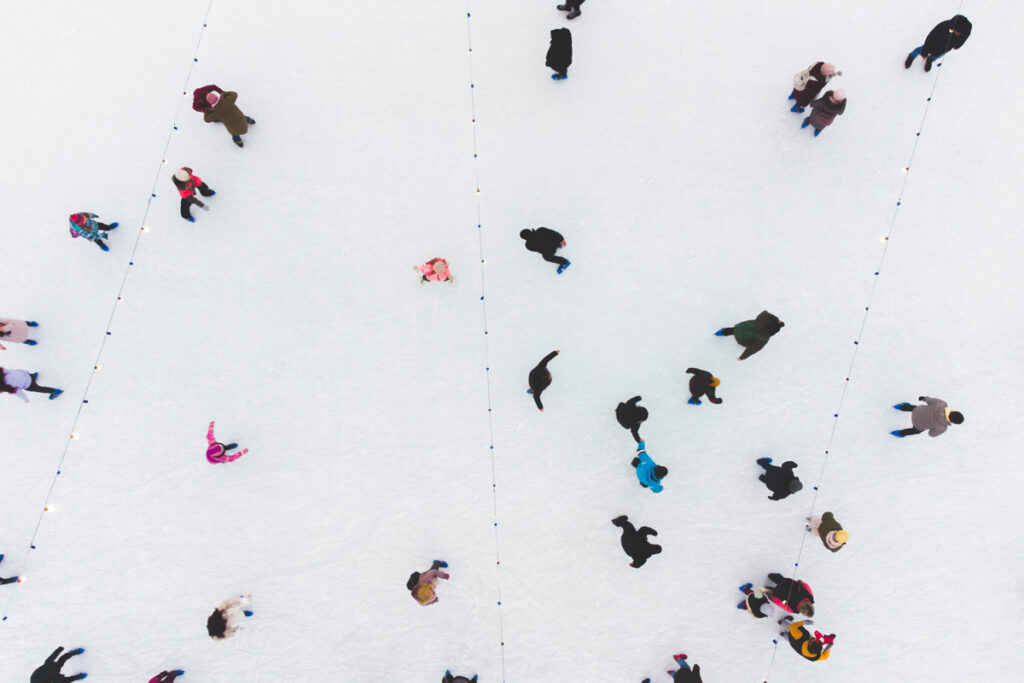 Whether you're searching for a romantic date night idea or a family-friendly weekend activity, Seattle has many options for channeling your inner figure skater.
Check out some of the most festive outdoor rinks to skate across during this holiday season:
The Olympic Sculpture Park in Seattle offers a beautiful setting for ice skating, with stunning views of the city skyline and Elliot Bay. The rink is open daily from late November through early January.
With nearly 10,000 sq ft of natural ice to skate across, the Bellvue Downtown Ice Rink is one of the largest seasonal rinks in the region. There are many events throughout the season, including ugly sweater skate sessions on Saturdays throughout December. This seasonal rink is open from mid-November through early January.
Downtown Arlington's Hometown Holiday Ice is one of the most festive rinks to get your skate on this winter. You can enjoy holiday music and refreshments as you glide across the ice. The outdoor rink is open daily from mid-November through early January.
9. Ski Your Heart Out at The Summit at Snoqualmie
One of the most popular winter activities in the state is skiing and snowboarding at the many world-class resorts in the Cascade Mountains. One of the best ski resorts in Washington is The Summit at Snoqualmie, which offers a medley of landscapes for skiers and snowboarders from different levels.
The resort also offers night skiing, snowshoeing, and over 30 miles of cross-country ski trails. If none of that piqued your interest, consider the Summit Tubing Center. This epic area sits right across from Summit Central and has 13 runs, which makes it the largest tubing area west of the Mississippi!
Tips for The Summit at Snoqualmie to get the most out of your ski trip:
Be sure to check the weather and road conditions before heading out, and be prepared for winter driving conditions.
Make reservations in advance, especially for popular activities such as skiing and snowboarding.
Purchase twilight or night lift tickets to save a bit of cash.
10. Snowshoeing to Quartz Mountain Fire Tower
Snowshoeing to Quartz Mountain Fire Tower in Mount Spokane State Park in Spokane is a great way to spend a day in winter in Washington! The snowshoe trail is about 4.5 miles out and back. The trail is popular with Nordic skiers and fat tire bikes, too.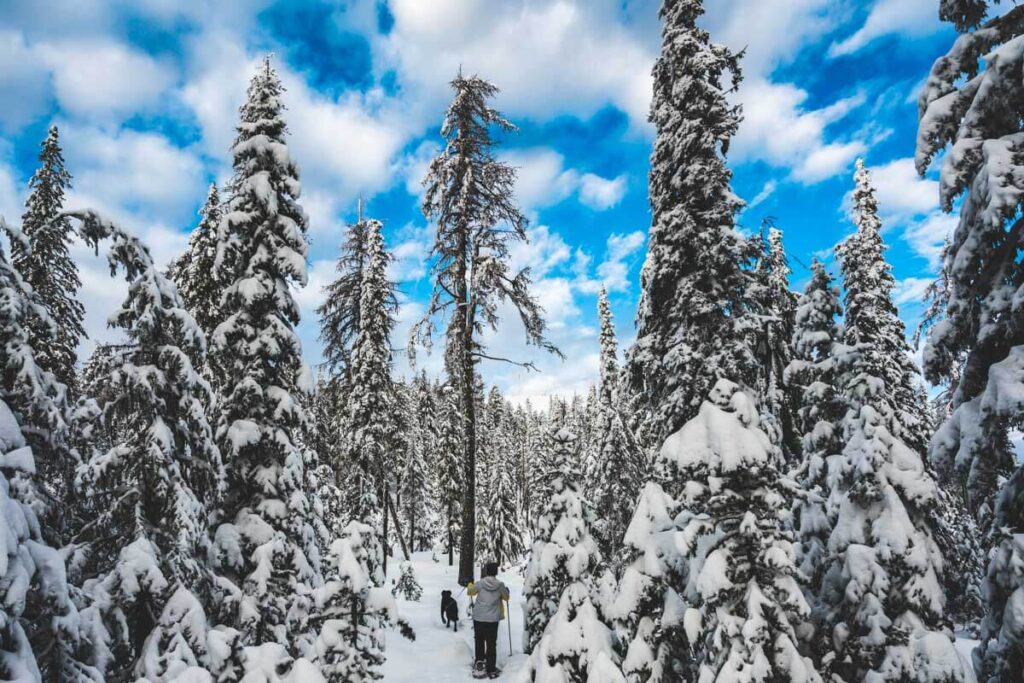 To get there, go to the Nordic Ski Area is just south of Mount Spokane Ski & Snowboard Park. It's a 40-minute drive from downtown Spokane.
Tips before heading out:
Spokane Parks and Recreation frequently offer guided snowshoe tours on Mount Spokane.
Tie up your snowshoes so you hit the fire tower at sunset. You'll be rewarded with stunning, west-facing views. Enjoy the beauty of the snowy trails and trees on your walk down.
If you're a first-timer, purchase the affordable snowshoe kit that Costco typically sells in winter in Spokane. If you don't like snowshoeing, you won't break the bank buying gear.
Be sure to come back and do this hike in the summer. You can rent the Quartz Mountain Fire Tower for the night and wake up to the gorgeous view.
11. All Things Winter in Leavenworth
If you're planning to travel to Washington State, particularly during the holiday season, grab your bags and visit Leavenworth, one of the best places in winter. Leavenworth is considered a winter wonderland in Washington.
You can expect a lot of fun and adventure, including skis and skins. But if you're not into that, you can still have fun with their other snow adventures, such as snowshoeing and snow tubing.
Here are some of the best things you can do when visiting in winter:
Bavarian Village – A Germany-like place within just a few hours of travel away from Seattle. This is a must-visit site this winter as the buildings are filled with wood balconies and decorated windows that make them look like Alpines. You'll surely have fun since the locals here are on-theme during the season as they dress up like lederhosen and dirndl.
Christmas Train in Leavenworth – Another must-experience is their Christmas train. This is made possible by Amtrak, and it operates during the weekends, precisely every Saturday of the whole month of December, that goes from Seattle to Leavenworth. The most exciting part of the train ride is catching sight of the annual tree-lighting festival.
Christkindlmarkt Leavenworth Christmas market – One of the main highlights in Leavenworth, check here for the schedule. It's also Bavarian-themed, where the stalls are fully decorated, and German food is being sold. Apart from that, crafts and arts for the season are also showcased for the artsy tourists.
Leavenworth Ski Hill – Aside from visiting themed sites this holiday, Leavenworth is known for their ski resorts. There are plenty of them since Leavenworth is located in the Cascades.
Suggested by Owen from Things To Do
---
RELATED: 11 Adventurous Things To Do in Leavenworth
---
12. Drinking Your Way Around Leavenworth
After a day out and about, you will want to explore the town, which is covered in Christmas lights during the winter, to create the perfect winter wonderland.
The shops along the main drag vary in their specialties, from hats to nutcrackers, eclectic gifts to chocolate, and so much more. But, most importantly, mixed in are German beer halls and gardens with a brewery and distillery.
Tips on what to order:
Black Forest Cake Stout at Icicle Brewing: this brew is only released in the winter and sells out fast! It is super easy to understand why once you have a taste, as it tastes exactly like a black Forest cake!
Blue Spirits Distilling makes a Cucumber Vodka that goes down too easily. Mix it with soda water, and you will have found your new, super easy-to-make cocktail.
Want to drink some beer but not sure what to get? Check out Stein, which features 55 taps of both local and import options. The staff is super friendly and can make recommendations if you are stuck.
Mulled wine! No matter where you go in town, you will find Mulled Wine (aka glühwein) which is a Bavarian staple and well worth a try.
Now, if you decide to go to Leavenworth, it would be best to allocate at least three nights in the town if you want to fully experience this Washington in winter wonderland!
Suggested by Emily from The Female Abroad
13. Hiking in Guler Ice Caves
If you're looking for a unique winter hiking experience to check out during winter in Washington, check out the Guler Ice Caves in the southern half of the state in Gifford Pinchot National Forest.
This lava tube was created over 10,000 years ago due to lava flows in the area. Today, you can walk in the cave and experience something unlike anywhere else. You'll start by climbing down a set of stairs into the cave, where you'll see about 650 feet of space that you can crawl around in.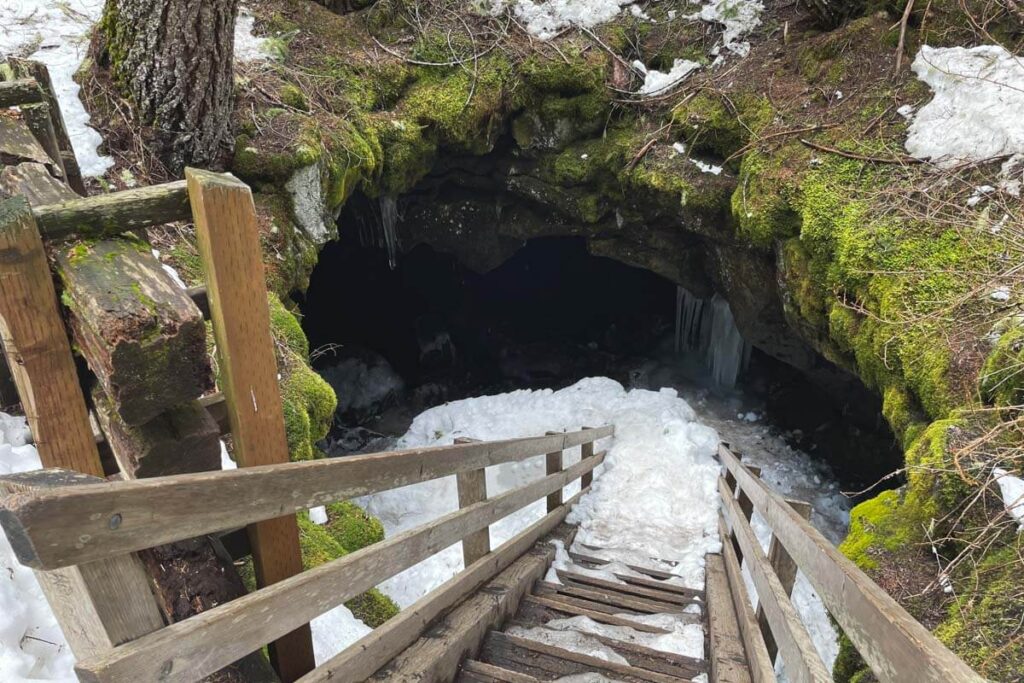 During the winter months, icicles hang from the roof of the lava tube, and melting ice drips to the ground. You can walk into the cave and explore as far as you'd like, although it eventually gets too short to fit under. At the top of the cave, there's an informative sign that features a map of the cave and information about it.
Although the cave can be visited in the summer, you won't get to see the impressive icicles that form within the cave during the warmer months. Which is why visiting during the winter is best! The most popular time to visit is in early-mid spring.
Tips before heading out:
Because Guler Ice Caves is located on a forest road, you'll need to walk into the trailhead, as the road will likely be covered in snow.
Bring a headlamp because once you're underground, the caves are pitch black, and it can be tough to hold onto a flashlight.
The cave is cold year-round, so bring warm clothes to ensure you don't get too cold.
Wear sturdy shoes with good grip because the ice on the ground in the cave can be very slippery.
Suggested by Kassidy from The Hiking Helper
14. Snow Sledding at Mount Rainier National Park
While most of Mount Rainier National Park closes for the winter, the area around Paradise is transformed into a winter wonderland full of adventure!
The Paradise snow play area is directly north of the upper Paradise parking lot. The snow is deep, and there are fantastic hills for sledding and playing. There are two main sledding hills and a smaller hill for younger kids.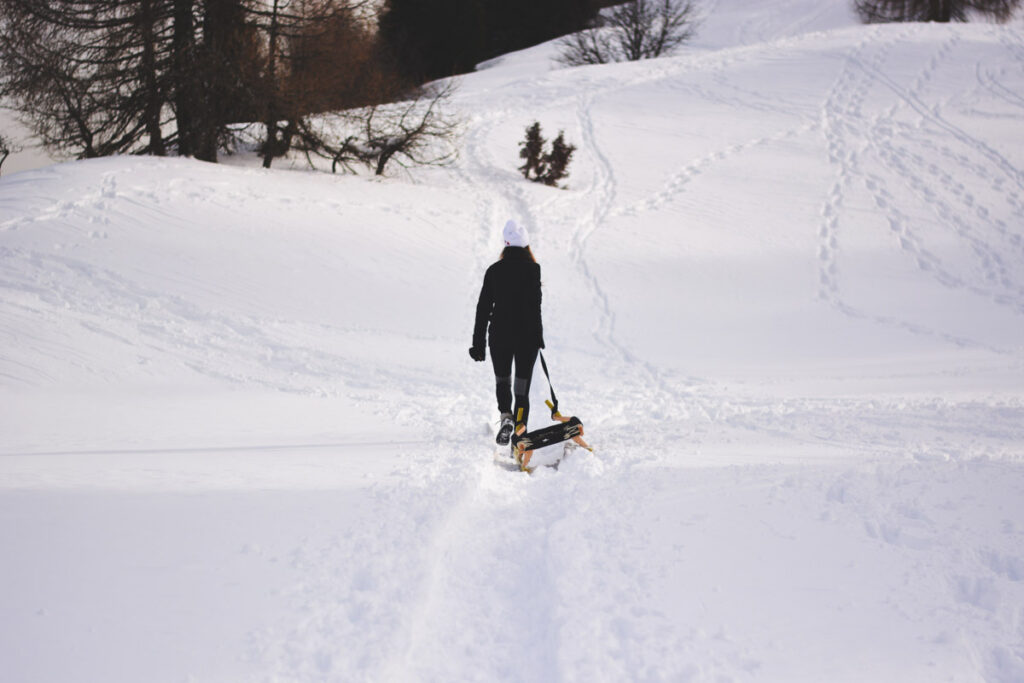 This specific spot is the only area in the park you are allowed to sled, and it has been designed not to disrupt or destroy the park's fragile ecosystem.
Tips before heading out:
Sledding is free, but you will need to pay the park entrance fee of $25 per vehicle.
The snow play area opens at a different time each year based on how much snow has fallen. Always check the NPS website before going.
Roads are currently closed during the week due to budget cuts.
You will need to bring your own sled. Soft, flexible sleds are encouraged.
Bathrooms are open, but no other services are available.
Be sure to bring a thermos of warm water to make cocoa or cider after your snow adventure.
Bring a change of clothes and dry socks for the ride home!
You can get food and drinks outside of the park in Ashford.
Suggested by Chantelle of Romantic Rambles
15. Snowshoeing in Mount Rainier National Park
If sledding it's your thing, what about trying out snowshoeing at Mount Rainier?
Snowshoeing in Mount Rainier National Park is a fantastic way to explore the park – the scenery looks magical, covered with a thick blanket of glistening snow, and the infamous summer crowds are nowhere.
Several trails for all levels of snowshoers, from Mazama Ridge to Panorama Point and the Wonderland Trail, all provide spectacular views of the surrounding pine tree forests and the Cascade Mountains.
Tips before heading out:
Be sure to bring a waterproof jacket, pants, and gloves – the snow can get multiple feet deep in some areas, and you will get cold and wet if you don't bring along the appropriate gear.
If you don't have snowshoes, you can rent some from Longmire General Store, a historic log cabin that looks like something straight out of a Hallmark movie.
Be sure to research where you want to go in the park ahead of time; many roads are closed due to the epic snowfall Rainier receives.
Suggested by Jessica from Uprooted Traveler
16. Storm Watching in Olympic National Park
For a truly unique experience during winter in Washington, head to the coast and watch the storms come in. This will take a little spontaneity, a bit of luck, and a lot of bravery, but the experience is one you're not likely to forget.
From November through March, 73 miles of coastline within Olympic National Park is pummeled by occasional winter storms. Winds can reach 60-70 miles per hour, with ocean swells measuring up to 20 feet high.
The onslaught of rain adds another layer to this incredible show, and while it may not sound like much fun to be in the eye of the storm, watching the waves toss logs around like they're toothpicks is quite exhilarating.
A few of the best places for storm watching in the winter include Kalaloch Lodge, Ruby Beach, Quileute Oceanside Resort, and all their beaches in La Push, including Rialto and Cape Flattery. Of course, some safety precautions should be kept in mind before hunting these dramatic storms.
Tips before heading out:
Keep a generous distance from the shoreline.
Find a solid surface (like a sturdy cliff) to hang out on as you watch the show. Waves can get much higher during storms; the bigger they get, the more dangerous they become. Note that waves peak as the tide is coming in.
If you insist on staying on the beach during the storm, go at low tide and NEVER TURN YOUR BACK ON THE WATER.
Go with a partner and let someone know where you're going before you head out.
---
RELATED: 9 Incredible Olympic National Park Beaches to Explore
---
17. Winter Surfing at Seabrook, Pacific Beach
While the sport of surfing is most often associated with Hawaii or Southern California, cold-weather surfing is growing in popularity along the Washington Coast.
Surfing in the Pacific Ocean in the middle of winter might sound outlandish, but if you're an adventure seeker, stuff yourself into your wetsuit and wax your surfboards because it's the perfect time to catch some cold weather waves!
Things to know before you head out:
Seabrook's beach is the best option for those new to winter surfing. It's a featureless beach break without any obstacles to run into. It features a sand spit that extends several dozen yards into the surf, making it easy to stand up and re-center if conditions are less than ideal.
Surfing during the colder months tends to be in the early mornings in calmer water. Surfing up and down the coast near Seabrook is notorious for wildlife sightings, from all kinds of birds to harbor seals, crabs, and even black dolphins.
Stop by Buck's Northwest on Front Street to learn more about surfing, rent gear, or set up lessons that include everything you need.
Be sure to bring hot beverages and snacks for when you finish and someone to capture all the action from the shore.
18. Visit Bainbridge Island, Washington in Winter
Like most famous destinations around the state, Bainbridge Island is a popular summer retreat. But taking the ferry and experiencing this iconic spot during the cold season should be on every traveler's winter bucket list.
There are tons of things to do on Bainbridge Island during the winter, but here are a few options that top the list:
Winter of Wonder at Bloedel Reserve – Cozy up in your warmest winter attire and celebrate the holidays at Winter of Wonder. This outdoor experience is perfect for nature lovers of all ages and features illuminated trails winding through the lovely Bloedel Reserve. The 150-acre public garden and nature preserve is open for winter through December and early January, so mark your calendars!
Solstice Walks at Bloedel Reserve – The Bloedel Reserve also offers evening solstice walks as part of their Winter of Wonder holiday experience. Enjoy the preserve at night as you wander through twinkling light installations. Learn more and find tickets here.
Winter Wonderland Skating at Pleasant Beach Village – Head to the island's west side and discover the Pleasant Beach Village – a winter playground in the historic Lynwood Center neighborhood. The festive resort has holiday activities for the young and the young at heart, including a skating rink, gingerbread house parties, and live music. Complimentary shuttles run between Pleasant Beach Village and the ferry terminal.
---
RELATED: 9 of the BEST Day Trips From Seattle (Under 1.5 Hours Away!)
---
19. Ski or Snowboard at Mount Baker
Mount Baker is notorious as one of the country's gnarliest skiing and snowboarding spots. And the reputation is well earned.
The area is frequently pummeled with heavy snowfall, and the lenient policy on wilderness skiing makes Mount Baker a shoo-in for experienced winter sports enthusiasts looking for a thrill.
There are a few options for beginners, and lessons are available, but in its heart of hearts, Mount Baker caters to those who know what they're doing.
Know before you go:
Pre-purchased/digital lift tickets are not available. You'll have to purchase daily tickets from the ski area when you arrive at Mt. Baker.
Mt. Baker frequently receives more snow than many other mountains in the country. For this reason, it is subject to closures throughout the winter season, so always check the current snow report, road closures, and operation info before heading out.
Play safe! This area is known for attracting those who want to push their limits, but the heavy snowfall can make skiing and snowboarding dangerous – especially in the wilderness.
20. Events in Winter in Washington
If you're still unsure how to spend an enjoyable winter in Washington, these annual events will lift your spirits.
Winter Beer Festival | Seattle – Craft beer connoisseurs can get their buzz on while getting in the holiday spirit at the annual Winter Beer Festival. Taste your way through the best beers in the northwest, from barrel-aged ales to hearty stouts and everything in between.
Winter Wonder Market | Spokane – This annual holiday market sits in Spokane's heart and offers festive fun for the whole family. Peruse hand-crafted goodies, finish your Christmas shopping, or enjoy live music as you wander through the market.
Winterfest | Lake Chelan – The fun doesn't have to stop when the holidays do. Lake Chelan's Winterfest takes place each January and provides some much-needed fun during the coldest (and arguably most boring) time of year. The festival boasts unique events like live ice sculpture carving, snowshoe yoga, and even an epic bloody mary bar. There's also all the usual winter fun, including polar plunge events, live music, vendor markets, and more.
Pathway of Lights | Green Lake – Who doesn't love a good light show during the peak holiday season? Green Lake puts on a good one, with glimmering light installations plus complimentary refreshments, holiday music, and hot air balloons taking off over the lake!
See all the Washington winter events happening right now!
Phew! I'm sure you've found plenty of things to do during winter in Washington after reading all of that! So where to first?
More For the Best of Washington
I'm an Oregon native but neighborly and equally as enchanted by Washington. I tackle expeditions around the world and love a good beer at the end of the day. PNW obsessed, VW nerd, and surf or snow riding fanatic.