If you're looking for the best things to do in Walla Walla, you've come to the right place!
This rural city, located in South Washington (just a stone's throw from the Oregon border), has been delighting travelers for decades.
The city is famous for its gastronomy, largely thanks to its rural setting with plenty of farms.
But step outside city limits, and you'll find lots of hiking and cycling trails, waterfalls, and even the chance to ascend into the sky in a hot air balloon.
Here are all the best things to do in Walla Walla!
Best Things To Do in Walla Walla
---
1. Bennington Lake & Trail
Bennington Lake is just a 10-minute drive from central Walla Walla, and its 50 acres are ideal for watersports and fishing. Pack a picnic and enjoy lunch while looking out over the blue waters!
You could also tackle the Bennington Lake Trail. This 2.7-mile loop trail is perfect if you want to get out and enjoy nature without doing too taxing a hike! Bennington Lake Trail is fairly easy and walks around the circumference of Bennington Lake and around some of Mill Creek.
2. Mill Creek Walk
Distance: 6.9 miles
Type of Trail: Loop
Difficulty: Moderate
Elevation Gain: 370.7 feet
Another popular walk nearby town is along Mill Creek. This is close to Bennington Lake, so you could always visit both in a day!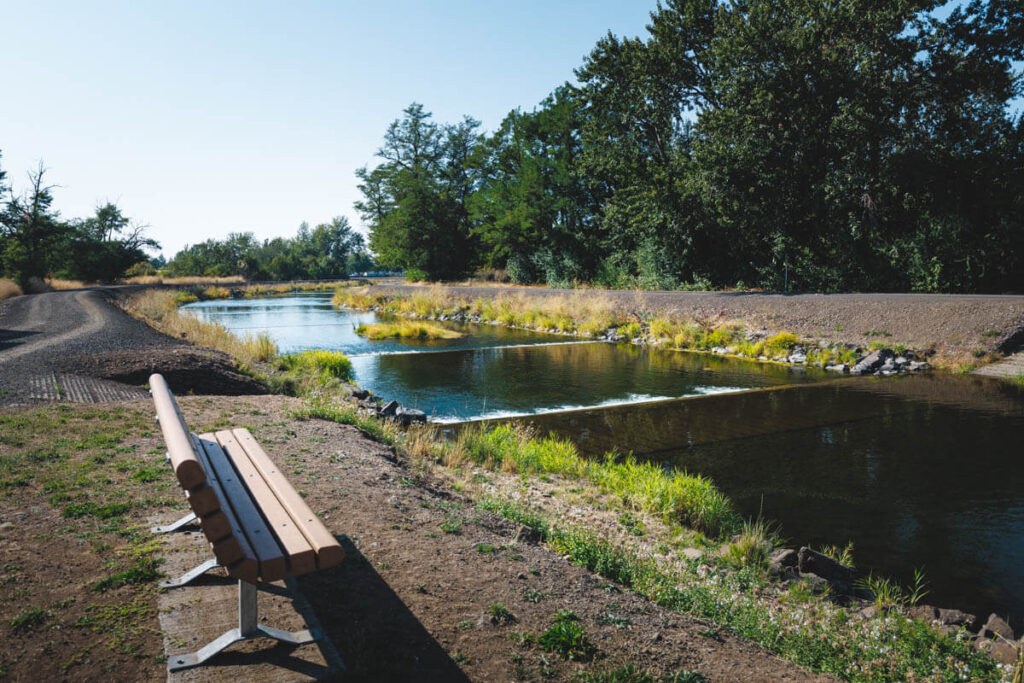 It's a six-mile loop trail that takes in the beautiful river and its plant and bird life. It's fairly easy and takes most hikers two hours. If you prefer to cycle, the trail is also flat and suitable for two wheels.
You could actually take this trail all the way to Bennington Lake if you wish to, or keep it short and just stroll along the creek. The distance listed is the full loop all the way out to the lake and back!
3. Balloon Flights
One of the most famous (and more luxurious!) activities here is hot air ballooning, admiring the landscape of Washington state as it spreads out beneath you. Seattle Ballooning has an office in Walla Walla, offering flights from May to mid-September.
Or, if you're in town in October, don't miss the Walla Walla Balloon Stampede, a festival with up to 30 hot air balloons. Even if you don't ascend in one, taking in the views of the hot air balloons drifting up to the sky is a dreamy experience that you won't forget quickly!
4. Cycling Wine Route
Here, we combine two of Walla Walla's greatest draws: exceptional cycling routes and wine!
Rent a bike from Allegro Cyclery and tour these various wine routes, which range from a 12.3-mile circuit around the airport (with 20 wineries on the way, so nearly two per mile!) to the 44.9-mile voyage, Lowden Wine Tour via Dry Creek, including the wineries at Lowden.
Phew! That's a lot of mileage… AND wine!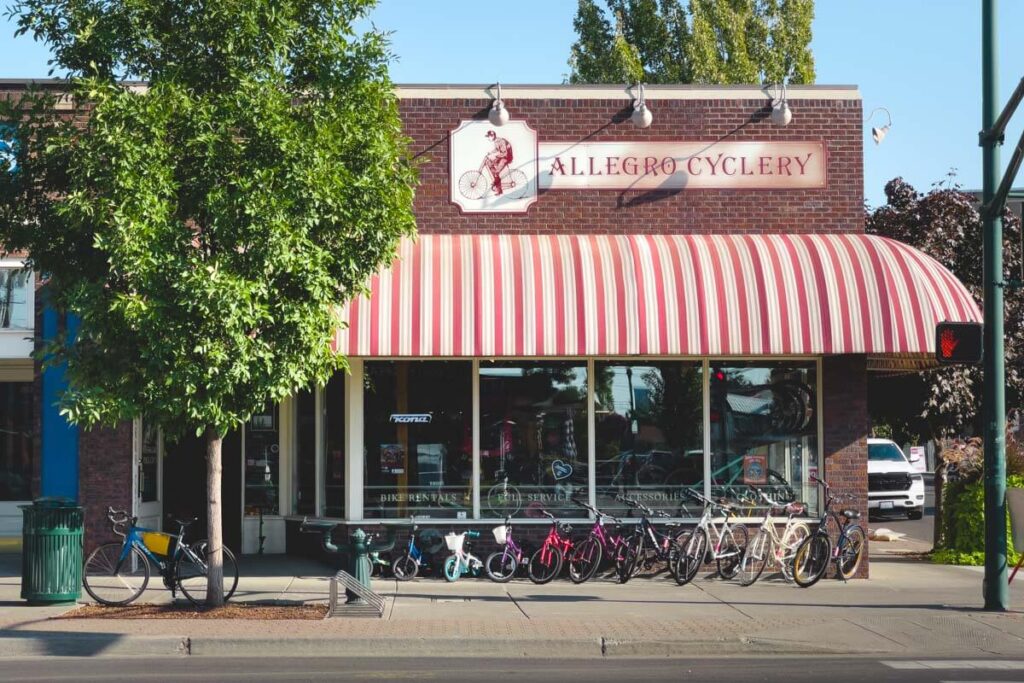 Whatever tour you choose, you'll enjoy the peaceful setting and natural surroundings, along with plenty of delicious home-made wine—you can stop into most of these wineries and pay a small fee for a tour and a tasting, and there are options to purchase bottles as a *temporary* souvenir.
Have fun, but also, do remember to drink and ride responsibly.
5. Wineries in General—The Best Thing to Do in Walla Walla (!?)
If you don't fancy cycling, you'll be pleased to know that visiting this region's wineries on two wheels isn't mandatory. If we're being real, Nina can't ride a bike very well without a few glasses of wine, so don't feel bad if this is you as well!
The Walla Walla Wine Region is one of the best areas in the state for alcoholic beverages, thanks to its reasonably mild climate (the grapes have a very long growing season) and the countryside surrounding the city. There are over 120 wineries here!
One of our favorites is Doubleback Winery. Famous for its American Cabernet Sauvignon, Doubleback produces high-quality wines with decadent tastes and offers vineyard tours to any visitor.
Other wineries in the area include L'Ecole No 41, which dates back to 1983 and (as the name suggests) is situated in a former schoolhouse.
Plus, don't miss Long Shadows Vintners, which has hosted winemakers from some of the world's best vineyard regions to create wines from grapes grown in Washington!
6. Eat and Drink Your Heart Out
Walla Walla isn't just famous for its wine. There's plenty of locally-grown produce for any taste here!
Most local restaurants will boast dishes with fresh, local ingredients—which are almost literally right in their backyard.
Don't miss the fresh loaves (try the turmeric pumpkin seed sourdough) at the Walla Walla Bread Company, the all-day gourmet breakfasts at The Maple Counter Cafe, and a new and fun favorite, Boba Tea at Black Pearl.
7. Kennewick
Sitting around a 50-mile drive from Walla Walla is Kennewick, a small but expanding town.
Although it's not huge, there's a surprising amount of things to do here, including the lovingly restored Gesa Carousel of Dreams, which dates back to 1910.
There's also the 9/11 World Trade Center Memorial Monument, which is a poignant reminder of the tragic events of September 2001; it's a steel column that was recovered from one of the towers.
Just out of town, you'll find the McNary National Wildlife Refuge. A wildlife preserve owned by the United States Fish and Wildlife Service, here you'll find plenty of migratory birds and a beautiful array of native plants.
8. Twin Sisters Rock
Sitting on the banks of Lake Wallula, this is an ideal epic hike to stop-off at on the way to or back from Kennewick.
It's a 0.7-mile hiking trail that traverses from the trailhead up to the two twin rocks. From here, you can take in a gorgeous vista over Lake Wallula and beyond!
---
RELATED: 25 EPIC Hikes in Washington to Tackle
---
9. Day Trip to Palouse Falls State Park
If you want a day of waterfall chasing, head to Palouse Falls State Park! As the name suggests, this park is home to Palouse Falls, which run through a canyon carved by the Ice Age. As you hike through, you can take in majestic views of the descending drops.
It's also home to an array of birdlife and is the perfect place to enjoy a picnic! There's limited camping and no cell phone service, so for most visitors, it's an off-grid day trip from Walla Walla.
---
READ MORE: Palouse Falls State Park: Your Complete Guide
---
Where to Stay in Walla Walla
The FINCH
The FINCH is located in downtown Walla Walla and offers stylish and modern accommodations.
This boutique hotel features a restaurant and bar, a fitness center, and a rooftop terrace with views of the city.
Check Price:
The Wesley Walla Walla
This historic hotel is situated in a restored 1905 schoolhouse and offers unique and charming guest rooms.
The Wesley Walla Walla also features a restaurant and bar, a fitness center, and a courtyard with a fire pit.
Check Price:
Walla Walla Garden Motel
This budget-friendly motel is located a few miles outside of downtown and offers basic but comfortable accommodations.
The Walla Walla Garden Motel features a garden area and a picnic area with BBQ grills.
Lone Pine Bungalow
Lone Pine is a newly remodeled bungalow-style vacation rental that offers a relaxing and charming stay in a quiet neighborhood. The rental features a front porch where you can enjoy your morning coffee and a larger bedroom with a second small room that has a hide-a-bed for an additional guest.
The location is convenient, as it is just blocks from the fairgrounds and a short walk to downtown, with free bus service available during the summer.
Check Price:
Adelines Cottage
This vacation rental is a small cottage well-located in town. It features one bedroom, a remodeled kitchen, and parking is available close to the backdoor off-street.
This cottage is conveniently located within walking distance to Whitman College and Pioneer Park, making it an ideal location for visitors to the area.
Check Price:
MORE ACCOMMODATION OPTIONS IN WALLA WALLA, WA:
As you can see, there's something in Walla Walla for everyone!
Whether you want to hike along rivers and go boating on Bennington Lake or drink and eat in the city, Walla Walla has all you need for a fun, well-rounded break from Seattle or an add-on to your Washington trip!
I'm an Oregon native but neighborly and equally as enchanted by Washington. I tackle expeditions around the world and love a good beer at the end of the day. PNW obsessed, VW nerd, and surf or snow riding fanatic.