Mount Rainier is an active volcano sitting just 2.5 hours outside Seattle, Washington. The national park it sits in is dominated by its 14,410-foot peak and is an iconic state marker.
Wildflower meadows, snowy volcanic precipices, deep verdant forests, and gushing waterfalls all grace this national park and are ready for explorers to come and enjoy. However, only the adventurous get the best views. You'll have to be armed with the best hikes in Mount Rainier National Park to get there, and we have you covered on the most worth it ones!
Best Hikes in Mount Rainier National Park
---
Before exploring Mount Rainier National Park, make sure to grab a pass if you don't already have one! Either purchase the pass that covers you for a week or buy an America the Beautiful National Park pass if you plan on visiting more national parks in Washington or the country (it lasts a year!)
1. Skyline Trail (Perhaps the Most Famous Mount Rainier Hike)
Distance: 6.2 miles
Type of Trail: Loop
Difficulty: Hard
If you are going to do any Mount Rainier trail in Washington, make it this one. The Skyline Loop Trail never fails to impress and packs in views, waterfalls, mountains, and more.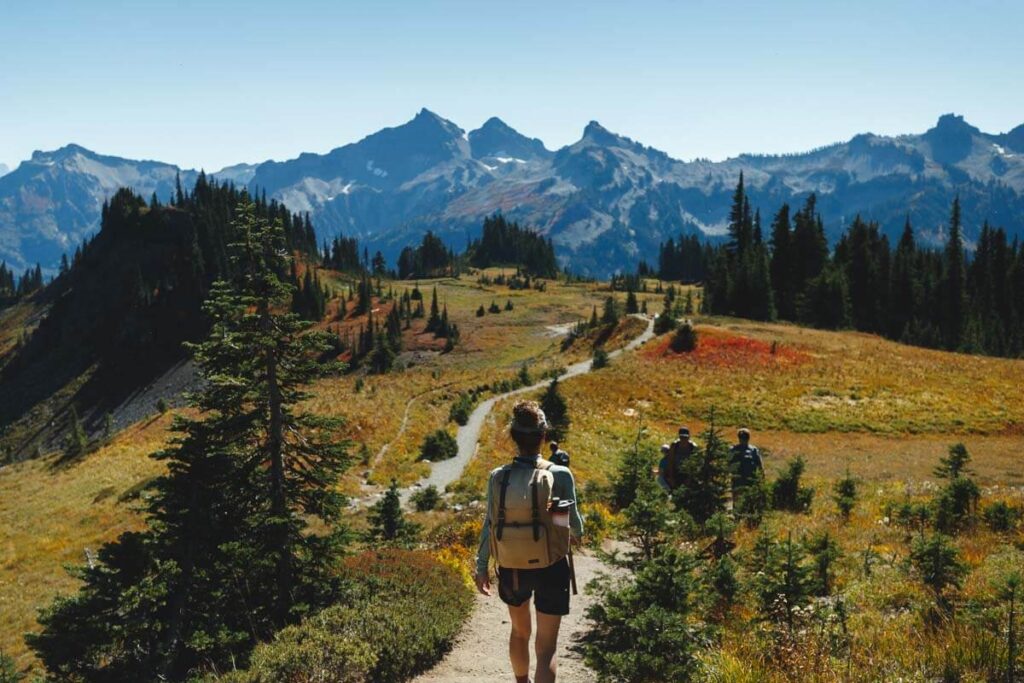 You start in the Paradise area of the park, and you are then in for a real treat. No matter if you go clockwise or counterclockwise, expect some SERIOUS Mount Rainier views that will take your breath away. But that is far from all.
You can also expect to see flower-clad meadows, epic vistas, and even a HUGE waterfall. If you have done this trail before others, you might as well pack up and go home, as the others will not compare (we are joking, they are all epic!).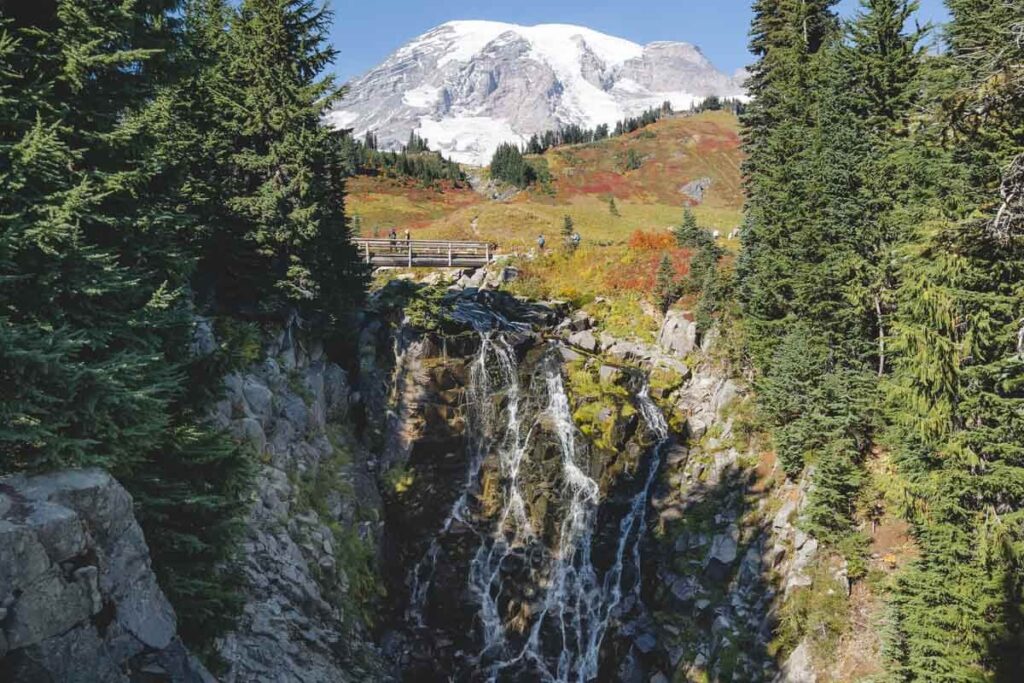 Different hikers prefer different ways around, but going clockwise gives you impressive views the entire way round. There is a pretty steep climb up to Panorama Point, but you get the most strenuous bit out the way first which is a bonus.
It is definitely achievable for most hikers, but trust us when you say your legs are going to be burning. If you don't have much time but still want to take in the views at Panorama Point, you can take the Golden Gate Trail instead.
---
READ MORE: How to Hike the Skyline Loop Trail in Mount Rainier!
---
2. Dead Horse Creek Trail
Distance: 2.2 miles
Type of Trail: Out & Back
Difficulty: Easy
Take a breather on this nice and easy hike before tackling some of the bigger Mount Rainier trails that Washington offers. Don't get us wrong, it is still steep, but is really just a small hill compared to some of the other Mount Rainier hikes on this list.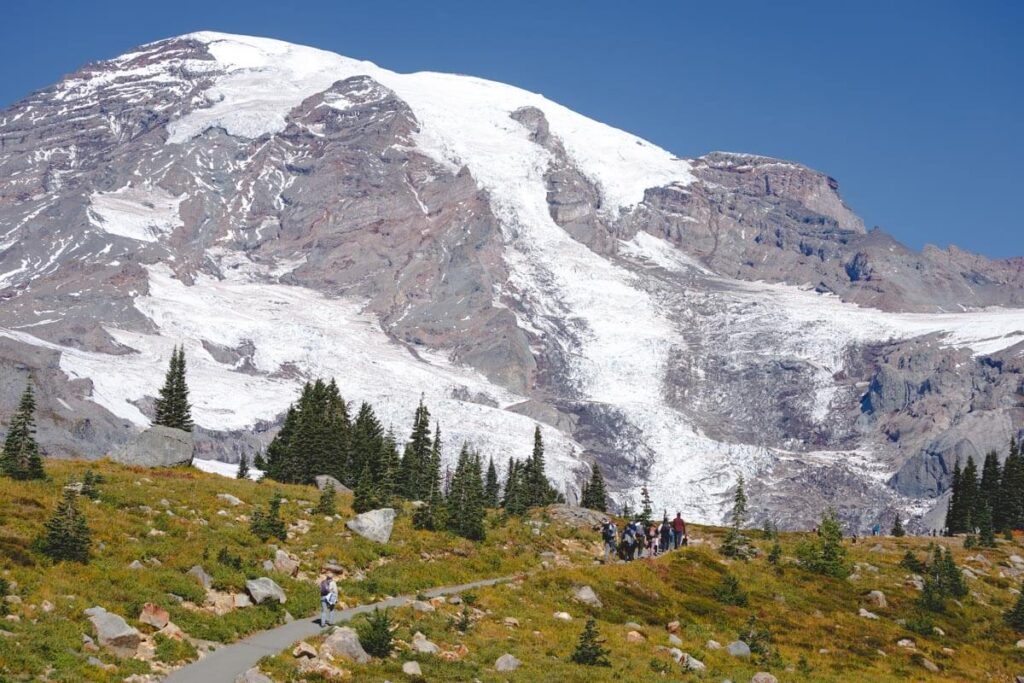 The nice thing is, you'll be on a paved path, saving you from slipping and sliding all over the rocks, so you will have the chance to look up at the views without the worry of breaking your ankle.
Head northeast across Dead Horse Creek from the small parking lot and then stroll along next to it. The elevation gain is pretty gradual and provides some lovely, clear views of Mount Rainier.
After a short while, the trail intersects with the Skyline Trail, where you can decide to turn around or enjoy the Skyline Trail some more.
3. Mount Fremont Lookout Trail via Sourdough Ridge Trail
Distance: 5.7 miles
Type of Trail: Out & Back
Difficulty: Moderate
The Fremont Lookout Trail is popular for a reason. Although like all Mount Rainier hikes in the park, there are scenic views and sights along the whole hike, this is one that has one primary focus—reaching the lookout tower. It is relatively steep, but if you hike often, you should be able to manage the climb without too much trouble.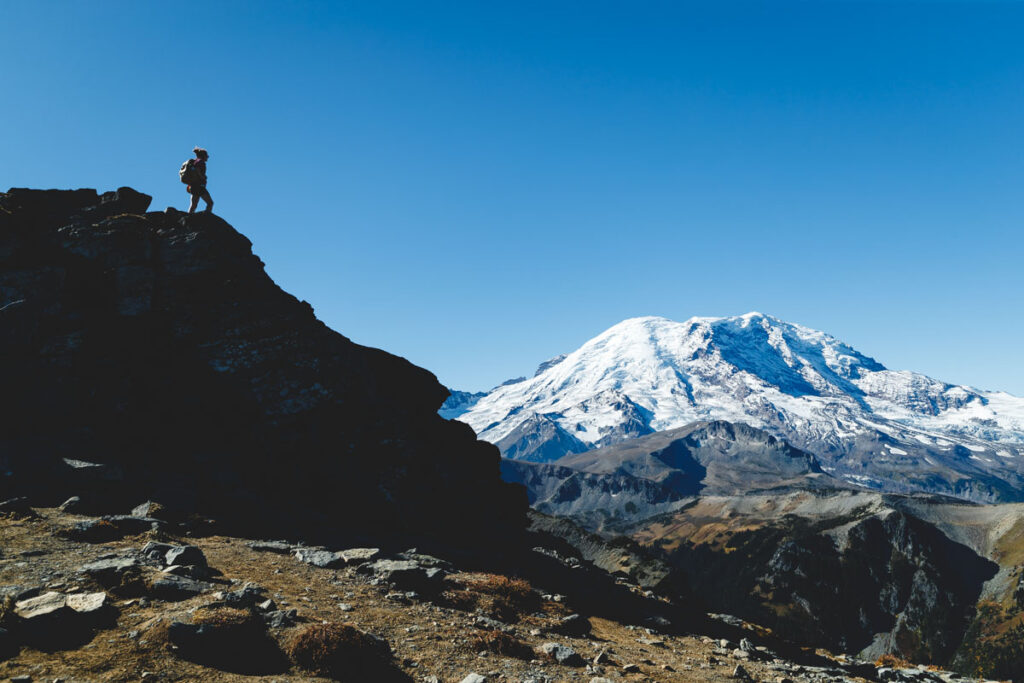 You'll find this hike to the fire lookout tower in the Sunrise section of the park. With limited parking, get there early to secure a spot.
Park at Sunrise Point, and walk along the Sourdough Ridge Trail to the Mount Fremont Lookout Trail. This is the most direct route, and along the way, you'll pass stunning meadows, mountain lakes, and plenty of views of Mount Rainier.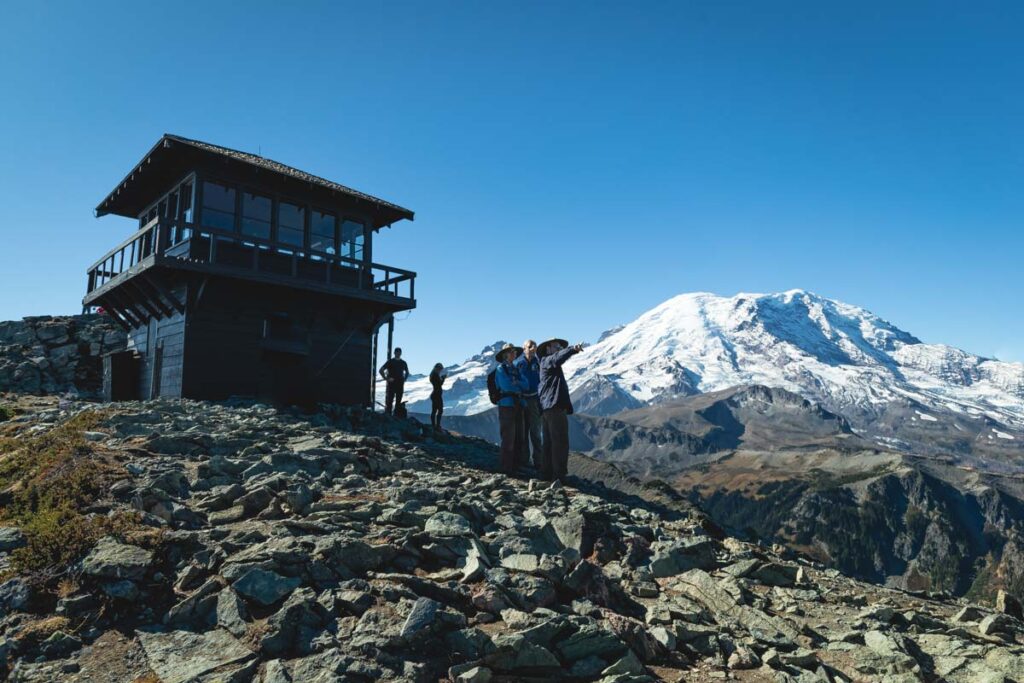 Something to bear in mind with this trail, there is zero shade the entire way. We are talking about not even a bush to hide behind, so take lots of water and make sure you are protected from the sun's powerful rays.
---
READ MORE: Hiking the Mount Fremont Lookout Trail in Mount Rainier National Park
---
4. Comet and Christine Falls Trail
Distance: 3.2 miles
Type of Trail: Out & Back
Difficulty: Moderate
Yes, a waterfall hike! There is no better feeling than finishing a hike with the majestic sight of a waterfall as a reward, and this one has two! Surrounded by stunning thick forest, there will be plenty of shade but just know… this is a decently strenuous hike.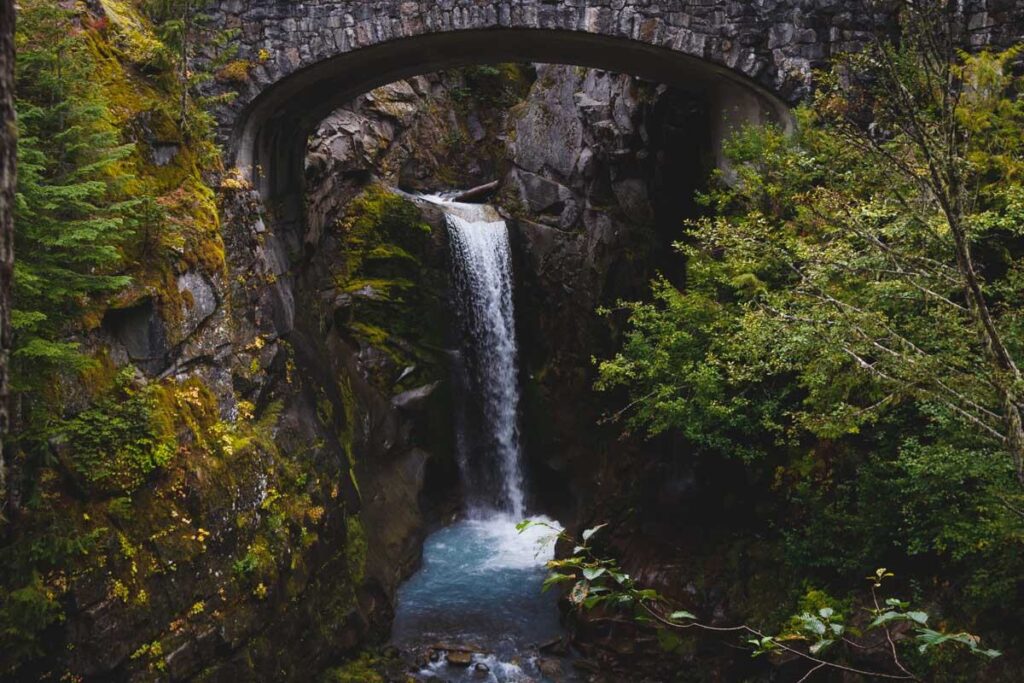 For most of the walk, you will be heading uphill, so expect a serious calorie burn. Some parts are so steep that crib ladders help you up. Once you have worked up a sweat, the spray of the waterfall does the perfect job of cooling you down.
Now, let's talk about the waterfalls. Comet Falls is one of the tallest waterfalls in Mount Rainier, plunging at least 320 feet in a single drop. Christine Falls is much smaller but still provides a wow moment, especially when you see it through the strategically placed Christine Falls Bridge.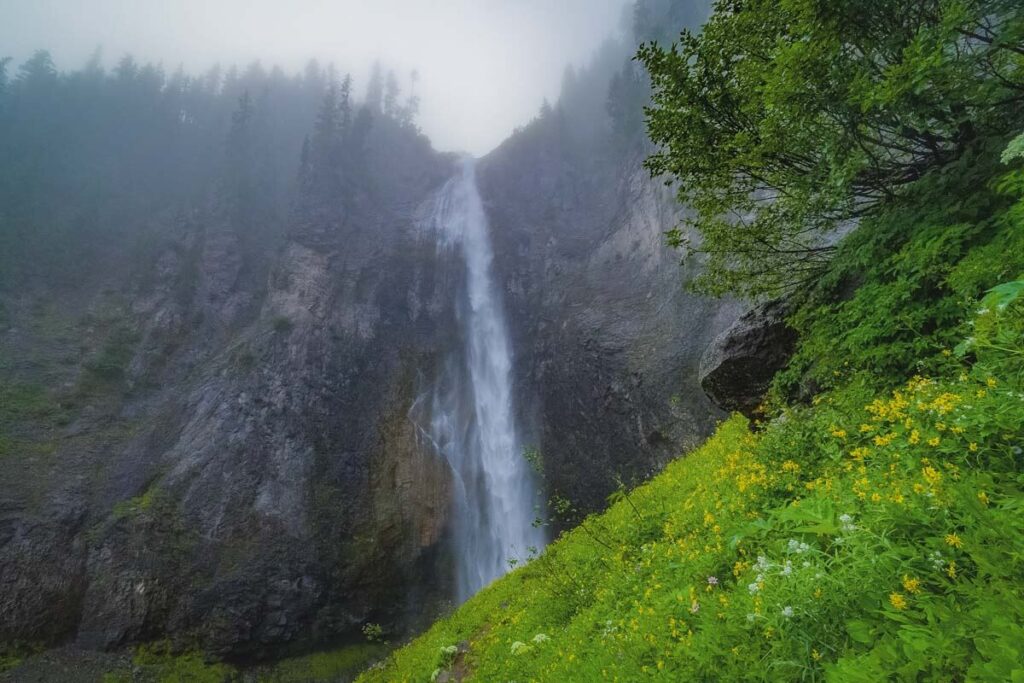 Although two waterfalls are the showstoppers here, you shouldn't forget to admire some of the surrounding smaller cascades such as the 124 foot Bloucher Falls on this Mount Rainier trail.
---
RELATED: 7 Awesome Waterfalls Near Seattle, Washington
---
5. Tipsoo Lake Loop (The Easiest Mount Rainier Hike With The Best View!)
Distance: 0.8 miles
Type of Trail: Loop
Difficulty: Easy
Short and sweet pretty much sums up the Tipsoo Lake Loop. Essentially, you'll be making your way around the postcard-perfect Tipsoo Lake, and with very little elevation gain, it makes for the perfect way to stretch your legs after lunch, or if you are short on time but just need to cram one more hike in.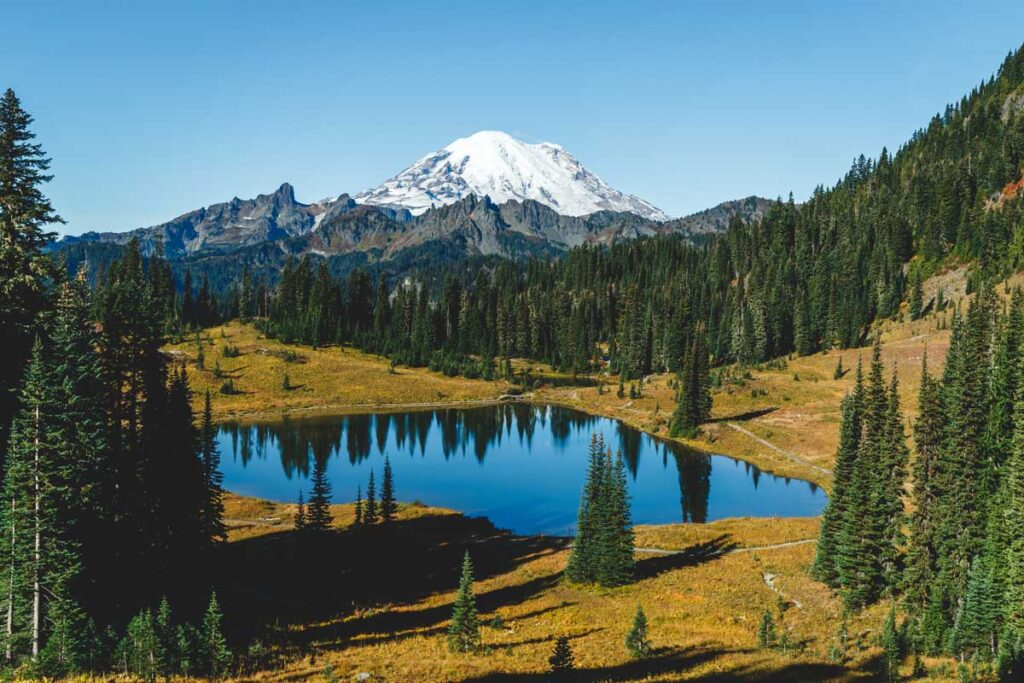 There is a handy parking lot right next to the lake, and you can then pick which way you want to go round. People tend to say that clockwise offers the best views, but if you want you can escape the crowds and go in the other direction.
If you time it right, the lakeshore is full of colorful flowers, so try and come in July or August if you can.
6. Naches Peak Loop Trail
Distance: 3.3 miles
Type of Trail: Loop
Difficulty: Moderate
Viewpoints, grassy meadows, lakes, and valleys are what is in store for you on the Naches Peak Loop Trail. Of course, the views of Mount Rainier are stunning, especially if you take the loop clockwise, although it can be done in either direction.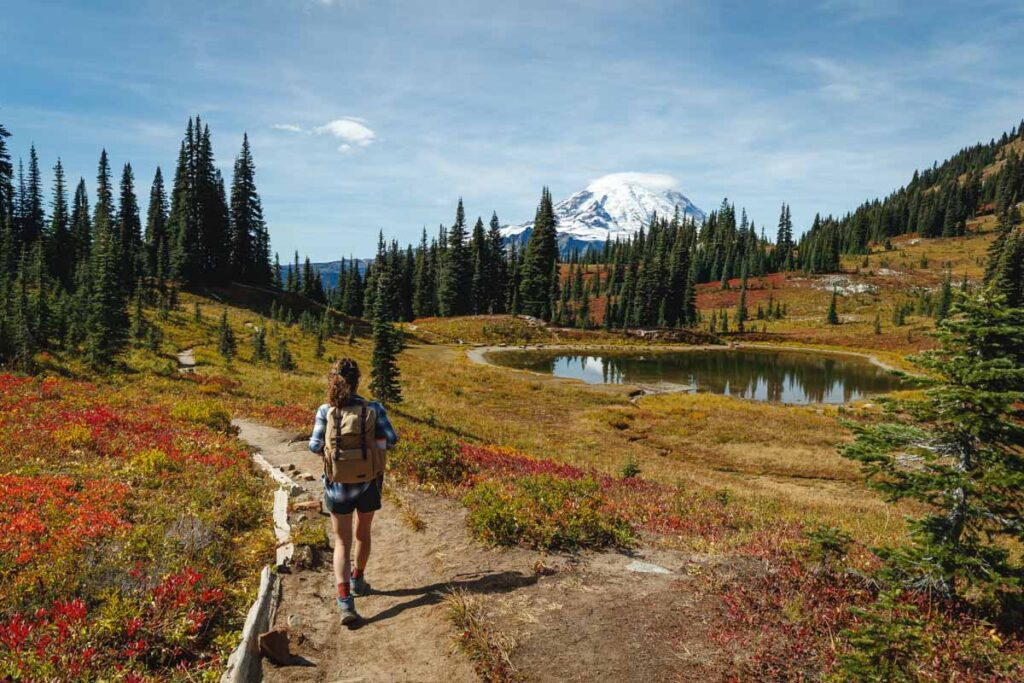 Begin your adventure at Tipsoo Lake and start climbing, surrounded by beautiful wildlife. Make sure you stop at the Dewey Lake Viewpoint, the perfect place for a picnic or even an impromptu photo shoot. Although for many people, the best is yet to come.
As you follow the loop around, meadows will open up before you, and this is where the views of Mount Rainier will take your breath away.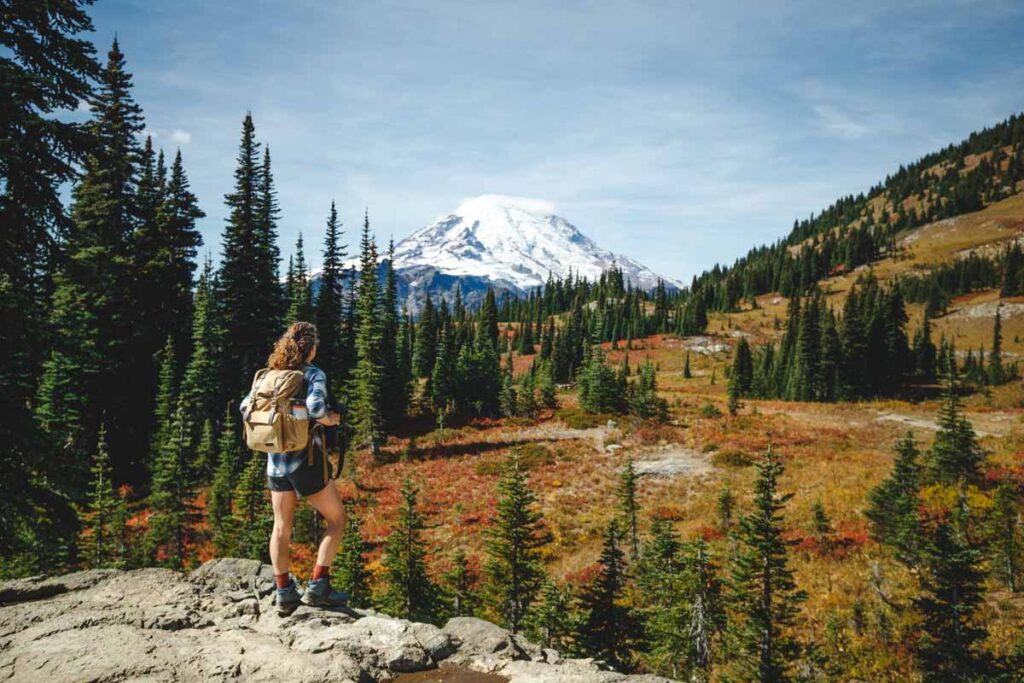 Although this Mount Rainier hike is beautiful at different points throughout the year, the highest point has to be July or August, when the wildflowers put on a show.
---
READ MORE: Hiking Naches Peak Loop Trail (Mount Rainier's Best Hike?!)
---
7. Dewey Lake Trail
Distance: 6 miles
Type of Trail: Out & Back
Difficulty: Moderate
Picturesque Dewey Lake, surrounded by mountains and thick forest, what is not to love?
Don't expect to properly do this hike until mid-June, as before this, with snow covering the trails, it can be dangerous and tough going. After July though, this Mount Rainier trail is at its best, without the swarms of mosquitos and with flowers in full bloom.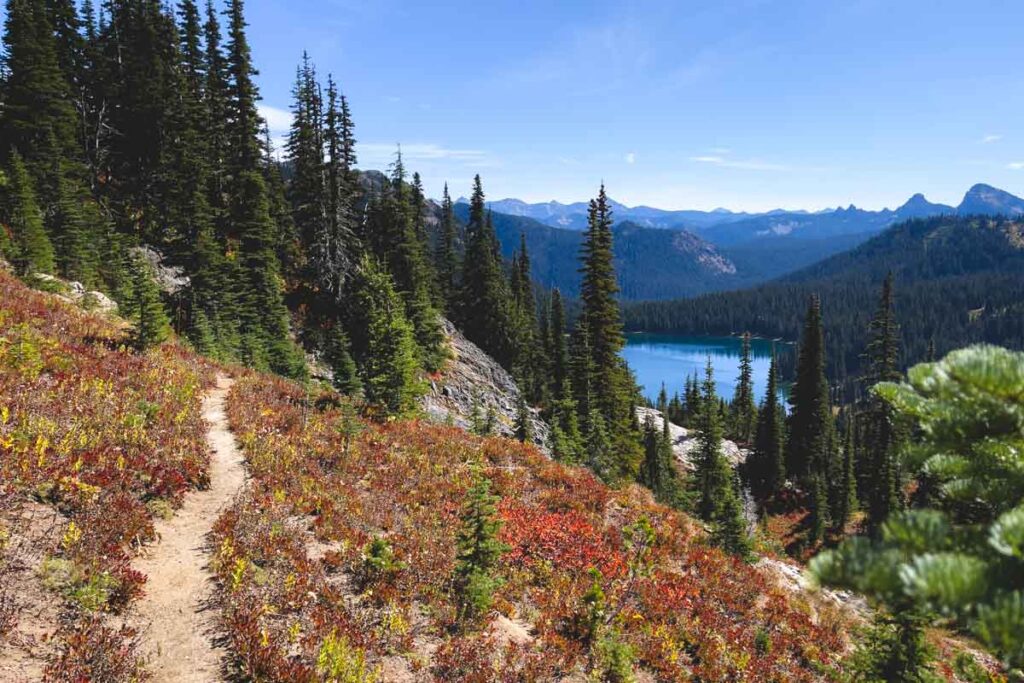 At the height of this hike, at 5,900 feet, you'll be able to see Dewey Lake stretching out before you, surrounded by a valley of lush green, so picture-perfect it doesn't seem real.
If you fancy, you can take a quick detour onto the Naches Peak Loop Trail for just 0.1 miles to a stunning viewpoint of Mount Rainier, and for such little effort, why wouldn't you? Alternatively, you could do this hike as a detour off the Naches Peak Loop Trail as well.
8. Burroughs Mountain Loop Trail
Distance: 9.4 miles
Type of Trail: Loop
Difficulty: Hard
Before we start, let us tell you one thing about this trail—It's the highest maintained, non-mountaineering hiking trail in Mount Rainier National Park. Does that put you off or make you all the more eager to tackle it??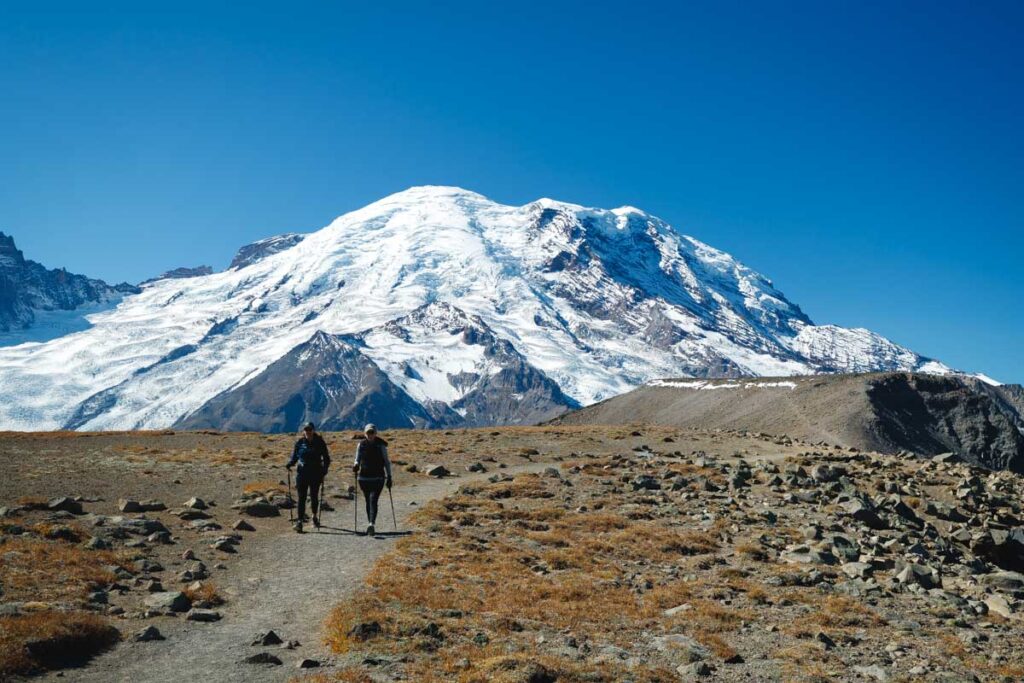 It climbs a staggering 7,402 feet but sits right up against Mount Rainier and the Winthrop Glacier. Because of this, the views are some of the best in the park.
Start this Mount Rainier hike from the Sunrise parking lot, and begin climbing almost immediately. Due to the altitude, expect to see snow on the trail depending on the time of year, so make sure you do your research and have the right equipment with you.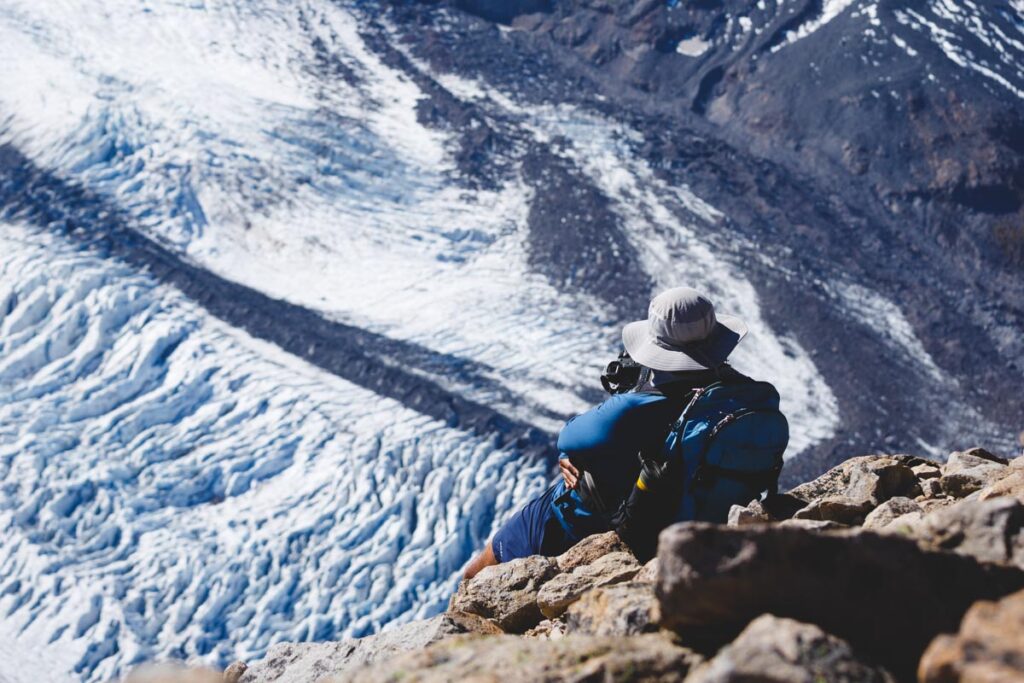 The Burroughs is made up of three distinct peaks, all of which offer some great views from the barren landscape. You could stop at any of the peaks to take in the sights, but it is worth hiking to the third so that you can see the bottom of Mount Rainier.
Along the loop, you may see some mountain goats so keep your eyes peeled. This trail is entirely exposed as well so bring sun protection.
---
READ MORE: Hiking Burroughs Mountain Trail—A Must Do in Mount Rainier
---
9. Grove of the Patriarchs Nature Trail
Distance: 1.1 miles
Type of Trail: Loop
Difficulty: Easy
The Grove of the Patriarchs Nature Trail is so much more than just a walk through the forest. It is pretty magical. Some of the trees along this Mount Rainier hike are over 1000 years old, and they will tower above you as you traverse the well-marked trail lined with helpful interpretive signs.
Red cedars mark the entrance to the trail, and before long, you will cross the Ohanapecos River via a suspension bridge, until you are standing on an island that sits in the middle of the river. At this point, the trail turns into a loop, and you can choose which way you would prefer to go.
The island here has done an incredible job of protecting these ancient trees from the dangers of fire, so they have grown to incredible sizes. Some of them are almost 50 feet in circumference, it is hard to even imagine.
As the loop around the island is so short, you could even walk it a couple of times to take in the sheer scale of these gentle giants.
10. Nisqually Vista Trail
Distance: 1.1 miles
Type of Trail: Loop
Difficulty: Easy
Ideal for a gentle stroll to stretch your legs and see some 'vistas', the Nisqually Vista Trail is a must-do. The best thing is that you get to witness these views with minimal elevation gain, which is a huge plus for many people! The hike is paved, so you can even take a stroller along with you.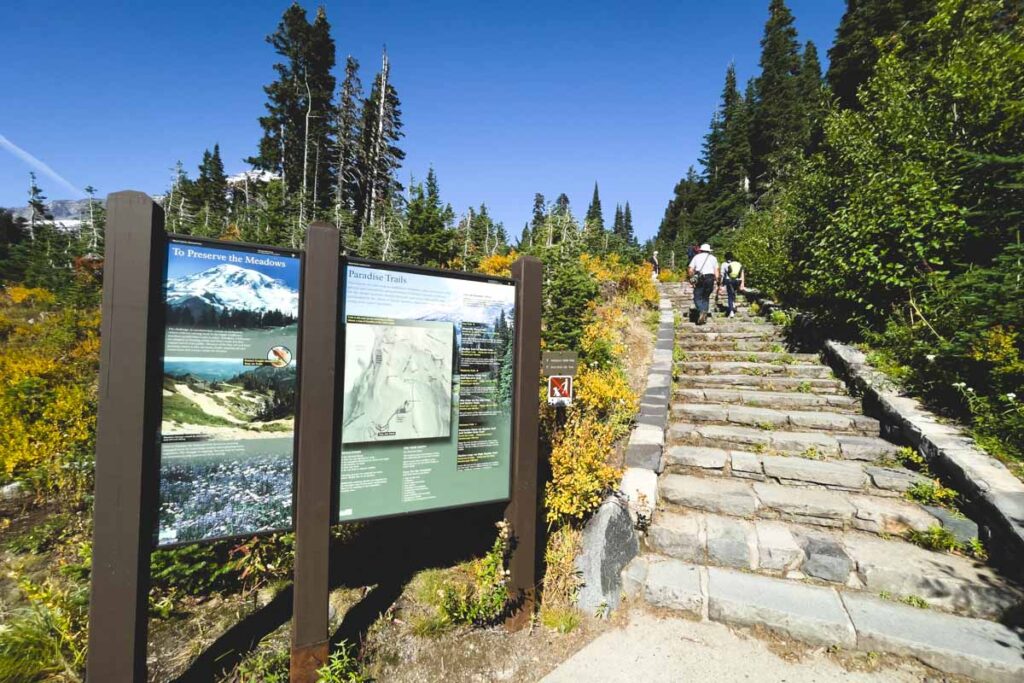 Although you can do the route in either direction, we really recommend going counterclockwise, as this means you will be in for a real treat right at the end.
After 0.8 miles of walking through flower-filled meadows (if you hike at the right time) you'll reach THE viewpoint. From here, you can take in the valley reaching out in front of you, as well as an impressive glacier.
11. Narada Falls Trail
Distance: 2.4 miles
Type of Trail: Out & Back
Difficulty: Moderate
With so much rain in the area (good luck avoiding it!), it is hardly surprising that Mount Rainier National Park boasts waterfall after waterfall. What is great about Narada Falls is that it is both impressive and accessible, which is a great combination.
You will be walking steadily downhill from the get-go, so make sure you are wearing some sturdy footwear. For some of the way, there is a railing to help keep you steady, but this soon disappears, and you are on your own.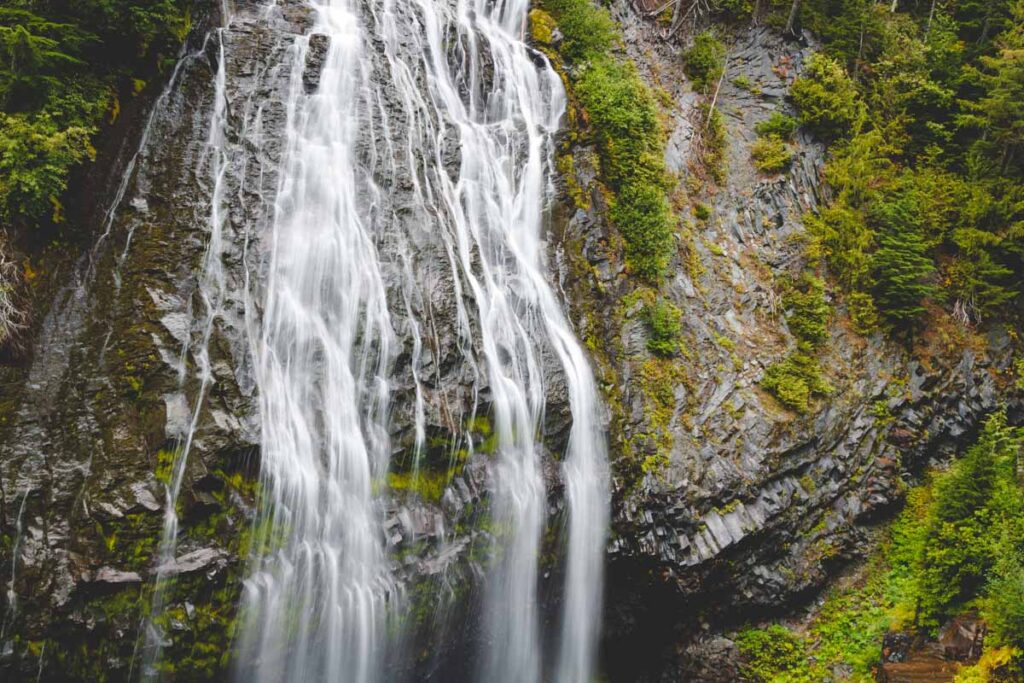 It won't be too long before you can see the viewpoint, giving you prime positioning to see the nearly verticle 168 feet drop of the waterfall. The trail then continues, connecting with the Wonderland Trail with options for further hiking adventures, or you can return to the parking lot.
If you want to shorten the walk, make use of the parking lot nearby. This is how many people choose to see the falls, as you can just walk to the stone wall that overlooks the top of the falls. We recommend taking the whole hike for the full experience, and even better views of this impressive waterfall. Lastly, the hike might come in handy as the parking lot close to the falls gets full quickly.
---
RELATED: 21 Epic Waterfalls in Washington
---
12. Dege Peak Trail (The Most Underrated Mount Rainier Hike)
Distance: 3.1 miles
Type of Trail: Out & Back
Difficulty: Moderate
Start the hike by heading up to Sourdough Ridge and begin the climb up to Dege Peak. You'll follow the trail for about 1.2 miles, and will need to take a right to follow the Dege Peak Trail.
The trail is pretty easy to follow, but it is quite a climb, with a moderate pace to the summit.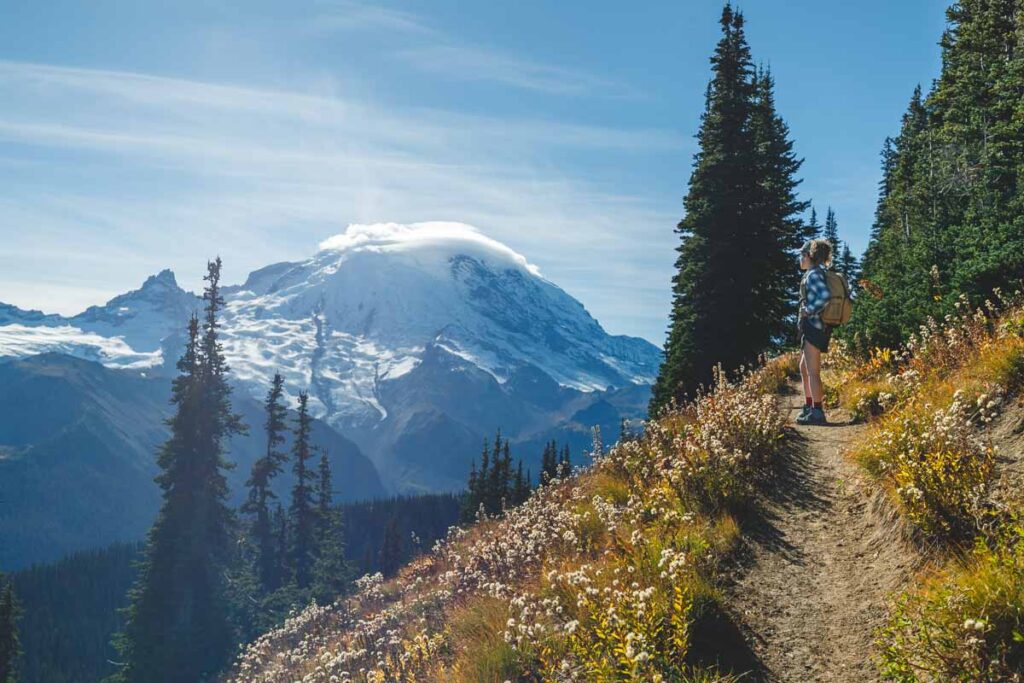 A perk of this Mount Rainier hike is that chances are, you will get all the views without the crowds. You will still be able to see Mount Rainier from a distance too.
This really puts the size of this towering rock tower into perspective, especially comparing it to the other surrounding mountains such as Mount Adams and Mount Stuart, although these are impressive in their own right.
13. Tolmie Peak Trail
Distance: 5.6 miles
Type of Trail: Out & Back
Difficulty: Moderate
The Tolmie Peak Trail will take you along a relatively strenuous path up to an old fire lookout tower, complete with crazy views of Mount Rainier, and the best bit? This is not a crowded trail (well, not in comparison to some of the others, like the Skyline Loop)!
You can gaze at the views from the prime vantage point and pose for a shot for as long as you like, without having to ignore a crowd of camera-clad tourists behind you.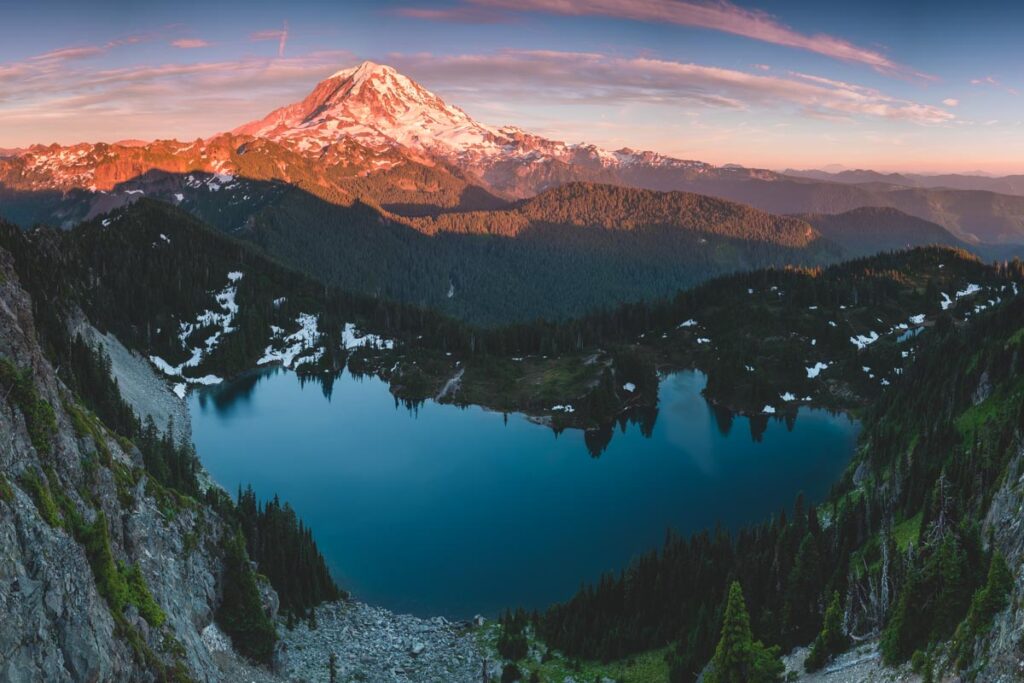 There are some scenic spots along the route, too, such as Mowich and Eunice Lake, flower-filled meadows, and mountain views all around. Some of the route is under the cover of trees, which can feel like a blessing if the sun decides to show itself.
The start of this Mount Rainier trail can be found at the end of the long and winding Mowuch Lake Road, be prepared for a bumpy ride of around 17 miles! When you arrive at the lake (the deepest in the park), follow the shore and begin on the Wonderland Trail before turning off at 1.5 miles to take the Tolmie Peak Trail.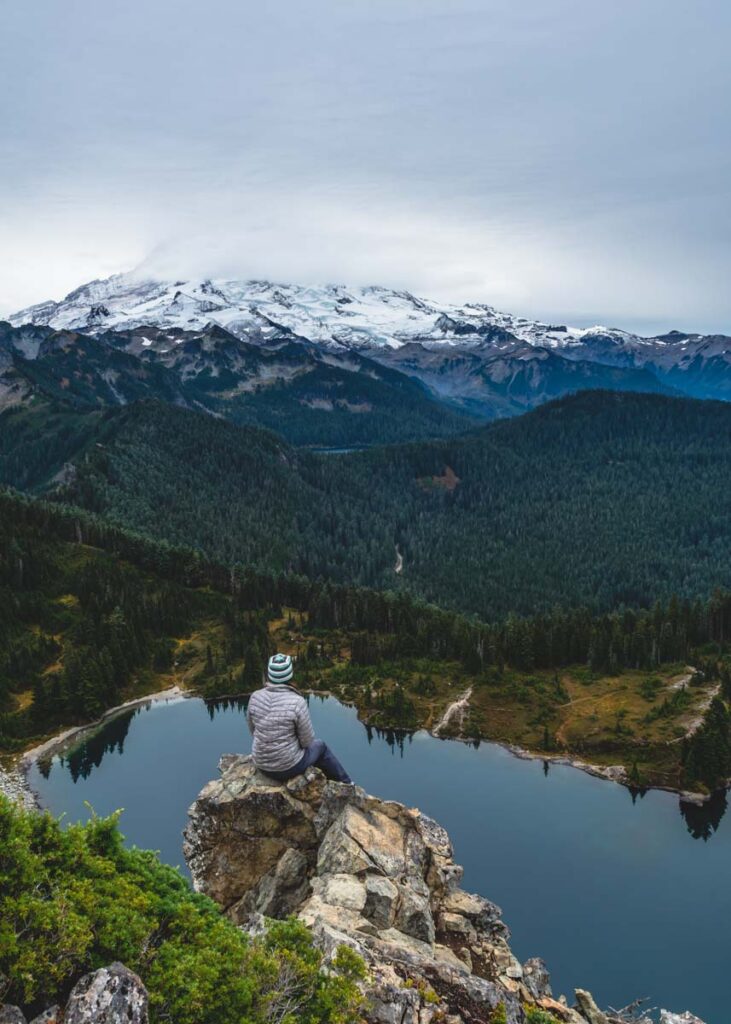 After some climbing, you should be able to see your first look at the lookout tower, you have just under a mile to go! After a short, meadowed flat section, do some lunges and be prepared to climb.
As you summit, you'll be greeted with one of the most breathtaking views of the park. Mount Rainier, as it often does, dominates the horizon, but make sure you give yourself time for the full 360.
---
RELATED: 19 Amazing Weekend Trips From Seattle (1-5 Hours Away!)
---
14. Pinnacle Peak Trail
Distance: 2.8 miles
Type of Trail: Out & Back
Difficulty: Moderate
Hike to the impressive Pinnacles Peak, one of the best Mount Rainier hikes in the park. Yes, it is a harsh climb, as you'll be climbing 5920 feet to the saddle, but it is hard to deny that the view makes it so worth the effort to get there.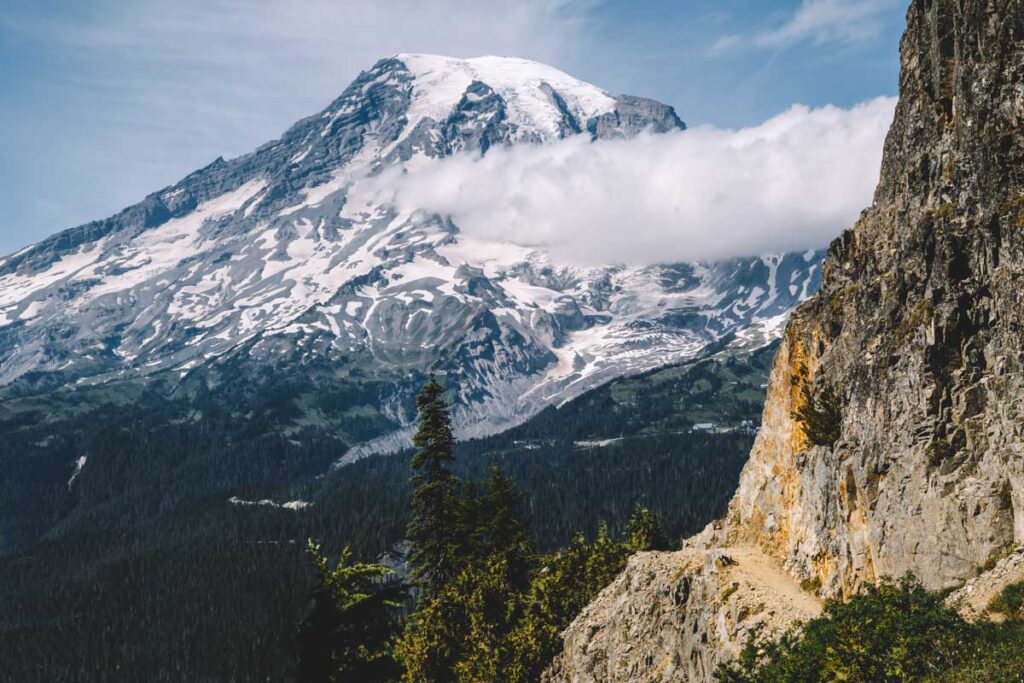 You'll start the hike at the trailhead near Reflection Lake, climbing through forests and admiring glimpses of views along the way. Don't stop for long, this is only a snapshot of what is to come. Keep climbing, and the trees will fall below you, helped along by a small switchback.
Once you have reached the Pinnacle, look north, where Mount Rainier rises impressively in front of you. To the south, Mount Adams and Mount St, Helens dominate the view. You can even see Mount Hood sitting on the horizon all the way over in Oregon.
---
RELATED: 25 EPIC Hikes in Washington to Tackle
---
15. Glacier Basin Mount Rainier Trail
Distance: 7.8 miles
Type of Trail: Out & Back
Difficulty: Moderate
Don those hiking boots and head out along this rugged Mount Rainier Trail, following the tumbling river, with many smaller streams to cross along the way.
Sure the hike might be beautiful, with plenty of opportunities to witness Mount Rainier at its finest, but the real treat comes at the end when you reach Glacier Basin itself. When standing at the vast basin, you'll be surrounded by towering walls of rock and ice, with trickling streams of silver water running in rivulets down the rocks.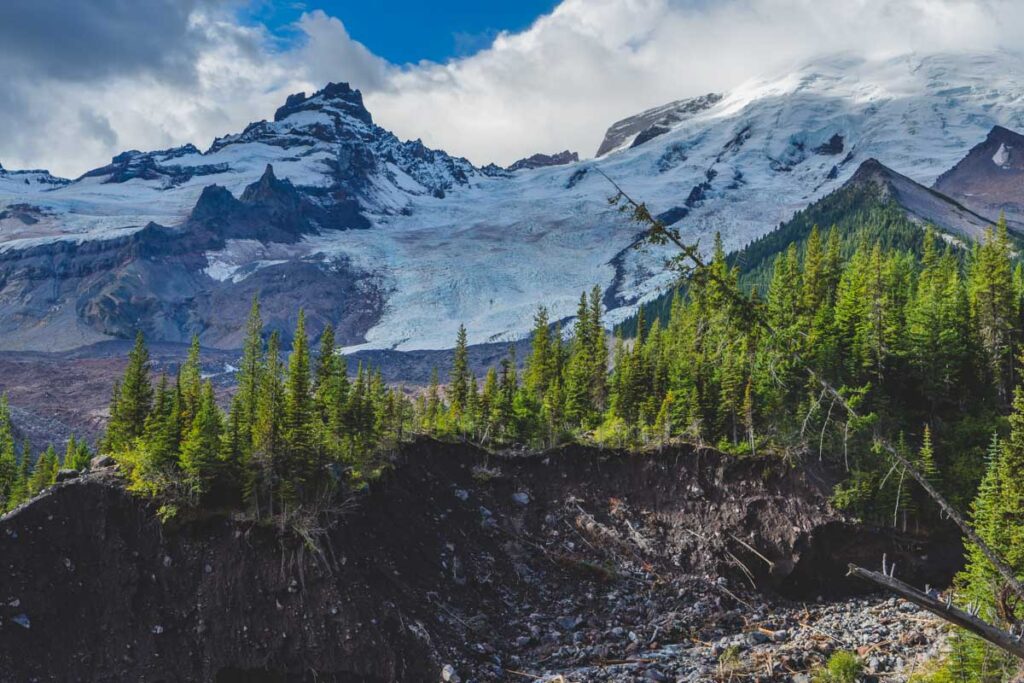 For some of the way, you'll be traversing an old mining trail, while at other times you'll be hitting the trail higher up above the water. At just under a mile, you have the chance to extend your hike a little with a detour, so you can go and see the mammoth Emmons Glacier up close.
Back on the main trail, you'll be surrounded by tiny waterfalls as the water falls down from the rocks above, and you'll have to cross streams via bridges on several occasions.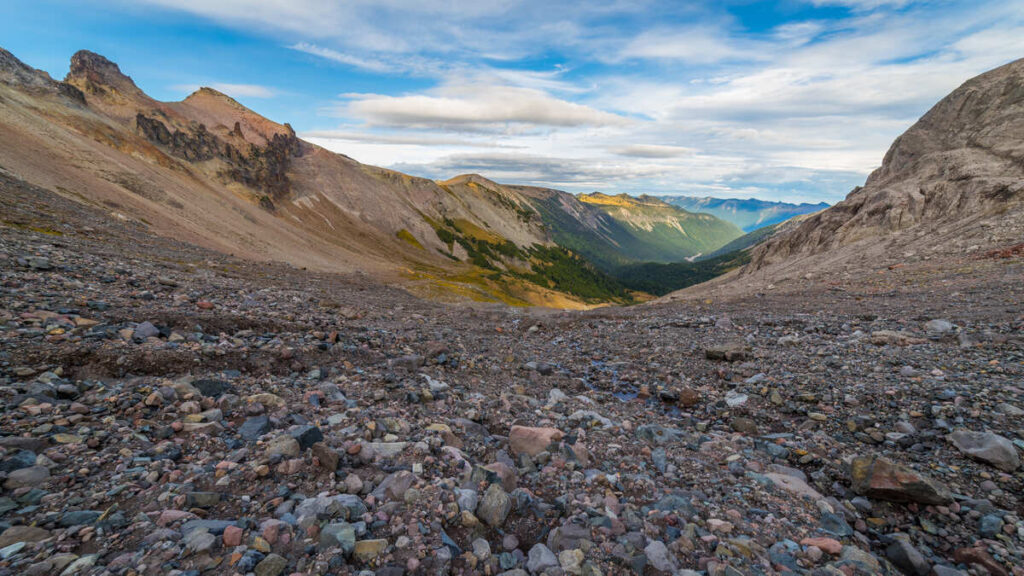 Keep your eyes peeled for evidence of the former miners who would have to work in these harsh conditions on a daily basis, or alternatively seek the signs of bears that can sometimes be seen in this area. This will take your mind off the fact that you will climb most of the way.
Once the trail officially comes to an end at the basin, spend some time exploring and enjoying the wild beauty and views all around you before heading back.
We hope this post helped you learn more about the best Mount Rainier hikes! Don't forget to check out more great hikes in Washington.
More Around Rainier National Park
I've been perpetually traveling and living around the world for years but it's hard to beat Washington and the PNW. After years of road-tripping the area, I guess you can say I know it pretty well! When I'm not writing guides for you, you can catch me somewhere petting a dog, attempting to surf, hiking a volcano, or stuffing my face with bread and cheese.