Sitting off the coastline just north of Seattle, Whidbey Island is a beautiful place to visit in Washington. With rugged terrain, tranquil vibes, cool state parks, and more, there are many things to do on Whidbey Island!
This article will look at the best of these activities to help you plan your trip.
Things To Do on Whidbey Island (And Nearby Fidalgo Island!)
---
Whidbey Island is accessible via taking I5 north and making a left onto State Road 20, which takes you to Fidalgo Island. Then, continue on State Road 20 south, crossing Deception Pass Bridge to reach Whidbey Island.
Alternatively, you can take I5 to Mukilteo and take the ferry over to the south bit of Whidbey Island. Everything in this post will focus on the best things to do on Whidbey Island and Fidalgo Island, most of which are towards the north.
So the first option that doesn't require a ferry would be best.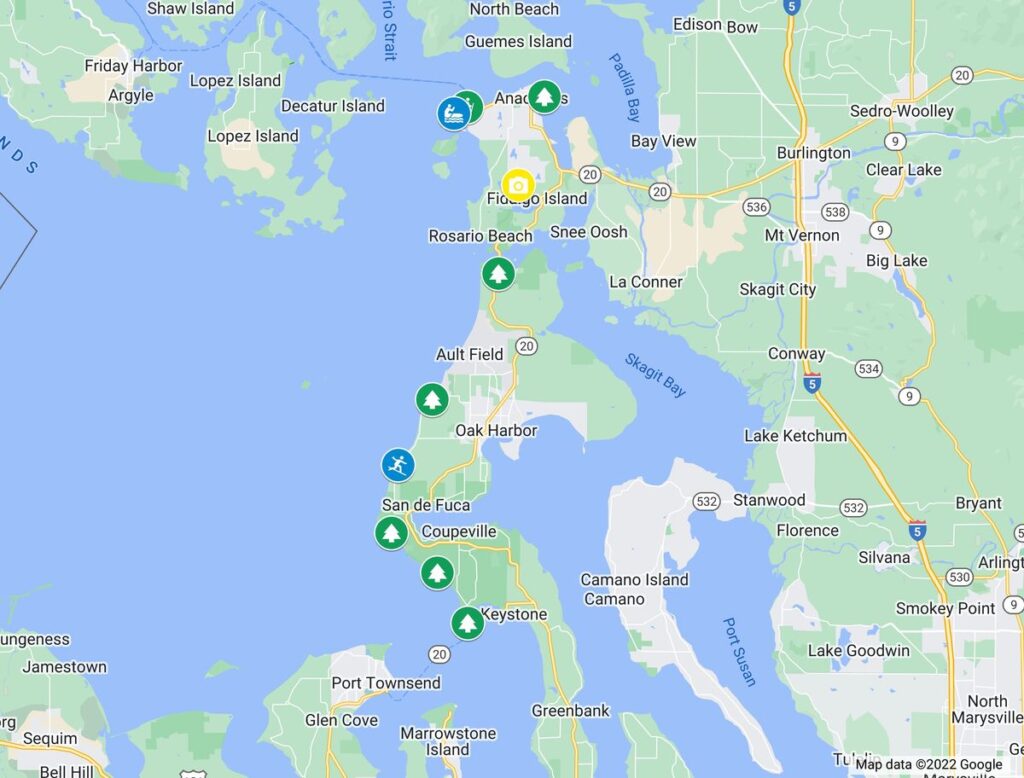 1. Fort Casey State Park
Spanning over 467 acres, Fort Casey State Park is a must-visit destination for anyone visiting Whidbey Island who loves adventure! There are a few short trails, including Admiralty Inlet Trail and the two-mile Fort Casey hike.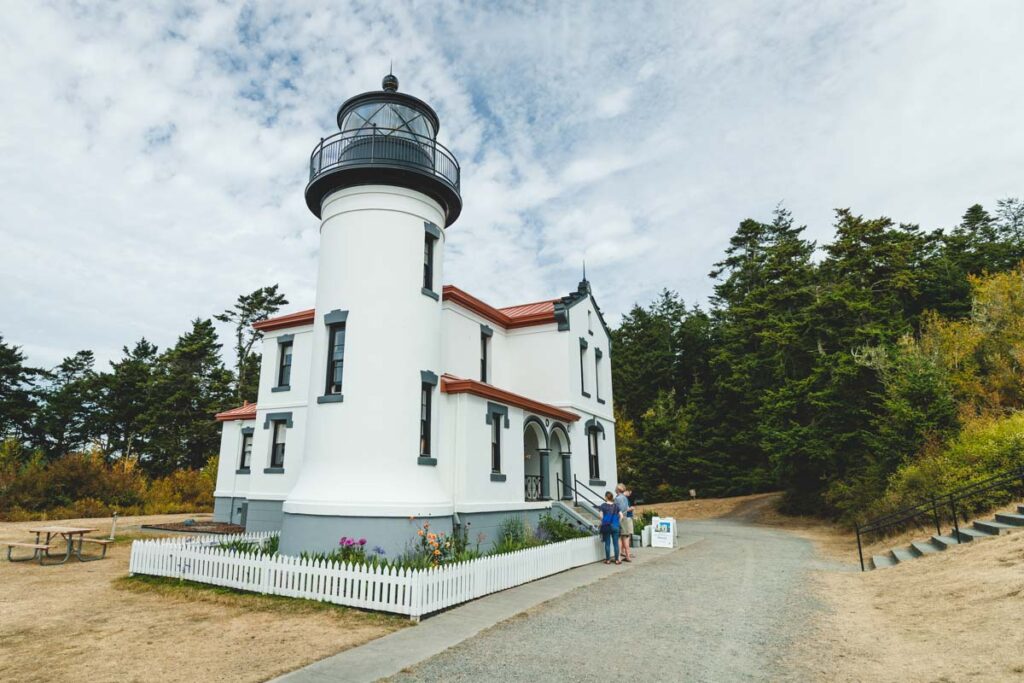 The fort dates back to the 19th century and was used as a defense and training facility until the 1940s. You can also walk along the beach to the lighthouse and enjoy epic sweeping views of the island!
---
READ MORE: Your Guide to Fort Casey State Park
---
2. Ebey's Landing
Ebey's Landing is a 554-acre area that's one of the most beautiful things to do on Whidbey Island. Enjoy the stunning scenery as you walk along the captivating coastal trail, see the coastal bluff and take in the area's wetlands.
From Ebey's Landing, you can see a vista of the Strait de Juan de Fuca, the Olympic Peninsula, Mount Rainier, and the Cascade Mountains.
Take in the coastal bluff trail, a loop hike of three miles. It's a fairly easy route, although it has some steep sections and can be sandy. You might spot seabirds, bald eagles, and hawks on this trail.
Look out to sea during spring and summer, and you might even see gray whales!
3. Fort Ebey State Park (One of the Best Things to do on Whidbey Island for a Dose of History)
Dating back to World War Two, Fort Ebey State Park sits on the western side of the national park and has a battery. It's popular with campers, and you can easily stay here for a multi-day stay!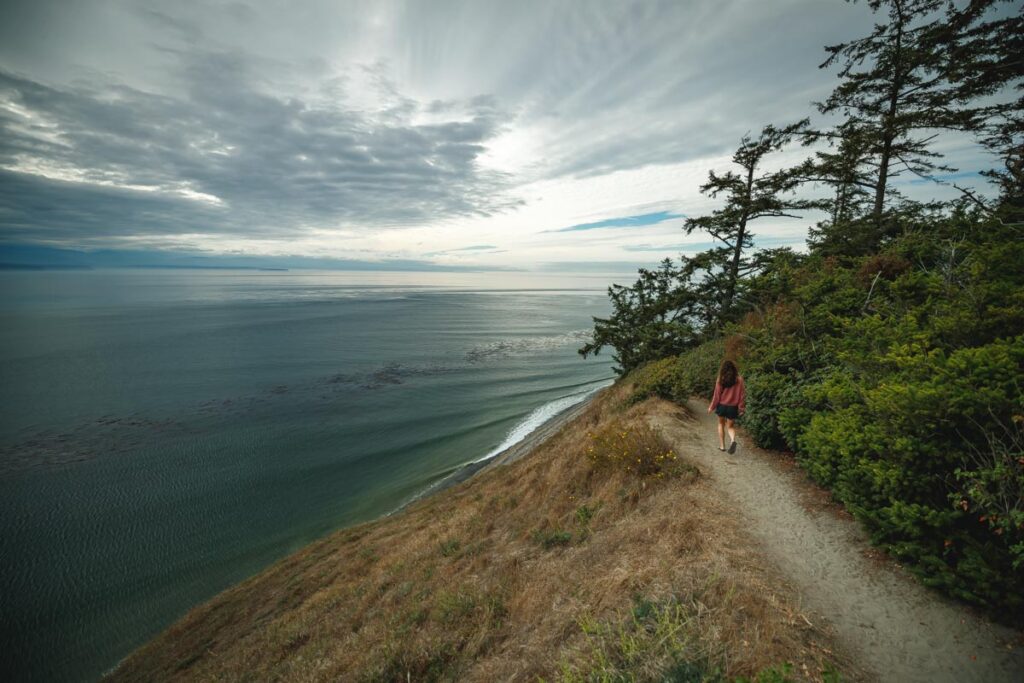 There are also a few things to enjoy in the state park itself. Fort Ebey dates back to 1942, and although it's not quite as historic as Fort Casey, it's still worth visiting on a day trip! You can even go paragliding in this area.
Lake Pondilla sits within the state park. You can go fishing here for smallmouth bass or stroll around the lake to enjoy the trees and waterside views. There are also surfers at the beach.
---
READ MORE: Exploring Fort Ebey State Park on Whidbey Island
---
4. Joseph Whidbey State Park
The Joseph Whidbey State Park is a park and trail system in the north of Whidbey Island. There's no camping in this park, and it's open in the summer month from April 1st to September 30th.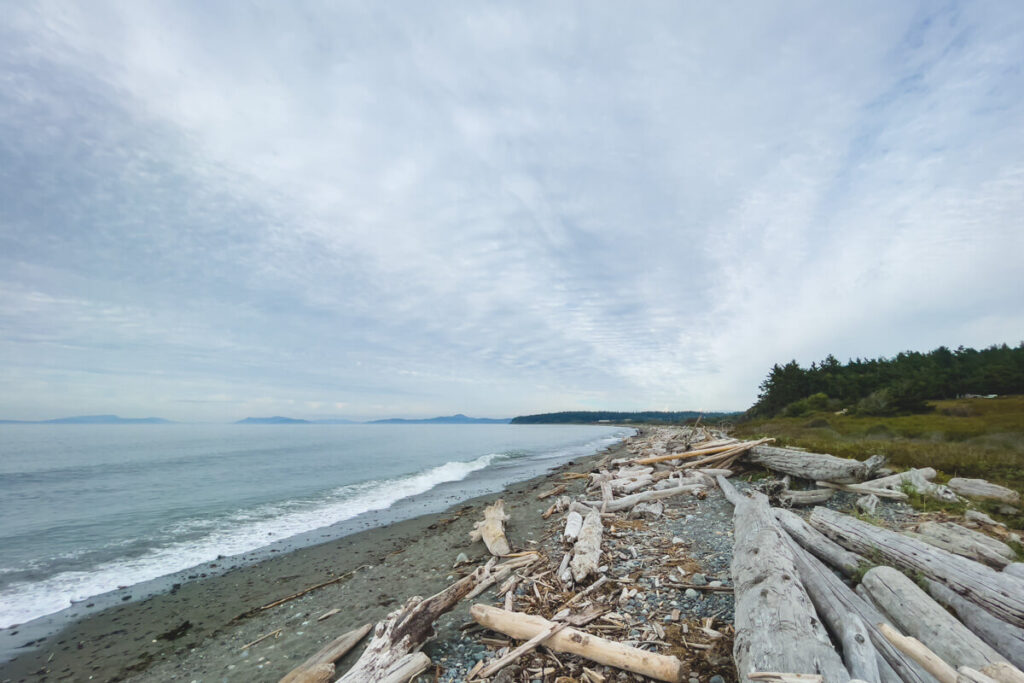 There's an extensive trail system here to enjoy the routes spanning the park's diverse terrain. Take the forest and meadow loop, which spans two miles through the park.
Or, try the beach walk, which is 1.5 miles in length with stunning views back to the Strait of Juan de Fuca. These trails are also super dog-friendly, so bring your four-legged friend along if you visit this state park!
5. Hastie Lake County Park
Another park to enjoy on Whidbey Island is Hastie Lake County Park. This is a fun place to go surfing and enjoy the beautiful beaches.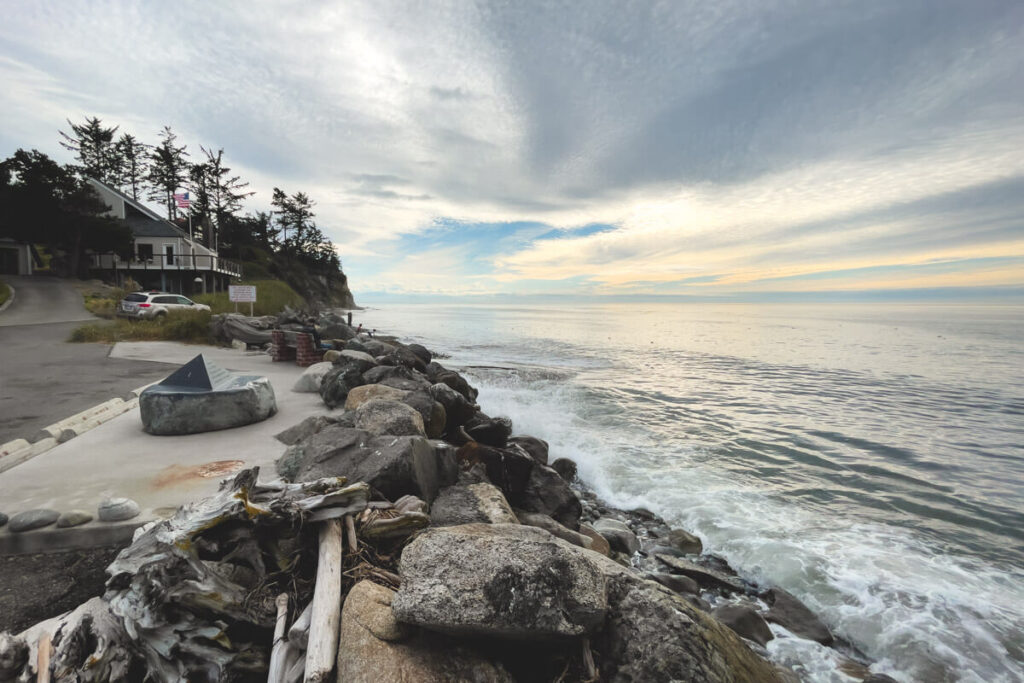 The beach is surrounded by beautiful cliffs and bluffs, making it one of the most extraordinary places to take to the water. There's also a boat ramp if you'd like to take to the waters in a boat.
6. Mount Erie
There's a mountain that you can summit to the top of in the Anacortes region! Mount Eerie stands at 1,273 feet high, and from the top, you can take in panoramic views of Whidbey Island and the rest of the region.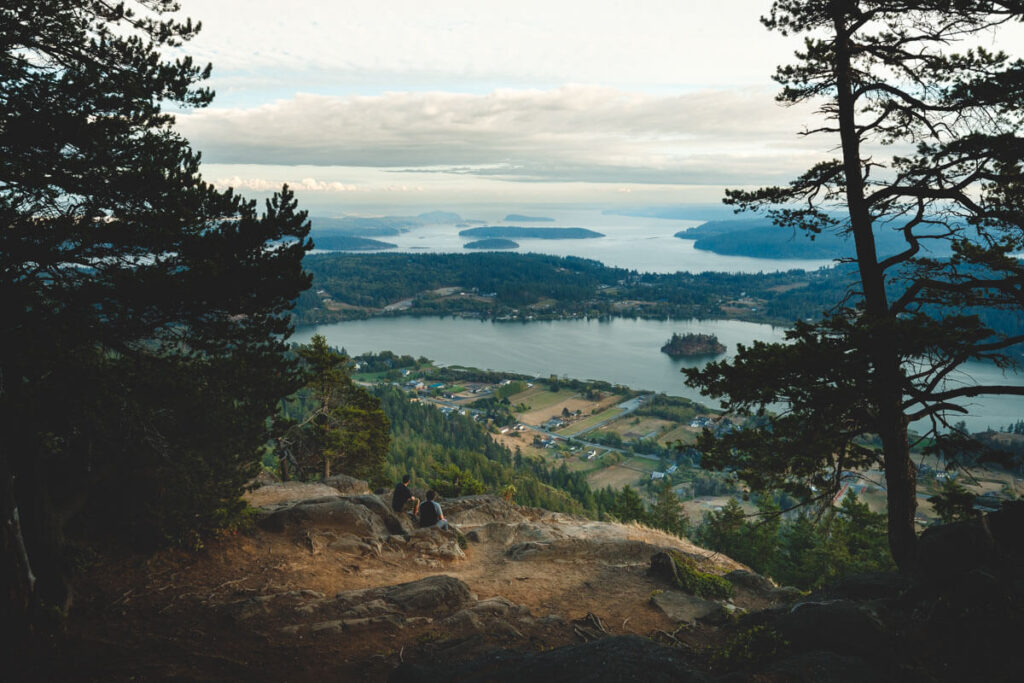 You can see Sugarloaf Mountain and other parts of the region from this vantage point.
It's best to drive up to the top, although the road isn't maintained in the winter, so you should take it at your own risk. Some people also bike up but it's steep and demanding.
It is also possible to hike up, but it's grueling and only recommended for anyone who wants a challenge.
7. Sunset Beach
This stretch of pebbled beach is popular with kayakers and walkers. It's also a great ending spot after traversing the Washington Park trail.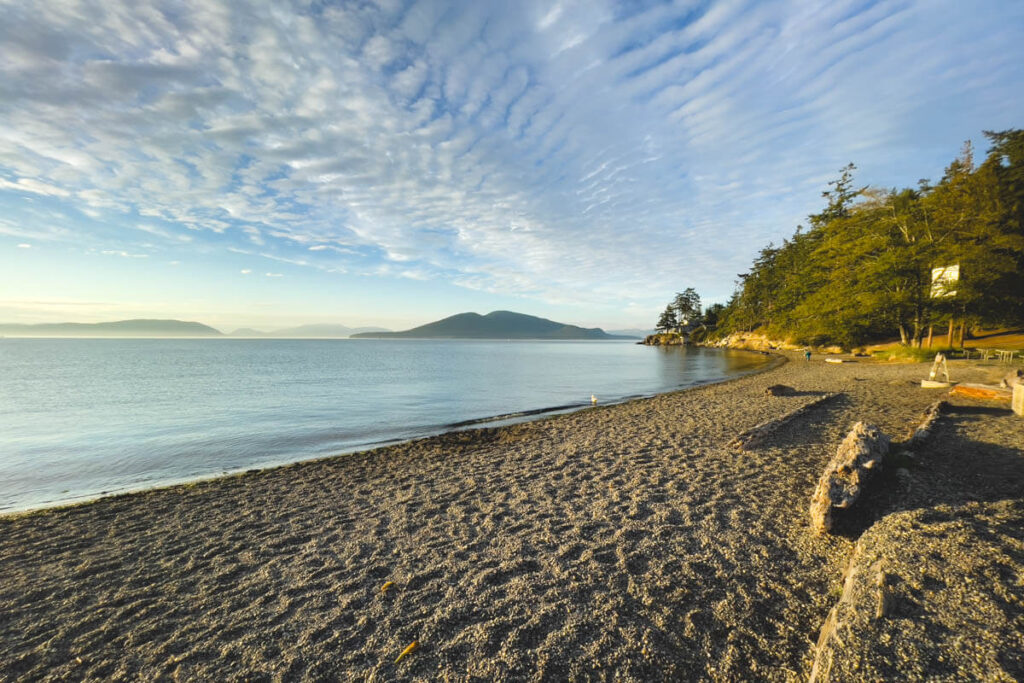 Plus, as the name suggests, it's an excellent place for watching the sunset! There are many picnic tables here, so you could grab a nice picnic dinner and enjoy it as you watch the sun go down.
---
RELATED: 19 Killer Beaches in Seattle, Washington for Adventure
---
8. Guemes Channel Trail
Distance: 3 miles
Type of Trail: Out & Back
Difficulty: Easy
Elevation Gain: 72 feet
Guemes Channel Trail is a paved route on the nearby Fidalgo Island that spans along the shoreline. It's near the ferry dock that connects it to the nearby islands and even BC, Canada.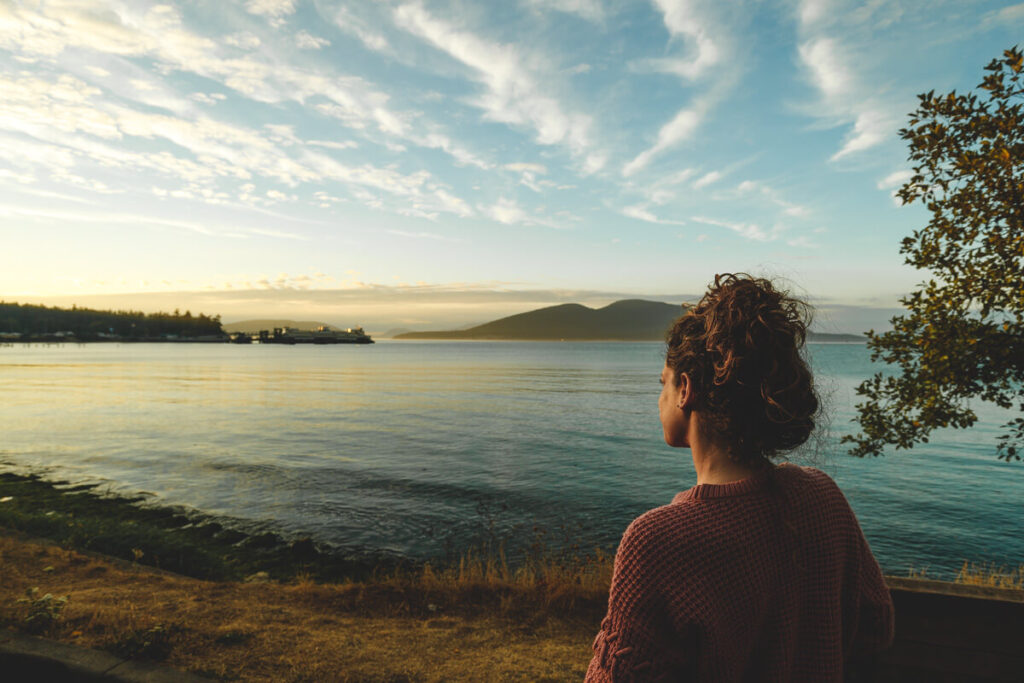 You can enjoy cycling or walking along the route and relish the beautiful sea views!
9. Cap Sante Park
Cap Sante Park is a forested headland that extends into Fidalgo Bay. There's an excellent lookout from the end of Cap Sante Park, easy to drive to. From this viewpoint, you can enjoy a gorgeous view of the marina.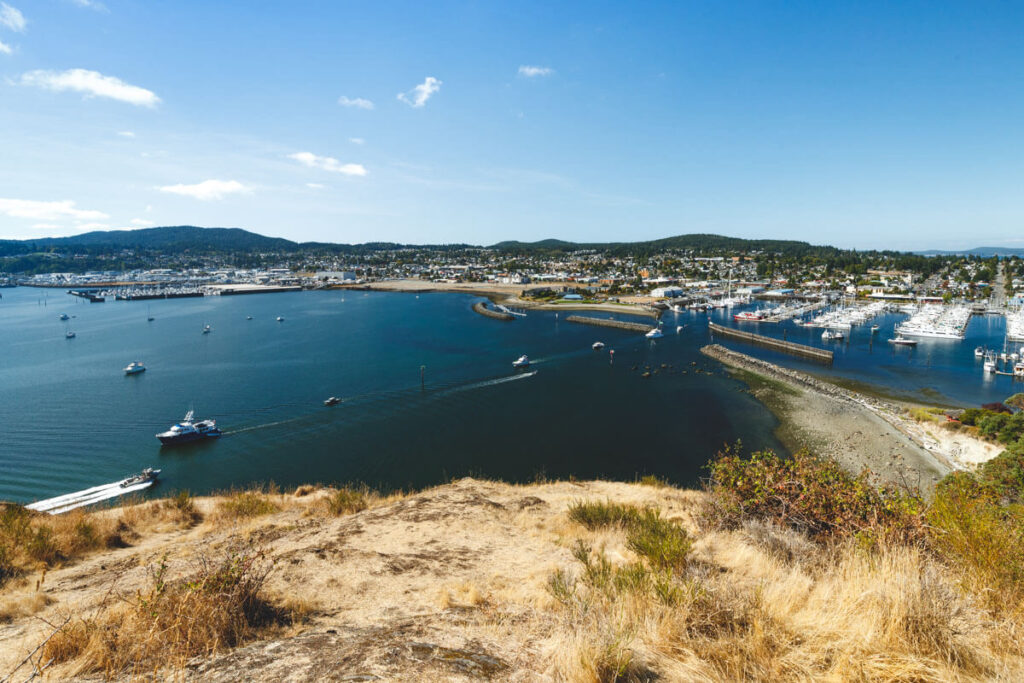 There is also a great trail, the Tommy Thomson Trail, a 5.4-mile route that starts near here and extends to Fidalgo Bay. It's a relatively easy hike that's virtually flat!
10. Deception Pass (Most Popular Thing to do on Whidbey Island!)
Deception Pass State Park is one of the most popular parks in Washington. Enjoy beautiful coves, dramatic cliffs, and a high bridge with sweeping views over the incredible scenery. It's a perfect place for hiking in forests and basking on beaches.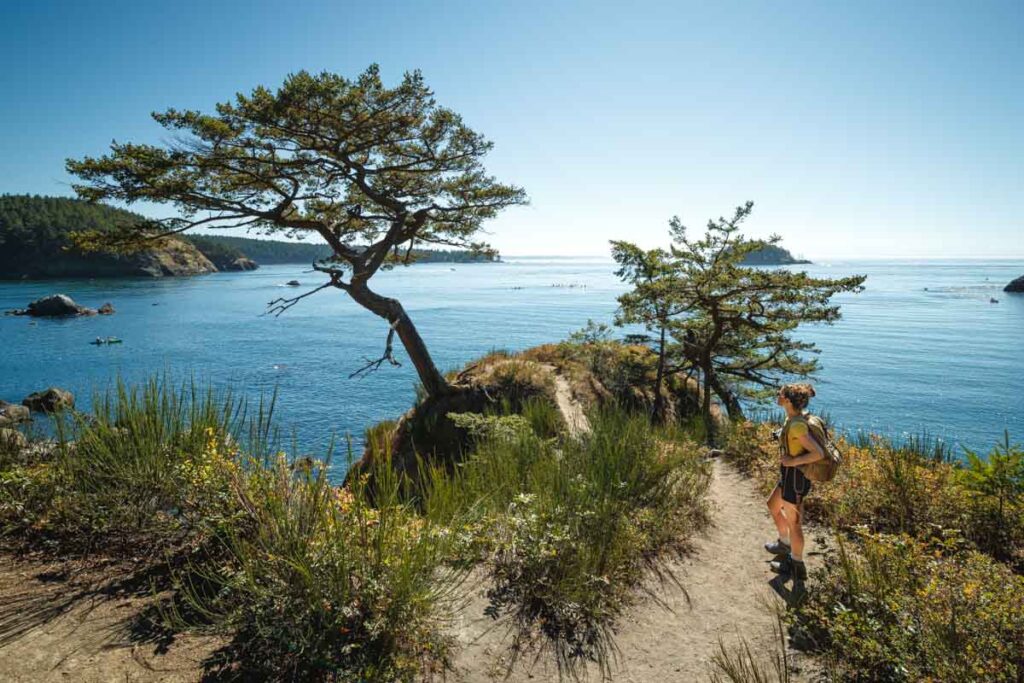 Its coastal location makes it perfect for fishing and swimming; enjoy beaches along Puget Sound, which stretches for miles. At the right time of year, you might even spot a whale!
Deception Pass has a camping park within its 77,000 acres, spread across Whidbey Island and Fidalgo Island.
If you only try one trail here, make it the Rosario Head Trail. This is a 1.5-mile out and back route, and it's an easy hike – it should take you just 40 minutes to do the entire path.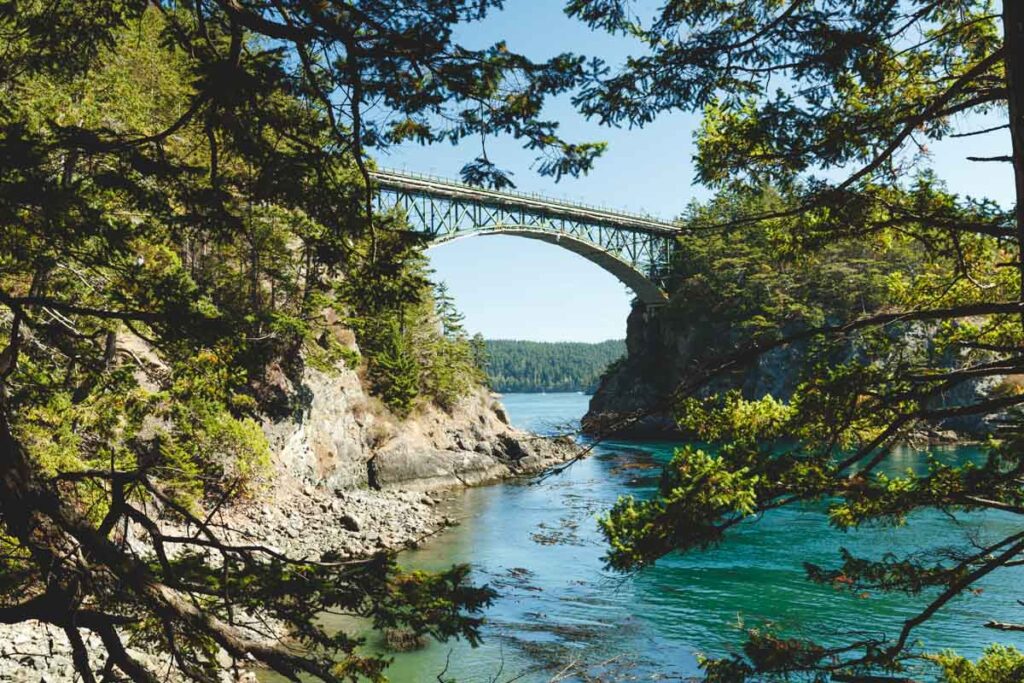 If you have more time, continue along Rosario Head Trail and visit Lottie and Lighthouse Point for a 4.7-mile loop packed with even more epic views of Washington's most popular state park!
---
READ MORE: Wandering Deception Pass State Park—The State's Most Famous Park!
---
Where to Stay on Whidbey Island and Fidalgo Island
Camping Options
Your two best options for camping are Quarry Pond or Cranberry Lake campsites, both located in Deception Pass State Park. Cranberry Lake is the larger and features 147 tent sites and 83 partial hookup sites. Quarry Pond has 7 tent sites and 49 partial hookup sites, and it's the only campsite here that's open in winter.
Fidalgo Bay RV Resort – Located on the waters of Fidalgo Bay, this spot offers both RV sites and private cabins. Full hookups are provided for RVs, which vary in length from 37ft to 69ft. There are cabins to suit 2, 4 or 6 people, and some are pet friendly!
Hotels and Rentals
Oak Harbor Hideaway – Stay in the center of it all at this spacious 3-bedroom house. It's just 5 minutes from Deception Pass State Park and within easy reach of Oak Harbor restaurants. Enjoy the private garden with a large deck and grill.
Charisma Cove – Wake up to views of Penn Cove each day at this traditional 2-bedroom cottage. It's a pet-friendly home; your dog will love the full garden and private beach access. You're less than a mile from Fort Ebey State Park and close to Ebey's Landing.
Ship Harbor Inn – For exploring Fidalgo Island, you can't go past this charming hotel. Located overlooking the harbor, it offers water views from all rooms, some of which have balconies. There's also a delicious breakfast included in your room rate.
There are many incredible things to do on Washington's Whidbey Island, from hiking to swimming! Plus, it's so close to Seattle, so it's easy to get there on a short trip. Whatever your interests, you'll love Whidbey Island!
We hope this post helped you discover all the best things to do on Whidbey Island! Before you go, don't forget to check out other great adventures around Seattle.
I'm an Oregon native but neighborly and equally as enchanted by Washington. I tackle expeditions around the world and love a good beer at the end of the day. PNW obsessed, VW nerd, and surf or snow riding fanatic.