If you are wondering where to stay in Olympic National Park, we have you covered!
This stunning Washington National Park boasts an impressive array of hikes, beaches, and dense forests. It's a popular place to visit with locals and tourists alike – but it's a vast park, and if it's your first time in the area, it's easy to feel overwhelmed about where is the best place to stay.
Don't worry – we've put together this complete guide on where to stay near Olympic National Park to help you make accommodation decisions!
Here's all the information you need about the best hotels, rentals, and campgrounds in or near Olympic National Park PLUS why you'd want to stay in each area.
Where to Stay in Olympic National Park: The Areas
---
Situated on Washington's only peninsula, Olympic National Park is a World Heritage Site and International Biosphere Reserve, located about a two-hour drive from Seattle.
This makes it the perfect place to escape the city for the weekend; it feels like you're in another world exploring the natural landscapes, but it's easily accessible from Seattle and even Seattle – Tacoma International Airport.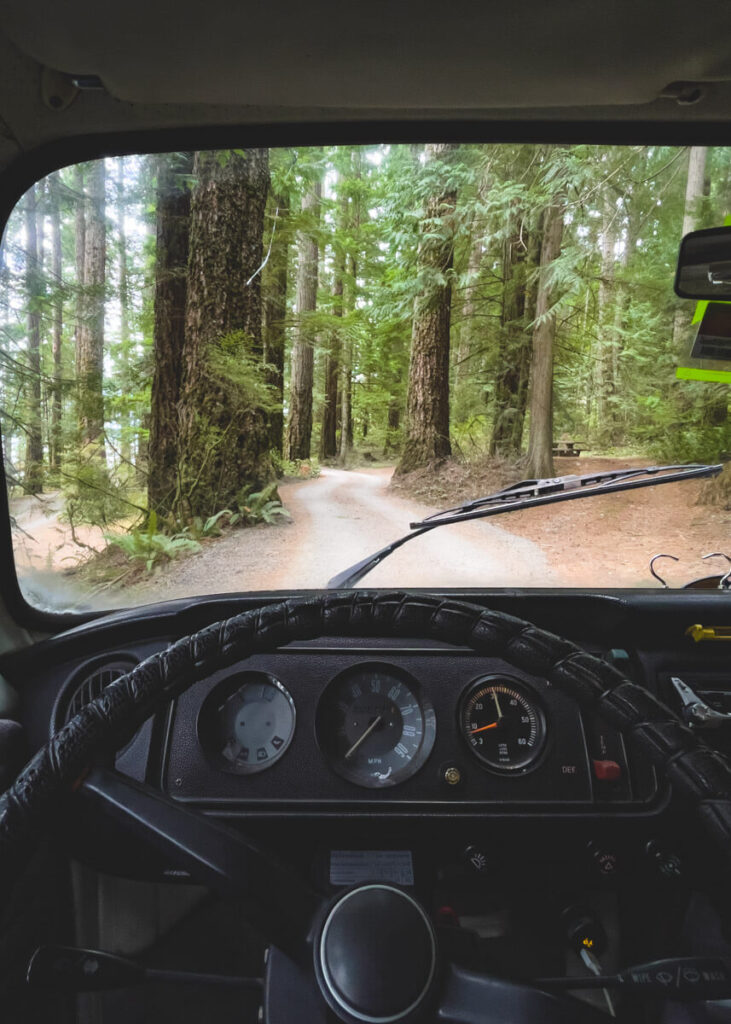 So, if you're interested in beautiful nature, this area of Washington is an absolute must-visit! There are also stunning beaches, tranquil lakes, impenetrable forests, and mile after mile of glorious hikes.
One of the best things about Olympic National Park is the accommodation options available in the national park and surrounding area. Whether you want to stay in a hotel with breathtaking views or camp right in the heart of the park, just a stone's throw from glorious beaches and waterfalls, we've put together the best places to stay in Olympic National Park in this article!
This map outlines how we've split up the massive park and area. Find out which area (or areas) you want to explore! We have tons of guides to Olympic National Park here to help you decide. This post will go clockwise from Quinault Lake to Lake Cushman and the two cities, Forks and Port Angeles, will be last.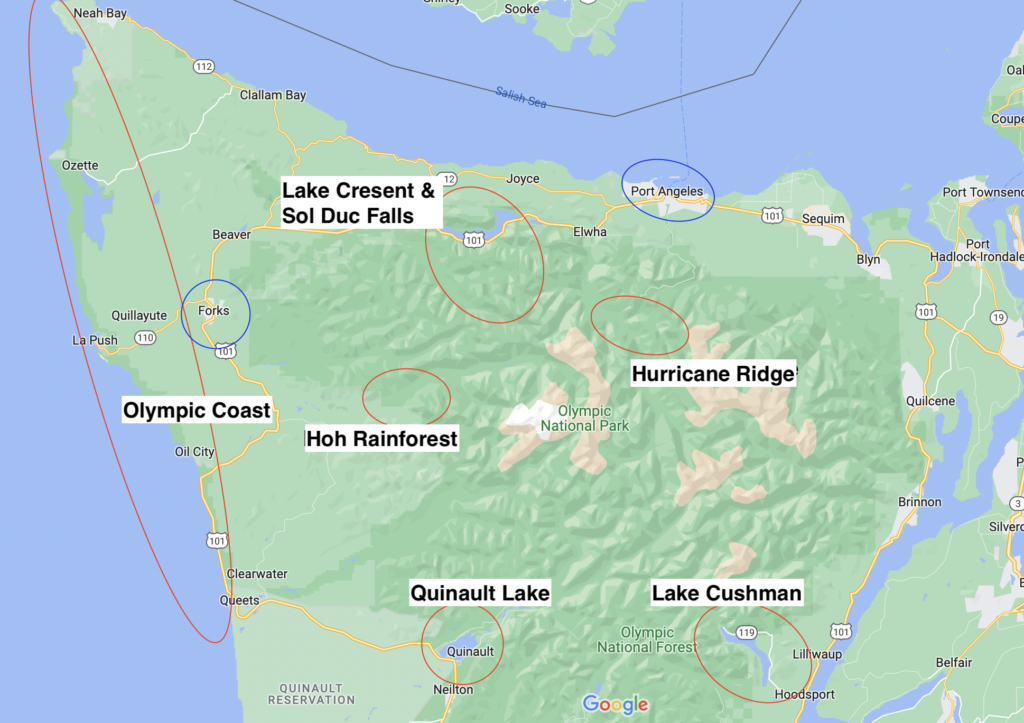 Where to Stay in Olympic National Park: Quinault Lake Area
Quinault Lake is located in Quinalt Valley, which was carved by a glacier. This is a gorgeous place to stay in Olympic National Park. Despite its lush rainforest and scenic waters, it's often forgotten about when compared to other Olympic National Park destinations.
Here, you can enjoy hikes through the rainforest and a scenic loop drive around the main attractions or use it as a gateway to exploring some of Olympic National Park's most spectacular sights.
Places to Stay at Quinault Lake
Secluded Lake Front Cabin – This four-bed cabin has two add-on studios, sleeps up to eight people, and has gorgeous views over the beautifully blue lakefront. There's also a hot tub and grounds spanning over acres, with lots of wildlife on your doorstep.
Camping at Quinault Lake
Graves Creek Campground – Nestled in the Quinault Rainforest, this campground has 30 pitches, although these can fill up in peak season! There's no potable water here, so a water purification system is essential.
Mountain Rainforest Camp Site – This spot is undoubtedly one of the best places to stay near Olympic National Park, a tranquil property along the Quinault River. Tent and RV campsites are on offer, with picnic tables, trash bins, potable water, and picnic tables. Get $10 credit.
---
RELATED: Exploring Lake Quinault—Hiking, Biking, Paddling, and Camping!
---
Where to Stay in Olympic National Park: Olympic Coast Area
As the name suggests, this area basks on Washington's Pacific Coast, with sandy and pebbly beaches, massive rocky outcrops, and dramatic cliffsides.
Choosing to stay right by the sea means you can begin your day in the most relaxing ways; stepping outside and breathing in the sea air or taking a gentle stroll down the sands.
This area is arguably the most popular, so while we recommend finding a spot to stay anywhere in Olympic National Park, you definitely want to reserve along the coast sooner rather than later if you can!
Places to Stay in Olympic Coast Area
Blue Spruce Meadow – this quiet and comfortable house is near plenty of the Olympic Coast's best attractions – rivers, hiking trails, beaches, and more! It can accommodate up to three people.
Cozy Timber Cabin – This spacious cabin is ideal for couples, with rustic wood interiors, boasting a living room, patio, kitchen, and sleeping area.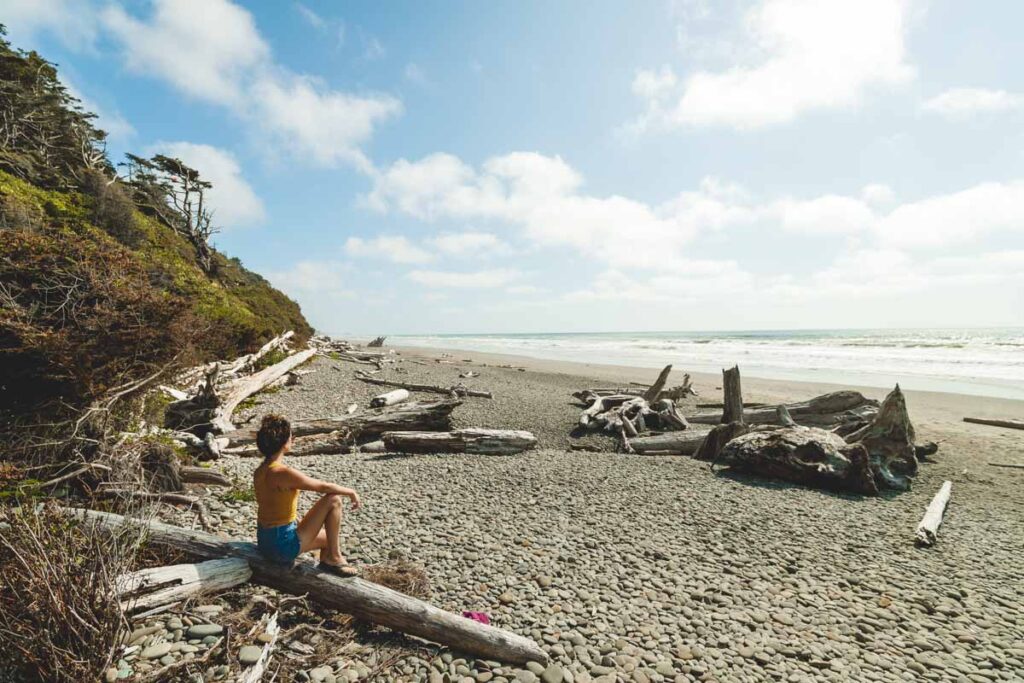 Camping in Olympic Coast Area
Kalaloch Campground – With 175 campsites (four of which are wheelchair accessible!), this is one of the best places on the Olympic Coast. You can reserve these sites in advance, which is advisable as they book up in the summer!
Mora Campground – With 94 campsites, Mora campground is three miles from Rialto Beach. You can reserve your sites from June to mid-September or out of season; it's a first-come-first-served basis.
Ozette Campground – With sweeping views over Lake Ozette, the Ozette Campground is one of the best locations for camping in Olympic National Park. It has 15 sites, each with beautiful vistas of the lake. There are also cabin rentals available.
South Beach Campground – South Beach Campground is south of Kalaloch and has about 50 camping areas. It's open from Memorial Day to late September.
Riverside at Salmon Run – This small campsite is just two acres in size and has four pitches, perfect for a larger group or family. Get $10 credit.
Bogachiel State Park – Situated in the lush Hoh Rainforest, Bogachiel State Park stretches over 127 acres and sits on the bank of the Bogachiel River.
---
RELATED: 21 Amazing Places to Go Camping on The Washington Coast
---
Where to Stay in Olympic National Park: Camping in Hoh Area
The Hoh Area is characterized by its gorgeous rainforest, which is carpeted by a lush green covering of moss and deciduous plants. The appeal of visiting the Hoh Area is obvious; it's one of the most unique places to stay in the Olympic Park area and has a certain blissful solitude when you explore.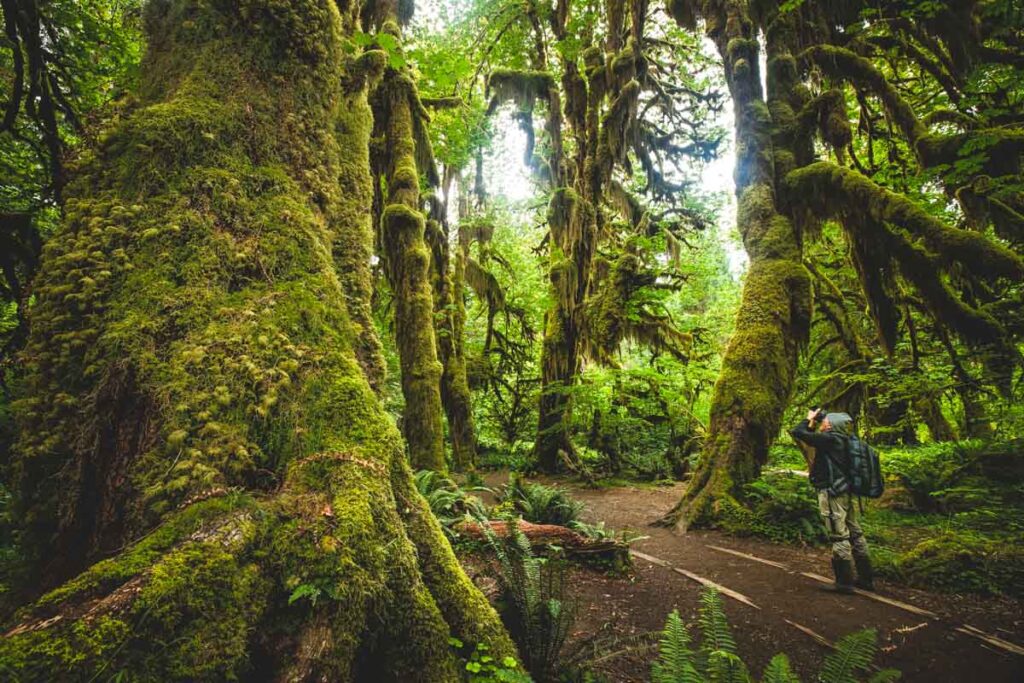 While there aren't too many places to stay in the Olympic National Park area of Hoh, there are a few campsites here that can help you feel that sense of peace throughout your stay.
Hoh Campground – Open year-round, Hoh Campground is located along the Hoh River. It has 72 campsites and, in terms of facilities, you'll find flush toilets and potable water.
Maple Creek Outfitter Campsites – This campground stretches over 130 acres and boasts six campsites in a gorgeous setting by the river. Get $10 credit.
Where to Stay in Olympic National Park: Lake Cresent
With a stunning background of evergreen trees tumbling down hills to the waterfront, Lake Crescent is one of the most postcard-perfect scenes in the area.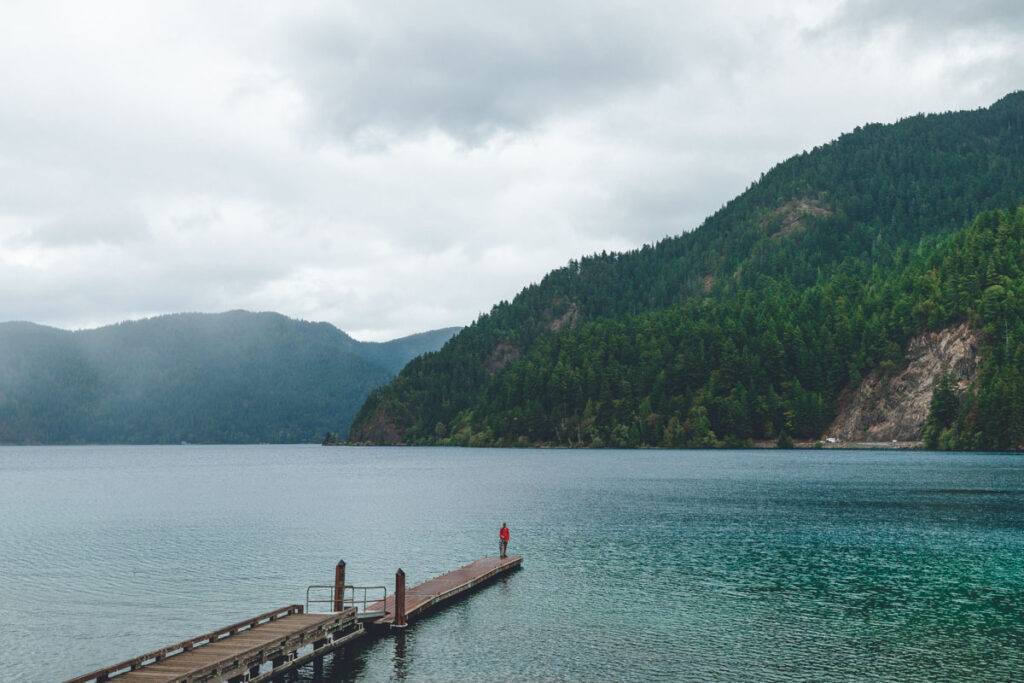 It's famous for its gorgeous crystal clear waters and is a hiking paradise for anyone who wants to take to the trails. Plus, there are plenty of watersports offerings to make use of! There are a few rentals, hotels, and campsites close to Lake Crescent.
Places to Stay at Lake Crescent & Sol Duc Falls Area
Emerald Valley Inn – The Emerald Valley Inn can be your home away from home, with comfy rooms and gorgeous suites. It offers beautiful views of the surrounding scenery and an excellent farm atmosphere.
Snug Harbor – situated right on the water at nearby Lake Sutherland, this cabin is a traditional 1960s-style home that sleeps up to four. You'll also have direct access to a boat launch.
Camping in Lake Cresent & Sol Duc Falls Area
Fairholme Campground – Fairholme Campground is spread over 88 sites, which can be booked in advance. There are also flush toilets and potable water available on these sites.
Log Cabin Resort RV & Campground – This campground features include hook-up RV sites, tent camping, and ADA tent sites.
Sol Duc Rainforest Retreat – If you love unique nature and wonder where to stay in Olympic National Park, look no further! This campground is located in the heart of the beautiful rainforest, on the site of an ex-homestead. With 9 acres of forest, there are two campsites here. Get $10 credit.
Sol Duc Hot Springs RV Park & Campground – This stunning campground has plenty of campsites, restrooms, a pool (extra charge), and access to the Sol Duc Hot Springs – the perfect place to relax after a busy day of exploring!
---
RELATED: Exploring Lake Crescent in Olympic National Park: Kayak, Hike, & Camp!
---
Where to Stay in Olympic National Park: Hurricane Ridge
Hurricane Ridge is most famous for its mountains. While there are plenty of mountain areas in Olympic National Park, Hurricane Ridge is the easiest to access!
When the weather is clear, you can enjoy some of the best views in Washington from various vantage points in Hurricane Ridge, and it's a great place to stay to be in easy access to some of the park's best hikes and attractions.
Places to Stay in The Hurricane Ridge Area
Sleeping Raven Woodland Retreat – This cozy cabin is nestled amongst the trees, giving the impression of an actual treehouse. It has three bedrooms and can sleep up to six people.
Ramblers Home – This country home is conveniently placed a short walk from Port Angeles – it's like being in the town, but also in nature! It can sleep up to six people.
Camping in Hurricane Ridge Area
Heart O' the Hills Campground – One of the larger campgrounds on this list, Heart O' the Hills, has 105 campsites, some of which are suitable for RVs.
---
READ MORE: Your Guide to Hurricane Ridge Trails & More in Olympic National Park
---
Where to Stay in Olympic National Park: Lake Cushman
If you want to feel like you're truly on summer vacation, stay at Lake Cushman. This gorgeous lake is perfect for swimming, watersports like SUP and kayaking, or just taking in the glorious views and incredible atmosphere. There are a few cabins and campgrounds close by.
Places to Stay in The Lake Cushman Area
The Doggy House – A pet-friendly home that's just one minute from the lake! Bring your furry friend and enjoy barbecues on the deck, nights around the fire pit, and access to Lake Cushman Private Park.
Lake Cushman Home – This modern, cabin-style home has gorgeous views over the water and can sleep up to six people, with two bedrooms, three bathrooms, a kitchen, a living room, and a deck.
Great Northern Cabin – This well-equipped cabin is 950 square feet and can accommodate six guests. The cabin also comes with complimentary use of their canoe, so you can get out and explore nature while you're here! Get $10 credit.
Camping in Lake Cushman Area
Staircase Campground – This campground has 47 sites and is located in some of the most beautiful Pacific North West Forest lands.
Towns Near Olympic National Park
If you don't fancy camping in Olympic National Park and would like to stay in an area with plenty of amenities but still within easy reach of the best natural attractions in the area, opt for hotels in towns like Port Angeles or Forks.
Port Angeles
With a population of just over 20,000 people, Port Angeles is a popular place to stay for those who want to be engulfed in the outdoors and wish to enjoy a few amenities!
The town is known for its proximity to outdoor attractions, but you can also take in water activities like stand-up paddleboarding, kayaking, and even surfing right from the town.
If you want to enjoy some more urban attractions, there are plenty of shops in Port Angeles, including boutique stores and antique shops. Alternatively, walk the Mural Trail around Port Angeles, which details the area's Native American culture and maritime heritage. There are also weekend art walks.
Despite Port Angeles' size, there are plenty of great restaurants to dine at in town, including brewpubs, pizzerias, and steakhouses. If you're sick of campfire food, there's so much to enjoy here!
Plus, its position at the entrance to the Olympic National Park makes it the perfect base for exploring this area of Washington.
Where to stay in Port Angeles:
---
READ MORE: 13 Things To Do in Port Angeles for Adventurous Souls
---
Forks
Forks is a tiny settlement with just over 3,000 residents, but it's a popular tourist town and one of the best places near Olympic National Park.
If you're a Twilight fan, you may want to stay here – it's the Forks from the popular books and films; it's rumored that the trees and somewhat gloomy weather inspired Stephenie Meyers.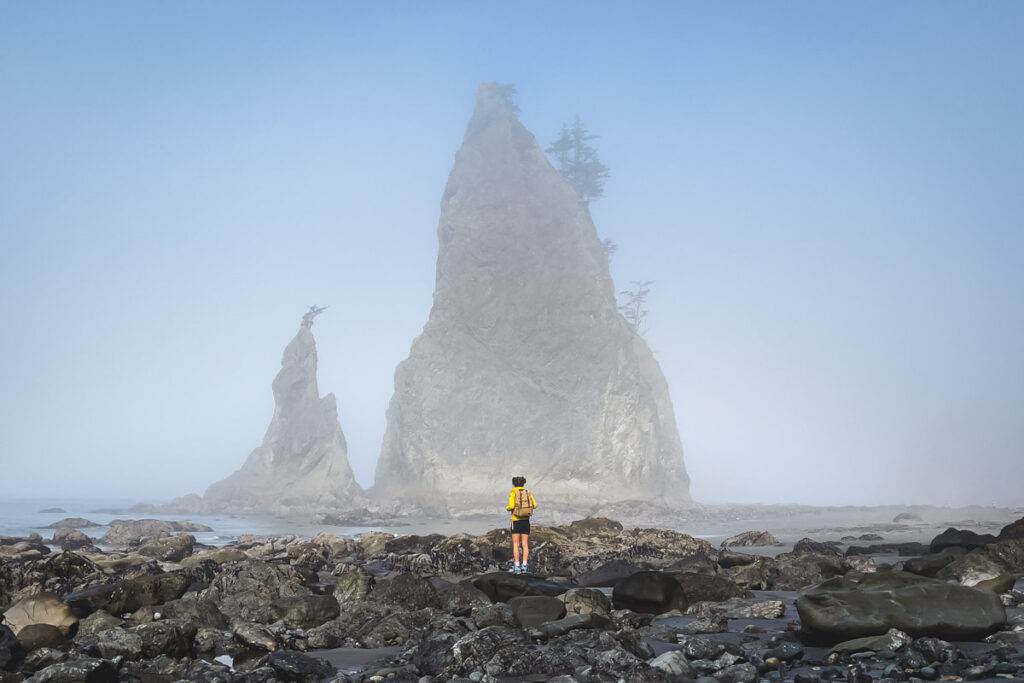 Twilight tourism aside, Forks is close to many of Olympic National Park's best attractions, including the Quillayute River, La Push Beach, Rialto Beach, and Sol Duc Falls.
There are also a few restaurants in the town, making it an excellent place to stay if you want to be close to amenities. Plus, there's a variety of accommodation options in Forks – see some examples below!
Where to stay in Forks:
Cozy Cabin on Sol Duc River – This cabin is right on the Sol Duc River, just five minutes north of the town. It sleeps up to four people and has a full kitchen, smart TV with Netflix and Amazon Prime, and a washer and dryer.
The Forks Motel – The Forks Motel has 73 guestrooms, an outdoor pool, free parking, and free wifi throughout the property. It's also close to the center of Forks, where there are plenty of restaurants, so it's ideal if you don't want a self-catered vacation.
---
RELATED: 10 Awesome Washington Coast Towns You've Got to Visit!
---
Regulations for Camping in Olympic National Park
There are a few essential things to consider when camping at NPS campgrounds. Here are some of the principal regulations:
Dogs are permitted in some campgrounds – check whether they're allowed in yours before visiting. They must be kept on a leash that's 6 feet long.
Feeding, hunting, or disturbing wildlife is prohibited in the campsites and the national parks.
You aren't allowed firearms.
Eight people are permitted per campsite.
Most campsites have a limit of 14 consecutive days and seven consecutive days in peak season.
Check-out time is usually 11:00 pm.
Quiet time at the campsite is usually 10:00 pm to 6:00 am.
Tips for Camping and Staying in Olympic National Park
There are some backcountry campsites, but you need a Wilderness Camping Permit to use them. 30% of permits are sold on a first-come, first-served same-day basis, but you can try to order some of the pre-sold 70% in advance.
Bear attacks are uncommon in Washington State, but 20,000 to 25,000 black bears are in the area. Ensure that you don't leave any scraps of food lying around the campground, as these can entice bears, and ensure that your entire group knows what to do if there is a bear attack. Bring bear spray just in case.
Choose your campground or accommodation wisely. If you must be close enough to Forks or Port Angeles to go for dinner in the evening, you might need to sacrifice on a dreamy lake or riverfront location. Likewise, if it's important to you to be in the heart of nature, make sure that you take all of the provisions you'll need before your Olympic National Park adventure!
This area of Washington is mega-popular and if you can get a reservation, do so. If not, as some places are first-come-first-serve, be sure to show up earlier rather than later to nab yourself a spot.
There's a lot to love and do in Olympic National Park. With gorgeous dense forest, some of Washington's best beaches, and more hiking trails than you could ever need, this is a tranquil and beautiful place to stay in, whether you're here on vacation or just doing a weekend trip from Seattle.
Hopefully, this guide has shown you some of the best hotels and camping in Olympic National Park!
More Around Olympic National Park
I've been perpetually traveling and living around the world for years but it's hard to beat Washington and the PNW. After years of road-tripping the area, I guess you can say I know it pretty well! When I'm not writing guides for you, you can catch me somewhere petting a dog, attempting to surf, hiking a volcano, or stuffing my face with bread and cheese.