Ocean Shores is an aptly named city situated along the scenic Washington coast. Ocean Shores is sure to please, known for its expansive beaches, freshwater canals, and an extensive collection of state parks.
While this hidden gem may be small, there are plenty of things to do in Ocean Shores for an afternoon or an entire weekend. Ocean Shores has a little something for everyone, from exciting activities like hiking and surfing to more reserved pastimes like bumming on the beach and birdwatching.
Continue reading to discover the seven best things to do in Ocean Shores.
Things To Do in Ocean Shores
---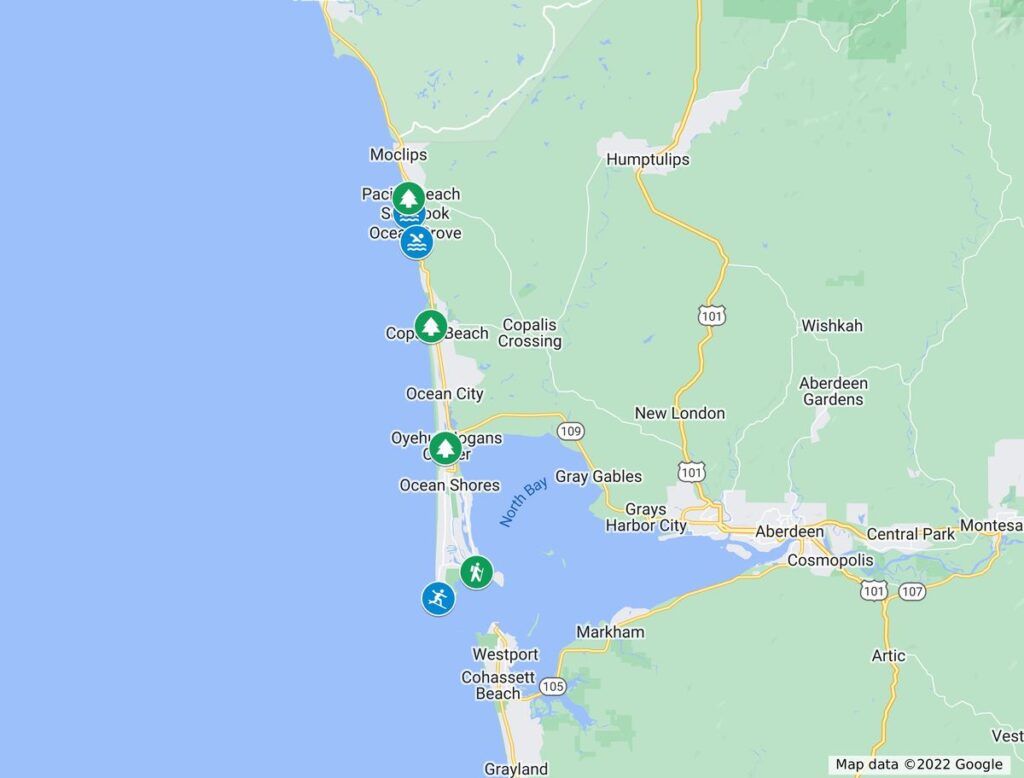 1. Hike Damon Point
Distance: 3.2 miles
Type of Trail: Loop
Difficulty: Easy
One of the best ways to get a real feel for Ocean Shores is by taking a stroll along the beach. The Damon Point State Park Trail may be the best place to do so.
Situated on the peninsula at the confluence of ocean and harbor currents, this waterfront trail is teeming with unique flora and fauna and some seriously stunning scenery to boot.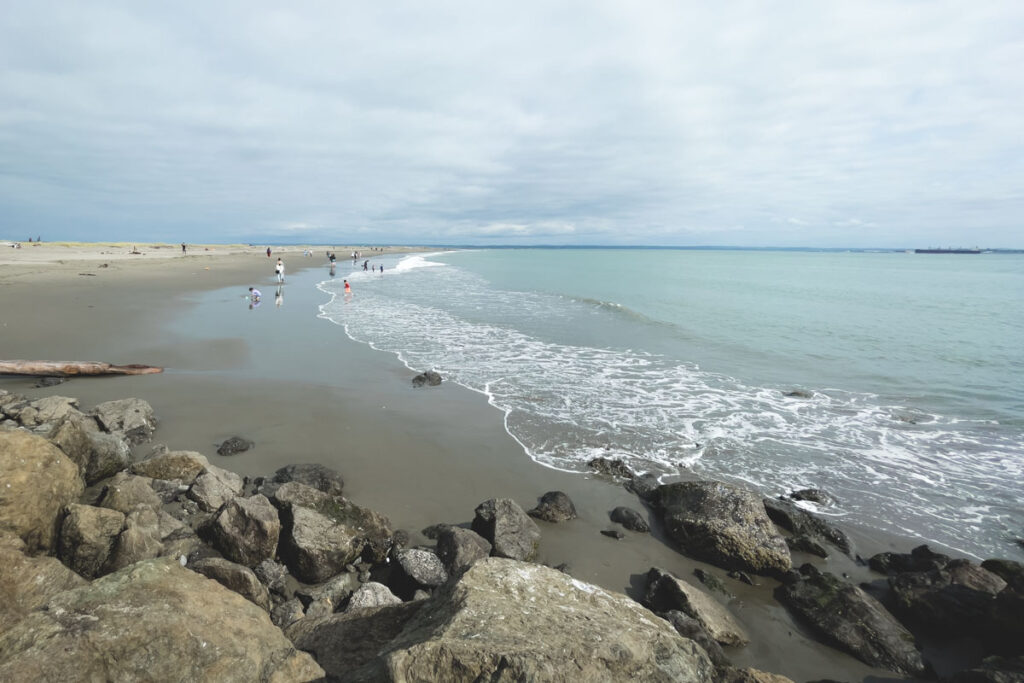 Much of the trail is more of a beach, with all the quintessential seaside characteristics, including sandy shores and crashing waves. Even some epic mountain views can be seen in the distance on clear days.
One of the best parts about this beachy stroll is that it is rarely crowded, especially in some of Ocean Shores' other sandy spots.
Keep your eyes peeled for washed-up driftwood, agates, and small crabs skittering across the sand as you walk. Birding enthusiasts will be pleased to learn that it's not uncommon to see various migrating birds along the trail, including blue herons, pelicans, loons, and more. You may even see a seal or two swimming along the coastline if you're lucky.
While the beachy loop is flat and easy with no elevation gain, the sand adds a layer of difficulty. So don't be surprised if you work up a sweat on your trek!
---
RELATED: 10 Awesome Washington Coast Towns You've Got to Visit!
---
2. Catch Some Waves
Those who are on the hunt for things to do in Ocean Shores that will get the adrenaline pumping should consider spending the day surfing.
Whether you're a seasoned pro or brand new to surfing, Ocean Shores has you covered. With over six miles of shoreline open to the public, you'll have no problem finding a spot to shred some waves.
The North Jetty is the clear favorite in Ocean Shores, and surfers, both local and foreign, flock to this wavy spot. Most rideable waves here measure between 50-150 meters. However, if there is good wind from the east, swells can reach up to 300 meters.
The best time for catching waves is between low and mid-tide, so check the tide table before heading out. Although this is one of the most popular spots for surfing in Ocean Shores, there are a few things you should look out for.
Driftwood and rip currents are not uncommon, so be aware of your surroundings and surf with a buddy. You may even spot a few seals swimming nearby if you're lucky!
Another excellent spot for surfing in Ocean Shores is Damon Point. This area is lesser known than the North Jetty but has grown in popularity in recent years. This is likely due to the large swells and reliable year-round waves. During storm surges, waves can reach over five feet!
Another great reason to pick Damon Point for surfing is that you won't have to paddle out too far, as the breaks occur relatively close to the shoreline.
3. Explore Ocean City State Park
Pass: Discover Pass
Ocean City State Park beckons nature lovers from near and far. This 257-acre park boasts beaches, dunes, hiking trails, and thickets of towering shore pine.
Beach days at Ocean City State Park afford visitors all the classic activities like kite flying, sandcastle building, sun tanning, and some unique activities like digging for razor clams (permit required), dog sledding, and dune exploration.
The park is also home to Duck Lake, a popular freshwater fishing hole that offers boat launch facilities. Other popular park activities include bird and wildlife watching, horseback riding, and winter storm watching.
It's also a great place to watch one of Ocean Shores' colorful sunsets, and if you'd like to stick around after dark, the park offers hundreds of campsites for tents and RVs.
4. Discover Griffiths-Priday State Park & Copalis Beach
Pass: Discover Pass
Nestled between freshwater and saltwater in the nearby town of Copalis Beach, Griffiths-Priday State Park is the perfect place to reconnect with nature during your city break in Ocean Shores.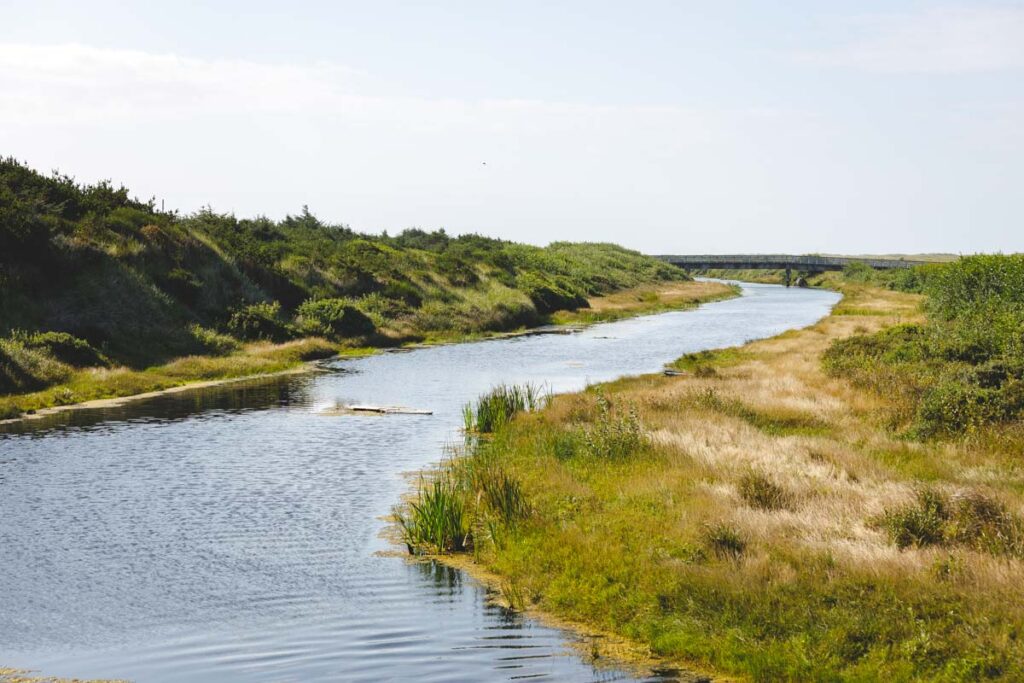 The freshwater part sits at the eastern edge of the park and comprises Connor Creek and the Copalis River. The Pacific Ocean constitutes the park's saltwater aspect and sits on the park's western edge.
Griffiths-Priday State Park offers visitors a nice nature trail, beach access, and fishing opportunities. The park is equipped with a decent-sized parking lot, but you will need a Discover Pass to use it. To avoid the fee, park across the street from the park on the side of the road and walk in.
If your tummy is rumbling while you're here, like ours were, head to the Green Lanter Pub for a MASSIVE breakfast. We were literally fueled for the rest of the day exploring Ocean Shores!
5. Check Out Roosevelt Beach Access
Backed by beautiful orange-hued cliffs, Roosevelt Beach (also known as Mocrocks Beach) is a must-see in Ocean Shores. This quintessential Pacific Northwestern beach boasts miles of sandy shoreline, towering trees, and choppy surf that is great for splashing around on hot summer days.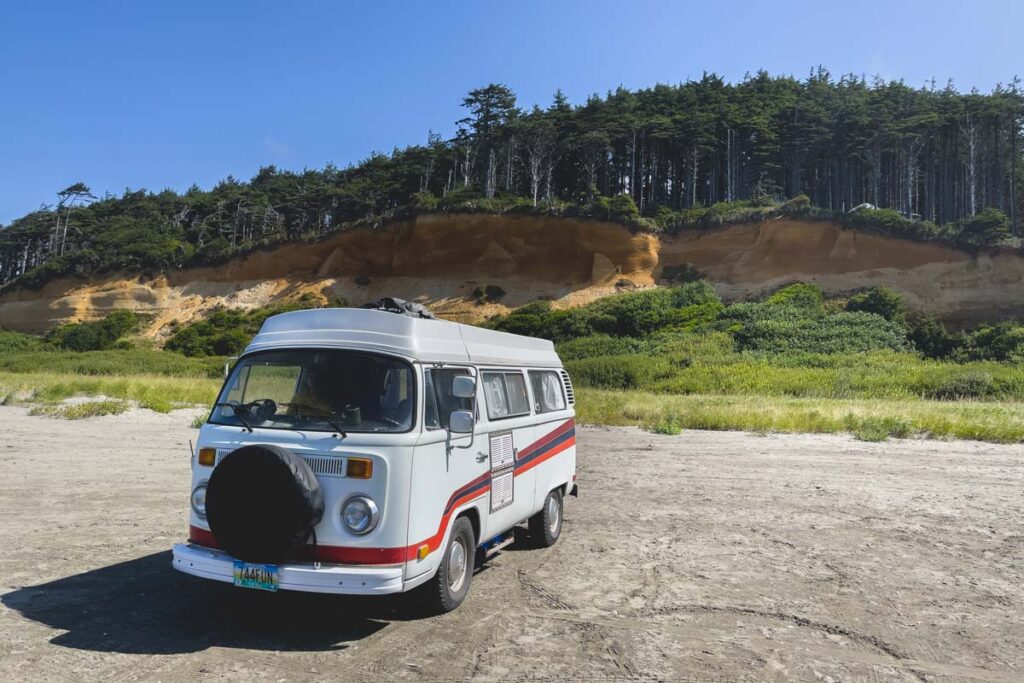 Even when the weather doesn't cooperate, this scenic area is an excellent place for taking a stroll, beachcombing, or simply soaking in the views.
One of the best things about Roosevelt Beach is that it is a hidden gem and never overly crowded. The exception is on evenings during the clamming season when people flock to the shores to dig up razor clams.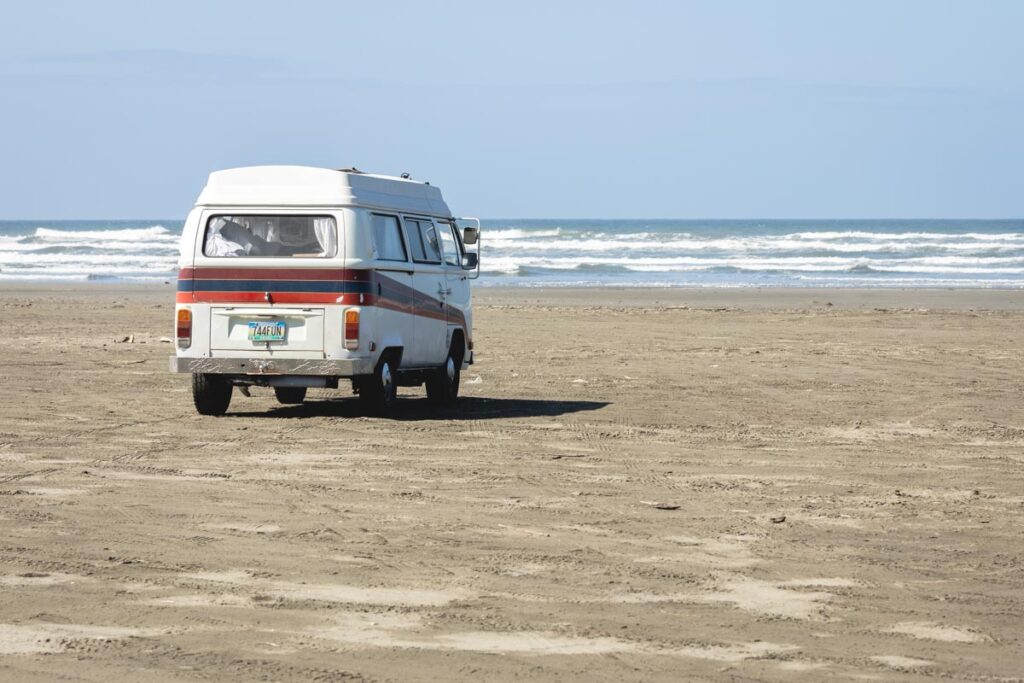 Head north of Ocean Shores for about 25 miles to access the beach, then turn left on Roosevelt Beach Rd. There is a tiny parking lot in addition to roadside parking if heading onto the sand isn't your thing.
6. Enjoy a Beach Day at Seabrook Beach
The quaint town of Seabrook sits atop a small cliff about 26 miles north of Ocean Shores. With its posh cliffside houses overlooking the sea, ice cream parlors, and miles of sandy shoreline, it's hard to imagine a more quintessential beach town along Washington's coast.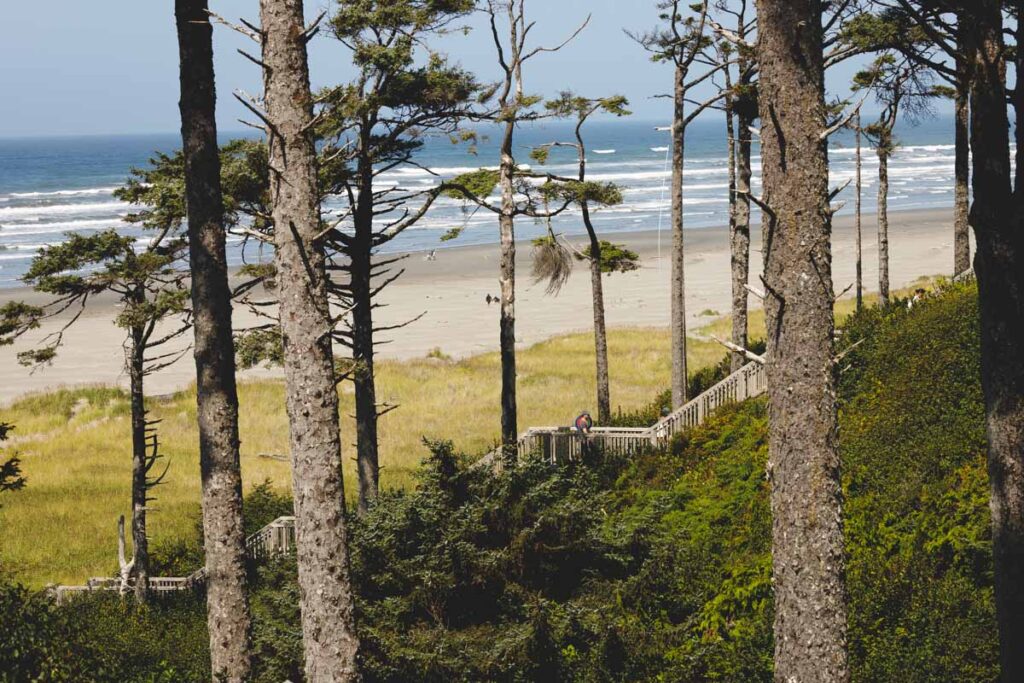 Seabrook Beach is the perfect spot to take a beach day. There is tons of space for lounging, swimming, sandcastle building, and even on busy summer days, the beach never feels crowded. The views are endless in both directions, and there is also a volleyball net and a trail that leads into town.
If you drive, it is still a bit of a walk down to the beach from the parking lot, so keep that in mind while packing your gear. The parking situation is also a bit slim as it's mostly just random parallel parking up and down the road. You may have to circle around a bit to nab a spot.
7. Reconnect with Nature at Pacific Beach State Park
Pass: Discover Pass
Pacific Beach State Park is a tiny 17-acre park located about 25 miles north of Ocean Shores. While it may be small, it offers tons of great outdoor activities.
With over 2,000 feet of shoreline, you could spend the whole day beachcombing for washed-up treasure, listening to the waves crash against the shore, or digging for clams. Fishing is also a popular pastime at Pacific Beach State Park, so don't hesitate to bring your pole and tackle.
Even after the sun goes down, the park continues to impress visitors. Cozy up to a beachside campfire, watch for stars or pitch a tent in one of the 62 campsites.
Where to Stay in Ocean Shores
The Clam Pad – With a great location in the center of town, you'll be near all the action, but with enough peace and quiet to enjoy your holiday. The studio features a modern kitchenette, a private balcony, and is decked out in a fresh, nautical style
Ocean Eyes – Perfect for beach lovers, this one-bedroom condo is just a hop, skip, and a jump away from the shoreline. The open-plan space features a full kitchen, and there's a deck surrounded by trees for enjoying your morning coffee.
Surfcrest Resort – Tucked away behind the dunes you'll find this split-level condo, with views out over the ocean from the upstairs balcony. The complex is a short stroll to the beach and includes a swimming pool, hot tub, and sauna.
We hope this post helped you explore the best things to do in Ocean Shores, Washington! Don't forget to check out other adventures on the Washington Coast.
More Around Washington Coast
I'm an Oregon native but neighborly and equally as enchanted by Washington. I tackle expeditions around the world and love a good beer at the end of the day. PNW obsessed, VW nerd, and surf or snow riding fanatic.