Do you want to hike in Paradise? Paradise is a town in Washington state, and it's certainly home to some Eden-esque scenery!
The Skyline Loop Trail is the main hike from Paradise, and it takes in breathtaking views of Mount Rainier, Washington's highest mountain.
Mountain views to epic lookouts, dramatic waterfalls, and snowy glaciers, add these together and you've got one of the best hikes in the state!
This article will tell you all you need to know about hiking the Skyline Loop Trail.
Hiking the Skyline Loop Trail
---
Distance: 6.2 miles
Type: Loop
Difficulty: Hard
Elevation Gain: 1,788 feet
Pass: Pass Required
Where is the Skyline Loop Trail Located?
The Skyline Loop Trail is located on the south side of Mount Rainier, starting in Paradise. You can leave your car in the Paradise upper parking lot and hike from here.
Hiking Skyline Loop Trail – Clockwise or Counterclockwise?
You can hike the Skyline Loop Trail clockwise or counterclockwise. There is no set way to do it, but you might prefer one way or the other!
If you hike clockwise, you'll be walking towards the mountain, so will be able to take its sheer beauty in!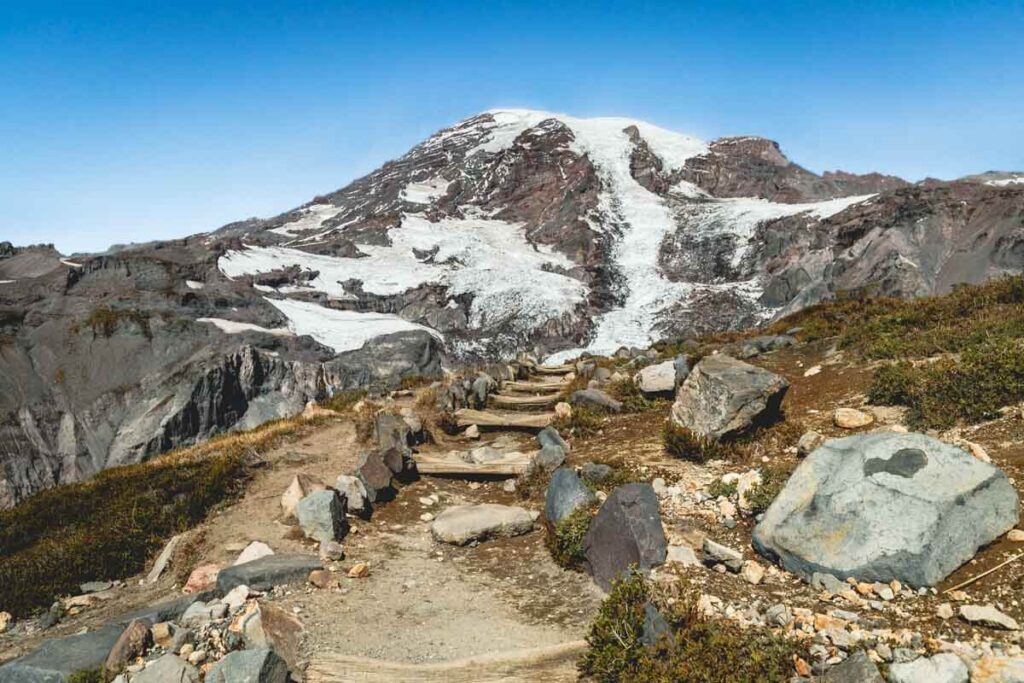 However, clockwise is a little more challenging than counterclockwise – the incline is a bit steeper, whereas it is more gradual when walking counterclockwise.
Counterclockwise might be a bit easier in terms of the gradual steepness of the hike however, the main attraction, Mount Rainier, is blocked for a bit of the way. Either way, there's no real "best way" but we wanted MAXIMUM views so we went with clockwise.
What to Expect When Hiking the Skyline Loop Trail
This is a beautiful hike with breathtaking waterfalls, dramatic glaciers, and charming meadows. There's plenty of wildlife living in these parts – you might see marmots, bears, goats, and an array of other animals.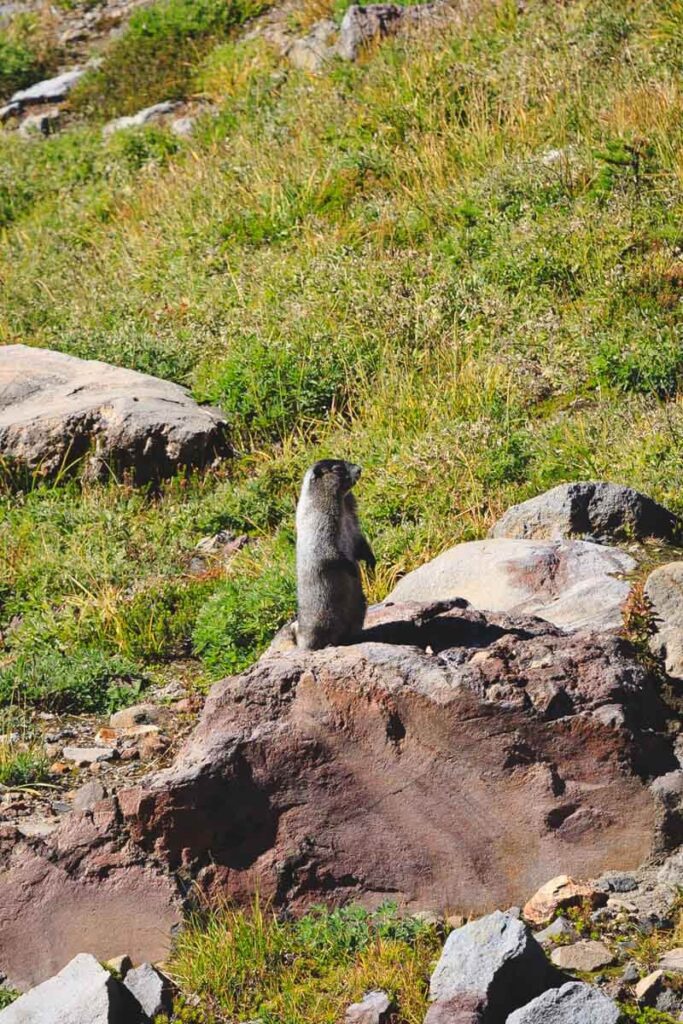 It's quite a challenging hike, with some steep climbs – but it's worth it for the epic panorama at the top.
---
RELATED: 15 Epic Hikes in Mount Rainier National Park, Washington
---
How to Hike Skyline
Head to the Jackson Visitor Center in Paradise, picking up a map here if you don't already have one.
Walk north from the visitor center, following the Skyline Trail signs. Walk for 0.4 miles, where the terrain gradually becomes less steep.
Keep right and you'll reach some stairs. Walk up and take in the views! This part of the trail is also paved making it an easy stroll for most people despite getting steep in some areas. This part of the trail is also intersected with many other trails so expect a lot of people heading on and off the trails and watch which detours you're taking!
Glacier Vista
Pass Glacier Vista, which is located at 6,300 feet altitude and is an epic photo spot!
This is where some hikers turn around and retrace their steps back to the parking lot. It gets steeper from here, so if you don't fancy the entire loop, you could just snap some photos, eat a picnic lunch, and head back to Paradise.
Panorama Point
If you decide to continue, stick to the trail. You'll cross Nisqually Glacier and walk toward Panorama Point. This is another beautiful stopping place and a great spot to aim for. There is a pit toilet here.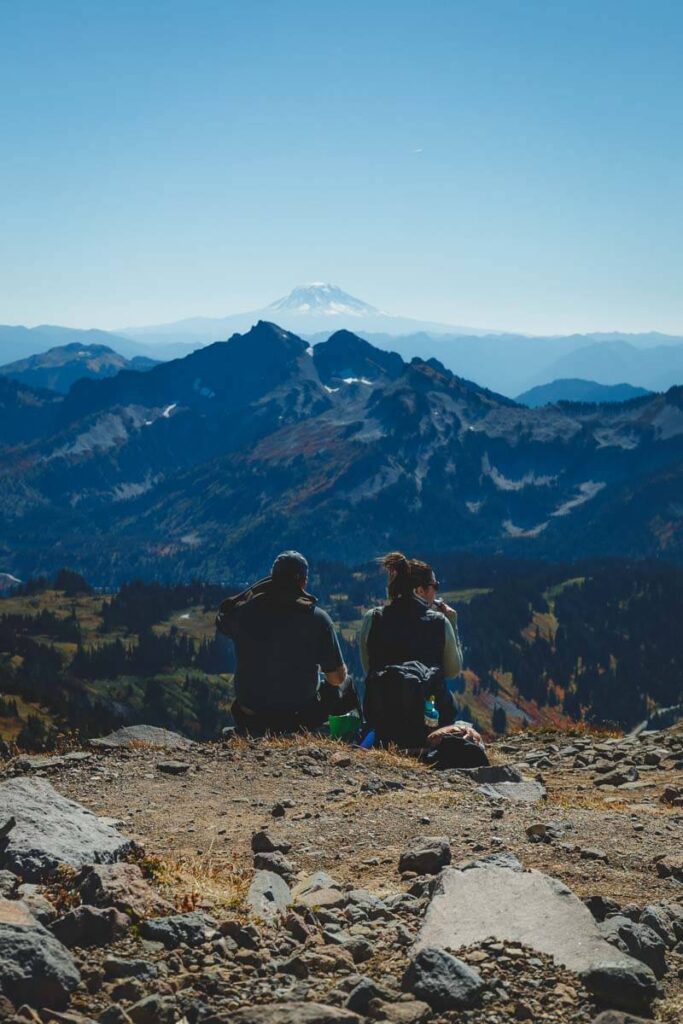 Golden Gate Trail Shortcut
From Panorama Point, you have two options. You could follow the signage through the snowfields or walk north following the High Skyline Trail.
The snowfields are considered a shortcut but are also steep and icy and can be dangerous. Therefore, many hikers prefer the High Skyline, which is generally more stable!
Eventually, the two routes link up.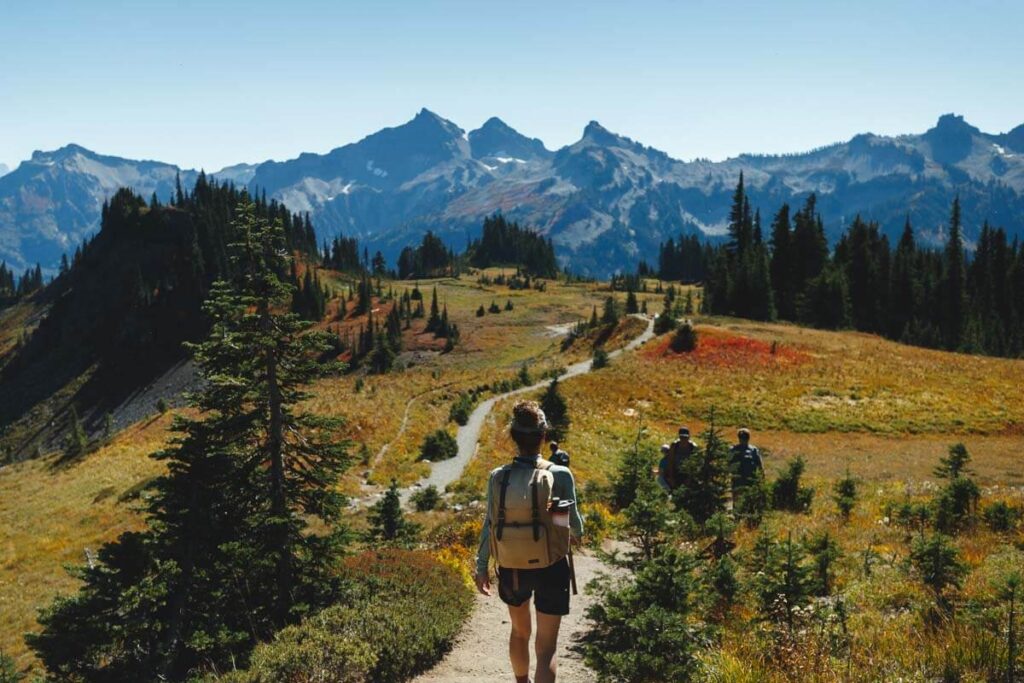 Keep walking downhill, and you'll reach the Golden Gate Trail. This is a more direct route straight back to Paradise.
Taking it will cut a mile off your overall journey and enable you to get back quicker if your legs aren't having it!
Lakes Trail Turnoff
If you aren't tired yet and want to extend your hike further, you could take the 4 mile Lakes Trail Loop. This trail passes Louise Lake and Reflection Lake and then heads back toward Paradise.
If you want to continue on the Skyline Trail, keep walking on the main route.
Myrtle Falls at Skyline Trail
The next point of interest is Myrtle Falls. They are beautiful but can be crowded (especially compared to other parts of the hike!). Try to stop here if you can, but be prepared for it to be a bit of a bottleneck at busy times. There is a lovely viewpoint where you can take everything in.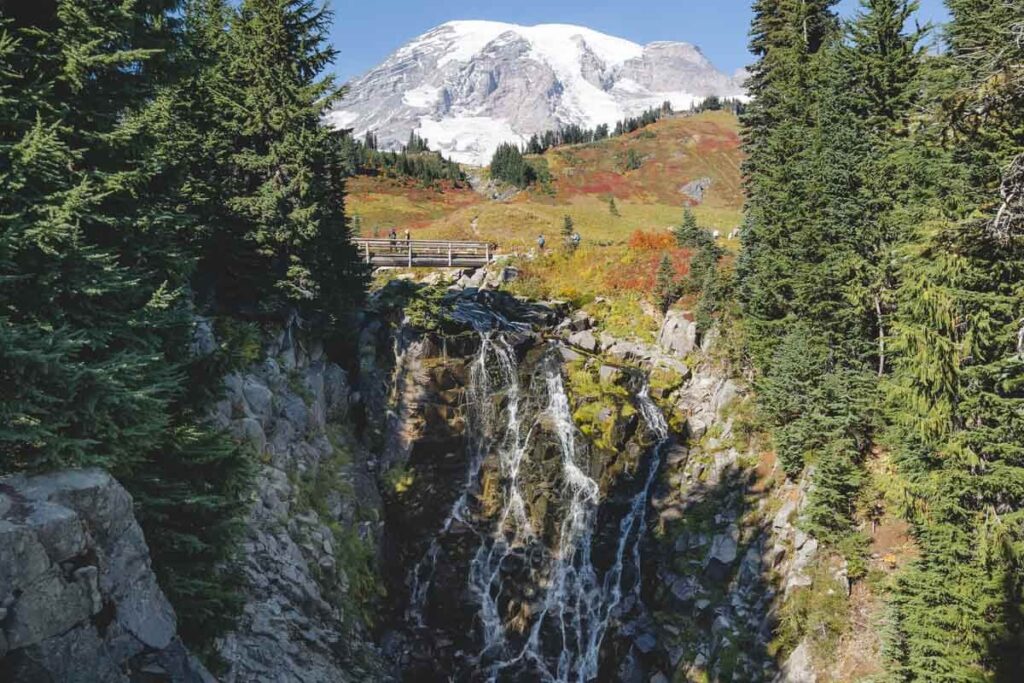 Then, merely follow the trail for 0.5 more miles before arriving back at the Paradise parking lot!
---
RELATED: 21 Epic Waterfalls in Washington
---
Tips for Hiking Skyline Loop Trail
Difficulty
This trail can be challenging – it is only paved at the beginning and then involves navigating some loose rock. It also involves some steep climbs, so make sure that you have a good fitness level before attempting. But, from the panorama, it's all downhill!
You are also fully exposed the majority of the time. Take hiking poles to keep steady if needed, wrap up well, and slather on that sunscreen- the weather can be dramatic here.
Nature
You'll have the chance to see lots of beautiful nature while you're hiking. However, be aware of animals around you – most are harmless, but bears have been spotted. Make sure that you know what to do when you see a bear (generally, move slowly away, walking sideways if possible).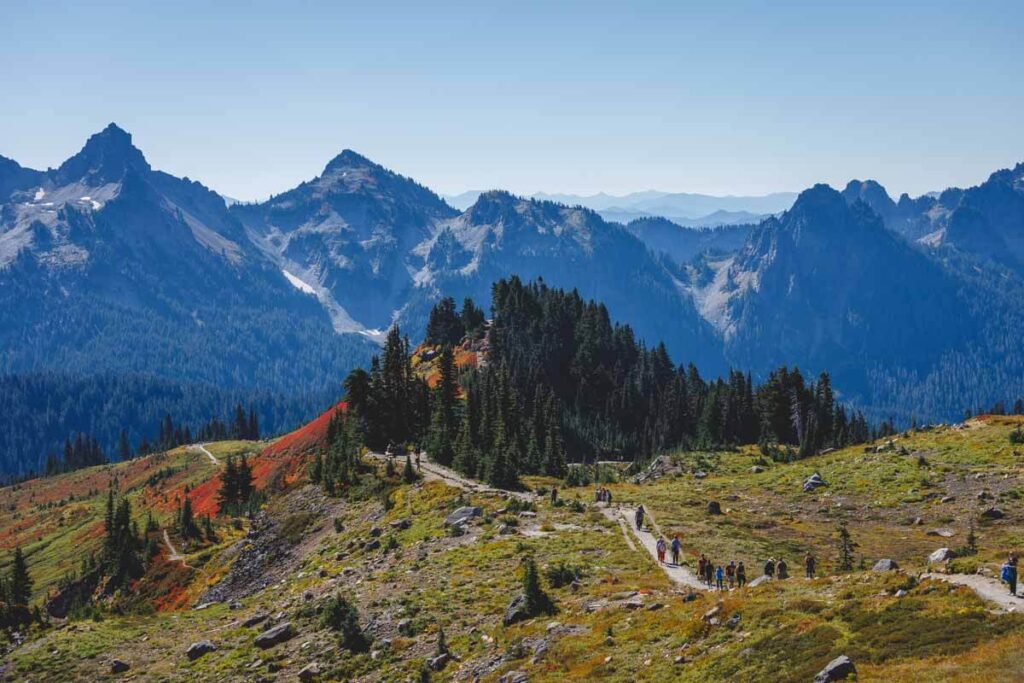 To protect nature in the area, stick to the trail and stay away from the meadows. There are TONS of signs stating to stay on trail but we still saw SO many people trampling the foliage, please don't be that person.
Facilities at Skyline Trail
There are basic pit toilets at Panorama Point and restroom facilities in Paradise visitor center and the guest service building.
---
RELATED: 25 EPIC Hikes in Washington to Tackle
---
When to Hike Skyline Trail
Much of this hike is under a blanket of snow for a significant portion of the year. Therefore, if you are visiting during winter or early spring, it's recommended you have snow hiking experience, and some spikes or crampons. If you don't have snow hiking experience, try hiking it in late spring, summer, or early fall!
If you choose to hike in early fall, the colors of the trees are a vibrant mix of reds, oranges, and yellows, and you might avoid the summer crowds!
There is always a chance that you could encounter fog on this loop. Try to time your hike for a clear day to avoid this.
Don't Under Estimate This Hike
Since this is such a popular hike, it came up in conversation a few times during our travels around Washington and we heard some pretty wild stories. Like people trying to hike this trail in sandals! This is NOT the hike to do that, there's some really rough terrain and even sharp rocks that would be miserable to walk in with open-toed shoes.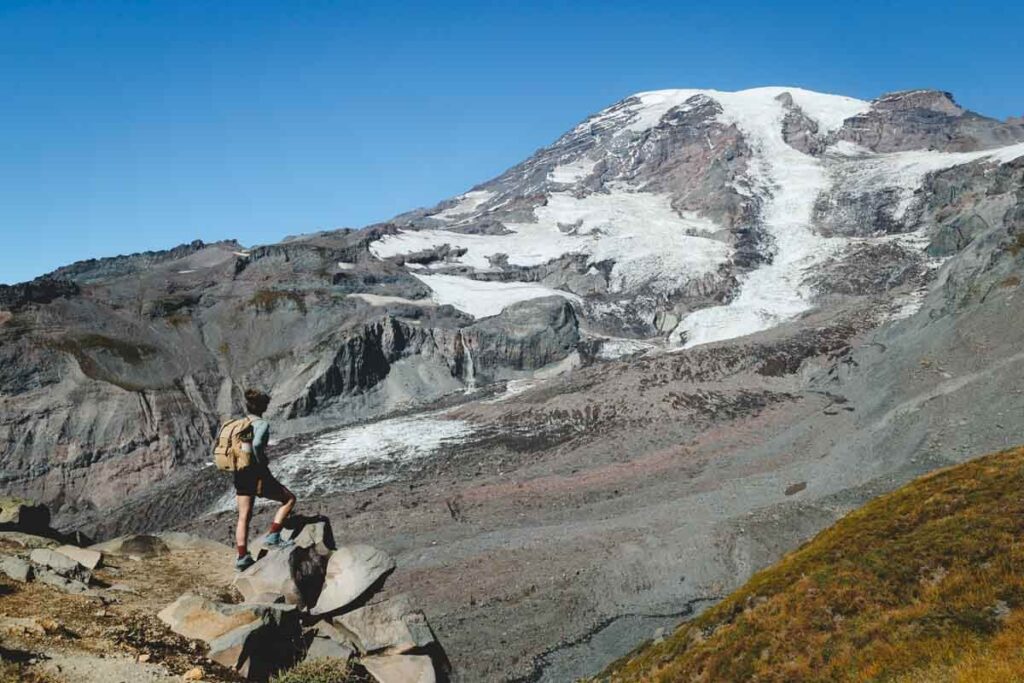 Another fellow traveler told us they gave two people their water bottle because they didn't bring any water and found themselves all the way up Panorama Point without proper clothing or any water at all! While this is a popular hike in Mount Rainier, and almost anyone can technically do it, it doesn't mean to skimp on what you bring with you.
Don't Forget:
Sunscreen
Moisture wicking clothing and layers
Water!
Proper hiking shoes or boots
A hat could be a good idea too
Bear spray for extra precaution
Any other supplies needed for certain weather like crampons
It's easy to see why the Skyline Loop Trail is such a well-loved hike. With some of the best views of and around Mount Rainier and plenty of stop-offs along the way, this hike is not to be missed while you're exploring Washington!
We hope this post helped you discover more about the Skyline Loop Trail! Don't forget to check out other great hikes in Washington.
More Around Rainier National Park
I'm an Oregon native but neighborly and equally as enchanted by Washington. I tackle expeditions around the world and love a good beer at the end of the day. PNW obsessed, VW nerd, and surf or snow riding fanatic.