Situated along Washington's lovely Pacific coastline, there are many adventurous things to do in Long Beach. This small seaside town sits just a stone's throw away from both Portland and Seattle, making it the perfect escape when you're looking to unplug and reconnect with nature.
Endless stretches of sandy beach, fresh-caught seafood, and epic coastal trails through quintessential PNW terrain all make Long Beach a worthy bucket list addition. You could spend countless hours stretching your legs along the boardwalk, surfing the choppy shoreline, or seeking out the scenic lighthouses at Cape Disappointment State Park.
While there is a ton of outdoor activities at your fingertips when you visit this coastal town, below, you'll find nine of the absolute best things to do in Long Beach.
---
1. World's Longest Beach
Contrary to its title of 'World's Longest Beach', Long Beach's stretch of sand is not technically the longest beach in the world. However, it IS the world's longest peninsular beach, and taking a stroll down the shoreline is one of the best things to do in Long Beach. If you don't feel like trekking the 28-mile stretch in its entirety, you can also drive along the beach.
Those on the hunt for more adventurous things to do in Long Beach can explore the shoreline via horseback. There are numerous places to rent a horse around town, and you can choose to take a guided tour or meander the beach yourself with your sure-footed stag as company.
Besides taking in the scenic views of the ocean, beachcombing along this stretch of silver sand is one of the best things to do in Long Beach. The Pacific Ocean drags all kinds of treasures onto the shoreline. After high tide, whatever bounty you may find is yours for the taking. Driftwood and seashells abound! Be sure to check the local tide times in advance.
Make sure to check if your schedule coincides with the world-famous Kite Festival that happens each August or one of the other cool festivals this town hosts.
2. Oceanfront Boardwalk
For a shorter beachside trek, consider strolling along the Oceanfront Boardwalk while in Long Beach. Following the natural curve of the coastline, this raised wooden platform stretches about half a mile between Syd Snyder Avenue and Bolstead.
Rain or shine, meandering the boardwalk is one of the best things to do in Long Beach. Storm watching along this route is just as popular as soaking up the sunshine on hot summer days. No matter the weather, the panoramic views of the Pacific Ocean, beach grass, and sand dunes are hard to match.
The birdwatching here is also impeccable. Keep your eyes peeled for hungry raptors hunting for carrion during low tide, along with other gulls, shorebirds, and bald eagles.
You can either walk or bike along the boardwalk, and this pathway is also completely accessible. If you'd like to extend your hike further, there are miles of trails that you can access right off the boardwalk.
3. North Head Discovery Trail
Distance: 14.5 miles
Type: Out & Back
Difficulty: Moderate
More impeccable views of the coastline can be found along the North Head Discovery Trail. The trail is paved and well maintained, making it popular with bikers, hikers, and longboarders.
The trail provides a nice variety of landscapes, including grassy dunes, verdant forest groves, and rolling hills. As you meander the path, you'll also catch sight of Cape Disappointment, carpets of colorful wildflowers, and even some historical landmarks.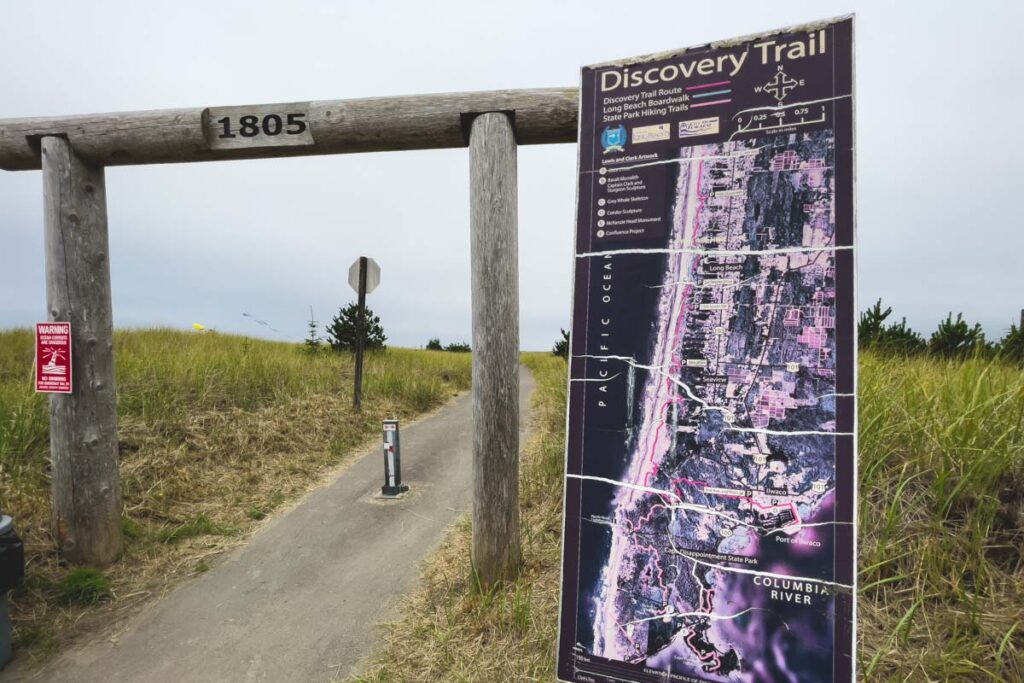 You can start your trek at Breakers off Highway 103 or the opposite end just outside Cape Disappointment State Park off of Highway 101.
Those looking for things to do in Long Beach that will get the heart rate up will certainly enjoy conquering this trail in its entirety. But, on the other hand, you can always do a portion of the route.
There are plenty of scenic stopping points along the trail, so take your time and soak up the views. If you're lucky, you may spot some of the wildlife that calls this area home, including bald eagles and other shorebirds, deer, and even maybe even a whale!
Be sure to dress in layers as the weather can change in a hurry.
---
RELATED: 25 EPIC Hikes in Washington to Tackle
---
4. Leadbetter Point State Park
Discover Pass Required
Situated at the tip of the Long Beach Peninsula, exploring Leadbetter Point State Park is one of the best things to do in Long Beach. The park is tucked away between the Pacific Ocean and Willapa Bay and is a dream come true for avid hikers and birding enthusiasts.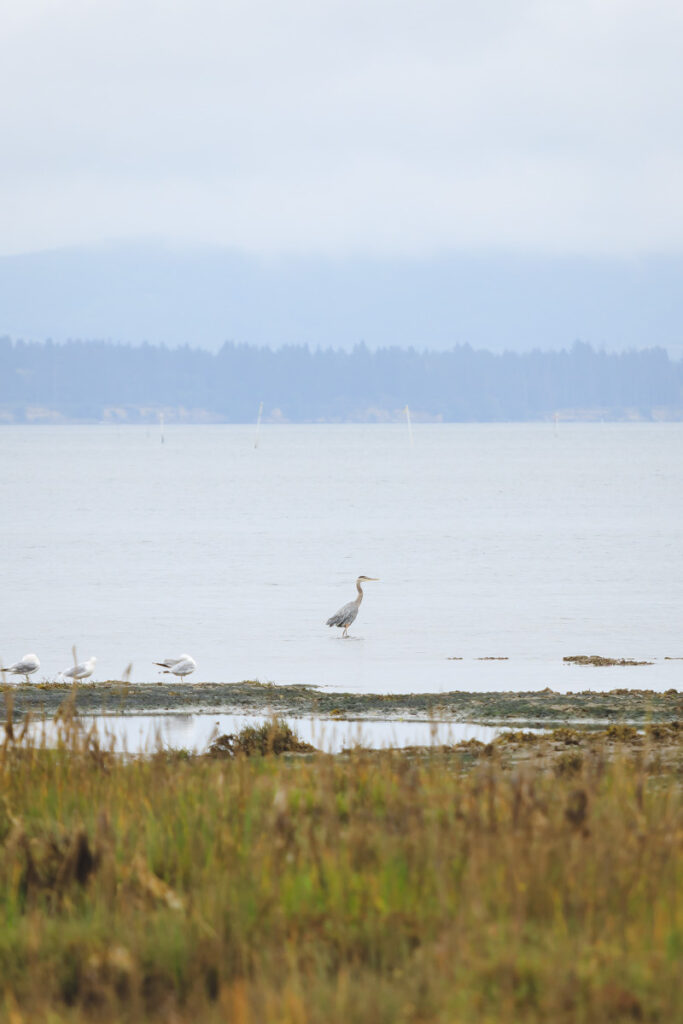 If you visit between March and September, you might be able to spot the elusive snowy plover with its newly hatched chicks. Unfortunately, these elegant birds are endangered, so be sure to keep your distance and observe from afar.
Other birds that can be spotted inside the park include peregrine falcons, brown pelicans, pintails, and trumpeter swans, to name just a few.
There are also over seven miles of hiking trails within the park. Choose your adventure and hike through lush forests, sandy beach dunes, or scenic bay-side terrain.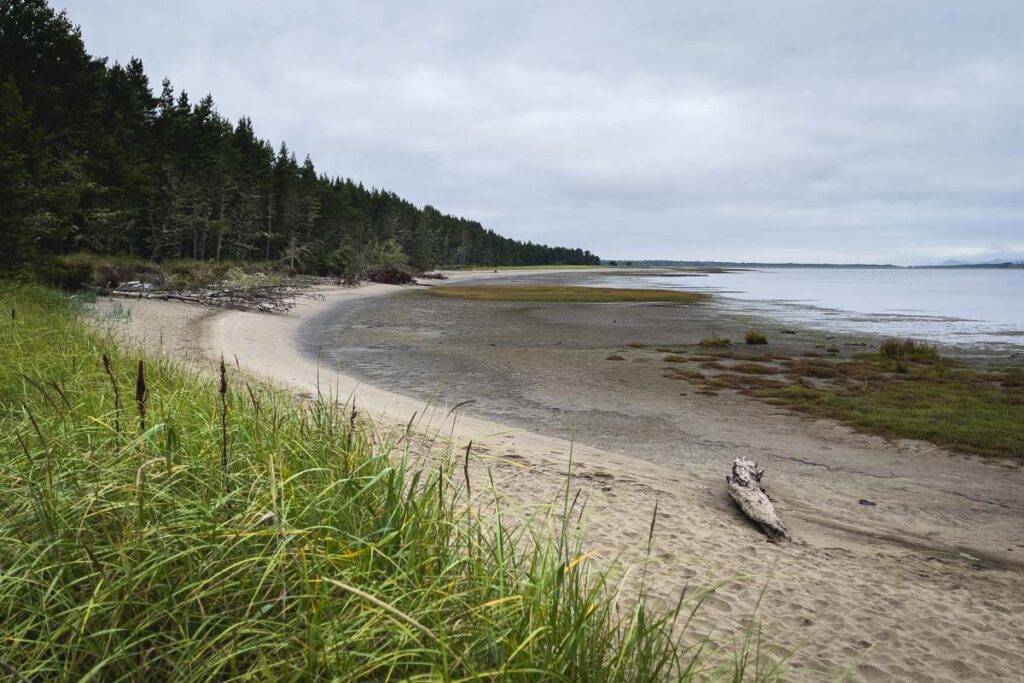 You can also traverse the Willapa Bay Water Trail via kayak, canoe, or paddleboard (when the weather cooperates, that is). Other popular park pastimes include fishing, clamming, and beachcombing.
Surprisingly, Leadbetter Point State Park is criminally underrated. As one of the lesser-known parks in the area, Leadbetter is never overcrowded. You may even have the entire place to yourself, just like we did, depending on the season.
This is good news for those seeking solitude along with a healthy dose of mother nature during their time in Long Beach.
---
RELATED: 19 Amazing Weekend Trips From Seattle (1-5 Hours Away!)
---
5. Willapa National Wildlife Refuge
If you didn't get your nature fix from Leadbetter Point State Park, head to the nearby Willapa National Wildlife Refuge. Immerse yourself in the old-growth forests and listen to the birds' chatter overhead as you hike along the serene trails.
Most routes inside the refuge are relatively short, but hikers of all skill levels should be able to find a trail that piques their curiosity. You can meander paths with art installations, interpretive trails with steep ascents, and even an accessible boardwalk.
If you're looking for something more relaxing to do while in Long Beach, you can cast out for sturgeon along the shores of Willapa Bay. However, note that fishing is prohibited from the refuge's streams, ponds, or sloughs.
If you're really looking to go off-grid, you can set up camp at one of the five primitive campgrounds located on Long Island. Sites are available on a first-come-first-served basis and are only accessible by private boat. Be sure to check the tide times before you head out to the island.
6. Surfing
If you're searching for things to do in Long Beach that will get your adrenaline pumping, grab your board and surf some swells. The peninsula is an exposed beach break, making it a prime surfing destination year-round. Even if you're a beginner, the whitewater here provides plenty of easy opportunities for newbies to get the hang of standing.
The best time to surf this shoreline is in the winter, specifically the month of January. During this time, the waves are clean, and the offshore winds are light.
While the water is cold enough that you'll definitely need a wet suit no matter what season you are surfing, the water temperature along Long Beach is usually around ten degrees warmer than anywhere else in the state.
Thanks to the excessively long shoreline at Long Beach, you'll have plenty of room to spread out and surf in peace. However, if you do enjoy company out on the water, you'll usually find fellow surfers at Seaview Beach off of 38th Street.
---
RELATED: 19 Beaches in Seattle, Washington for Adventure
---
7. Cape Disappointment State Park
Discover Pass Required
Don't let the name fool you. Cape Disappointment State Park is far from unsatisfactory, and it is undoubtedly one of the most adventurous things to do in Long Beach.
This 2,023-acre park boasts a fascinating history. Discover stories of Lewis and Clark at the interpretive center, or explore the abandoned military barracks and coastal defense batteries that still stand.
There are over eight miles of trails inside the park. You could easily spend the whole day traversing through old-growth forests, examining salt-water marshes, or simply taking in epic views across the Pacific.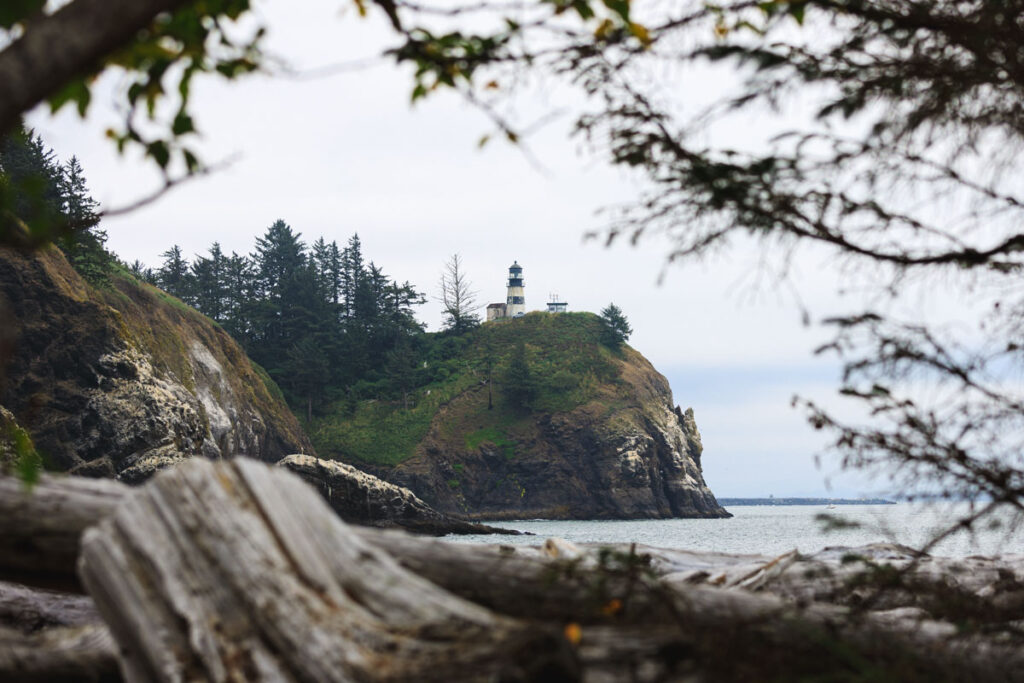 Some of the best vistas inside the park can be found at the two iconic lighthouses. The Cape Disappointment Lighthouse is located at the park's southern end, while the North Head Lighthouse is located at the northern end.
You could also enjoy a day at Cape Disappointment State Park on the water. Head to Baker Bay to launch your watercraft, or dig for fresh clams at Benson Beach. Alternatively, you could set up shop on the north jetty and cast out for Salmon and Crab.
If one day in the park just isn't enough, you can rent a yurt, cabin, or vacation house. There's also plenty of campsites for both tents and RVs.
---
READ MORE: 7 Things To Do in Cape Disappointment State Park
---
8. Fort Columbia State Park
Distance: 2.9 miles
Type: Loop
Difficulty: Easy
Discover Pass Required
Follow the coastline down from Long Beach, and you'll run into Fort Columbia State Park. While it's technically not inside of city limits, don't miss this fascinating park if you're looking for fun things to do in Long Beach.
Fort Columbia State Park is home to one of the most well-preserved coastal defense sites in the entire country. The best way to see all the remaining structures is by strolling along the Scarborough Hill Trail. The route will lead you past officers' homes, abandoned artillery batteries, and even some rare WWII-era guns.
As you pass through misty old-growth forests, the titter of bird song will keep you company. Views of the ocean peek out behind the old fort, and a lovely pond and waterfall await you at the trail's summit.
---
RELATED: 10 Awesome Washington Coast Towns You've Got to Visit!
---
9. Wildlife Watching & Tours
Birding and wildlife watching are year-round activities along the Long Beach Peninsula. So if you're looking for things to do in Long Beach that will get you closer to nature, you'll have plenty of opportunities to do so.
Avid birders should make a beeline for the Willapa Wildlife Refuge and Cape Disappointment State Park. Depending on the season, you might spot great blue herons, black-bellied plovers, great horned owls, and hundreds of other species.
Whale watching is one of the most exciting things to do in Long Beach, and these massive creatures can be seen perusing the shoreline year-round. However, your best chances of spotting the Pacific Grey (the most common type that swims this coast) is on clear, early mornings.
If you'd like to be more confident of spotting one of these magnificent creatures, there are plenty of tour companies around Long Beach.
Where to Stay in Long Beach
The Beach Place – This eclectic one-bedroom apartment will add a touch of the retro to your stay, with quirky furnishings and a record player for your nights in. It's conveniently located in downtown and a short walk from the famous beach.
Seaview Cottage – This retro two-bedroom cottage offers a comfortable stay in a quiet neighborhood. A path right by the house will lead you to the Seaview Beach Approach in just a couple of minutes. The property is dog friendly and even has a fenced yard.
Seagull's Nest – Stay right in the center of Long Beach at this studio apartment. You'll be within walking distance of restaurants, shops, and of course, the beach. If you choose to stay in, there's a full kitchen and a Smart TV.
We hope this helped you find some cool things to do in Long Beach, Washington!
More Around Washington Coast
I'm an Oregon native but neighborly and equally as enchanted by Washington. I tackle expeditions around the world and love a good beer at the end of the day. PNW obsessed, VW nerd, and surf or snow riding fanatic.