If you're an adventurer in Leavenworth, we bet you're looking for some nearby hikes!
Leavenworth is a charming Bavarian-style village in the Cascade Mountains, Washington.
Because of its adorable German theme, it draws in countless visitors each year. However, it's popular with hikers too! In this post, we've put together the nine best hikes in Leavenworth, ideal for an action-packed trip to the Cascade Mountains!
9 Awesome Hikes Around Leavenworth
---
Whether you're a seasoned hiker ready for your next challenge or a family looking for some light adventure, this list of hikes around Leavenworth should show you the diversity of activities here. No matter what the season, there's something for everyone in Leavenworth!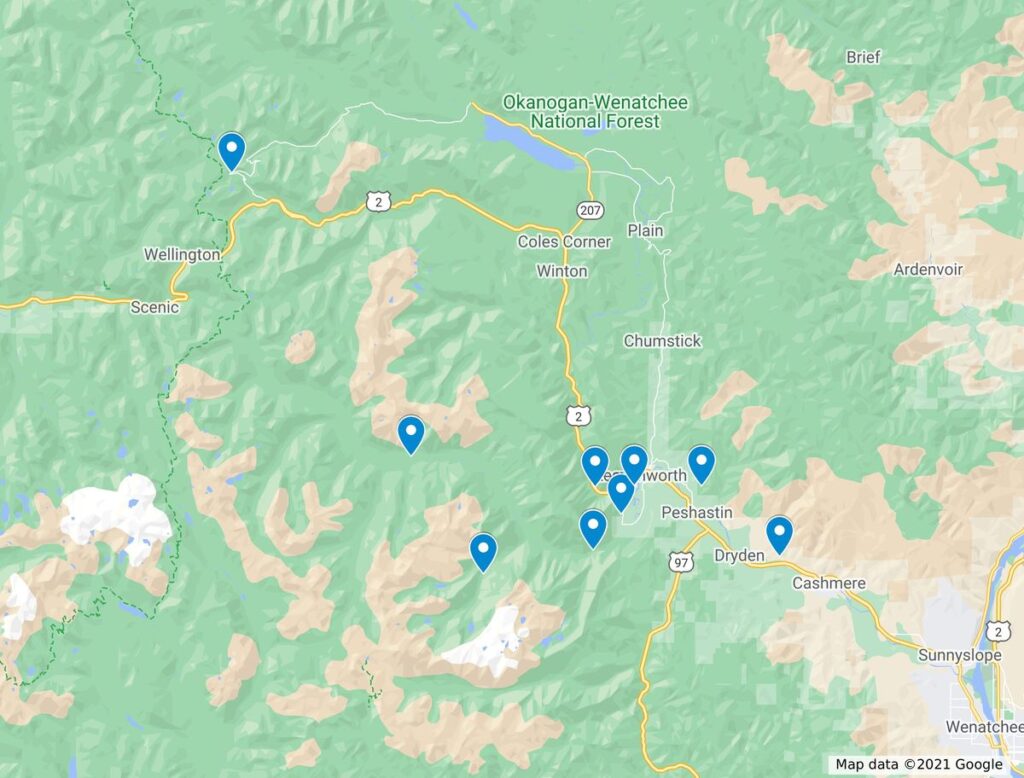 1. Waterfront Park and Blackbird Island
Distance: 2 miles
Type of Trail: Loop
Difficulty: Easy
This trail has it all! It's around 2 miles long, so ideal for families or people who want to hike or bike without going too far.
It's also one of the easiest and most accessible hikes in Leavenworth, making it the perfect place for spending an afternoon.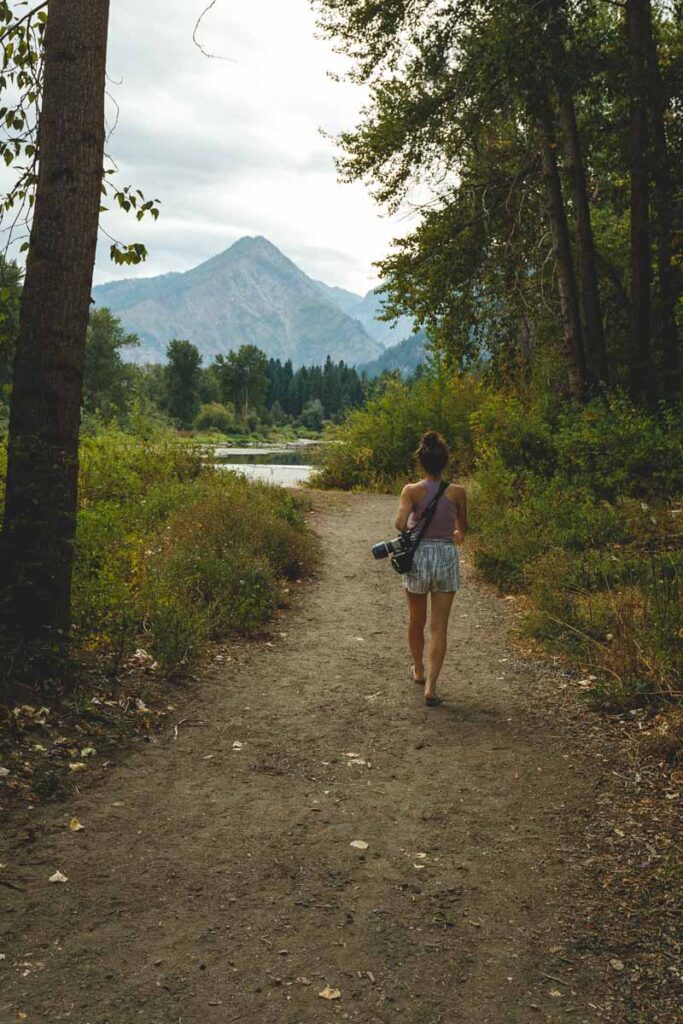 During the summer, you can go paddling, rafting, or sunbathe on the riverfront beaches, and in the fall, the leaves are a spectacular array of reds, oranges, and yellows.
In the springtime, enjoy beautiful flowers and go birdwatching – there are plenty of birds to see here!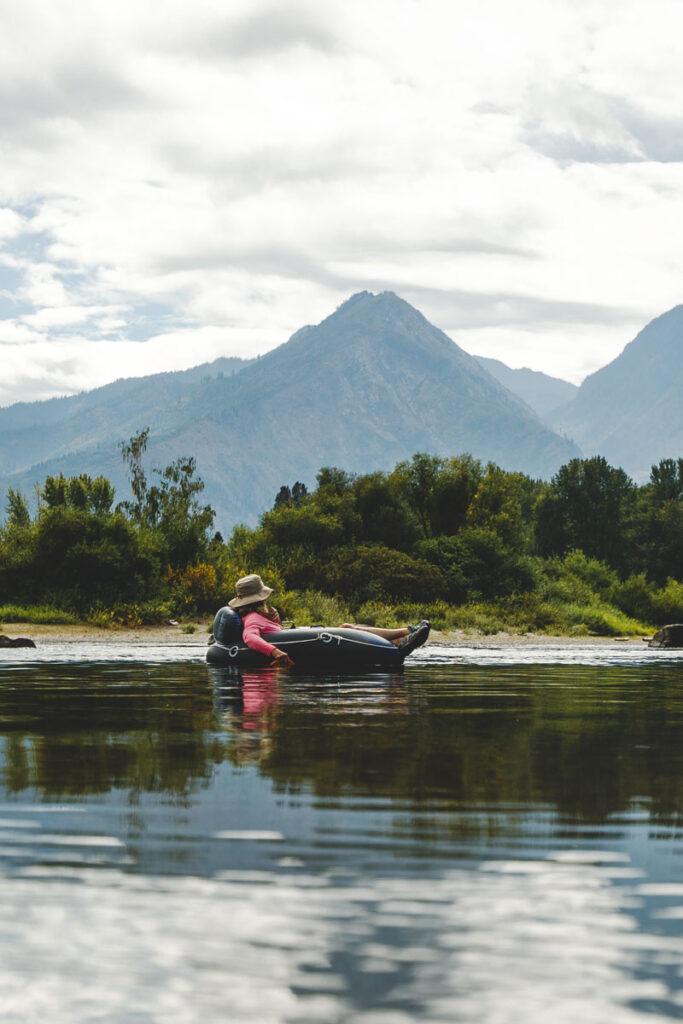 You can either drive or walk to get to the trailhead. Travel down Leavenworth's main street (Highway 2) and take a left at Mill Street. Turn left again, take the first right, and follow this road until you reach the parking lot and trailhead.
2. Old Pipeline Bed Trail
Distance: 2.4 miles
Type of Trail: Out & Back
Difficulty: Easy
The Old Pipeline Bed Trail is a 2.4 mile out and back trail along the Wenatchee River. It's another easy trail that is great for a range of people and skills and is one of the most popular hikes around Leavenworth.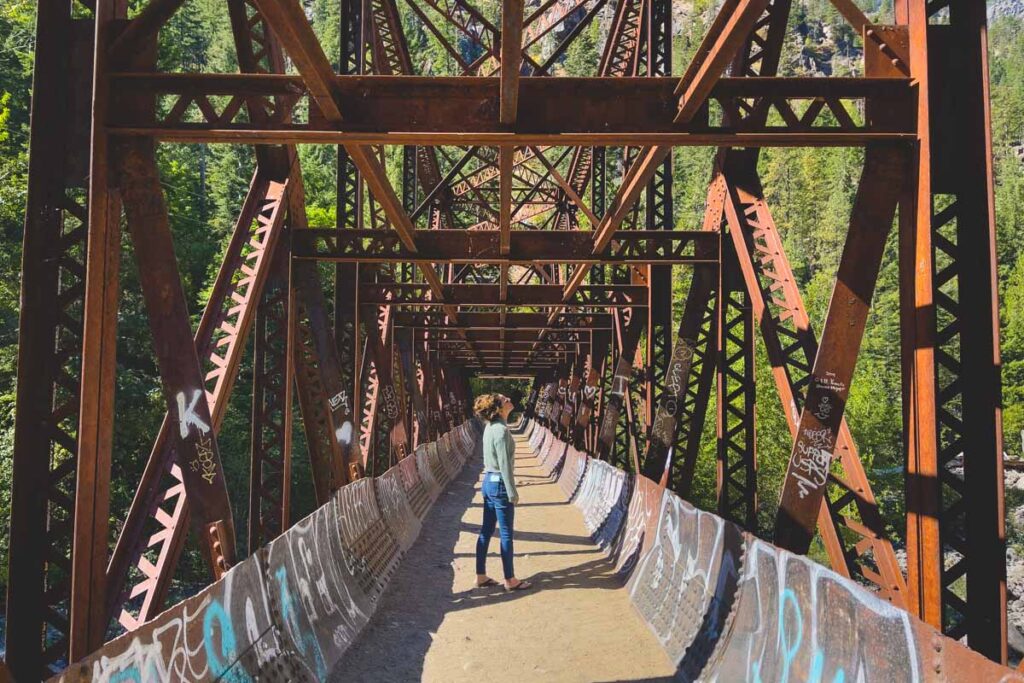 The old pipeline was a historic water pipe spanning to an old powerhouse – the site where you will park.
Highlights include the beautiful area where the Wenatchee meets Tumwater Canyon and the serene river beaches. These are ideal for swimming during the summer months.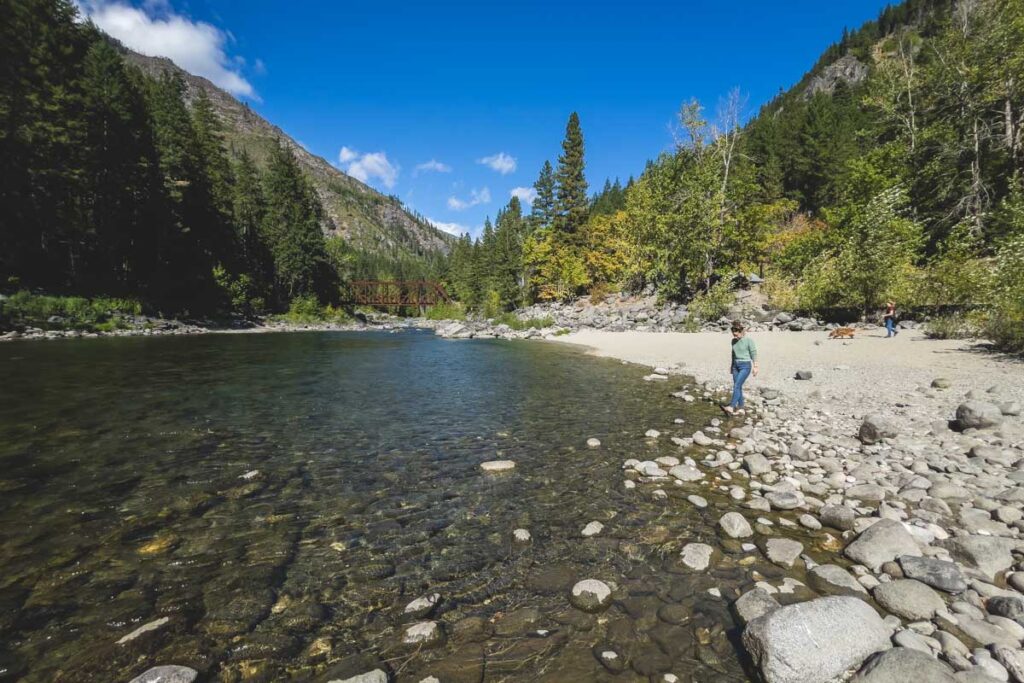 To get to the parking lot from Leavenworth, drive west on Highway 2 for 1.7 miles and then turn left into a parking area. From the parking lot, cross the river and walk along the trail.
---
RELATED: 11 Adventurous Things To Do in Leavenworth
---
3. Colchuck Lake and Lake Stuart Trail
Distance: 11.7 miles
Type of Trail: Out & Back
Difficulty: Hard
If you want a challenge, this hike is for you! This trail begins at the parking lot for Colchuck Lake, which is around a 30-minute drive from Leavenworth. It has rocky and uneven ground and is steep in some places, with several switchbacks – so make sure that you're fit and prepped for the trek.
The hike is almost 12 miles long and is an out-and-back trail. The entire trail spans Lake Stuart, then turns around for a short distance before turning off for Colchuck Lake and returning the same way. If you don't have time (or energy!) for hiking that length, you could walk to just one of the lakes.
There are some beautiful wildflowers en route, and you can go fishing in Lake Stuart if you desire! There are also opportunities to camp around Lake Stuart. The lakes are stunning whatever the season, but it's best during the summertime if you plan on taking a dip!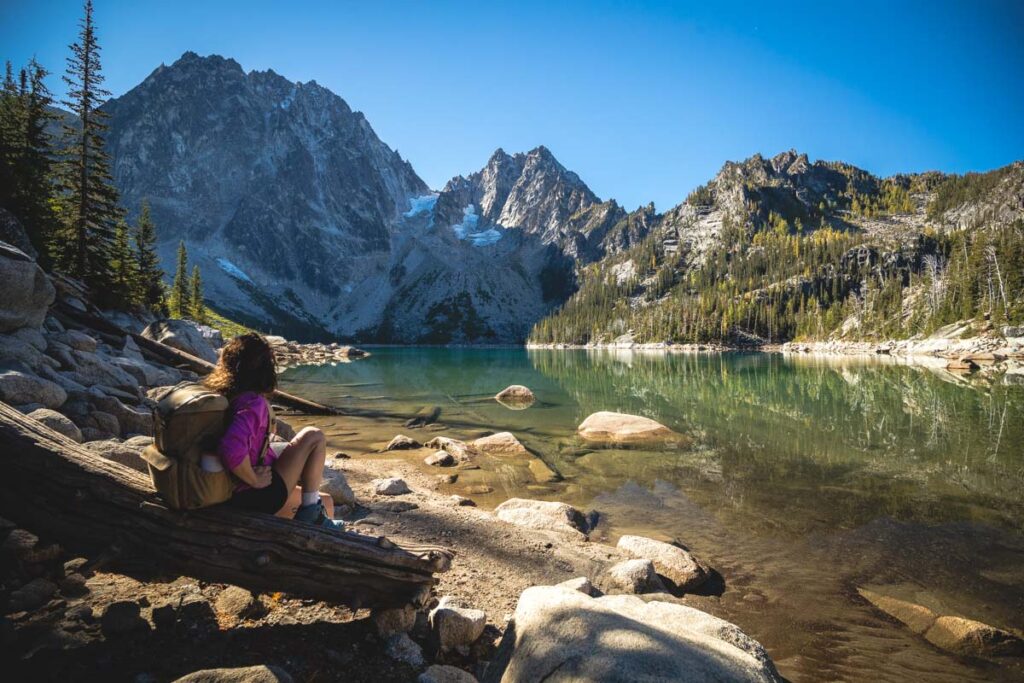 Drive southwest 8.5 miles on Icicle Road from Leavenworth to reach the trailhead. Then, turn onto Forest Road 7601. The parking lot and trailhead are around 3.7 miles along this road.
If you don't want the hike to end, then good news! You can backpack the Enchantments and keep it going…
---
READ MORE: Hiking The Colchuck Lake Trail + Lake Stuart!
---
4. Backpacking The Enchantments
Distance: 20.5
Type of Trail: Point-to-Point
Difficulty: Hard
The Enchantments Trail is a 20.5-mile route that is awesome for a multi-day hike – or perfect for people who are up for a mega long day hike!
It's a point-to-point trail and is only recommended for people who have decent hiking experience. There are a lot of steep climbs, going up nearly 6,000 feet in altitude.
This trail encompasses Lake Stuart and Lake Colchuck and Isolation Lake, which has a small beach, the stunning Little Annapurna Summit (a side trip), a circuit around Inspiration Lake, and views of Crystal Lake.
It isn't for the faint-hearted, but if you are up for camping along the way or can do one long day, you'll be rewarded with staggeringly beautiful nature and some of the best views in Washington.
You can begin this trail from Icicle Creek Crossing or the Stuart Lake/ Colchuck Lake Trailhead (the trail we just spoke about above!). To get to Icicle Creek Crossing, drive down Icicle Road from Leavenworth. The parking lot is just off the road.
To reach Stuart Lake/ Colchuck Lake Trailhead, continue driving on Icicle Road (it's around 8.5 miles on this road from Leavenworth) and then turn onto Forest Road 7601. The trailhead is approximately 3.7 miles further.
You probably won't want to do this route as an out and back trail, so it's best to arrange a lift from where you finish the hike back to Leavenworth or wherever you left your car!
---
RELATED: 25 EPIC Hikes in Washington to Tackle
---
5. Peshastin Pinnacles State Park
Distance: 1 mile
Type of Trail: Loop
Difficulty: Easy
Peshastin Pinnacles Loop is one of the most-loved hikes in Leavenworth – a loop trail in the state park of the same name. The loop has many switchbacks and a pretty substantial incline, but it is only 1 mile in length, so it's a quick add-on to exploring the park a day.
While there's a considerable amount of climbing, you'll still be graced with amazing views! From the highest point of the trail, you'll be able to look all over the surrounding area. It is ideal for kids as it's not too long, but it can be steep and slippery. You could bring poles if you find hiking with them easier!
The trailhead is near the community of Dryden. Take highway number 2 from Leavenworth and drive through Peshastin as it merges with Highway 97. Then, take a left turn onto North Dryden Road. The parking lot is a short distance along this road on your right.
6. Icicle Ridge Trail
Distance: 5.5 miles
Type of Trail: Out & Back
Difficulty: Moderate
The Icicle Ridge Trail is a popular out and back trail with many switchbacks! It's only 5.5 miles in length and is rated as moderate, but there is a considerable incline here – so only try it if you're a confident hiker!
To reach the trailhead, drive south down Icicle Road. You'll start climbing, and when you reach the top, turn around and walk back to the endpoint! You can take in views of Leavenworth and the surrounding vicinity from the top.
7. Lake Valhalla and Mount McCausland Trail
Distance: 7.9 miles
Type of Trail: Out & Back
Difficulty: Hard
This trail is one of the most popular hikes around Leavenworth, with a dramatic ascent and many switchbacks. You'll climb Mount McCausland first and take in impressive vistas from the summit.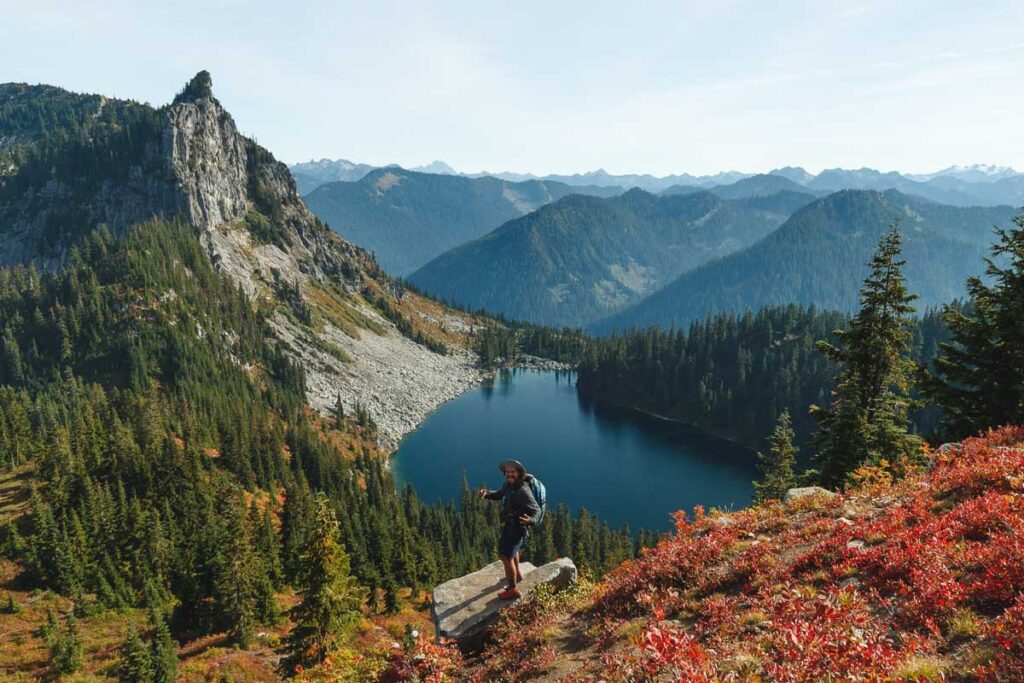 Although the Mount McCausland hike is 6.3 miles, add about a mile because you can't miss Lake Valhalla! It's best to climb up McClausand first and then walk to the lake.
Make sure you don't use the trailhead on Google Maps. The Smithbrook Trailhead is the one to use to ensure you aren't adding on any unnecessary mileage.
If we HAD to pick our absolute favorite hike near Leavenworth this one would be it. It's the furthest from town but absolutely gorgeous and worth it!
---
READ MORE: Hiking Lake Valhalla Trail + Mount McCausland Trail
---
8. Sauer's Mountain
Distance: 5.2 miles
Type of Trail: Out & Back
Difficulty: Moderate
Sauer's Mountain Trail is a 5.2-mile out and back trail that summits up the mountain. It is rated as moderate, but it does ascent up to the summit of Sauer's Mountain, which is 3,117 feet. There are views at many points of this hike, but the best are from the top!
The trailhead is a small parking lot, but this is one of the most popular hikes in Leavenworth and can get very busy. The trail starts on private ground, so it's recommended to come back another time if it is complete.
To reach the trailhead, drive along North Road in a southeasterly direction until Anderson Canyon Road. The trailhead is off this road.
9. Icicle Gorge
Distance: 4.5 miles
Type of Trail: Loop
Difficulty: Easy
Icicle Gorge Trail is a loop trail that is relatively easy and perfect for all hiking abilities. It's 4.5 miles in total and encompasses the beautiful Icicle Creek.
This is one of the most family-friendly hikes in Leavenworth, as there is so much to see. Cross Icicle Creek on various bridges, watch for chipmunks and butterflies, and don't miss the waterfall!
As this is a more leisurely hike, it's possible to tackle throughout the seasons – but make sure that you have appropriate gear if you are hiking in the snow. It's a fantastic hike near Leavenworth to take in beautiful reds, oranges, and pinks as the leaves change color in fall. With plenty of shade, it's also ideal on a warm sunny day!
Just be careful if it has been raining, as the trail can get quite slippery.
There are also a few campsites around, so you can stop at one of these if you visit in the summer and want a real adventure! Chatter Creek campground is east of the trail, and Rock Island campground is in the west.
To reach the trailhead, drive westwards from Leavenworth. You'll come to a parking lot on your left. To park here, you either need to have a permit (not the Discover Pass) or pay a fee, the details of which are at the information sign by the parking lot.
Where to Stay in Leavenworth
Camping – There are a whole host of pubic campsites along Icicle Road and throughout Okanogan-Wenatchee National Forest. The closest to Leavenworth is Eightmile, but you'll find the most sites at Johnny Creek, and parking for extra-long RVs at Blackpine Horse Camp.
LOGE Leavenworth Downtown – This central hotel combines minimalist décor with a focus on adventure and sustainability. Guest can make use of free bike hire, outdoor patios with a fire pit, and Sunday yoga sessions.
Off-Grid Cabin – This cozy stay is for anyone that truly wants to disconnect, with no electricity or indoor plumbing. You can truly focus on enjoying the natural surroundings from the deck or playing board games by the wood fire.
Whistle Post Inn – Just a short drive from town you'll find this converted barn that's great for groups. It's a combination of bunk-style bedding and oversize tents for an outdoor/indoor glamping experience.
Alpine Escape – You can stroll to the river from this modern two-bedroom condo. It's fully equipped with a fireplace and a large kitchen and is just 15 minutes walk from downtown.
We hope this post has given you some great ideas for hikes in Leavenworth! Don't forget to check out more hikes in Washington.
More Hikes Around Washington
I've been perpetually traveling and living around the world for years but it's hard to beat Washington and the PNW. After years of road-tripping the area, I guess you can say I know it pretty well! When I'm not writing guides for you, you can catch me somewhere petting a dog, attempting to surf, hiking a volcano, or stuffing my face with bread and cheese.