Sitting east of Seattle, Bellevue is famous for its open green spaces, trendy shops, and high-end restaurants.
There are plenty of hikes, mountain bike trails, and epic lookouts for the adventurers among you!
Let's look at all of the best things to do in Bellevue, a gem of Washington state!
Things To Do in Bellevue
---
1. Meydenbauer Bay Park
Bellevue's newest beach park, Meydenbauer Bay Park, is a wonderful place for a morning stroll.
It's the perfect spot to visit with children; it has a viewing terrace of the beautiful shoreline and lots of facilities designed for education. This is a perfect spot to put your kayak or SUP board in as well. Bring your own or rent from the REI boathouse on site.
2. Idylwood Park
Spanning over 17 acres, Idylwood Park sits on the beautiful Lake Sammamish, with plenty of room for swimming and recreation.
There's a small boat ramp from which people can take to the water. Also, find the opportunity to go fishing from the pier or use the picnic tables.
---
RELATED: 19 Killer Beaches in Seattle, Washington for Adventure
---
3. Marymoor Park
Marymoor is the most popular park in King County, sprawling over 640 acres and visited by over three million people yearly. So you know it's got to be one of the best things to do in Bellevue!
Marymoor Park has ample open space in Bellevue and has become a community area, with space for playing baseball, soccer, or cricket, places for birdwatching, and glorious vistas over Lake Sammamish.
If you're looking for somewhere near Bellevue to enjoy the fresh air, Marymoor Park is for you!
4. Lake Sammamish State Park
The ideal beach day location in Bellevue, the 531-acre Lake Sammamish State Park, has two beautiful lakefront beaches where you can catch the sun or take a dip—Tibbitts and Sunset Beach.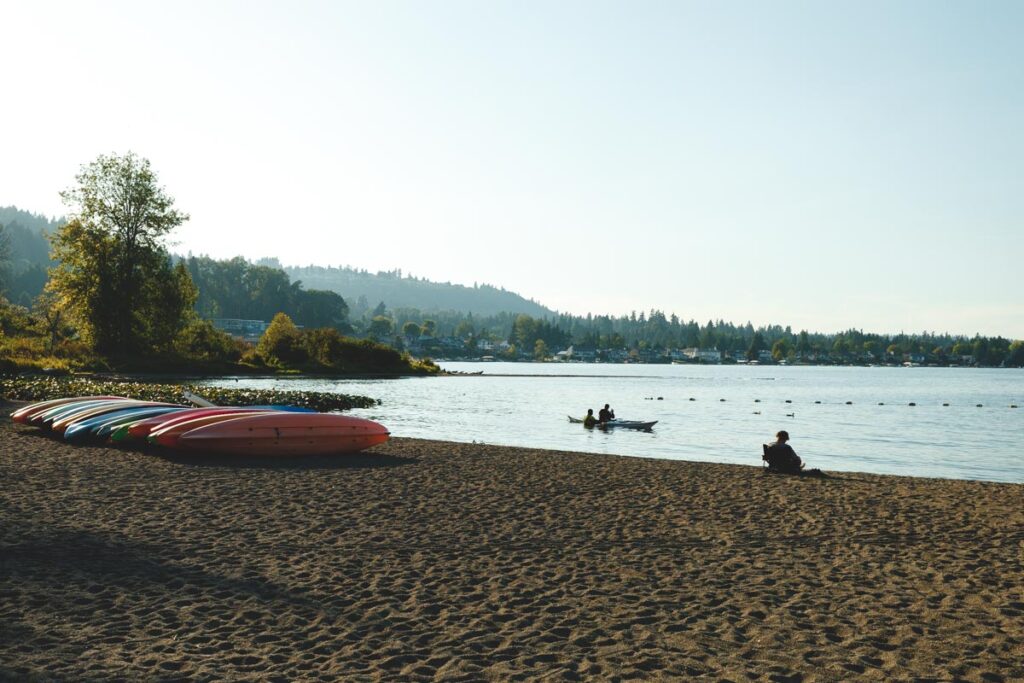 At Tibbetts Beach, you can rent out water sports equipment, including stand-up paddleboards and kayaks or just lounge on the beach (this is the quieter one of the two!)
Also, in the state park, you'll find trails spanning through wetland and deciduous forest; look out for blue herons and bald eagles, which call the park home. Take to the trails on foot, or bring your bikes.
---
READ MORE: Exploring Lake Sammamish Just Outside of Seattle!
---
5. Bellevue Botanical Garden
The Bellevue Botanical Garden is another beautiful green space in the city, a 53-acre oasis. Walk through the fuschia and rhododendron gardens, learn about the unique flowers, or admire the spring courtyard.
There are a couple of trails that you can take through all of the gardens, including the Tateuchi Loop Trail and the Lost Meadow Trail.
---
RELATED: The 19 Best Parks in Seattle For Adventure
---
6. Cougar Mountain Regional Wildland Park
If you fancy a fun hike near Bellevue, the Cougar Mountain Regional Wildland Park is your place!
It has a whopping 35 miles of trails that span through wetlands and mature second-growth forests and has lots of lookouts with immense views of Lake Sammamish, Seattle, and the Cascades.
Hikes include the Coal Creek Falls Loop, which takes in some gorgeous waterfalls, the Whittaker Wilderness Peak Trail with immense views over the park, and the De Leo Wall Trail, a generally easy trail with some steep climbs.
7. Duthie Hill Mountain Bike Park
Located on the Issaquah Plateau amid the glorious Pacific Northwest Forest, Duthie Hill Mountain Bike Park is the ultimate place to visit if you want to try the sport!
Here, you'll find cross-country trails, freeride trails, and jump lines, with a range of circuits for beginners, intermediates, and advanced.
Even if you have no mountain biking experience, you'll be welcome at Duthie – although it's recommended to stick to the easy trails at first (Bootcamp is perfect for beginners!).
8. Madrona Beach
Sitting on the shores of Lake Washington, Madrona Beach is quite grassy, but it's a fantastic swimming spot, with lifeguards in the summer months. Plus, it's very scenic, with excellent views of Mount Rainier.
It backs onto Madrona Park, and there's a free parking lot here. While this spot is just over the bridge, you'll be looking over the lake AT Bellevue!
9. Washington Park Arboretum
Also on the shores of Lake Washington, the Washington Park Arboretum is managed by the City of Seattle and the University of Washington Botanic Gardens, with a vast array of plants from different climates.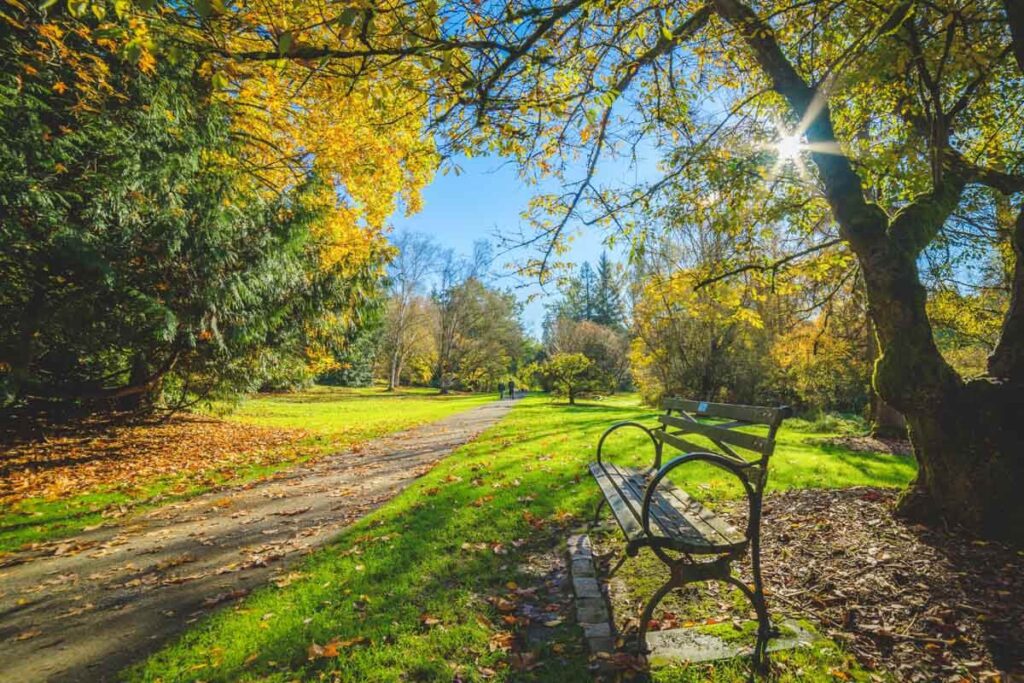 It is a fantastic place for an afternoon walk, and you'll likely learn a thing or two about horticulture while you're here!
Most of the arboretum is free, but the Japanese Garden, which is in the southern part of the Arboretum, has a small entrance fee. With oriental plants and decorations, this is a beautiful part of the gardens and is well worth adding to your trip.
10. Rattlesnake Ledge Trail
Distance: 5.3 miles
Type of Trail: Out & Back
Difficulty: Moderate
Elevation Gain: 1,459 ft
If you're looking for some adventure around Bellevue, head to Rattlesnake Ledge Trail. This 5.3-mile out and back hike is rated moderate, with plenty of up and downhills.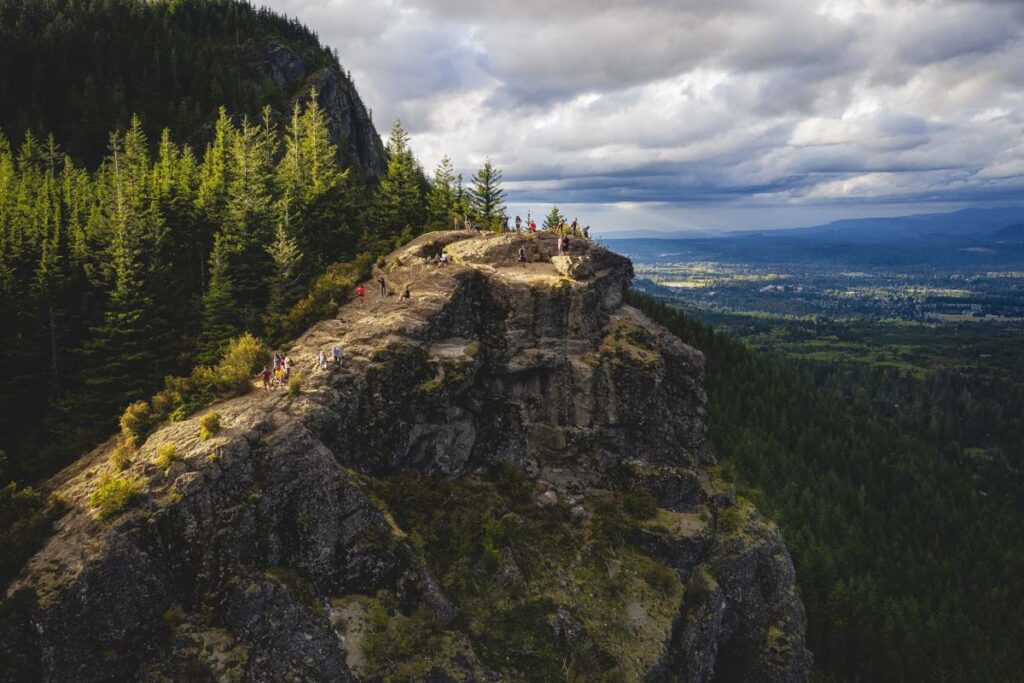 However, once you reach the top, you'll see it's all worth it. There's an incredible lake view from the top!
One drawback of this hike is that it can be hectic, so it's best to go early in the morning or in the off-season if you want to tackle it.
---
RELATED: 25 EPIC Hikes in Washington to Tackle
---
11. Franklin Falls
Distance: 2 miles
Type of Trail: Out & Back
Difficulty: Easy
Elevation Gain: 364 ft
For a more leisurely hike, head to Franklin Falls. This is just a two-mile round trip from the parking lot, and you'll be able to enjoy a dramatic view of the crashing falls at the end – win-win!
The falls themselves drop over three tiers, with a total of 135 feet, but you can only see the last tier from the base. Still, they're a beautiful sight to behold, and if it's a hot day, you can also take a dip in the plunge pool.
If you're visiting in the winter, you might have to access it from a different trailhead.
---
READ MORE: Franklin Falls Hike: What You Need to Know!
---
12. Snoqualmie Falls
Among the most popular tourist attractions in Washington, Snoqualmie Falls drop 270 feet. There are two observation decks, upper and lower, so you can take in the beauty of Snoqualmie from all angles!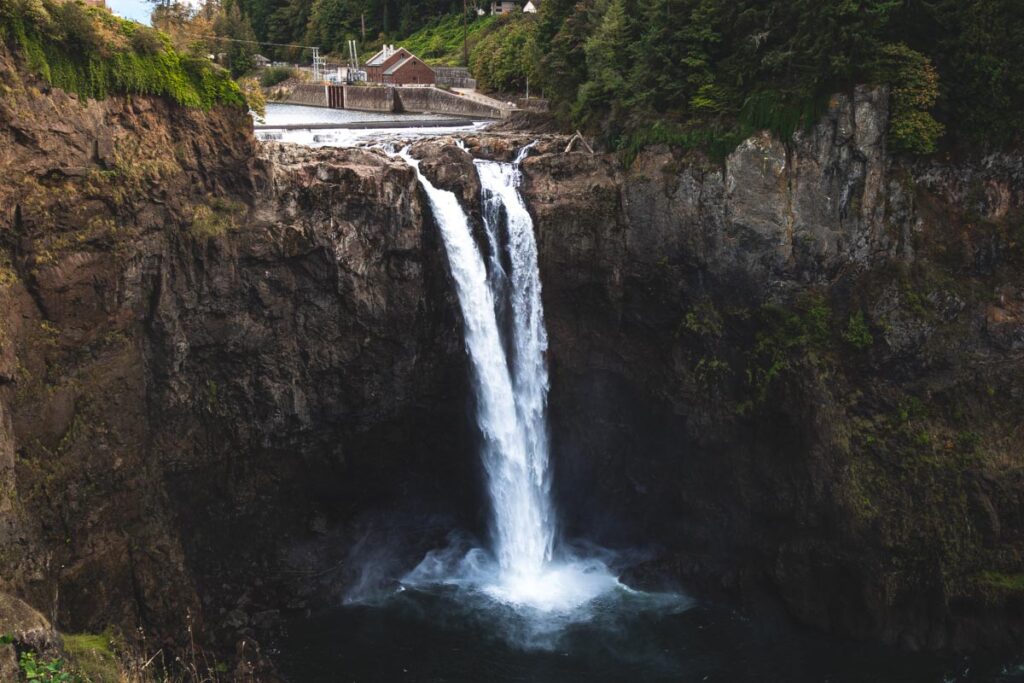 They're also very accessible; the distance between the parking lot and the falls is only 200 feet, and it's wheelchair accessible. The parking lot is free, so you can take a picnic here and enjoy your day around the waterfall!
---
READ MORE: Snoqualmie Falls Hike: What You Need to Know!
---
13. Twin Falls
Distance: 2.5 miles
Type of Trail: Out & Back
Difficulty: Moderate
Elevation Gain: 636 ft
One of the tallest waterfalls in the area, Twin Falls, actually comprises three sections: two drops of 45 feet, another 30 feet upstream fall, and a third that is a 135 feet fall.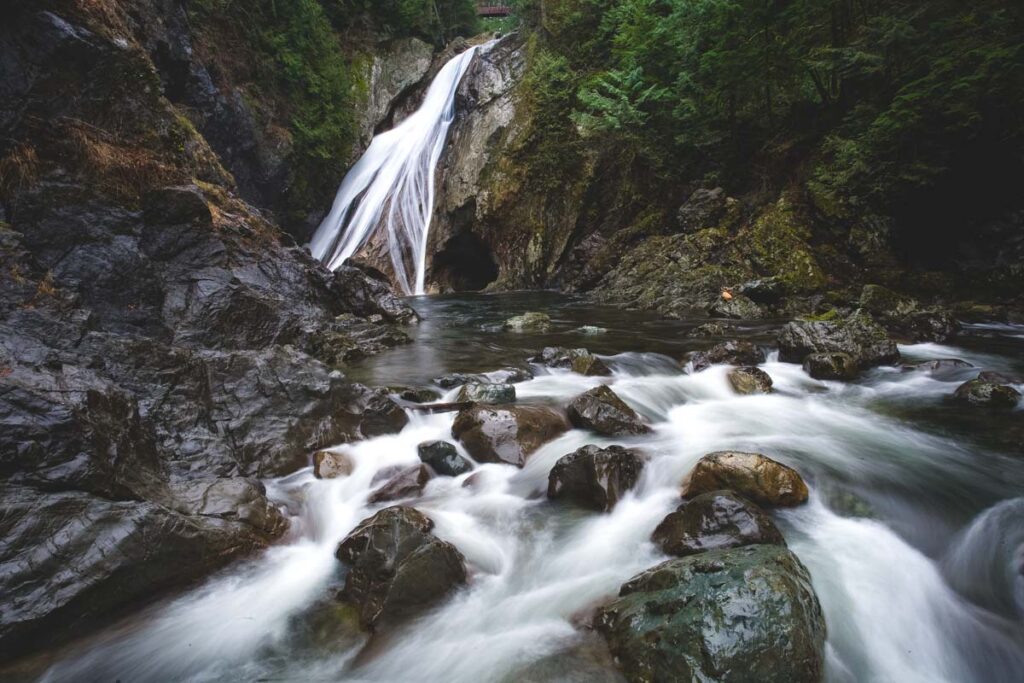 There are multiple viewpoints where you can see the falls from different perspectives. You can see Twin Falls independently or explore them as you walk around Olallie State Park and the other Snoqualmie River waterfalls!
---
READ MORE: Hiking Twin Falls Trail: What You Need to Know!
---
There are many things to do in Bellevue, from natural phenomena to some of Washington's best waterfalls. The city sits just a stone's throw from Seattle but boasts an impressive array of attractions in its own right.
Whether you're into swimming, mountain biking, hiking, or just like to admire beautiful nature, Bellevue has something for you!
We hope this post helped you plan your trip to Bellevue, Washington! Before you go, don't forget to check out other great places to visit around Seattle.
I'm an Oregon native but neighborly and equally as enchanted by Washington. I tackle expeditions around the world and love a good beer at the end of the day. PNW obsessed, VW nerd, and surf or snow riding fanatic.