Seattle is straddled by some seriously epic outdoor offerings. With the Puget Sound and the Olympic Mountains to the west and Lake Washington and the Cascade Range to the east, some of the best nature in the PNW is right at your fingertips.
Even if you don't have time to venture far outside of the city, there are plenty of great parks in Seattle to satisfy your cravings.
There are nearly 500 parks inside Seattle city limits alone, meaning your opportunities are truly endless when it comes to getting outdoors. So whether you're looking for a serene walking path, a sweat-inducing hike, a beautiful city beach, or just a place to be at one with nature, keep reading to discover the 19 best parks in Seattle.
19 Best Parks in Seattle
---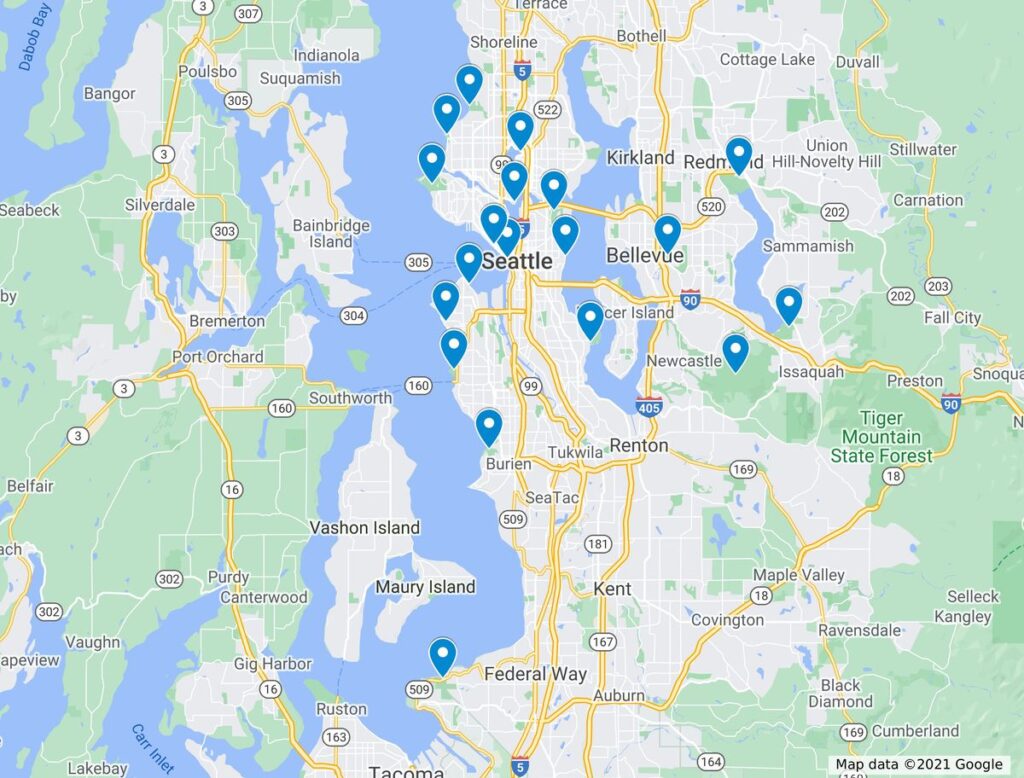 1. Discovery Park
Discovery Park is the biggest park in Seattle, and it's also one of the best. With over 500 acres to explore, you'll find plenty to keep you busy for a day.
Situated at the site of an old military installment, the park's strategic location also gives way to some of the best views in the city. Vistas from the West Point Lighthouse are hard to match, and if you stick around until evening, you'll catch one of Seattle's most stunning sunsets across the Puget Sound.
But there's more to this Seattle Park than panoramic views. You could spend your day here hiking the forested trails, suntanning along the sandy shoreline, or learning more about the area's history in the culture center. If you have kids, make a beeline to the play area, complete with a zipline, picnic tables, and all the other classic playground equipment.
2. Seward Park
It's entirely possible to surround yourself in verdant forests without ever leaving the city center, and Seward Park is one of the best parks in Seattle for those who want to truly immerse themselves in nature.
Tucked into one of the last old-growth forests in the city, Seward Park is perfect for walking, hiking, and biking. You'll find over two miles of scenic trails to traverse inside the park.
The park also has prime real estate on the shores of Lake Washington, which makes it a popular place for beach day activities during the summer months. The beach is a bit rocky, but there are plenty of grassy expanses in front of the lake where you can lay out a towel and enjoy impeccable views of Mercer Island and Mount Rainier.
3. Gas Works Park
Perhaps the most unique park in Seattle is Gas Works Park. Situated at the former Seattle Gas Light Company gasification plant, this industrialized park features remains of the factory along with some killer views of South Lake Union and downtown Seattle.
Paved paths will lead you around the old factory, and once you're ready for a break, you can take in the incredible views from the grassy hillside in front of the water. The park is a popular picnicking area for Seattleites, and it's also a great spot to watch float planes landing on the lake.
You can paddle or kayak around Lake Union to Gas Works Park to view the area from a different angle. Rentals are available at Moss Bay and Northwest Outdoor Center. Note that swimming is prohibited around the park due to potentially dangerous substances leftover from the factory days.
---
RELATED: 45 Outdoorsy Things to Do in Seattle, Washington!
---
4. Dash Point State Park
Discovery Pass Required
One of the best parks in Seattle for those looking for an all-inclusive day in nature is Dash Point State Park. Located just 30 minutes south of the city center, Dash Point has a little something for everyone.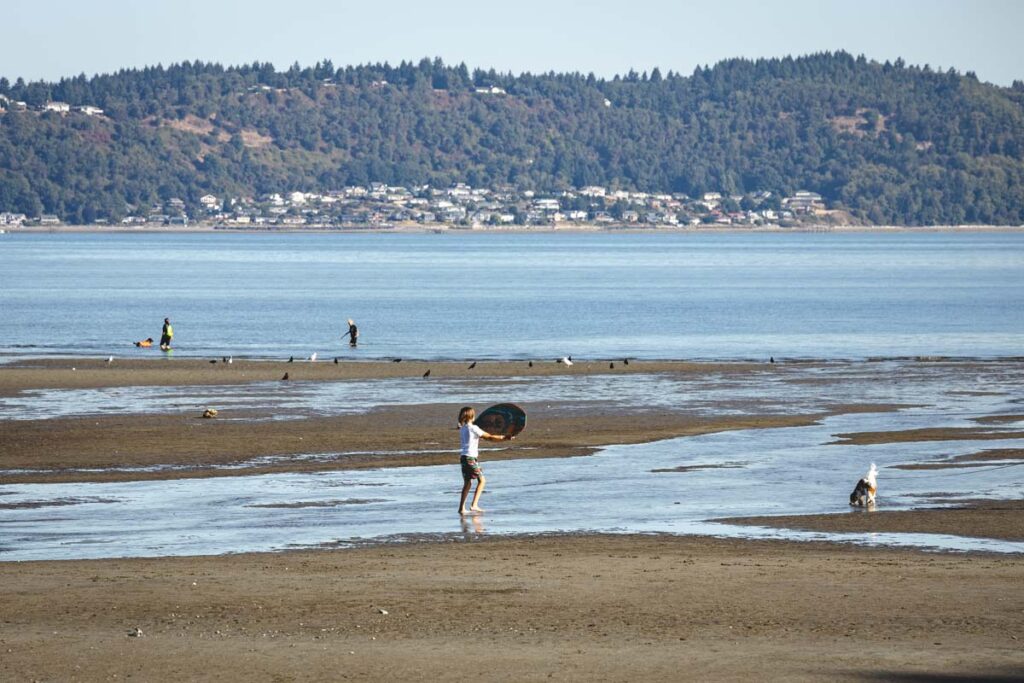 You can spend your days here lazing on the sand beach, hiking and biking through forested trails, or casting out from the fishing pier. Skimboarding is especially popular at low tide, though if you're looking for a more relaxing activity, beachcombing is also a great option.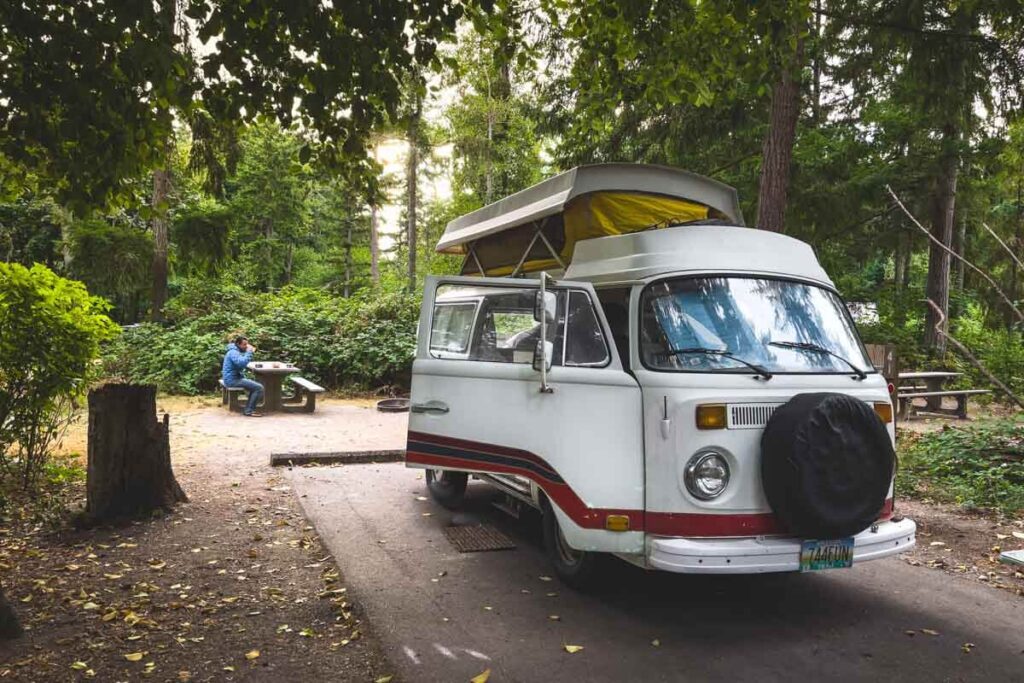 Once you're ready for lunch, you can cozy up to a picnic table in the day-use area or grab a gourmet hotdog from the concession stand (open seasonally).
If one day wasn't enough in this Seattle Park, there are over 100 campsites for tent and RV campers.
5. Seahurst Park
When the weather cooperates, and you need a place to cool down, Seahurst Park is the place to be. The beach here is a local favorite, thanks to the spectacular views and idyllic ambiance. The shoreline is pebbly, but that doesn't stop visitors from taking a cool dip in the Puget Sound on hot days.
If you're not up for a swim, you can spend your time at this Seattle Park searching for driftwood along the shore, enjoying a picnic at one of the tables, or watching the young ones letting their imaginations run wild on the playground.
6. Lincoln Park
Situated on the scenic shores of Puget Sound, Lincoln Park is another one of the best parks in Seattle. The park is comprised of 135 acres of walking paths, athletic fields, beaches, and plenty of incredible views.
You can choose between forested hiking trails or a pathed walking path along the coastline, and on clear days views of the Olympic Mountains peek out in the distance.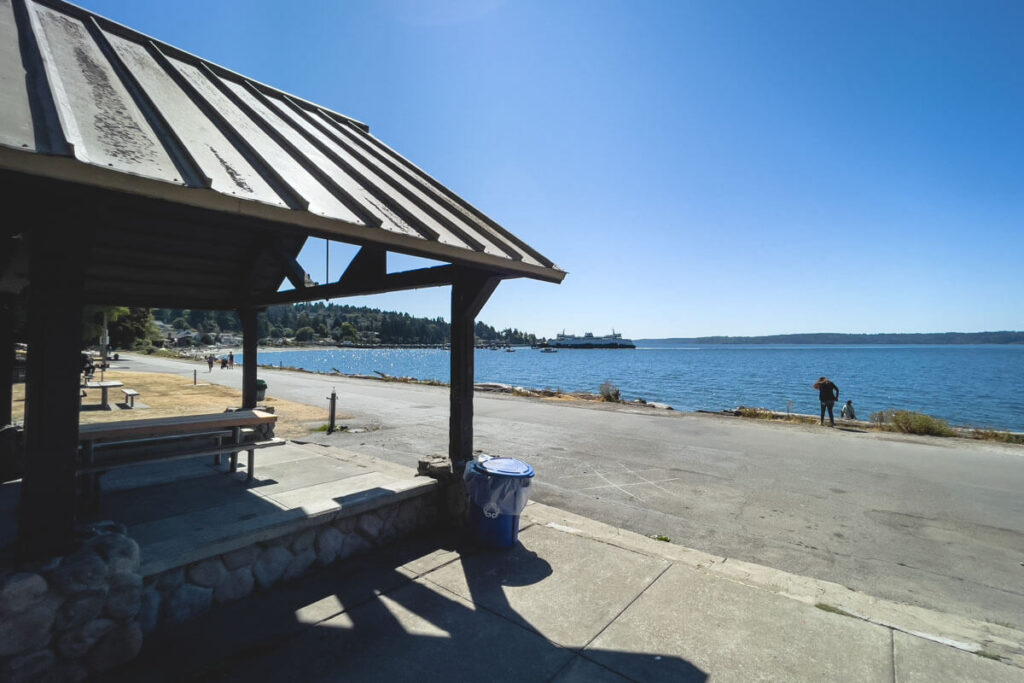 You could also take to the water if the weather is cooperating. The sandy beach here is one of the best in the city, though it rarely becomes overcrowded. You could also splash around in the saltwater swimming pool located on the park's westernmost tip.
Other notable park features include picnic shelters, benches, and a playground.
7. Washington Park Arboretum
The colorful botanical gardens of the Washington Park Arboretum make a serene addition to Lake Washington's shoreline. The park is managed by both the University of Washington and the city of Seattle, and the attention to detail is notable.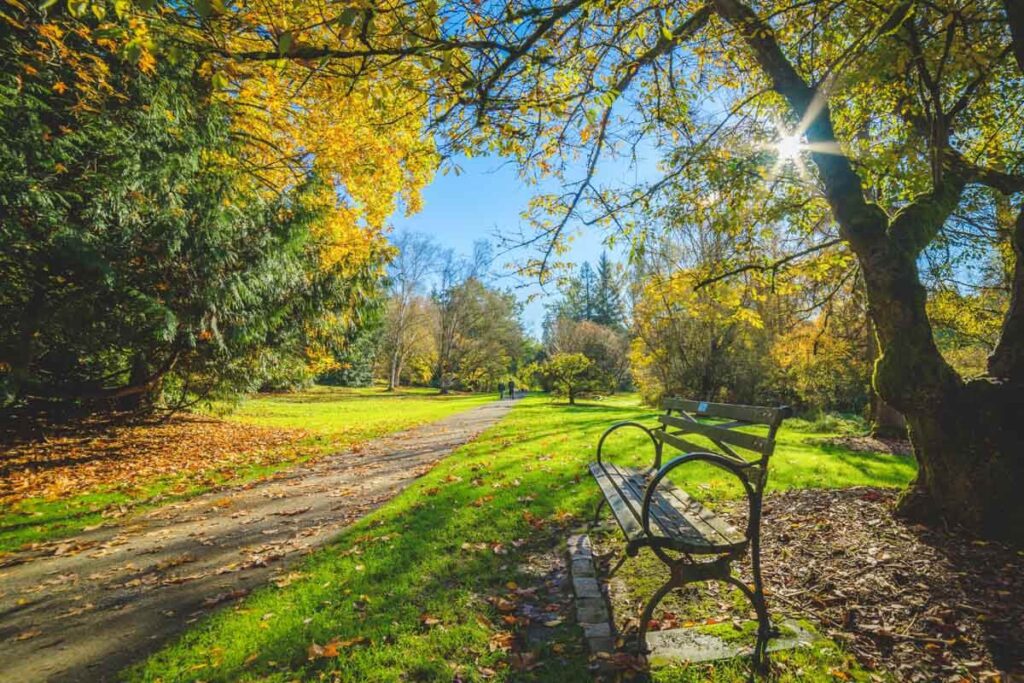 You could spend hours strolling past the park's eclectic mix of flora, some of which aren't found anywhere else in the Northwest. The best time to visit this Seattle Park is during spring and autumn when the colors of new blooms and fall foliage are at their peak.
After you've strolled around the park, you could rent a boat and paddle along the shoreline of the arboretum.
8. Golden Gardens Park
Situated in the much-loved Ballard neighborhood in the northwest part of the city, Golden Gardens Park is one of the most popular parks in Seattle. With incredible views across Puget Sound, a large sandy beach, and miles of hiking trails, it's not hard to see why Golden Gardens is so favored.
On a clear day, you can enjoy views of the majestic Olympic Mountains as you work on your tan. The beach here is one of the few in Seattle where designated campfires are allowed, so consider sticking around after the sun goes down.
Dog owners will appreciate the off-leash area at the northern end of the park, and the loop trails in this region of the park offer more epic views across the water.
9. Seacrest Park (Jack Block Park & Hamilton Overlook)
One of the most accessible parks in Seattle is Seacrest Park, located along Elliott Bay in the city's center. Not only is the park a convenient place to soak up some nature, but it also boasts incredible views of the Seattle skyline across the bay. Head up to the Hamilton Overlook for some of the best views in the city.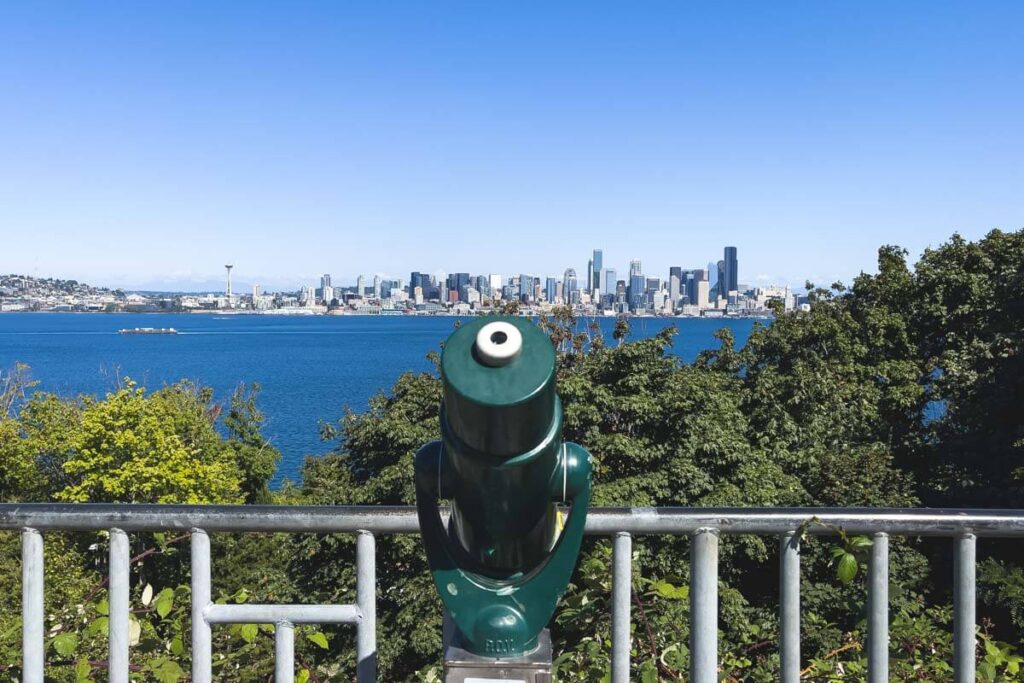 While the scenery alone is worth a trip to the park, there is so much more to discover here. This area is a hub for recreation, especially down by the beach.
You'll find kayak, bike, paddleboard rentals and tours, a 250-foot fishing pier, a boat ramp, and scuba diving excursions. There is also a water taxi terminal, making it quick and easy to get across the bay.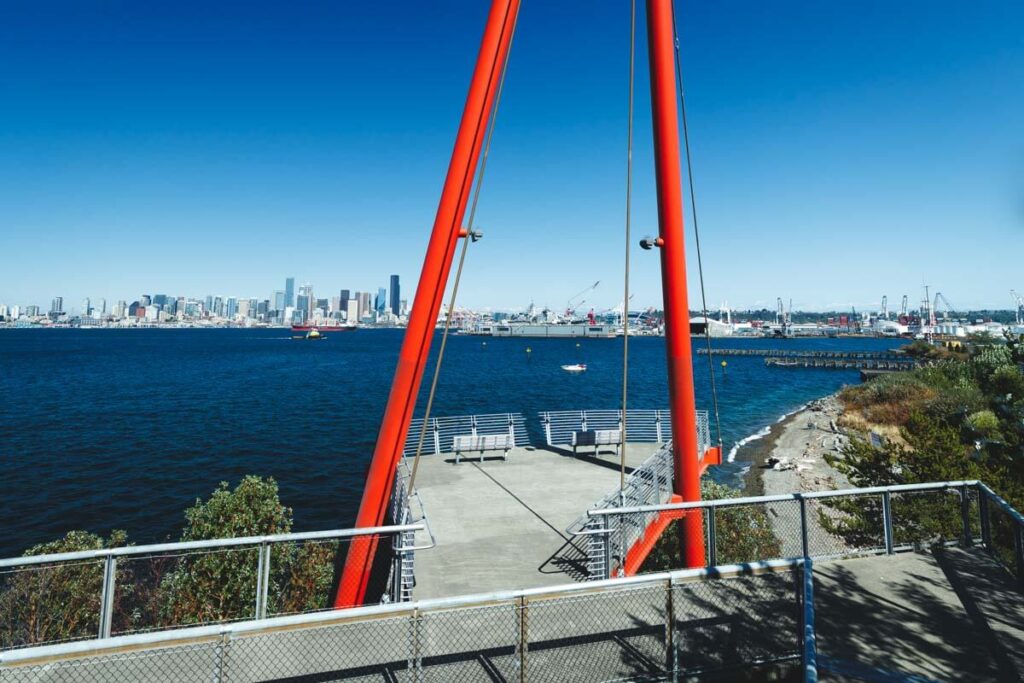 Because there is so much to do in this area, it can get crowded quickly, especially during the summer. Luckily, there is a nice walking trail that will transport you to the nearby Jack Block Park.
The views here are arguably just as great, and taking them in from the iconic red observation tower is a must. There's also a small beach, a walking pier, and a playground at Jack Block Park.
10. Olympic Sculpture Park
The Olympic Sculpture Park is one of the most iconic parks in Seattle. This waterfront park seamlessly weaves modern influences with natural offerings to create a truly remarkable experience for visitors.
This nine-acre expanse is filled with towering art installations tucked between the Space Needle and Elliott Bay. You can explore this area by yourself or with a guided tour. Once you're done, you can make your way to the nearby Pocket Beach for a refreshing dip or meander along one of the loop trails leading to the nearby Myrtle Edwards Park.
---
RELATED: 15 Of The Best Seattle Tours To Get The Most Out of Your Visit!
---
11. Green Lake Park
One of the locals' favorite parks in Seattle is, without a doubt, Green Lake Park. Named after the lake on which it sits, Green Lake Park is located on the city's northern end.
A three-mile path lines the lake's perimeter, and it's usually crowded with joggers, longboarders, rollerbladers, and parents pushings strollers.
The park also has two sandy beaches, and while the water is a bit green, it is much warmer than Seattle's other swimming spots. If you'd like to stay relatively dry, canoe, kayak, and paddleboard rentals are available at the beach.
12. Carkeek Park Beach
You'll find one of the most pristine parks in Seattle, just a hop skip and a jump away from Green Lake. Carkeek Park is the direct result of volunteer efforts to preserve and revitalize the beautiful strip of nature.
Community members have spent countless hours restoring this area over the years. Their hard work has resulted in the successful reintroduction of salmon to Piper's Creek and the restoration of Piper's Orchard.
Carkeek is a cornucopia of wetland, beach, and forest ecosystems. The best way to experience it all is by hiking along the trails. That being said, no one would fault you for heading straight down to the beach to take in the epic views of the Olympic Mountains across the water.
---
RELATED: 19 Beaches in Seattle, Washington for Adventure
---
13. Madrona Beach
Leave the business district behind and head down to the nearby shores of lovely Lake Washington. Madrona Beach is one of the most centrally located parks in Seattle. You'll catch views of Mount Rainier and the Seattle skyline, and the park boasts plenty of fun outdoor activities too.
The wooded hillside is full of hiking and jogging trails, and there's even a black sand beach with two floating docks. Needless to say, this is a popular summer hang for both locals and tourists.
If the sandy beach area is full, you can always find a spot on the grass. Madrona Beach also has a few picnic tables, benches, and a concession stand open during the summer.
14. Lake Sammamish State Park
Discovery Pass Required
While it may not be precisely in the city center, Lake Sammamish State Park is worth visiting. The park is located just outside of Seattle's urban area. This allows visitors to unwind in the peace and quiet that can only be found when you're surrounded by nature.
The park boasts hiking trails through deciduous forests, large picnic shelters, a playground, and concessions. However, the best part about Lake Sammamish is its two beautiful beaches.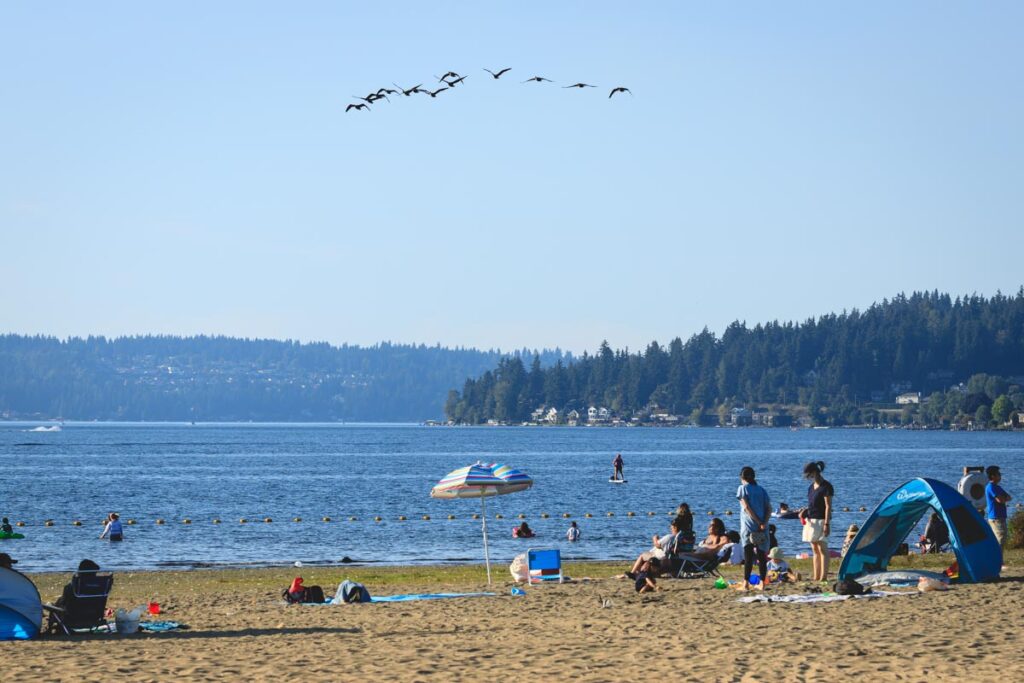 Sunset Beach is bigger and better for classic beach day activities like sun tanning and sandcastle building, while Tibbetts Beach offers kayak, paddleboard, and pedal boat rentals (be sure to reserve in advance, and they are closed in winter).
---
READ MORE: Exploring Lake Sammamish Just Outside of Seattle!
---
15. Marymoor Park
Head a bit further north from Lake Sammamish, and you'll find another one of Seattle's best parks. Marymoor Park is a mecca for adventure seekers.
There are hours of entertainment packed into this Seattle park, including hiking trails, sports fields, a rock climbing wall, and a massive off-leash dog area.
The hiking trails wind past the scenic Lake Sammamish River, and at the end, you'll find a boardwalk that leads to some marshland overlooking the northern part of the lake. The trail loops around, so you can choose to extend your hike or simply head back the way you came.
16. Bellevue Botanical Garden
Situated between Lake Washington and Lake Sammamish sits one of the most beautiful parks in Seattle. Bellevue Botanical Garden offers a quiet reprieve from the bustling city.
The park features a wide variety of native Northwest blooms, along with natural wetlands and a trail that winds through restored woodlands.
This urban oasis changes with the seasons, and no matter how many times you visit, you'll likely see something new. Even in the winter, this botanical garden shines bright, primarily thanks to the spectacular light show put on every holiday season.
---
RELATED: 13 Outdoorsy Things To Do in Bellevue, Washington
---
17. Cougar Mountain Regional Wildland Park
Those looking for the best park in Seattle for hiking should head straight for the Cougar Mountain Regional Wildland Park. This massive 3,115-acre park boasts over 35 miles of hiking trails across unspoiled wilderness.
The trails here wind past creeks, lush, moss-covered forests, and even former military installments. There are also tons of ponds, marshlands, waterfalls, and summits with epic viewpoints.
Trails vary in length and difficulty, so whether you're looking for a casual stroll or a heart-pounding cardio session, you'll be able to find a suitable route.
If you don't feel like hiking, there are roads within the park that allow you to drive to some of the best lookouts.
While it may seem like a park of this size would be impossible to squeeze into Seattle's city center, the entrance is less than 20 minutes from downtown.
18. Me-Kwa-Mooks Park
For a quick escape into nature, head to West Seattle's Me-Kwa-Mooks Park. This stunning seaside park features swaths of undisturbed forest, along with scenic hiking trails along the coast.
At low tide, you can leave the trail behind and explore the abundant tide pools. The park also has some picnic tables on the lawn by the entrance if you'd like to enjoy a scenic lunch.
Just across the street from the park, you'll find the Emma Schmitz Memorial Overlook, which has some stunning lookout points along with additional walking trails.
19. Waterfront Park
Waterfront Park is one of the newest parks in Seattle. This modern creation is located just steps away from downtown on Elliott Bay.
The park features a newly constructed pier and boasts front-row views of the city center and Elliott Bay. In addition to grand vistas, this cultural hub is also outfitted with food vendors, public art displays, and a rotating array of activities, programs, and performances.
We hope this post helped you plan your visit to some of the best parks in Seattle! Before you go, don't forget to check out other adventures around the city.
I'm an Oregon native but neighborly and equally as enchanted by Washington. I tackle expeditions around the world and love a good beer at the end of the day. PNW obsessed, VW nerd, and surf or snow riding fanatic.