With snow-capped peaks soaring up into the striking blue skies and panoramic valleys that spread out for miles beneath you, there are so many wonderful trails to explore in Mount Rainier National Park.
One of these is the Burroughs Mountain Trail. Around nine miles in length, it'll take you half a day or so, and it has one of the best vistas in the park. Or, you can combine it with the Mount Fremont Lookout Trail for a full-day hike (intense but doable if short on time!)
It's rated as difficult, although most people find the challenging part to be the route toward Third Burroughs (the end). The trail encompasses a range of terrain and has some spectacular views over the best parts of the national park.
The Burroughs Mountain Trail
---
Distance: 9.4 miles
Type of Trail: Loop
Difficulty: Hard
How To Get to the Burroughs Mountain Trailhead
The Burroughs Mountain Loop Trail leaves from the Sunrise Visitor Center on the park's northeast side. It's a well-paved parking lot with plenty of space – as long as you visit in the morning, as it does get busy throughout the day!
However, the road leading to the parking lot can be narrow and subject to seasonal closures. The visitor center is popular, especially in peak seasons, and there is also an on-site cafe and restrooms here.
TONS of other amazing trails also start here so while this hike might eat half your day, you might find yourself coming back for more!
---
RELATED: 15 Epic Hikes in Mount Rainier National Park, Washington
---
Hiking the Burroughs Mountain Trail
You can either start the hike from the Sunrise Visitor Center or from the junction of the Mount Fremont Trail. Since we decided to hike Mount Fremont and then the Burroughs Mountain Trail (because we're a little crazy) we started from the junction.
If you have enough motivation (water and food), you can definitely do both of these hikes on the same day.
Be sure to read our guide on how to hike the Mount Fremont Trail.
---
RELATED: Hiking the Mount Fremont Lookout Trail in Mount Rainier National Park
---
The Burroughs Mountain Trail Loop
If you start from the Sunrise Visitor Center, either take the south or north route of the loop. You'll eventually reach the trail that heads towards the Burroughs.
If you're starting at the Fremont Junction, you'll already be on the north side of the loop, so just continue from there.
The beauty of this hike is that you can just do the loop if you want, or hike a little way on the route towards the Burroughs and then turn around.
First Burroughs
If you're short on time or your legs are giving up on you, you can just do the loop which will encompass First Burroughs. Don't feel bad, you'll get 360 degrees of view from here! This is not one of those hikes where you HAVE to finish it in order to get rewarded.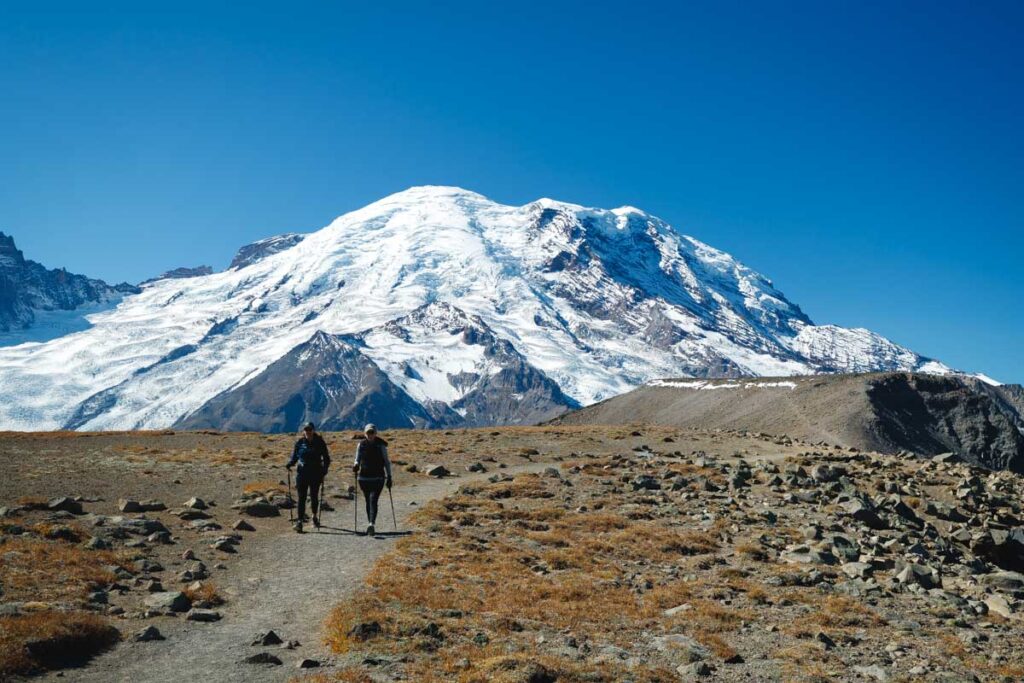 This loop is great and First Burroughs is gorgeous, so enjoy this little mount overlooking Mount Rainier or, if you can muster up the energy, Second Burroughs is only about half a mile away.
Second Burroughs
Are you continuing? Awesome! Follow the route to reach Second Burroughs. It's easy to follow, relatively straight, and marked well. You'll take in incredible views of the Rainier Valley and Mount Rainier from here—again! But even closer with a different perspective.
There are plenty of rocks you can sit on to take the scenery in – it's the perfect place to rest for a snack or lunch! We were starving by this point so that's what we did. The curious chipmunks know this is the lunch spot too so they will be scurrying around you.
You'll also notice that just past Second Burroughs, there's a junction with the Glacier Basin Trail.
This is another epic trail you could add on or even use to hike up to this epic area of Mount Rainier National Park. This trail connects to the White River Campground.
So if you don't want to move your car and deal with parking, reserve a camping spot at the campground then take the Glacier Basin Trail to the Burroughs Mountain Trail.
Third Burroughs
After enjoying your time at Second Burroughs, and passing the Glacier Basic junction, follow the trail that leads up to Third Burroughs.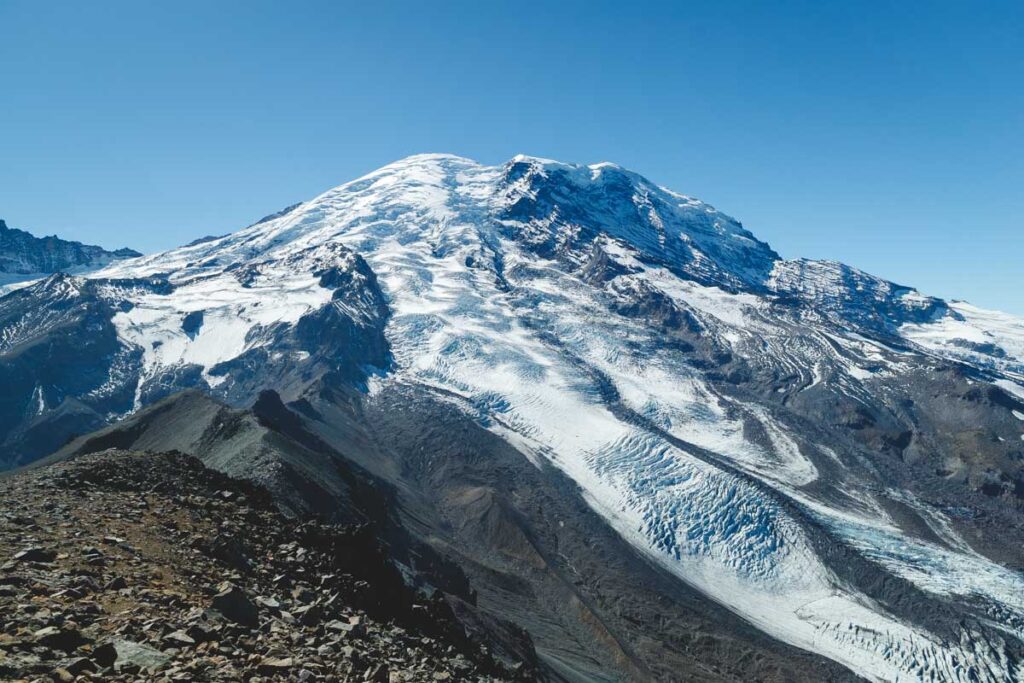 The route to Third Burroughs is longer and more challenging – you'll be more or less hiking uphill for an hour and a half. This was a bit of a hard slog and it was so exposed, windy, and brutally sunny for us too!

But it's well worth the trip; it's the most spectacular viewpoint. From Third Burroughs, you'll be able to see Mount Rainier in all its glory – glaciers, ridges, and more!
We couldn't believe the details of the glacier, we felt so close! This Burrough also had a bit of a tall rocky peak we could hide behind so we weren't getting battered by the wind too, so this was some nice relief.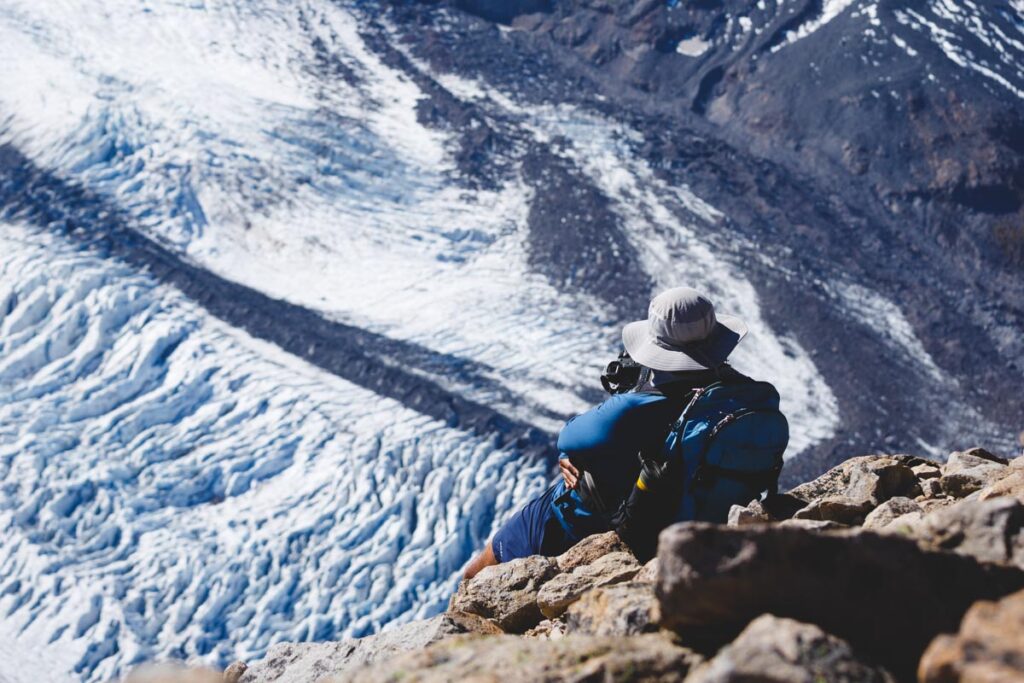 We were so close to the glacier, I was convinced I could feel the cold air whipping off the glacier and onto my face. Which felt great at first, but then got very cold.
This was the least busy Burrough for obvious reasons and we sat in near silence for quite a while taking it all in.
Heading Back on the Burroughs Mountain Trail
Once you get to Third Burroughs, turn around and retrace your steps back to the loop trail. You can walk on either side to return to Sunrise Visitor Centre when you reach the loop junction again at First Burroughs.
The north loop passes by Frozen Lake, where there are routes to other trails. So this is the one you'd want to take if you decide to hike Mount Fremont after.
The south loop goes by Shadow Lake and has beautiful views of the teal-colored lake and glacier below. This is the path to take if you are heading toward the White River Campground.
Along the south route, you'll also swing past the Emmons Vista Lookout, which is on the trail! On the way, you might see native wildlife, like black bears, mountain goats, and pika.
---
RELATED: 25 EPIC Hikes in Washington to Tackle
---
When to Hike the Burroughs Mountain Loop Trail
It's recommended to start this trail early because the parking lot quickly fills up! Try to arrive in the morning if you can.
There is a seasonal road closure leading to the visitor center due to heavy snowfall in the area. However, it's a great trail to enjoy in spring, summer, and fall.
Burroughs Mountain Loop Trail Tips
The sun is pretty harsh from around 2 pm. Make sure that you pack sunblock and even a hat. It's very exposed as there's virtually no shade at all along this trail.
It can also be very windy in places, particularly at Second Burroughs. A windbreaker would be helpful.
The harsh sunlight also causes a reflective glare on the snowy peak of Mount Rainier. If you come earlier, taking photos will be much easier on the eyes!
You need excellent shoes as the trail can be quite loose underfoot.
Remember plenty of water because there is also a risk of getting dehydrated. There is nowhere to fill up along the way. There is only water at the visitor center.
Layers are essential. It was so hot climbing uphill, then freezing while we were stationary enjoying the views.
Camping Near Burroughs Mountain Trail
The Sunrise Camp is one the southern part of the loop. It's a small campground with space for a few small tents, perfect for backpackers. There's also the Glacier Basin campground. These are both walk-in campgrounds only.
Or, you could camp at the White River Campground, which has space for tents and vehicles and is located about 12 miles from the Sunrise Visitor Center. This is where we camped.
You'll need a permit to camp in the National Park.
If you want to take in some of the most epic views of Mount Rainier National Park, including the wonderful Burroughs and Mount Rainier itself, then take in the Burroughs Mountain Loop Trail!
The beauty of this hike is that you can do it as a standalone hike or a combination with others and combine it with camping for a longer trip. Either way, it's definitely a must-do hiking adventure when you're exploring this part of Washington!
We hope this post helped you plan your hike on the Burroughs Mountain Trail! Don't forget to check out other things to do in Mount Rainier National Park and more hikes around Washington.
More Around Rainier National Park
I'm an Oregon native but neighborly and equally as enchanted by Washington. I tackle expeditions around the world and love a good beer at the end of the day. PNW obsessed, VW nerd, and surf or snow riding fanatic.