Are you looking for a day hike not too far from Leavenworth? Colchuck Lake Trail is your answer!
Located a little north of the cute town of Leavenworth, this fantastic day hike is almost 12 miles but can be shortened if you have less time. The Colchuck Lake Trail encompasses the first few miles, and then you can retrace your steps and turn off to make the Stuart Lake Trail detour.
Let's get into this awesome hike near Leavenworth!
Colchuck Lake Trail and Adding on Lake Stuart
---
Distance: 11.7 miles
Type of Trail: Out & Back
Difficulty: Hard
Getting to the Colchuck Lake Trailhead
This trail is easy to reach from Leavenworth—just follow Icicle Road. The last four miles are on a dirt road with lots of potholes. It looks daunting, but most cars can make it down the road. Just go slowly!
Once you reach the Colchuck Lake trailhead, there is a small parking lot. This is relatively small, with many parking spots reserved solely for overnight campers.
Due to this, you might not be able to park at the parking lot itself and will have to leave your car on the dirt road leading to the parking lot. You won't get a ticket, but make sure it's parked well enough to avoid scraping by other cars!
You do need a Northwest Forest Pass to park in the area.
---
RELATED: 17 of The Most Scenic Lakes in Washington
---
Colchuck Lake Trail
Once you've reached the trailhead, it's time to start hiking! The Colchuck Lake Trail is relatively easy for the first few miles.
You'll cross a log bridge onto the right side of Mountaineer Creek. The trail becomes more challenging, with a steeper incline and rockier terrain. Eventually, you'll reach the trail junction. This is where you'll return to later in the hike to reach Stuart Lake.
Follow the left trail to Colchuck Lake, continuing as you cross another log bridge. The trail is then a bit rocky – there are a few boulders to clamber over – and then it starts climbing.
There are a few switchbacks, which are gentle at first but become rockier and steeper. The last mile is the most challenging part of the trail. We promise that the lake views are worth it, though! Keep pushing!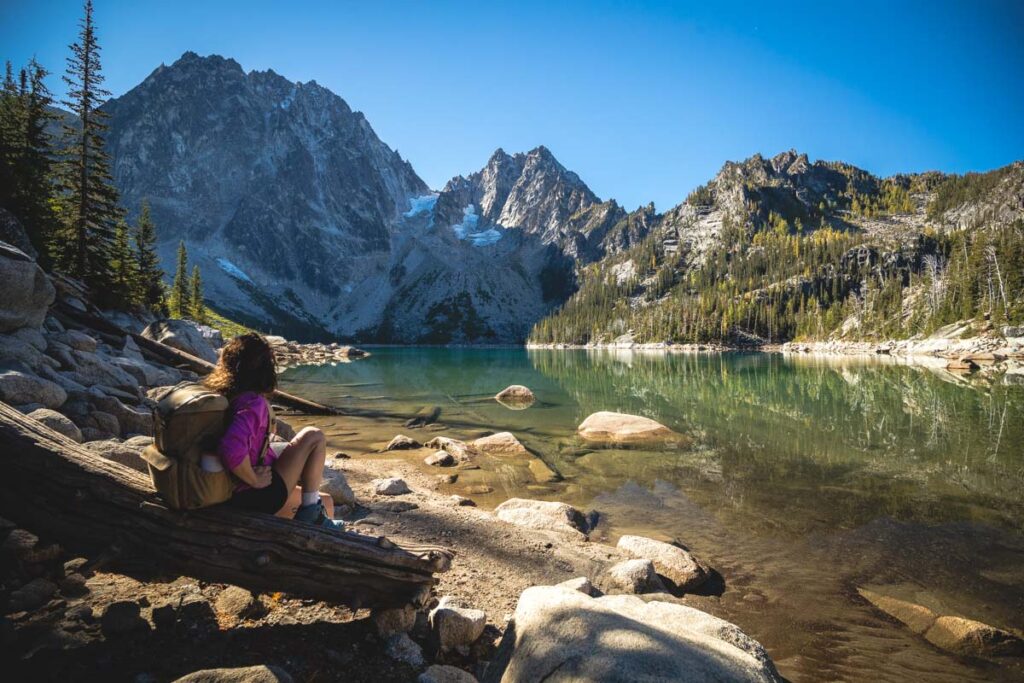 Soon, a perfectly blue pool lined with alpine trees will be set before you. This is a beautiful spot to take in the awesomeness of Mother Nature. Feel free to bring a swimsuit and take a dip in the freezing water.
There are a couple of toilets here and a few rocky beach areas perfect for lunch.
---
RELATED: 9 Awesome Hikes Around Leavenworth, Washington
---
Stuart Lake Trail (An Optional but Worth it Add on)
Once you've spent enough time at Colchuck, head back to where you came and walk towards where the two trails meet. Then, take the left trail to Stuart Lake. The turn off is a bit easier to miss when you're coming from this way so keep an eye out.
This is about a 4-mile round trip add on to the Colchuck Lake trail making your entire hike to both lakes and back just under 12 miles.
Of course, if you are short on time, you can retrace your steps to reach the parking lot again and cut this part out. We found it was a nice extra detour, though and we are already out here!
The lake is two miles from where to trails meet. It's reasonably easy apart from a few climbs, mainly during the last mile.
Most of this trail leads through the forest, but there is also a large meadow close to Lake Stuart. It's unshaded but a lovely spot to take in epic views of the valley surrounding Mount Stuart.
There are also many lovely views of the snow-covered mountains at Lake Stuart itself. This is a perfect photo opportunity – although there isn't anywhere to sit down like there is at Colchuck!
It's worth also mentioning that Stuart Lake is a lot quieter than Colchuck (or at least, it was when we were there!). We saw almost nobody here, compared to lots of people at Colchuck.
---
RELATED: 25 EPIC Hikes in Washington to Tackle
---
Tips for Hiking Colchuck Lake Trail
There are a few essential things to bear in mind when hiking the Colchuck Lake Trail! Here are some of our tips:
We noticed lots of rockfalls and some fallen boulders, so be aware of this. Don't get close to any areas that look like they may fall, and steer clear of recent rockfall.
There are also quite a lot of fallen trees along the Stuart Lake trail.
Both trails primarily consist of tree roots and dirt rock underfoot, so take care of where you are stepping.
The trails were mostly shaded, apart from the meadow of the Lake Stuart Trail and Colchuck Lake itself. Take your sunscreen anyway, but this is a good hike for the hot summer months.
This trail is an ideal day hike near Leavenworth. It's quiet in parts, with plenty of stunning scenery. The inclines give it enough of a challenge for any adrenaline chasers, but it's not so tough that it'll leave you exhausted for the next few days. So if you're in this area of Washington, don't miss the Colchuck Lake Trail!
We hope this post helped you plan your hike on the Colchuck Lake Trail! Don't forget to check out more adventures in Central Washington and more hikes around the state.
More Hikes Around Washington
I've been perpetually traveling and living around the world for years but it's hard to beat Washington and the PNW. After years of road-tripping the area, I guess you can say I know it pretty well! When I'm not writing guides for you, you can catch me somewhere petting a dog, attempting to surf, hiking a volcano, or stuffing my face with bread and cheese.