Olympic National Park encircles nearly a million acres in northwest Washington state. Its beauty ranges from glacier-topped peaks to raging ocean waves and sea stacks, to tranquil old-growth forests!
For those wanting to explore and see some of the best sights, you're going to need to know the best hikes in Olympic National Park. Many of the best vistas and adventures only come to those who tackle rugged beach hikes and precipitous peaks.
So which are the most worth-it hikes? Which will give you the most bang for your buck? We have you covered with the 15 best!
Best Hikes in Olympic National Park
---
Before exploring Olympic National Park, make sure to grab a pass if you don't already have one! Either purchase the pass that covers you for a week or purchase an America the Beautiful National Park pass if you plan on visiting more national parks in Washington or the country (it lasts a year!)
The Olympic National Park hikes below are clustered into areas around the magnificent park to help you better navigate your time here. This park is massive and to complete all of these hikes you'll likely need a week.
Best Hikes in Olympic National Park Around Lake Crescent
There are tons of great hikes in this area of Olympic National Park, all starring Lake Crescent itself! This gorgeous blue lake is a highlight and if you can only choose one area for hiking in Olympic National Park, let it be this one!
1. Mount Storm King
Distance: 5.3 miles
Type of Trail: Out & Back
Difficulty: Hard
Mount Storm King is a pretty challenging hike, let's get that out there from the beginning, but it also serves as one of the best hikes in Olympic National Park, without a doubt.
Its saving grace is that it's relatively short for a mountain hike so that the leg burn won't last too long. Before you even get to the top of this semi-maintained trail, there are several lookouts to spur you on.
You might think the whole climb is steep enough, but wait until you are almost near the summit. At this point, unless you are a mountain goat, you will need to use strategically placed ropes to help pull you up.
Once at the summit, you'll be able to see Crescent Lake from a perspective that you have never seen before. At this point, you'll be able to get that classic shot on the rocks, with the lake stretching out before you, surrounded by mountains like something in a nature documentary.
If you feel up to it, a nice add-on to the Mount Storm King hike is the Marymere Falls hike…
---
READ MORE: Hiking Mount Storm King in Olympic National Park
---
2. Marymere Falls Trail
Distance: 1.7 miles
Type of Trail: Out & Back
Difficulty: Easy
Everyone loves a waterfall hike, and you won't be disappointed with Marymere Falls! The trail itself is stunning, filled with moss-covered forests and tall trees reaching up to the sky.
For the majority of the time, you'll be following a flat, winding path, so all you have to concentrate on is enjoying the scenery. Before long, you'll come to a series of stairs, although they are not too tricky, and these will bring you up to a stunning viewpoint where you can take in the 90-foot waterfall in all its glory.
The upper viewpoint is beautiful and the hike is full of cool elements, including two bridges crossing the creeks surrounding Crescent Lake. Because it is such a scenic, short hike, on weekends and holidays, it is pretty busy.
3. Spruce Railroad Trail Lake Crescent
Distance: 11.2 miles
Type of Trail: Out & Back
Difficulty: Easy
Chug your way along the scenic Spruce Railroad Trail to Crescent Lake on this Olympic National Park trail, taking in the beautiful surroundings as you go. We love a rail-to-trail path; it just makes everything that little more interesting, especially as you can learn about the history of the railway as you go.
Part of the trail is paved, and there are some interesting features, such as the McFee Tunnel.
Although long, this is a great one for families as it is relatively flat, taking you along the lakeshore. Of course, if you have little legs with you, you can always make the hike shorter if you want to.
It makes up part of the accessible Olympic Discovery Trail, and this part has just undergone some renovations, so head there now while everything is relatively new!
4. Devil's Punchbowl via Spruce Railroad Trail
Distance: 2.4 miles
Type of Trail: Out & Back
Difficulty: Easy
Just a short walk down the Spruce Railroad Trail will bring you to the epic swim spot that is Devil's Punchbowl. The trail hugs the shore of the beautiful Crescent Lake and is primarily flat, making it easily accessible to everyone.
At first, you will be walking through a thick forest, but before long, glimpses of bright blue will spring into view… this is Crescent Lake calling.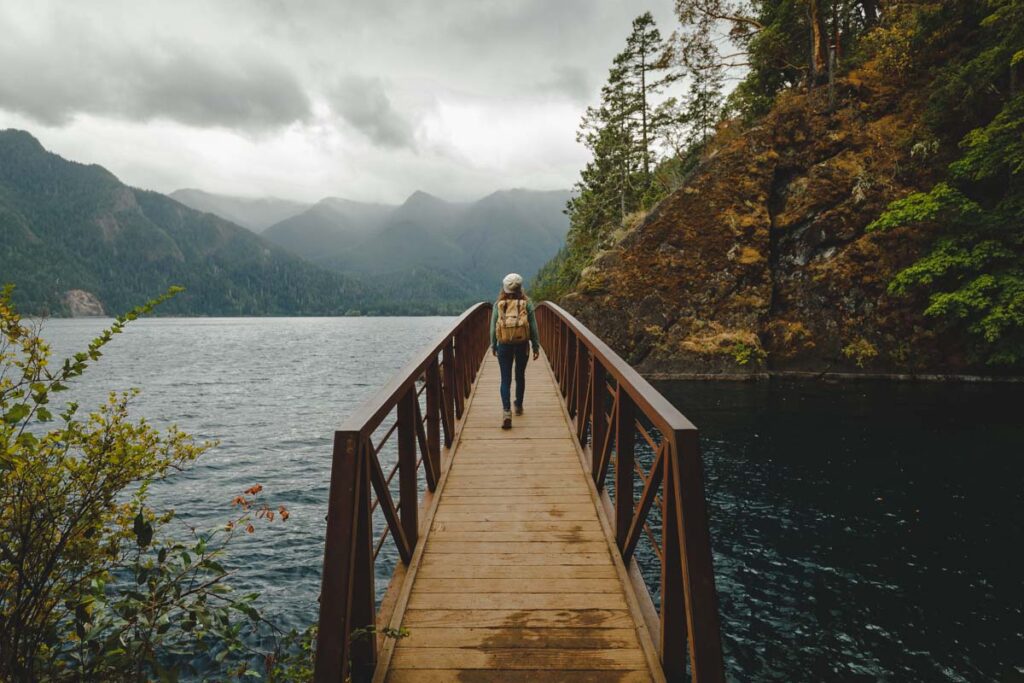 When you get to a bridge spanning the water, you have reached the stunning area known as Devil's Punchbowl. It is a popular spot for cliff diving for all those daredevils out there, and some people even choose to jump off of the bridge itself into the freezing waters below.
For such a short and easy walk to such a beautiful spot, be sure to stop off for a look if you are in the area!
5. Pyramid Mountain Trail
Distance: 6.6 miles
Type of Trail: Out & Back
Difficulty: Hard
The Pyramid Mountain Trail is a bit longer than some other Olympic National Park trails, so give yourself at least half a day to hike, take in the views, and take in the beauty of Lake Crescent and the surrounding mountains.
As the name suggests, this more demanding route will take you to the top of lofty Pyramid Mountain, where you'll find some stunning views of the Lake. You'll start by walking through a beautiful forest, and shortly after, your heart will start pumping pretty hard. Luckily you'll have lake views most of the way to distract you.
If you're considering Mount Storm King and this one, note that Mount Storm King is much tougher and steeper and should maybe be left for the more athletic hiker, or at least those that love a challenge. At its highest point, you'll be just over 3000 feet, and you feel it.
The views stretch for miles in all directions, and as well as Lake Crescent, you should also be able to take in Lake Sutherland and the Strait of Juan de Fuca if the weather is being kind to you.
6. Moments in Time Trail
Distance: 0.7 miles
Type of Trail: Loop
Difficulty: Easy
Take a walk around Crescent Lake on this self-guided hike, taking in the impressive sights as you go. The forest here is large and lush and beautiful, so bring a picnic and make a day of it; you won't get a much more scenic spot to enjoy a sandwich or two.
As well as the lakeshore, for some of the walk, you'll be walking through the trees and open meadows. This is a great Olympic National Park trail to hit if you are short on time but still want to stretch those legs and get a quick feeling about what the park has to offer.
---
RELATED: Exploring Lake Crescent in Olympic National Park: Kayak, Hike, & Camp!
---
Best Hikes in Olympic National Park's Hoh Forest
This is the iconic moss forest of Olympic National Park. The hikes here are short and sweet and you get very well rewarded the entire way. The only thing to keep in mind is this road is a dead-end and you're driving anywhere from 30-60 minutes away from La Push or Ruby Beaches (and the main road).
This road is known for its narrowness and crowds. Aim to get to this section early or late with the intention of camping at your reserved space.
7. Hoh Rain Forest Hall of Moss
Distance: 1.1 miles
Type of Trail: Loop
Difficulty: Easy
Experience life in the rainforest right in Olympic National Park, a stark contrast to the frigid peaks of some other parts of the park. You'll start this shorter hike from the Hoh Rain Forest Visitor Center and delve into the lush rainforest of this part of the world, learning as you go, thanks to the numerous interpretative signs.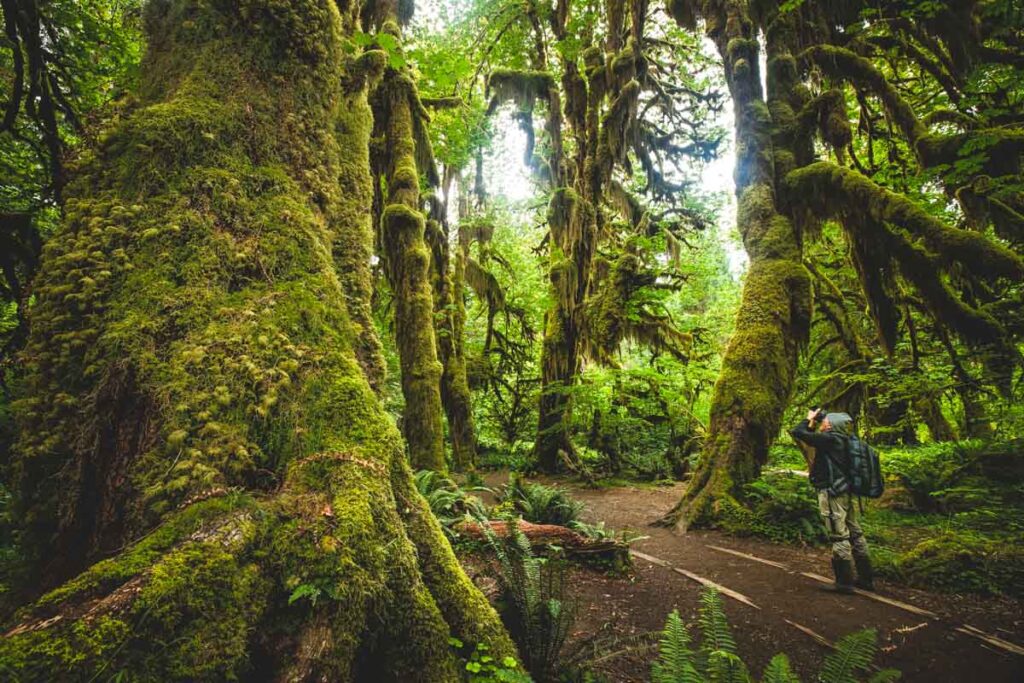 You have a great chance of spotting local wildlife such as Roosevelt elk and the brightly colored banana slug.
Although the Hall of Mosses may sound a little like a museum dedicated to the fuzzy green stuff, it is so much more than that and makes for an incredibly scenic and exciting hike. Everything you see is covered in dripping moss, from the rocks to the trees, making everything look very surreal!
8. Spruce Nature Trail
Distance: 1.4 miles
Type of Trail: Loop
Difficulty: Easy
Delve deep into the wonders of nature on the Spruce Nature Trail. Although short, it is one of the best hikes in Olympic National Park. This hike is located in the Hoh Rainforest, and although it is only 1.2 miles in length, it packs a lot of punch for such a short walk.
A natural phenomenon that you may not have heard of can be found on this trail: nurse logs. No, not trees that the other trees go to when they are not feeling great, but fallen trees that provide the perfect condition for new seedlings to grow and flourish.
See if you can spot a nurse log at different stages of its life cycle, from freshly fallen to old and rotting, with almost fully grown trees sprouting out of its carcass. Listen to the sounds of the Hoh River as you walk, and note the milky hue it has thanks to the water from the glaciers.
Be prepared to share this trail with other nature lovers and hikers, as this is one of the more popular hikes in the forest. You'll find the trailhead at the visitor's center, and from the moment you set off, you'll be in awe of the rugged, moody beauty of the Hoh Rainforest.
This is a great one to pair with the Hall of Mosses Trail, as they are both relatively short so you can get a two-for-one kind of deal.
---
RELATED: Things To Do in Olympic National Park: 35 Must-Do Activities!
---
Best Hikes Along Olympic National Park's Beaches
What's better than a gorgeous hike? Having a dramatic beach with towering sea stacks alongside you! It's perhaps the signature of Olympic National Park, and the PNW coast in general—Epic sea stacks getting battered by the tides!
These beach hikes in Olympic National Park are hands down the most worth it.
9. Hole in the Wall Trail
Distance: 3.3 miles
Type of Trail: Out & Back
Difficulty: Moderate
Hit the coast at the Hole in the Wall trail. This Olympic National Park trail is nice and easy, which makes it perfect for families or if you want a gentle stroll. Although the walk is gentle, the Pacific Ocean that roars alongside you certainly isn't.
This is the Washington coast in all its raw beauty. As you traverse the beach, you'll soon reach a series of impressive rocky boulders. This is where the rock formations can be found and the hole in the wall that gives the hike its name.
From the trailhead, depending on the tide, you'll either be walking on the sand or up through the trees. It's recommended to come at low tide so you can walk on the beach and explore the tidepools and the hole in the rock better.
---
RELATED: 25 EPIC Hikes in Washington to Tackle
---
10. Ruby Beach Trail
Distance: 1 mile
Type of Trail: Out & Back
Difficulty: Easy
Ruby Beach is breathtaking. Its beauty is known for miles around. Sun-bleached hunks of driftwood dot the shore, and massive rock formations dominate the coast. This is Washington state at its finest, with raw, rugged beauty and nature showing what she can do.
Some people wouldn't even really call this a hike, as it's just a little walk down to the beach from the trailhead, over the driftwood, and down onto the sand, although we still think it is one of the best hikes in Olympic National Park.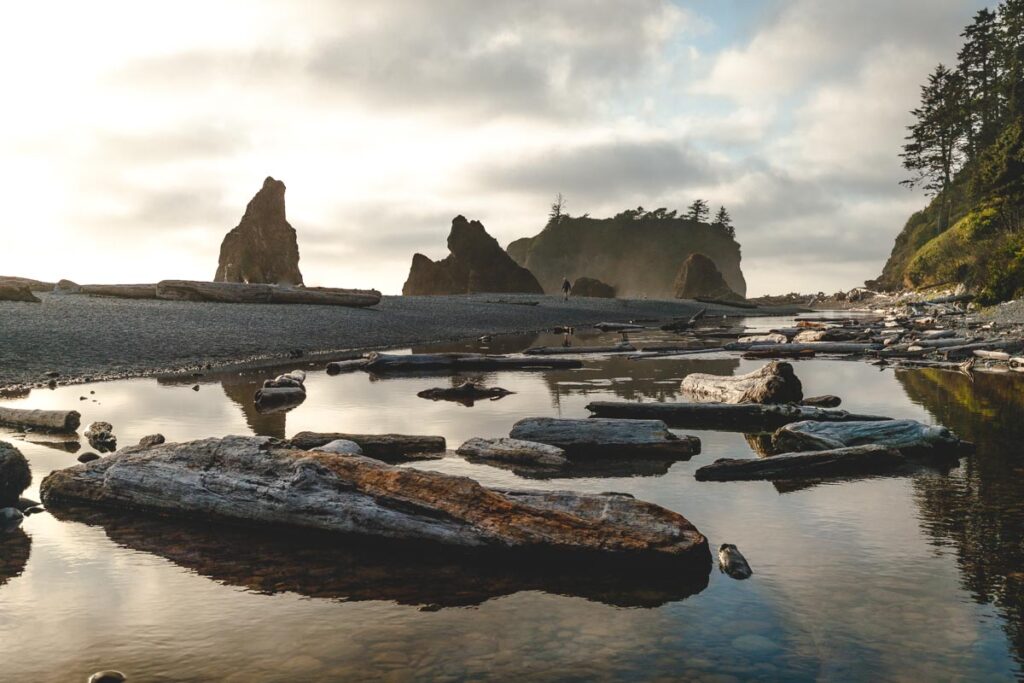 One of the most prominent landmarks is the onshore arch and some of the larger sea stacks, and this hike gives you a great chance to see them much closer.
The beach is beautiful at both high and low tide, but low tide gives you the best chance of viewing some of the local sea life, from starfish to giant green anemones, and gives you much more sand and land to explore and enjoy.
Once you have finished the hike, there is nothing to stop you from continuing your walk and heading across the sand some more.
---
RELATED: 9 Incredible Olympic National Park Beaches to Explore
---
11. La Push Second Beach Trail
Distance: 2.1 miles
Type of Trail: Out & Back
Difficulty: Easy
For an interesting hike ending in a stunning beach, it is no wonder that Second Beach Trail is a popular coastal walk in Washington. The trail is varied and hilly, with multiple natural elements such as sea stacks and other rock formations that help to keep things interesting.
The start of the trail might not be the best impression, with a porta-potty and what looks like an almost derelict kiosk. You may be thinking, what I have I got myself in for, but don't let this put you off; it only gets better from here.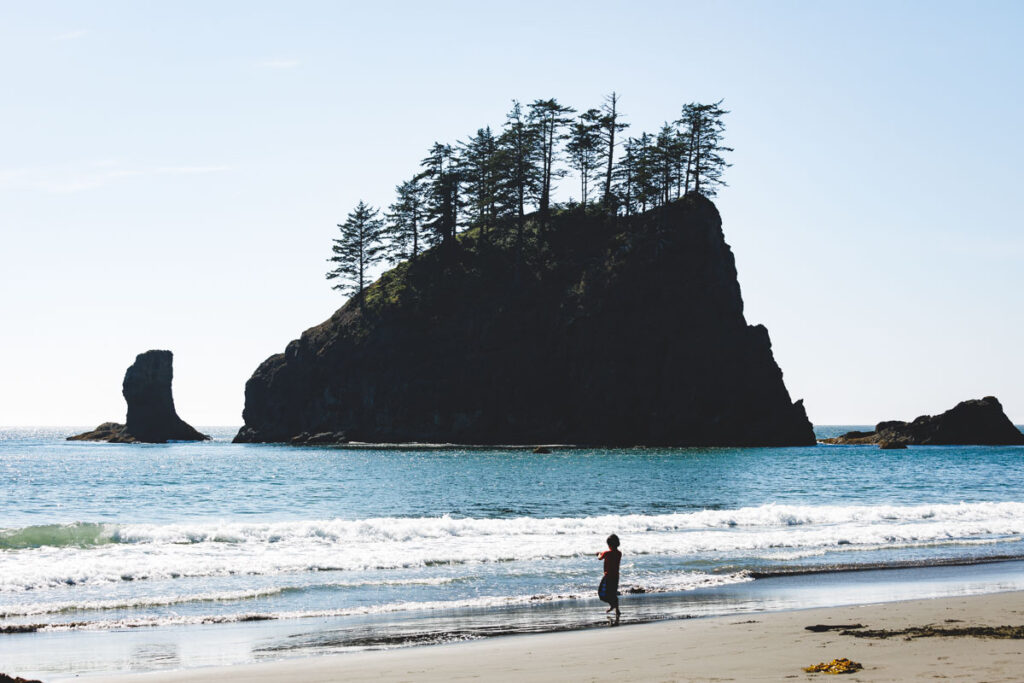 The path will take you through the beautiful old-growth forest that covers so much of this area before climbing down a huge hill with the help of a rickety staircase. At this point, the hike turns into a kind of adult obstacle course, as you'll have to make your way through a field of huge logs before making it to your reward, the beach!
The beach is impressive, with sea stacks jutting out of the surf and even a natural arch in the rock. Roll up those hiking trousers and check out the tide pools for sea life if you make it during low tide.
PS in case you're wondering, yes there is a La Push Beach #1 and #3 too!
---
READ MORE: Your Guide to La Push Beaches in Olympic National Park
---
Best Hikes in Olympic National Park Around Sol Duc Falls
There's a gorgeous nook full of verdant forest, teeming rivers, and waterfalls to hike to in Olympic National Park. This is another dead-end road that will take to you yet another woodland paradise—The highlight here is Sol Duc Falls! Here are the top two hikes in this spot.
12. Lovers Lane Trail
Distance: 6.1 miles
Type of Trail: Loop
Difficulty: Moderate
This hike may not be the romantic, hand-in-hand stroll that the name suggests, but why would you want that when you have forested trails and a beautiful waterfall? Lovers Lane trail takes you to the pretty Sol Duc Falls, as well as a rich, thick forest filled with cedar, maples, huckleberries, and ferns.
Start the hike following the Sol Duc River, starting relatively flat, but slowly getting steeper the further upstream you go. Before long, the waterfall should come into view, with a great viewpoint from a strategically placed bridge.
Once you have had your fill of waterfall views, you can then continue the hike back downstream via the trail on the other side of the river. We love this longer version of the otherwise shorter Sol Duc falls trail because the forest is simply gorgeous and you get a few smaller more tranquil bonus waterfalls this way too!
Although this is not a particularly strenuous hike, it is always nice to have an excuse to relax, so after the walk, why not book yourself into the Sol Duc Hot Springs Resort at the end of the trail for a bit of treat? What better way to top of hiking one of the best trails in Olympic National Park?
---
READ MORE: 21 Epic Waterfalls in Washington
---
13. Ancient Groves Nature Trail
Distance: 0.5 miles
Type of Trail: Loop
Difficulty: Easy
You'll fall in love with the Ancient Groves hiking trail. There is just something so magical about following the winding path through the old-growth forest.
As the trail is short and sweet, you won't have to worry about how long you take reading the interpretive signs along the route or stopping to take that perfect shot of the river.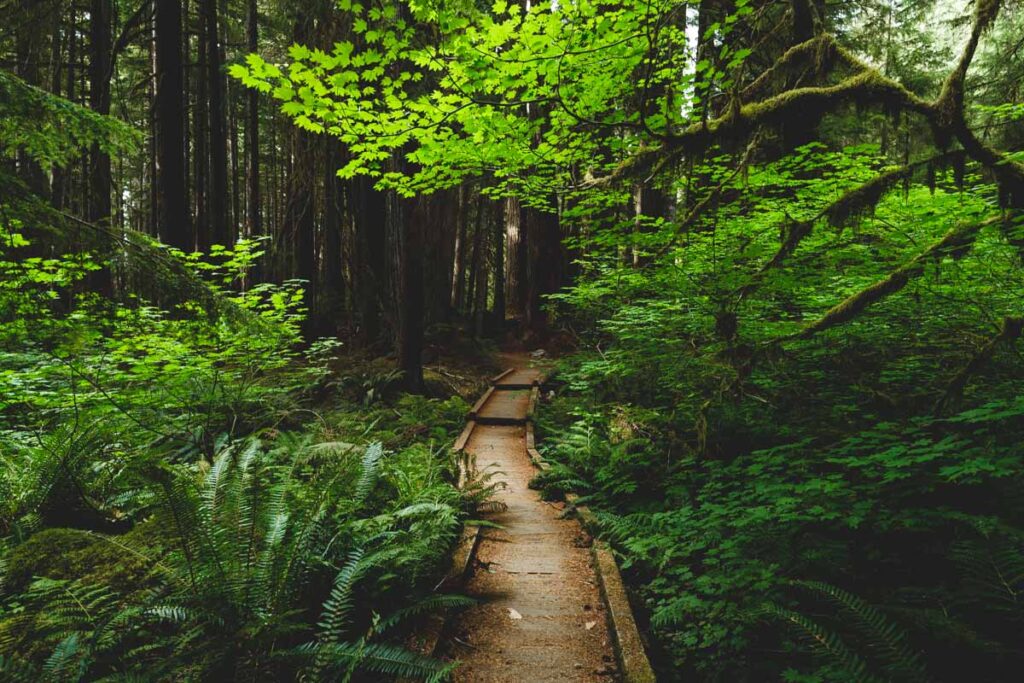 This hike is the essence of Washington state, with moss hanging atmospherically from every surface it can and knarled trees reaching their way skyward.
There is easy parking on the Sol Duc Springs Road, making the whole experience nice and stress-free. Be sure to check out the nearby Salmon Cascades to see salmon jumping upstream to respawn!
---
RELATED: Your Guide to Hiking The Sol Duc Falls Trail
---
Best Hikes in Olympic National Park's Hurricane Ridge Area
Here is our last area and yet another dead-end road into a totally different world within Olympic National Park. Here there are precipitous peaks sometimes dusted in snow or engulfed in the clouds. There are tons of small scenic trails near the Hurricane Ridge Visitor Center but for more of a challenge, these two are a favorite.
14. Hurricane Hill via Hurricane Ridge
Distance: 3.4 miles
Type of Trail: Out & Back
Difficulty: Moderate
This is undoubtedly one of the best hikes in Olympic National Park. As soon as you step foot outside your car, you'll be treated to the first views of the hike, with an expansive vista of the Bailey Range.
The trail is wide, and although you'll be heading uphill most of the time, it is a relatively gradual ascent with plenty of views and interpretive signs to help take your mind off the climb.
The views from the hill's summit are incredible but don't take its name lightly. The weather in the park can be unpredictable at the best of times, and the mountain is very exposed, meaning the wind can batter you if you're not adequately prepared with the right kit.
From your lofty viewpoint, you should be able to pick out the town of Port Angeles, the Strait of Juan de Fuca, and the surrounding mountains on a clear day.
Although the destination is spectacular, traversing Hurricane Ridge can be equally impressive. The ridge itself is almost a mile high, so expect views as you walk the stunning pathways of sub-alpine flowers.
---
READ MORE: Your Guide to Hurricane Ridge Trails & More in Olympic National Park
---
15. Mount Angeles via Switchback Trail
Distance: 3 miles
Type of Trail: Out & Back
Difficulty: Moderate
Do your stretches and eat a banana or two before tackling this trail; you'll need it, trust us. Just kidding, this Olympic National Park trail is not that bad. You will be tackling 1000 feet in elevation gain in under 1 mile, though, so it is a steep one.
As the highest peak in the Hurricane Ridge region, it is not surprising that it is on many hikers' bucket list of mountains, and despite its height, it is one of the easiest in the area to summit.
Although there are a few different ways to reach the summit, this one is via the switchback trail, as the switchbacks make it a bit easier to climb such a steep gradient. Although it is hard going, there are views pretty much all the way to the top, which makes the climb that little bit easier still.
Once you have followed the switchback trail for a while, you will join the Klahhane Ridge Trail. At this point, you'll have to decide whether you want to go all the way to the summit, as from here on out, it is a Class 3 scramble and not suitable for your average hiker.
Once you do finally manage to reach the peak, you will be awarded a stunning vista of the Olympic Mountains and even out as far as the Strait of Juan de Fuca.
We hope this post helped you learn more about the best hikes in Olympic National Park! Don't forget to check out more terrific hikes in Washington.
More Around Olympic National Park
I'm an Oregon native but neighborly and equally as enchanted by Washington. I tackle expeditions around the world and love a good beer at the end of the day. PNW obsessed, VW nerd, and surf or snow riding fanatic.