Nestled into Washington's Olympic National Park, Hurricane Ridge sits around 18 miles away from the town of Port Angeles – but it's worlds away in atmosphere.
This national park area is famous for its epic views over mountainous scenery, excellent hikes, and snow sports in winter.
Whether you're road-tripping around the park and want to take in some of the best vistas or fancy tackling the Hurricane Ridge Trail, this blog post has all of the information you'll need to see the area!
Hurricane Ridge Trails and Area
---
Begin your time in Hurricane Ridge at the visitor center. Sitting at 5,242 feet amongst towering mountain peaks, this visitor center boasts incredible views over the Olympic Mountains; some days, you can even spot the domineering Mount Olympus, which is nearly 8,000 feet high.
The visitor center is a great place to learn about the area, with a few exhibits, a gift shop, and a concession area. It's only fully open during peak season, but you'll usually find someone there throughout the year, and it's the trailhead for the Klahhane Ridge, Cirque Rim, and High Ridge Meadow trails.
Hikes at Hurricane Ridge
There are many amazing hikes in the Hurricane Ridge area, but a few stand out from the crowd in our opinion. Here we have a great mix of incredible hikes at Hurricane Ridge, whether you're up for a quick stroll or a challenge overnight!
Sunrise Hike
Distance: 0.9 miles
Type of Trail: Loop
Difficulty: Easy
Elevation Gain: 219 ft
An easy hike that's less than a mile long, Sunrise Hike is a popular Hurricane Ridge trail. It takes most explorers about half an hour to complete and is perfect if you want a chilled-out stroll and one of the best views in the area.
The trail winds up to a beautiful viewpoint and then takes an alternative route back down, with about 219 feet of elevation gain.
Hurricane Hill
Distance: 3.4 miles
Type of Trail: Out & Back
Difficulty: Moderate
Elevation Gain: 826 ft
About 3.4 miles long, Hurricane Hill Trail is a moderate trail with less than 1000 feet of elevation gain. While it's not too strenuous, it's one of the best trails in the area when it comes to views.
When you reach the top of Hurricane Hill, you'll be able to take in views of virtually the whole park, gazing out onto the Strait of Juan de Fuca. There's also a lot of wildlife on this trail, including mountain goats, deer, marmots, and wild rabbits!
---
RELATED: 15 Best Hikes in Olympic National Park, Washington
---
Switchback Trail (Our Fav Hurricane Ridge Trail!)
Distance: 2.7 miles
Type of Trail: Out & Back
Difficulty: Hard
Elevation Gain: 1,450 ft
As the name suggests, the Switchback Trail features many zig-zags up a hill and then back down! At 2.7 miles in length, it's not a particularly long route, but the incline makes it rather challenging. You'll be rewarded from the top with a tremendous view of the mountainous scenery.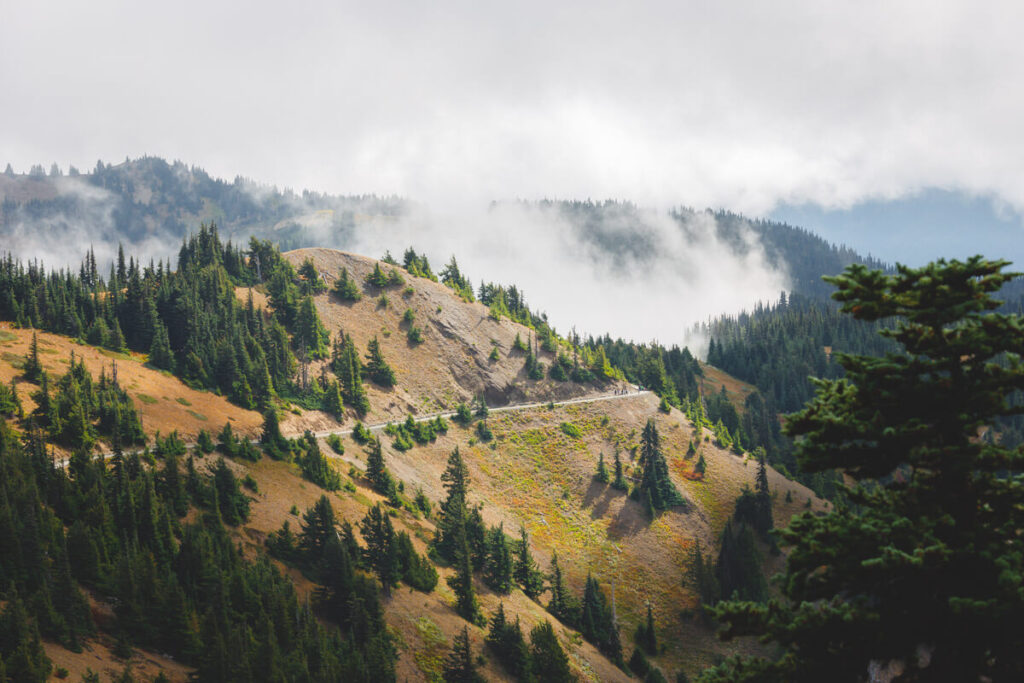 If you want to work up even more sweat, a few routes branch off the trail. These will add an extra workout to your hike, but they're ideal if you want to spend longer in this gorgeous area.
Mount Angeles (Detour from Switchback Trail)
Distance: 2.7 miles
Type of Trail: Out & Back
Difficulty: Hard
Elevation Gain: 1,571 ft
At just under three miles, this is a much shorter offshoot from the Switchback Trail, although don't underestimate the climb; it will get your heart pumping! There are tremendous views from the top, although it can be foggy (and you might even find snow here in the summer).
Klahhane Ridge Trail to Lake Angeles
Distance: 12.6 miles (from the visitor center)
Type of Trail: Out & Back
Difficulty: Hard
Elevation Gain: 4,514 ft
This trail in Hurricane Ridge is a whopping 12.6 miles long – so only attempt it if you've got plenty of time and are confident that you can tackle a trail of this length! It terminates in Lake Angeles, an Alpine glacier-fed lake which is an idyllic place to enjoy lunch and take in the relaxed atmosphere.
You have two options for this trail, you can make it a bit shorter if you do it as an offshoot from the Switchback trail, or you can start it at the visitor center. If you do it as part of the Switchback Trail, it's just 8.6 miles.
Lake Angeles has a campsite along its shoreline as well if you want to backcountry camp, just be sure to get your permit before setting up your tent.
---
RELATED: Things to Do in Olympic National Park: 35 Must-Do Activities!
---
Tips for Visiting Hurricane Ridge
Wildlife in Hurricane Ridge
Watch out for bears when you're hiking. There aren't any grizzlies in Olympic National Park, but plenty of black bears. While these bears are smaller and shyer, they have still attacked humans, so make sure you don't approach any and give them a wide berth.
Rarely do people encounter mountain lions (cougars) on the trails. If you see one, speak firmly and back away while waving your arms.
The most prominent wildlife threat is actually mountain goats! Although these creatures are small, they can be aggressive and have become accustomed to being fed.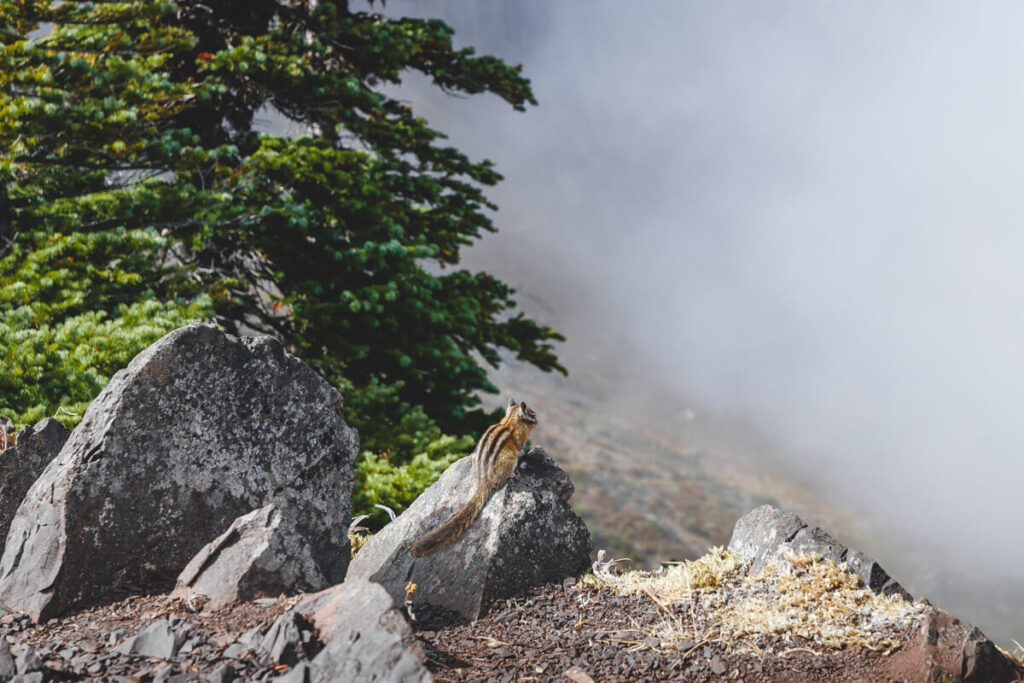 Avoid the risk of attack by staying at least 50 feet away from goats and moving away if they approach, yelling, or waving your arms if one is persistent or looks like it's going to attack.
Weather at Hurricane Ridge
The most popular time to visit Hurricane Ridge is, by far, June through August. During these months, the temperatures are about 60 to 70 degrees, and it doesn't rain too much (although it's always possible).
Generally, the further away you get from summer, the more rain and snow you can expect; Hurricane Ridge is a high-altitude area, so you'll find snow for most of the year. Speaking of which…
Visiting Hurricane Ridge in Winter
Have no fear if you're visiting during winter, Hurricane Ridge is still open! Hurricane Ridge Ski and Snowboard Area is one of two lift operations within Olympic National Park.
You can enjoy all the epic winter sports your heart desires in one of the most scenic spots in the state! Tubing to snowshoeing to snowboarding, you'll find everything here. There are several slopes and bowls to shred and about 15-20 miles of routes to explore.
---
RELATED: Winter in Washington: 20 Adventurous and Outdoorsy Activities
---
Hurricane Ridge is one of the most beautiful parts of Olympic National Park—and really, the whole state of Washington! With adrenaline-boosting hikes, breathtaking views, and a variety of wildlife, you'll love this slice of the Pacific North West.
We hope this helped you plan your trip around Hurricane Ridge!
More Around Olympic National Park
I've been perpetually traveling and living around the world for years but it's hard to beat Washington and the PNW. After years of road-tripping the area, I guess you can say I know it pretty well! When I'm not writing guides for you, you can catch me somewhere petting a dog, attempting to surf, hiking a volcano, or stuffing my face with bread and cheese.