If you're looking for unique Pacific Northwest accommodation, this glamping in Washington article will help ya out!
These accommodation options are ideal for people who want an authentic outdoor adventure but don't like all of the dirt, bugs, and hassle that can come with traditional camping.
Glamping is "glamorous camping," It can include anything from large tents with full-size beds up to rustic cabins with electricity, furniture, and even luxury features like hot tubs. We've included a range on this list, so whatever your taste and budget are, you'll find something!
Whether you're looking for a quick break from Seattle or somewhere to spend an entire week, check out this list of the best places to glamp in Washington—we guarantee you'll find somewhere to love!
Glamping in Washington
---
All of these glamping options in Washington are separated by area. So depending on what part of Washington you're heading to, chances are we have a cool spot for you to book!
Glamping Around Seattle, Washington
Staying close to the city but don't want to feel like you're in the city? We got you! Here are some epic glamping in Seattle, Washington, experiences for you!
1. Beachfront Treehouse
What's better than a treehouse? A treehouse overlooks a gorgeous beach! This property boasts impressive vistas of Puget Sound in a desirable Vashon Island location – close to the ferry terminal to Seattle.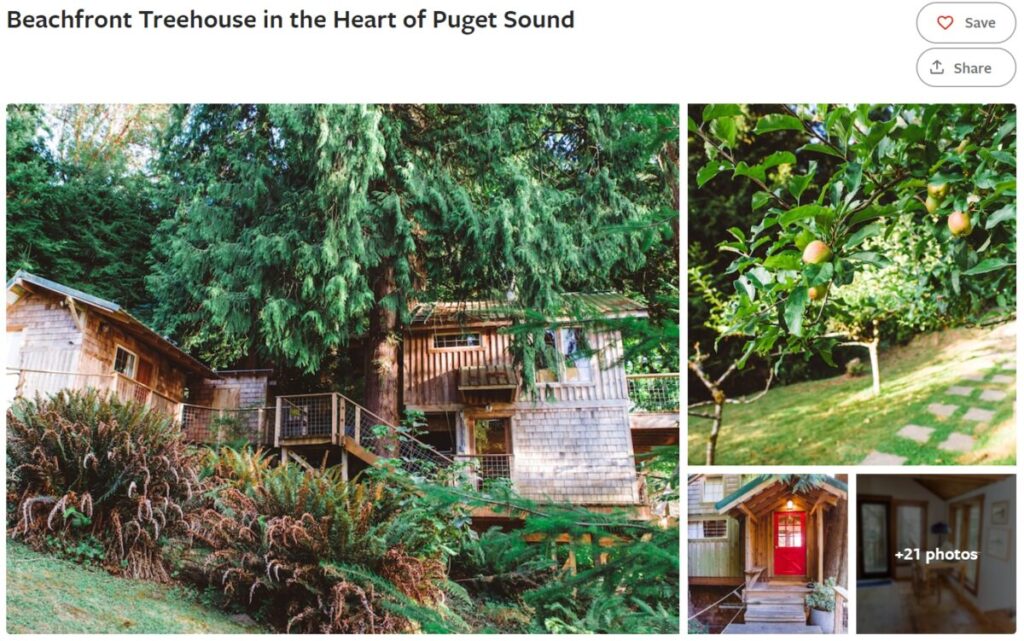 Sleeping up to six people, this is the ideal escape away from city life, with rental options ranging from one week to one month long in summer. And there's plenty of space for the whole family, with a patio, kitchen, and full-size bathroom!
2. Tahuya Adventure Resort
Tahuya Adventure Resort incorporates a luxury tent with a full-size bed and several other tents and motorhome pitches. The glamping tent has a heating system and a small kitchen area.
Alternatively, there's space for 12 RVs (plus awnings) and three tents, so it's ideal if you're traveling in a group. On-site, enjoy the incredible fir trees native to the Pacific North West and partake in activities like fishing, hiking, and off-roading.
3. Authentic PNW Waterfront Glamping in Washington Experience
This is a yurt stay with a difference! It's a traditional yurt with authentic decor, and the quirky glamping facilities, including a comfortable bed and ornate rug, will make you feel like you're sleeping in the lap of luxury.
With one bedroom that sleeps up to four people and a bathroom, you'll have all you need for a comfortable stay. This glamping retreat is located on Vashon Island, with incredible views over Puget Sound, and in an ideal location for Seattle and Tacoma.
---
RELATED: 9 of the BEST Day Trips From Seattle (Under 1.5 Hours Away!)
---
4. Cascade Rose Alpaca Farm
This tent is compact, but it has everything you need for a comfortable stay. Situated on an alpaca farm (you heard that right!), the safari tent provides a full-size, comfortable bed and a terrace area with chairs. This is glamping at its finest!
On-site, you can enjoy tours around the farm, where you'll have a chance to meet all the resident alpacas. The friendly hosts also offer breakfast delivery.
5. Treehouse Place at Deer Ridge
This two-story treehouse is an incredibly luxurious glamping retreat, and was named one of the top treehouses in the country! Sitting amongst the forest, you can enjoy deluxe facilities like a roll-top bath, a queen-size memory foam bed, and a smart TV with free Netflix.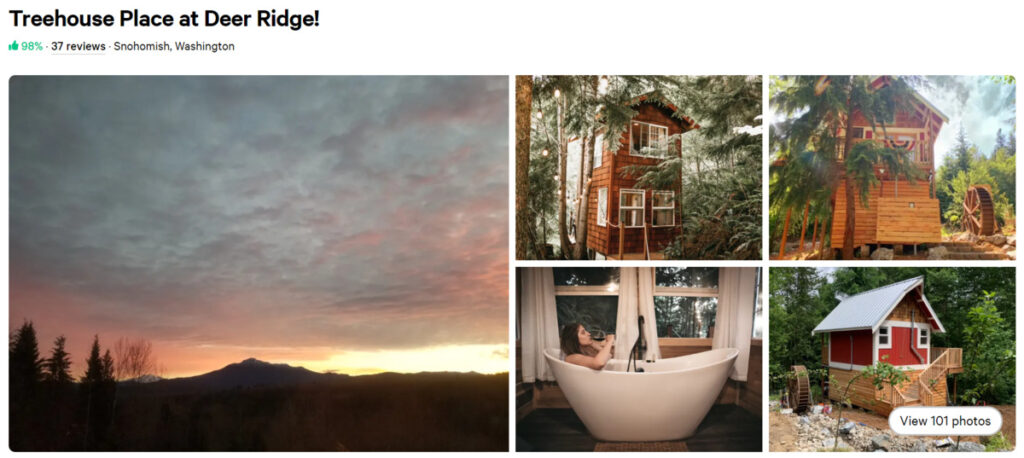 There's also a kitchen with an induction hob and a small fridge. The bathroom features an odorless composting toilet.
This treehouse sleeps two, although there's a loft space for a child, with about two feet of headroom. It's set on expansive grounds, with plenty of room for walks and enjoying nature – there's also a full-size hot tub close to the main house!
6. Luxurious Yurt Glamping in Washington
Perhaps the most traditional form of glamping, yurts are an authentic accommodation from Central Asia; nomadic tribes live in these large tents and move them seasonally as the weather changes. This luxurious yurt is available year-round, though!
Situated on Puget Sound, the yurt incorporates space for three people to sleep and full-size bathrooms. But the best feature of the yurt, Brigadoon, is the mystical garden, which includes striking plants and flowers.
Glamping in The North Cascades, Washington
We just can't wrap our heads around why this area isn't talked about more. It's a bit removed, we know, but still! We LOVE the North Cascades region, and we are sure you will too. Here are some of our picks for Glamping in Washington near the North Cascades.
7. Mount Vernon Camping Resort Yurt 6
Located in a shady spot of the campsite, this yurt has space for four people. There's a bunk bed, futon, and a table and chairs.
It's very functional but has all of the traditional features of a standard Central Asian yurt! There are many sports facilities on-site, including a mini golf course, sports courts, and a swimming pool.
8. Guemes North Homestead Glamping in Washington
Situated on 10 acres of forest, the Guemes North Homestead sits in blissful solitude. It's the ideal spot for a glamping holiday if you want to get away from it all and enjoy quality time with your nearest and dearest! Full sleeping facilities are available in the glamping cabin, but you can also book separate tent pitches.
The entire homestead boasts an orchard, solar, and wind power; if you want to learn about running a homestead and the owner is around, he'll happily give you a lesson. The island location of the homestead is perfect for exploring the Pacific Ocean, which sits about a mile away.
9. Gingerbread Cottage
This glamping cottage truly is the best of both worlds. At Gingerbread Cottage, you'll feel at home with modern furnishings, including full-size beds and couches. However, it's right in the heart of a beautiful forest, where you can sit and listen to animals each morning!
---
RELATED: 15 Stunning Hikes in North Cascades National Park, Washington
---
Glamping on The Washington Coast
Rough, rugged, and raw! That about sums up the Washington Coast. If you're trying to glamp in Washington along the coast, we have you covered! Here are the top spots…
10. Forest Hideaway
Located right by Ruby Beach, this accommodation is an A-frame cabin with enough space for three people to sleep. While it's not as "glam" as other options on this list – cooking facilities are basic and there's a fire pit for heat – you'll feel completely hidden away in this rustic location.
Plus, it's completely watertight against the rain, which is more than can be said for camping! It has direct access to a whimsical creek, where you can relax, picnic, or walk.
11. Yurt 9 at Long Beach Camping Resort
Yurt 9 at Long Beach Camping Resort has one bunk bed and one futon bed, so it's perfect for families and groups. With pine furnishings and a table and chairs, there's plenty of space for a few people!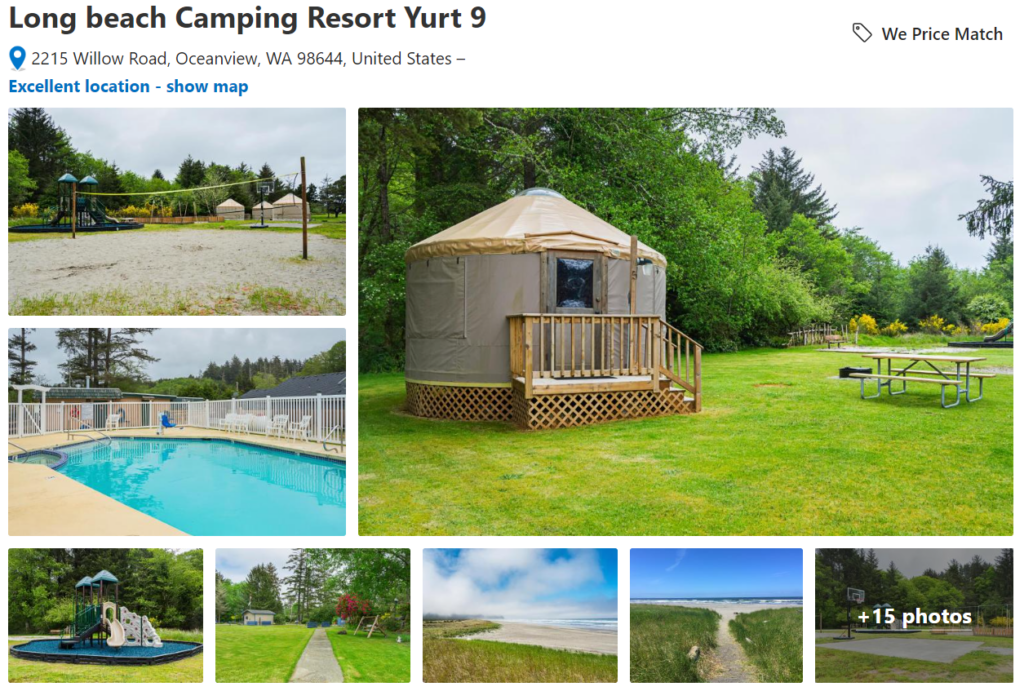 On-site, you'll find a swimming pool and sports courts. Plus, it's only a short walk from the shore at Long Beach.
---
RELATED: 21 Amazing Places to Go Camping on The Washington Coast
---
Glamping in Central Washington
Staying central? We have the perfect cottages and cabins for cool glamping in Washington experiences for you!
12. Stormking Cabins
If you prefer your glamping to be more on the "glam" side than back to nature, then these cabins could be a great option for you. You'll have all the creature comforts you'd expect from a hotel, including a TV, fluffy robes, and a hot tub.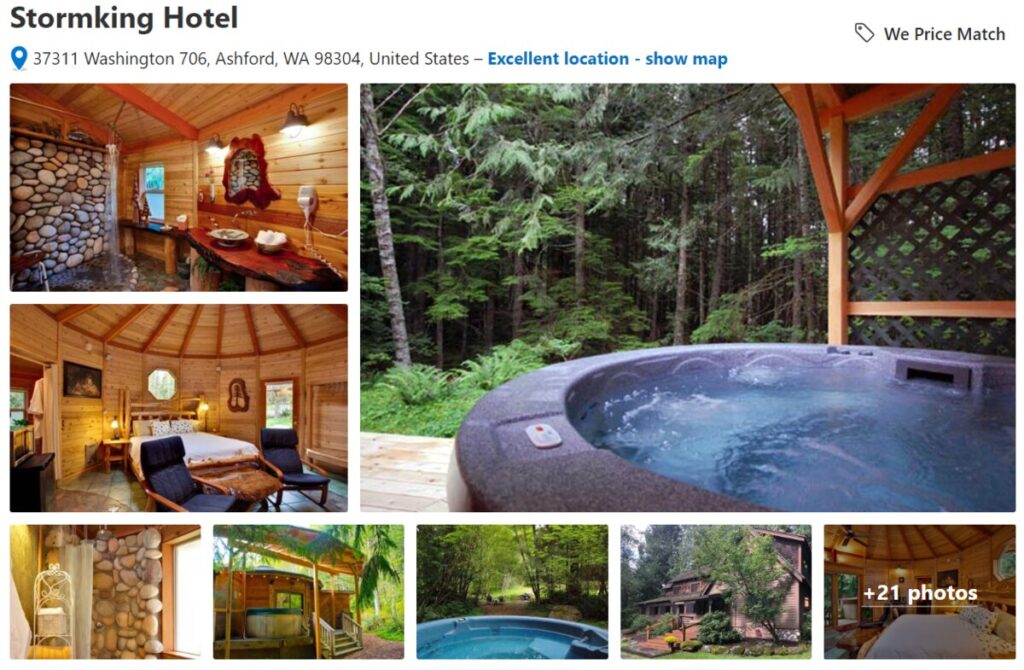 However, you'll still get the full experience of a cabin in the woods. The yurt-style cottages are spread out around the wooded property to ensure complete privacy. You can kick back on your private deck without a care in the world.
13. Cottage and Treehouse on Yakima River
If you want to enjoy the great outdoors but hate the thought of camping, this cottage and treehouse accommodation is for you.
Set in an incredibly desirable position on the Yakima River, where you can go Blue River fly fishing or sail around on a drift boat, this is a full-size cabin with comfy beds, a kitchen, and a log burner in the living area!
The accommodation can sleep up to eight people, so it's perfect for family holidays or trips with all your friends. It's great in the summer, but also accessible in the winter.
14. Leavenworth Camping Resort Timber Framed Home
This gorgeous glamping resort is your perfect home away from home in Leavenworth. A tiny, timber-framed home that can sleep up to five people, this accommodation has lovely pine furnishings and boasts two double beds and one single bed.
It also incorporates a restroom and cooking facilities. On-site, you can enjoy features like a full-size swimming pool – and of course, Leavenworth is only a stone's throw away.
If you can swing it, Leavenworth in the fall is a magical time to visit!
---
RELATED: 11 Adventurous Things To Do in Leavenworth
---
Glamping Along The Columbia River Gorge
You may know this by now, but we also are obsessed with Oregon. So if you choose to glamp around The Gorge, you'll have the best of both states right at your doorstep!
15. Lis-Bon Acres Glamping
Lis-Bon Acres Glamping is a dreamy place to stay, situated in scenic North Clark County, close to Mount Hood and the Columbia River Gorge. Stretch out on a comfortable queen size bed while listening to the sounds of animals around you – it is the best of both worlds!
The tent has a propane heater, so it's ideal for cooler months, and there's space for 3-4 adults and extra room for children – so you can comfortably stay here with your whole family!
16. Waterfall Sanctuary Site
Situated on 17 acres of gorgeous land, Waterfall Sanctuary Site is the ideal place to stay if you want to escape the hustle and bustle of everyday life. Accommodation is in a large yurt with a mesh roof, enabling you to see the stars on dry nights.
There's space for up to four people in each bell tent, with two available to rent. We wouldn't blame you for spending all of your vacations by your tent relaxing, but if you want something to do, there are plenty of nearby hiking trails through the traditional Pacific Northwest forest.
17. The Yurt at Rivendell
If you're looking for somewhere a little unique to stay, check out this gorgeous yurt. With traditional features and lots of space, you'll feel as if you've been transported to Central Asia when staying here!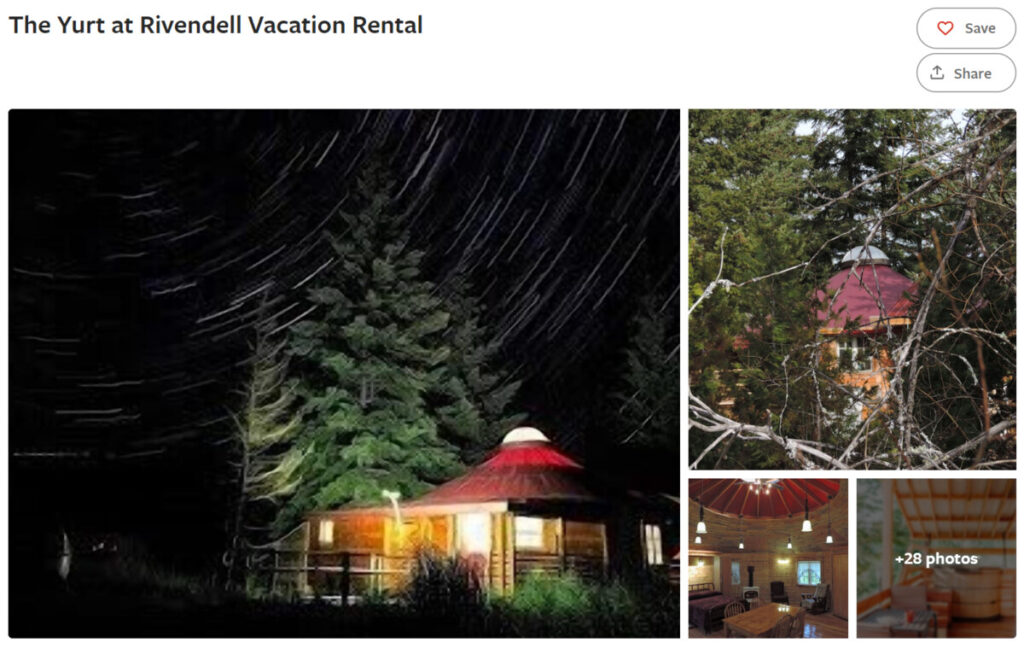 There are two beds, and the yurt sleeps four people, so it's perfect for friends and family groups. There are also two bathrooms on-site, a table and chairs, and a full-size kitchen.
Meadows and forests completely surround it, and you'll enjoy the twinkling stars above you at night. This yurt is popular in the summer, but the hot tub makes it great for a cozy vacation over winter.
---
RELATED: 19 Amazing Weekend Trips From Seattle (1-5 Hours Away!)
---
Glamping in Eastern Washington
This is probably the least visited area of the state, but it doesn't mean there aren't any glamping in Washington experiences around here!
18. Log Cabin Campsite
This log cabin campsite is excellent for you and the entire family. Incorporating five cabins, each of which sleeps four people, the camp is available for private hire and is perfect for large groups or family getaways.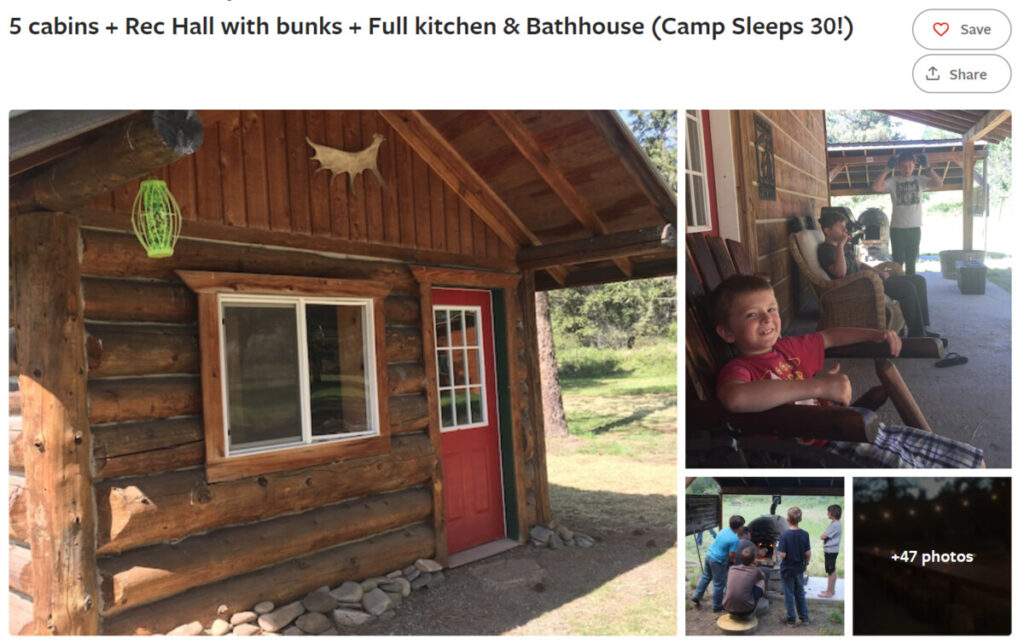 It can accommodate up to 30 people, with eight sleeping in the recreation hall. There's also a full kitchen on site.
19. Daisystation Glamping in Washington
This Lake Roosevelt location is ideal for glamping trips. It boasts a small cabin with two twin beds, perfect for friends or couples. On site, there's a BBQ and fire pit so that you can cook all your meals al fresco. Restroom facilities are shared with guests in neighboring cabins.
Of course, the piece de resistance of this cabin is the lakefront location – enjoy mountain views as you wake up every morning, with the chance to try watersports on the lake.
20. Cozy Nook Cottage Tree House
If you're looking for somewhere comfortable to stay with your friends and family, this tree house is the epitome of relaxation. Standing 10 feet above ground level, it boasts a deck where you can look out onto the grounds and a comfortable sleeping space for two people.
There's also a glamorous pool house, bathroom, and fire pit facilities. Enjoy a swimming pool, hot tub, and miniature golf course on-site – everything you need for a relaxing rural vacation!
Whether you want a week's vacation in the great outdoors or just fancy a quick weekend trip, these Washington glamping spots are ideal. Get a nature dose without roughing it too much, and enjoy time spent relaxing or exploring this beautiful state. With glamping opportunities all over the state, the only tough decision is deciding which to stay at first!
More For the Best of Washington
I've been perpetually traveling and living around the world for years but it's hard to beat Washington and the PNW. After years of road-tripping the area, I guess you can say I know it pretty well! When I'm not writing guides for you, you can catch me somewhere petting a dog, attempting to surf, hiking a volcano, or stuffing my face with bread and cheese.